The Moo Bar is a dessert spot located in the South Lake Union area of Seattle. I came to know about the place after seeing their posts get hyped up on Instagram. When I visited Seattle this past summer, I decided to stop by The Moo Bar to try some of their sweet treats.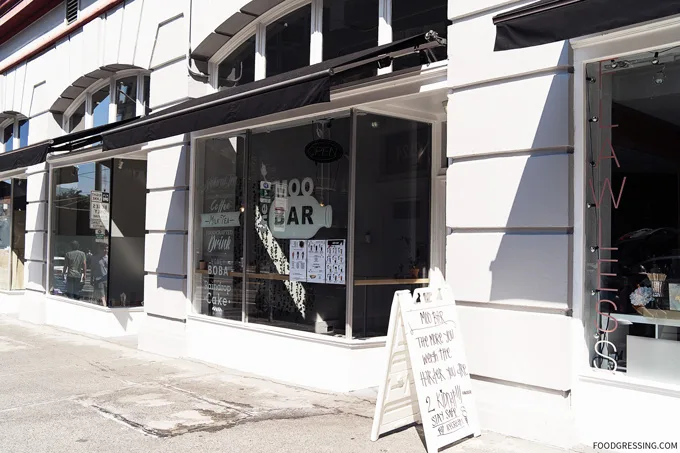 Ideal for Take Out
Unfortunately, the Moo Bar's interior is probably the least customer-friendly of all dessert places I've been to with an actual storefront. The place might as well be a walk-up counter.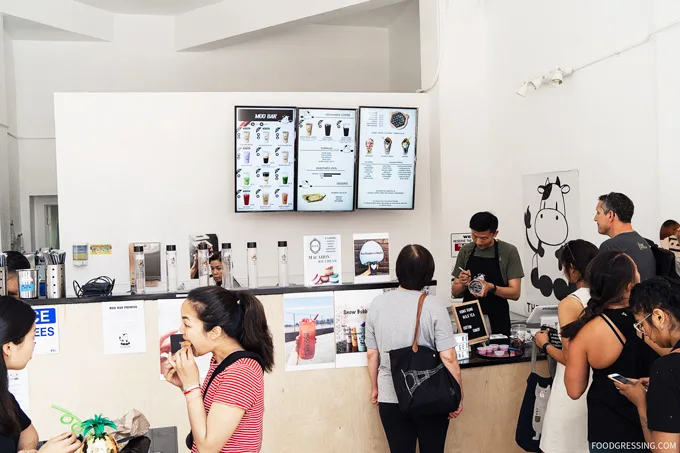 There is no seating inside or outside but they do have high top tables and a counter by the window for you to perch on while you have your dessert. Moo Bar has no customer washroom available so you can't even wash your hands if they get sticky from the desserts.
On the day of my visit, it was 28 degrees outside. The Moo Bar didn't have air conditioning and it actually felt hotter inside than outside. I definitely thought it was an uncomfortable set up overall for customers.
The Moo Bar Menu
The Moo Bar offers hot and cold bubble tea drinks ($4.50) like Moo Bar Special, Jasmine Moo Tea, Oolong Moo Tea and so forth. They also have Vietnamese coffee drinks including House Special Coffee, Vietnamese Black Coffee, and Salted Cheese Black Coffee. The drinks can be customized for sweetness level.
For toppings, they offer honey boba, taro pudding, egg pudding, grass jelly and chocolate pudding (+$0.50).
Dessert options include Raindrop Cake ($5.00) in three flavours: original, matcha and strawberry. They also have egg waffles which are sold on its own or can be combined with ice cream and toppings.
What I Tried
I was particularly interested in trying The Moo Bar's dessert options because I didn't know of any dessert spots in Vancouver that offered the Raindrop Cake and such interesting egg waffles combos.
I went with an ube coconut egg waffle with ube ice cream, rose petals, pocky sticks, sprinkles, fruity pebbles, mochi and rose sauce ($8.00).
The egg waffle was on point being nicely crispy on the outside and tasted like a combination of ube and coconut. The ube ice cream was also solid and the toppings made for a fun, and colourful presentation.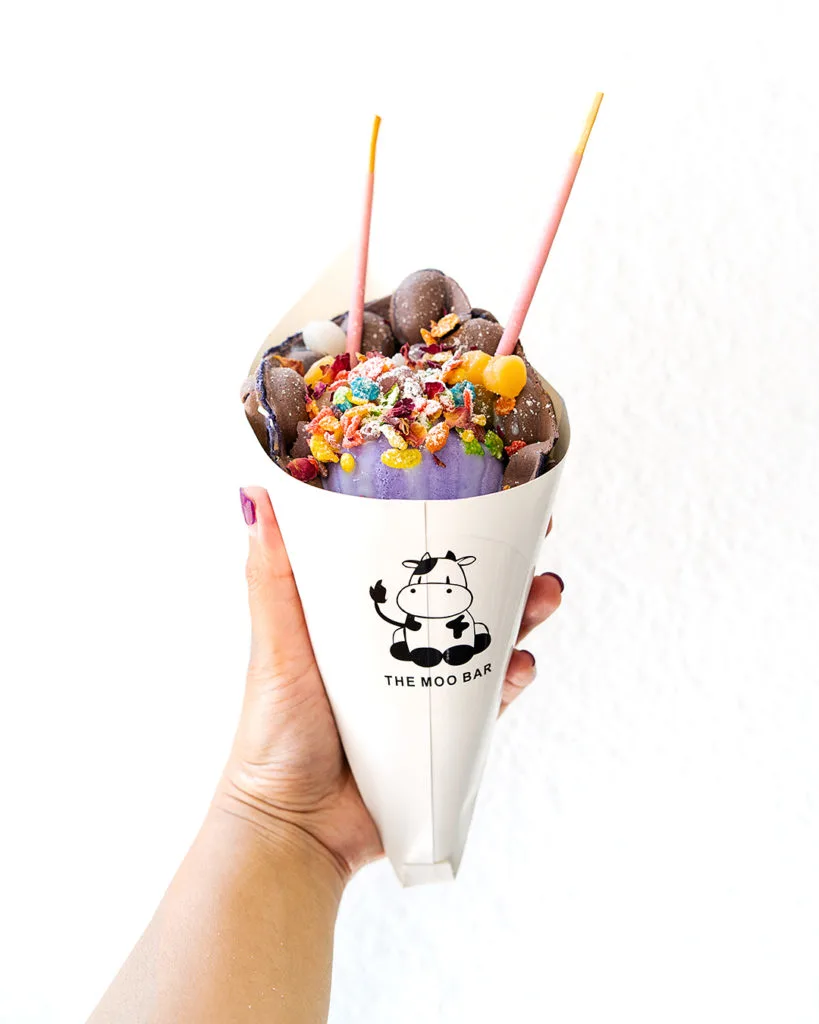 The Raindrop Cake is not something I had tried before (not even at the Richmond Night Market). The raindrop cake originated in Japan and is essentially a zero-calorie dessert made from agar.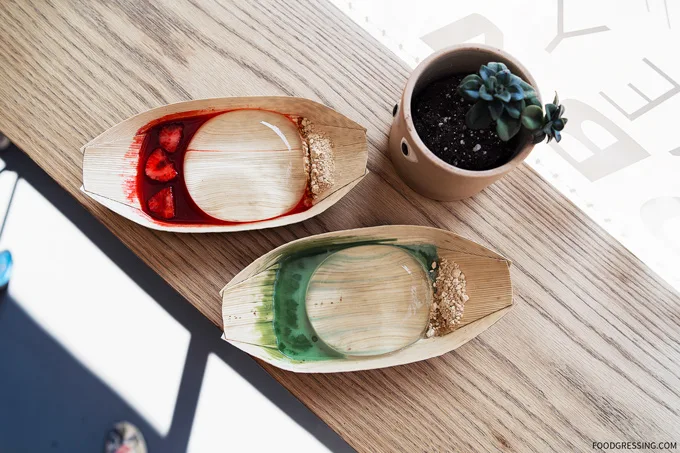 The cake itself has a gelatinous texture but is tasteless. The Matcha Raindrop Cake came with a matcha syrup while the Strawberry one had strawberry syrup and sliced strawberries. Also on the side was a soybean flour for some added texture.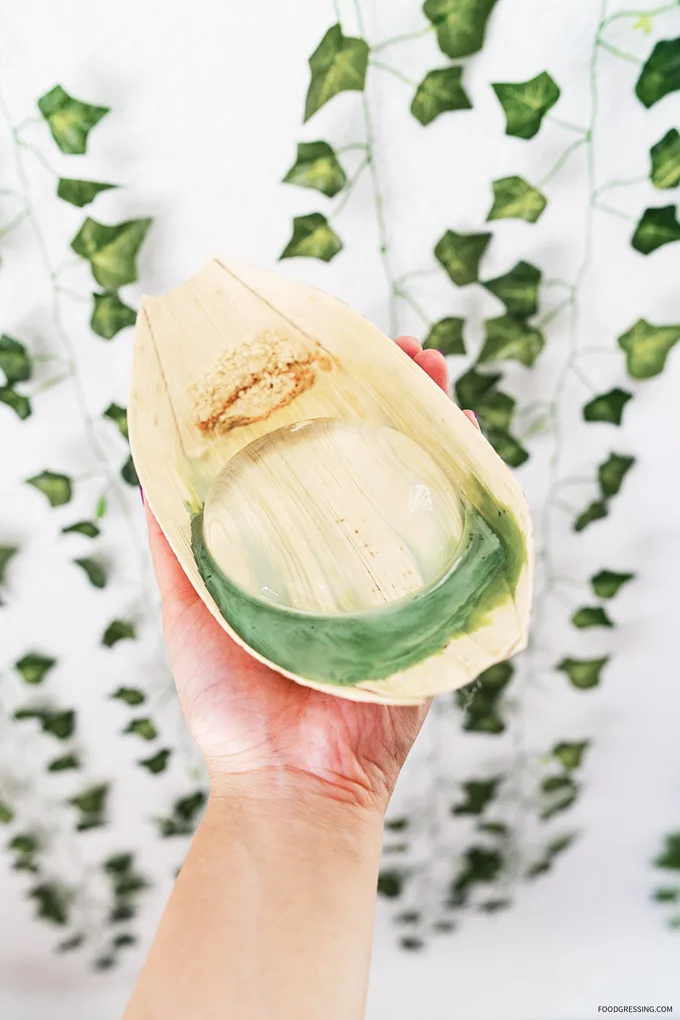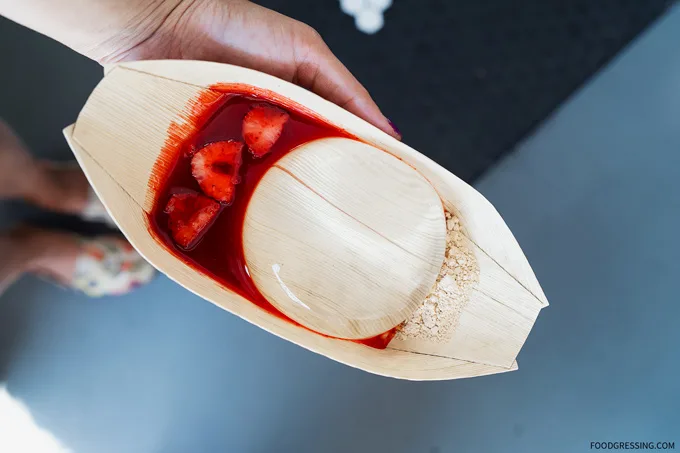 I thought the Raindrop Cakes were OK. They were definitely a bit of a novelty dessert. You really need the syrup and soybean flour for the flavour.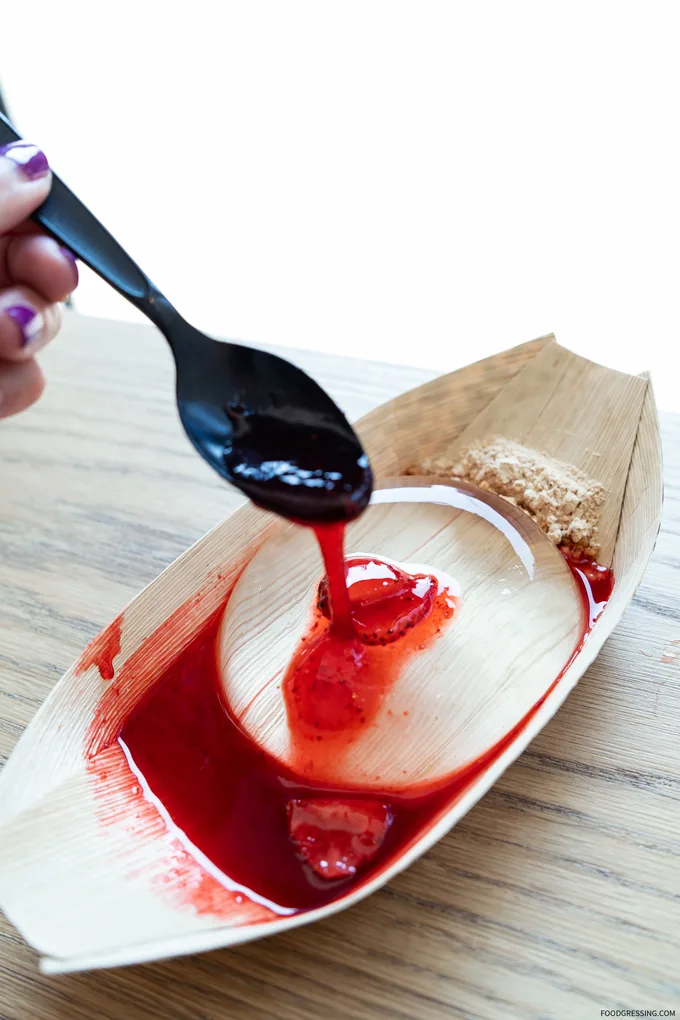 Overall Impression of The Moo Bar
I liked the egg waffle combo from The Moo Bar and would be interested in having one again the future. Too bad the location lacks a washroom as well as seating space. Rating: 3.5/5
The Moo Bar
2124 Westlake Ave, Seattle, WA
www.themoomilkbar.com