Thanksgiving is a wonderful time to eat, drink and be thankful. Looking for ways to celebrate Thanksgiving in West Palm Beach 2022? This post covers Thanksgiving dinner in West Palm Beach, restaurants open for Thanksgiving in West Palm Beach as well as turkey to go and takeout options.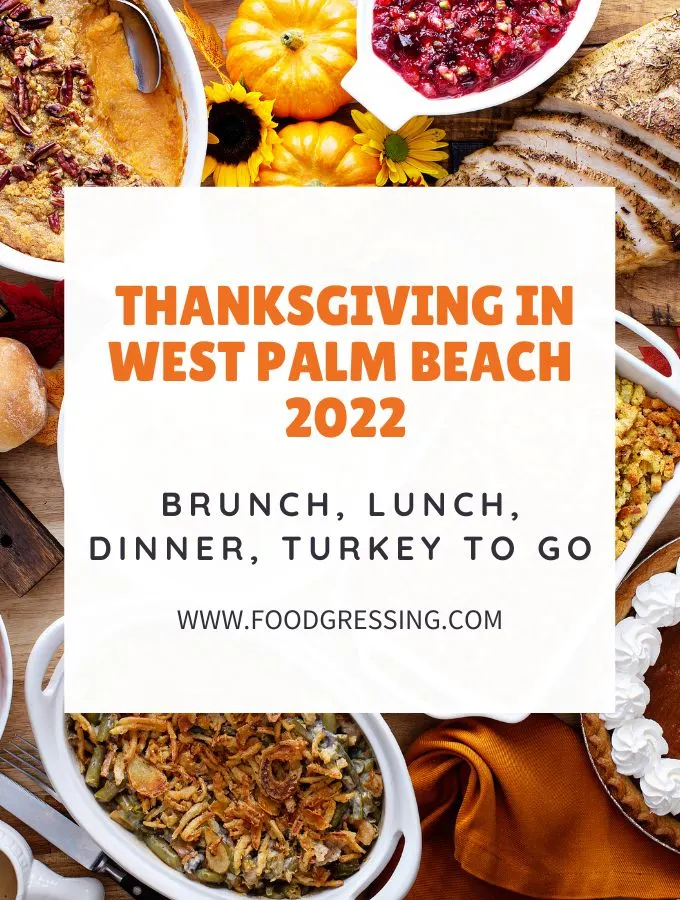 Thanksgiving in the US this year is Thursday, November 24.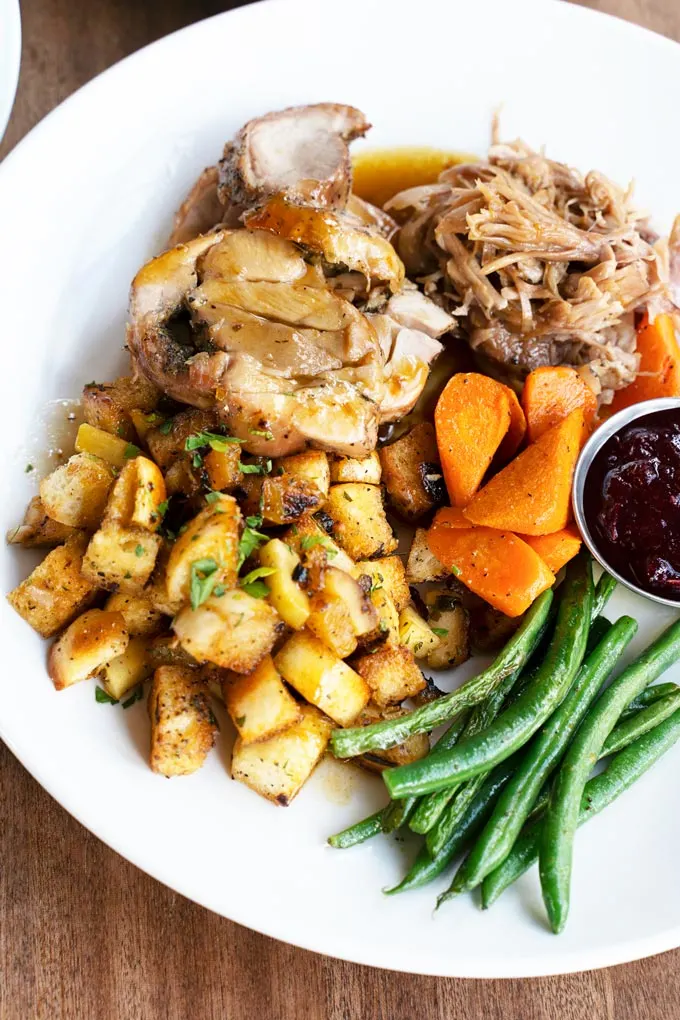 Please reach out to me [email protected] or @foodgressing on social media if you are a restaurant that wants to be featured. Provide all the details of your holiday offering in your message. For faster processing, please provide a ready to copy and paste excerpt in paragraph form in a similar format to the restaurants featured below.
This list is not exhaustive and is updated as information becomes available. I try to feature as much as I can but certainly this is not all that is out there. If your favorite restaurant is not on the list, contact them to see what they are offering.
Thanksgiving in West Palm Beach 2022
Galey – Hilton West Palm Beach
Galley- Hilton West Palm Beach is offering a Thanksgiving prix-fixe three course menu on November 24. Seating times available at 2pm, 4pm, 6pm, and 8pm. Priced at $65 per person.
Featuring holiday favorites such as butternut squash soup, roasted turkey, green bean casserole, chorizo stuffing, pumpkin pie and more.
Florie's
Florie's is offering a Thanksgiving seasonal buffet with multiple stations on November 24. Priced at $195 per adult and $95 for children between 5 years old and 12 years old.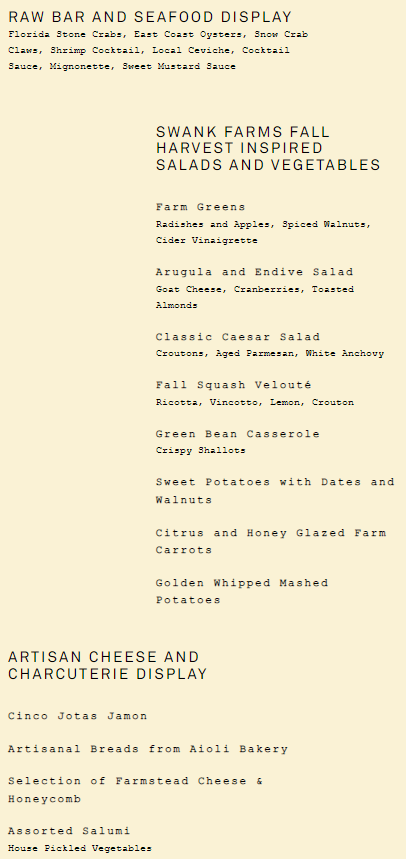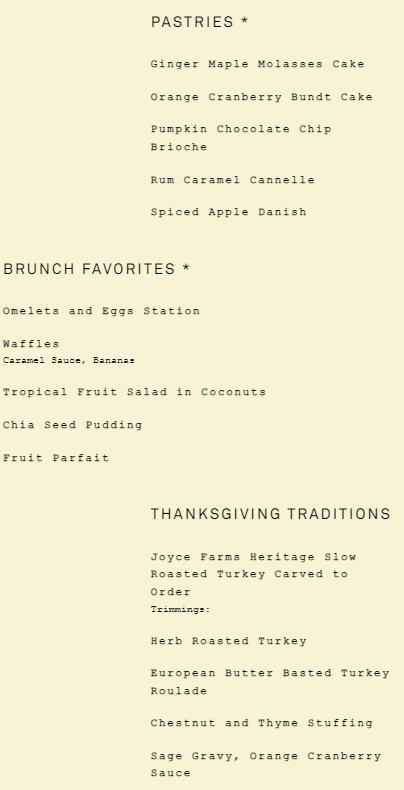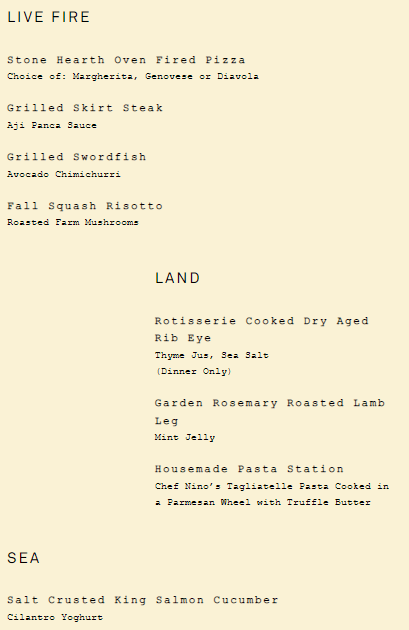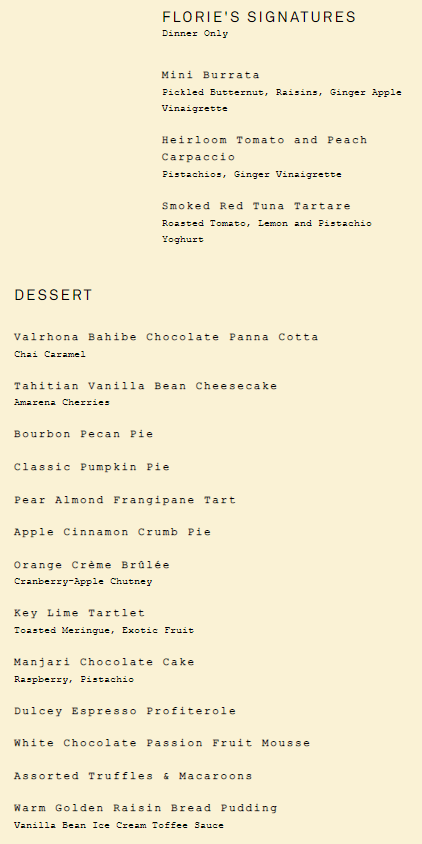 Pistache French Bistro
Pistache French Bistro is offering a Thanksgiving 3-course prix-fixe menu on November 24 from 2 pm – 8 pm. Priced at $85 per person (7% tax & 20% gratuity will be additional).
Enjoy Pistache favorites like Burgundy Escargot, Beet Salad and Beef Bourguignon along with our All Natural Turkey with accompaniments like Chestnut Hash, Sage Dressing, Sweet Potato Puree and Cranberry Chutney.
Avalon Steak and Seafood
Avalon Steak and Seafood (Delray Beach) is offering a Thanksgiving 3-course menu on November 24. Priced at $90 per person plus tax and gratuities.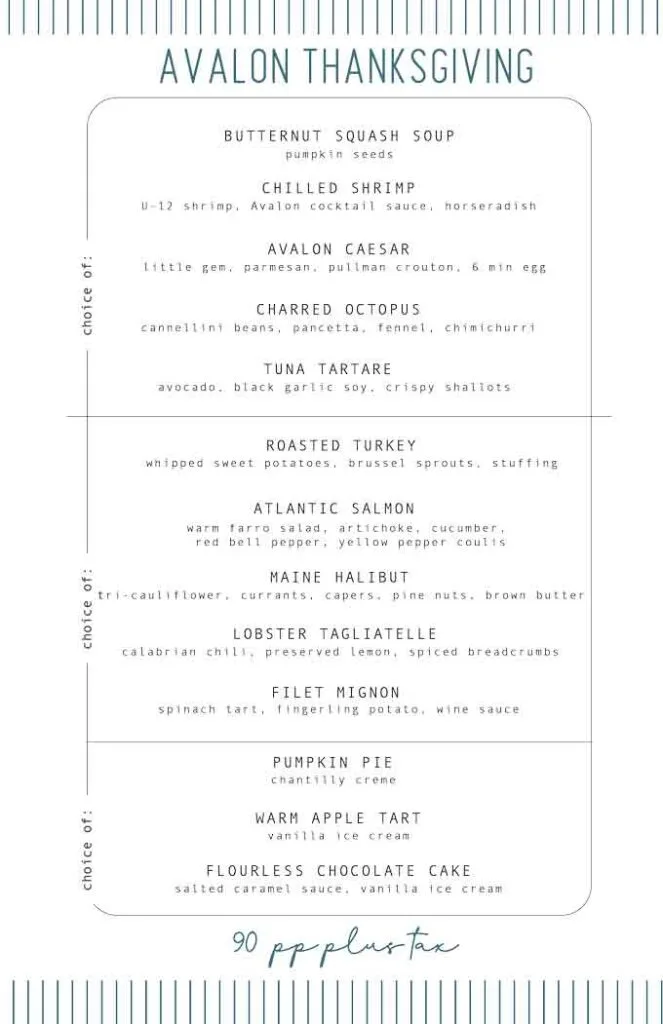 Novello Restaurant & Bar
Novello Restaurant & Bar (Boca Ranton) is offering a Thanksgiving 3-course dinner menu on November 24. Priced at $68 (excludes taxes & gratuities). Also available is the limited daily menu.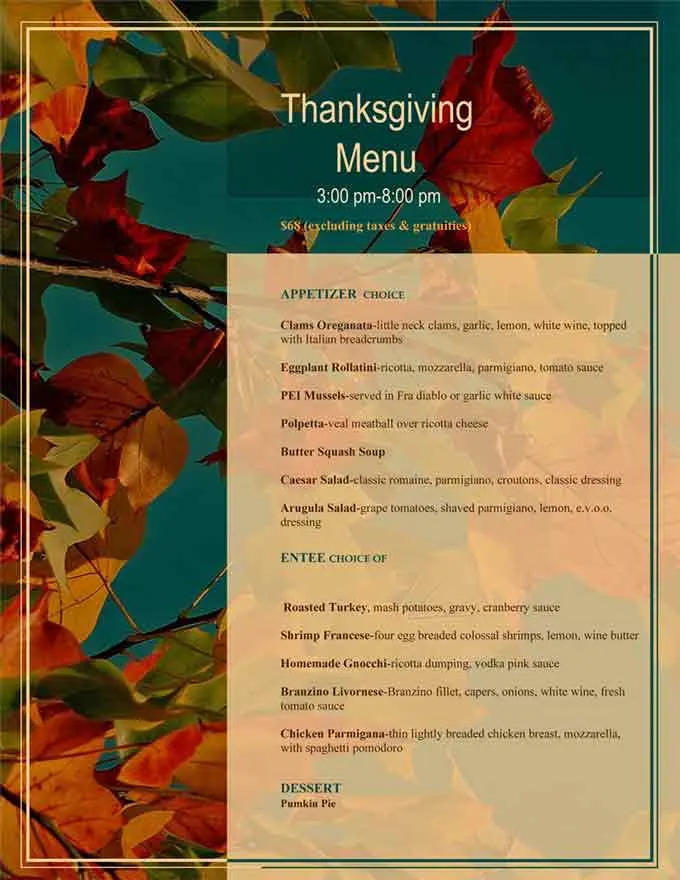 Tropical Smokehouse
If you're hosting Thanksgiving but prefer to relax prior to guests arriving over committing to the kitchen, Tropical Smokehouse has got you covered. All menu items come ready to heat, so clever cooks have the option to claim the food as their own or give kudos to Chef Rick Mace, South Florida's proclaimed BBQ King. Either way, family and friends alike will be clearing their plates for second helpings. Tropical Smokehouse will be closed on Thanksgiving Day.
Tropical Smokehouse Thanksgiving Family Meal Menu
(Serves 6-8 ) $199: Whole Smoked Amish Turkey, Cornbread Stuffing, Brussel Sprouts, Mashed Potatoes & Gravy,
Cranberry BBQ Sauce , Butternut Squash Pie *Add Half Smoked Heritage Ham $75
Tropical Smokehouse A La Carte Menu
Serves 6-8 people
Smoked Amish Turkey: Grade A all-natural whole turkey, honey brined, slow smoked, juicy and tender ($105)
Smoked Heritage Ham: House cured half ham, brown sugar glazed with house blend of savory spices ($90)
Cornbread Stuffing: Sweet Caramelized onions and sage blended into buttermilk cornbread ($25)
Split Brussel Sprouts with bacon and onions ($25), Mashed Potatoes ($25), Cranberry BBQ Sauce ($9)
Butternut Squash Pie:Roasted butternut squash filling spiked with spiced rum and nutmeg ($25)
Order Details: While supplies last, no orders are accepted after Tuesday November 22nd. Pick Up on November 23rd, 11:30-5:30PM. To place your order call (561) 323-2573 or visit https://www.eattropical.com/thanksgiving-2022
The Capital Grille
At The Capital Grille, guests can enjoy a chef-prepared traditional Thanksgiving in West Palm Beach 2022 dinner with an upscale twist, including Slow-Roasted Turkey with Brioche Stuffing, French Green Beans with Marcona Almonds, Cranberry-Pear Chutney and Sam's Mashed Potatoes, with the option to add Pecan-Crusted Sweet Potatoes with Hot Honey and Pumpkin Cheesecake at an additional charge.
In addition, those looking to enjoy dinner at home may order a bundle of the restaurant's Thanksgiving sides.
To place a pre-order for pickup on November 23 or 24 or to make a reservation, visit here.
Seasons 52
Seasons 52 guests can enjoy a lighter take on Thanksgiving in West Palm Beach 2022 with a spread of freshly prepared classics using peak-season ingredients.
The menu includes Oven-Roasted Turkey, Cranberry Relish, Mashed Butternut Squash and a Pumpkin Pie Mini Indulgence dessert, among other sides.
New to the Thanksgiving menu is the Pumpkin Spice Margarita, available at an additional charge only for the month of November.
The Seasons 52 Thanksgiving Green Box dinner allows guests to celebrate at home with turkey, all the in-restaurant fixings, salad and six Pumpkin Pie Mini Indulgence desserts.
Additional sides and desserts are available online. Boxes serve four to six people and are available for pickup on November 23. Pre-orders and reservations can be made at here.
Yard House
This Friendsgiving, "cheers" with a cold beer and adventurous menu against a backdrop of classic rock at Yard House. With over 100 craft and local beers on tap and menu options perfect for sharing—like the signature Poke Nachos, Jumbo Bavarian Pretzel and Onion Ring Tower—it will be an epic reunion.
Boston Market
Boston Market is offering a variety of Thanksgiving in West Palm Beach 2022 meal options from $11.99 per person, prices may vary by market, starting today at all restaurants nationwide. Guests will have a choice between the Hot & Ready-To-Serve meals, catering and a la carte offerings.
The Hot & Ready-To-Serve meals include everything needed to serve between six and 12 people and can be picked up at any Boston Market restaurant the week of Thanksgiving.
For those ready to feed a crowd, groups of 10 or more can cater a hot, buffet-style dinner or individually plated meals that can be delivered or picked up.
Thanksgiving day-of offerings include a Thanksgiving Day meal for $15.99, featuring a choice of roasted turkey breast or half rotisserie chicken with mashed potatoes and gravy, vegetable stuffing, a dinner roll and a slice of apple or pumpkin pie. Restaurant hours may vary by location.
Cracker Barrel
Cracker Barrel Old Country Store is offering Thanksgiving in West Palm Beach 2022 Heat n' Serve Meals and Homestyle Holiday Pies available in a variety of flavors.
Their Heat n' Serve options provide a complete homestyle Thanksgiving turkey meal for any size gathering, prepared in two hours or less. Starting at $14.99 per person, the Thanksgiving Heat n' Serve Feast serves 8-10 and includes a full meal bundle of protein, sides, bread and dessert.
For others, the Thanksgiving Heat n' Serve Family Dinner makes the perfect meal for gatherings of 4-6, including the same favorites of the Heat n' Serve Feast like oven-roasted turkey breast with turkey gravy, sweet potato casserole, cornbread dressing, cranberry relish, choice of side and sweet yeast rolls.
Available for pick up Nov. 19-26, while supplies last. Guests that pre-order now and schedule pick up on Nov. 21 or 22 receive a free Bonus Card.
Ruth's Chris Steakhouse
Ruth's Chris Steakhouse (availability & pricing may differ by location) is offering the following for Thanksgiving dine-in:
Choice of one starter: Caesar salad, steak house salad, or lobster bisque
Entree: Sliced Oven Roasted Turkey, Sausage & Herb Stuffing, Homemade Turkey Gravy and Cranberry Relish.
Choice of one side: garlic mashed potatoes, creamed spinach, sweet potato casserole or green beans with garlic
Dessert: pumpkin cheesecake & vanilla ice cream
They are also offering Thanksgiving to go. $175, serves 4. Available for pickup on November 23 from 12 pm – 4 pm.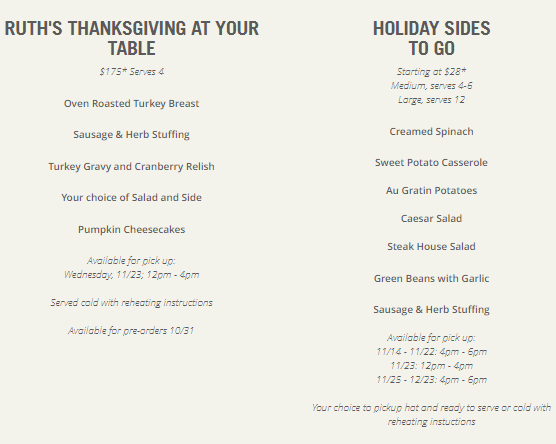 Batch New Southern Kitchen & Tap
Batch New Southern Kitchen & Tap is offering a Thanksgiving to go package. See details in the image below.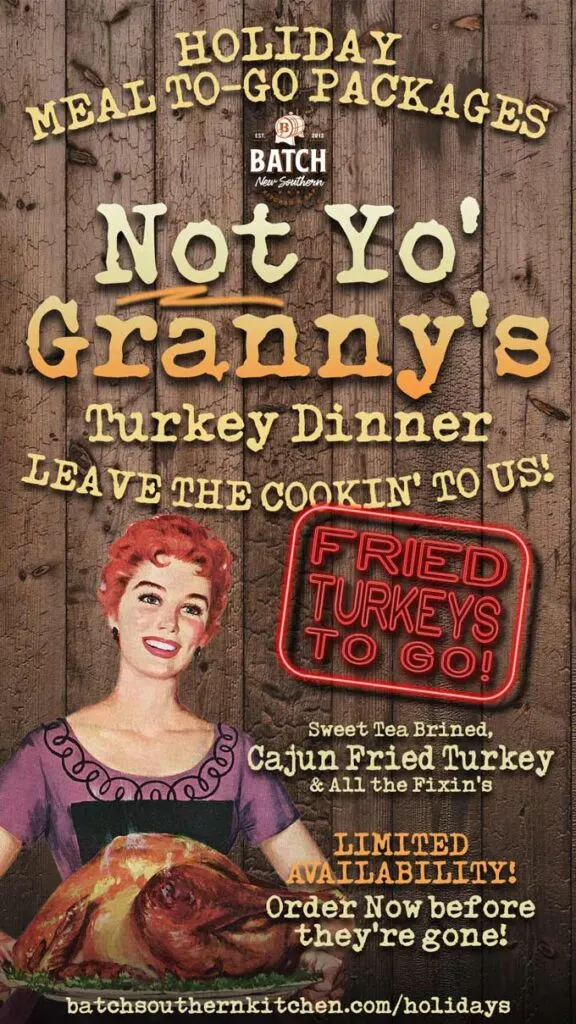 The Honey Baked Company
The Honey Baked Ham Company has the following Thanksgiving offerings:
Honey Baked Ham® & Turkey Feast includes either an eight- or nine-pound Bone-In Half Ham with a Turkey Breast and four Heat & Serve Sides like Maple Sweet Potato Souffle, Double Cheddar Macaroni & Cheese, Green Bean Casserole or Tuscan Broccoli – sure to please all ages!
Turkey Dinner comes with a Turkey Breast and a choice of three Heat & Serve Sides.
Quarter Ham Meal has a Quarter Bone-In Ham and three Heat & Serve Sides.
Honey Baked™ Boneless Ham & Turkey Feast includes a Half Boneless Ham, Turkey Breast and four Heat & Serve Sides.
Desserts options include: Red Velvet Cake, Southern Pecan Pie and Triple Chocolate Cake.
All meal offerings above are available to purchase at your nearest HoneyBaked location or visit honeybaked.com to buy online and pick up in store.
Whole Foods
Whole Foods is offering holiday appetizers; holiday meals; a la carte entrees; holiday sides, soups & sauces; and more. They typically offer Classic Turkey Feasts; Surf and Turf Meals; Prime Rib Meals; Beef Wellington Meals; Braised Lamb Shank Meals; Atlantic Salmon en Croûte Meals; Vegan Meals and more. Check your local store for pricing and offerings.
Thanksgiving Meal Delivery Online Services
Omaha Steaks
You can build your own, ready to cook Thanksgiving dinner with Omaha Steaks. They ship nationwide or you can pickup at location closest to you. They offer Turkeys, Hams, & Roasts.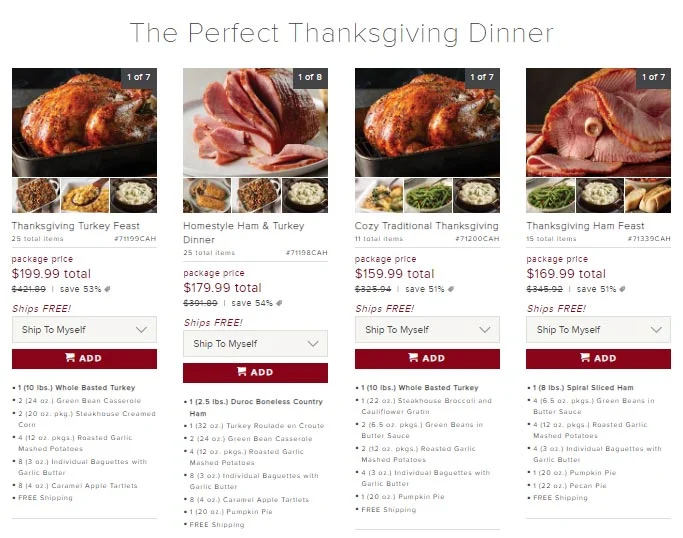 Some of the packages they offer include:
Custom Thanksgiving Feast for 4
Build Your Own Thanksgiving for 6
Build Your Own Thanksgiving for 8
Thanksgiving Turkey Feast
Homestyle Ham & Turkey Dinner
Cozy Traditional Thanksgiving
Thanksgiving Ham Feast
Whole Basted Turkey
Smoked Whole Turkey
Turkey Roulade
Spiral Sliced Ham
Williams Sonoma
Williams Sonoma has a number of Thanksgiving items including made-from-scratch sides or the whole feast that can be heated and served.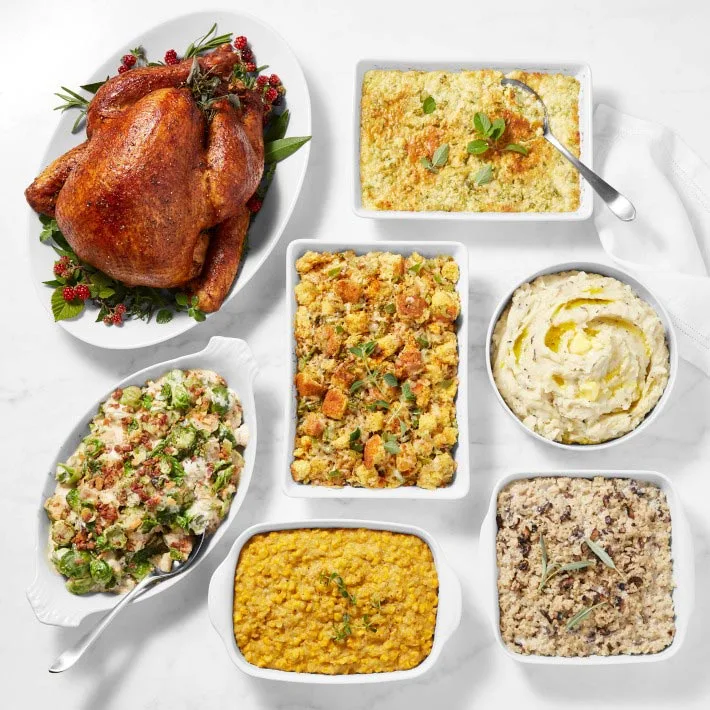 Their Deluxe Thanksgiving Dinner ($299.95) includes the following:
12-14 lb. Willie Bird Pre-Brined, Seasoned Whole Organic Turkey
Truffle Mashed Potatoes
Corn Pudding
Mushroom Risotto
Jalapeno Cheese-Bread Stuffing
Creamy Asparagus and Gruyere Custard
Brussels Sprouts Pancetta Gratin
Simply cook the turkey as usual then pop the side dishes in the oven for a straightforward route to a fabulous feast.
Harry & David
Harry & David has a Thanksgiving Turkey Feast ($249.99) which can be shipped to you: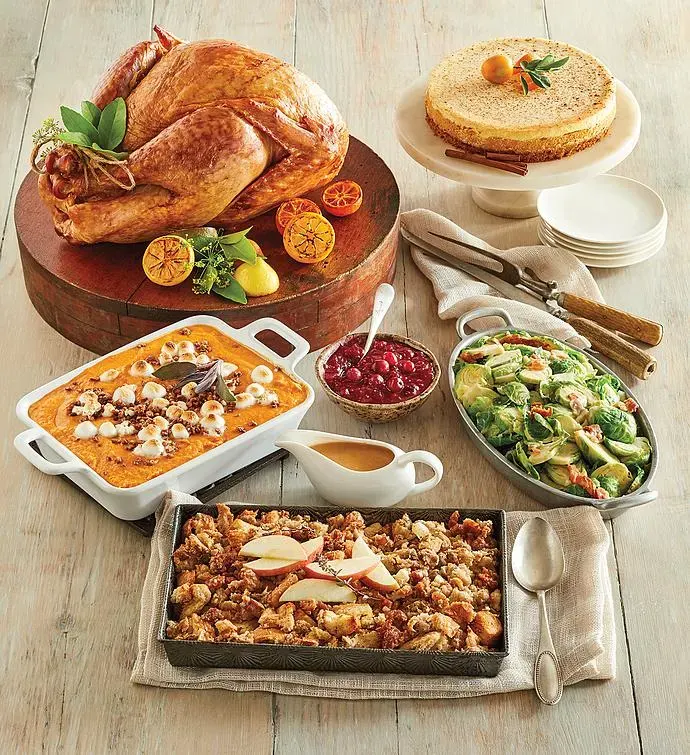 The menu includes:
Ready-to-heat oven-roasted turkey (10 lb)
Apple sausage stuffing (1 lb 14 oz)
Black Truffle and Almond Green Beans (1 lb)
Brown sugar sweet potatoes (1 lb 15 oz)
Pumpkin cheesecake [New York-style pumpkin layered cheesecake] (2 lb)
Classic turkey gravy (13.5 oz)
Spiced cranberry chutney (1 lb)
Home Chef
Home Chef, the leading meal solutions company with both a retail and online presence, is debuting a slew of holiday eats for home cooks looking to spend less time in the kitchen and more time making memories.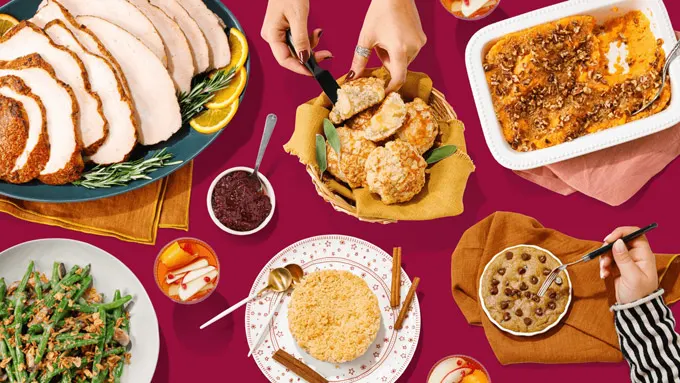 From Thanksgiving through the year's end, Home Chef serves up seasonal dishes everyone will enjoy in both meal kit and heat-and-eat formats – proving holiday eating can be tasty and easy.
During the week of Thanksgiving, order tasty fall recipes including:
Main Course: Turkey Breast Roast ($49.50, serves 6)
Sides ($15.98 each; serves 6): White Cheddar and Sage Biscuits, NEW Sweet Potato Casserole, NEW Grown Up Green Bean Casserole, Loaded Mashed Potatoes with Bacon, Cheddar, & Green Onion , and Brussel Sprouts with Caramelized Onion & Maple Glaze
Desserts (serving sizes vary): NEW Pumpkin Chocolate Chip Cookie Skillet ($7.98) and Apple Crisp Cake ($5.98)
Home Chef's Thanksgiving meal kits will be available to order online at homechef.com starting October 14, and orders must be placed by noon CT on November 18.
Beloved season's eatings from Home Chef are also available at Kroger Family stores nationwide to order ahead, pick up, heat and have on the table in no time.
Home Chef offers in-store holiday bundles that serve four to eight people – main courses, sides and desserts included.
These bountiful bundles make the menu for you, and they're easy on the wallet too, with options for a variety of gathering sizes and budgets.
The delectable dishes in stores* from Thanksgiving to holiday season's end include:
Main Courses: Home Chef Boneless Turkey, Home Chef Boneless Ham, Butterball Bone-In Turkey, Butterball Smoked Bone-In Turkey, Home Chef Bone-In Ham, and Prime Rib
Sides: Creamed Spinach & Cheese, Old Fashioned Bread Stuffing, Creamy Scalloped Potatoes, Broccoli Rice Casserole, Green Bean Casserole, Sweet Potato Souffle, Cornbread Dressing, Turkey Gravy, Mashed Potatoes, and King's Hawaiian Rolls
Desserts: Bread Pudding with Salted Caramel Sauce and Pumpkin Pie
Orders for in-store Heat and Eat Home Chef holiday dishes and bundles can be placed online here, over the phone, or in person at select Kroger Family stores across the country, starting with Thanksgiving orders on November 2.
Thanksgiving orders must be placed by November 22, and final holiday orders must be placed by December 22.
DIY Thanksgiving in West Palm Beach 2022 Meal Ideas
Holiday entertaining tips
Here are some tips on holiday entertaining including charcuterie board tips, how to cook the perfect turkey like a Chef, and virtual holiday party ideas.
Thanksgiving food list
Here is a Thanksgiving Food List to help you prepare or get inspired for your Thanksgiving celebration. You'll find ideas for Mains, Stuffing, Vegetables, Salads, Desserts and more.
Thanksgiving Quotes
Check out these Thanksgiving quotes and messages to demonstrate your gratitude for your loved ones this holiday season.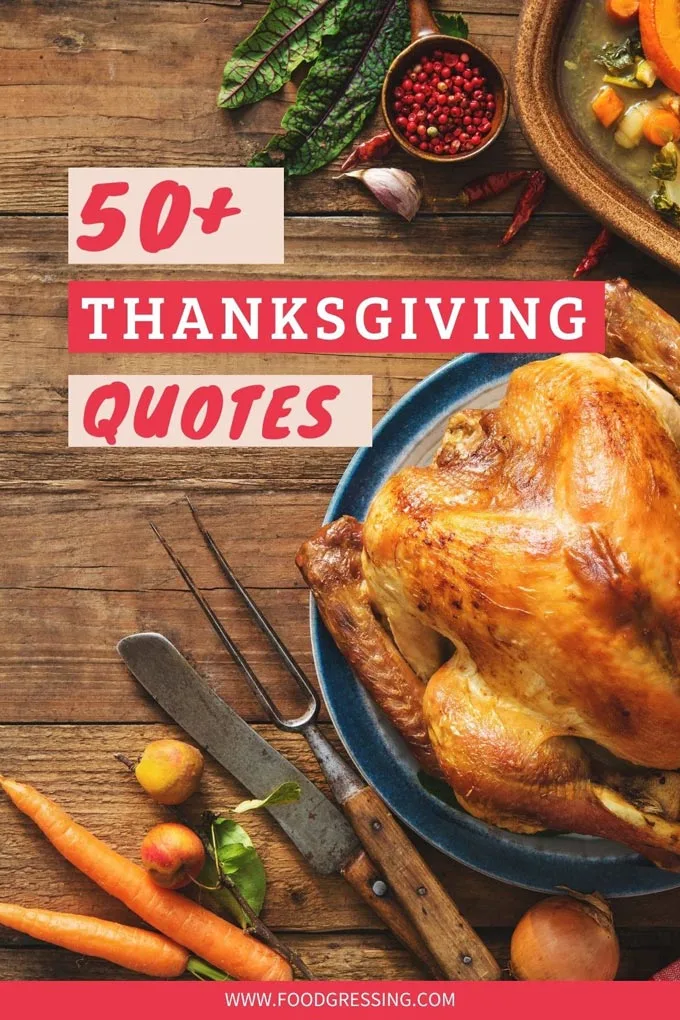 Captions about Family
Looking for captions about family for your social media post? Check out my post on 105+ creative and original captions for family pictures.