Thanksgiving is a wonderful time to eat, drink and be thankful. Looking for ways to celebrate Thanksgiving in Seattle 2022? This post covers Thanksgiving dinner in Seattle, restaurants open for Thanksgiving in Seattle as well as turkey to go and takeout options.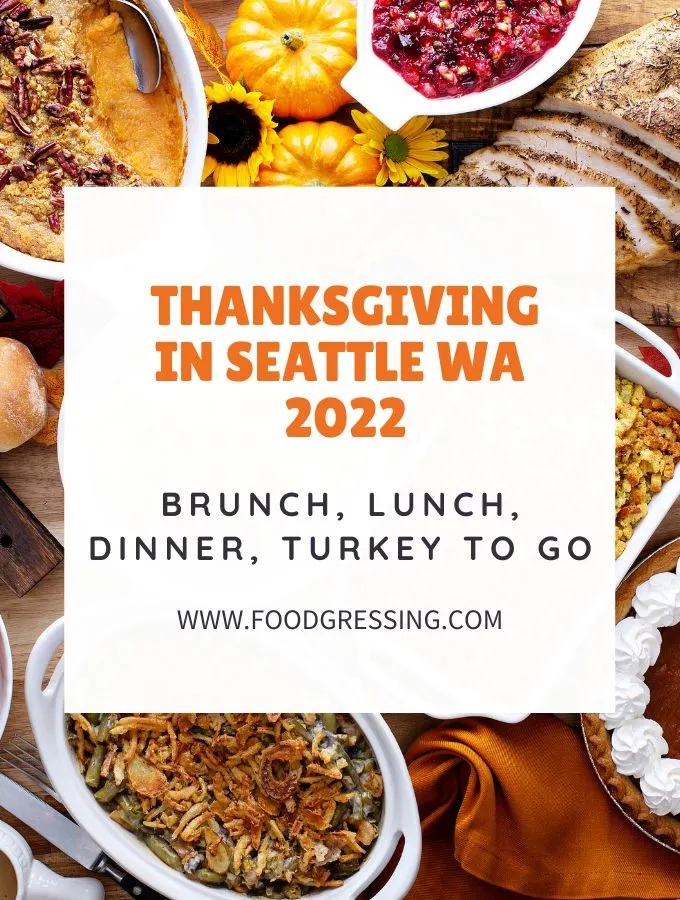 Thanksgiving in the US this year is Thursday, November 24.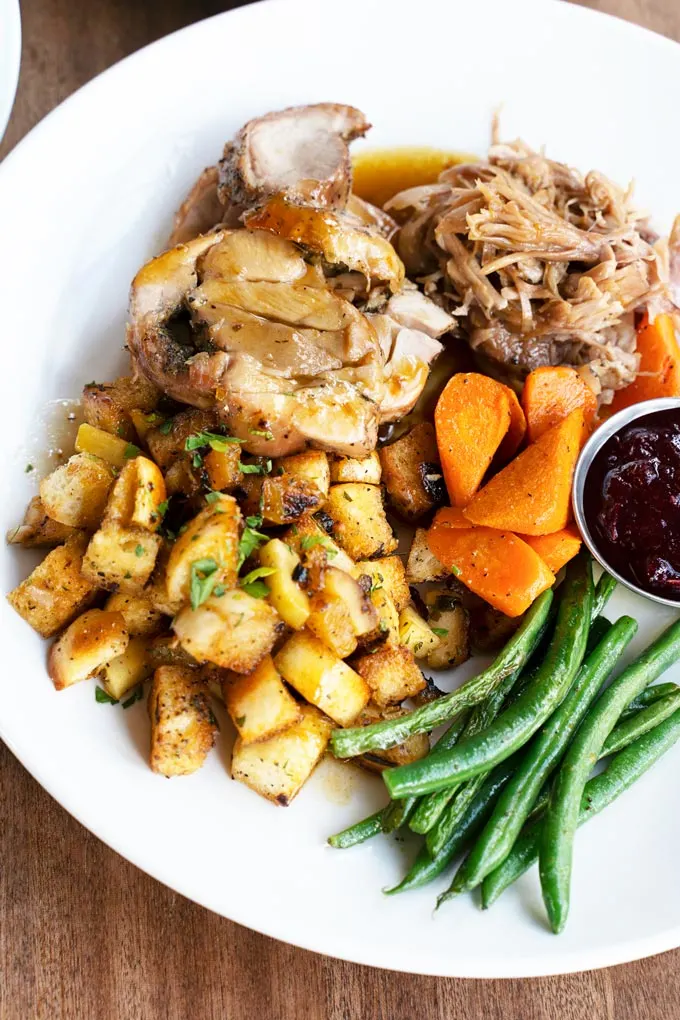 Please reach out to me [email protected] or @foodgressing on social media if you are a restaurant that wants to be featured. Provide all the details of your holiday offering in your message. For faster processing, please provide a ready to copy and paste excerpt in paragraph form in a similar format to the restaurants featured below.
This list is not exhaustive and is updated as information becomes available. I try to feature as much as I can but certainly this is not all that is out there. If your favorite restaurant is not on the list, contact them to see what they are offering.
Thanksgiving in Seattle 2022
Frolik Kitchen + Cocktails
Frolik Kitchen + Cocktails at Motif Seattle is offering Thanksgiving Brunch or Dinner to be enjoyed from their heated and covered rooftop patio pavilion. Reservations available for November 24 from 1 pm – 7 pm.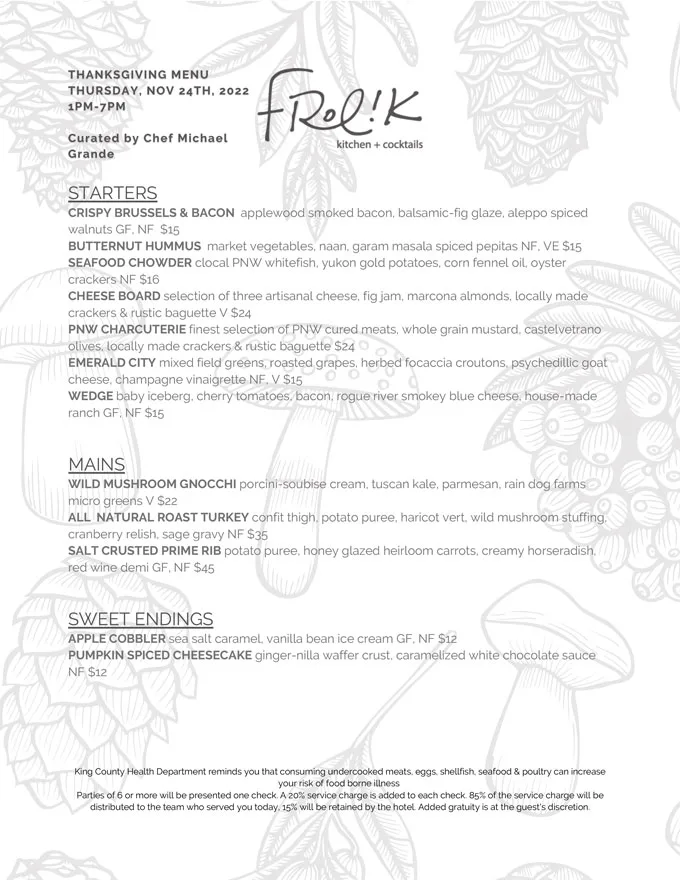 The Barking Dog Alehouse
The Barking Dog Alehouse is taking pre-orders for their annual Thanksgiving meal kit. The feast feeds 5-7 people, and comes with a ready to roast turkey, mashed potatoes, and elevated versions of classic side dishes.
The $195 kit can be pre-ordered online today for pick-up on Wednesday, November 23rd (local delivery is available).
Instructions are provided and only require a microwave, oven, and time set aside for the meal to cook.
The Thanksgiving Feast contains, 10-12 lb Turkey Brined, Stuffed with Citrus & Herbs (ready to Roast), Red Potato Rosemary & Butter Mashed Potatoes, Roasted Yams with Maple Glaze and Pecans, Fennel Sausage & Pecan Stuffing, Cranberry Sauce with Citrus Zest, Turkey Gravy, Dinner Rolls, and Apple, Pear and Cranberry Crisp.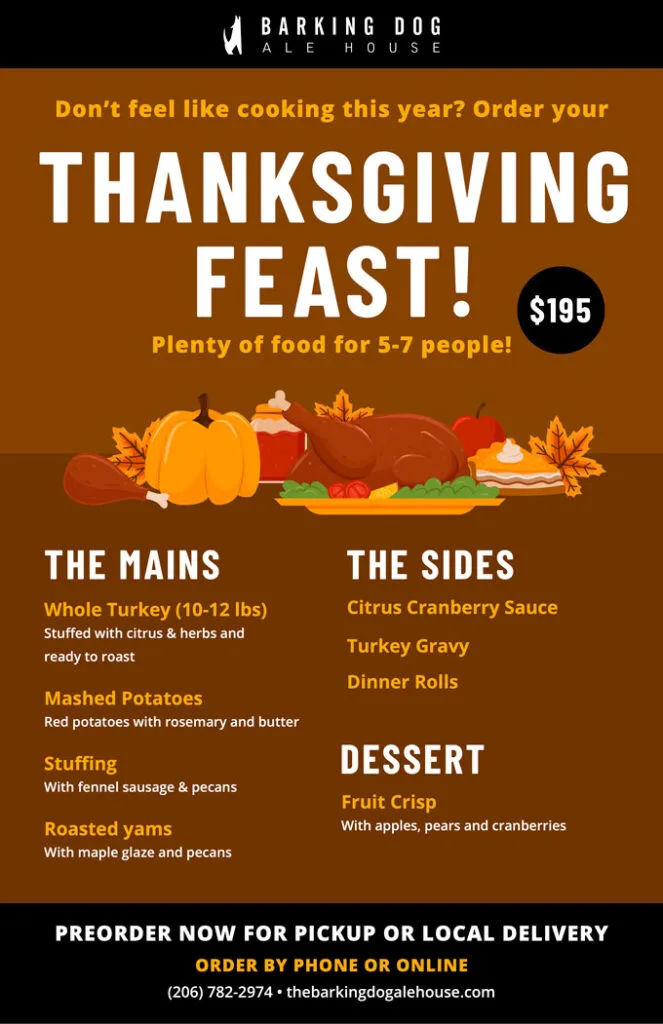 Bourbon Steak Seattle
Bourbon Steak Seattle is offering a Thanksgiving in Seattle 2022 Dinner on November 24 featuring both Pacific Northwest touches and Chef Michael Mina signatures. Priced at $105 per person.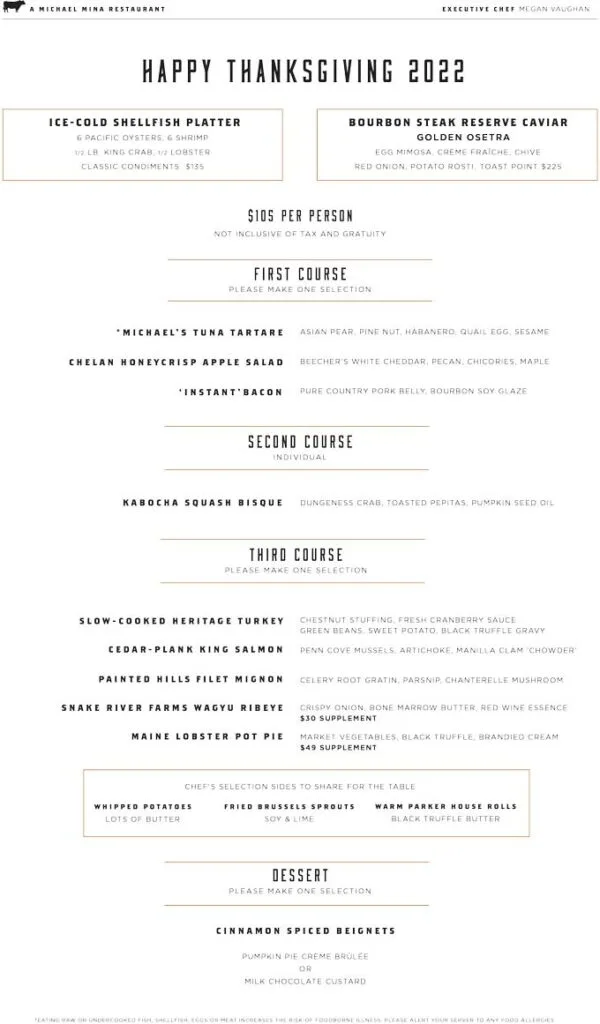 Hard Rock Cafe – Seattle
Hard Rock Cafe – Seattle is offering a Thanksgiving in Seattle 2022 Dinner on November 24. Enjoy a slow-roasted turkey breast Thanksgiving meal including roasted fresh vegetables, home-style classic stuffing, creamy sweet potato mash, cranberry sauce finished with traditional turkey gravy. Priced at $41.63 per person including gratuity and tax.
Kids Thanksgiving Menu, Pumpkin Pie, and Beverages available as Add-On at checkout.
The Lodge at St. Edward State Park
The Lodge at St. Edward State Park (Kenmore) is offering a Thanksgiving scrumptious three-course, family-style, prix-fixe meal with Chef Kevin Benner and his culinary team on November 24. Priced at $65 per person.
Enjoy roasted-to-perfection Natural Artisanal Turkey with all the favorite sides while you gander at the changing colors of Northwest Autumn inside the State Park.
BlueWater Bistro – Leschi
BluWater Bistro – Leschi is offering a Thanksgiving traditional menu on November 24. Priced at $59 per person.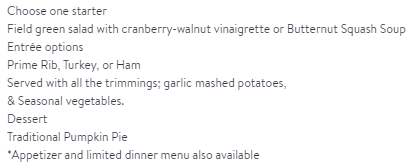 Maximilien
Chef Potvin at Maximilien has created a Thanksgiving inspired 6-Course menu that's still very French! Thanksgiving Dinner is on November 24 at 5 PM. Only the set menu above will be available.
Two Seating Options: -Dining Room (INDOOR) -Private "LE IGLOO" for up to 5 people with a $20 surcharge per person.
Amuse Bouche: Baked oyster with leeks and Beurre Blanc.
Queue de Bœuf Braisé Braised Oxtail, wild mushrooms croustade.
Bisque de Potirons et Crabe Pumpkin bisque with grilled corn and crab.
Endives, Roquefort, walnuts, pomegranate and house vinaigrette.
Roasted Cornish game hen, savory bacon bread pudding, maple baby carrots.
Pumpkin Caramel Flan.
A wine pairing will be available for those wanting to indulge on the event night! This special dinner will also feature the talented Bonnie Birch performing on accordion from 5 to 7pm.
The George at Fairmont Olympic Hotel
The George is offering a Thanksgiving in Seattle 2022 prix-fixe menu on November 24 from 1 pm – 8 pm. Priced at $80 per person.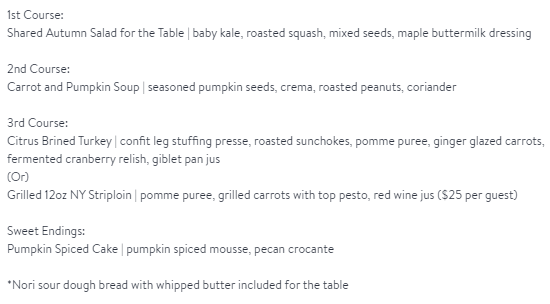 Shuckers at Fairmont Olympic Hotel
Shuckers is offering a Thanksgiving in Seattle 2022 dinner on November 24. Priced at $75 per person.

Solarium Kitchen & Bar
Solarium Kitchen & Bar (Bellevue) is offering a Thanksgiving buffet on November 24. Priced at $64 per person, $52 for seniors (62+), $25 for children (6-12), children ages 5 and under free.
Featuring all of the traditional favorites including herb-roasted turkey, slow-cooked prime rib, pumpkin ravioli, local salmon, jumbo prawns, an endless dessert array, and much more. Music will be provided by Live Pianist, Mike Mansour.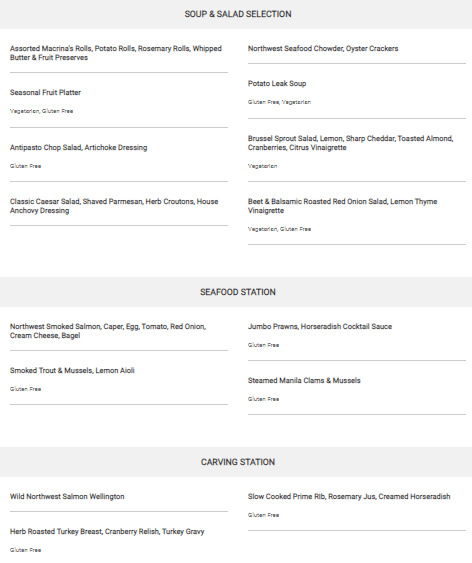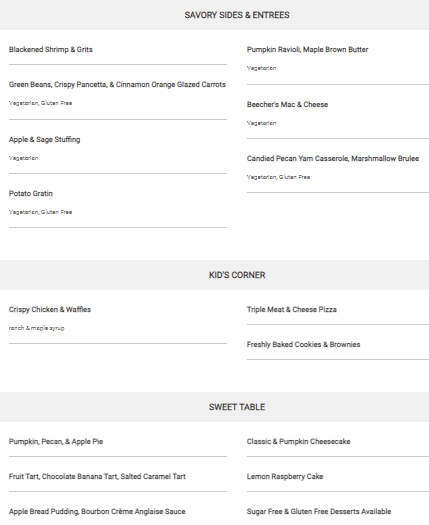 Copperleaf Restaurant at Cedarbrook Lodge
Copperleaf Restaurant at Cedarbrook Lodge is offering a Thanksgiving dinner on November 24. Priced at $85 per person and $35 per child age 12 and under.
Enjoy a four-course menu featuring the impeccably prepared & locally sourced bounty of the season, carefully curated wine pairings, and the warm and wonderful Cedarbrook Lodge ambiance.
Shelburne Pub
Shelburne Pub is offering a Thanksgiving meal on November 24. Priced at $55 per person.
Eden Hill Restaurant
Eden Hill Restaurant is offering Thanksgiving to-go available for pick-up on November 23. Priced at $275 per package (serves 4). Light re-heating and plating will be required, instructions included. Each package contains: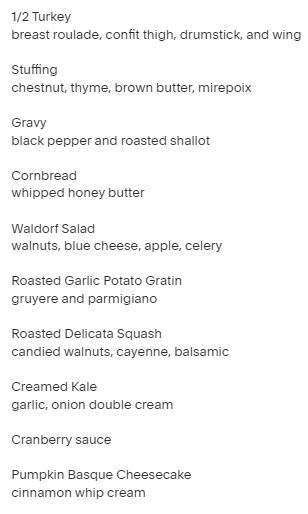 Byen Bakeri
Byen Bakeri is offering Thanksgiving to-go available for pick-up on November 21 – 23. Some items offered include:
Almond Kringle
Almond Crown Coffee Cake
Cinnamon Crown Coffee Cake
Lingonberry Crown Coffee Cake
Marionberry Crown Coffee Cake
8" Raspberry Mazerine Tart
8" Apricot Mazerine Tart
6" Pumpkin Princess Cake
10" Apple Lingonberry Pie
10" Classic Pumpkin Pie
Beast & Cleaver
Beast & Cleaver is offering fresh Thanksgiving turkeys available for pick-up on November 20 from 10 am – 5 pm. These turkeys are Broad Breasted Whites from Moir Country Farm in Chehalis, WA. They are non-GMO, fed no corn, no soy, WA raised, and $8.99/lb. Available in smallest (under 15 lbs), small (15-17 lbs), medium (17-19 lbs) and large (19+ lbs).
Buca di Beppo
Buca di Beppo is open on Thanksgiving day, offering a traditional Thanksgiving menu complete with roasted turkey breast and all the classic side dishes you love. Plus, your favorite Italian specialties from our a la carte menu are available as well for a true Buca celebration. Reserve your table and dine in, or pre-order your Thanksgiving Feast To Go and enjoy at home for an easy and stress-free holiday.
Their Traditional Thanksgiving Feast menu is available for dine in or take out, as well as catering for larger groups, and includes the following:
Sliced White Meat Turkey
Homestyle Gravy
Roasted Garlic Mashed Potatoes
Spicy Italian Sausage Stuffing
Seasonal Vegetables
Cranberry Sauce
Fresh Bread & Butter
Pumpkin Pie
They also offer a Thanksgiving Feast To Go available in two sizes, and perfect for leftovers, which everyone loves! SMALL feeds 3 people ($99) and LARGE feeds 6 people ($186). Make it an even bigger feast by adding your favorite classic Italian dishes including Baked Ziti, Chicken Carbonara and our World Famous Meatballs.
Pre-Orders Must Be Placed By 8am EST Tuesday November 22nd. COLD Pick up / Delivery: Monday 11/21 – Wednesday 11/23, 10am – 8pm. HOT Pick up / Delivery: Wednesday 11/23 – Thursday 11/24, 10am – 8pm.
The Capital Grille
At The Capital Grille, guests can enjoy a chef-prepared traditional Thanksgiving dinner with an upscale twist, including Slow-Roasted Turkey with Brioche Stuffing, French Green Beans with Marcona Almonds, Cranberry-Pear Chutney and Sam's Mashed Potatoes, with the option to add Pecan-Crusted Sweet Potatoes with Hot Honey and Pumpkin Cheesecake at an additional charge.
In addition, those looking to enjoy dinner at home may order a bundle of the restaurant's Thanksgiving sides.
To place a pre-order for pickup on November 23 or 24 or to make a reservation, visit here.
Bahama Breeze
Bahama Breeze is offering guests a Caribbean escape this Thanksgiving – with an island-inspired twist to the classic turkey dinner at select locations.
The meal includes slow-cooked Jerk Turkey, Green Beans, Cornbread Stuffing, Cranberry-Pineapple Chutney and choice of classic Mashed Potatoes or Cinnamon Mashed Sweet Potatoes.
Guests who save room for dessert can also try the Pumpkin Praline Cheesecake.
This island dinner is available for dine-in or takeout, as a Family Bundle, on Thanksgiving day.
For guests who prefer a dinner of Caribbean-inspired favorites, the full menu will also be available.
Yard House
This Friendsgiving, "cheers" with a cold beer and adventurous menu against a backdrop of classic rock at Yard House. With over 100 craft and local beers on tap and menu options perfect for sharing—like the signature Poke Nachos, Jumbo Bavarian Pretzel and Onion Ring Tower—it will be an epic reunion.
Boston Market
Boston Market is offering a variety of Thanksgiving meal options from $11.99 per person, prices may vary by market, starting today at all restaurants nationwide. Guests will have a choice between the Hot & Ready-To-Serve meals, catering and a la carte offerings.
The Hot & Ready-To-Serve meals include everything needed to serve between six and 12 people and can be picked up at any Boston Market restaurant the week of Thanksgiving.
For those ready to feed a crowd, groups of 10 or more can cater a hot, buffet-style dinner or individually plated meals that can be delivered or picked up.
Thanksgiving day-of offerings include a Thanksgiving Day meal for $15.99, featuring a choice of roasted turkey breast or half rotisserie chicken with mashed potatoes and gravy, vegetable stuffing, a dinner roll and a slice of apple or pumpkin pie. Restaurant hours may vary by location.
Ruth's Chris Steakhouse
Ruth's Chris Steakhouse (availability & pricing may differ by location) is offering the following for Thanksgiving dine-in:
Choice of one starter: Caesar salad, steak house salad, or lobster bisque
Entree: Sliced Oven Roasted Turkey, Sausage & Herb Stuffing, Homemade Turkey Gravy and Cranberry Relish.
Choice of one side: garlic mashed potatoes, creamed spinach, sweet potato casserole or green beans with garlic
Dessert: pumpkin cheesecake & vanilla ice cream
They are also offering Thanksgiving to go. $175, serves 4. Available for pickup on November 23 from 12 pm – 4 pm.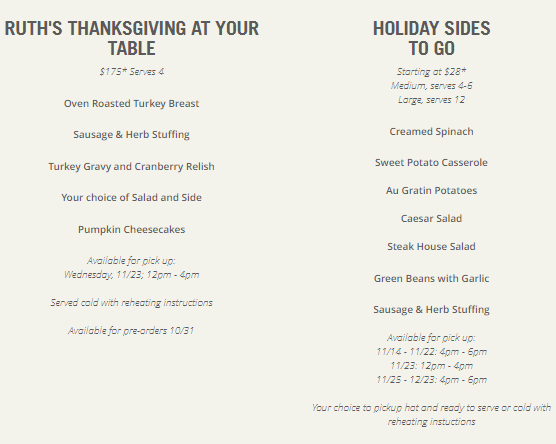 The Honey Baked Company
The Honey Baked Ham Company has the following Thanksgiving offerings:
Honey Baked Ham® & Turkey Feast includes either an eight- or nine-pound Bone-In Half Ham with a Turkey Breast and four Heat & Serve Sides like Maple Sweet Potato Souffle, Double Cheddar Macaroni & Cheese, Green Bean Casserole or Tuscan Broccoli – sure to please all ages!
Turkey Dinner comes with a Turkey Breast and a choice of three Heat & Serve Sides.
Quarter Ham Meal has a Quarter Bone-In Ham and three Heat & Serve Sides.
Honey Baked™ Boneless Ham & Turkey Feast includes a Half Boneless Ham, Turkey Breast and four Heat & Serve Sides.
Desserts options include: Red Velvet Cake, Southern Pecan Pie and Triple Chocolate Cake.
All meal offerings above are available to purchase at your nearest HoneyBaked location or visit honeybaked.com to buy online and pick up in store.
Maggiano's Little Italy
Maggiano's Little Italy has the following Thanksgiving offerings:
Family-style dine-in 3-course menu. Reservations recommended.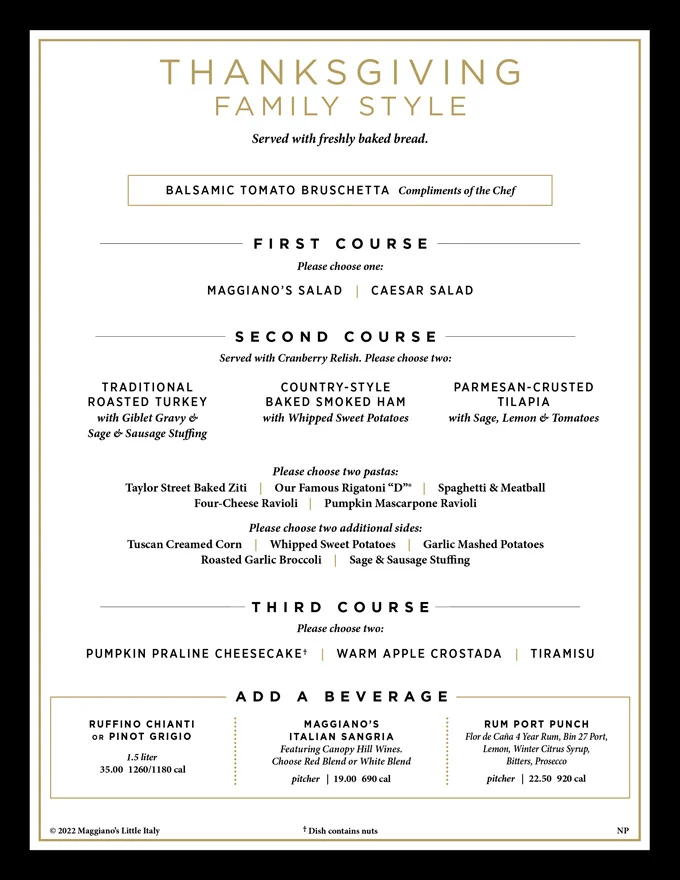 Their hot and cold prepared carryout bundles feed 4-5 people. Cold-prepared bundles are $179.99 and available for pick-up Tuesday, November 22nd and Wednesday, November 23rd. Hot-prepared bundles are $189.99 and available for pick-up Thursday, 11/24. Now taking call-in pre-orders. Online pre-orders start 11/16. Orders must be placed by 8 pm the night prior to pick-up.
Their takeout menu includes: Caesar Salad | Traditional Roasted Turkey with Giblet Gravy and Sage & Sausage Stuffing | Country-Style Smoked Ham with Ham Glaze and Whipped Sweet Potatoes | Spaghetti & Meatballs | Four-Cheese Ravioli | Garlic Mashed Potatoes | Cranberry Relish | Pumpkin Praline Cheesecake | Fresh Baked Ciabatta Bread.
Westerly
Westerly's festive gluten and dairy-free Thanksgiving menu is also available to its customers and will include:
Roasted Porchetta (pork loin rolled with fennel, onion, and herbs) with crispy purple potatoes and leeks, caramelized Brussel sprouts, and roasted butternut squash with a side of rosemary gravy and cranberry sauce.

Vegan Plant Based Option: Pumpkin pecan lentil loaf

Holidays add on of gluten-free mini baguettes by Gloria Provisions are also available.
Thanksgiving orders must be placed by Thursday, November 17.
On average, Westerly donates 115 nutrient dense meals and roughly 70 pounds of food per week to those in need. Each Thanksgiving they increase that by gifting hundreds of wholesome, individually packaged meals to their community partners. This year's donations will be going to the following local non-profits: People's Harm Reduction Alliance; Sustainable Renton; Cherish Adult Family Homes; Southend Tiny House Village; and Nickelsville Central District Tiny House Village. They will also be donating family style meals to Gifts of Hope's food pantry where members of the community can come pick them up the day before Thanksgiving.
Whole Foods
Whole Foods is offering holiday appetizers; holiday meals; a la carte entrees; holiday sides, soups & sauces; and more. They typically offer Classic Turkey Feasts; Surf and Turf Meals; Prime Rib Meals; Beef Wellington Meals; Braised Lamb Shank Meals; Atlantic Salmon en Croûte Meals; Vegan Meals and more. Check your local store for pricing and offerings.
Thanksgiving Meal Delivery Online Services
Omaha Steaks
You can build your own, ready to cook Thanksgiving dinner with Omaha Steaks. They ship nationwide or you can pickup at location closest to you. They offer Turkeys, Hams, & Roasts.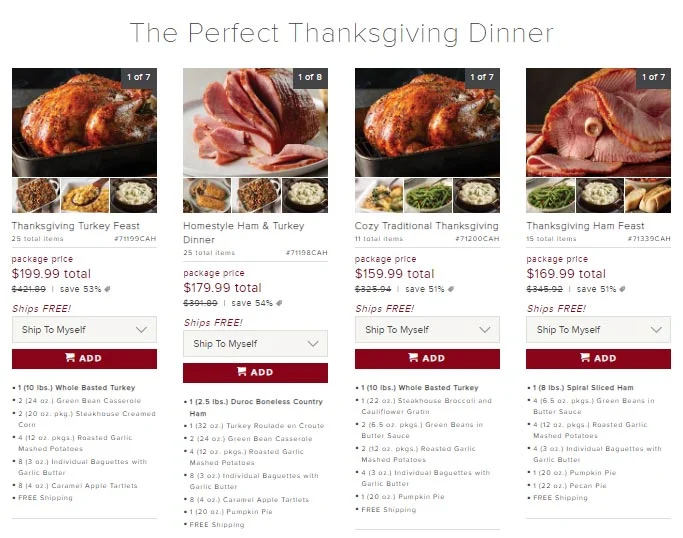 Some of the packages they offer include:
Custom Thanksgiving Feast for 4
Build Your Own Thanksgiving for 6
Build Your Own Thanksgiving for 8
Thanksgiving Turkey Feast
Homestyle Ham & Turkey Dinner
Cozy Traditional Thanksgiving
Thanksgiving Ham Feast
Whole Basted Turkey
Smoked Whole Turkey
Turkey Roulade
Spiral Sliced Ham
Williams Sonoma
Williams Sonoma has a number of Thanksgiving items including made-from-scratch sides or the whole feast that can be heated and served.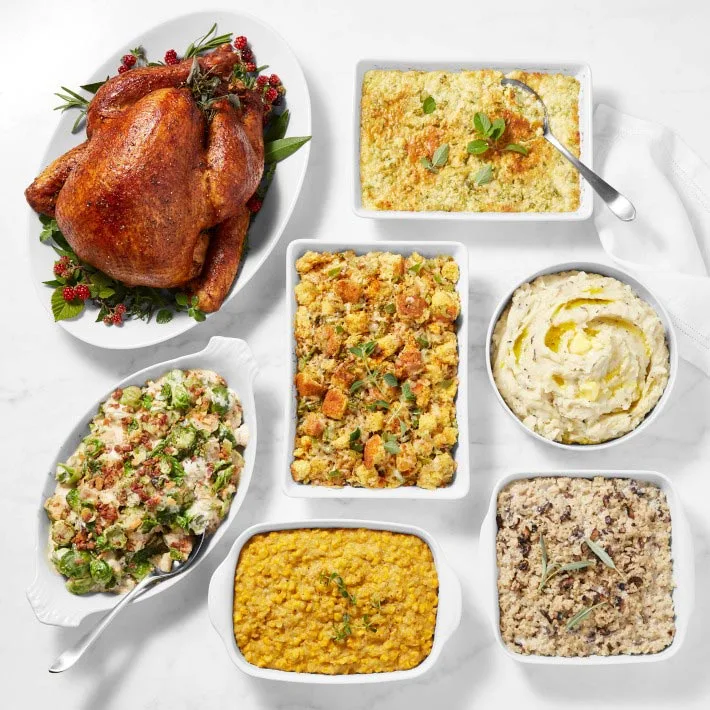 Their Deluxe Thanksgiving Dinner ($299.95) includes the following:
12-14 lb. Willie Bird Pre-Brined, Seasoned Whole Organic Turkey
Truffle Mashed Potatoes
Corn Pudding
Mushroom Risotto
Jalapeno Cheese-Bread Stuffing
Creamy Asparagus and Gruyere Custard
Brussels Sprouts Pancetta Gratin
Simply cook the turkey as usual then pop the side dishes in the oven for a straightforward route to a fabulous feast.
Harry & David
Harry & David has a Thanksgiving Turkey Feast ($249.99) which can be shipped to you: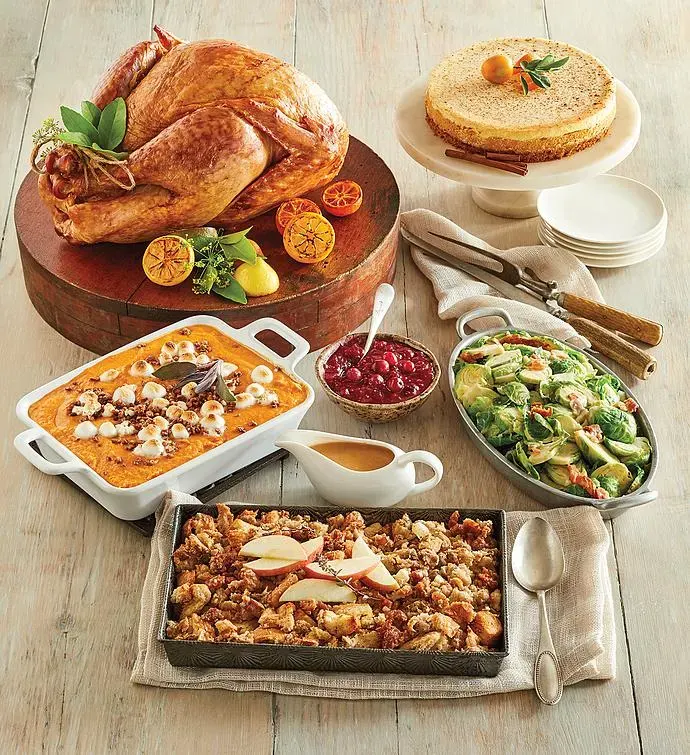 The menu includes:
Ready-to-heat oven-roasted turkey (10 lb)
Apple sausage stuffing (1 lb 14 oz)
Black Truffle and Almond Green Beans (1 lb)
Brown sugar sweet potatoes (1 lb 15 oz)
Pumpkin cheesecake [New York-style pumpkin layered cheesecake] (2 lb)
Classic turkey gravy (13.5 oz)
Spiced cranberry chutney (1 lb)
Home Chef
Home Chef, the leading meal solutions company with both a retail and online presence, is debuting a slew of holiday eats for home cooks looking to spend less time in the kitchen and more time making memories.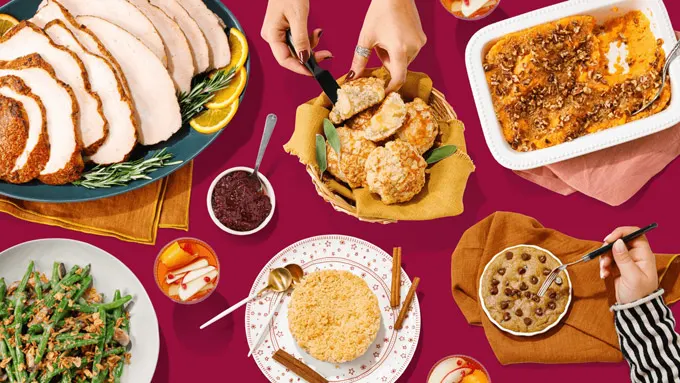 From Thanksgiving through the year's end, Home Chef serves up seasonal dishes everyone will enjoy in both meal kit and heat-and-eat formats – proving holiday eating can be tasty and easy.
During the week of Thanksgiving, order tasty fall recipes including:
Main Course: Turkey Breast Roast ($49.50, serves 6)
Sides ($15.98 each; serves 6): White Cheddar and Sage Biscuits, NEW Sweet Potato Casserole, NEW Grown Up Green Bean Casserole, Loaded Mashed Potatoes with Bacon, Cheddar, & Green Onion , and Brussel Sprouts with Caramelized Onion & Maple Glaze
Desserts (serving sizes vary): NEW Pumpkin Chocolate Chip Cookie Skillet ($7.98) and Apple Crisp Cake ($5.98)
Home Chef's Thanksgiving meal kits will be available to order online at homechef.com starting October 14, and orders must be placed by noon CT on November 18.
Beloved season's eatings from Home Chef are also available at Kroger Family stores nationwide to order ahead, pick up, heat and have on the table in no time.
Home Chef offers in-store holiday bundles that serve four to eight people – main courses, sides and desserts included.
These bountiful bundles make the menu for you, and they're easy on the wallet too, with options for a variety of gathering sizes and budgets.
The delectable dishes in stores* from Thanksgiving to holiday season's end include:
Main Courses: Home Chef Boneless Turkey, Home Chef Boneless Ham, Butterball Bone-In Turkey, Butterball Smoked Bone-In Turkey, Home Chef Bone-In Ham, and Prime Rib
Sides: Creamed Spinach & Cheese, Old Fashioned Bread Stuffing, Creamy Scalloped Potatoes, Broccoli Rice Casserole, Green Bean Casserole, Sweet Potato Souffle, Cornbread Dressing, Turkey Gravy, Mashed Potatoes, and King's Hawaiian Rolls
Desserts: Bread Pudding with Salted Caramel Sauce and Pumpkin Pie
Orders for in-store Heat and Eat Home Chef holiday dishes and bundles can be placed online here, over the phone, or in person at select Kroger Family stores across the country, starting with Thanksgiving orders on November 2.
Thanksgiving orders must be placed by November 22, and final holiday orders must be placed by December 22.
DIY Thanksgiving in Seattle 2022 Meal Ideas
Holiday entertaining tips
Here are some tips on holiday entertaining including charcuterie board tips, how to cook the perfect turkey like a Chef, and virtual holiday party ideas.
Thanksgiving food list
Here is a Thanksgiving Food List to help you prepare or get inspired for your Thanksgiving celebration. You'll find ideas for Mains, Stuffing, Vegetables, Salads, Desserts and more.
Thanksgiving Quotes
Check out these Thanksgiving quotes and messages to demonstrate your gratitude for your loved ones this holiday season.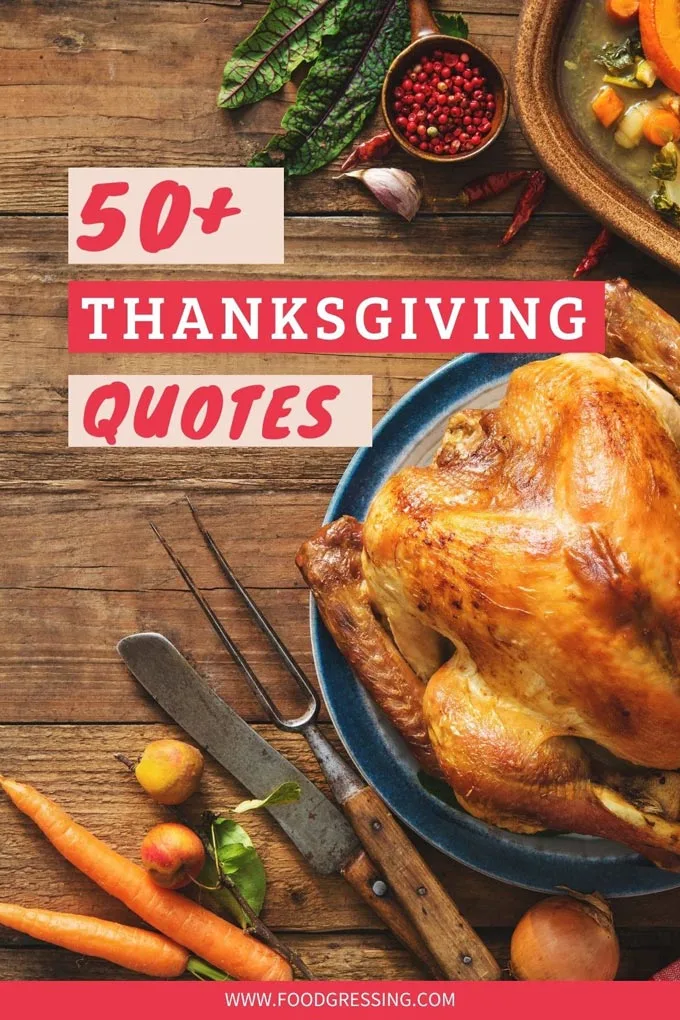 Captions about Family
Looking for captions about family for your social media post? Check out my post on 105+ creative and original captions for family pictures.