Thanksgiving is a wonderful time to eat, drink and be thankful. Looking for ways to celebrate Thanksgiving in Honolulu 2021? This post covers Thanksgiving dinner in Honolulu, restaurants open for Thanksgiving in Honolulu as well as turkey to go and takeout options.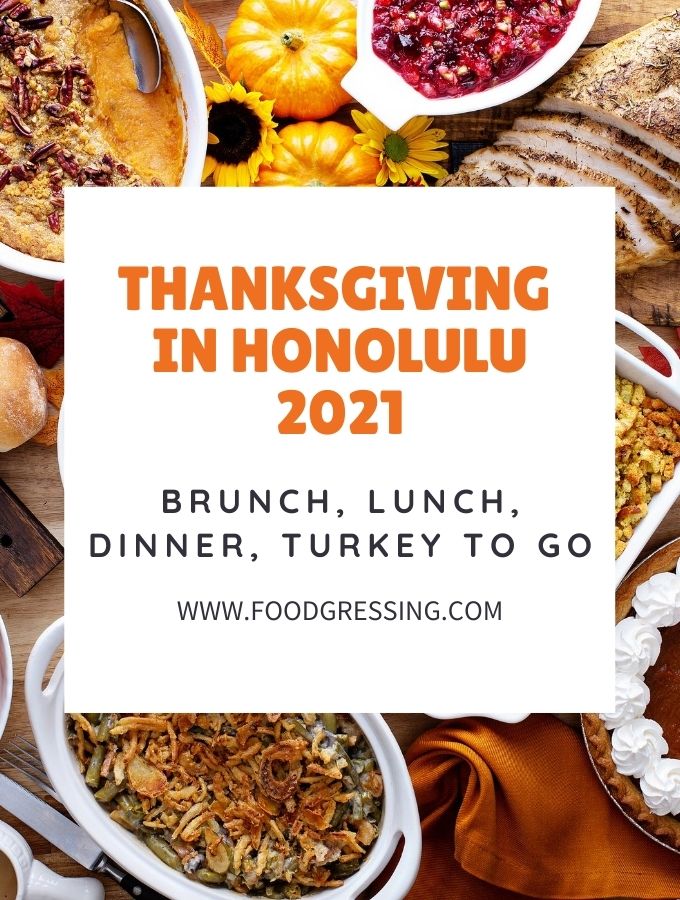 Thanksgiving in America this year is Thursday, November 25, 2021.
This list is updated as information becomes available. Please reach out to me [email protected] or @foodgressing on social media for any suggestions.
Thanksgiving in Honolulu 2021
Hau Tree Restaurant
Hau Tree Restaurant is offering a 4-course Thanksgiving dinner on November 25 from 10 am – 5:45 pm.
Big City Diner
Big City Diner is open from 8 am – 8 pm on November 25. Dinner reservations recommended from 2 pm – 8 pm.
They are offering a Classic Egg's Benedict ($13.99) with Chef's Hollandaise Sauce from 8 am – 3 pm. They are serving an Oven Roasted Turkey Special ($24.99) or Keiki Turkey (Age 10 and Younger, $13.99) from 11 am on.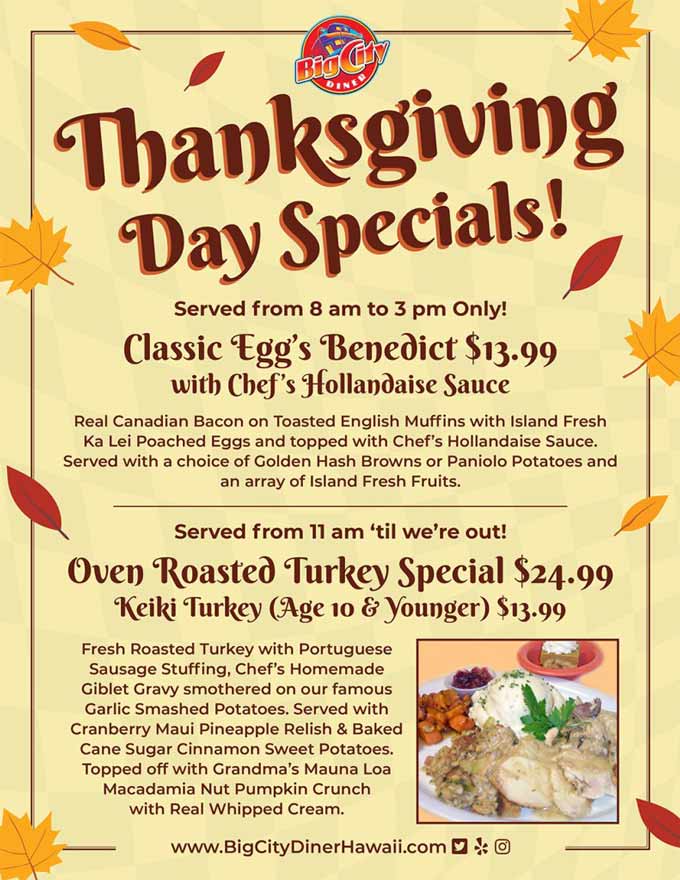 Big City Diner is also offering a Thanksgiving Big Meal To-Go ($129.99) for preorder.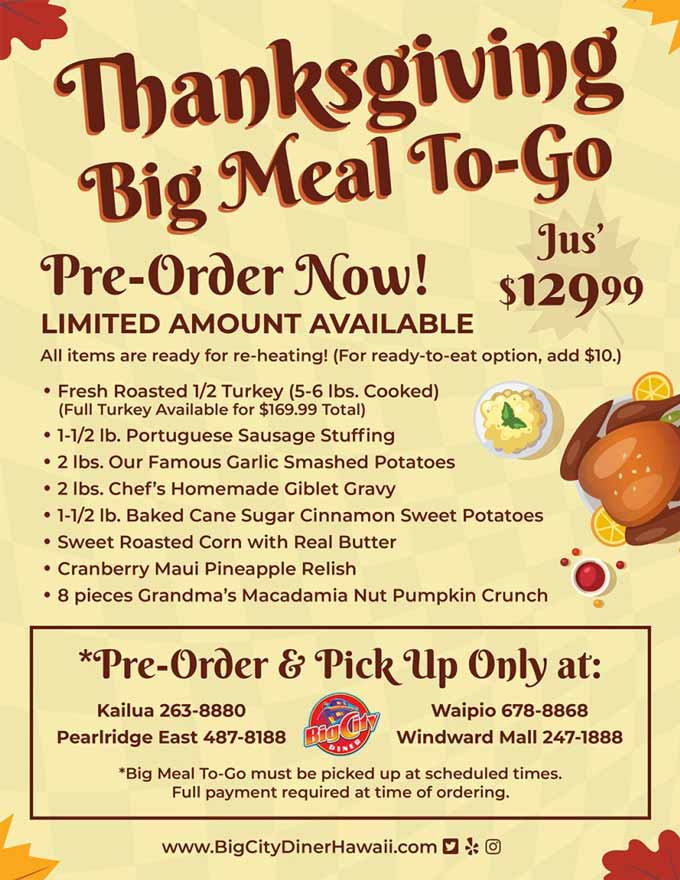 Rock-A-Hula
Elvis Presley and Michael Jackson tribute artists join other performers for a special edition of Rock-A-Hula, a Waikiki dinner show on Thanksgiving.
You can choose from three packages: either a luau buffet with a mai tai; a four-course lobster spread with premium beverages; or the Green Room package, with a backstage tour and souvenir photo with one of the stars. All meals include a Thanksgiving-themed dessert.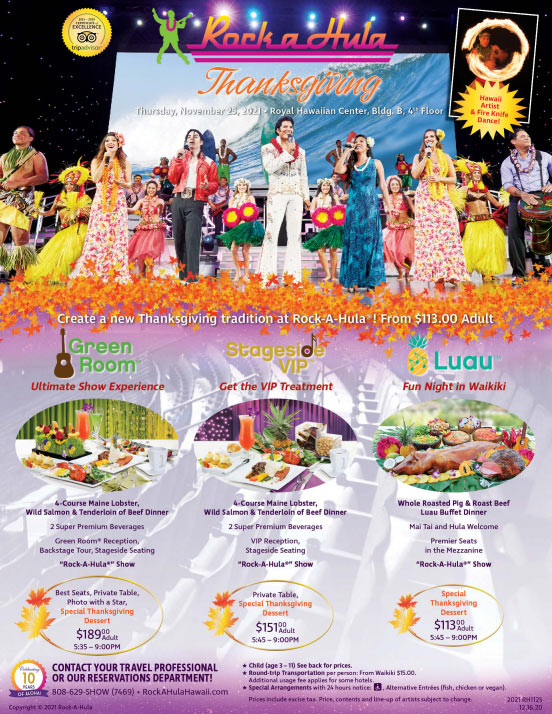 Bernini Honolulu
Bernini Honolulu is offering a Thanksgiving set course dinner at $90/person. Reservations are for November 25 for two seating times: 5 pm-7 pm and 7:30 pm – 9:30 pm.
They will not be serving our regular dinner menu on this day. They only accept phone reservations at 808-591-8400. They require a Credit Card number at the time of reservation and will charge 100% of the course cost per person for cancellations made after 11/18/21 (1 week prior). Lunch will be open for regular lunch hours with a regular lunch menu.
Pagoda Floating Restaurant
Pagoda Floating Restaurant is offering a drive-thru pick-up for festive turkey feasts ($250) is on Thanksgiving Thursday, November 25. 2021 from 9 am – 2 pm at the restaurant's back entrance on Kanunu St. or at the Japanese Cultural Center of Hawai'i in Mōʻiliʻili.
Festive Turkey Feasts are hot and ready to serve parties of 6 to 8 and includes the following:
12 – 14 lbs Whole Roast Turkey
Giblet Gravy
Stuffing w/ Portuguese Sausage
Mashed Potatoes
Fresh Cranberry Relish
Yams w/ Marshmallow Topped w/ Macadamia Nuts
Corn on the Cob
Pumpkin Pie
1 Dozen Punaluʻu Sweet Bread Rolls
Pre-paid orders only and must be placed by Friday, November 19, 2021. No refunds and offer not combinable with other offers.
For more information, please call (808) 948-8370.
The Kahala
Enjoy award-winning Kahala cuisine this Thanksgiving. Executive Chef Jonathan Mizukami has over a decade of experience in Michelin-starred restaurants around the world. Now, he's bringing his culinary vision to the Thanksgiving dinner table—at The Kahala and in your home!
Dine in one of the on-site restaurants on Thanksgiving. This year, they're offering special treats for Brunch and Dinner. Make your holiday one to remember by joining us at The Kahala.
Thanksgiving Dinner at Hokus: November 25 at 5:30 pm – 8:30 pm
Hoku's will celebrate with a special Grand Tasting Menu ($200 per person) featuring a delicious array of entrees. A special Vegetable Tasting is also available.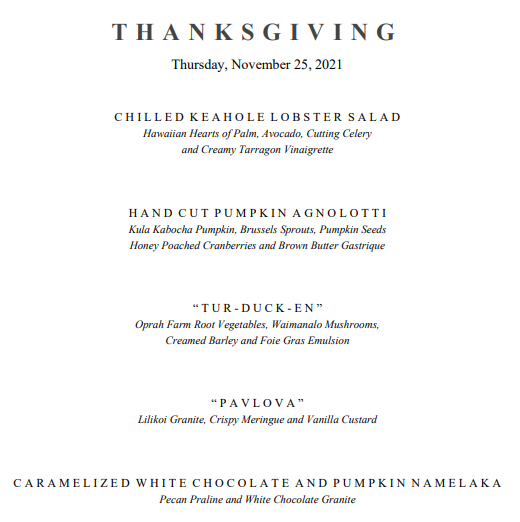 Thanksgiving Brunch Buffet at Plumeria Beach House: November 25 at 10:30 am – 2 pm
Join them for an all-you-can-enjoy served buffet, featuring a carving station, chef specialties, hot pods and delicious dessert offerings. $98 adult, $49 child (6-12 yrs).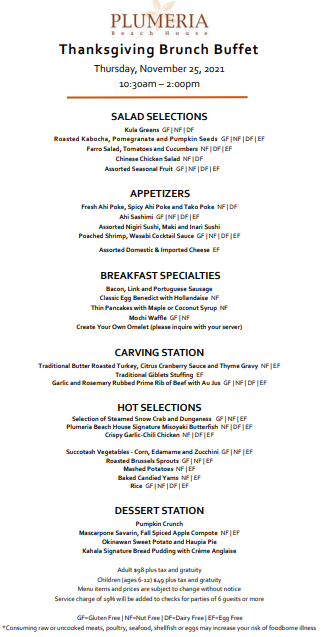 Thanksgiving Dinner at Plumeria Beach House: November 25 at 5 pm – 8 pm
Plumeria Beach House will offer a special Thanksgiving all-you-can-enjoy served buffet. $98 adult, $49 child (6-12 yrs).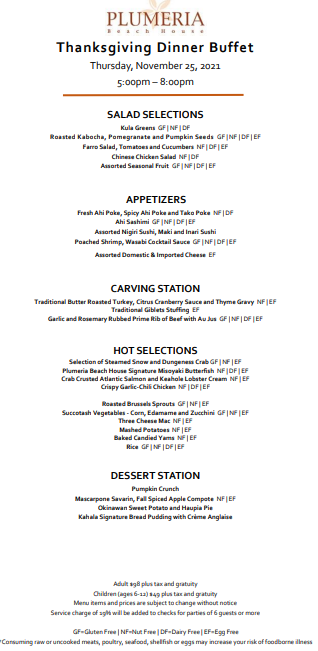 Thanksgiving to Go
Schedule a convenient drive-thru pick up and enjoy fresh turkey and an array of sides, including a family recipe from Chef Mizukami himself.
The Thanksgiving meal ($450) serves 6-8 people and includes:
Free Range, Non-GMO, Fresh Turkey, Cooked and Prepared by Chef Mizukami (14lbs on avg.)
Traditional Turkey Gravy
Freshly Made Citrus Cranberry Sauce
Chef Mizukami's Family recipe "Portuguese Stuffing"
French-style Roasted Garlic Pomme Puree
Green Bean Casserole, Apple Wood Smoked Bacon, Crispy Onions and Truffle Mushroom Bechamel Sauce
Mixed Green Salad, Kawamata Farm's Tomatoes, Spiced Pecans and Lemongrass Ginger Vinaigrette
Kahala's "Pumpkin Pie" Bread Pudding with Eggnog Anglaise
Pick up time needs to be selected at the time of order. Pick up times include Wednesday, November 24 or Thursday, November 25. Preorder by 5pm on November 19.
Zippy's
Zippy's is offering Thanksgiving packages to go available for pick up on November 24 and 25. Order online and save up to $20.
Whole Turkey Package, serves 8 – 10 people: $121.95 online price
Half Turkey Package,s erves 4 people: $67.95 online price
Whole Turkey only: $71.95 online price
The Whole and Half Turkey packages include:
Turkey
Stuffing
Mashed Potatoes
Poultry Gravy
Cranberry/Pineapple Relish
King's Hawaiian Sweet Dinner Rolls
Merrimans
Merrimans is offering a Thanksgiving Prix Fixe Menu priced at $115 per person, and $42 Children 12 & under. Reservations are for November 25 from 12 pm – 8 pm.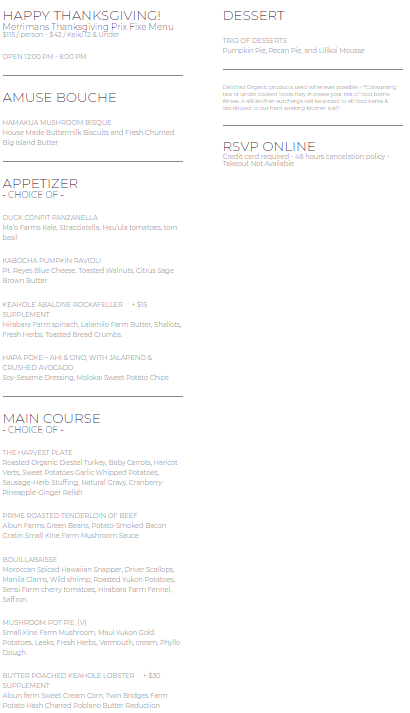 Ruth's Chris Steak House
Ruth's Chris Steak House (Waikiki Beach Walk, Downtown Honolulu) is offering a 3-Course Thanksgiving Feast. $42.95 for Adults and $15.95 for Children.
DIY Thanksgiving in Honolulu 2021 Meal Ideas
Holiday entertaining tips
Here are some tips on holiday entertaining including charcuterie board tips, how to cook the perfect turkey like a Chef, and virtual holiday party ideas.
Thanksgiving food list
Here is a Thanksgiving Food List to help you prepare or get inspired for your Thanksgiving celebration. You'll find ideas for Mains, Stuffing, Vegetables, Salads, Desserts and more.
Thanksgiving Quotes
Check out these Thanksgiving quotes and messages to demonstrate your gratitude for your loved ones this holiday season.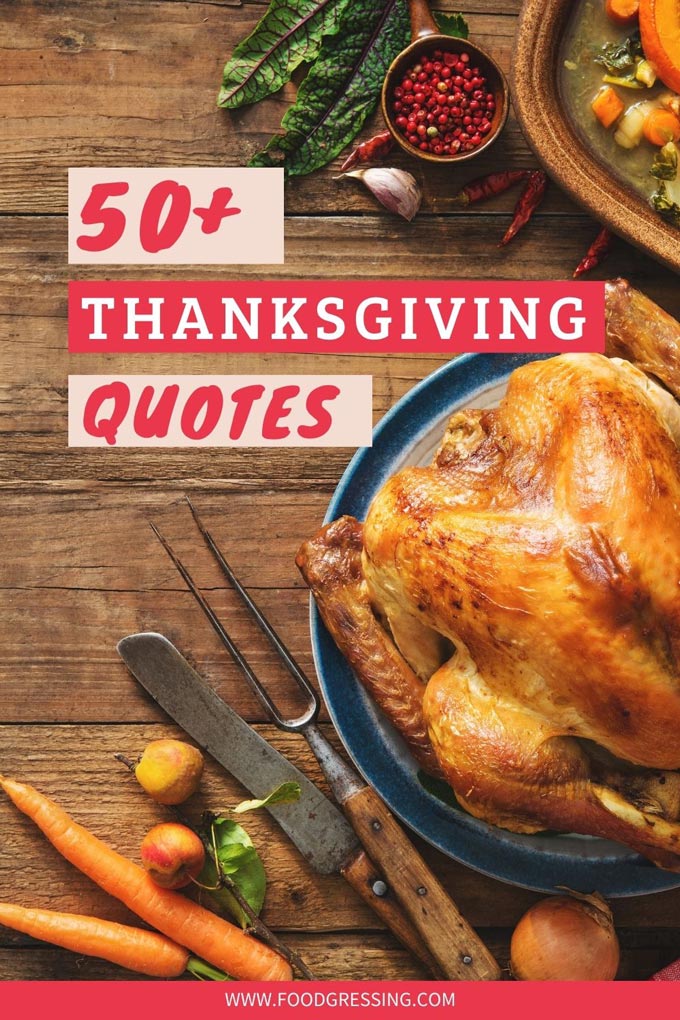 Captions about Family
Looking for captions about family for your social media post? Check out my post on 105+ creative and original captions for family pictures.