It had been several months since I visited Spade (see post here), an Italian cafe and restaurant on Commercial Drive. Spade opened less than a year ago and is the sister restaurant of Prado. By day, it's a place for espresso-based drinks, Italian sandwiches and salads and at night it transforms to a restaurant serving cocktails, wine and family-style plates in the evening. This past weekend, I visited Spade to try out some of their brunch and lunch items.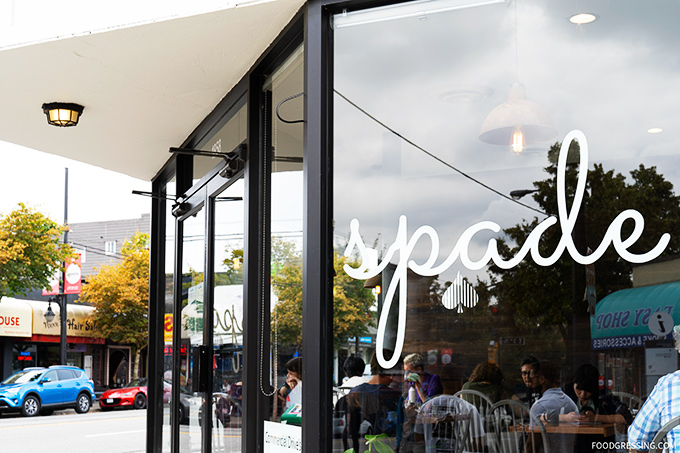 Disclosure: I had received a gift card from Spade. Most of my meal was covered by the gift card. Opinions are my own.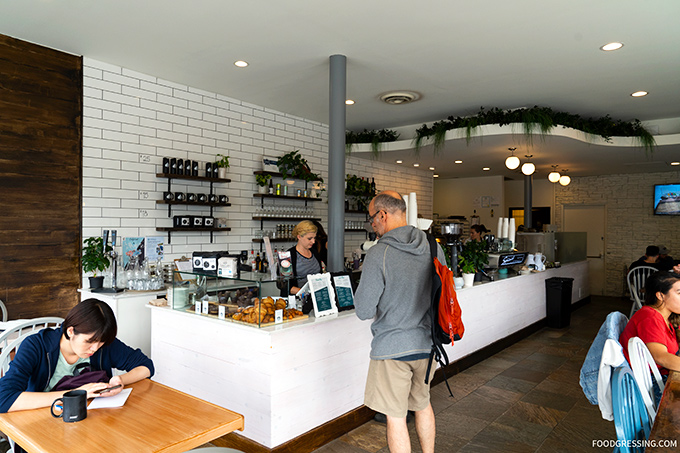 Spade Brunch and Lunch Menu
On the daytime menu for Spade are Italian breakfast bowls, sandwiches, toasts, salads and wraps. The bread they use is from A Bread Affair – a certified organic bakery based on Granville Island.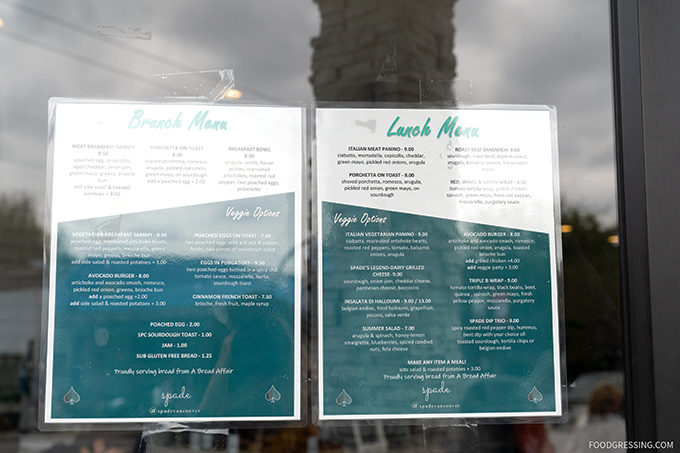 What I Tried
They have a lovely seating area just outside the cafe with a signature Spade painted on the wall.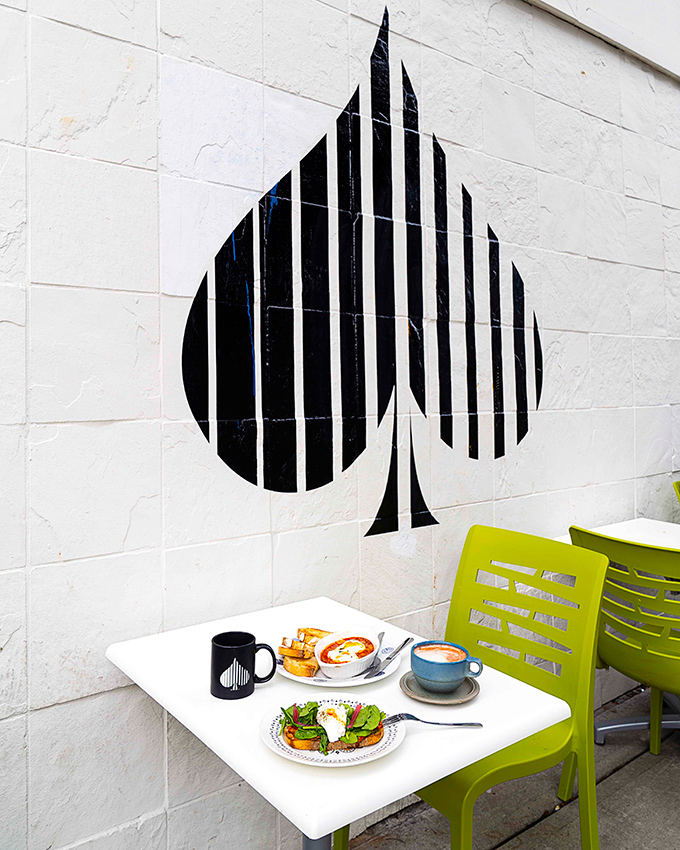 We ordered the Eggs in Purgatory ($9.50), Porchetta on Toast with an egg ($10), and a Beetroot Latte ($5.50).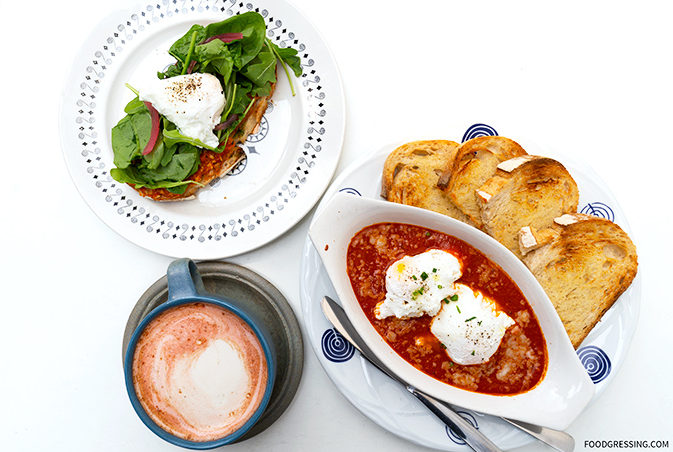 Eggs in Purgatory
A very tasty dish featuring two poached eggs in a spicy, flavourful chili tomato sauce on sourdough toast. The sourdough was fantastic with a nice chewy flavour.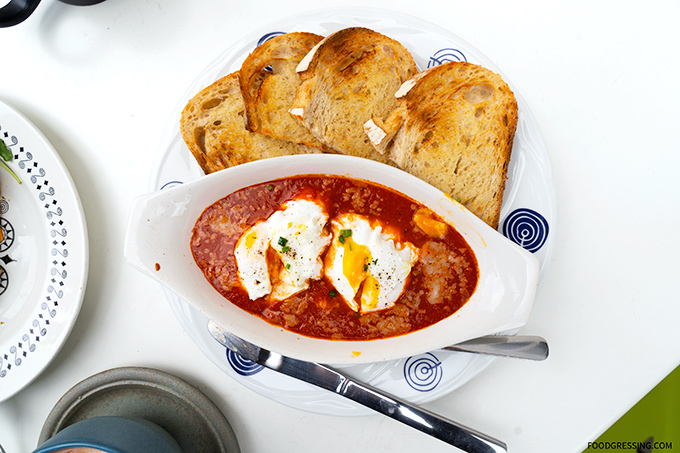 Pink Latte
The Pink Latte is a special offering at Spade. It features a beetroot blend with cinnamon, ginger, cloves, honey and steamed with raw almond milk. The drink is vegan, caffeine-free and organic. Proceeds from every Pink latte are donated to The Downtown East Side Women's Shelter and Cynthia's Place in Surrey which is a part of the Elizabeth Fry Society. I enjoyed the flavours of the latte which tasted mildly of beets. I also liked that it was a dairy-free latte which is great for someone like me who is a bit lactose intolerant.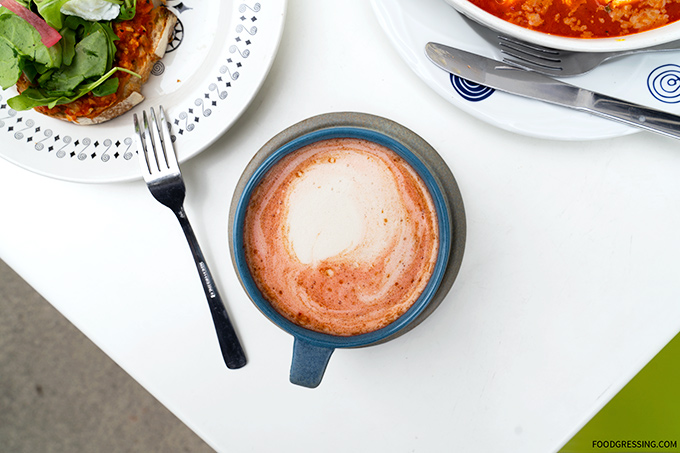 Porchetta On Toast
This toast had shaved porchetta, romesco, arugula, pickled red onion, green mayo, on sourdough. The porchetta I found was a bit understated. Perhaps the portion was just too little? I found that the arugula and sourdough came through more in each bite.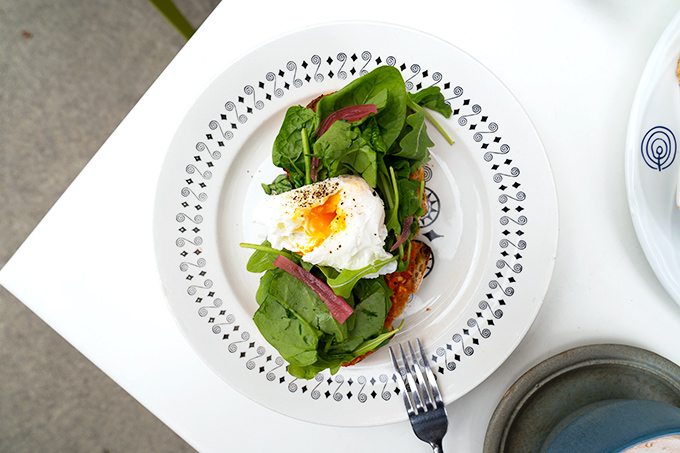 Overall Impression
The brunch/lunch items I tried from Spade were overall pretty good. I'd be interested to revisit in the future and try more of their menu. Rating: 4/5
Spade Coffee Spirits & Treats
Address: 1858 Commercial Drive
Website: www.spadecoffee.ca‎