On your next visit to Prado Cafe, you might just go for more than just coffee. Brunch is now available at Prado Cafe's West Hastings, Fraser and Fir locations with Commercial Drive coming soon. The hours to get your brunch on at Prado Cafe are Mondays to Fridays from 8 am – noon and 8 am – 2 pm on the weekends. Proudly serving 49th Parallel Coffee Roasters, Prado Cafe's expanded menu includes poached eggs, pea and avocado smash on toast, a daily selection of house-made scone, coffeecakes, feature sandwiches and more. I was invited for a tasting of their brunch items along with Diana (Foodology.ca).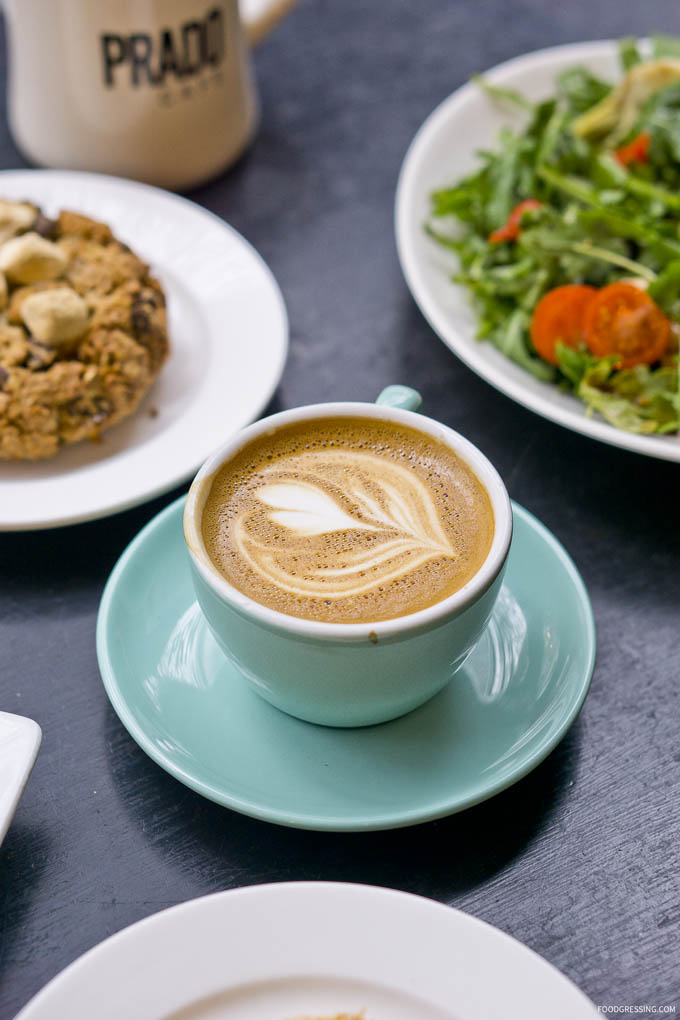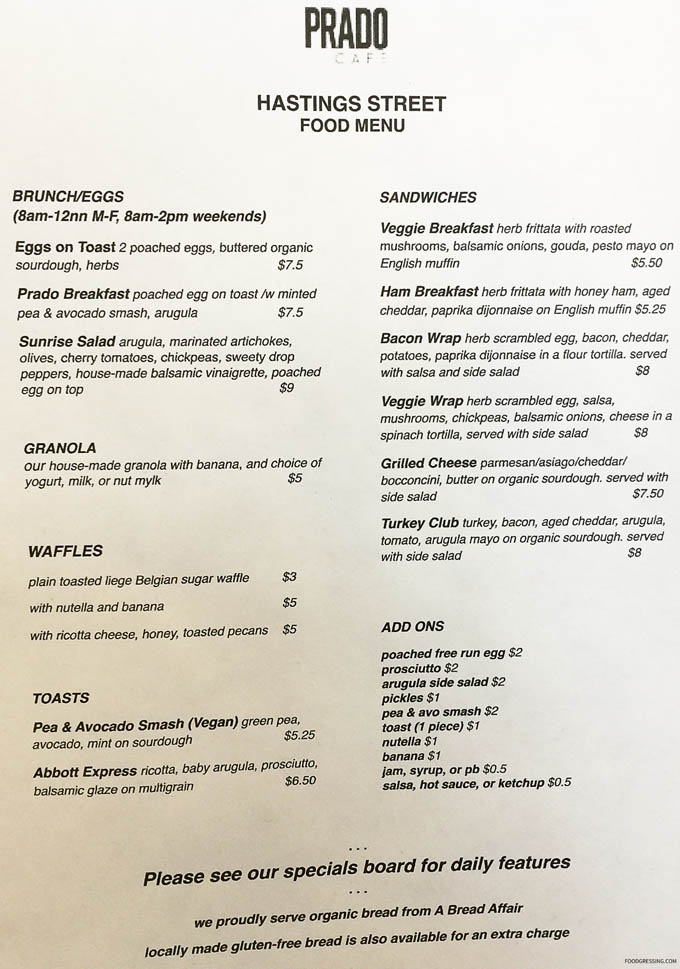 Disclosure: All food and drinks in this review were complimentary. Opinions are my own.
What We Tried
For our brunch tasting, we had the following:
Prado Breakfast ($7.50) with additional poached free run egg ($2)
Sunrise Salad ($9)
Waffle with ricotta cheese, honey, toasted pecans ($5)
Pea & Avocado Smash on toast ($5.25)
Assorted baked goods
Coffee (latte, macchiato)
Check out some egg porn action in my Youtube video. And please like and subscribe if enjoyed <- shameless plug!
The Prado Breakfast featured a toasted topped with a poached egg, minted pea and avocado smash and arugula. All the ingredients tasted fresh and it was an overall light yet filling breakfast item. The balsanmic vinaigrette for the arugula was tasty and had a slight tangy flavour. I would recommend this item.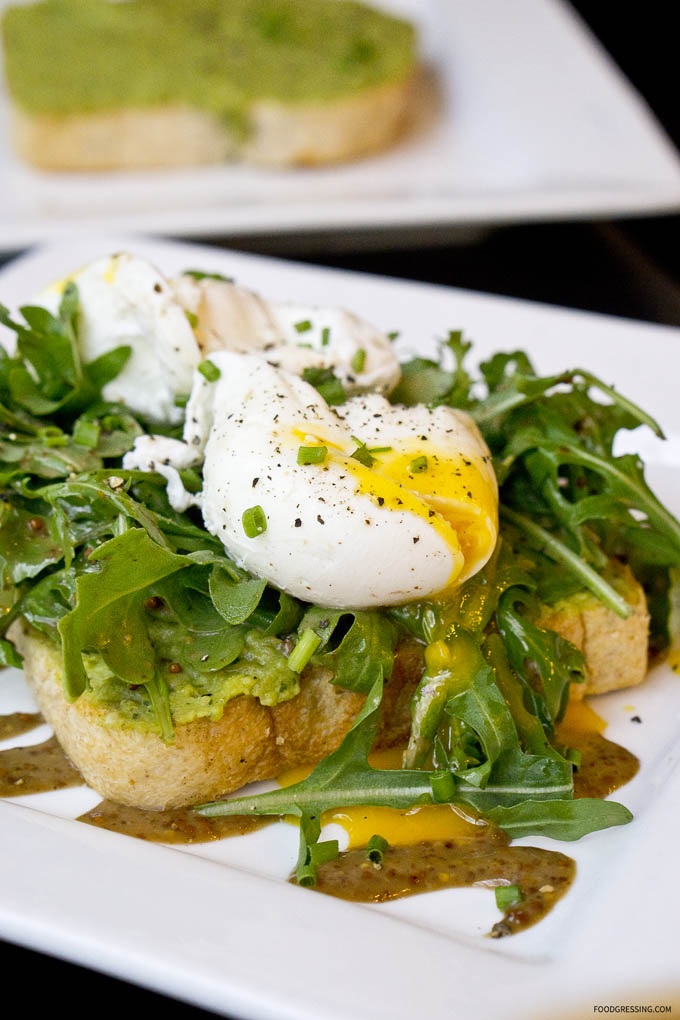 There are three waffle options available and we went with the ricotta cheese, honey and toatsed pecans. I quite liked the soft, creamy curds of the ricotta cheese combined with crunchy toasted pecans. Overall, I liked the sweet and nutty flavours of this waffles.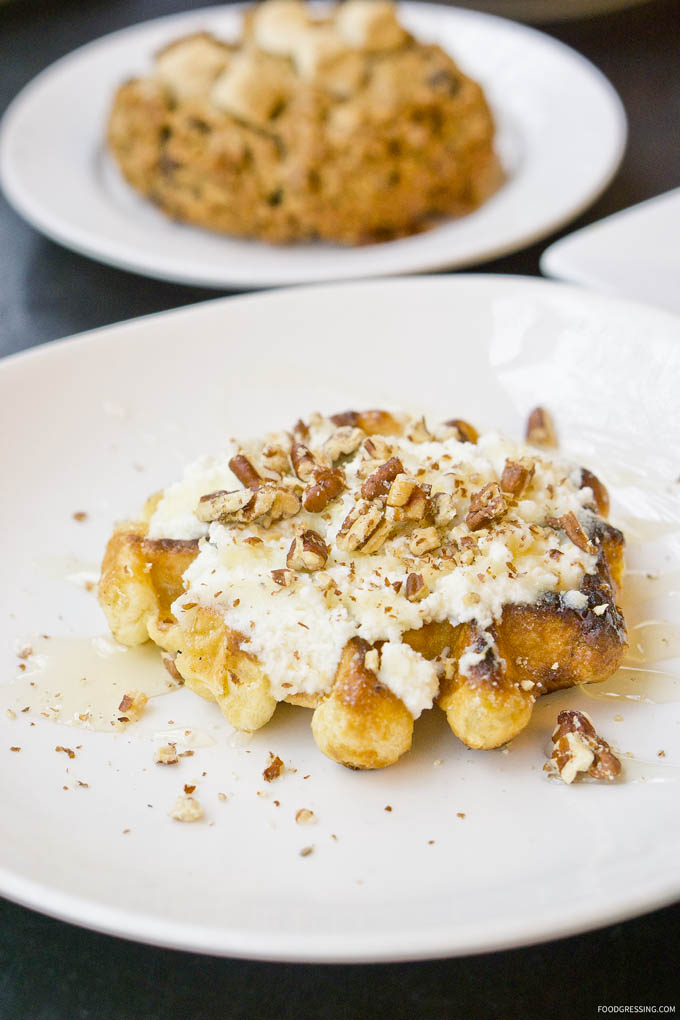 As seen in the Instagram photo above, we also had the Peas & Avocado Smash on toast and the Sunrise Salad. The Peas & Avocado Smash on toast is a vegan item featuring green pea, avocado, and mint on sourdough bread. Simple, tasty with bright flavours; it's like spring in every bite. The Sunrise Salad was a refreshing mix of arugula, marinated artichokes, olives, cherry tomatoes, chickpeas, sweetly drop peppers, house-made balsamic vinaigrette and a poached egg on top.
We also tried an assortment of cookies which I enjoyed for their chewy texture and reasonable level of sweetness.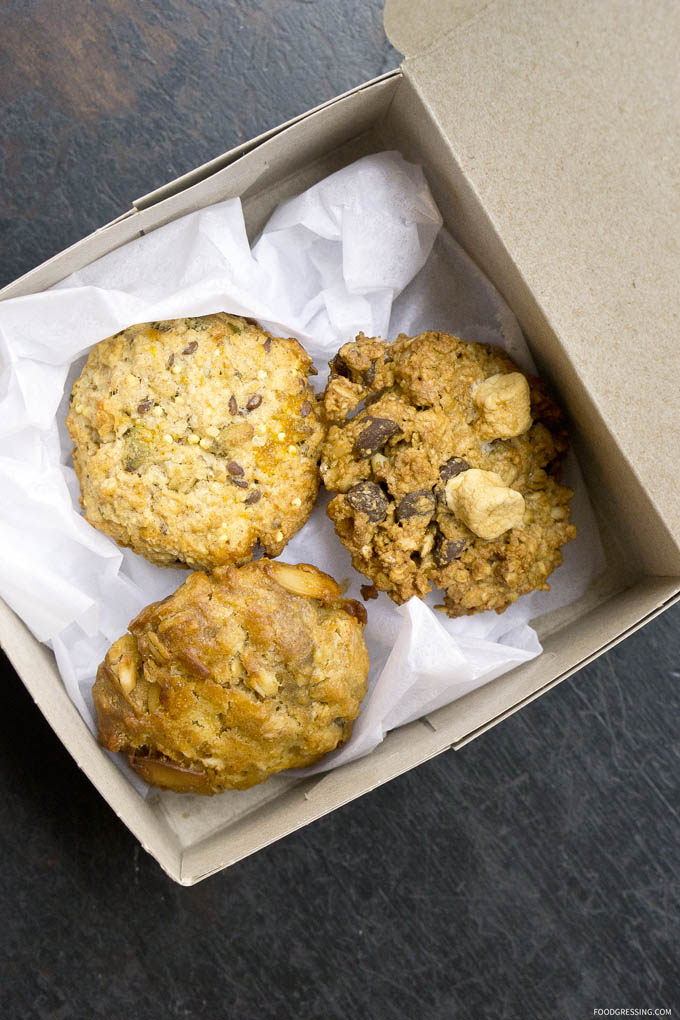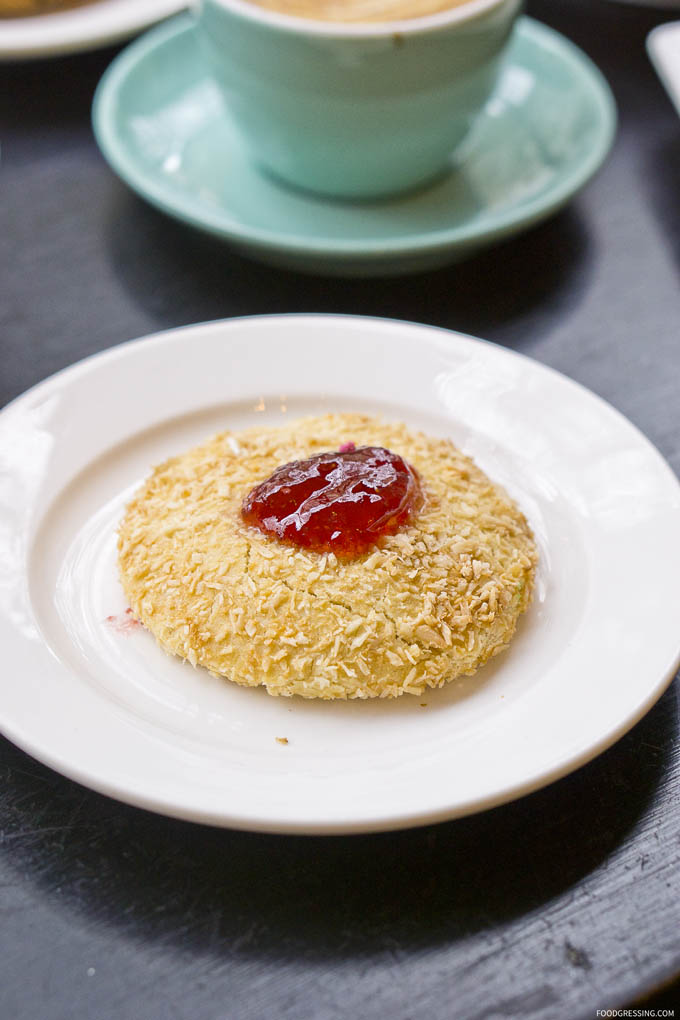 Overall Impression of Prado Cafe's Brunch menu
I quite enjoyed the light, filling yet tasty eats from Prado Cafe's brunch menu. There is a good assortment of choices that extended beyond your typical avocado on toast. My favourites were the Prado Breakfast and Pea & Avocado Smash on toast. Rating: 4/5
Website: pradocafevancouver.com