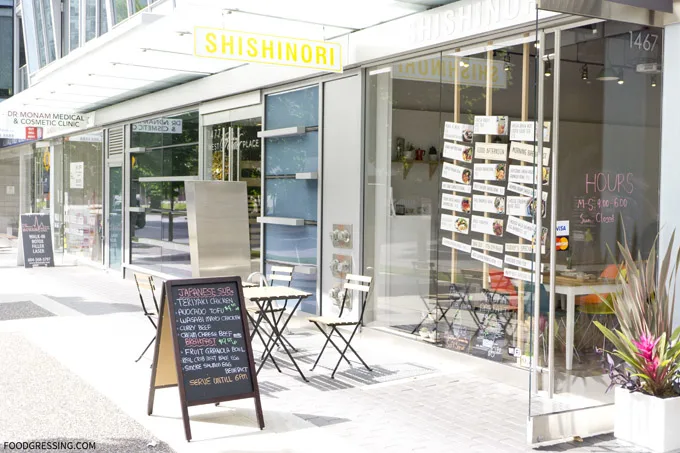 Cambie's darling Japanese eatery, Shishinori, opened its second location at 1467 West Pender Street last month. I had tried their food a few times before and enjoying my dining experiences at the Cambie location. This time around, I visited their new home in Coal Harbour for some lunch time refreshing eats.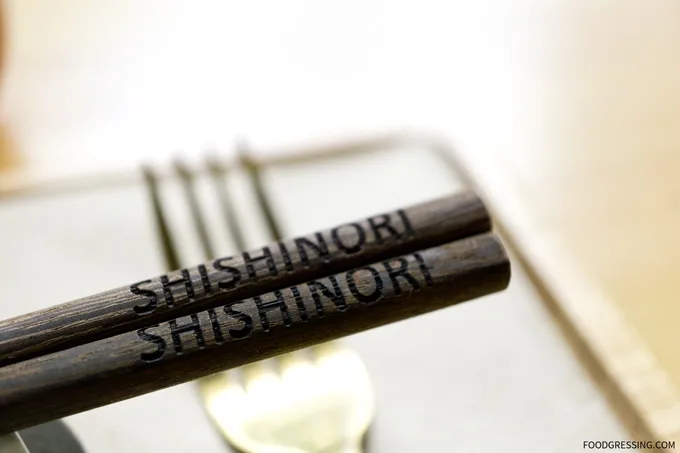 Cute but minimalistic
Shishinori opened up just a few doors down from Soirette Macarons. The restaurant seems physically just a bit bigger than their Cambie location but the interior design is the same. It's minimalistic except for cute little accents like a small basket of flowers and vibrantly-colored plastic chairs. An anime show is projected onto one one of the walls.
The restaurants seats about 20 with tables for two or four inside and a few tables for two outside.
Shishinori Menu
Shishinori is best known for their vibrantly-coloured, light and healthy Japanese-Western fusion dishes. It's the kind of place to go to for Japanese food but not ramen or sushi. They offer very affordable subs for under $5 like the spicy teriyaki avocado sub ($4.75) and wasabi chicken mayo sub ($4.75). For breakfast, you can find seafood-centric items like the smoked wild salmon benedict ($10 and real crabmeat bake eggs ($10). They have a variety of lunch bowls including the ahi tuna carpaccio bowl ($12) and Hawaii ahi poke bowl ($12). For an extra $2.50, you can enjoy a drink and small dessert with your meal.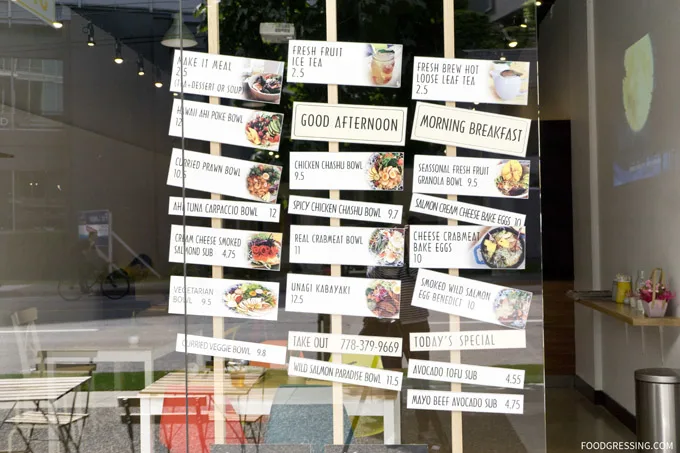 What We Tried
My husband and I had both had lunch combos (+$2.50):
Drinks: Iced mango black tea, Iced peach black tea
Entree:

Chicken chashu bowl ($9.50) with prawns (+$2.50)
Hawaii ahi poke bowl ($12)

Dessert: Mango pudding x 2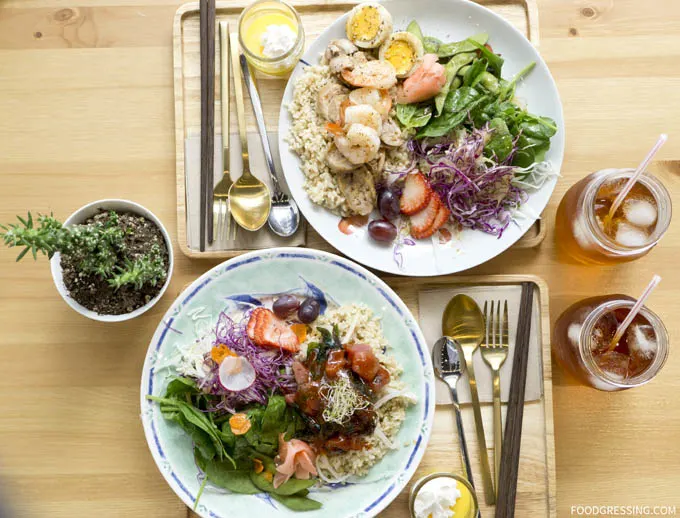 The server first brought our ice drinks to the table in mason jars. The peach and mango both tasted very similar and were too subtle in flavour. It could have used a bit more sweetness as well. Perhaps they were aiming for a healthier drink? I know that I pass on their drinks next time.
Shishinori's entree bowls contains predominantly salad and brown rice. The salad contains a sweeter tasting dressing and healthy mix of veggies and fruits like alfafa, spinach, cabbage, grapes and strawberries. The edamame and soil boiled eggs that came as sides were a nice touch.
For some extra protein I ordered prawns with the chicken chashu bowl. The chashu was nicely tender but light on flavour. Similarly, the prawns had little taste.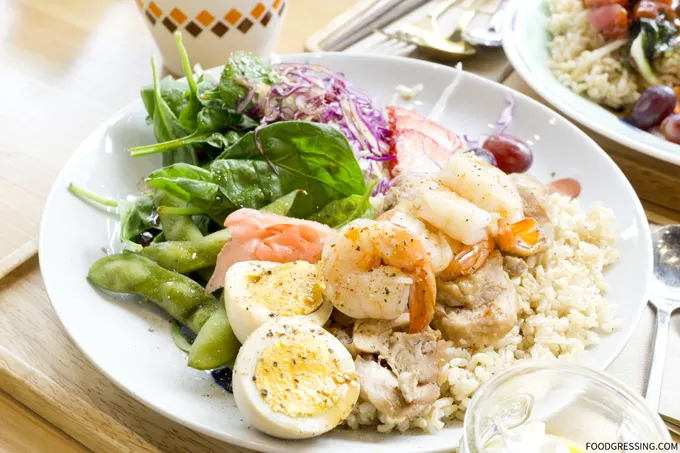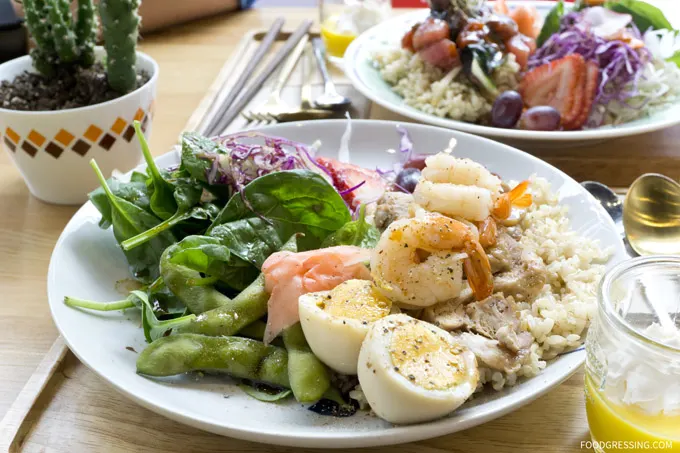 The tuna in the Hawaii ahi poke bowl (marinated tuna salad) had no smell (good sign), bright red and firm to touch. We went with the spicy version which definitely had a kick to it. The dressing was mostly soy-sauce based.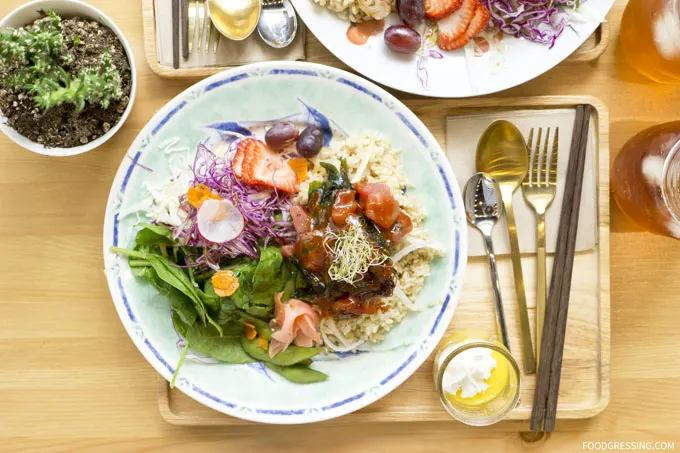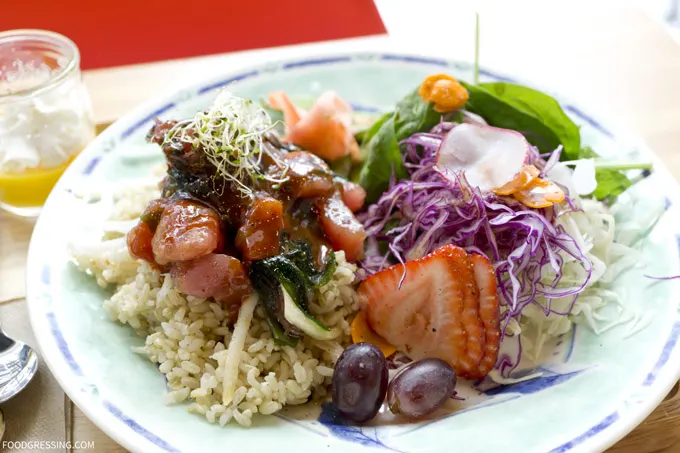 The mango pudding was a disappointment. The mango flavour just wasn't really there; rather than creamy, it was mostly gelatin. I suppose this would be healthier version of the mango pudding I reguarly enjoy, but I wouldn't order this again.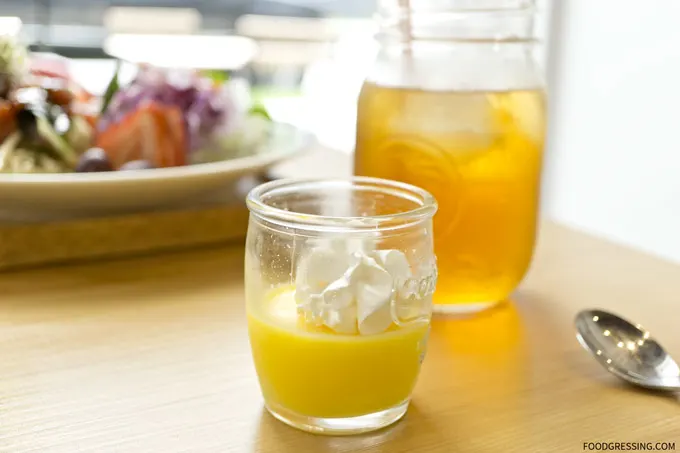 Overall Impression of Shishinori
The entree bowls at Shishinori are more on point for me than the drinks and mango desserts. I'd skip the combo in the future. Rating: 3.5/5
Facebook: @shishinori