Well, here it is…I'm presenting to you my favourite meal of the decade! Dinner at Saison in San Francisco (2018 Michelin 3-Star and #37 on the 2018 World's 50 Best Restaurants) takes this special place in my heart and belly). The uniqueness of the dishes, service, atmosphere and overall dining experience made it worth traveling for.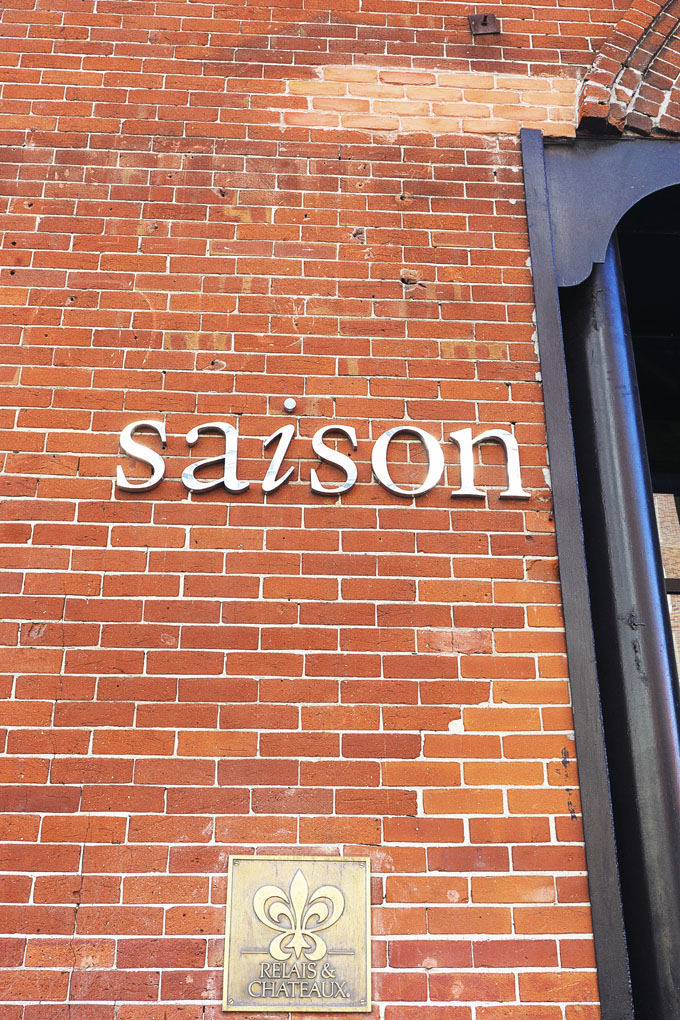 How Did We Decide on Saison?
So how is it that I came to dine at Saison? Well, a few years back, David (pickydiners.com) and I were fans of the 2014 documentary, Foodies, which followed a group of food bloggers on their mission to eat at the best restaurants on Earth.
We decided to go on a little foodie journey of our own to San Francisco – one of the fine dining capitals of the world – and experience dinner at one of the world's best restaurants, Saison.
Of course, when you want to travel food especially at a Michelin Star restaurant, it usually takes some advance planning.
Reserve Ahead of Time
We made a reservation two months in advance where we had to pre-pay a deposit. The price for dinner was $298 USD per person. Then, on March 24, 2018, we arrived at Saison for a dinner experience of a lifetime.
Background
Established in 2009 by Joshua Skenes, Saison is a modern American restaurant with cuisine that is focused around wood fire cooking of seasonal ingredients. They work directly with fisherman, hunters, gatherers, ranchers, and farmers for ingredients.
Inside Saison
The restaurant is located within a warehouse with tinted windows from the outside but the inside has a warm, inviting atmosphere.
The hunter-gatherer and rustic-inspired menu also set the tone of the decor which featured some taxidermy of animals which would be part of the menu.
The Kitchen
We had front row seats to the kitchen which you can specifically ask for when you make your reservation.
What We Ate and Drank
Joining me and David on this dining experience was our friend, San Francisco-based photographer, William (@wdwphoto). We had to celebrate the occasion of course with a bottle of Larmandier–Bernier Terre de Vertus.
I also opted for some tea which came in the utmost, cutest modern tea cup.
First Course
Our first course was served without utensils as we were expected to eat with our hands. A warm towel was provided.
This course included a sliced lobster tail, charred pineapple, remaining meat placed into a claw shell, greens and flowers and lime.
If you're familiar with Chinese lettuce wraps, then this was a similar concept. We essentially created DIY wraps with all seafood and ingredients.
Second Course
Next up was the signature Saison dish: a delicate mound of plump sea urchin (uni) on liquid toast made from toasted Tartine Bakery sourdough bread that was soaked with a juice made with stock, seaweed, brown butter and lemon. Lots of umami greatness with some caramelized sweetness!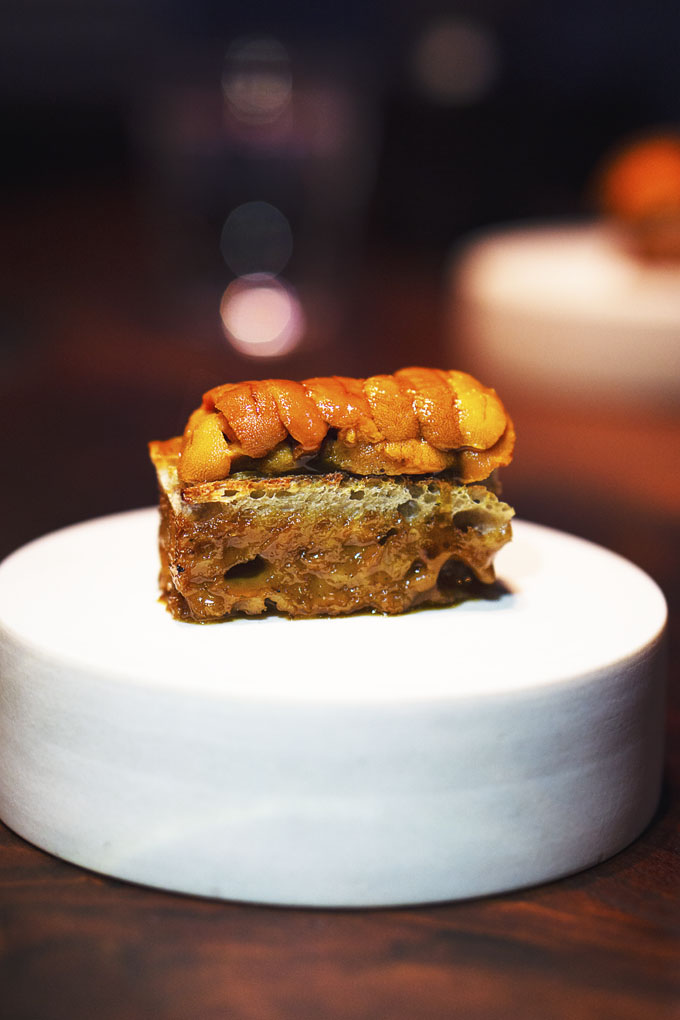 Third Course
Third course was a black cod with the most perfect fried skin and buttery flesh.
Fourth Course
The fourth course was a wildflower honey glazed half quail served alone on a plate.
Fifth Course
For the fifth course, we were presented with a selection of hunting knives which would serve as our steak knife.
The dish was plated at table-side and featured a roasted antelope with grilled radicchio and topped with sweet ver jus.
Accompanying the dish were Southern-style country biscuits dusted with chilli and house-made honey butter.
This was followed up by broth made from the antelope bones and topped with a sage leaf.
Perhaps we were taking too long for our dinner (possibly due to photo taking), but the staff gracefully moved us to the bar for the desserts.
We were also presented with lots of complimentary alcohol (likely valued at around $200 USD we guessed).
Sixth Course
For dessert, there was a smoked caramel sundae with cacao chips on top.
Seventh Course
Last but not least, the most refreshing and delicious dessert to finish off a fantastic meal. House-made sorbet served in a hollowed orange and accompanied by hand-picked strawberries. This was heaven.
Service
We had one main associate but also different servers throughout the dinner. The servers, which seemed to be mostly men (!), were courteous, soft-spoken, knowledgeable and friendly. They were all wearing suits.
Behind the Scenes Tour
At the end of the dinner, Chef gave us a behind the scenes tour of the Saison kitchen and storage.
Was it worth it?
Yes! At $298 USD it was certainly my most expensive meal to date but a memorable and delicious experience. While Saison has been demoted to 2 Michelin stars and had dropped out of World's 50 Best Restaurant List (but remains in the Top 100) for 2019, it is still obviously a top-notch dining experience worth every penny.
Oh and here is the infamous photo of the bill which got a lot of reaction when I posted it to my Instagram stories. This is a bill for three people./
Looking forward to more Michelin dining in 2020! Stay tuned 🙂
---
Saison
178 Townsend St, San Francisco, CA
www.saisonsf.com/