The Richmond Night Market is now on until October 8 and this year's theme is about "Amazing Summer."  The International Food Fair is always one of the highlights of the market and there are over 500 varieties of dishes to satisfy your cravings.  Courtesy of Chinesebites.com, I was able to try a select number of vendors (30+) at Richmond Night Market 2018.  Here's a look at what you can expect and my recommendations are found at the end.

Disclosure:  All food and drinks were complimentary.  Opinions are my own.
Roasted milk Teaffee with coffee jelly | Sippy Tea (F3 )

Brazilian cheese puffs | Whata Food (F6)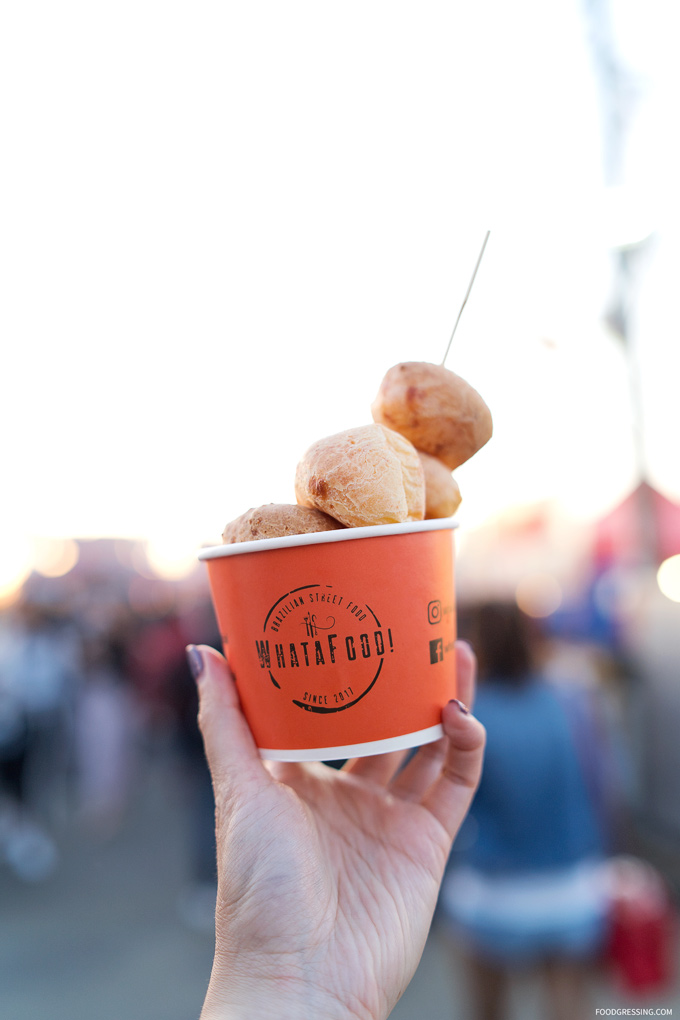 Korean style Pa‐Dak chicken with green onion | Chicking (F7)
I enjoyed the crispy, juicy Korean fried chicken at this stall and would recommend trying it.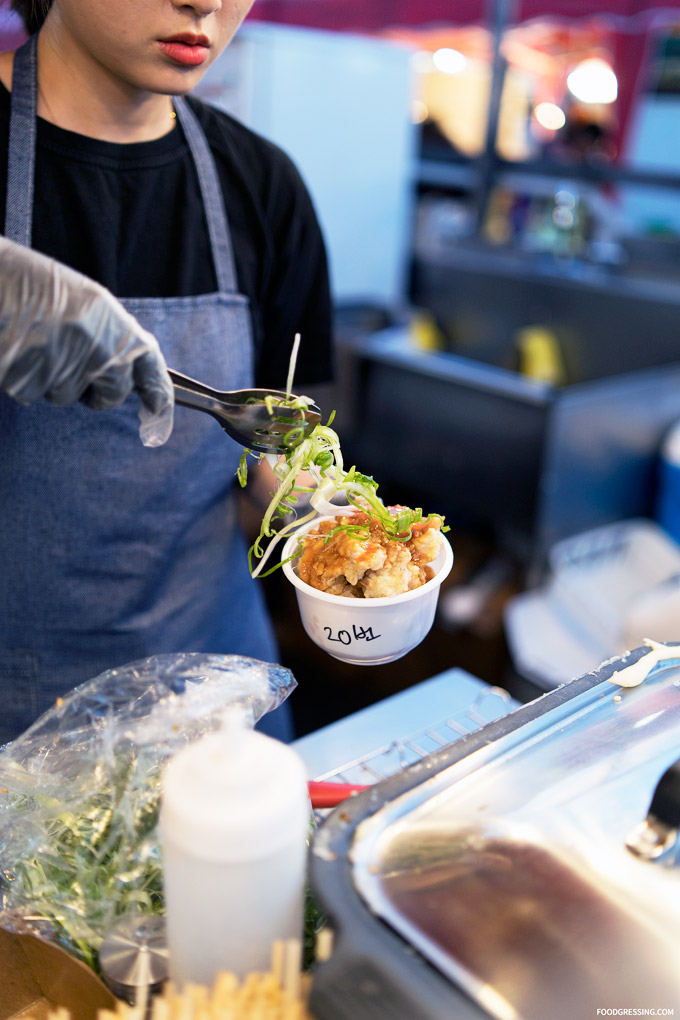 Baby Bottle and Split Cup Milk Tea | Milk Cha (F9)
For a sense of nostalgia or novelty, Milk Cha serves up milk tea in a baby bottle or split cup.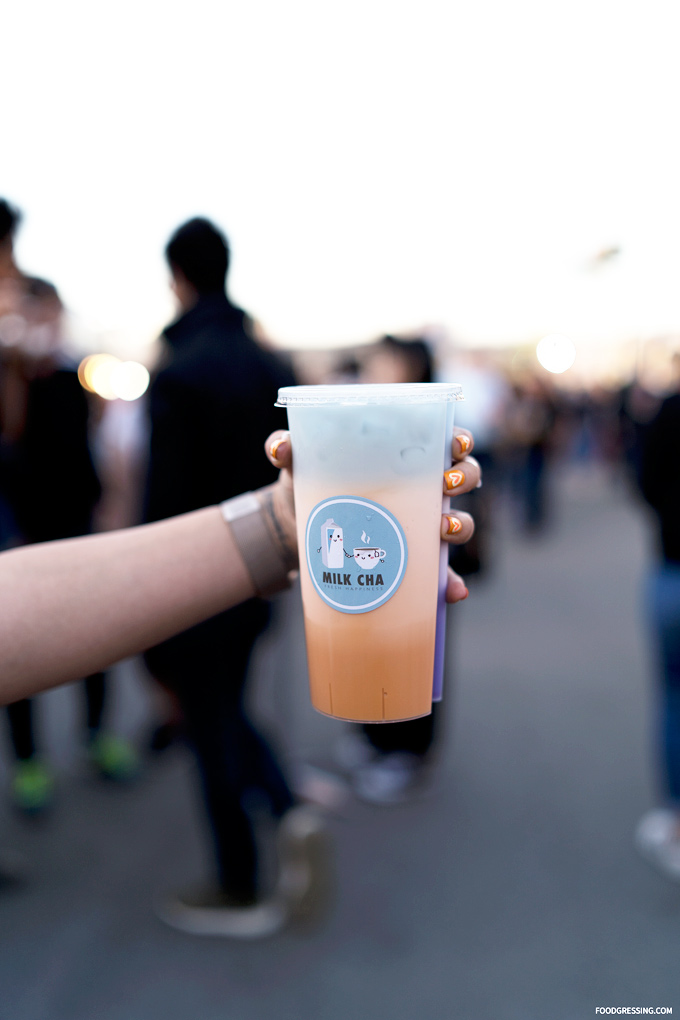 Deep fried onion flower | Tsuga Fry House (F13)
If you love onion rings like I do, this deep fried onion flower doesn't disappoint.  Beautiful presentation and very crispy on the outside.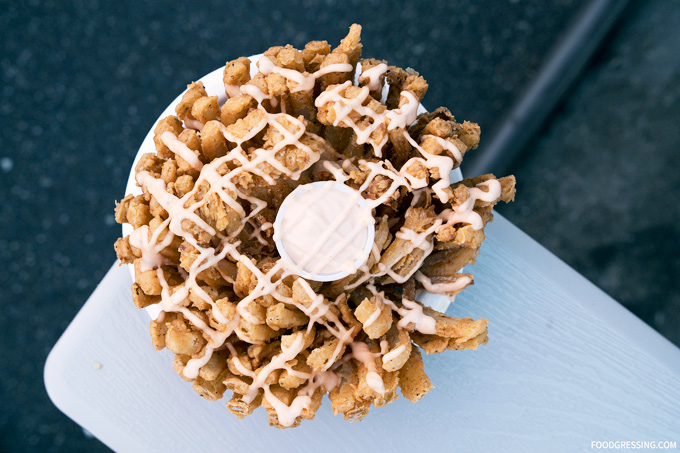 Seafood okonomi poutine | Okonomi Bites  (F14)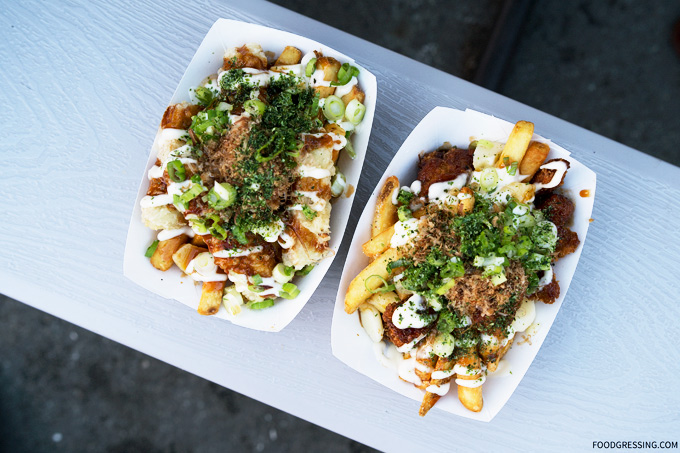 Japanese handmade mochi | Asomi Mochi (F17)
You can get your fruit servings and satisfy your sweet cravings with this Japanese handmade mochi with fruit fillings.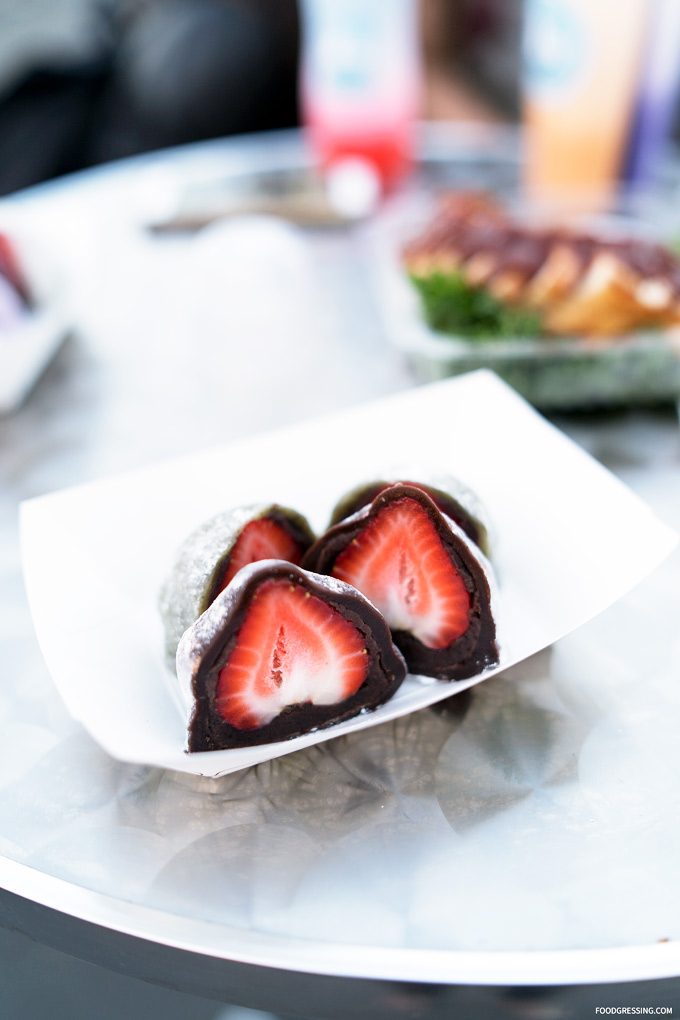 Stuffed crab claw x2 | Mr. Crabzy (F18)
The crab claw didn't taste as good as one would expect from a dim sum restaurant.  I thought the flavour was rather artificial.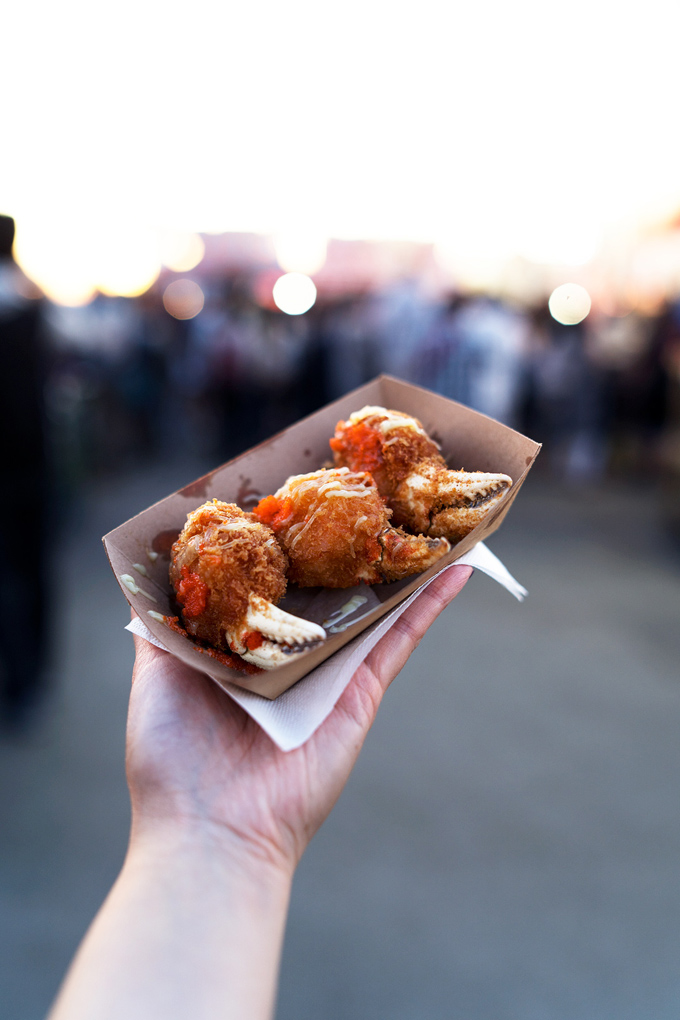 Original BBQ braised pork belly | The Phamily Table (F21 )

Red Bean Taiyaki | The Taiyaki (F23)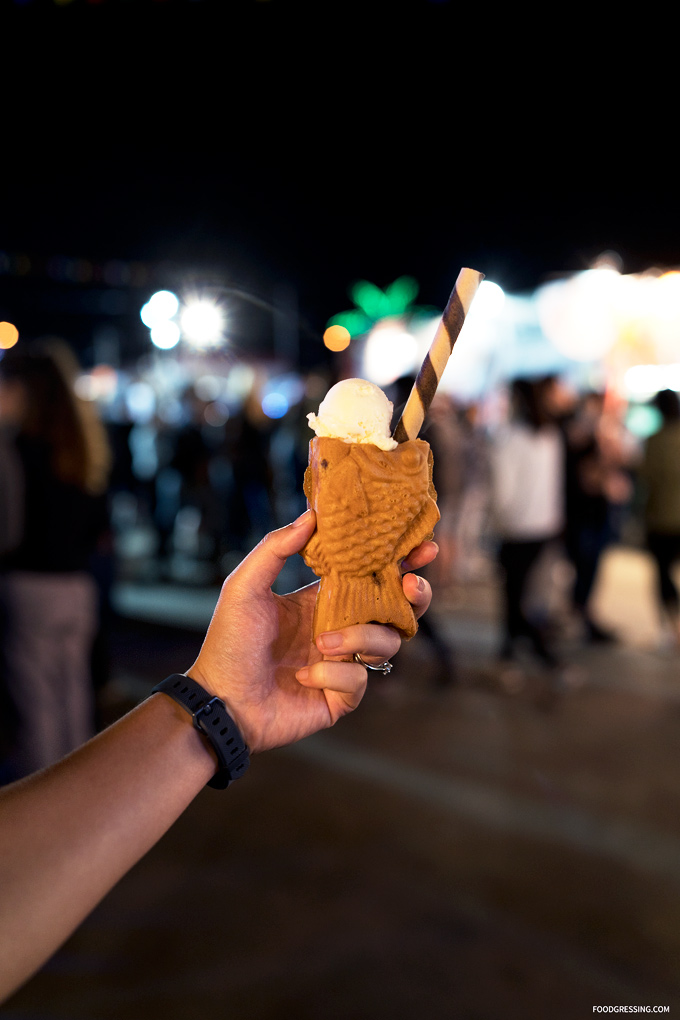 Sugar cane or coconut milk | Sugar Cane Juice (F24)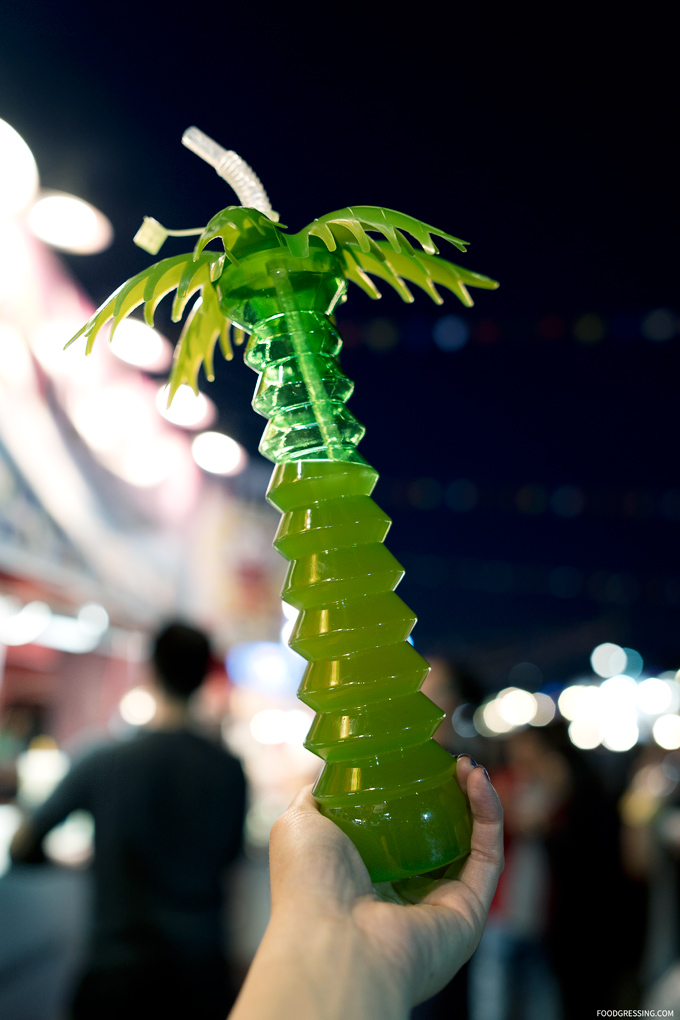 Crispy shrimp | Super Good Popcorn Chicken (F25)
The deep fried, crispy shrimp was very good and came with sweet Thai chili sauce.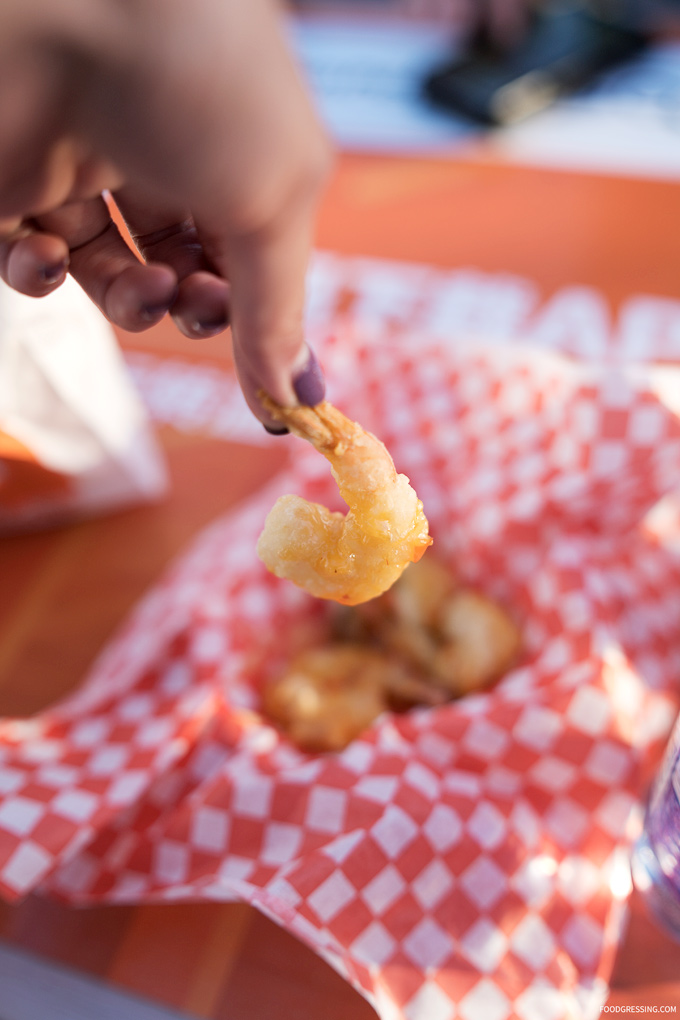 Korean style pork belly | Teppan Bossom (F28)
Fried chicken | Big G Large Fried Chicken (F33)
Big G has a physical restaurant as well as serving at the Richmond Night Market.  I liked the crispy batter of the fried chicken, but I prefer my chicken in small nuggets rather than one large piece.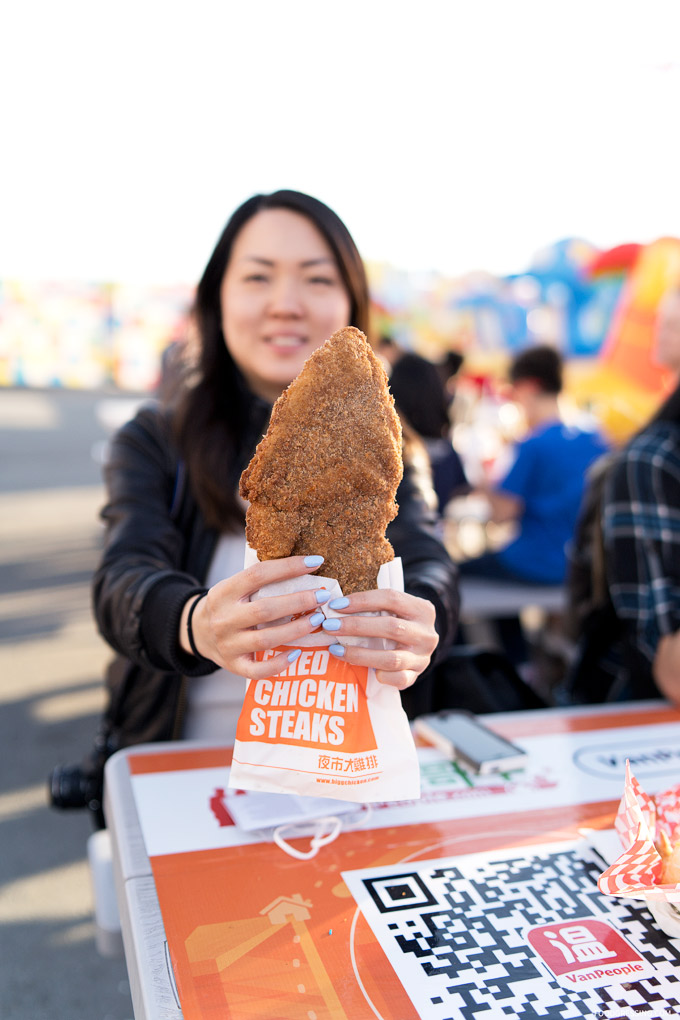 Taiwanese stinky tofu | G8 Taiwan Kitchen (F38)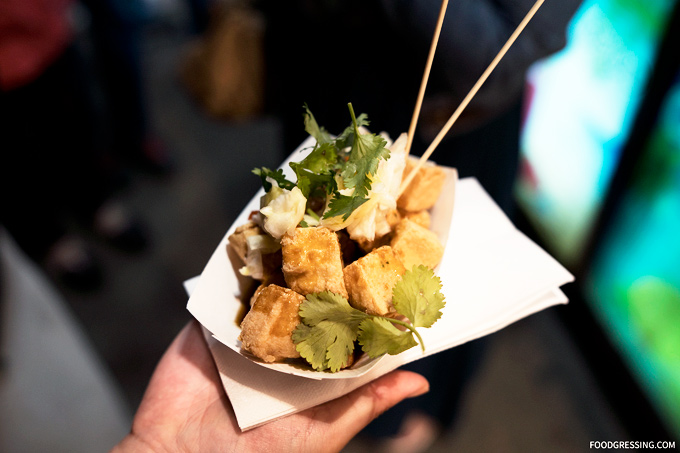 Waffle tower | Waffle Tower (F42)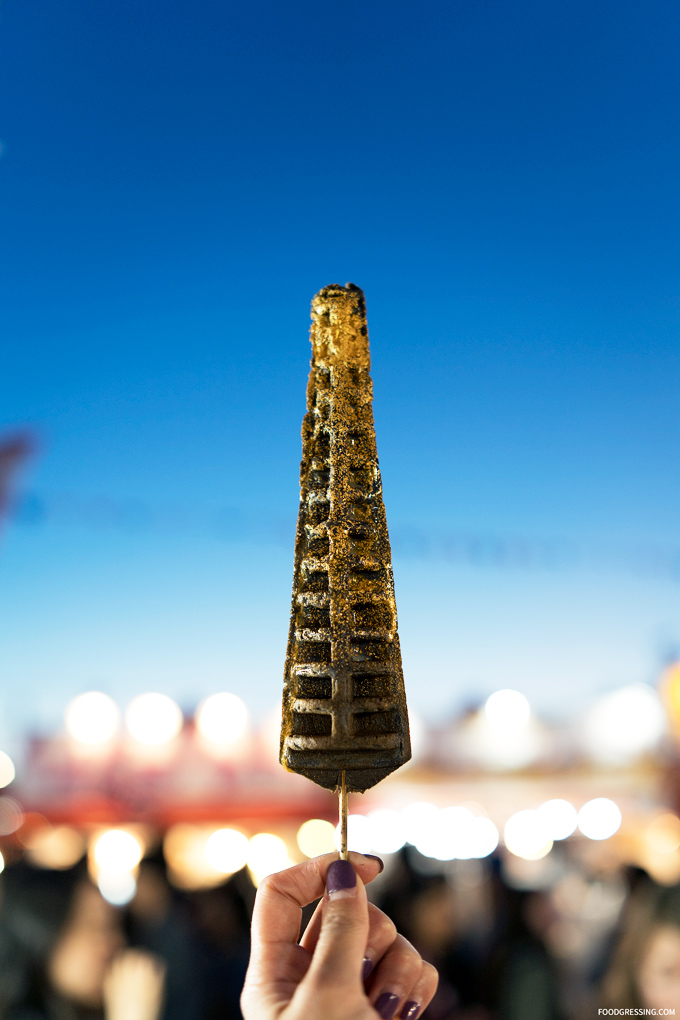 Rotato | Rotato (F46)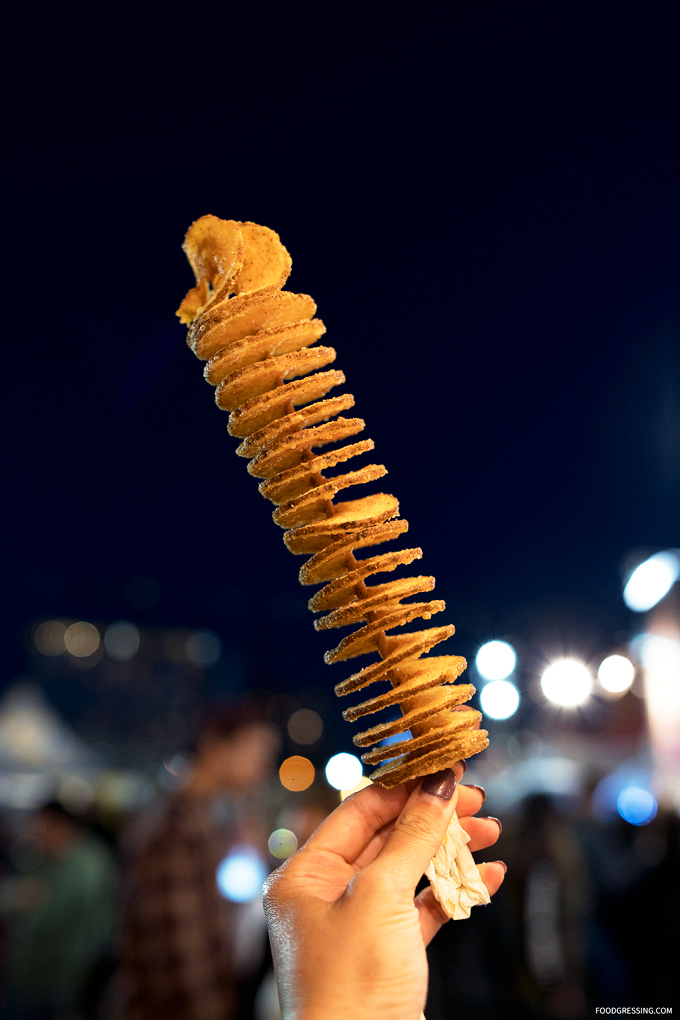 Summer Special Icy | Icy Bar (F48)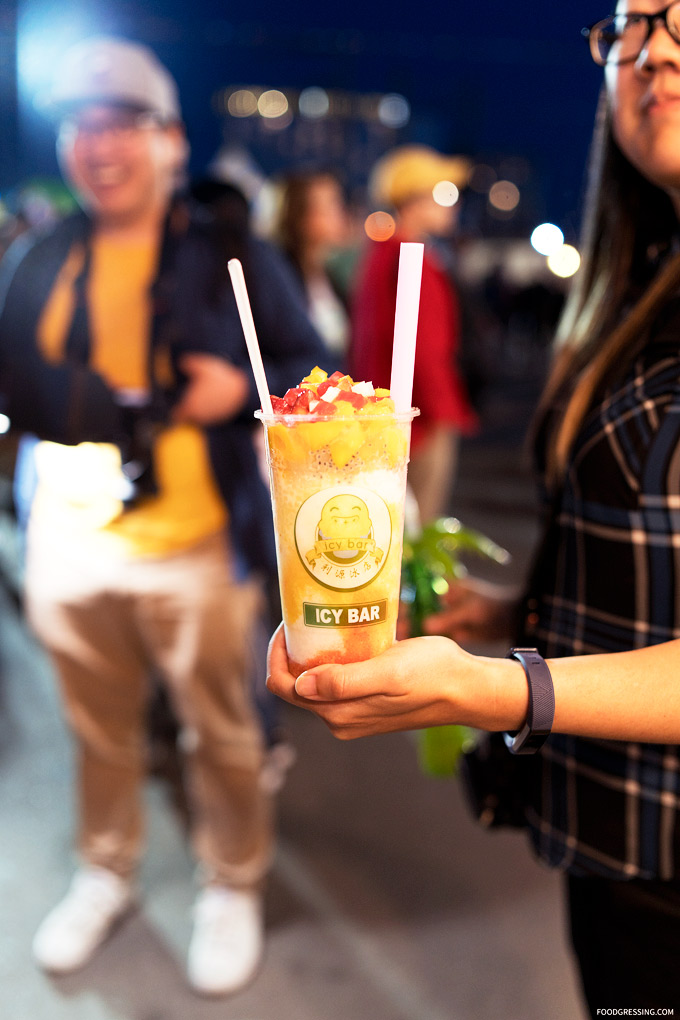 Rainbow mixed dumplings | Dumpling Master (F54)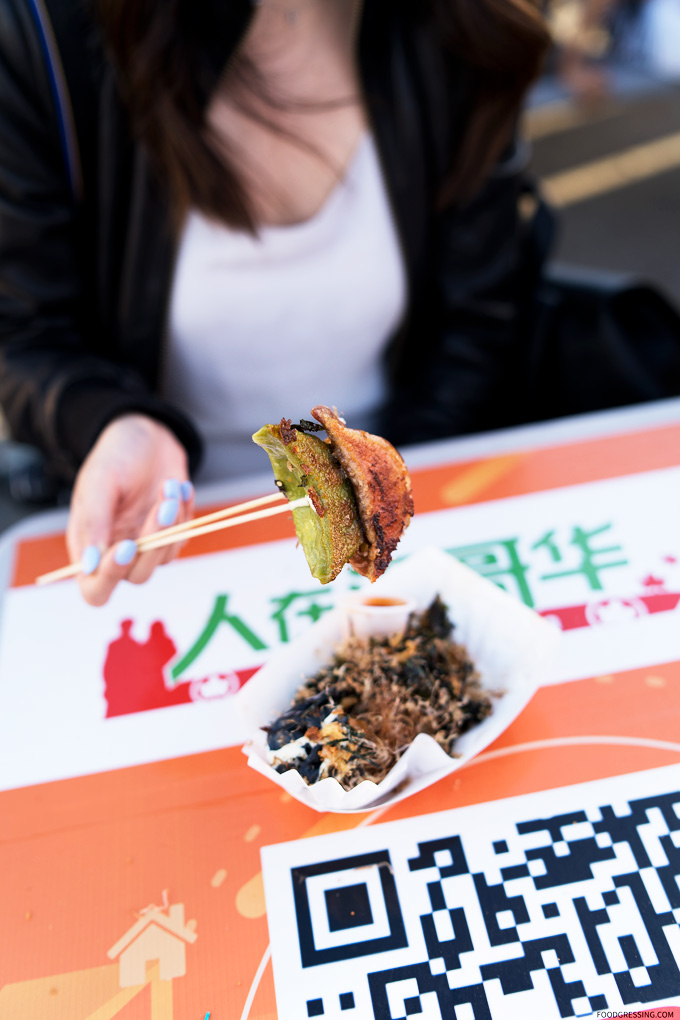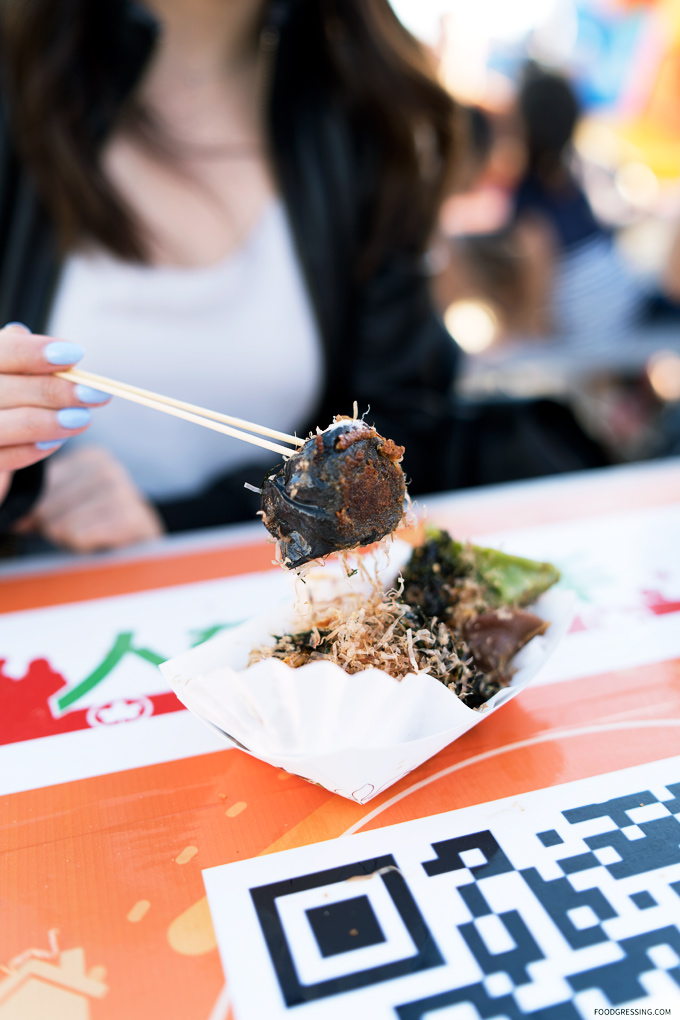 Roti mac & cheese | Mamak LA (F76)
Chinese donut sandwich | We are Difference (F78)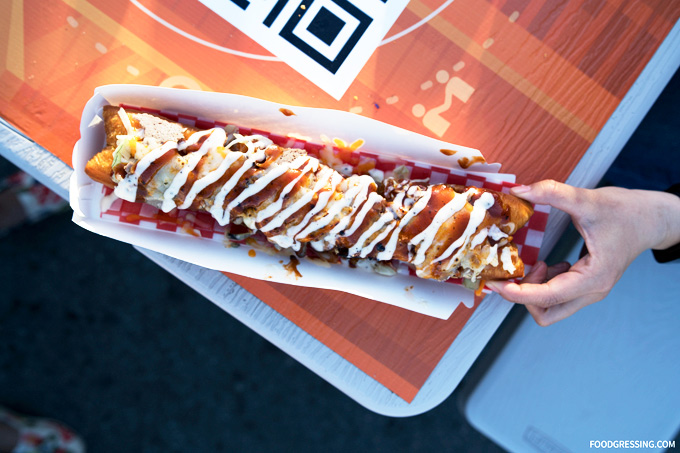 Churros ice cream | Churros in Ice Cream (F79)
One of the most Instagram-worthy treats at the market this year.  The churro is available in original, oreo or sprinkles and you can get it on its own or in a cup. For an extra dollar, you can put it in a unicorn, palm tree or flamingo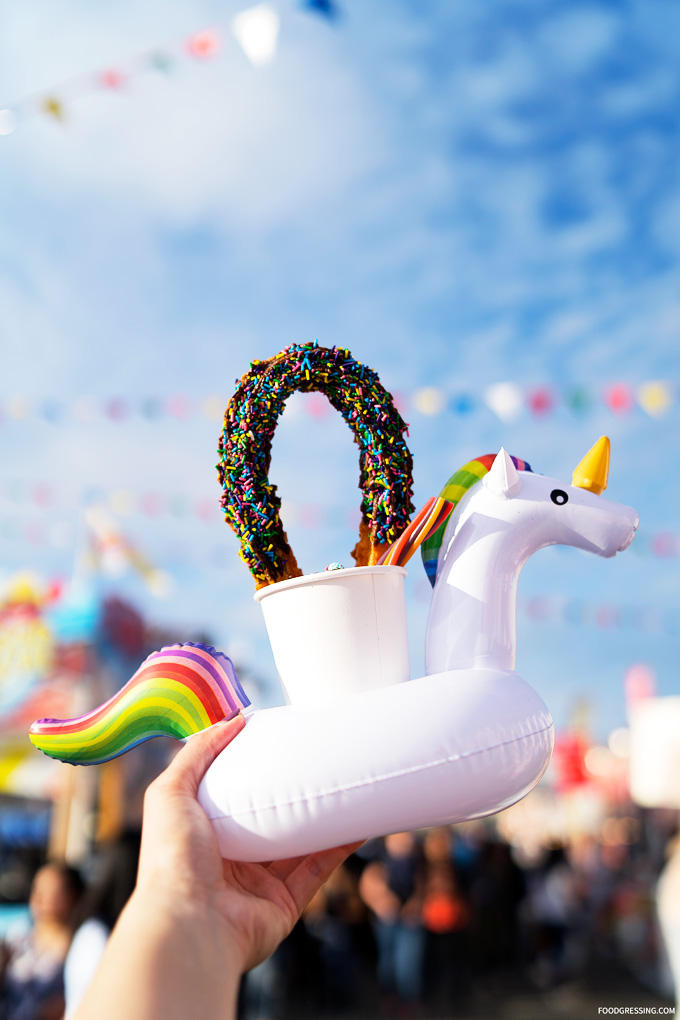 Japanese cracker "Senbei" | Senbei Brother (F81)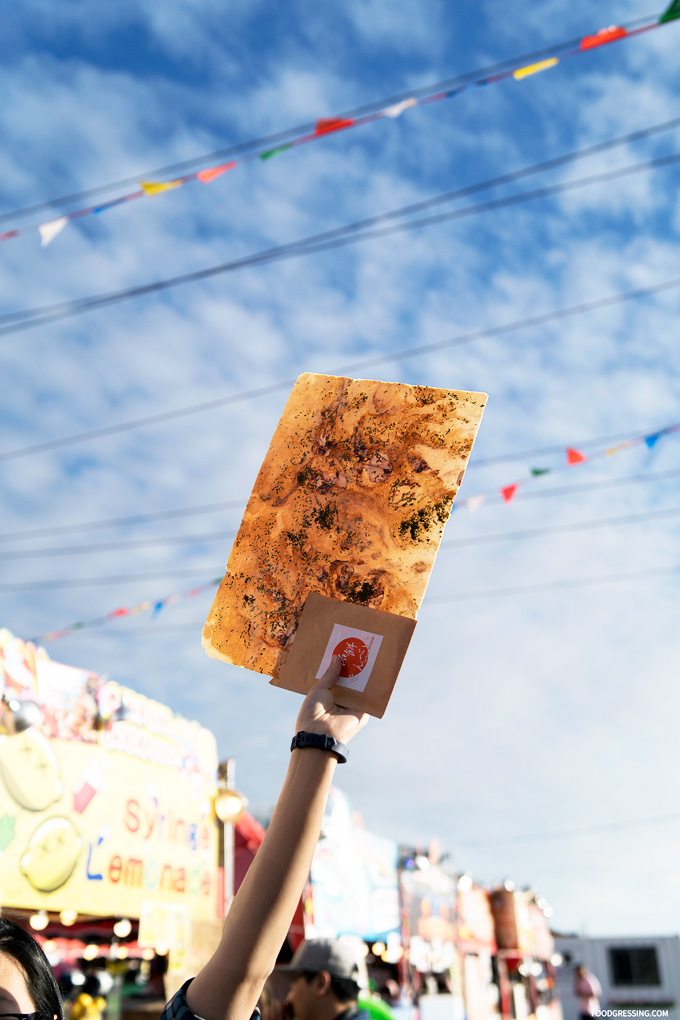 Roasted pork hock | Yummy Foodies (F82)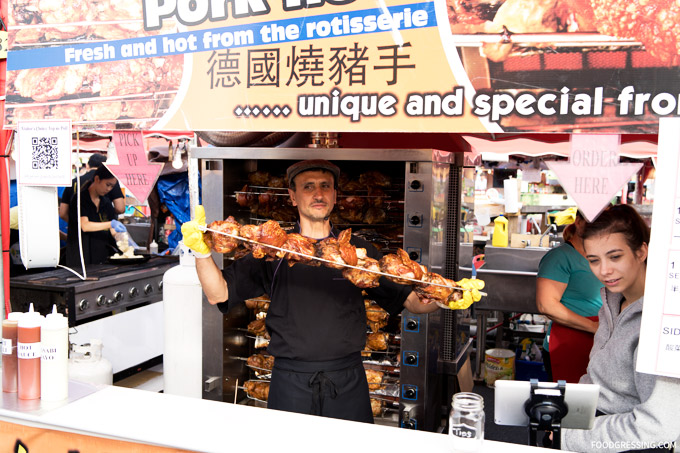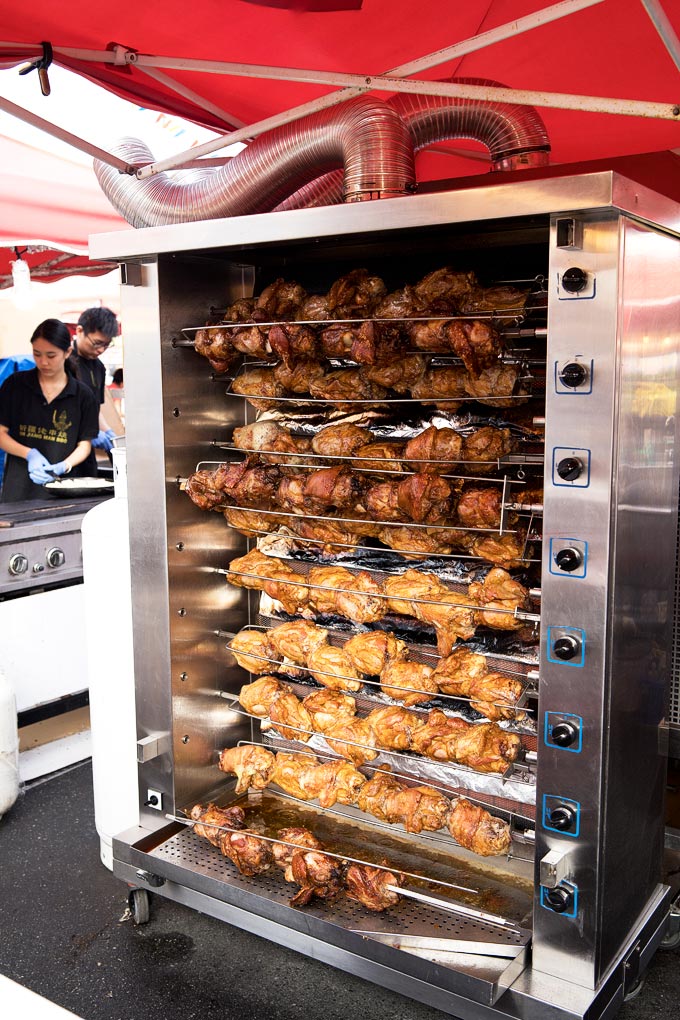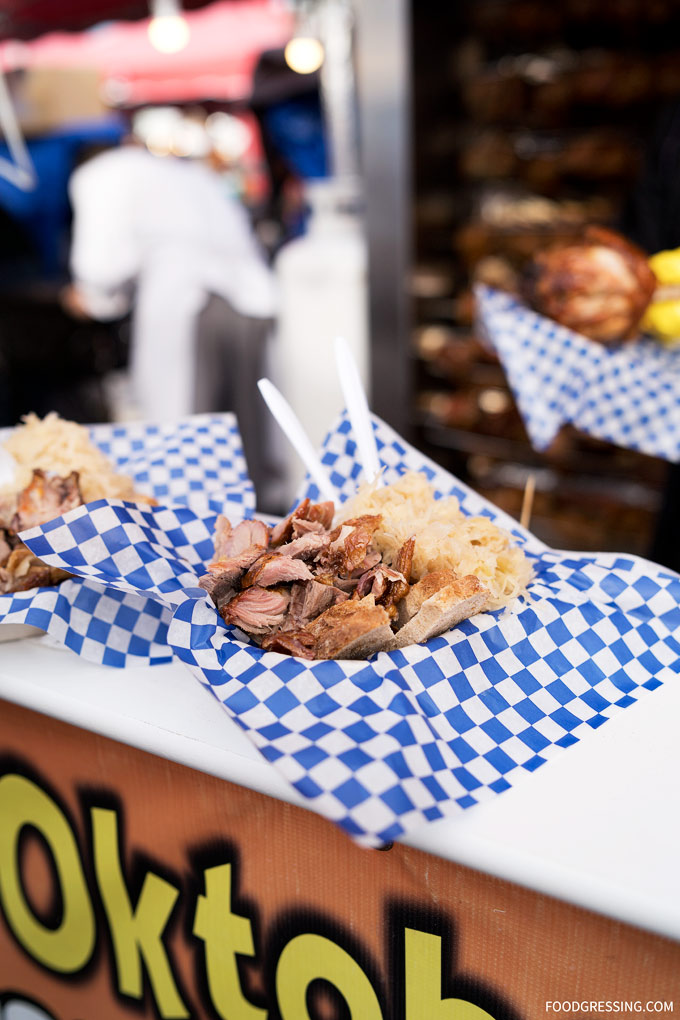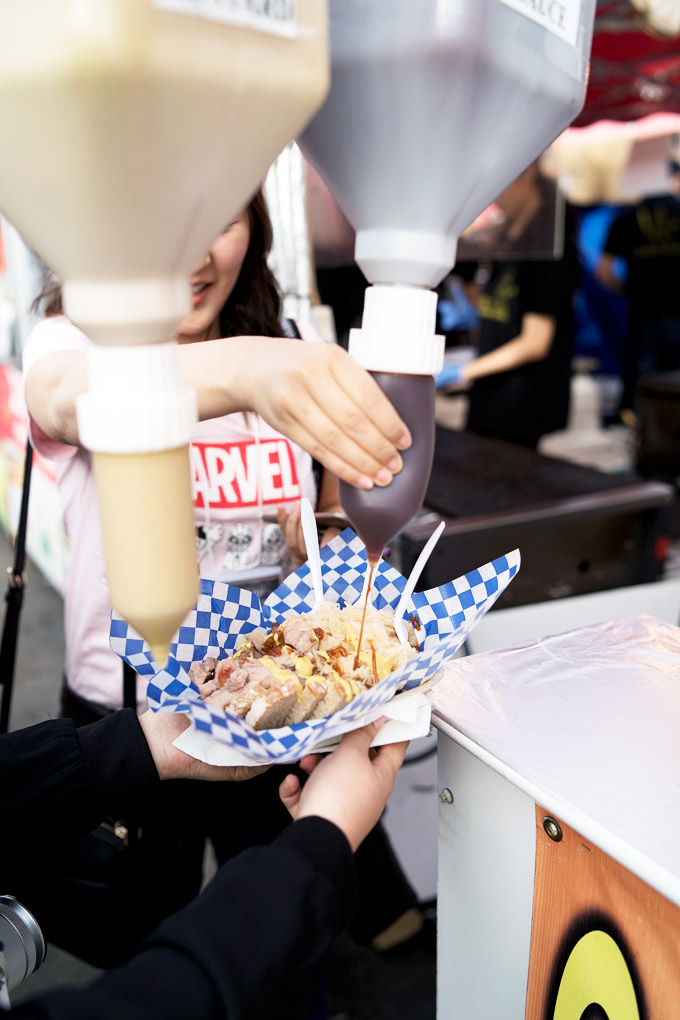 Grilled meat skewers | Chef James Foods (83)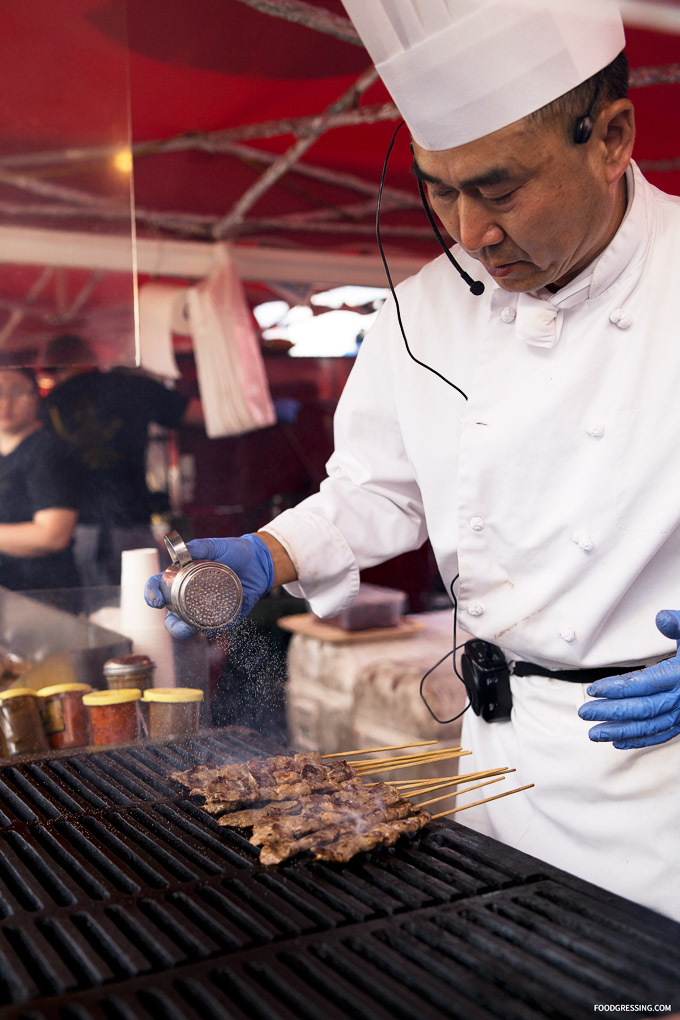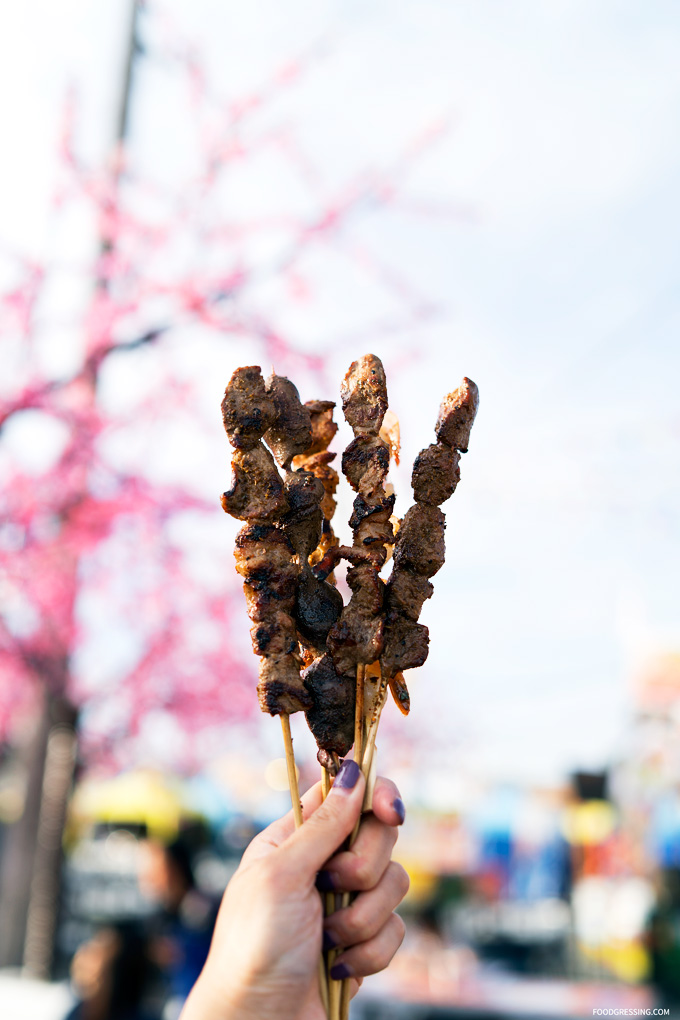 Roasted corn | Chef James Foods (84)
The roasted corn was very sweet and juicy.  I would recommend it.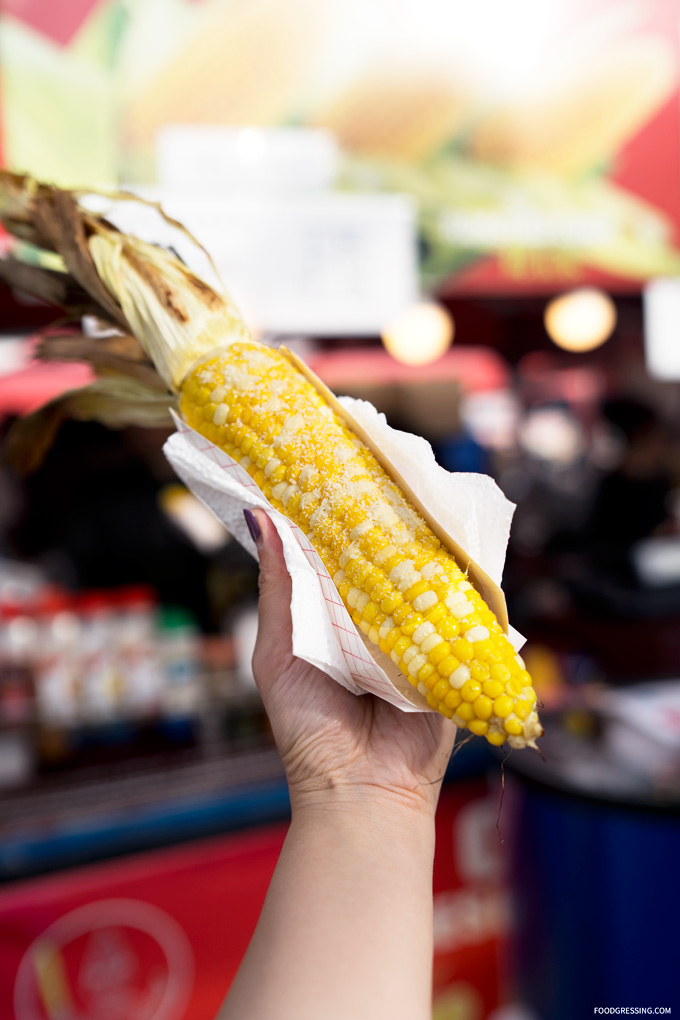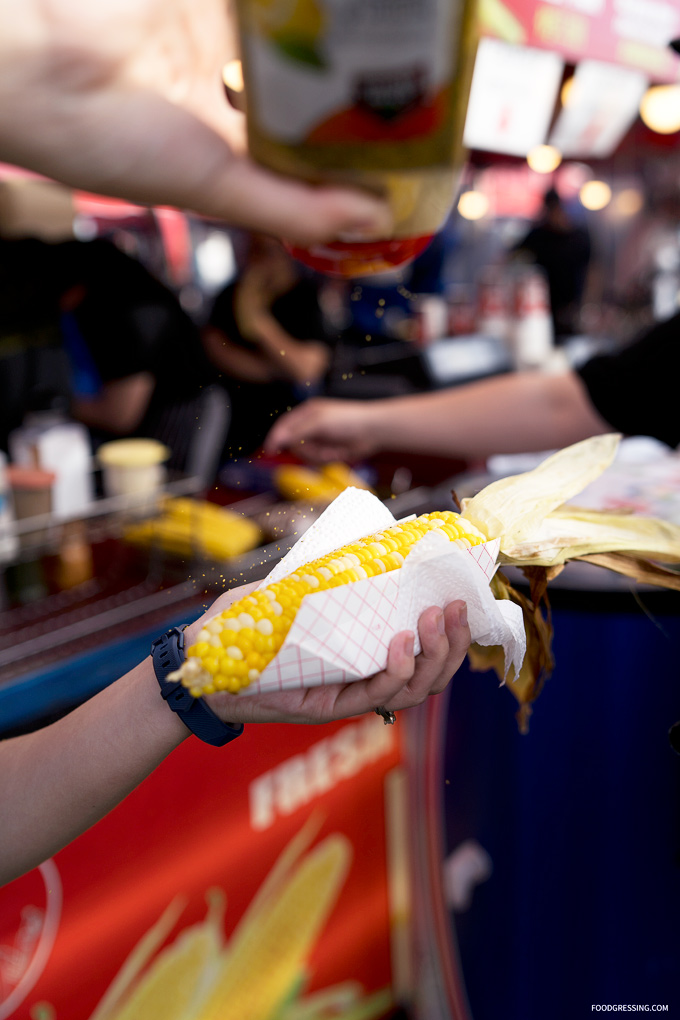 Cheese fries, Pho fries, or Spicy kimchi fries | Fries & Things (F58)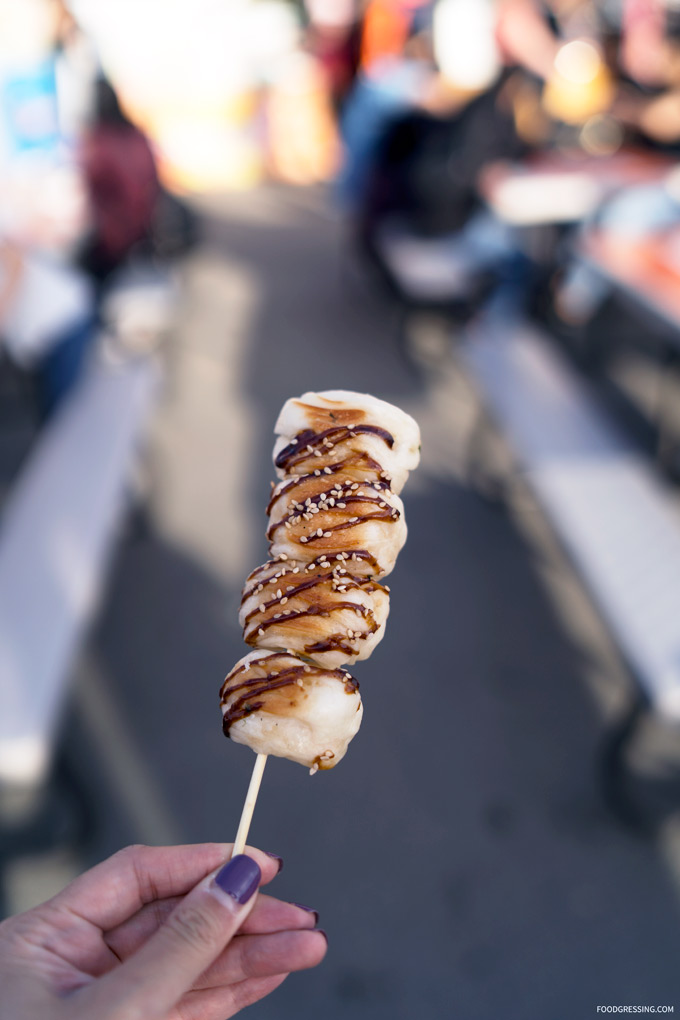 Pineapple drink in shell | Tropical Bar (F91)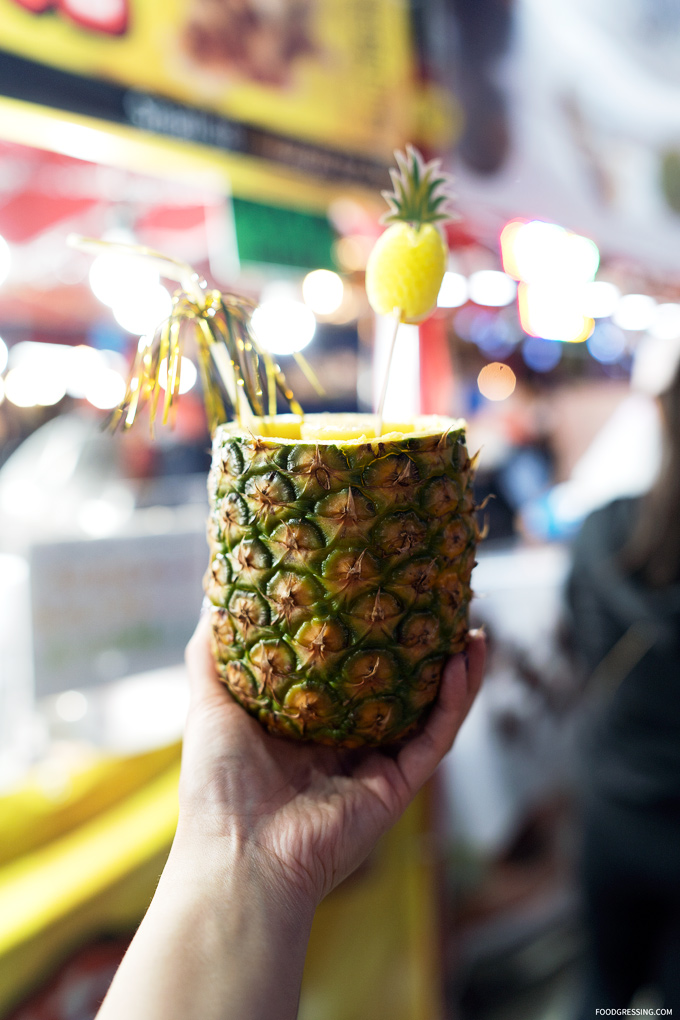 Deep Fried Squid | Big Beard Super BBQ (F94)
Always a foodie fav at the night market, the deep fried squid had a crunchy exterior and tender, chewy interior.
Tofu cheesecake | Cupping 8 Café (F95)
We went with the durian-flavoured tofu cheesecake which was smooth, silky and not overwhelmingly pungent.
Cookies & cream | Cookies N Cream (F102)
Our ice cream sandwich featured ube ice cream and chocolate cookies.

Virgin cocktails | Virgin Cocktail (F103)
Sencha Tea Lounge has a physical restaurant in Kitsilano and they were serving up some very sweet, virgin cocktails at the market.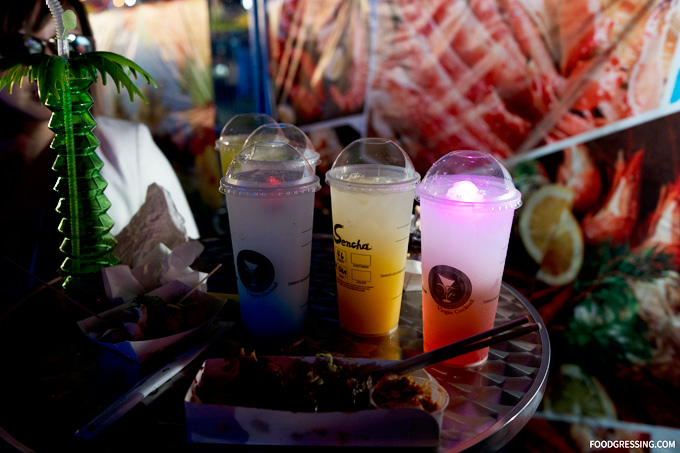 Richmond Night Market 2018 Food Recommendations
My top food recommendations at this year's market are the following:
Korean style Pa‐Dak chicken with green onion | Chickling (F7)
Deep fried onion flower | Tsuga Fry House (F13)
Japanese handmade mochi | Asomi Mochi (F17)
Crispy shrimp | Super Good Popcorn Chicken (F25)
Summer special icy | Icy Bar (F48)
Roti mac & cheese | Mamak LA (F76)
Japanese cracker "Senbei" | Senbei Brother (F81)
Grilled meat skewers | Chef James Foods (F83)
Roasted corn | Chef James Foods (F84)
Deep fried squid | Big Beard Super BBQ (F94)