Back at Pourhouse in Gastown is weekend brunch service from 11:00 am to 2:30 pm with live music 12 – 2 pm. The Pourhouse brunch menu was designed by Executive Chef Alessandro Vianello, who recently joined the Kitchen Table Restaurant group that owns and operates Pourhouse.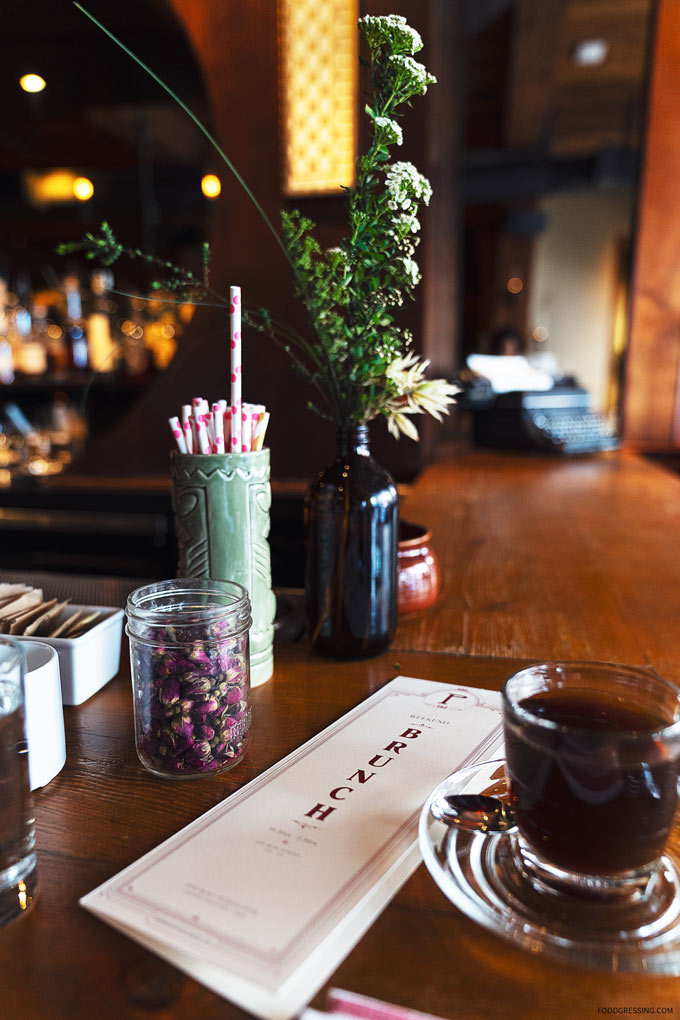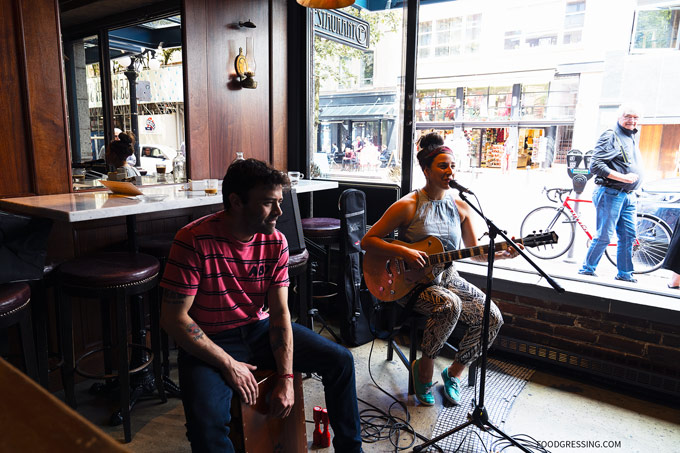 ---
Pourhouse Brunch Menu
The brunch menu features sweet and savoury small plates such as cured duck (compressed melon, arugula, fresh basil), tuna conserva (olive oil, capers, dried tomatoes, sourdough) and carrot cake bomboloni (carrot and date filling, cream cheese icing).
Some of the larger dishes include mushroom frittata (eggplant caponata, Parmesan, arugula salad), 6 oz flat iron or 16 oz bison ribeye steak & eggs (potatoes, two eggs, chimichurri, sourdough) and more.
Guests can enjoy boozy brunch libations like the PH Bloody Mary (sangrita, choice of Beefeater gin, Altos tequila, Buffalo Trace bourbon or Wheatley vodka, chili salt, pickled bean, Breakfast Negroni (Campari, Rosso vermouth, Torrontés and so forth. Non-alcoholic options are available like the Arnold Palmers (iced tea, lemonade) and Almond Bucks (almond, lime, ginger beer).
---
What I Tried
On a recent media brunch, I tried a variety of dishes: Scotch Egg, Carrot Cake Bomboloni, Peameal Bacon Sandwich, French Toast and PH Mimosa.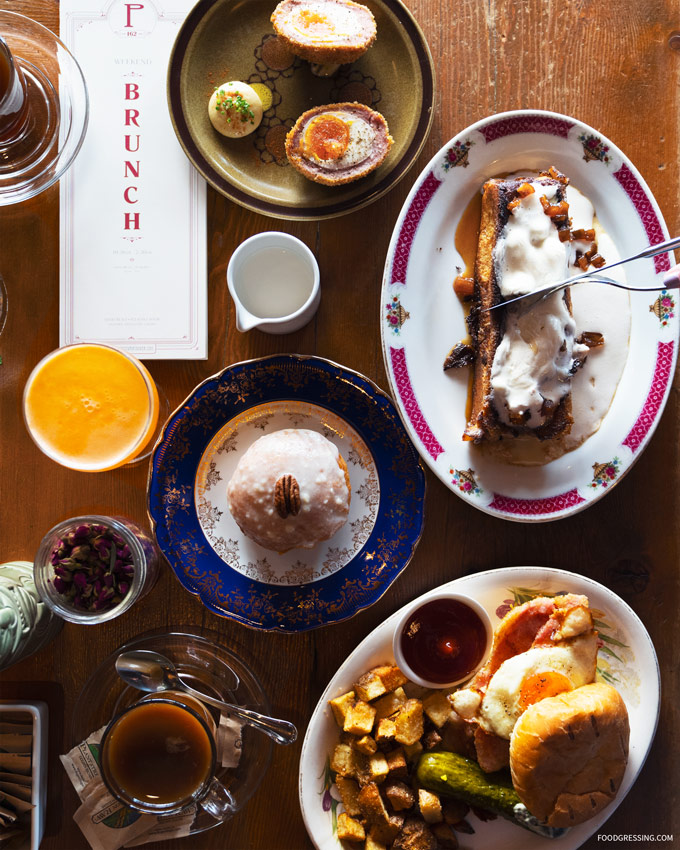 The Scotch Eggs ($11) came highly recommended and did not disappoint! There's nothing like an egg wrapped in meat, lightly breaded, deep-fried and accompanied by spicy mayo. The Scotch Eggs are also available on their dinner menu. They were so good that I suggested that they make this an entree as I could easily eat four of them in one sitting!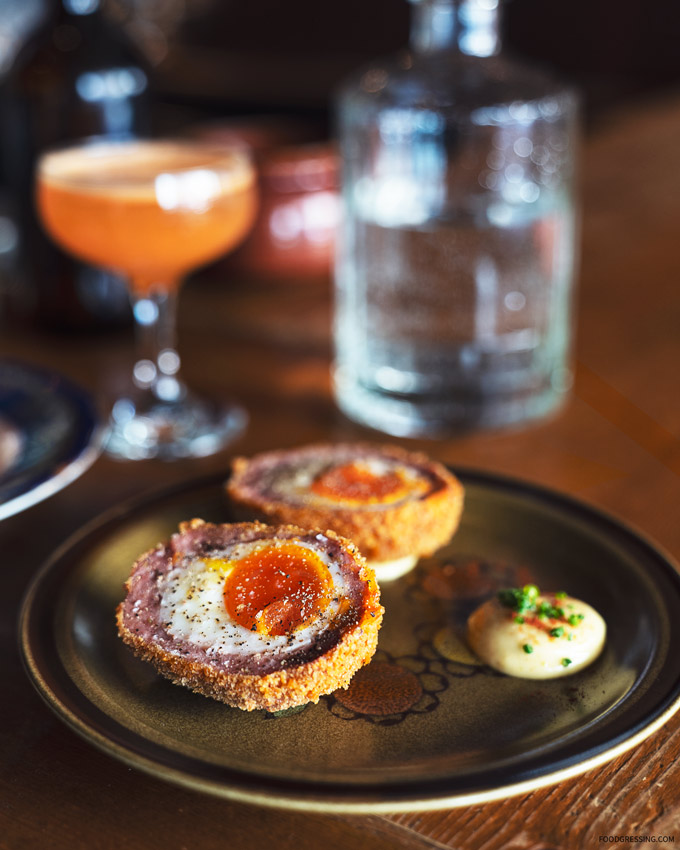 Brunch or dessert item? Either way, the Carrot Cake Bomboloni ($6) is a treat to be had at any time of the day. It was a light and fluffy doughnut with carrot and date filling and cream cheese icing.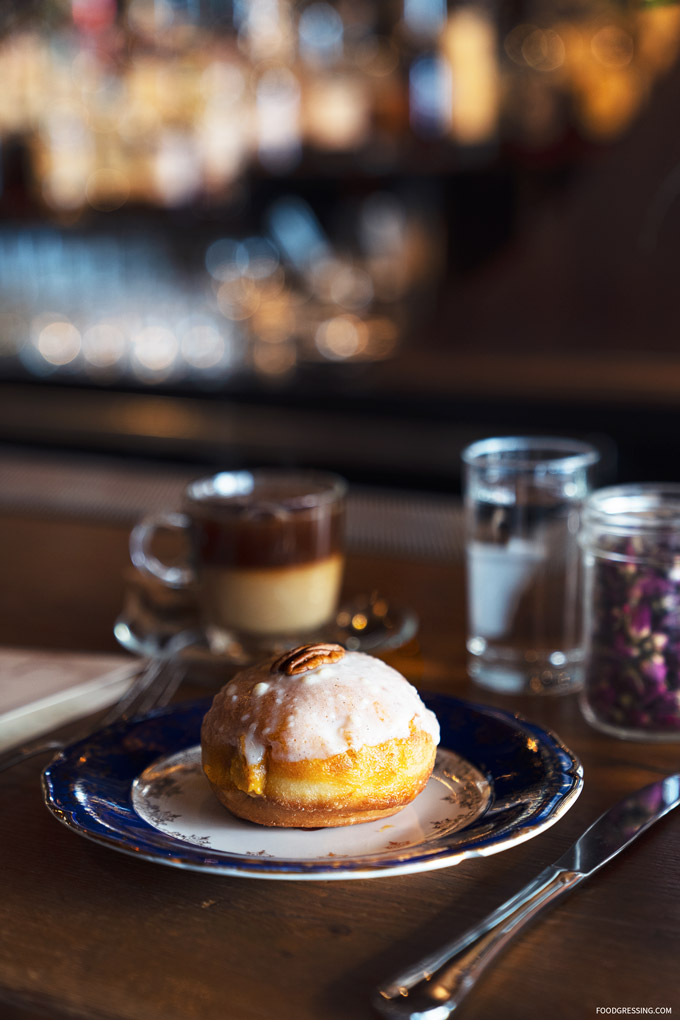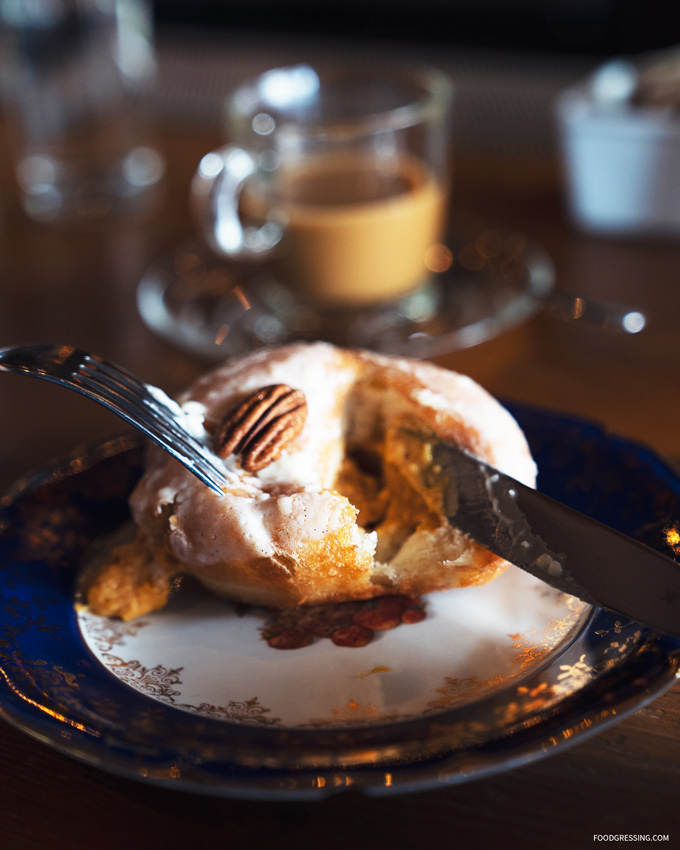 The last time I had a peameal sandwich was from Carousel Bakery in Toronto a few years back so it was excited to enjoy this right in Vancouver. The Peameal Bacon Sandwich ($17) had bacon that was nicely juicy and tender with a nicely crispy cornmeal edge.
For those who enjoy French Toast ($16) for brunch, Pourhouse has a unique take on it with a rum and pineapple upside down cake topped with Chantilly cream. It was a rich, melt-in-your-mouth type of entree where I enjoyed every bite.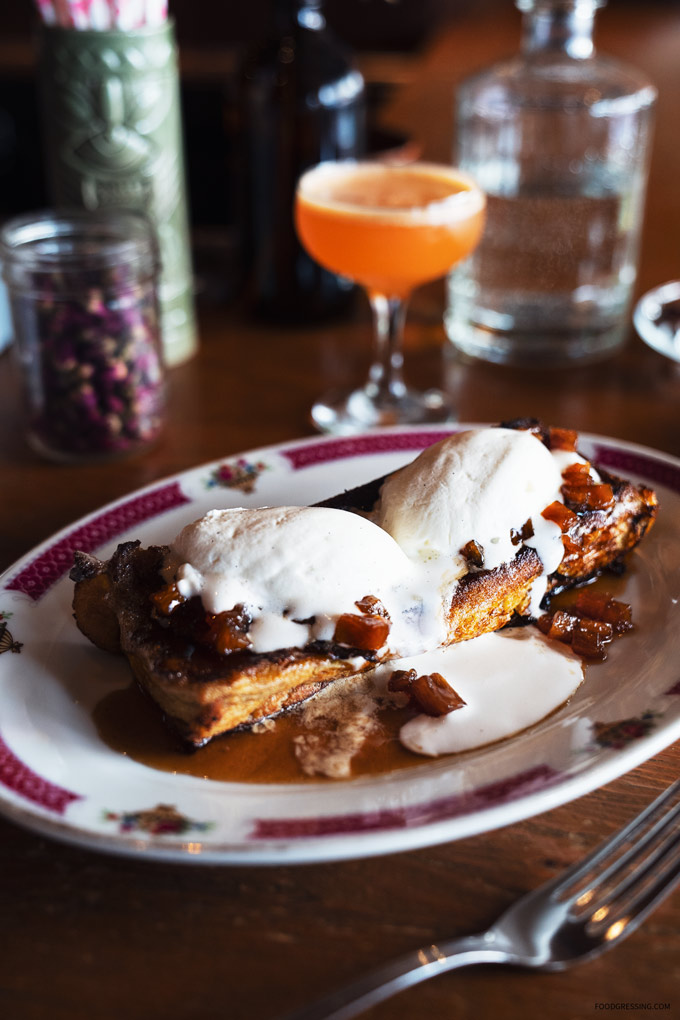 And to wash it all down, the Pourhouse Mimosa ($10) (sparkling wine, Aperol, cantaloupe, lime).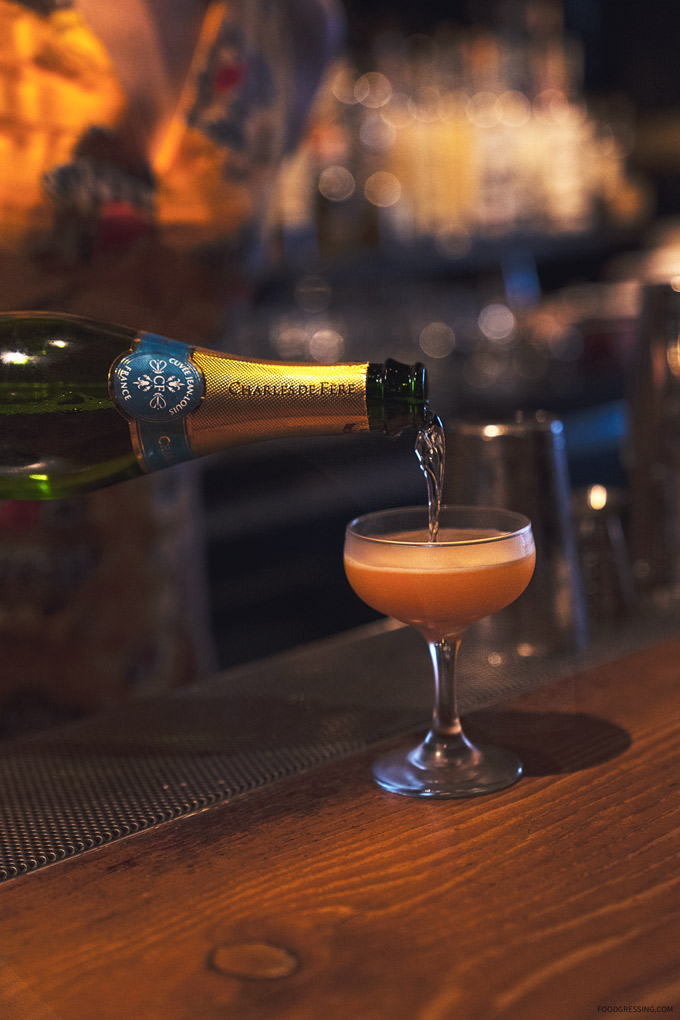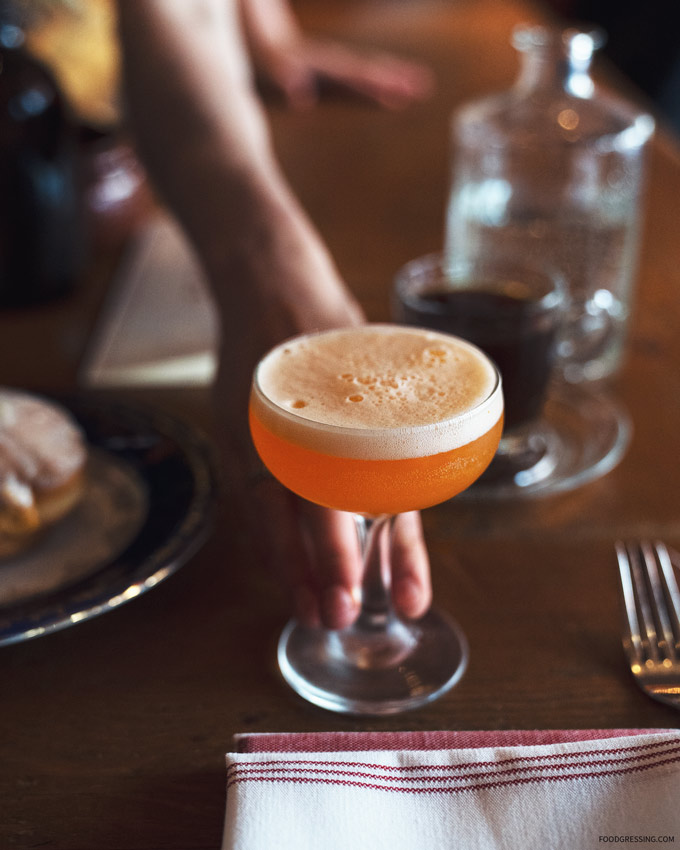 Did you know? Pourhouse is celebrating their tenth anniversary this fall and continues to be one of the city's hotspots for cocktails and comfort food in a warm and convivial atmosphere.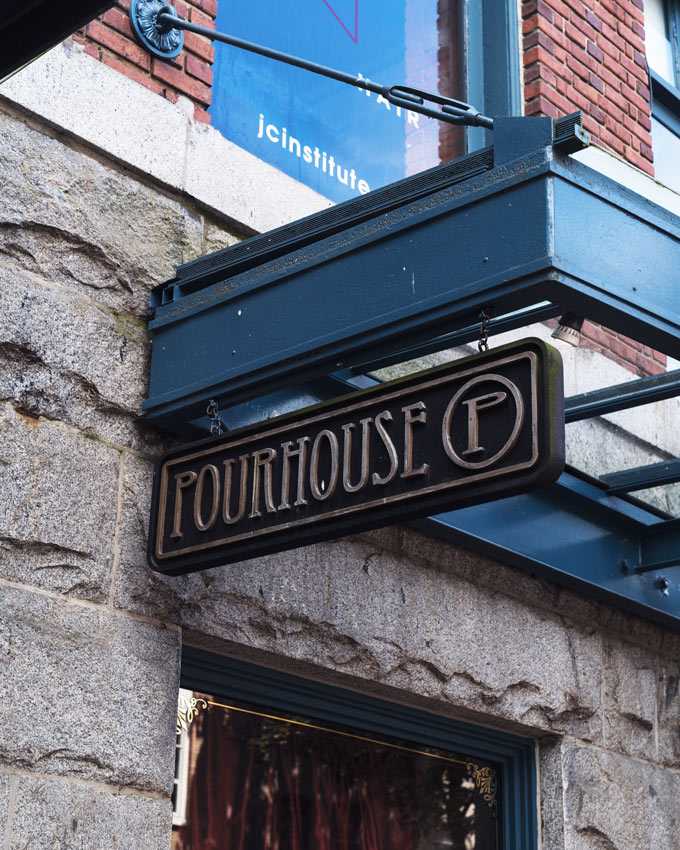 Limited reservations for Pourhouse's weekend brunch services are available with a valid credit card by calling the restaurant at 604-568-7022. In the event of no-shows or cancellations/modifications with less than 24 hours notice, the credit card will be charged $25 per person, with $5 donated to Pourhouse's monthly charity of choice.
For more information, visit pourhousevancouver.com, /pourhousevancouver on Facebook and follow @pourhouse_van on Twitter and @pourhouse on Instagram.
---
Pourhouse
162 Water St, Vancouver, BC
www.pourhousevancouver.com