I had heard of Taishoken Ramen on Abbott being known for their tsukeman.  It just so happened that as I was grocery shopping at T & T Supermarket, I began to have ramen cravings.  Taishoken was conveniently around the corner from T & T, so my husband and I headed there to try it out.
What is Tsukeman?
Taishoken is famous for their "dipping noodles" or tsukeman.  It is a serving style where cold ramen is eaten after dipped into a bowl of hot soup.  This differs from regular ramen where the soup, toppings, and noodles are all in one bowl.  Because the tsukeman soup is dense, you should only briefly dip a few noodle strands into the soup.  This is so that the soup flavor does not overwhelm the noodles.
Taishoken Ramen Menu
Their menu items range from $10 – $13.  It includes torigara chicken, tonkotsu, ramen and tsukemen.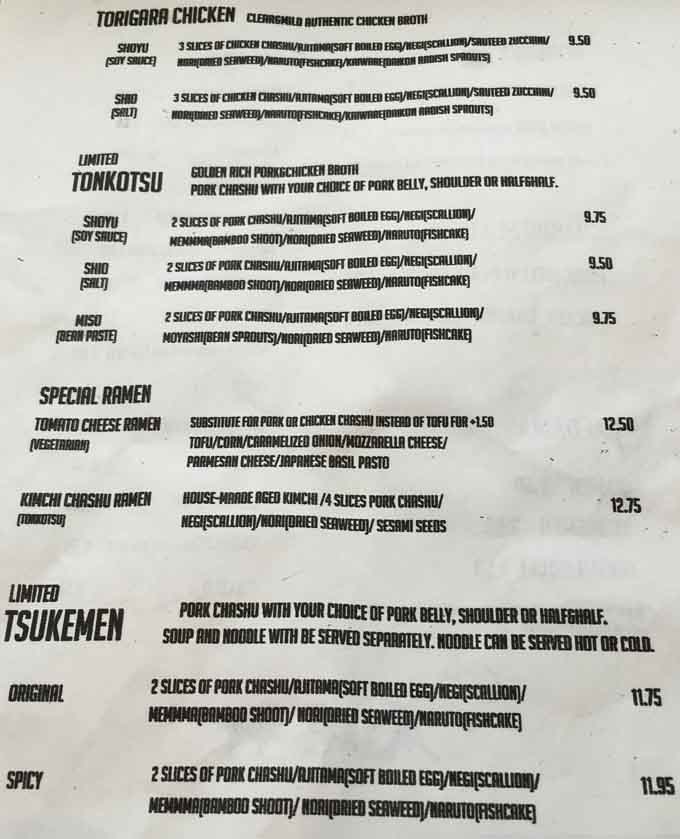 Extra ramen noodles are $1.50 and take 3 minutes.  Tsukemen noodles are $2 and take 5 minutes according to the server.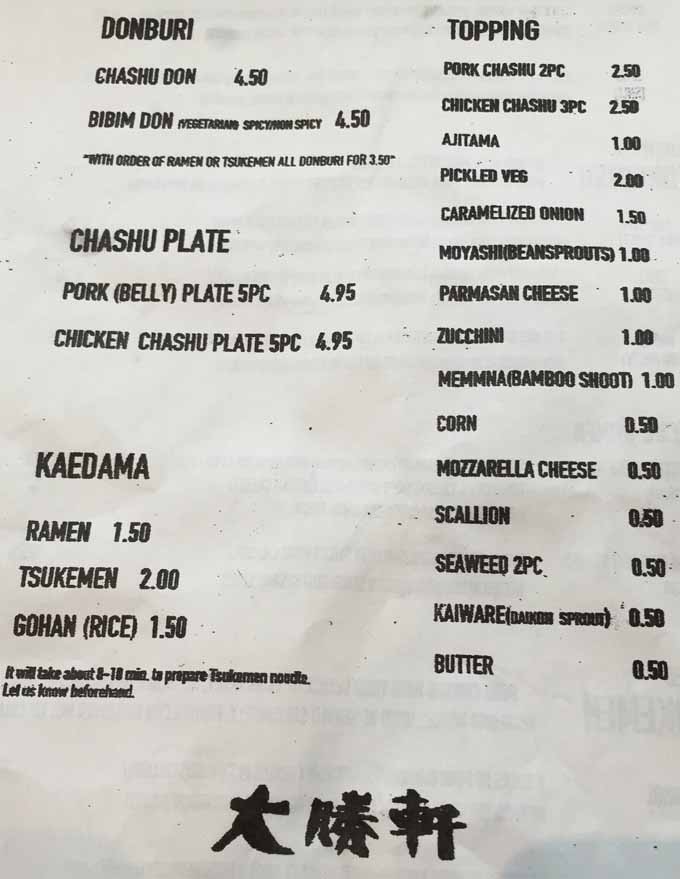 The Atmosphere
Taishoken is a smaller restaurant with small dining tables, a communal table and counters near the window.  We were greeted at the door promptly and had our orders taken in a timely manner.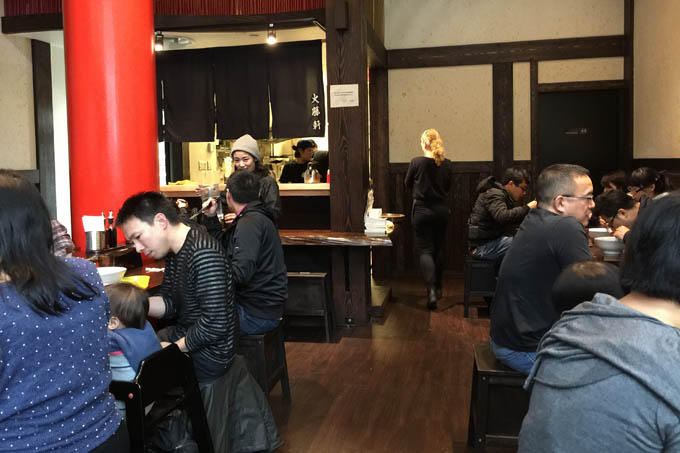 The Noodles
I had the original tsukemen ($11.75) which had 2 slices of pork chashu (shoulder and pork belly), a soft boiled egg, scallion, bamboo shoot, dried seaweed and fishcake.  I found the noodles to be very springy and chewy.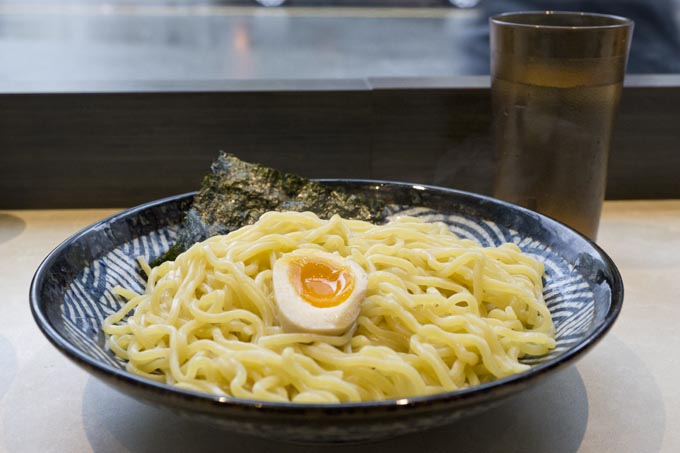 The dipping soup was definitely dense and flavourful.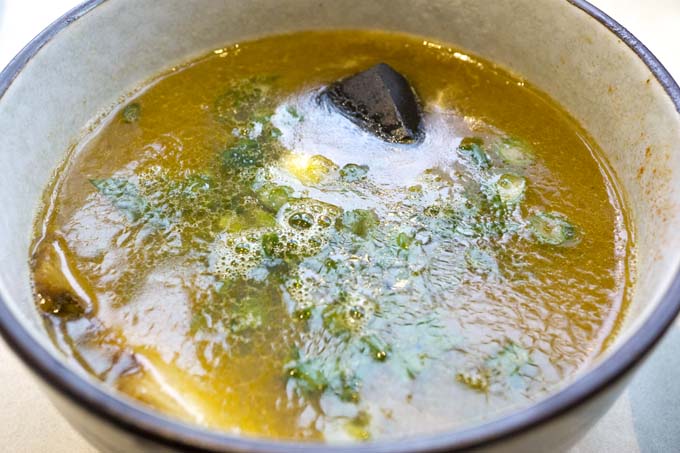 My husband had the shoyu torigara chicken ramen ($9.50).  It had three slices of chicken chashu, a soft boiled egg, scallion, sauteed zucchini, dried seaweed, fishcake and daikon radish sprouts.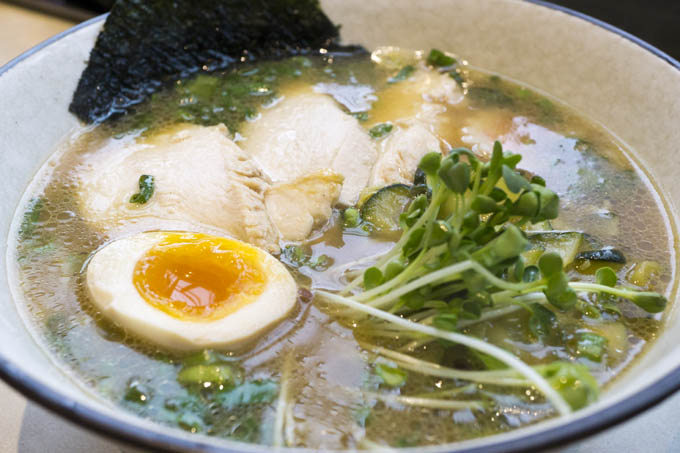 He also found this broth to be flavourful with al dente noodles.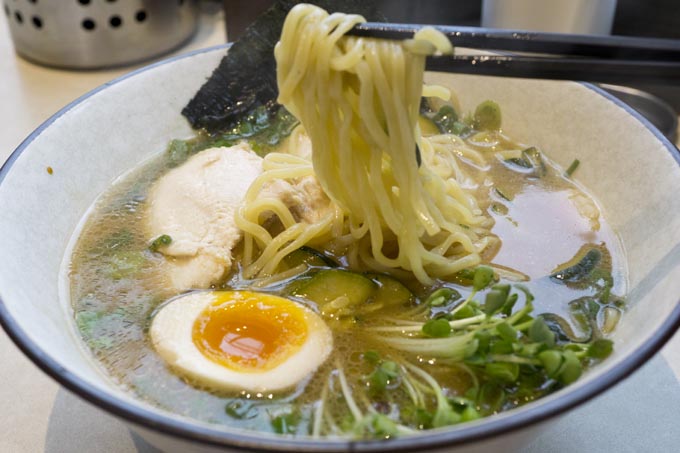 Overall Impression
The soup noodle dishes we tried were flavourful and the noodles were chewy.  We did order some extra noodles in the end as we were not quite full.  I can see the appeal of eating cold noodles during the summer.  I would be interested in returning to Taishoken for the tseukeman on a warmer day when I have ramen cravings.
Facebook: www.facebook.com/taishokenramen.vancouver