Nero Belgian Waffle Bar opened their second location last fall at the corner of Seymour and Nelson.  Their original location in the West End is known for lineups so their new, spacious restaurant with expanded menu was very much welcomed by Nero lovers.  I'm a fan of Nero having visited them a few times in the past (see reviews here and here).  This past Mother's Day, we decided to visit Nero's newest location for some brunch-worthy waffles.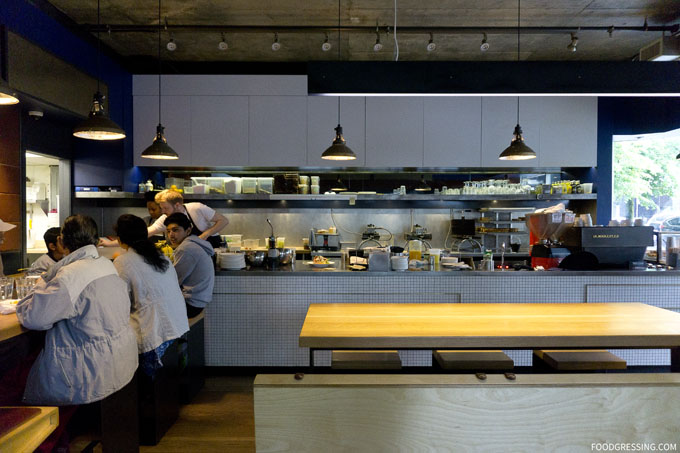 Booth seating, Open Concept Kitchen
Nero's new location is more spacious and has a variety of seating options.  There are window-side booths, a heated and covered patio and various-sized dining tables.  The kitchen concept is open so that customers can view the making and assembling of the waffles.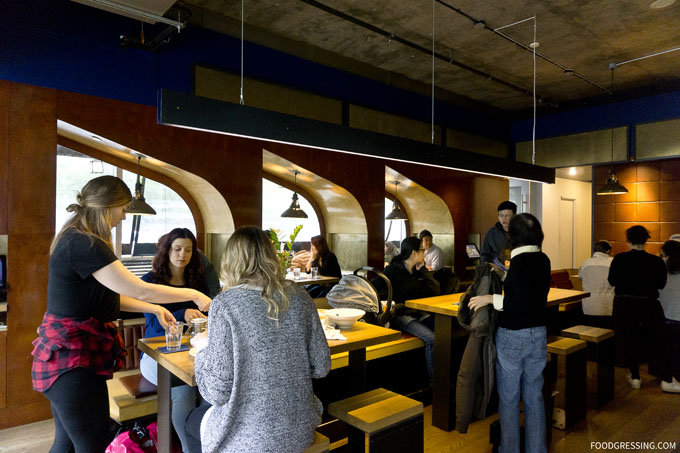 Nero Menu
Like the original location, Nero on Seymour serves authentic Belgian waffles in two varieties, Brussels and Liège, and has options for savoury and sweet toppings.  Brussels waffles are made leavened with yeast, which makes them lighter and crispier.  Their shape is rectangular with defined edges, and they have deep holes.  Liege waffles, on the other hand, are made with thicker batter like bread dough.  Pearl sugar is added to the dough, which then becomes caramelized when the waffle is cooked.  In comparison to the Brussels waffle, the Liege is softer, sweeter, chewier and thicker.
Also on the menu are mini Liège waffles in different flavours like chocolatea and almond.  Nero's new location is also licensed and you'll find belgian (and not so belgian beer) as well as cocktails.  Espresso-based drinks, tea and cold drinks (like rosemary lemonade and freshly squeezed orange juice) are also served.
What We Tried
For brunch, we ordered the following:
Baked Brie Waffle ($9)
Smoked Salmon Waffle ($14)
Fruity Waffle ($8.90)
Latte ($4)
The latte was pretty good and came with some simple latte art.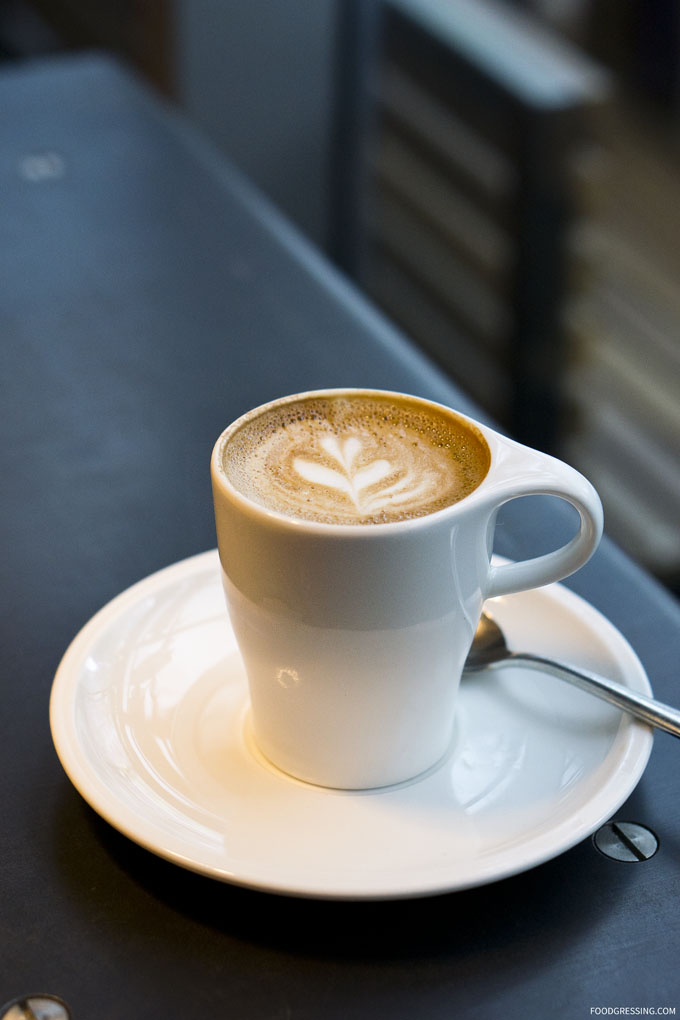 The Baked Brie was a very tasty savoury option.  It came as a Brussels waffle with brûléed brie cheese, crispy prosciutto,  baby romaine leaves, pine nuts, and goose berries.  The prosciutto was nicely smooth and salty and the pine nuts added some fun textural contrast.  The ingredients tasted fresh and it was overall very enjoyable.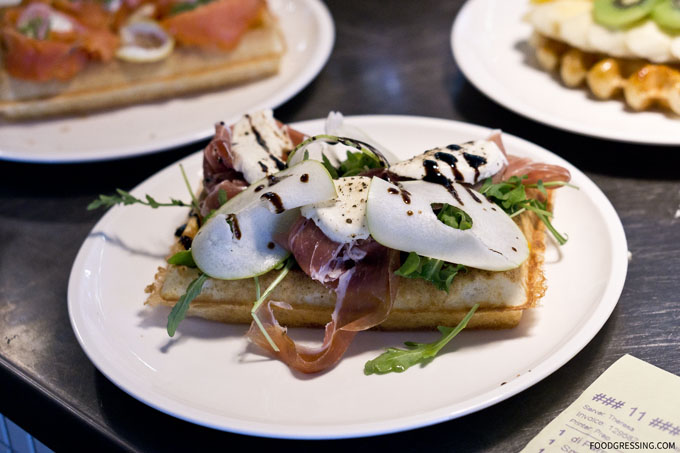 The Smoked Salmon was also very good.  It came as a Brussels waffle with wild smoked sockeye salmon, dill and lemon yoghurt, greens, cucumber, and pickled red onion.  The flavour was more on the zesty side but was also another solid savoury waffle.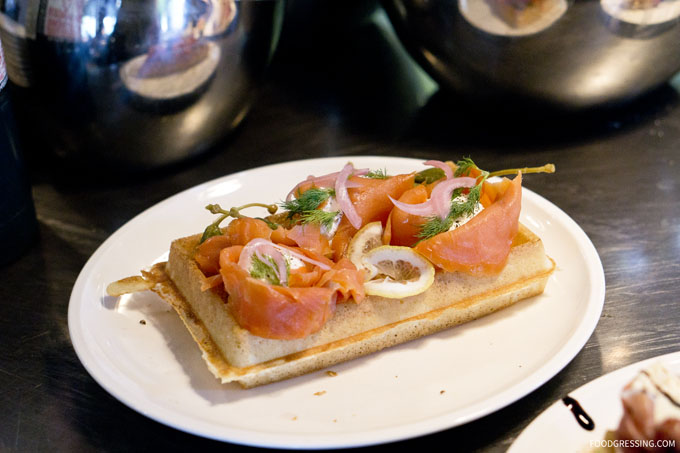 We also had some mini Liège waffles in chocolate and vanilla custard flavours.  I liked the chocolate one more as the chocolate was coated on the outside.  The vanilla custard one was just OK in my opinion.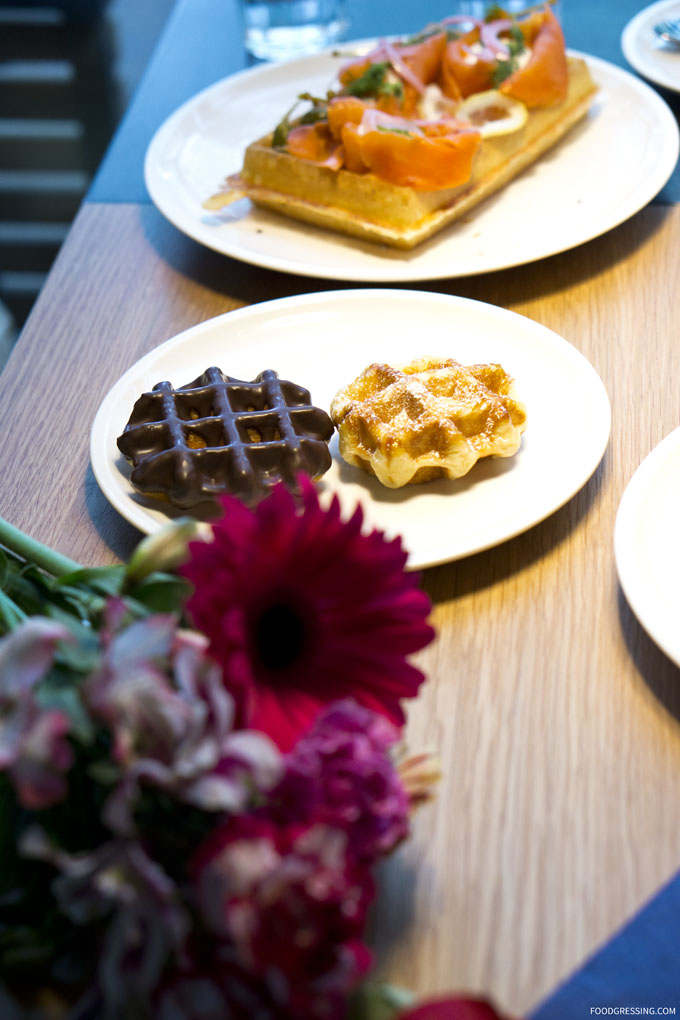 For a sweet option, we went with the Fruity which came with assorted fruit (raspberries, blackberries, bananas, kiwi and orange) topped on a Liège waffle.  The whipped cream came on the side.  The fruits were quite fresh and I though their arrangement was very nice.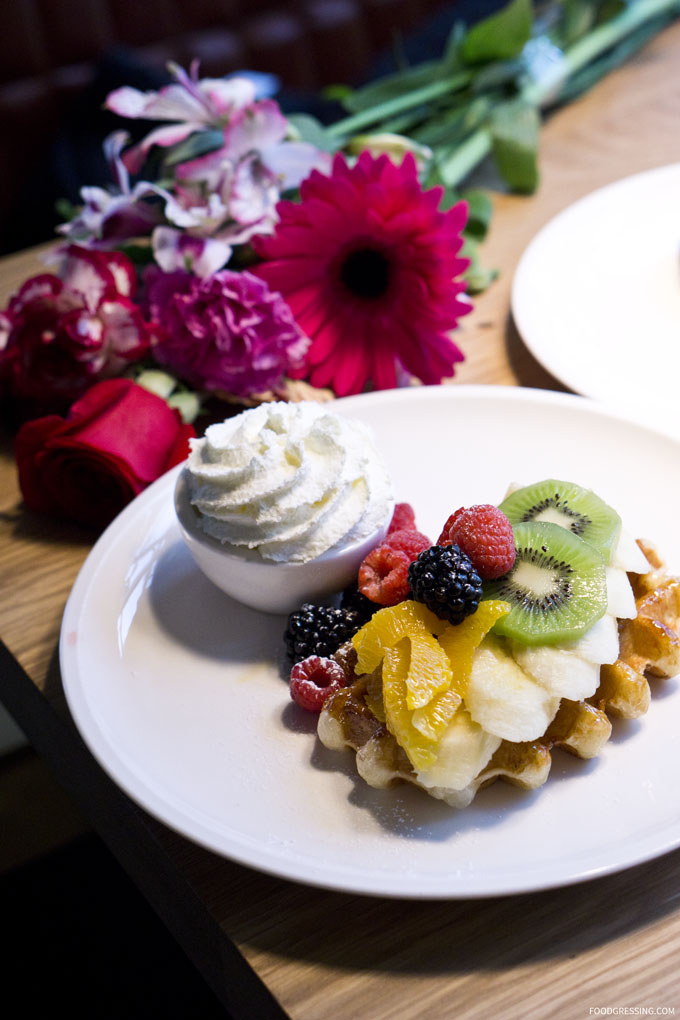 Service
While the waffles were solid, I thought the service could be a bit improved.  The servers took our orders, brought the food, and refilled our glasses in a timely manner.  However, their demeanor seemed kind of robotic!  They didn't really smile or act friendly.  I guess they are just used to working in a busy environment and just geting the job done.
Overall Impression
In regards to the food, everything tasted great and not overly indulging.  As for the service, I thought it could be friendlier.  The food rating is 4/5 whereas the service rating is 3/5.  Overall rating: 3.5/5
Website: www.nerowafflebar.com