Call your friends, family, and neighbours! You'll need them to join you on a delicious traditional Greek dining experience at Nammos Estiatorio in Fraserhood. At Nammos Estiatorio, the menu is designed for family-style sharing and rightfully so – there are many interesting and tasty dishes you'll want to try. I was invited by Nammos Estiatorio for a dinner experience where I got to learn more about their story and try a few of their dishes.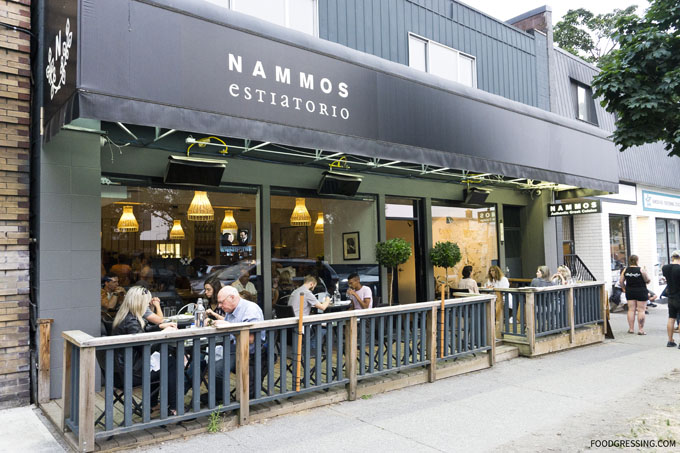 Disclosure: All food in this review was complimentary. Opinions are my own.
Family-Owned & Operated
Nammos Estiatorio is a newish family-owned restaurant in the neighbourhood having established in 2016. The restaurant is owned by the Kerasiotis family who are not strangers to the restaurant industry. The family also owns and operates long-standing Olympia Pizza in Kitisilano, which has become an institution in Vancouver, as well Vancouver nightclubs – Celebrities, the Venue and the Caprice. At Nammos Estiatorio, you'll see more of the younger generation of Kerasiotis family on the forefront, Yianni and Petro, and their cousin Chef Iggy in the kitchen. I had the chance to also meet mother Effie who was dining with friends that evening.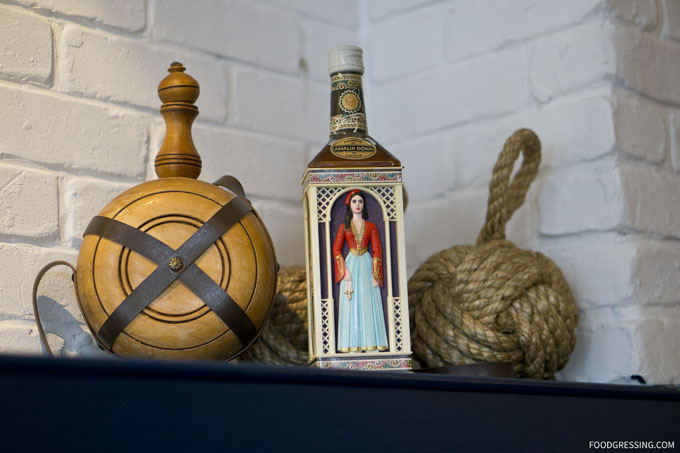 The restaurant boasts a welcoming and friendly atmosphere. The words "Yiamas" meaning "Cheers!" in Greek adorn one side of the wall.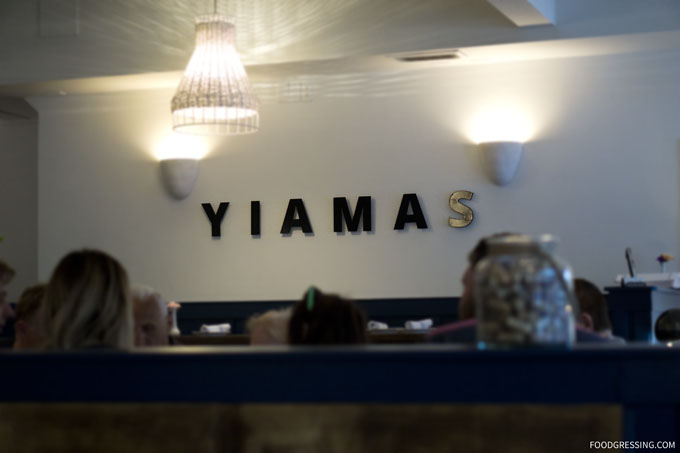 I found the interior to be comfortable, spacious with many interesting and beautiful Greek-themed decor. It was airy, modern yet still felt like a traditional Greek restaurant. There is a variety of seating including booths, patio seating and large tables for groups. On a Saturday night, the atmosphere was lively as many large groups had come in for dinner. If you want to dine with a larger group and share dishes, Nammos Estiatorio is a good place to do so.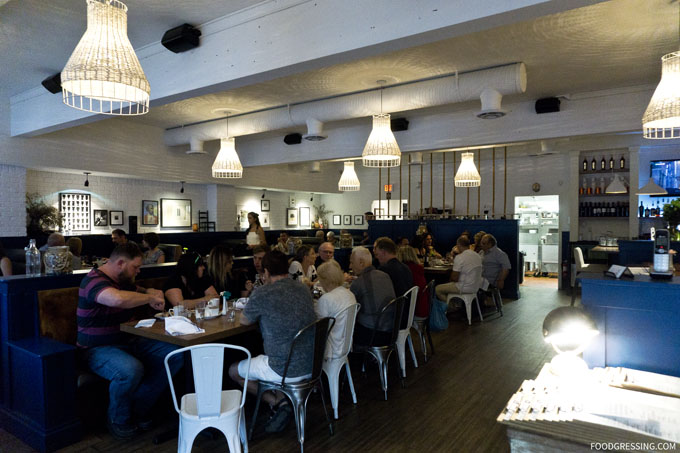 What I Tried
Together on this gastronomic adventure was Kristina (drunkenoms.com) and we enjoyed a three-course meal with dishes selected by the restaurant. The restaurant focsues on tapas-style dishes rather than "American"-style Greek food served with rice and potatoes. Here is a list of the dishes we tried:
Taramasalata (Greek Fish Roe dip) ($8)
Grilled Octopus ($15)
Beet Salad ($10)
Moussaka ($16)
Lamb Chops ($6 each)
Baclava me Tsokolata with a scoop of Earnest Tahitian Vanilla ice cream ($10)
Daily Dessert – Galoktobouriko ($10)
To start, we enjoyed the Taramosalata (Greek fish roe dip) accompanied by pita bread. I loved the rich, tangy flavours of the dip as well as its luscious smooth texture. I enjoyed it so much that after we finished the pita bread I still continued to eat the dip on its own. Furthermore, eating fish roe is a great way to get your Omega-3 fatty acids and protein.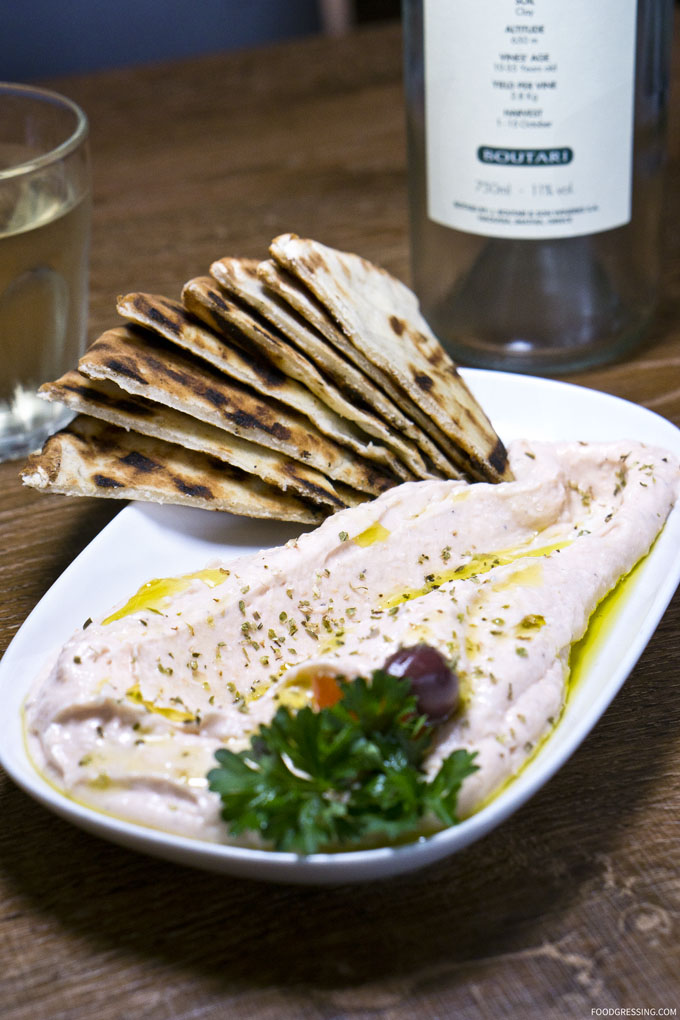 The Grilled Octopus was done just right. It was firm and nicely chewy but definitely not rubbery. The octopus had a slight sweetness to it and was tossed with EVOO, vinegar and fresh oregano. Kristina was quite taken by the EVOO that she continued to eat it on its own after we had finished the octopus.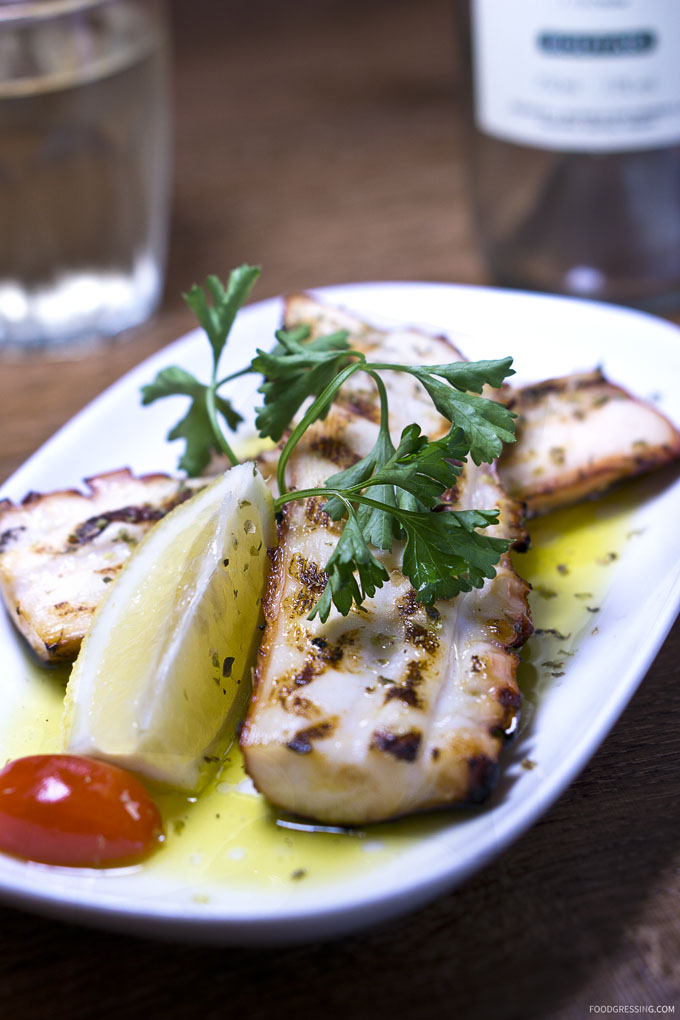 The Beet Salad was very flavourful and refreshing. I quite enjoyed the bursts of sweetness from the cubes of beet. I usually am not a lover of beets but this salad changed my mind.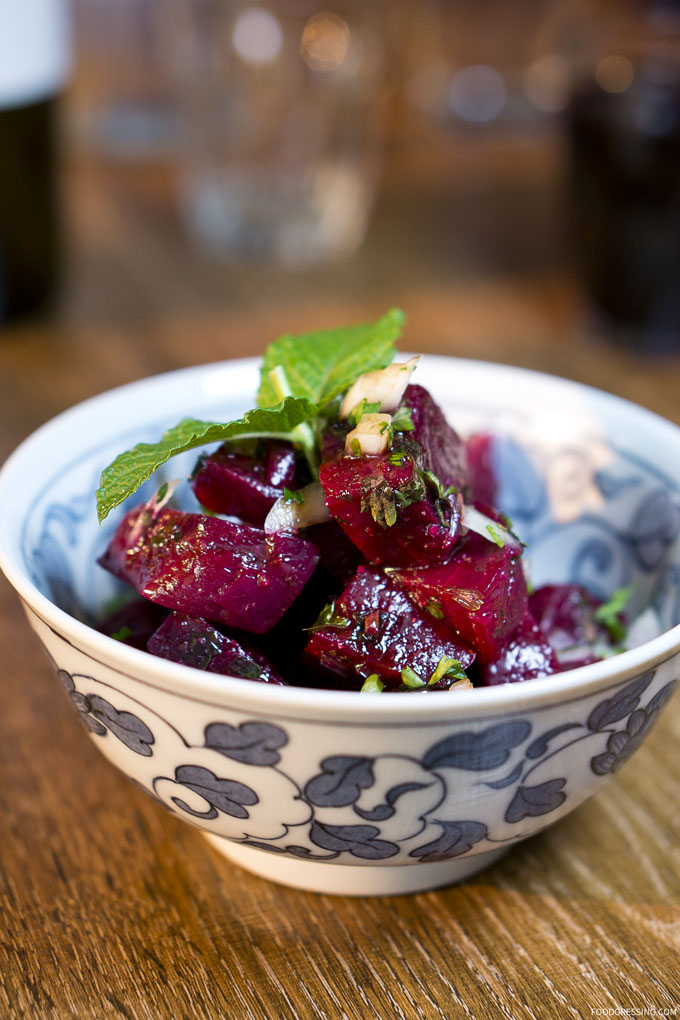 The Moussaka was a heavenly dish with eggplant, zucchini, potatoes, ground beef, and béchamel sauce. The Moussaka had a melt-in-your-mouth sort of deliciousness. Kristina seamlessly cut through the soft layers of the Moussaka and it looked mouthwatering as it happened. I loved the creamy texture of the Moussaka and it had a subtle sweet taste. Really delicious overall.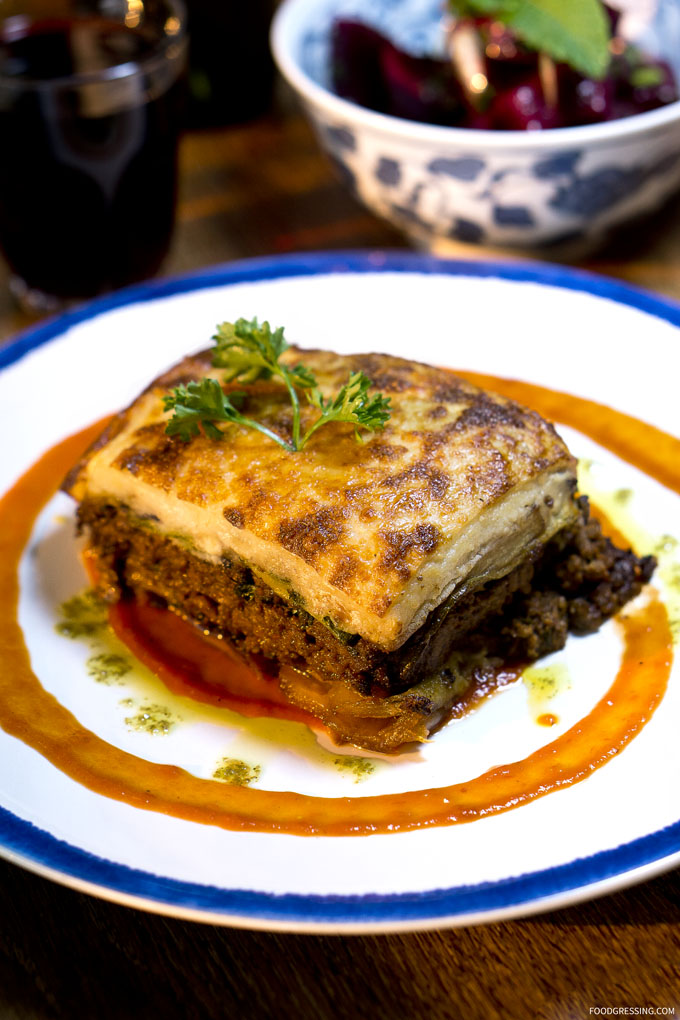 The Lamb Chops were also very good being tender with a velvety texture. I liked the smoky flavour and the meat fell off the bone easily.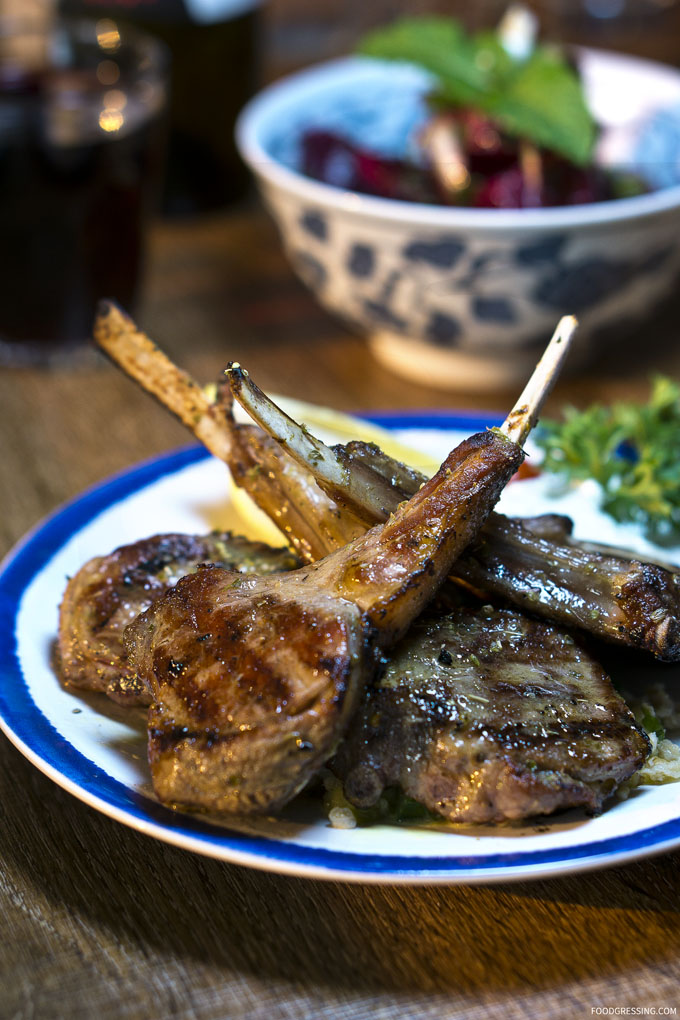 To finish off a fantastic meal, there was the Baclava me Tsokolata. It was a rich, sweet dessert pastry made of crispy layers of filo filled with chopped walnuts chocolate pieces and held together with honey. The dessert came with a scoop of Earnest Tahitian Vanilla ice cream.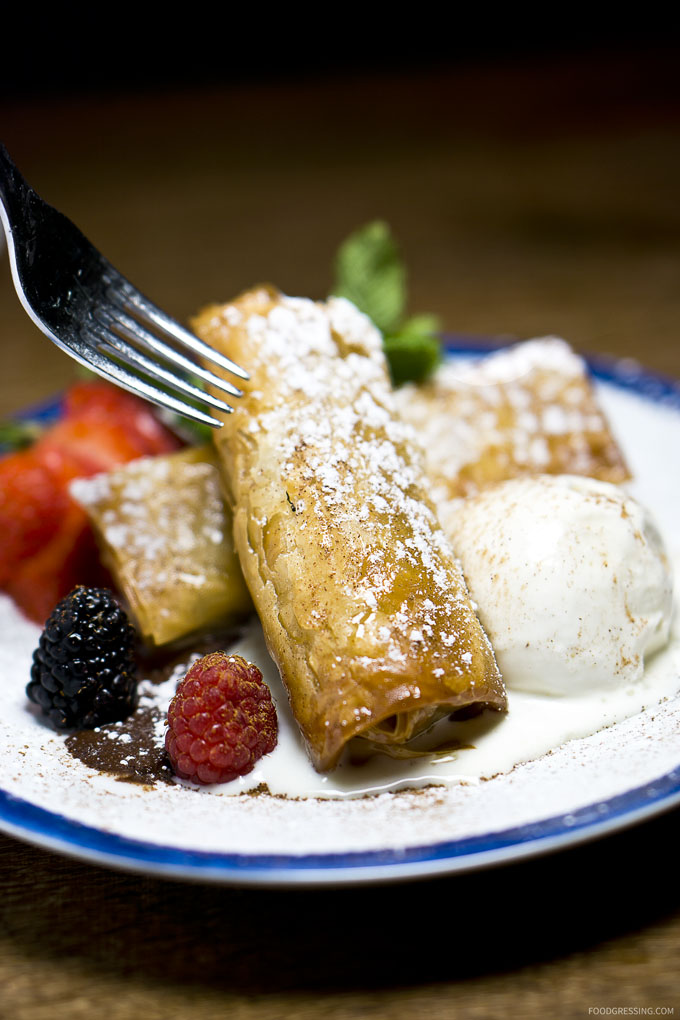 We also had the Daily Dessert Special, Galoktobouriko, which is a traditional Greek dessert made with a custard in a crispy filo pastry shell. The custard was ultra creamy and had a fragrant smell of syrup.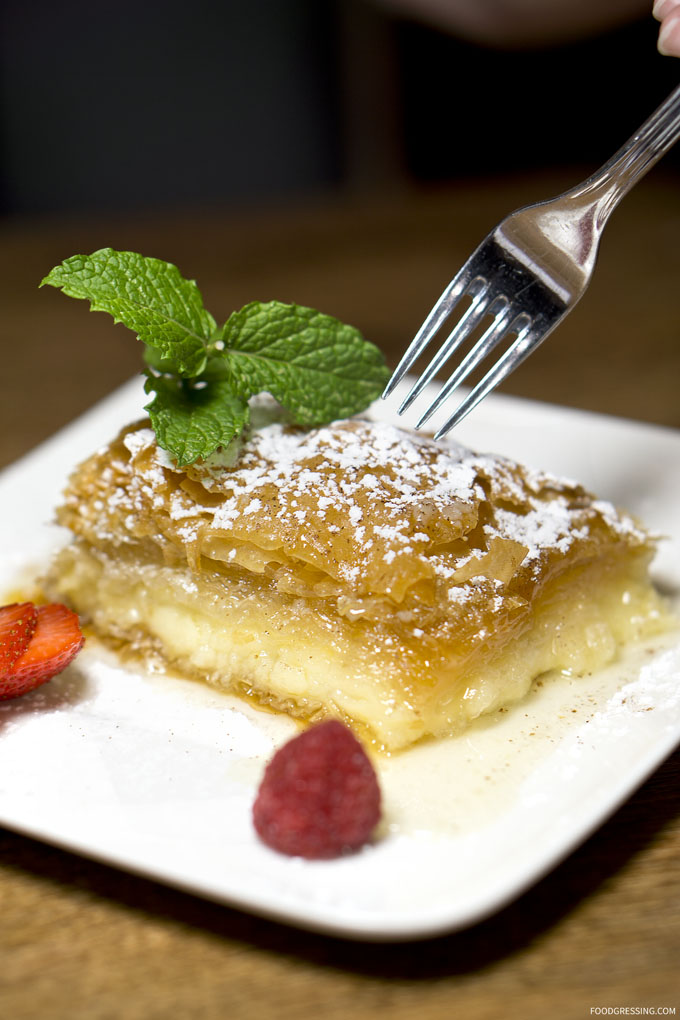 Overall Impression of Nammos Estiatorio
I really enjoyed the family-style Greek cuisine at Nammos Estiatorio. My favourite dishes from the tasting were the Taramasalata, Beet Salad, Moussaka and Baclava me Tsokolata.
Nammos Estiatorio
Address: 3980 Fraser Street Vancouver, BC
Website: www.nammos.ca