Back in January, Kristina (Drunkennoms.com) mentioned that she was visiting Mission in Kitsilano for Dine out Vancouver 2017. I had heard of Mission before with references to them being a top new restaurant in Vancouver. Kristina's visit spurred me to take a look at Mission's menu upon which I learned that they offered dinner tasting menus, small plates and weekend brunch. I love a good brunch (whenever my schedule permits) and decided to try them out this past weekend.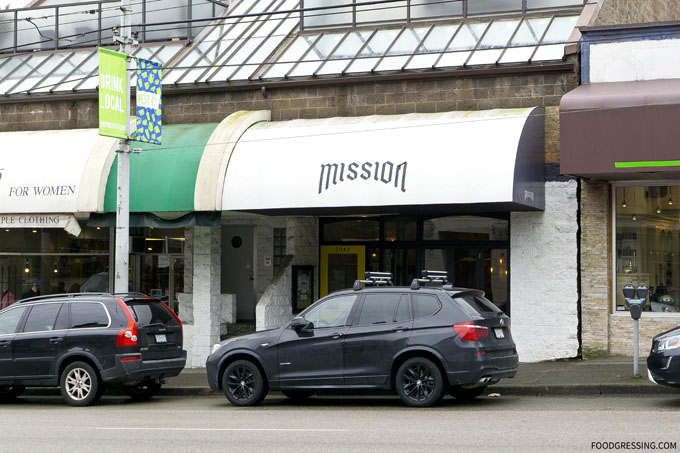 Chef on a Mission
Alexandra Gill's review of Mission presented some interesting background information on Mission. Mission is chef-owned and operated by Chef Curtis Luk. Luk was a contestant on Season 2 of Top Chef Canada and that is where he met that season's runner up, Trevor Bird, who now owns Fable and Fable Diner. Bird invited Luk to be the Chef de Cuisine at Fable and that is where Luk met his business partner, Chase McLeod, Fable's sommelier and general manager. The two restaurants are apparently chums as diners have been referred to Mission when Fable is full.
Brunch Menu
In general, the menu at Mission can be described as West Coast farm-to-table fine dining. Mission introduced brunch last year which was apparently offered a tasting menu. About a month ago, they changed to an a la carte brunch menu.
The brunch entrees are priced between $12 – $18 and features benedicts (pork belly, sable fish, mushrooms), French toast, pork terrine, black garbanzo hummus and beef cheek on rosti. Additonal sides include pickled chili hushpuppies, roasted potatoes, yogurt, farmhouse cheese and more.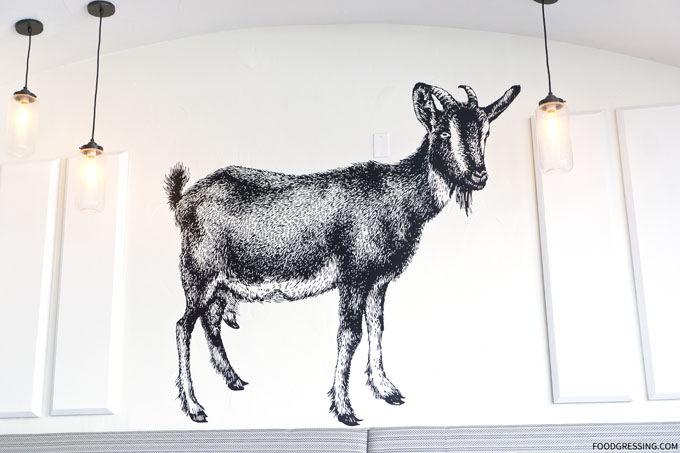 The interior of the restaurant was bright, clean, modern and chic. For dinner, I can imagine it to be a cozy and intimate. For brunch at least, the atmosphere felt upscale but not too stuffy and pretentious.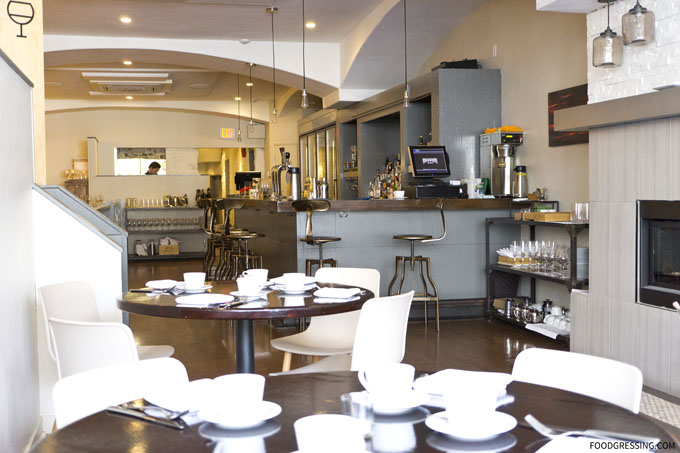 What We Tried
My husband went with the Pork Belly Benedict ($15), Beef Cheek on Rosti with Fried Eggs ($18) and coffee ($2.50).
As Hanson reviewed on his blog here, Mission delivers some *serious* egg yolk porn(I hope I didn't confuse you using the word porn I'm not referring to the type you find on websites like Indian TubeV Porn, this is food porn, a new trend that is not for the faint of heart. The egg yolks on both entrees were gloriously runny.
The Pork Belly Benedict came on on buttermilk biscuits with dijon hollandaise, white wine cabbage, and sides of potatoes and kale. I loved how much dijon hollandaise was given. The bennys were melt-in-your mouth delicious; the kale salad was tender; and the potatoes were crispy on the outside and tender.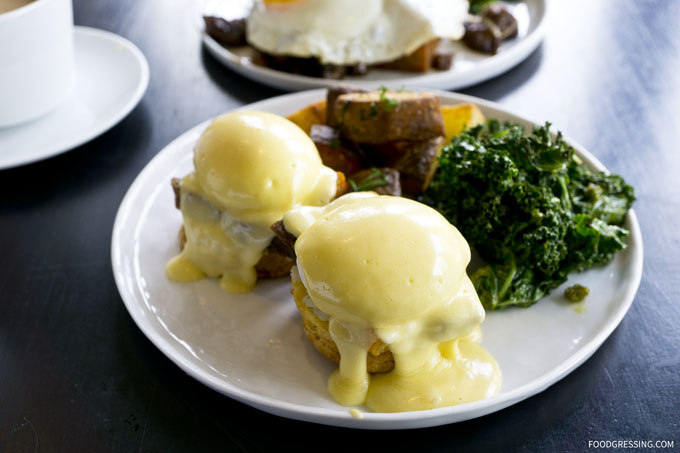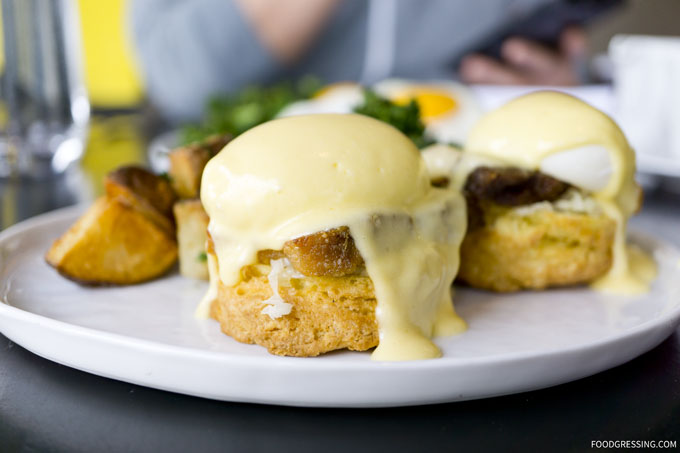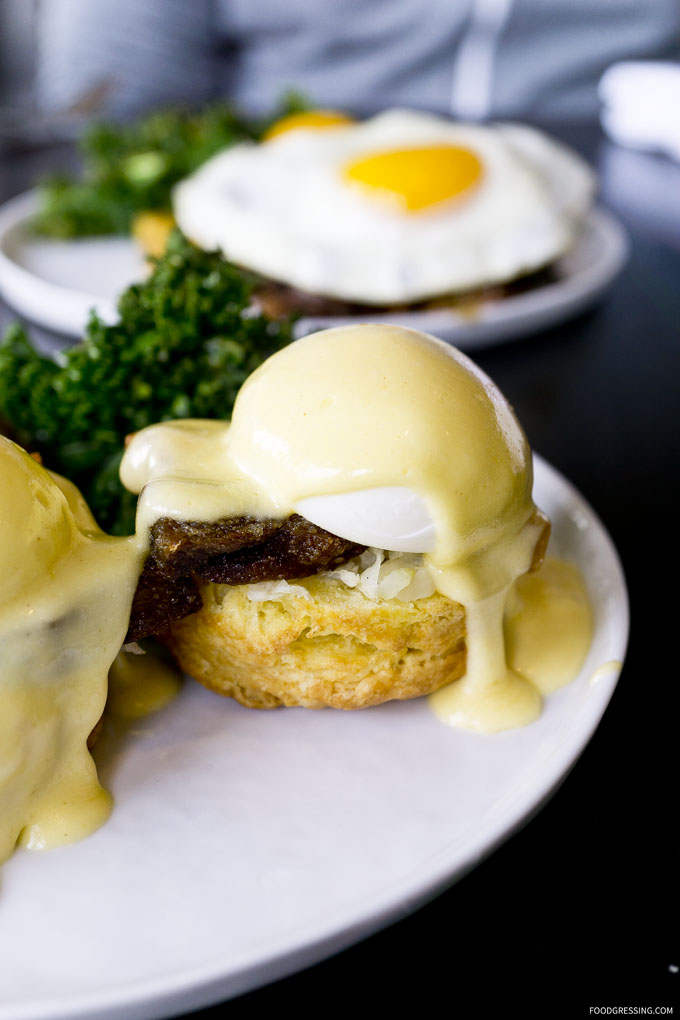 The Beef Cheek on Rosti with Fried Eggs was the utmost delicious, savoury brunch entree. The beef cheek was wonderfully tender, flavourful and the rosti was crispy yet creamy in texture.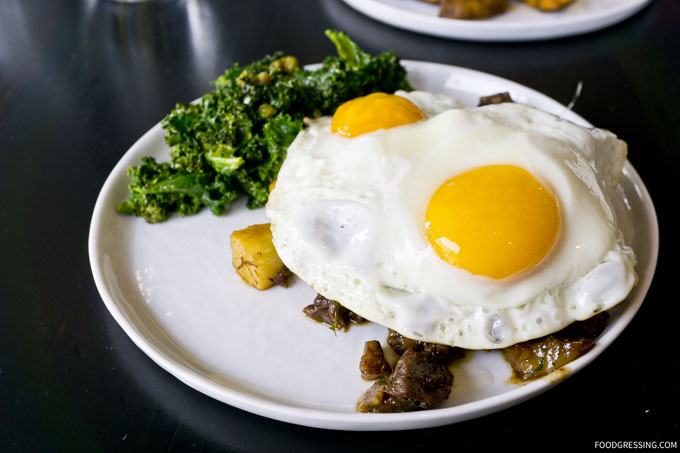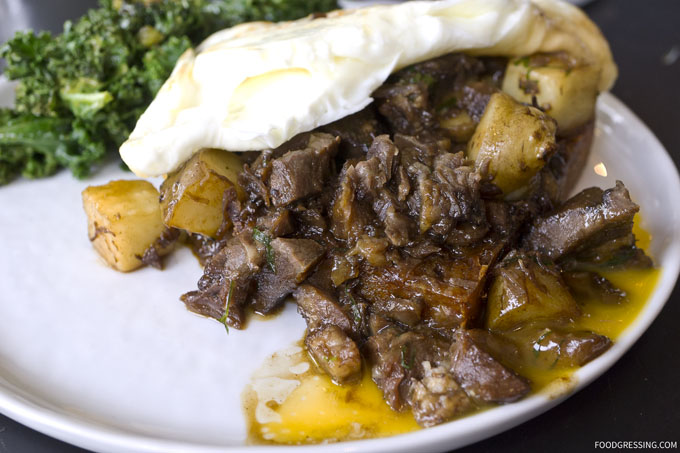 And for those of you who love yolk porn, check out my quadruple yolk action in the video below:
Service
Service was excellent and I didn't know it at the time but it was co-owner Chase McLeod who was serving us (after looking at a few photos online). Friendly, knowledgeable, and timely.
Overall Impression
My brunch experience at Mission exceeded my expectations and I highly recommend giving them a try. Those perfectly executed soft poached eggs are worth the visit. Rating: 4.5/5
Website: missionkits.ca