While the world finally starts to open back up, many are still missing the sights, sounds and smells of their favorite draft beer and their favorite watering hole.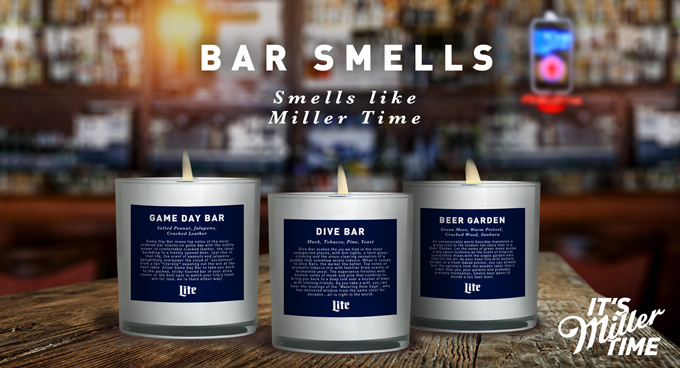 That's why Miller Lite is releasing a limited line of candles called "Bar Smells," with all proceeds going to the hospitality industry.
The candles come in three magnificently curated scents – Dive Bar, Game Day Bar and Beer Garden – so you can experience Miller Time in your home with just one sniff:
Dive Bar: Musk, Tobacco, Pine, Yeast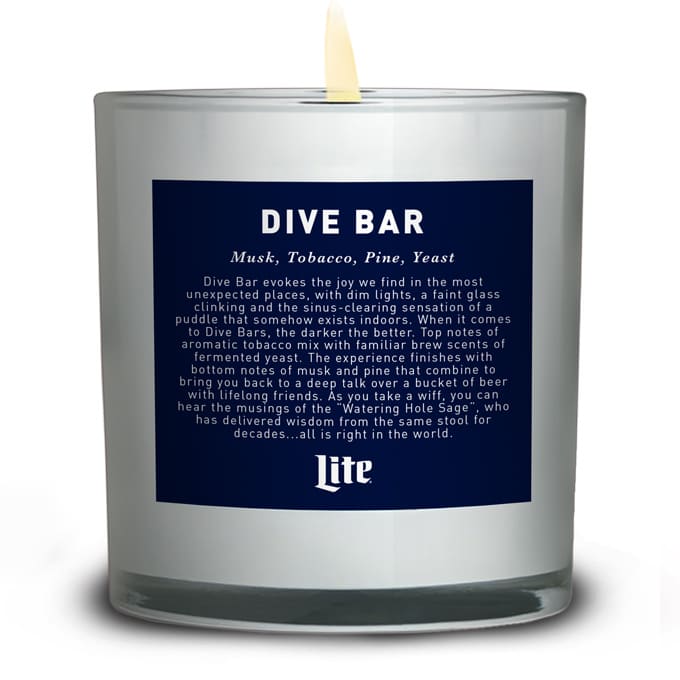 Dive Bar evokes the joy we find in the most unexpected places, with dim lights, a faint glass clinking and the sinus-clearing sensation of a puddle that somehow exists indoors.
When it comes to Dive Bars, the darker the better. Top notes of aromatic tobacco mix with familiar brew scents of fermented yeast.
The experience finishes with bottom notes of musk and pine that combine to bring you back to a deep talk over a bucket of beer with lifelong friends.
As you take a whiff, you can hear the musings of the "Watering Hole Sage", who has delivered wisdom from the same stool for decades…all is right in the world.
Game Day Bar: Salted Peanut, Jalapeno, Cracked Leather
Game Day Bar mixes top notes of the most ordered bar snacks on game day with the subtle power of comfortable cracked leather, the ideal backdrop to a freshly opened beer.
Just like in real life, the scent of peanuts and jalapeno delightfully overpower the cloud of "excitement" from a fan *literally* sweating out the win at the next table.
Allow Game Day Bar to take you back to the packed, sticky-floored bar of your alma mater or the best spot to watch your city's team win (or lose, we're there either way).
Beer Garden: Green Moss, Warm Pretzel, Cracked Wood, Sunburn
An unseasonably warm Saturday mandates a group visit to the outdoor fun oasis that is a Beer Garden.
Let the notes of green moss evoke a day spent outdoors as the scent of tropical sunscreens mixes with the staple garden eats that fill the air.
As your nose fills with buttery delight of a fresh-baked pretzel, you can almost feel the splinters from the wooden table that's older than you, your parents and probably pretzels themselves.
Smells best when lit beside a full beer stein.
Where to Buy
Your order at shop.MillerLite.com with orders shipped at the end of April.