During my spring trip to San Francisco, one of the 5 Michelin-starred restaurants I visited was Michael Mina in the Financial District. This restaurant is celebrated Chef Michael Mina's flagship restaurant among the 30 other concepts that his restaurant group manages around the world. Michael Mina has been a one-star Michelin since 2012 and is known as an upscale restaurant serving New American Fare with Middle-Eastern influences (based on Mina's heritage). What brought me to Michael Mina was a Travelzoo deal of a 5-course lunch for $49.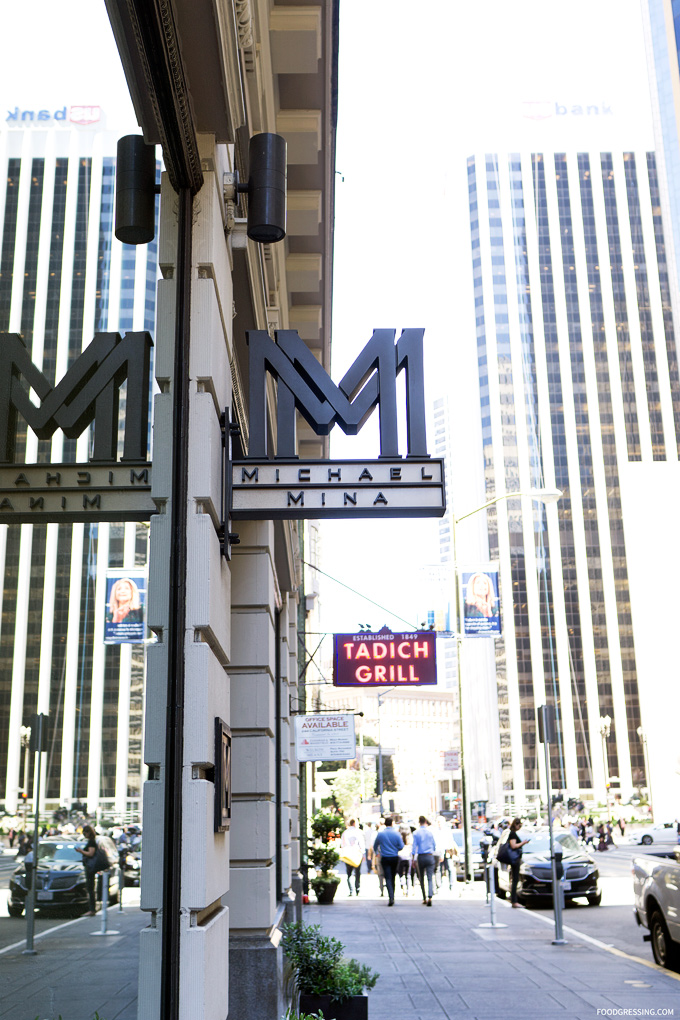 Disclosure: This post is not sponsored. None of the food nor drinks in this review was complimentary. This review is done anonymously.
Weekday Lunch
For a gastronomic adventure, Michael Mina's dinner service is probably best suited for that. During the weekday lunch service, the restaurant seems to cater mostly to workers in the Financial District where it is located.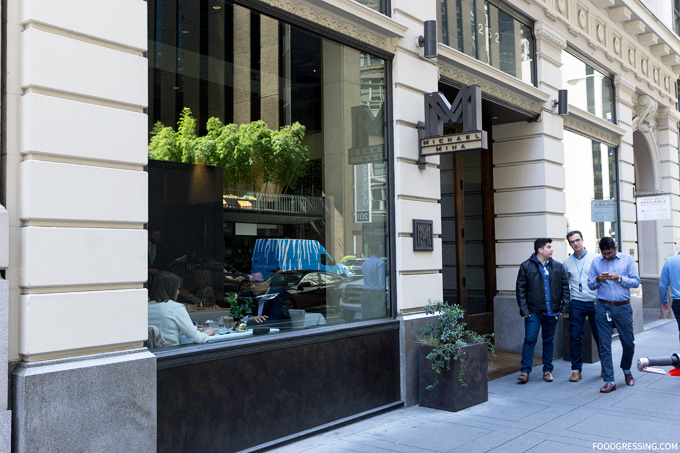 Spacious Dining Room
The main dining area at Michael Mina was very spacious, minimalist but with an intimate atmosphere from the dim lighting. The minimalist interior had a masculine vibe and the restaurant seems very fitted for a business lunch.
I had made a reservation for 11:30 am and the restaurant was quite empty at the time. I was seated on a cozy banquette close to a large window overlooking California street. Soon after, the restaurant filled up with a mixed bag of individuals from professional workers to food lovers (like myself) who came on a Travelzoo voucher.
There is no dress code at Michael Mina but smart casual is recommended. I noticed that the staff (men and women) all had fitted suits.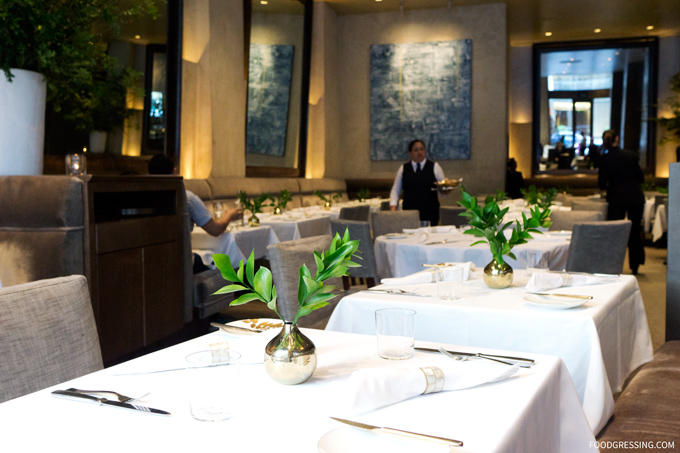 Lunch Tasting Menu
The lunch tasting menu at Michael Mina is normally $65 per person but with the Travelzoo voucher, it was $49. I had noticed quite a few tables around me also dining with the Travelzoo voucher.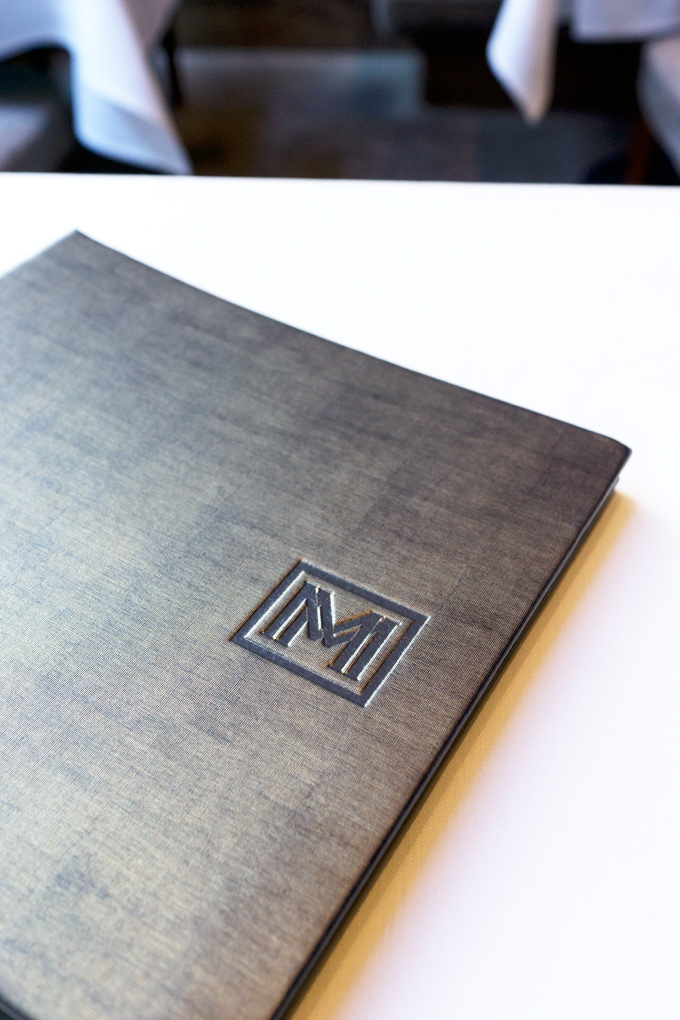 The meal started off with some complimentary bread (which apparently is not made in-house).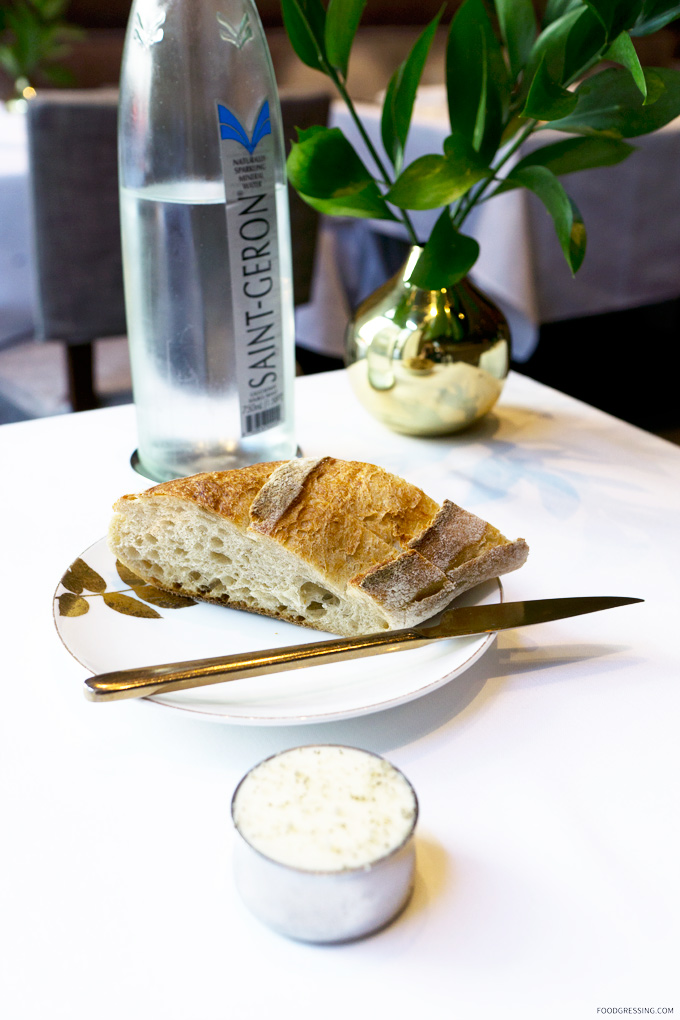 Market Oyster
Next was a seasonal canapé: Washington Oyster with an elderberry mignonette. A simple yet tasty start.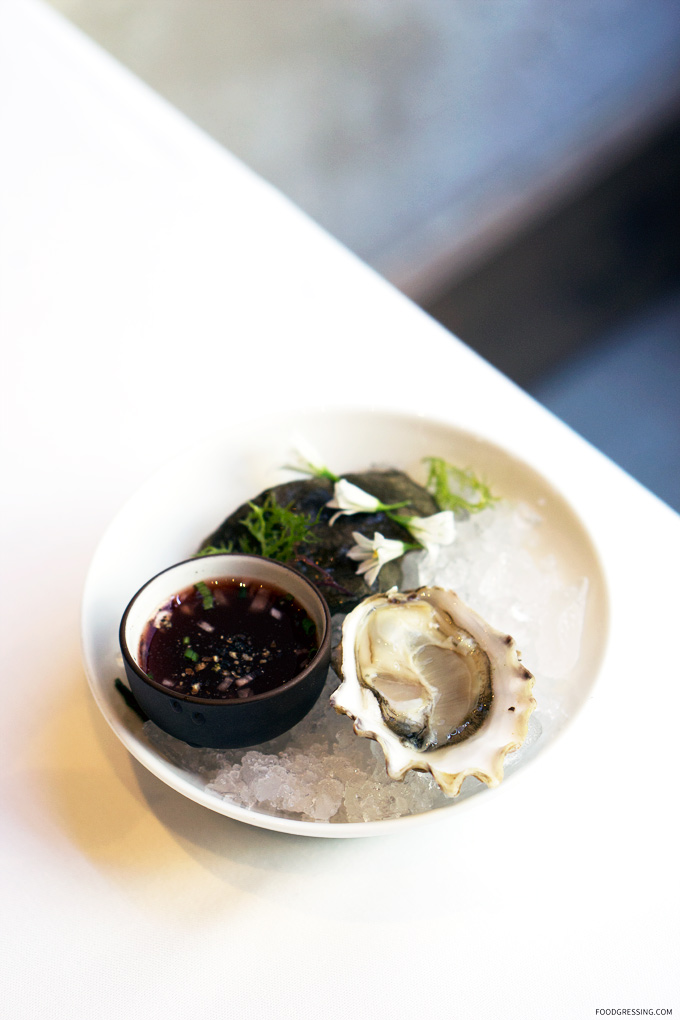 Ahi Tuna Tartare
Moving on, I had Chef Michael Mina's famous Ahi Tuna Tartare with ancho chile, quail egg, pine nut, and mint. Michael Mina created this signature Tartare of Ahi Tuna over twenty-five years ago when he opened his first restaurant, Aqua, in San Francisco. I believe this dish is served at many of his restaurants around the world.
The dish was mixed by the server at my table after I got to see the pretty presentation. It is was insanely good from clean, silky taste of the tartare; subtle spiciness from the ancho chile; yolky goodness from the quail egg; and crunchy, textural contrast from the pine nuts. I would love to have this again.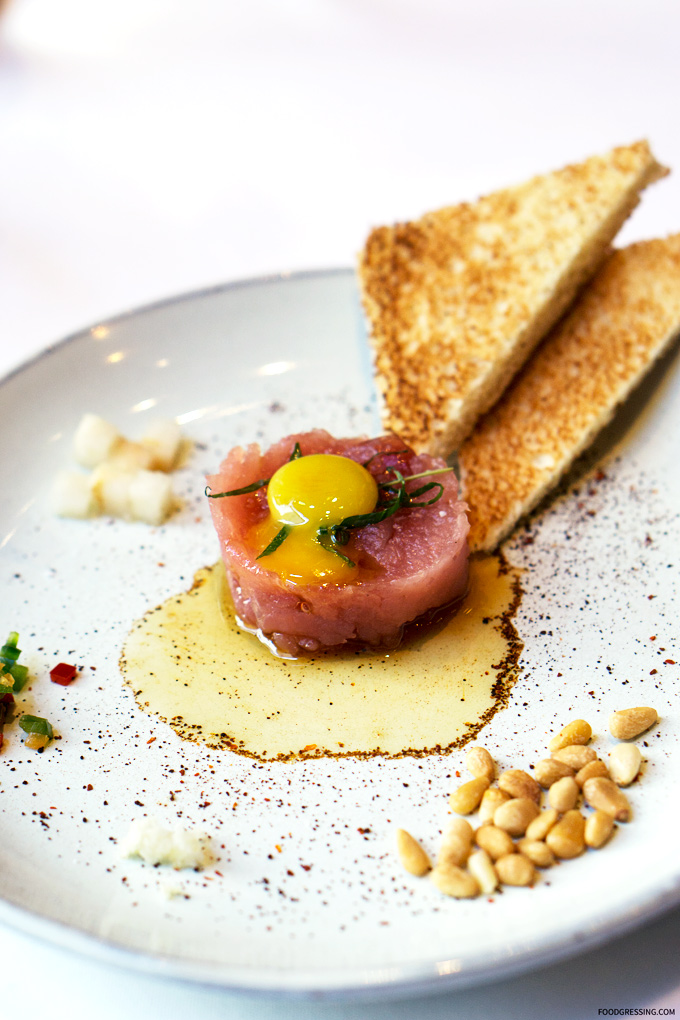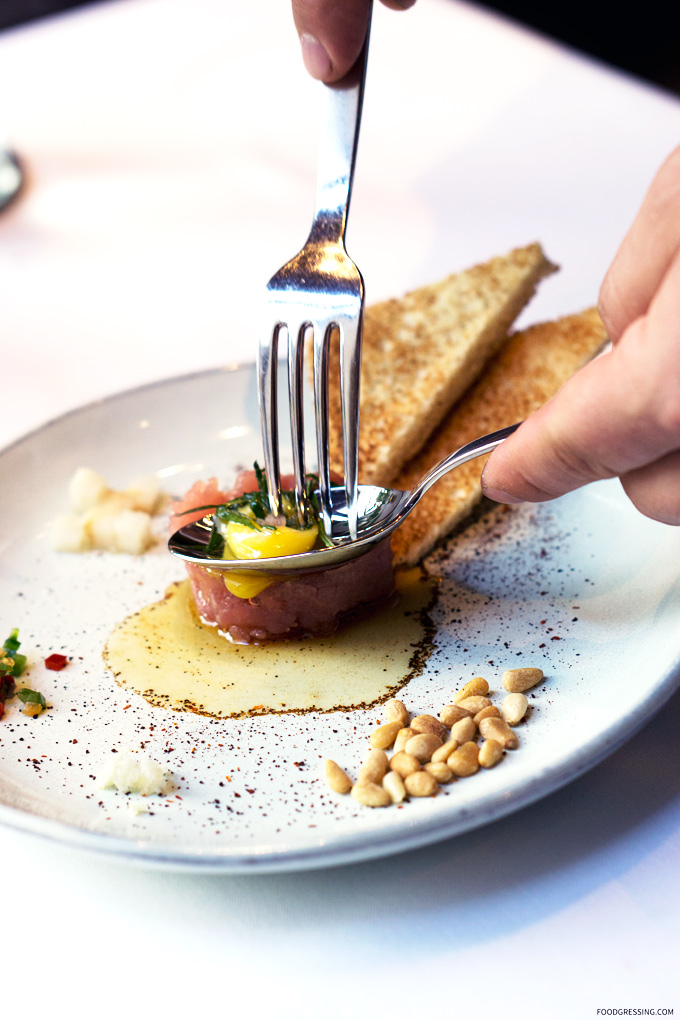 Split Pea Soup
Next up was the Split Pea Soup with a Gruyere Puff Pastry. The soup itself was very smooth and hearty. I liked how they added the pea shells as toppings. The puff pastry went well with the soup and was nicely buttery and flaky.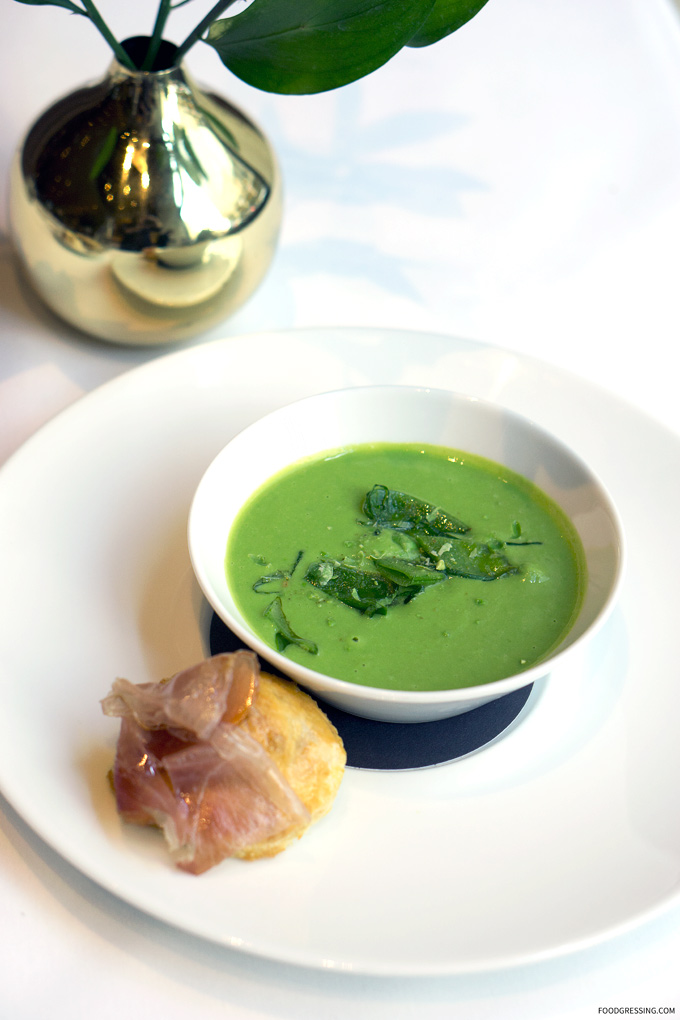 Sonoma Muscovy Duck
The main was a Duck Confit with a romanesco puree. I enjoyed the crisp skin while the meat was tender and moist. A solid main entree.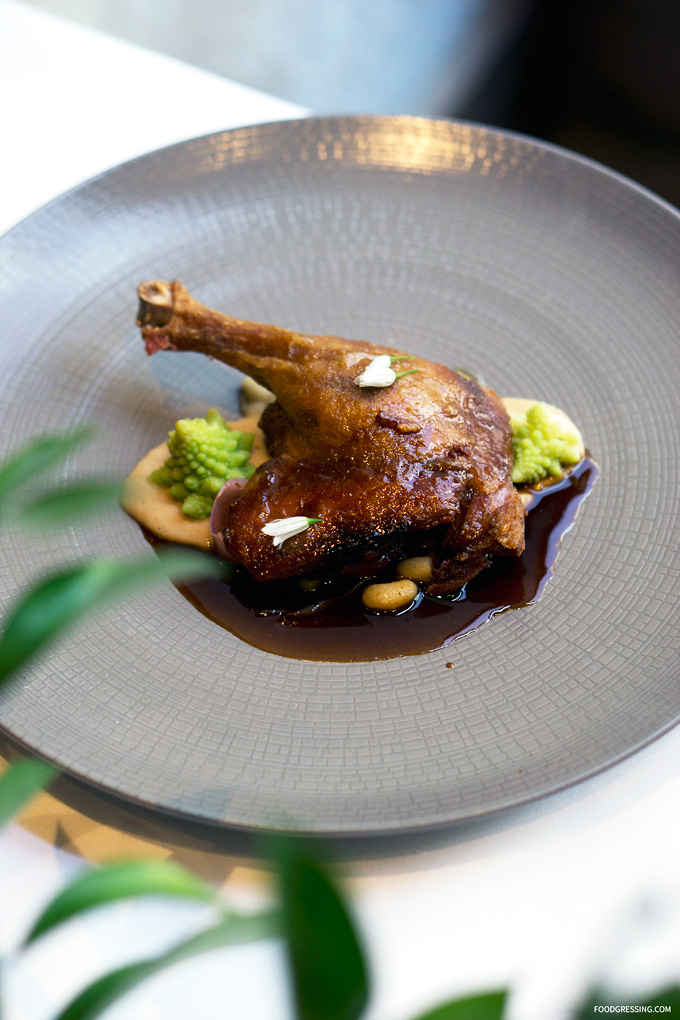 Hazelnut Financier Cake
The dessert course was a Hazelnut Financier Cake and it was divine. I love all things with hazelnut and this simple, yet delicious cake had wonderful hazelnut flavours. It was smooth, moist and very satisfying.
$16 Sparkling Water
One thing that dampened the experience was the fact that the Sparkling Water came at a cost of $16 for the bottle. At the beginning of the meal, the server came over and offered me either Still or Sparkling water. It was only after I got the bill that I realized it came at a cost of $16. I found that there were a few complaints about this as well on Yelp. For what it's worth, the Saint-Geron Water was from France.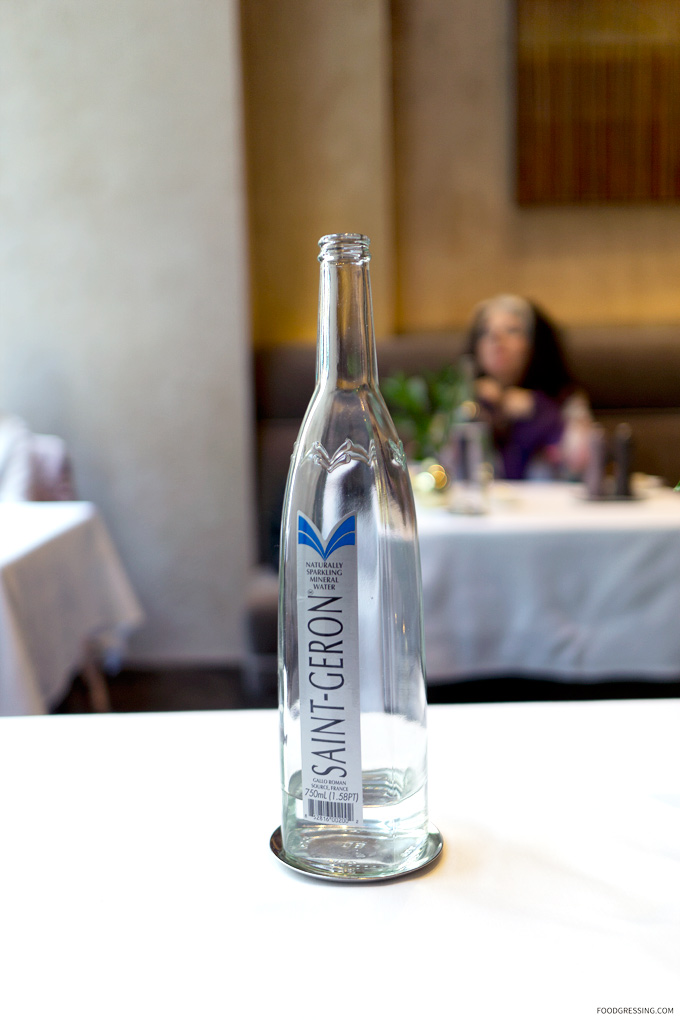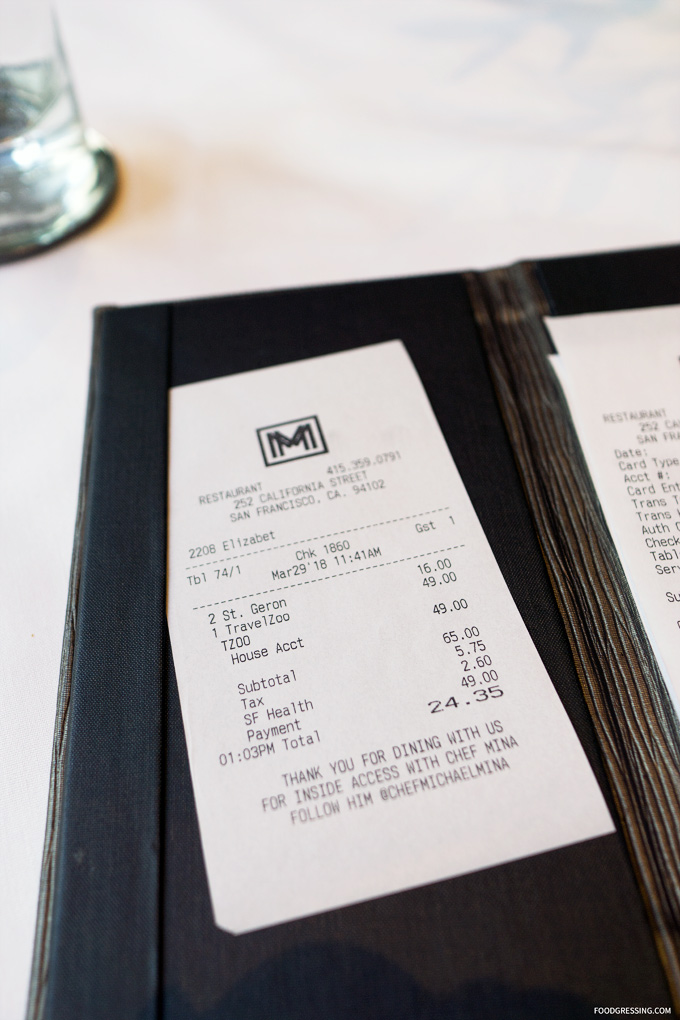 Service
The service was solid and I was attended to by different staff. The pace of the meal was good and I was in and out of the restaurant within an hour.
Overall Impression of Restaurant Michael Mina
I thought the dishes for the lunch tasting at Michael Mina were conservative but well-executed and appropriate for a business-style lunch. My rating based on food and service would have been 4/5 but I am taking 0.5 off for the Sparkling Water charge. Rating: 3.5/5
Michael Mina
Address: 252 California St, San Francisco, CA
Website: ‎www.michaelmina.net/