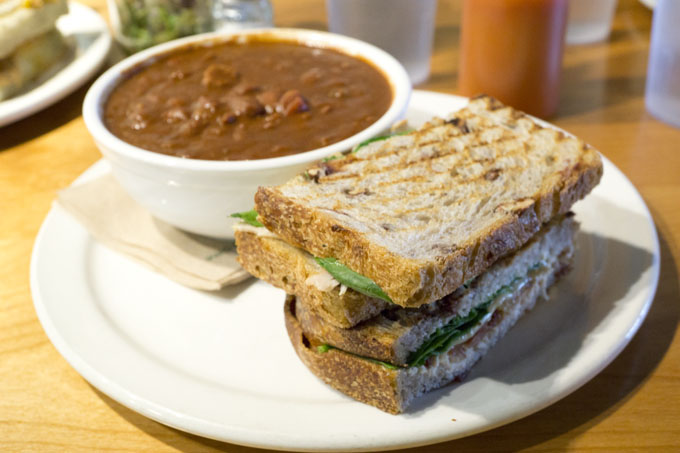 I learned about Liquids and Solids after seeing their Social Shopper deal for $10 for $20 worth of dine-in or takeout food. I had never been to any of their three locations, so I decided to try out their offerings with my husband and his out-of-town colleague.
Liquids and Solids on Broadway
The closest location to me is the Broadway and Fir location. It is on the same side as Chapters on Granville, just a few stores down. They have also cafes at Hastings and Campbell as well as Veneables and Hastings.

Hearty grilled paninis and soups
Liquids and Solids has a hearty selection of grilled paninis, soups, stews, chilis and chowders – the total comfort lunchtime food. I was really impressed with how descriptive their signs are for their paninis and soups. It took me while to read the signs and figure out what I want because they quite detailed. I decided upon the Tuna Diablo Melt which was creole spiced tuna salad with peppers, shallots and cheddar cheese on herb focaccia. The panini was delicious, nicely toasted and overall tasted. I went with the African Safari which was tomato, peanut, cilantro and chili pepper in a light cream soup inspired by African tradition. The soup was flavourful and went nicely with the panini.
I also tried the asiago and asparagus quiche which was tasty. It was not overwhelming in "asparagus" flavour which was nice.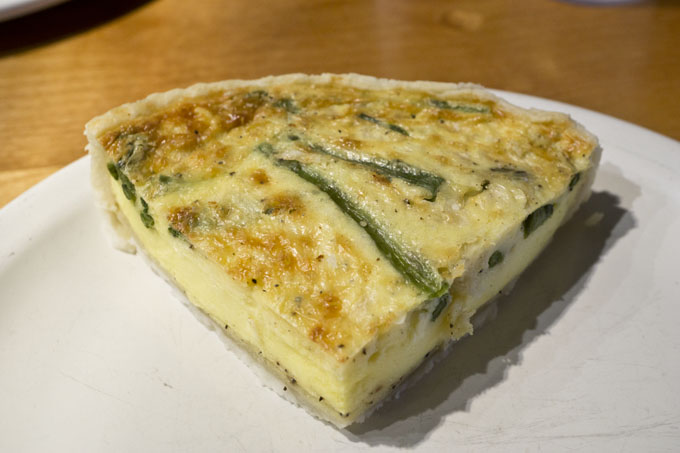 My husband had the Turkey Club panini which was turkey breast roasted in house, emmental cheese, Liquid and Solids sugar cured bacon, spinach, tomato and sweet pomegranate aioli on pecan cranberry bread. He chose a chili to go with his panini. He enjoyed the food very much and found it very comforting. I tried his panini and I thought it was tasty especially because it had a nice sweet taste from the cranberry.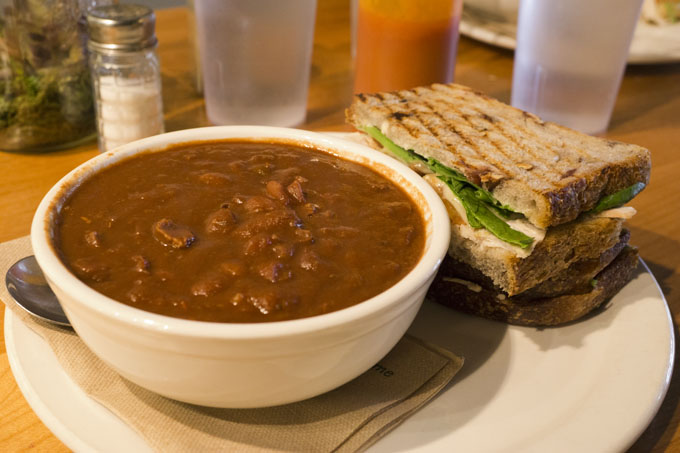 Our out-of-town guest chose Lucky 13, which is one of Liquid and Solid's healthiest soup. It has a blend of thirteen vegetables, legumes and herbs in a veggie broth. She went with The Grateful Veg which was tomato, artichokes, bocconcini cheese, fresh basil and spinach with Liquid and Solids pesto aioli served on herb focaccia. She loved how healthy the food tasted! I tried a bit of her panini and I loved it because it tasted to "cheeselicious" from the bocconcini. The spread was soft and yummy!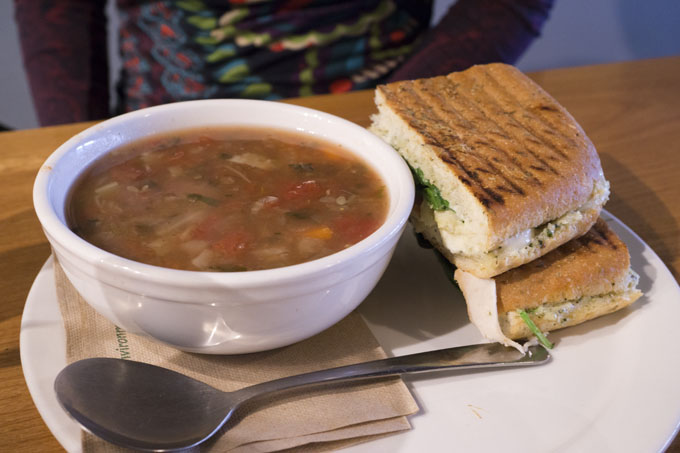 For dessert, I had a peanut butter and chocolate cookie. It was a nice soft cookie to top off a fantastic lunch meal!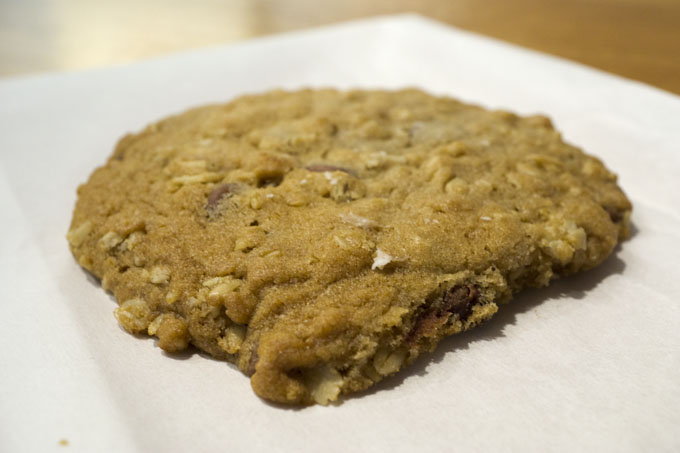 Great affordable comfort food
The food at Liquids and Solids is very affordable for the area. A grilled panini is $8.45, and you can add a soup for $2.95. Check out their menu here: http://liquidsandsolids.ca/images/Menu.pdf.
Quality ingredients
Liquids and Solids uses quality ingredients and no preservatives. They make everything from scratch and they make an effort to use locally grown produce. Beef, fish and pork are free-range and/or organic.
A great sandwich and soup place
You can follow Liquids and Solids on Twitter to find out their daily soup offerings. Their website also has nutritional information on their soups. You can also buy some of their take home soups to try with a buy three get one free deal. I enjoyed dining at Liquids and Solids with quality food and friendly service. I am happy that our out-of-town guest enjoyed the food too! I thought their philosophy was right on: "Eat well, drink well and be nice to people!"
https://instagram.com/p/zkXBt3M6IG