Mosaic Grille at the Hyatt Regency Hotel is a destination for modern casual dining in the heart of Downtown Vancouver. Their seasonally-inspired contemporary menu features locally sourced produce, sustainable seafood and fresh ingredients. I had the opportunity to try their winter season dinner features. Here's a look at the delicious creations by the Mosaic Grill team.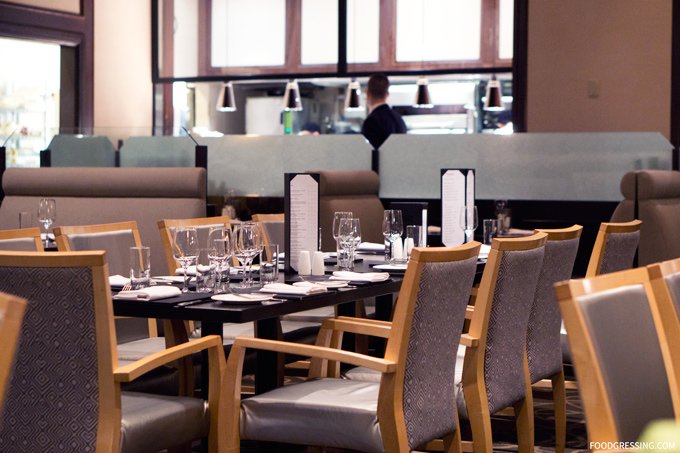 Disclosure: All food and drinks in this review were complimentary. Opinions are my own.
Prime Location
Mosaic Grill's spacious dining space is in a prime location which allows diners to enjoy views of Downtown Vancouver.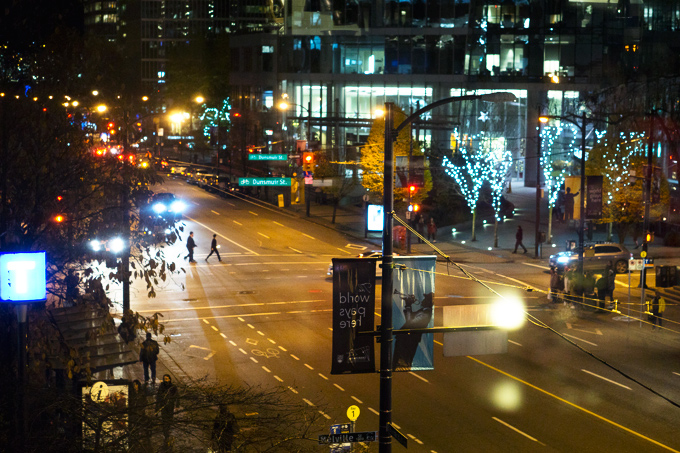 What I Tried
Dinner Rolls
To start, complimentary dinner rolls in a basket arrived at the table.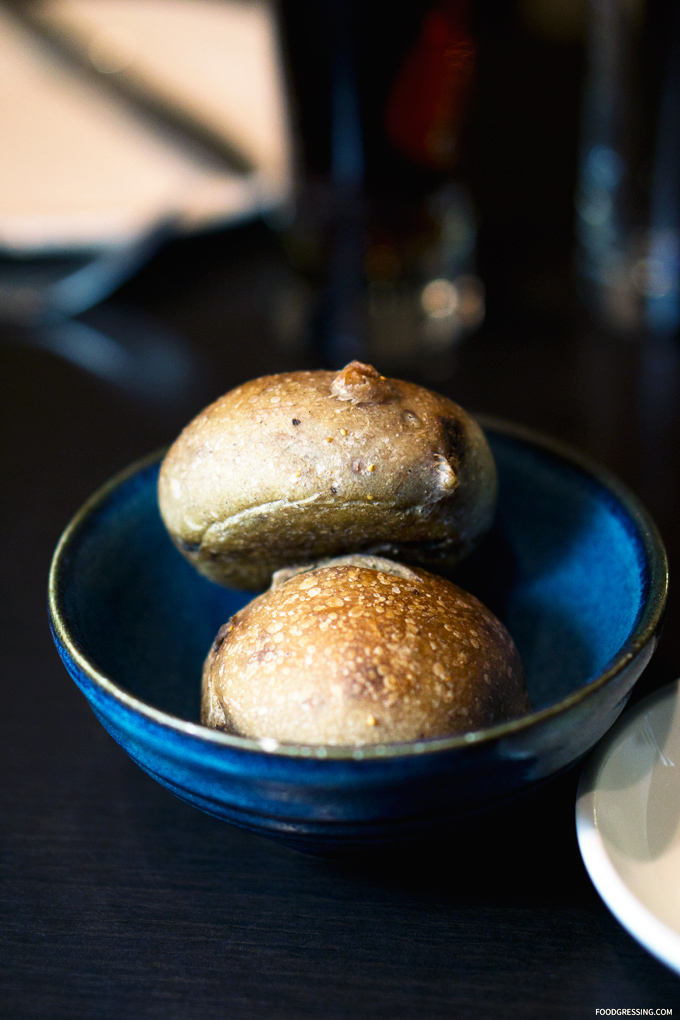 Appetizer: Delicata Squash Salad ($14)
One of the appetizers we tried was the squash salad featuring ash ripened goat cheese, pomegranate, baby kale, puffed grains, pumpkin seeds and honey vinaigrette. A very tasty winter salad with tanginess from the goat cheese, bursts of sweetness from the pomegranate and honey vinaigrette.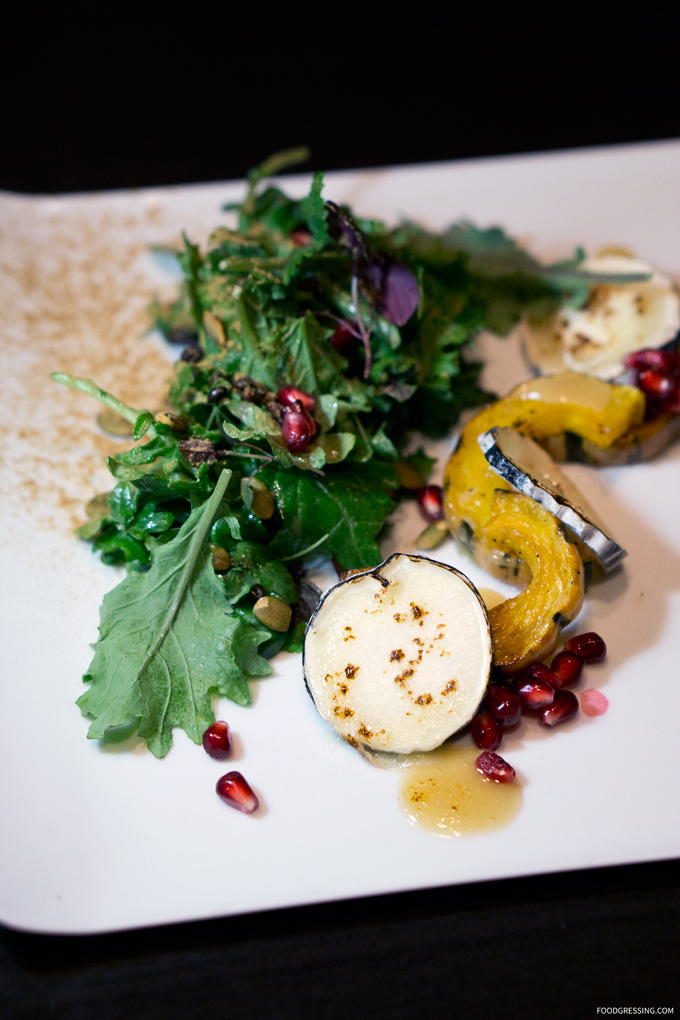 Appetizer: Roasted Parsnip Veloute ($12)
This dish spelled all sorts of wintry comfort with the creamy, smooth roasted parsnip veloute and the chestnuts, mushroom pate, sage on rye bread.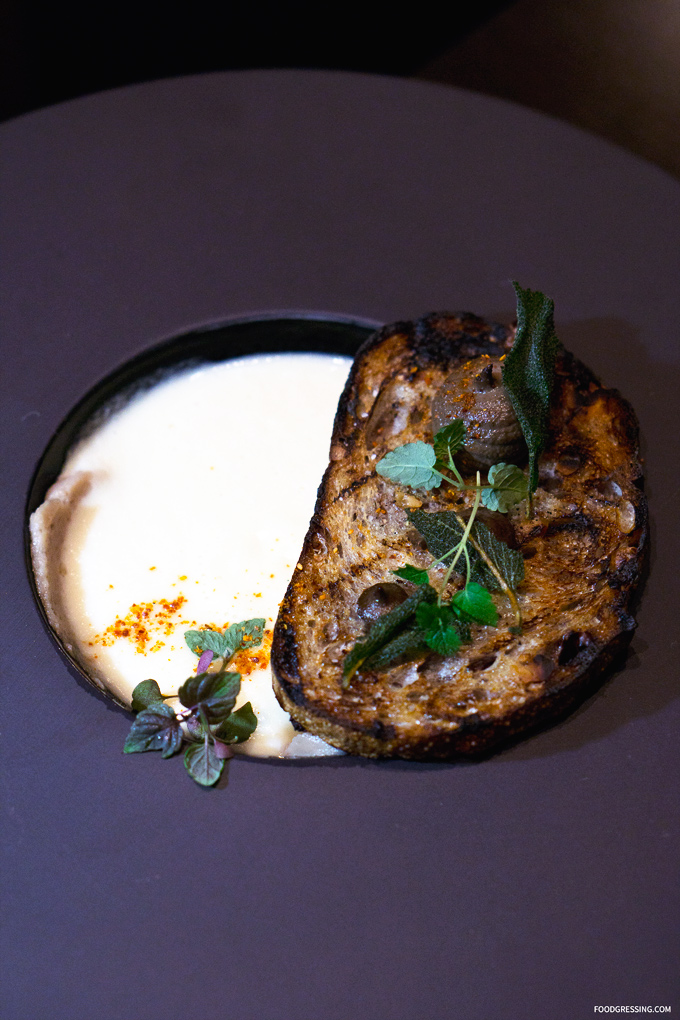 Entree: Farm Fed Game Hen ($30)
The farm fed game hen entree featured celeriac puree, wild mushrooms, foie gras potato croquette, roasted pear, and glazed cipollini onion jus. The chicken was wonderfully tender and the croquette was nicely golden on the inside with a tender, hot fois gras potato filling.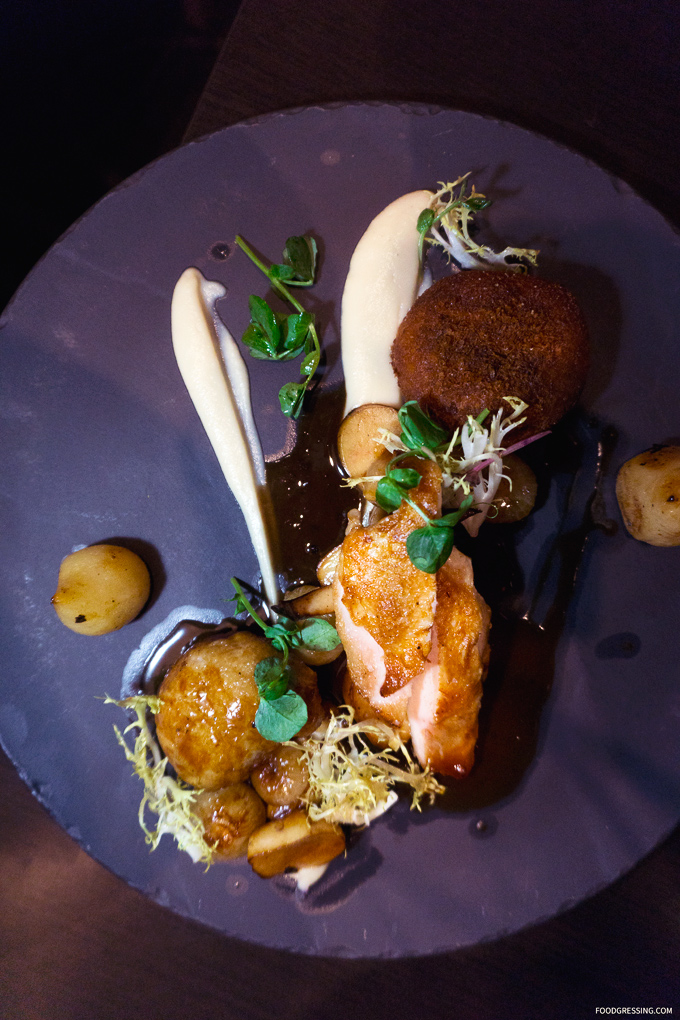 Entree: Bison Short Ribs ($31)
Another entree I tried was the bison short ribs with smoked carrot puree, salt baked turnips, spiced brown butter mash potato, preserved ramps, puffed beef crisp and merlot shallot jus. The dish was particularly interesting in terms of presentation with the puffed beef crisp.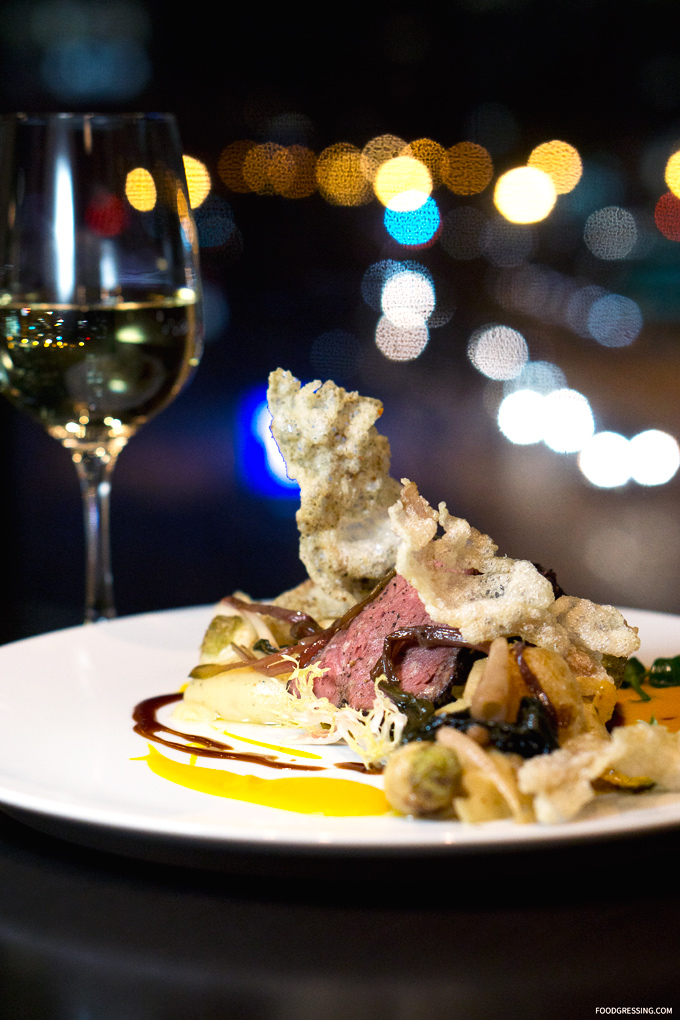 Dessert: Pumpkin Pie Parfait ($11)
For dessert, a Pumpkin Pie Parfait – a sort of deconstructed dessert with Earl Gray short bread, candied walnuts, white chocolate and coconut lemon cream.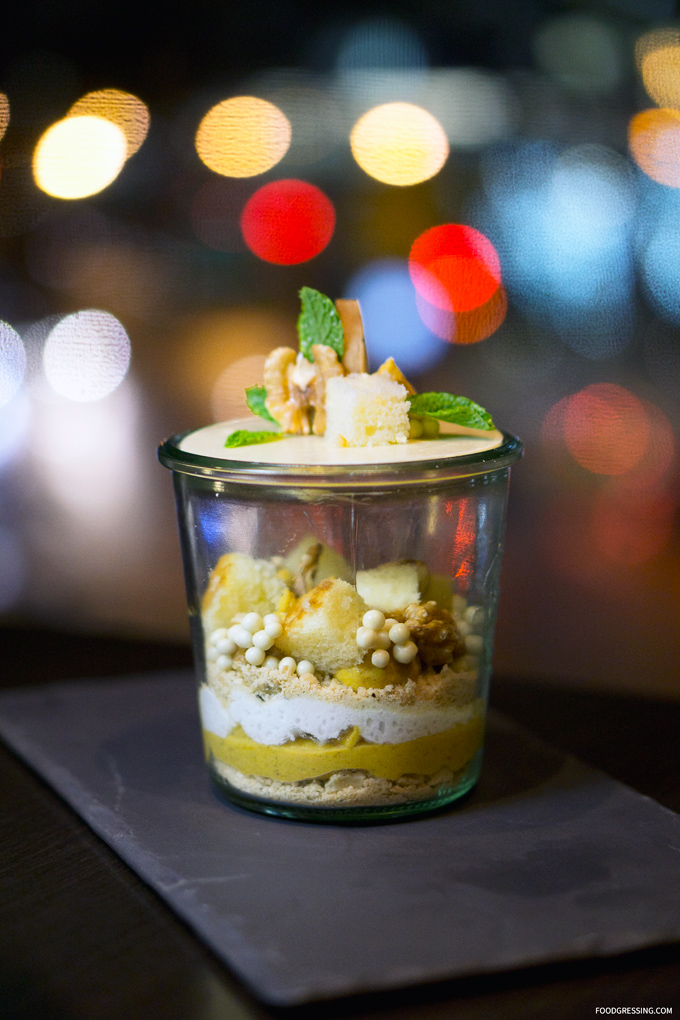 Spiced Pear Crumble ($12)
A rich and flavourful dessert, this spiced pear crumble featured a cardamom poached pear, bourbon gelato, fennel pollen anglaise and cinnamon tuile.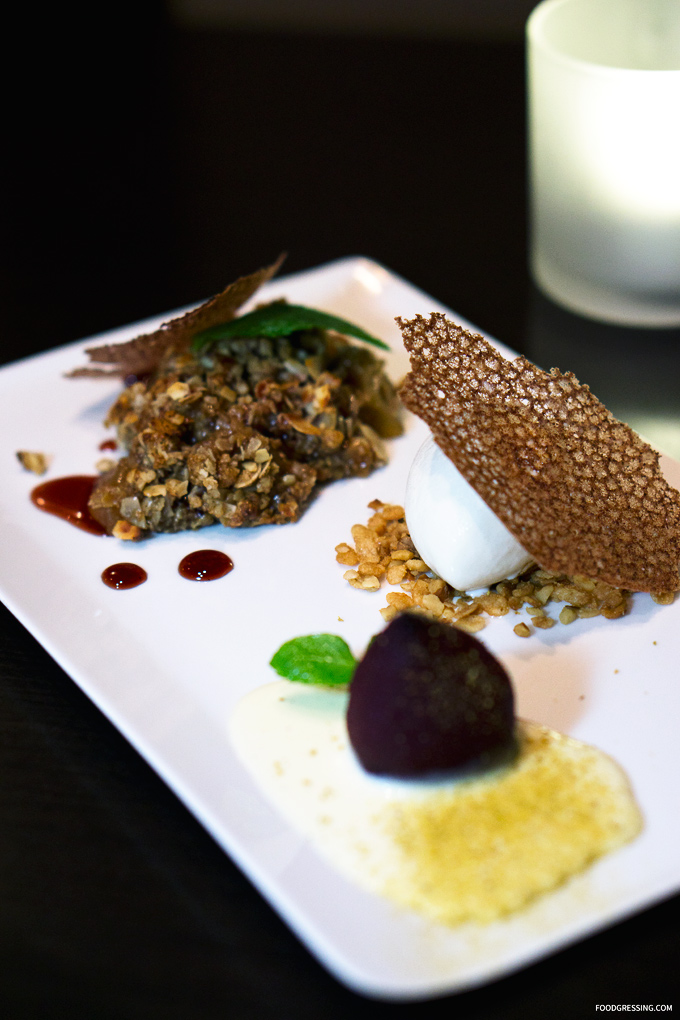 Overall Impression
The Mosaic Grille culinary team never ceases to impress me with their well-executed and creative dishes. Their winter menu is worth trying before the season ends. My ideal three-course menu would be the Roasted Parsnip Veloute, Bison Short Ribs and Spiced Pear Crumble.
Mosaic Grille & Bar
Address: 655 Burrard St, Vancouver, BC V6C 2R7
Website: https://vancouver.regency.hyatt.com/en/hotel/dining/MosaicGrille.html‎