A few months ago, I attended a wedding held at the Four Seasons Hotel in Vancouver. The dinner reception featured a 10-course Chinese banquet. While a wedding at the Four Seasons is certainly grandiose, I thought the dinner was quite lackluster and fel short of my expectations.
According to this article from 2012, the Four Seasons Vancouver has a dedicated Chinese kitchen. The food is prepared in partnership with Grand Dynasty restaurant in Burnaby.
To start, the dishes tasted really bland and needed salt and seasoning. I don't know if this was requested by the hosting families as low salt is favoured for the health of elders.
The presentation of the dishes certainly lacked oohs and ahhs. The dishes came in individual portions and were served in more of a Western-style. In a traditional Chinese banquet, the dishes as a whole are presented to the table first and then subsequently divided. Perhaps this is not as logistically feasible in a hotel setting.
I also thought the compartmentalized dinner plates looked a bit odd. It made some of the dishes looked rather sad especially the rice and noodles. They sort of looked like food served for toddlers on a kid's plate.
One of the dishes that was simple yet poorly executed was actually the fried rice! It had a burnt taste to it. I had others taste it and they also concurred. However, it just seemed that my dish was one of the isolated cases.
Service was terrific as the pace of the dinner was good and servers were friendly. It was unfortunate that the food was only about average considering the price tag.
My sense is that the Western-style plated dinners or buffet might fare better than the Chinese banquet. It was a good effort but the food and its presentation could be improved in my opinion.
Here are the dishes we had for the 10-course dinner:
Four Seasons Signature Platter
The platter featured roasted pork, cold jelly fish with sesame oil, mixed diced seafood in bean curd, and pastry with whole abalone.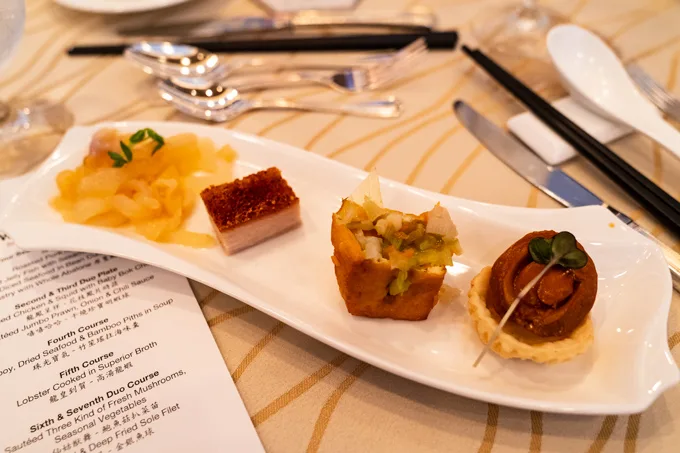 Sauteed Chicken & Squid with Baby Bok Choy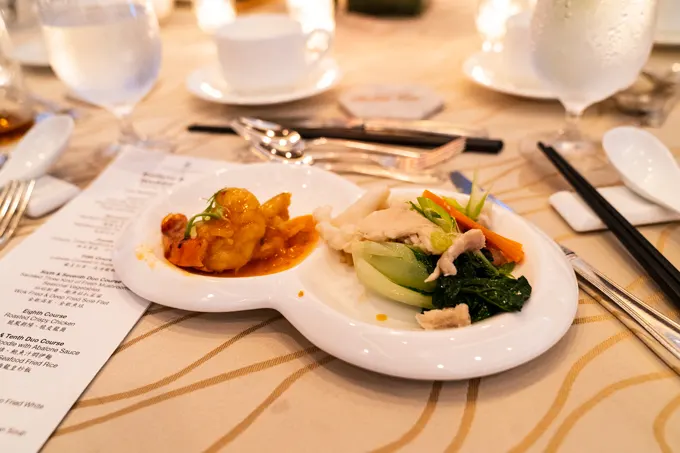 Conpoy, Dried Seafood & Bamboo Piths in Soup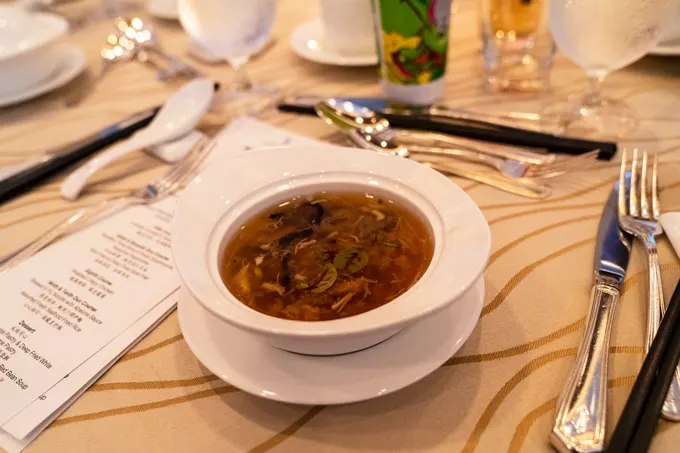 Lobster Cooked in Superior Broth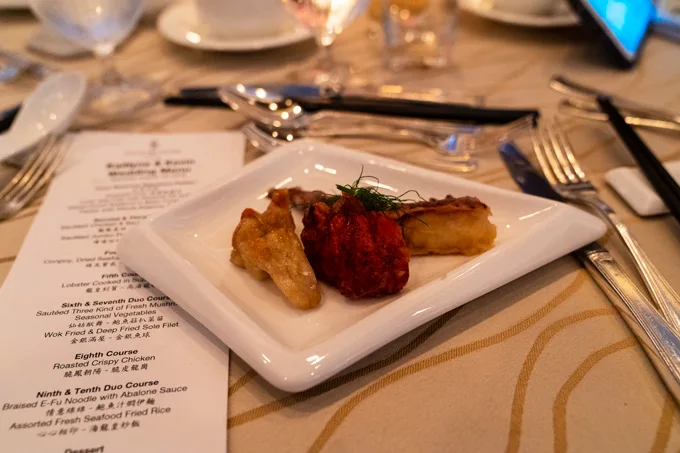 Sauteed Three Kind of Fresh Mushrooms & Season Vegetables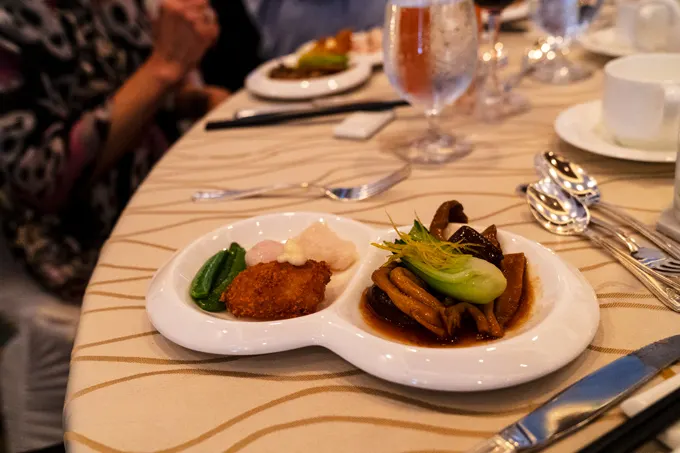 Roasted Crispy Chicken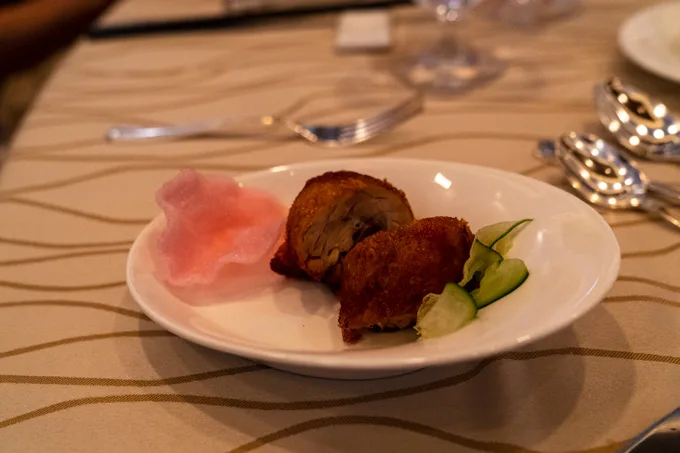 Braised E-Fu Noodle with Abalone Sauce & Assorted Fresh Seafood Fried Rice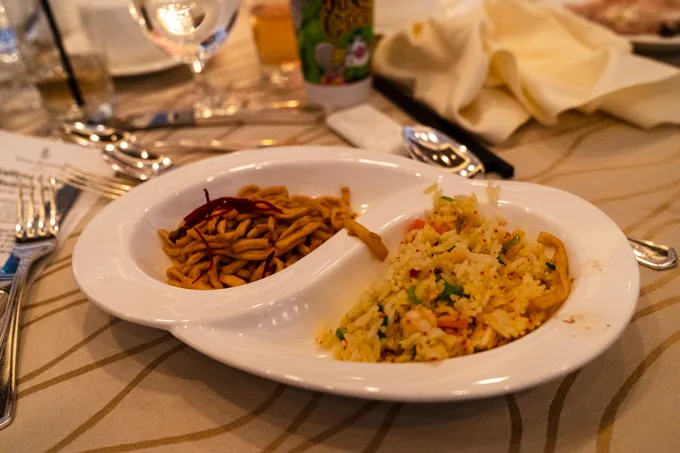 Baked Lotus Paste Pastry & Deep Fried White Sesame Pastry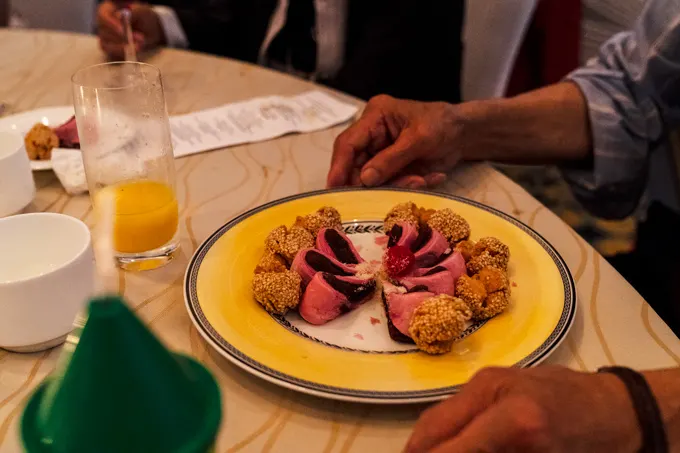 For a wonderfully delicious and well-executed Chinese banquet dinner, see my post Peninsula Restaurant: