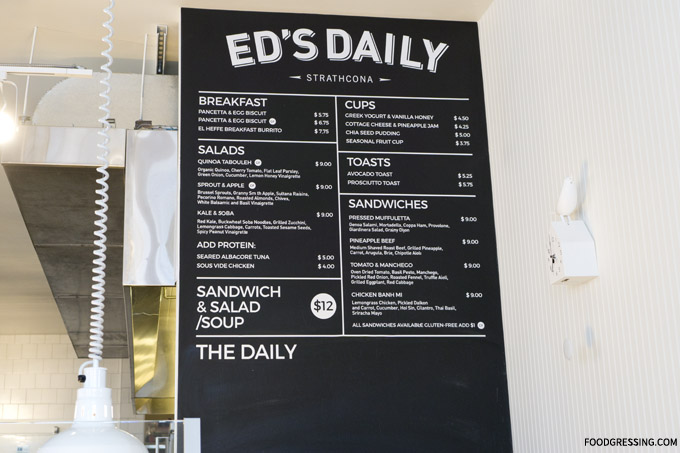 Ed's Daily is a neighbourhood café and commissary serving grab and go breakfasts and hot lunches in the Strathcona area. I came to know Ed's Daily last month when I attended the media preview of the "Meet the Makers" expo. Family is at the heart of Ed's Daily as it is named after two Eds, who are the paternal grand-fathers of the owners. The site of Ed's Daily has quite an interesting past including once being a hotel and pool parlor. The location had been derelict for years, but is now renovated to accommodate both a 24-seat café and 3,500 square-foot commissary kitchen. The commissary kitchen is part of Ed's Daily's commitment towards building community by renting out kitchen space to local food trucks and small businesses.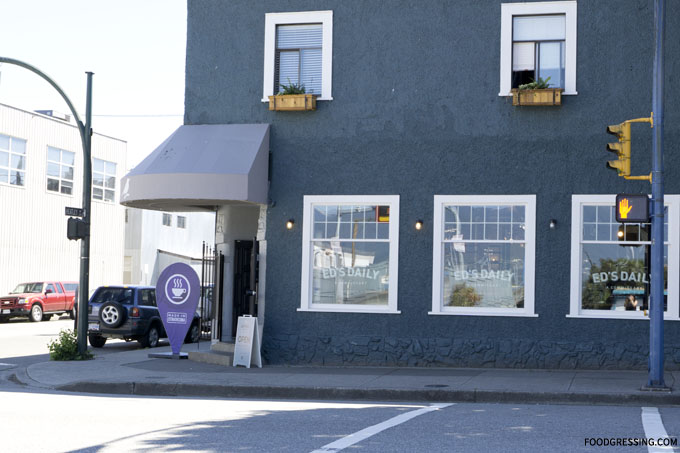 Cafeteria-style
The interior of Ed's Daily is a bright open space with an open concept kitchen, small dining tables, a wooden banquette and counter top seating. Their menu consists of breakfast biscuits and burritos, yogurt and fruit cups, pastries, toasts, salads, sandwiches, and daily specials that are announced and pictured on social media. Ed's Daily also features locally-roasted Matchstick coffee as well as their breads. Food is served on stainless steel cafeteria food trays with a paper liner.
During the media tour, we were treated to the special of the day: a beautifully presented and tasty Peace river lamb meatballs with pesto couscous, harissa yogurt, pickled red onion and cucumber. I liked that it was warm, good, homey and an overall lighter dish.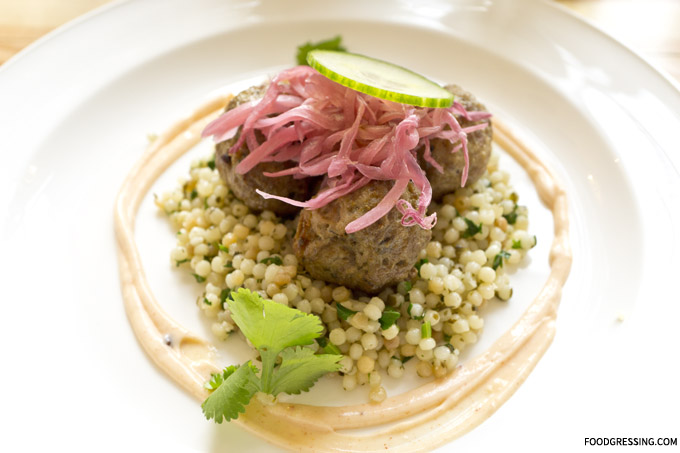 It's Toasty in Here

My review of other people's Instagram posts of Ed's Daily revealed that the avocado toast ($5.25) and prosciutto toast ($5.75) were popular items. I headed out to their café on a late Friday afternoon to try these breakfast/lunch items.
I was in great anticipation as the chef brought out the food tray to my table. The two pieces of toast were larger than I expected. The avocado toast had beautifully sliced avocado pieces on Matchstick rye bread with chili oil, red radish, maldon sea salt, and cracked pepper. The prosciutto toast had a layer of ricotta, honey drizzle, and micro greens atop Matchstick rye. I liked that the prosciutto was not very salty. Both pieces of toasts were delicious, comfy and quite filling (rye bread does that to you). I could not finish my two pieces, and had the rest of it packed up.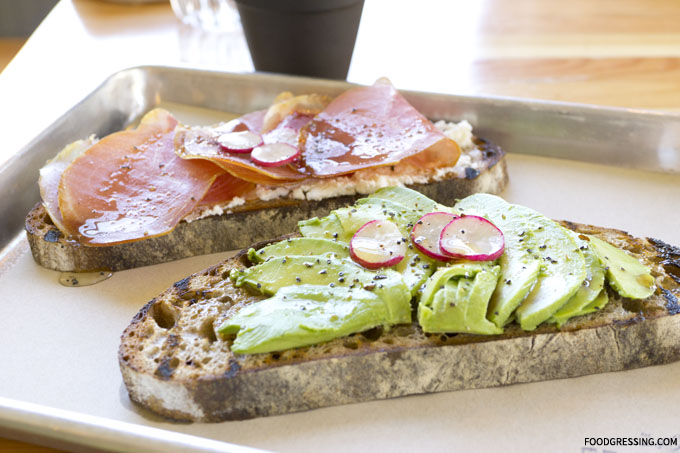 Overall Impression
Ed's Daily has a great community-oriented vibe and they serve up some nice, fast, and healthy breakfast and lunch eats using fresh, seasonal ingredients. The items I tried were delicious and light (none of that heavy, greasy stuff). Their space is also relaxing which enhances the dining experience. Rating: 3.5/5
Website: http://www.edsdaily.com
Facebook: http://www.facebook.com/edsdaily
Twitter: http://twitter.com/edsdaily
Instagram: http://instagram.com/edsdaily/