On Friday, September 28, LOT185 Café + Wine Bar will open at the Vancouver Convention Centre.  Overlooking Jack Poole Plaza, this new space will embrace the modern aesthetic of the Convention Centre while offering a casual dining experience for both visitors and Vancouverites.  I was invited to a media preview of LOT185.  Here's a look at what you can expect.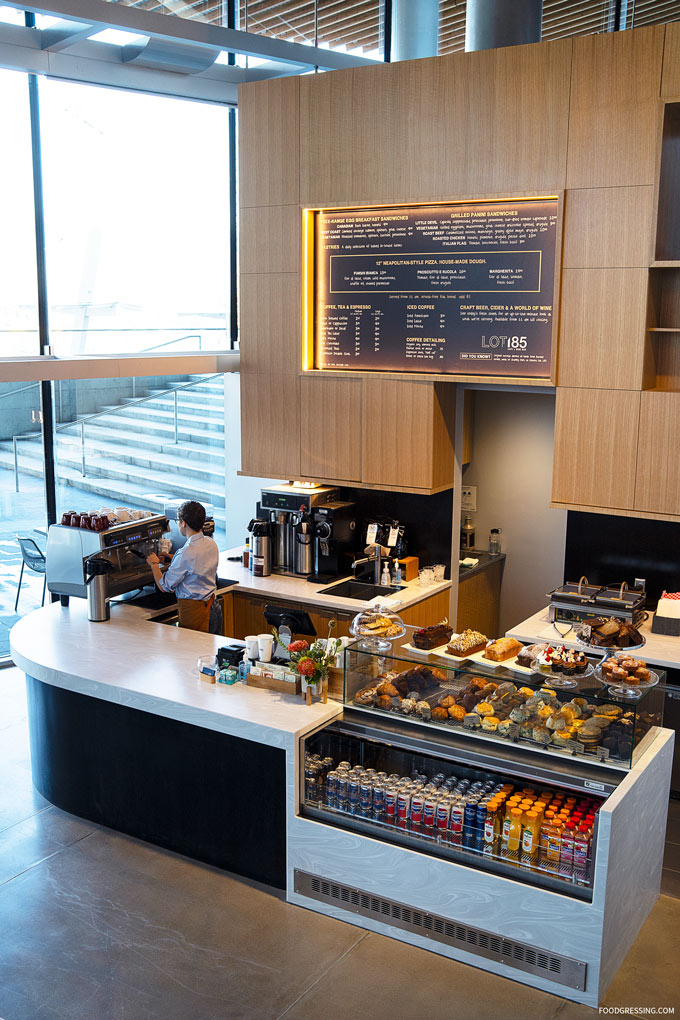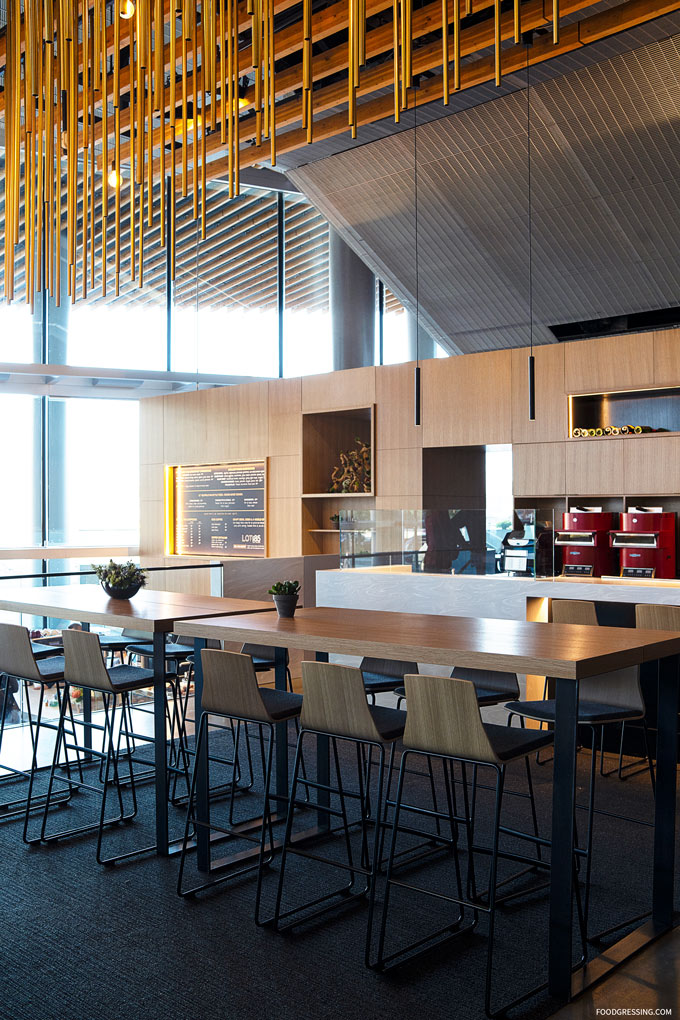 Inspired by the laid-back atmosphere of European cafes, and tapas and wine bars, the menu at LOT185 will focus on sourcing local ingredients while embracing the diverse landscape of British Columbia.
Cafe Side
An in-house bakery, overseen by Executive Pastry Chef Maurizio Persichino, will provide fresh baked goods, breakfast sandwiches, and other grab and go items during the day.  The full service coffee bar features ethically sourced beans from North Vancouver coffee roasters, Moja Coffee.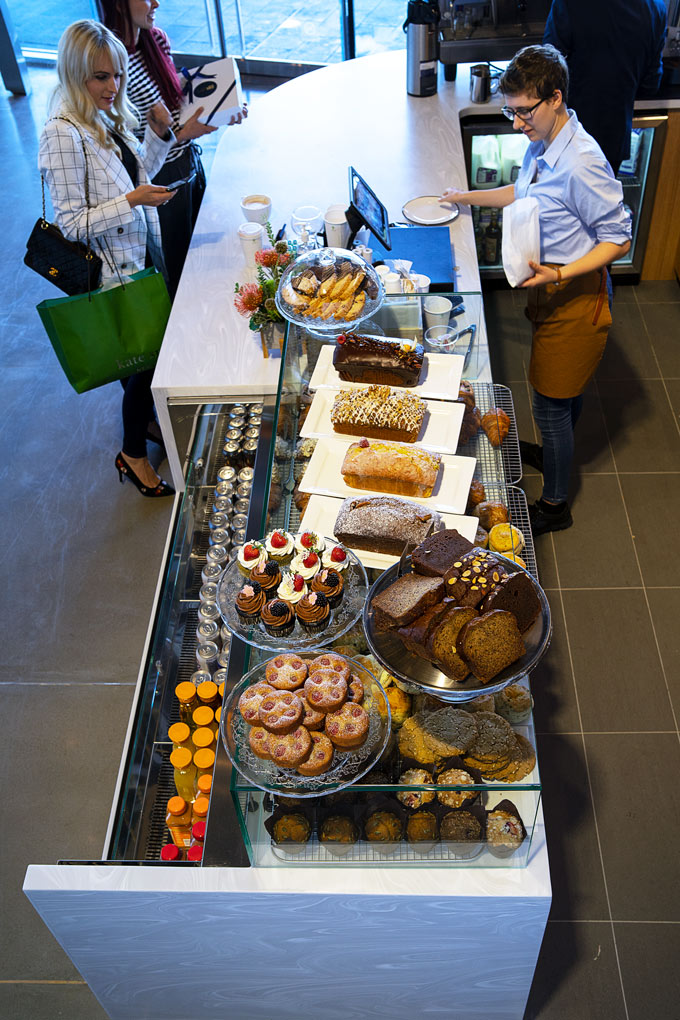 I tried a variety of in-house prepared baked goods including the blueberry lemon scone, matcha cupcake and almond croissant along with a latte made with Moja Coffee.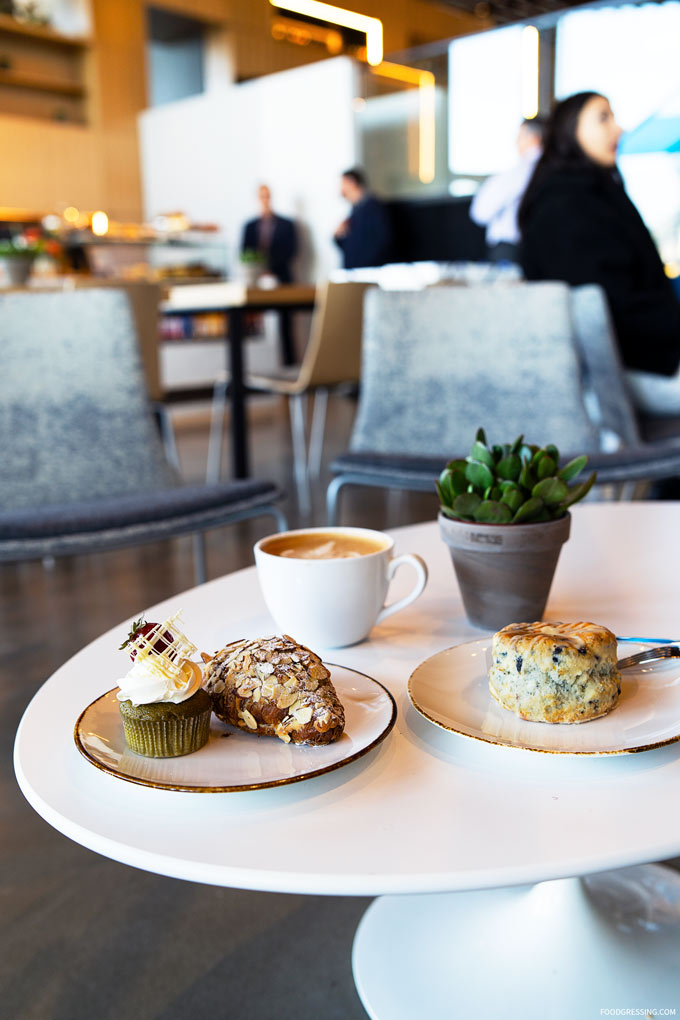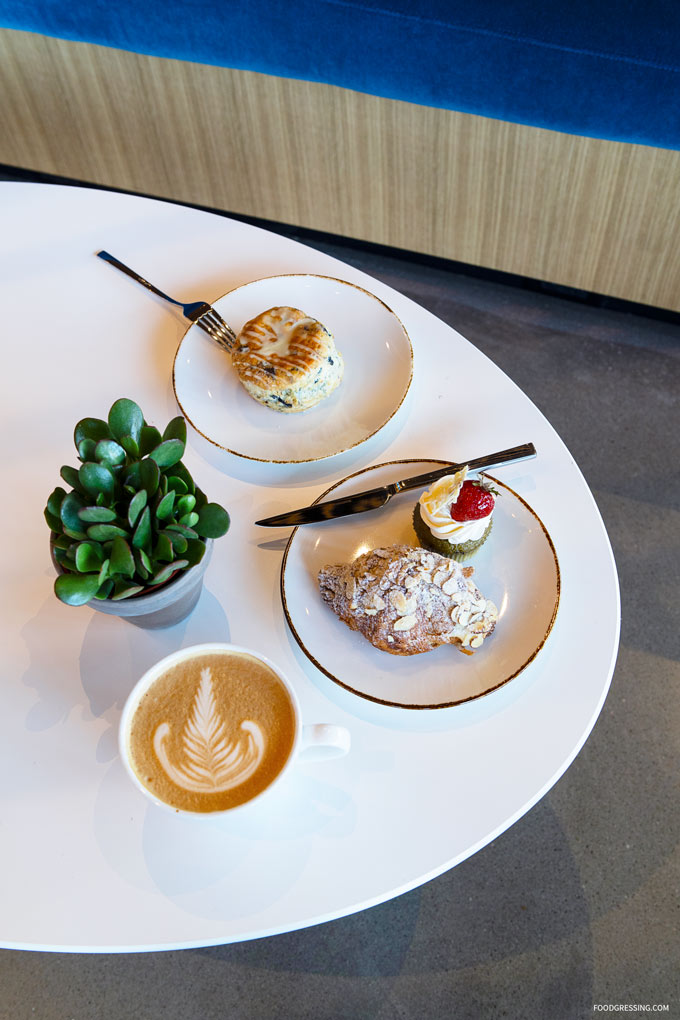 Also delicious was the Westcoast Breakfast Sandwich featuring a free range egg, smoked sockeye salmon, spinach, and goat cheese.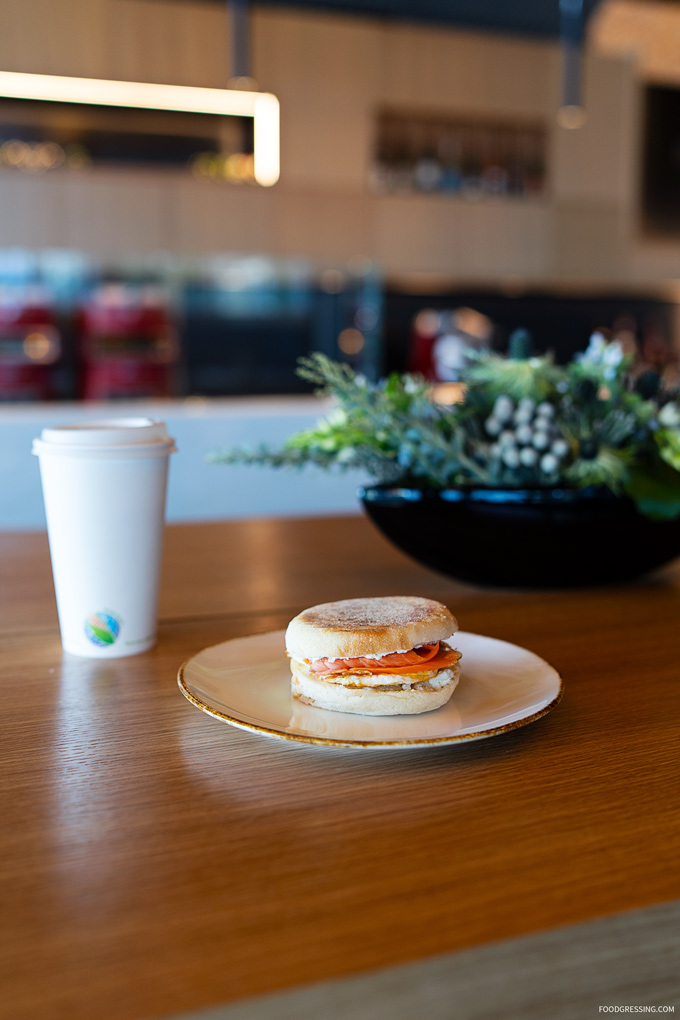 Wine Bar
Tapas and Neapolitan–style pizzas will be featured in the afternoon and evenings with a menu crafted by Executive Chef Mark Massicotte that reflects the multi-cultural flavours that can be found all around Vancouver.  For pizzas, there is the Prosciutto E Rucola, Funghi Biana, and Margherita.  Small bites for sharing include charcuterie, albacore tuna poke, and so forth.  A BC forward wine and craft beer list, complemented by a selection of international wines, will also be offered.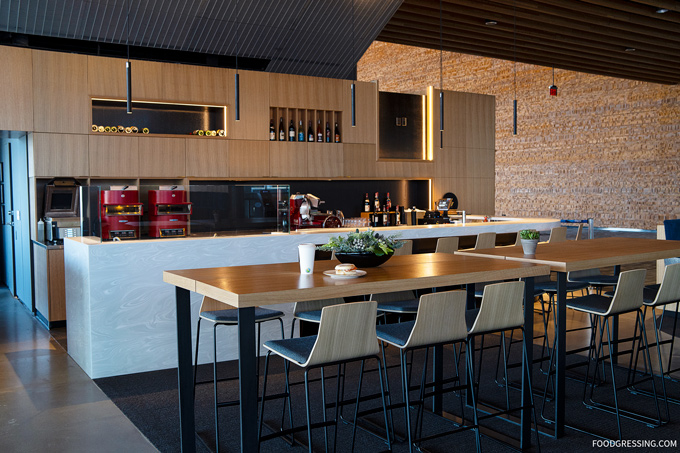 Casual Environment
The concept of LOT185 is to showcase the Convention Centre culinary team to the public in a more casual environment.  The space is meant as an alternative dining experience to guests attending meetings and conventions the facility.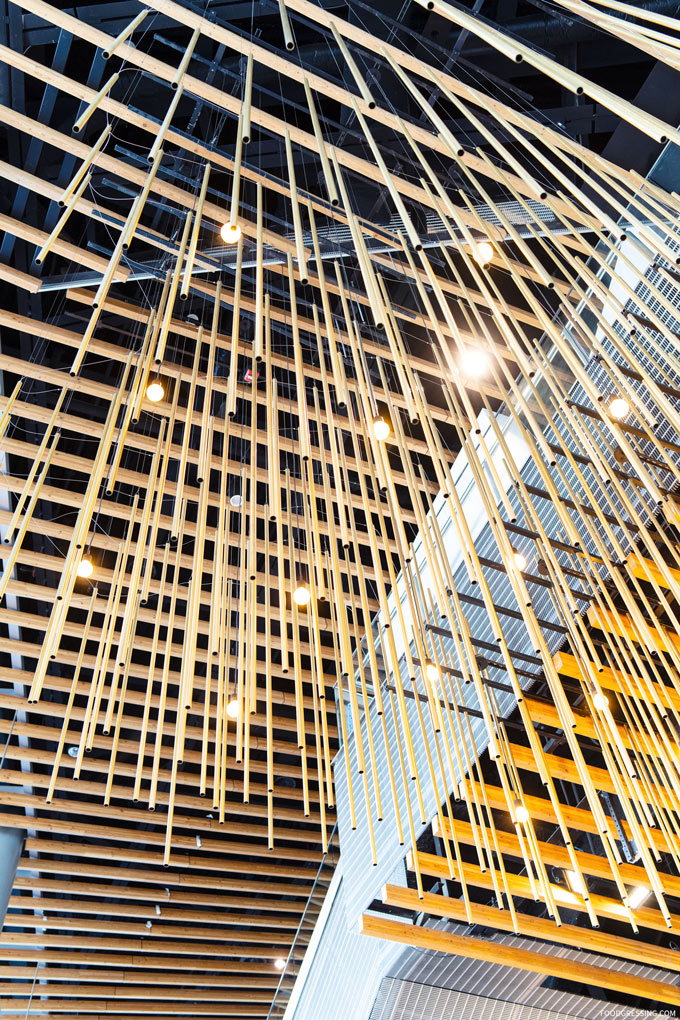 Official Opening on Sept 28
The public is invited for the official opening of LOT185 Café + Wine Bar on September 28.  The first 185 patrons will receive a free 12oz coffee and fresh-baked blueberry lemon scone; a special welcome prize package and a chance to win a personalized lunch for four at a later date in the tasting room.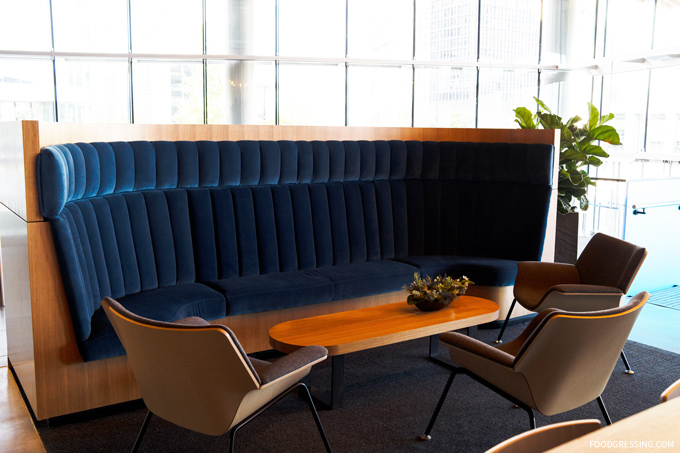 LOT185 Café + Wine Bar will operate both in tandem and independently from the Convention Centre with its own entrance off of Jack Poole Plaza as well as entry points from inside the facility.   The hours of operation will be Monday to Friday from 7:00 am – 9:00 pm, Saturday from 8:00 am – 9:00 pm, closed Sundays.
LOT185 Cafe + Wine Bar
Address: Vancouver Convention Centre, #78 – 1055 Canada Place (Thurlow St Entrance Off Jack Poole Plaza)
Website: www.lot185.com‎