Easter Holiday 2021 takes place Sunday, April 4. Here's a look at Easter Nashville 2021 restaurant offerings including brunch, lunch, and dinner.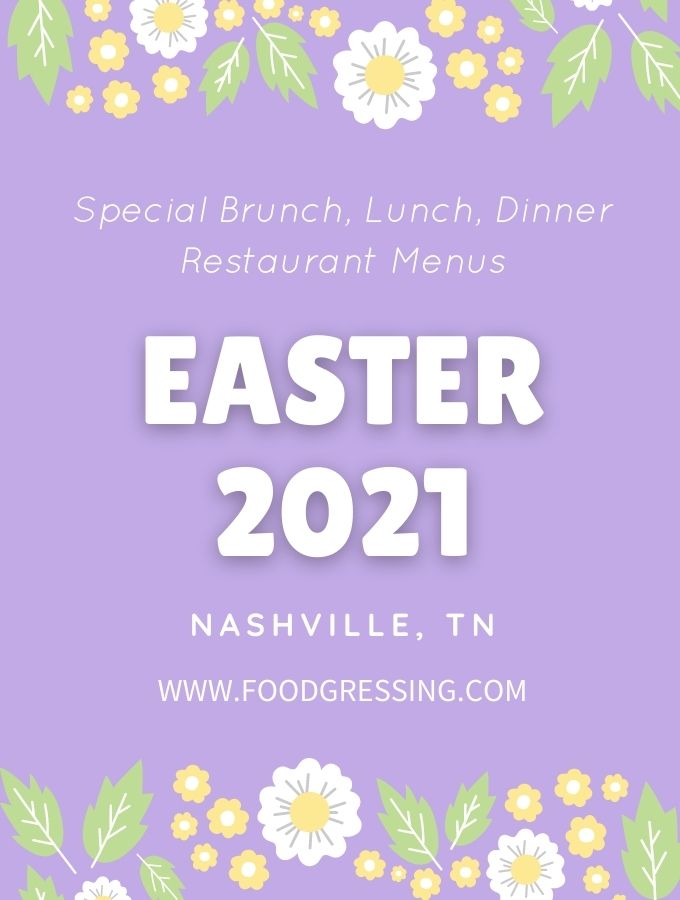 This list is updated as information becomes available. Please reach out to me [email protected] or @foodgressing on social media (Instagram, Facebook, Twitter, TikTok) for any suggestions.
Easter Nashville 2021 Restaurant Offerings
The Chef & I on Ninth
The Chef & I on Ninth is offering family-style" brunch that has been curated by Executive Chef Chris Rains to feed a family of 4-6 and features his twist on some of your brunch favorites.
Indulge in a mouthwatering line-up of apps, sides and entrees along with mimosas and creme brulees for all. ($500 per table).
Two seatings 10:30 AM – 12:30 PM or 1:30 PM – 3:30 PM, 3 families per seating, on April 4.
The menu includes:
-Appetizers-
House Smoked Salmon Platter
With brined house smoked salmon, caper berries, whipped lemon goat cheese, pickled red onions, mini Russian rye rounds, pistachio pesto
Avocado and Local Mushroom Toast
Thin garlic focaccia toasts layered with apple cider avocado, local crispy mushrooms, peruvian sweet peppers, cured egg yolk and black lava sea salt
-Entrees-
Elk Bacon and Egg Strata
Local eggs, house elk cured bacon, French baguette, smoked gouda and cheddar cheese, wilted spinach and roasted red bell peppers baked until golden brown and finished with cracked pepper
Duck Confit and Potato Hash Poutine
A chef and I classic, slow cooked and cured duck confit, hand pulled and tossed with crispy potato hash, green onions, Wisconsin cheese curds and served with brown gravy
Local Pork Sausage Meatballs and Pasta
Hand formed local Woodsmoke farms pork sausage meatballs layered on a arrabbiata tomato sauce with handmade spinach pasta, aged parmesan cheese
Charred Lemon Broccoli
Charred in olive oil and finished with garlic butter and lemon
Heirloom Tomato and Pistachio Pesto
Heirloom tomatoes, sliced and seasoned with cracked pepper/sea salt, layered over our pistachio pesto and finished with an aged balsamic glaze
-Dessert-
Individual Creme Brulee
Chef Liz's unique creations just for Easter Brunch
Finished with torched sugar and garnish
Little Fib
Little Fib is offering Easter Brunch priced at $45 per person on April 4 from 10:00 AM – 2:30 PM.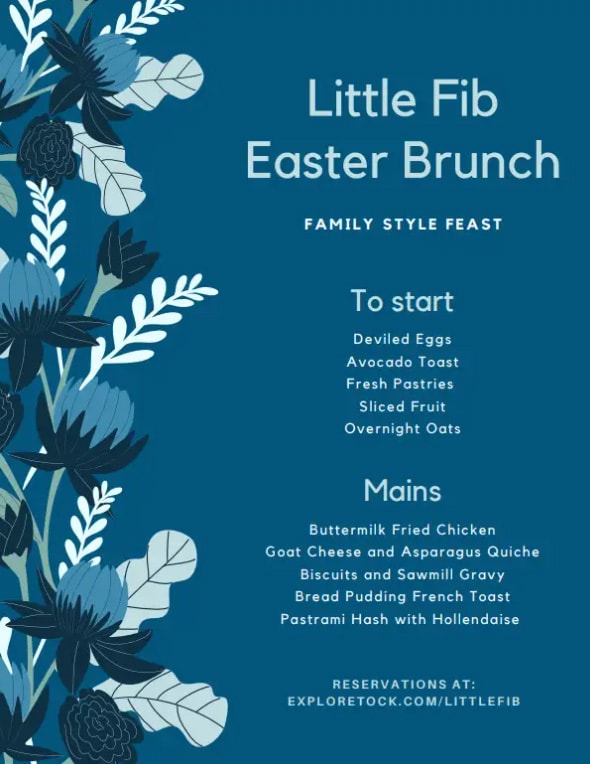 etc.
etc. has a few Easter offerings this year:
They are offering Easter Brunch dine-in on April 4 from 10 AM – 2 PM featuring an a la carte brunch menu including some new sweet and savory items. You can order brunc to go for cubside pickup or delivery through chownow.
They are also offering Easter Supper dine-in on April 4 from 4 PM – 8 PM featuring a special a la carte menu.
etc. is also offering Supper Kits To Go for 2 ($75) for pickup April between 2 PM – 4 PM or April 4 between 10 AM – 2 PM. Preorder by March 31.
Aquarium Restaurant
The Aquarium Restaurant, located in the Opry Mills Mall, is hosting Breakfast with the Easter Bunny on April 3 from 9 AM – 11 AM.
Enjoy a breakfast buffet and get your picture taken with a socially distant Easter Bunny. Adults $21.99, Kids 3 – 10 $13.99, Kids 2 and under free.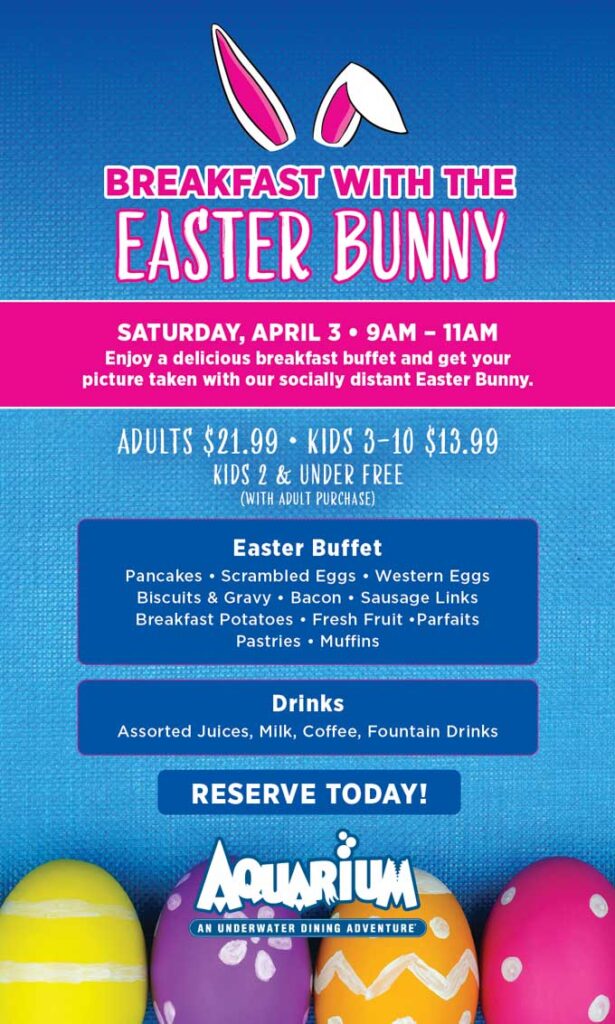 They also have an Easter 4-course menu for two ($90) on April 4.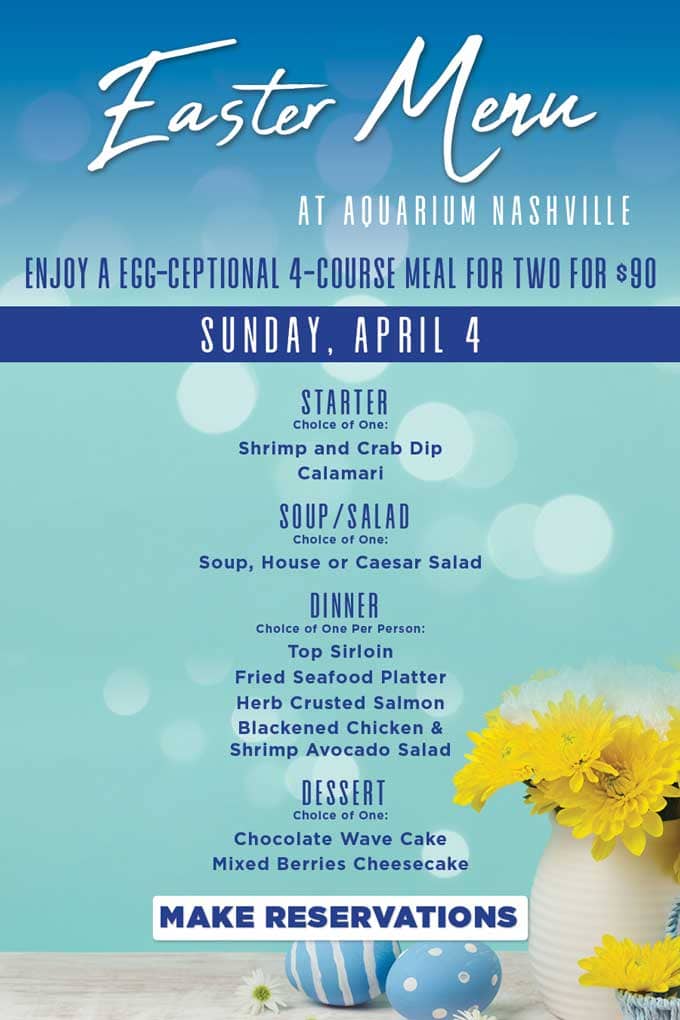 Marsh House
Marsh House is offering Easter features in addition to their regular brunch menu. Takeout is also available.
Crab Beignets $14, blue crab, fontina cheese, remoulade
Rabbit Loin $26, pancetta, herb spaetzle, fried soft boiled egg
Grilled Lamb Chops $30, sweet potato hash, baby carrots, marsala glaze
Fleming's Steakhouse
Fleming's Steakhouse is offering 3 courses featuring their hand-cut Filet Mignon paired with your choice of Crab-Stuffed Shrimp or Lobster Tail Scampi. Open at 11AM on Saturday, April 3 and Easter Sunday, April 4. Dinner Menu and Children's 3-course available all day.
Granite City Food & Brewery
Granite City Food & Brewery has an Easter Nashville 2021 Sunday spread featuring all your favorites, from Reggiano Hashbrowns and Four-Cheese Eggs to Slow-Roasted Prime Rib, Jumbo Shrimp, French Toast, Carved Easter Ham and their signature Omelet Creation Station. Adult $28.99 Children $8.99.
Perry's Steakhouse & Grille
Perry's Steakhouse & Grille is offering expanded hours on April 4: 11 AM – 9 PM dine-in with full dinner menu and off menu brunch inspired features.
Perry's 3-Course Pork Chop Sunday Supper is available 4 PM – 9 PM for dine-in or to go.
Celebrate at home with Perry's Easter Feast for 4 to-go available April 2 – 4 from 11 AM – close.
STK Steakhouse
STK Steakhouse is offering Easter Sunday Brunch. Indulge in brunch favorites like the STK & Eggs, Cinnamon French Toast, Hot Chicken & Waffles and more.
They have an Easter Ham Dinner Specials also available for dine-in and takeout/delivery.
Miel
Miel is open for Easter Brunch with an a la carte menu. All seating in on the patio & veranda is covered & heated, open air. The BARN is also open air and will be be the most enclosed, heated. Reservations open for April 4 from 10 AM – 2 PM.
They also have an Easter Dinner for pickup featuring Porchetta – classic Italian boneless, skin wrapped pork roast. Herb, garlic and fennel filled, already roasted and ready for you to re-heat or enjoy at room temperature. Also comes with spring greens salad, baby carrots, beet chips, sherry-orange vinaigrette. Available for pickup on April 4 from 3 PM – 5 PM.
Earnest Bar & Hideaway
Earnest Bar & Hideaway is open for Easter brunch and dinner service.
Marsh House
Marsh House is offering a full Weekend Brunch menu in addition to a featured Easter menu.
The Rutledge
The Rutledge in Franklin is offering Easter brunch from 10am to 2pm and full menu offered all day.
Alinea
Alinea in Chicago is offering an Easter Dinner that is available to be shipped nationwide.
The menu includes:
Brown Sugar and Spice Glazed Ham with Smoked Gravy
Traditional Scalloped Potatoes
Curry Glazed Carrots with Dried Apricots and Almonds
Wild Mushroom and Asparagus Tart
Chilled Spring Pea Soup with Crab, Bacon, and Herb Croutons
Brown Butter Carrot Cake with Cream Cheese Frosting
Minimum order size of 2, even party sizes only. This meal requires an oven and stovetop to reheat at home. They are unable to accommodate dietary restrictions.
For nationwide shipping, meals are shipped on Wed, 3/31 and will be sent via UPS 2-Day service. Your order should arrive within 1-3 days. Priced at $85 per person, $19.95 2-day Shipping Fee.
About Easter Holiday: Dates, Food Traditions, Easter Egg Origins
Have you wondered how Easter actually became a holiday, or where its trademark bunnies and eggs came from?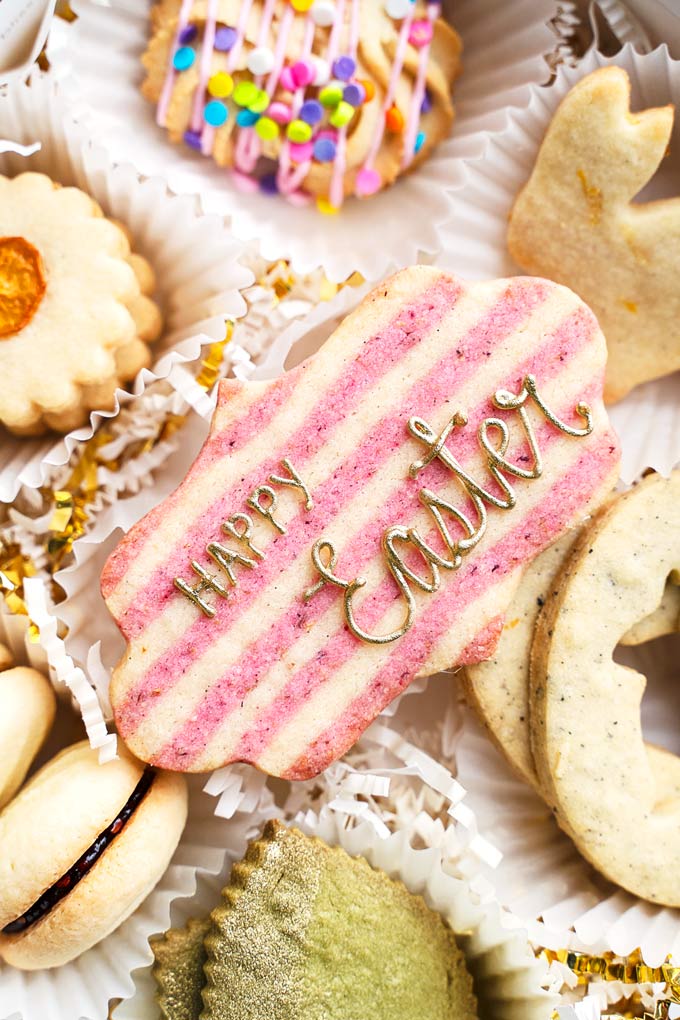 Check out my Easter Holiday post which looks at the origins of Easter, some of the traditions and a few fun facts on Easter Eggs and the Easter Bunny.
Easter Quotes, Wishes and Captions
Whether your Easter is all about fun, or a bit of fun mixed with the holiday's religious significance, here is a roundup of some Easter quotes, wishes and captions for that holiday Instagram post or greeting card.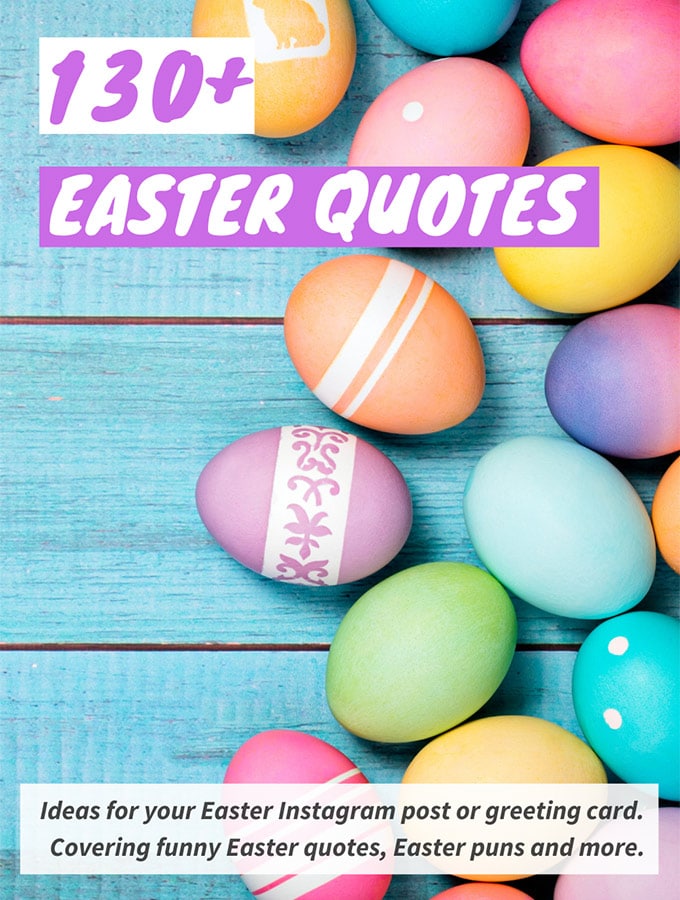 Some of the quotes I have in the post include:
Filling my basket with love and joy… and also chocolate. Lots of chocolate.
Biting the head off my chocolate bunny, but I won't bite you!
There's nothing better than a friend… except a friend with chocolate.
Free Easter Greeting Cards
If you're looking to send an Easter greeting card, check out Canva.com (referral link) for free Easter card templates and start designing.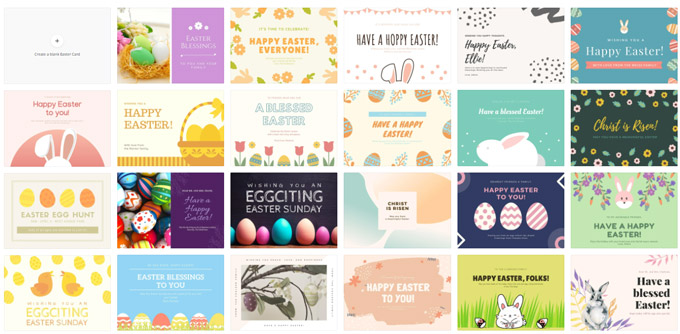 I have been using Canva for years and if you're new to Canva, please feel free to use my Canva referral link to sign up for free.
It's a great graphic design platform used to create social media graphics, presentations, posters, documents and other visual content.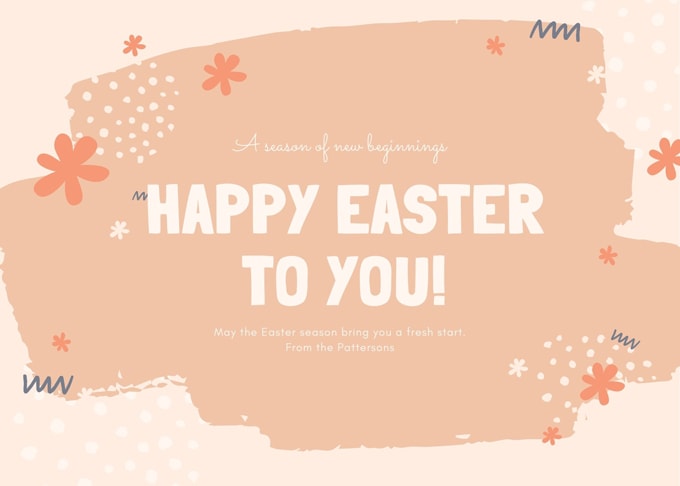 Even though there is a premium version, you can do A LOT on the free version.
YOU MIGHT LIKE: