Easter Holiday 2021 takes place Sunday, April 4. Here's a look at Easter Victoria 2021 restaurant offerings from brunch, lunch, and dinner.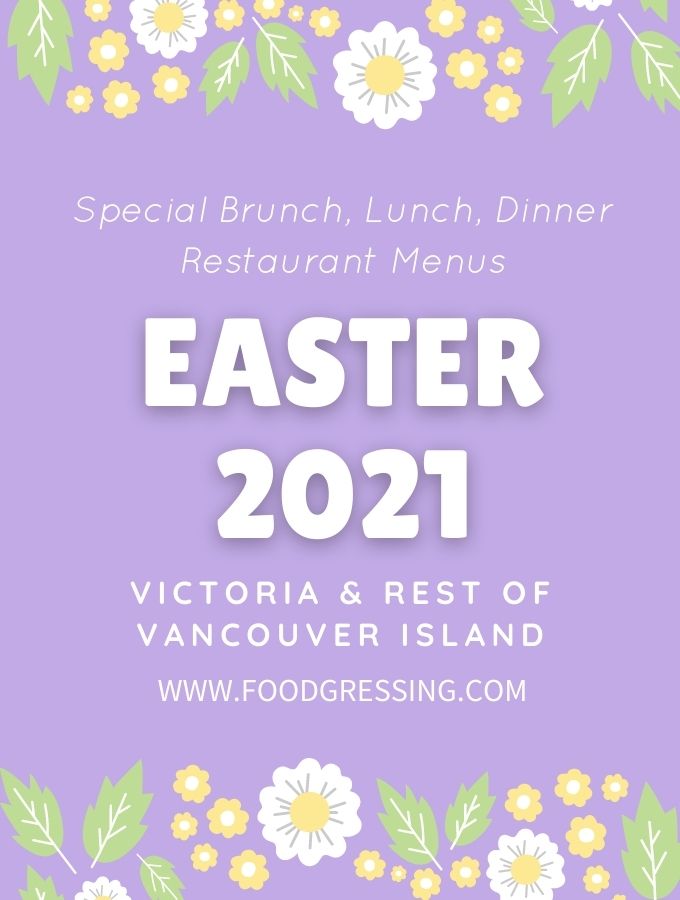 This list is updated as information becomes available. Please reach out to me [email protected] or @foodgressing on social media (Instagram, Facebook, Twitter, TikTok) for any suggestions.
Easter Victoria 2021 Restaurant/Catering Offerings
Q at the Empress (Victoria)
Those looking for an Easter brunch option on the island can enjoy Q at the Empress Restaurant's à la carte Easter brunch menu, available Saturday, April 3 and Sunday, April 4 featuring favourites such as the Cast Iron Egg Strata or the Confit Duck Benedict.
Q at the Empress Restaurant's three-course Easter Dinner is the perfect option for families looking to start a new holiday tradition. This Easter feast is available April 2, April 3 and April 4 and features a selection of main course dishes such as Roasted Peace River Lamb or the Pan Seared Halibut. Priced at $85 per person, seatings are available from 5 PM – 9 PM.
They are also offering an EMPressive Easter Dinner. Priced at $280 and serves 4-6 people. Available April 2 & 3 from 3 PM – 5 PM. Order online or by phone by March 30 12 PM.
This family feast includes:
Butter lettuce & baby romaine salad
Whole maple-dijon glazed Glenwood Ham served with scalloped yukon gold potato and tomme de vallee gratin
Empress honey roasted heirloom carrots, asparagus, peas & morel mushrooms, tadwich cheddar popovers
Citrus, vanilla & white chocolate lamington layer cake
All items are packaged hot and ready to serve at home. All dressings, sauces and accompaniments are served on the side.
A full list of ingredients by dish is available upon request. Modifications to the menu are politely declined.
Kingfisher Oceanside Resort & Spa (Courtenay)
Kingfisher Oceanside Resort & Spa has a few Easter offerings:
Easter Dinner Feature: $70 for 3 courses on April 4.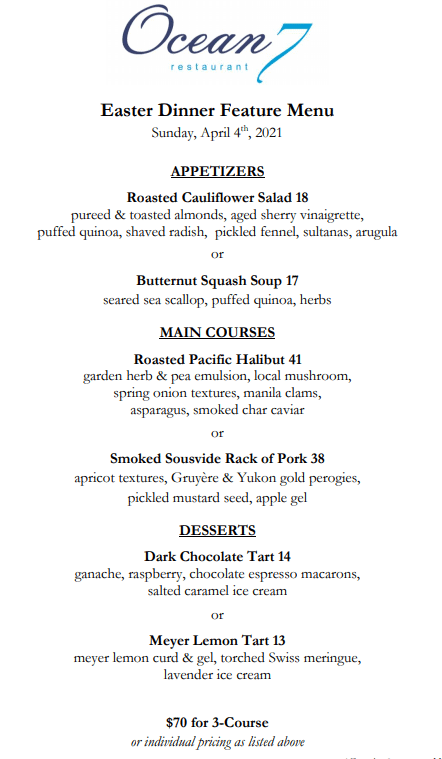 Easter Brunch Feature from April 2 – 5.

The Arbutus Room at Brentwood Bay Resort (Brentwood Bay)
The Arbutus Room at Brentwood Bay Resort is offering Easter Brunch featuring three courses and live music. Reservations open for April 4 from 8 AM – 12:30 PM.
The Lakehouse at Shawnigan (Shawnigan Lake)
The Lakehouse at Shawnigan is offering an Easter Feast To Go available for pickup April 2 – 5 from 2 PM – 6 PM.
Easter Feast- Full Ham ($149 serves 4 or $79 serves 2):
Kale and roasted squash salad, dried cranberries, toasted pumpkin seeds and honey shallot vinaigrette
House made Easter Ham (sliced), served with scalloped potatoes, roasted root vegetables, and thyme dijon jus
Mini egg cheesecake
Moxie's
Moxie's is offering a special three-course Turkey Dinner on April 4 and 5.
Their Easter feature menu will be available through pre-ordered phoned-in pick-up, or dine-in service at a participating Moxie's restaurant location.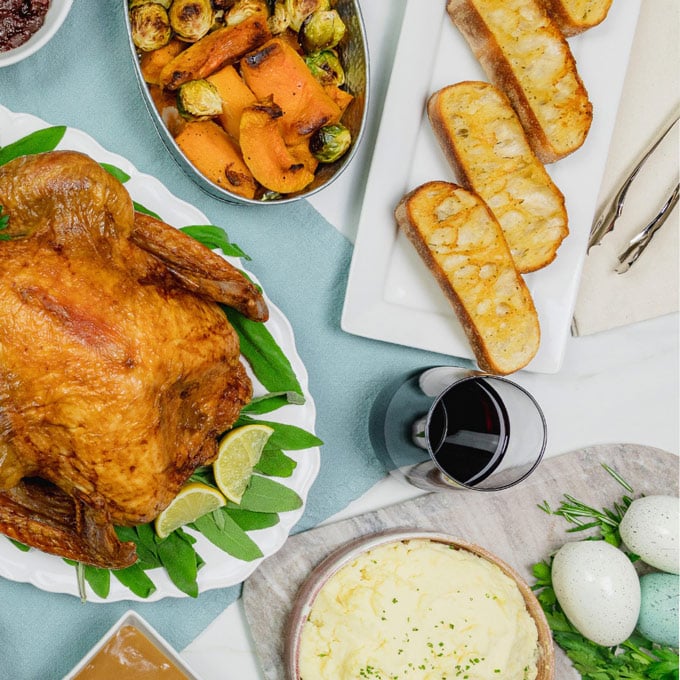 The Moxie's Easter Menu is $30 per person and is highlighted by Roasted Turkey Dinner, with tender carved turkey, savoury bread stuffing, buttered mashed potatoes, fresh seasonal vegetables, cranberry sauce & gravy.
Each dinner also includes a starter Caesar Salad and a White Chocolate Brownie bite for dessert.
All Easter Dinner pick-up orders must be placed by Thursday, April 1st at 12pm local time for pick-up on April 4th & 5th. To pre-order, please call the Moxie's location nearest you.
Participating Moxie's restaurant locations are open for seated dining service and are pleased to be offering the Easter feature menu on April 4 and 5.
Denny's
Participating Denny's is offering an Easter Turkey Dinner ($62.99, serves 4 people) available for pickup or delivery April 2 – 5.
The package includes tender carved turkey breast, savoury stuffing, garlic red-skinned mashed potatoes, turkey gravy, cranberry sauce and your choice of broccoli or sweet petite corn. Pick up cold and reheat at home.
Please check on whether the package is offered at your local Denny's.
White Spot
White Spot Easter Dinner 2021 features a single Turkey Dinner for $19.99 OR order ahead, their Heat & Serve Turkey Dinner For Two including all the same fixings plus an Apple Pie to share for only $39.99. Available March 29 – April 5.
JOEY Restaurants
JOEY Restaurants is offering an Easter Dinner to go ($185) which serves 4 to 6 people. Preorder by April 1 for pickup on April 2 or 3.
The menu includes:
Oven roasted turkey with gravy
Double smoked bacon stuffing
Roasted garlic mashed potatoes
Spring carrots and asparagus with dill butter
Pan roasted brussels sprouts with parmesan and lemon
Fall kale salad
Dinner buns
Cranberry sauce with orange zest
Fresh baked apple cranberry pie with maple ice cream
Easter Wines Recommendations
Saintly Rosé
With the warmer months on the horizon, the best wine to pair it with is a bottle of Saintly Rosé.
This angelic rosé is a medium-bodied wine and has aromas and flavours of strawberry, citrus, bergamot and rhubarb.
This wine is perfect to pair with a hummus plate or raspberry almond tart. MSRP: $17.95/750mL.
Kim Crawford Sauvignon Blanc
Kim Crawford Wines offer different varietals perfect for any holiday party, imported all the way from New Zealand.
Kim Crawford Sauvignon Blanc is vivid and refreshing and is the #1 selling wine in Canada; it pairs well with steamed clams or mussels with asparagus risotto, or grilled chicken. MSRP: $21.95/750mL.
About Easter Holiday: Dates, Food Traditions, Easter Egg Origins
Have you wondered how Easter actually became a holiday, or where its trademark bunnies and eggs came from?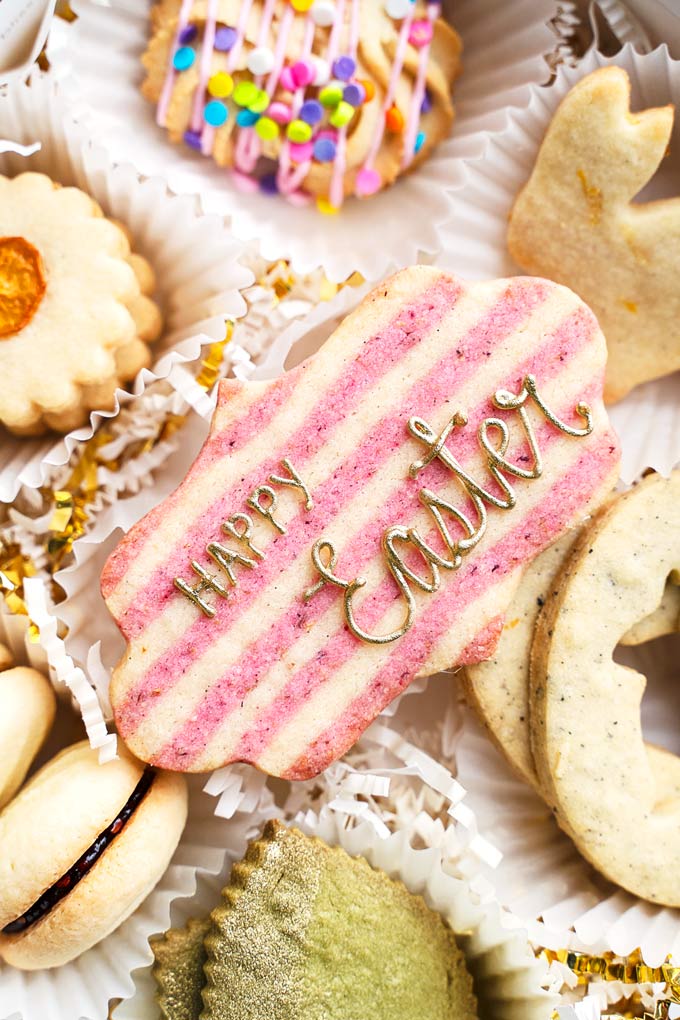 Check out my Easter Holiday post which looks at the origins of Easter, some of the traditions and a few fun facts on Easter Eggs and the Easter Bunny.
Easter Quotes, Wishes and Captions
Whether your Easter is all about fun, or a bit of fun mixed with the holiday's religious significance, here is a roundup of some Easter quotes, wishes and captions for that holiday Instagram post or greeting card.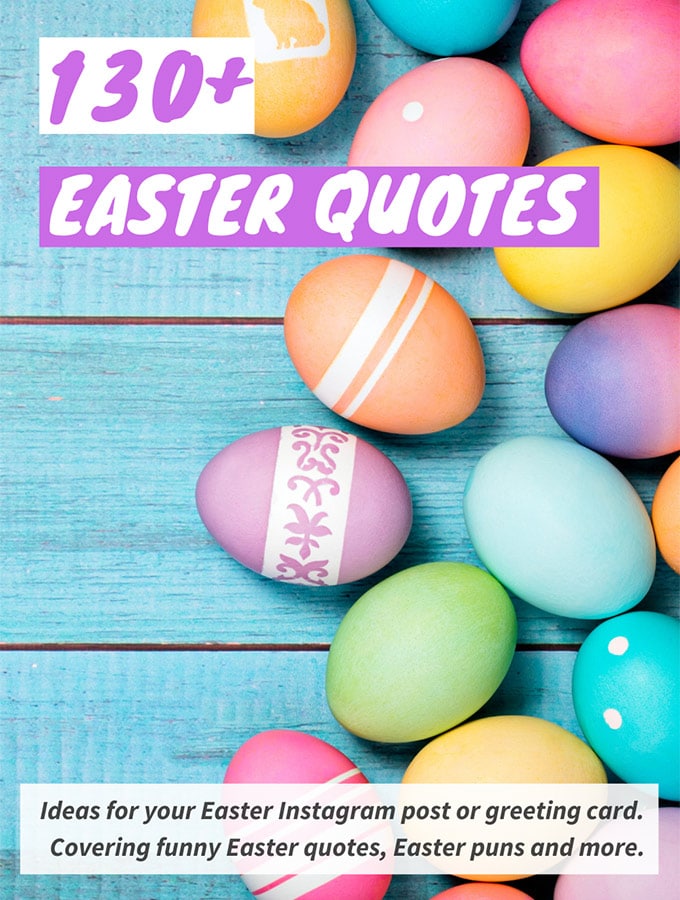 Some of the quotes I have in the post include:
Filling my basket with love and joy… and also chocolate. Lots of chocolate.
Biting the head off my chocolate bunny, but I won't bite you!
There's nothing better than a friend… except a friend with chocolate.
Free Easter Greeting Cards
If you're looking to send an Easter greeting card, check out Canva.com (referral link) for free Easter card templates and start designing.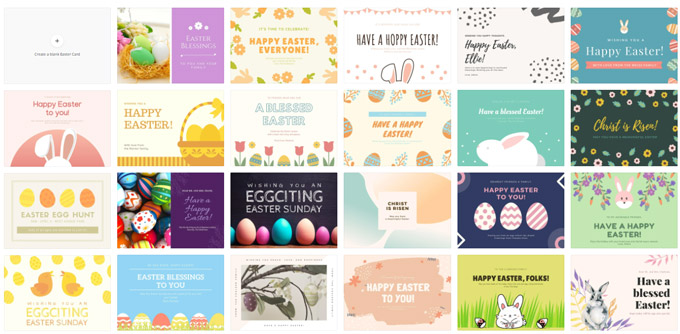 I have been using Canva for years and if you're new to Canva, please feel free to use my Canva referral link to sign up for free.
It's a great graphic design platform used to create social media graphics, presentations, posters, documents and other visual content.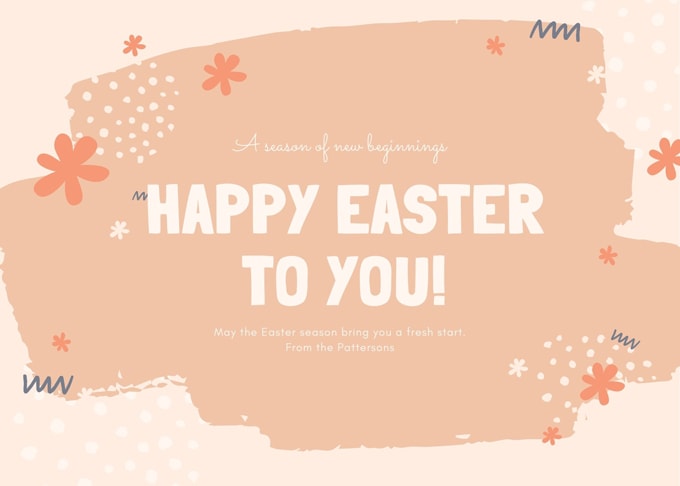 Even though there is a premium version, you can do A LOT on the free version.
YOU MIGHT ALSO LIKE: