Cha Le Tea opened up earlier this year in Yaletown and is a specialty tea house with a contemporary environment. Run by a husband and wife duo, Cha Le Tea translates to "Happy Tea" in China and is part tea merchant and part cafe specializing in a proprietary line of premium, single-origin Chinese teas. I recently visited Cha Le Tea which was one of the stops on Vancouver Foodster's Yaletown Tasting Plates event.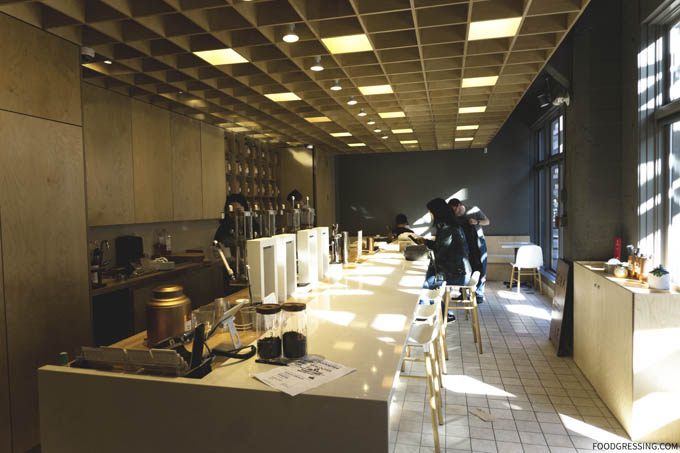 The anchor point of Cha Le Tea's interior is a sleek central tea bar featuring Steampunk Craft Brewing Machines which are premium brewing equipment. These systems ensure optimal tea flavour via controlled temperature and brewing times.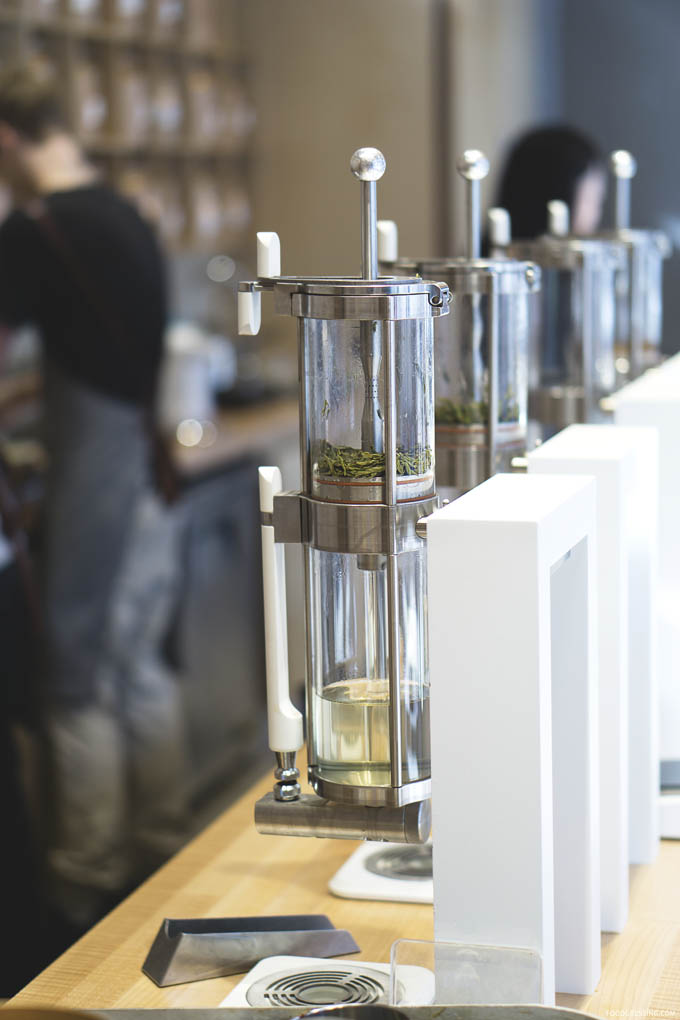 The retail portion features handpicked teas for sale in large tins or boxes. Their selection of proprietary teas includes Green, Black, Pu'er, White, Oolong, and Herbal which are sourced from independent tea farms in China.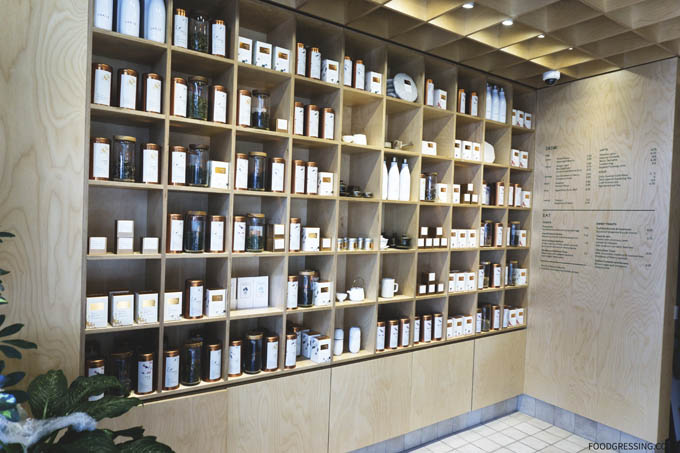 The cafe portion of Cha Le Tea features hot and cold teas, tea lattes, and even kombucha. For small bites, they offer elevated sweet and savoury toasts like hand peeled shrimp with matcha avocado and shredded nori. The toast is of a dense type and is made from two-day fermented rye bread from Olivier's Breads in Port Coquitlam.
What I Tried
Disclosure: All food and drinks in this review were complimentary. Opinions are my own.
As part of Vancouver Foodster's event, I sampled three different tea and toast pairings from Cha Le Tea. In general, I thought the tea and toasts flavours complimented each other nicely. While the toasts used more elevated ingredients, I thought that their presentations were more casual and the toppings not as inventive as what I have had in the past. For some context, I was in Portland last month and had experienced some tasty and beautiful open-faced sandwiches on rye bread with unique ingredients (like sturgeon). In those cases, the price point was higher but they were items that I would have trouble recreating at home.
To start, there was the Dragon Well Green Tea paired with an Albacore Tuna Toast featuring poke style tuna, sesame spinach and Dragon Well salad. The Dragon Well tea was very light and refreshing with some sweetness to it. I enjoyed the poke on the toast with some nice flavours from the spinach and Dragon Well salad.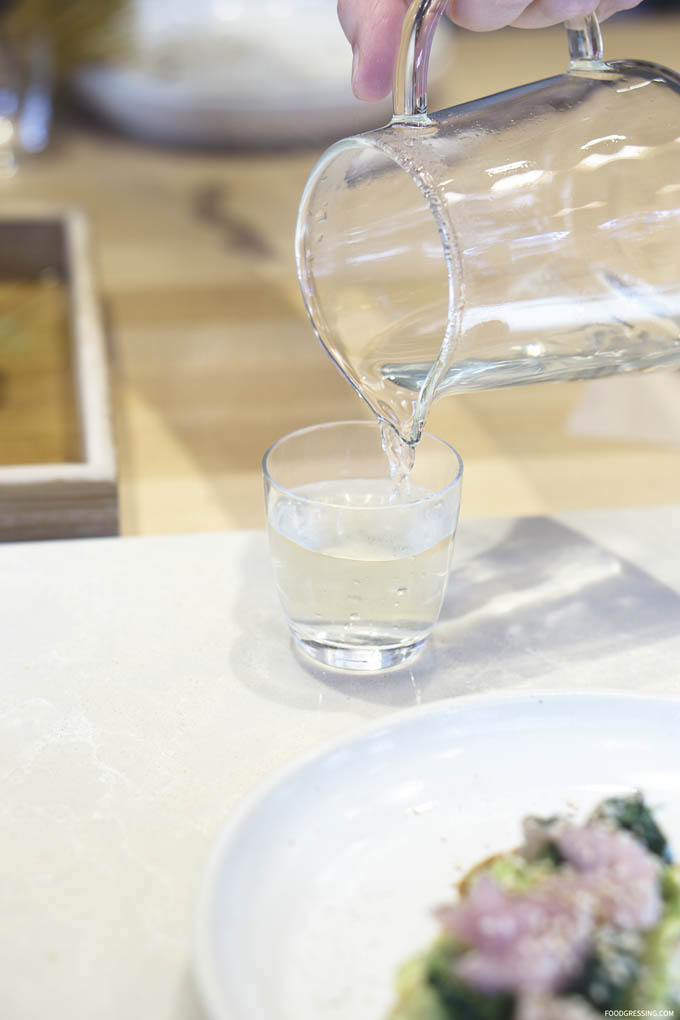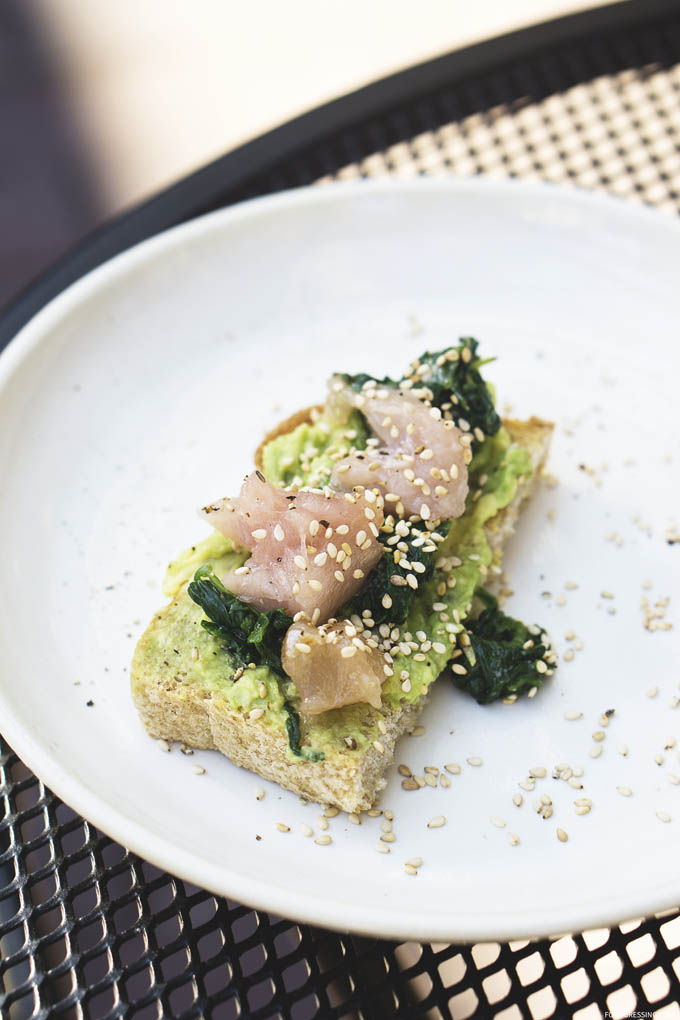 Next was a Honey Matcha paired with Hand Peeled Shrimp, Matcha avocado and shredded nori. I liked the sweetened matcha tea with honey; it inspired me to do so use honey with matcha tea at home.
The final tea and toast tea pairing was on a sweeter note: Iced Raspberry Creme with Truffle Ricotta Hazelnut Toast. The cool tea had some lovely raspberry, sweet and creamy notes. This went well with the nutty flavours of the toast.
Overall Impression
Cha Le Tea seems like a interesting place to enjoy a premium tea bar experience especially since they use sophisticated brewing equipment. However, I personally am not one to order avocado on toast at a restaurant. So in order to get me to make that type of purchase at an eatery, I would need more uniqueness in ingredients and presentation. One place that stands out is Nemesis Coffee where you would find elevated coffee and food. And right now, I think there might be some room for Cha Le Tea to expand on that. Rating: 3.5/5
Address: 1207 Hamilton St, Vancouver, BC
Website: ‎www.chaletea.com