If there's one type of food that I love, that would be pizza. I'll take a delicious crust, sauce and toppings any time. While we were exploring the busy Dundas and Yonge with our friend who now lives in TO , we came across Blaze Pizza. At first glance, it appeared to be a clean, modern and kid-friendly eatery so we decided to give it a try. We had not heard of Blaze Pizza before, but we soon learned Blaze Pizza is a build-your-own pizza chain from the US. In fact, the Blaze Pizza in Dundas Square (also their only Toronto location) had just recently opened. We could sense the enthusiasm from the staff (more on that later) and became eager to try their pizza.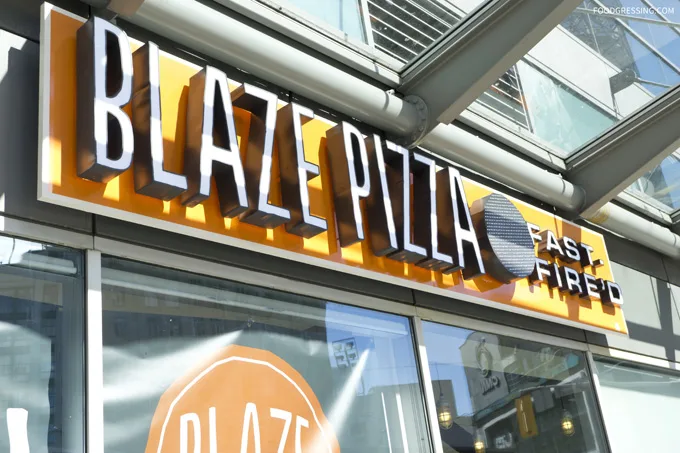 Affordable, Artisanal Pizza in 180 Seconds
The concept at Blaze Pizza is simple: build your own 11″ pizza with unlimited toppings or order a signature one all for the affordable price of $10.45. You won't need to worry about waiting long for your pizza to be baked because they are fast-fired in a hot open-flame oven and supposedly ready-to-eat in less than 180 seconds. They also have a gluten-free crust available as well (+$4) and vegan cheese. Calorie information is posted for those who are health-conscious.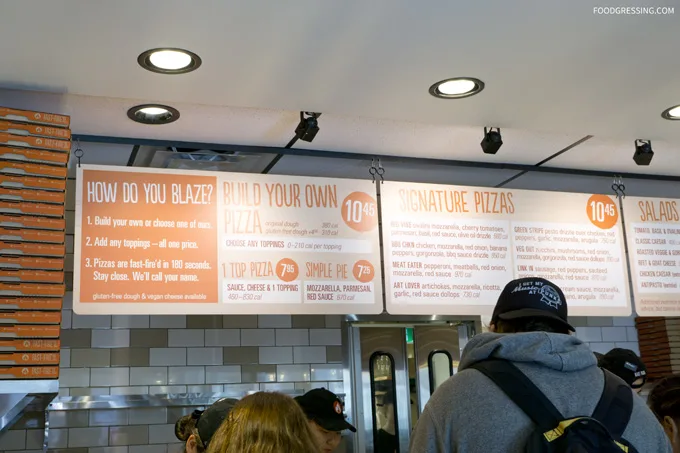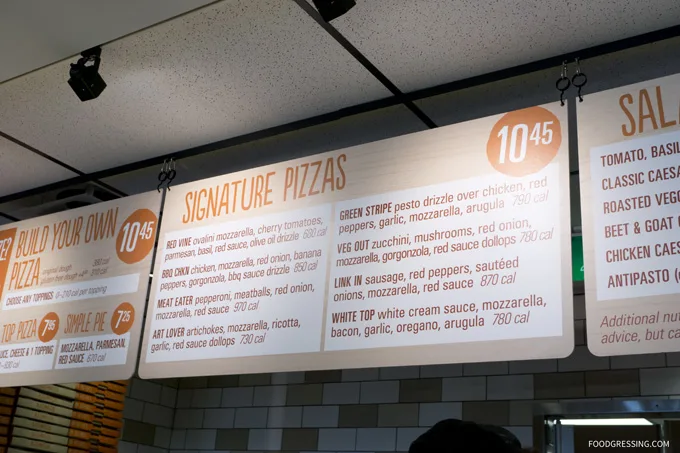 The pizzas are created via assembly line and I was *surprised* by the number of staff handling my pizza. Think about Subway where it is just typically just one staff person putting together your sandwich. At the beginning of the assembly line, your name is noted on the parchment paper of the pizza. The staff person at each assembly station then greets you by your name before they handle your pizza. In some ways, I found that this can make you feel a) like a valued customer or b) very annoyed.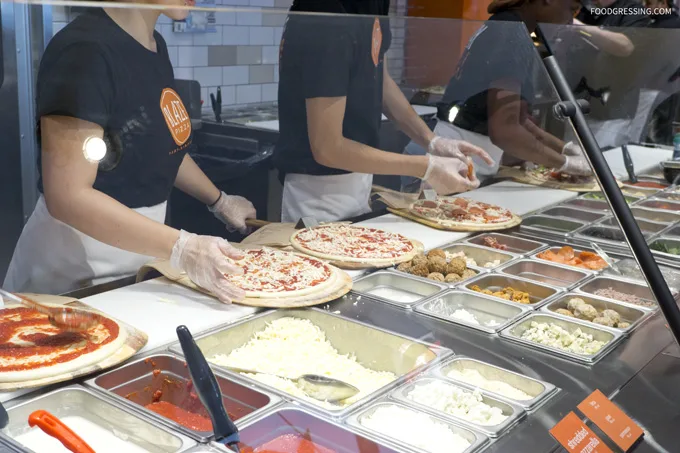 Aside from having my name called out several times, I noticed that there were plentiful choices for toppings, cheeses and sauces.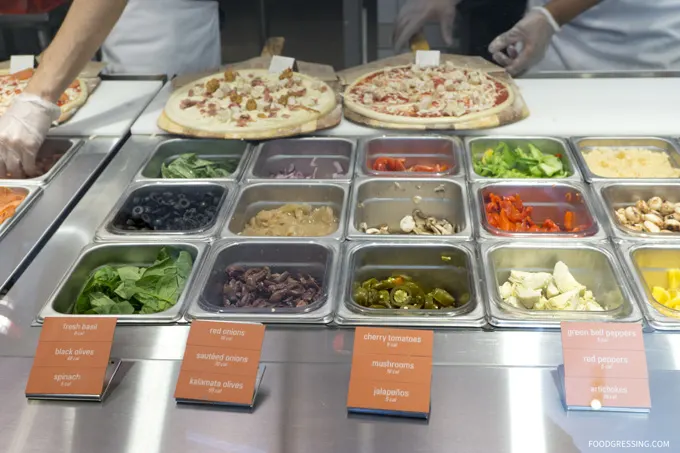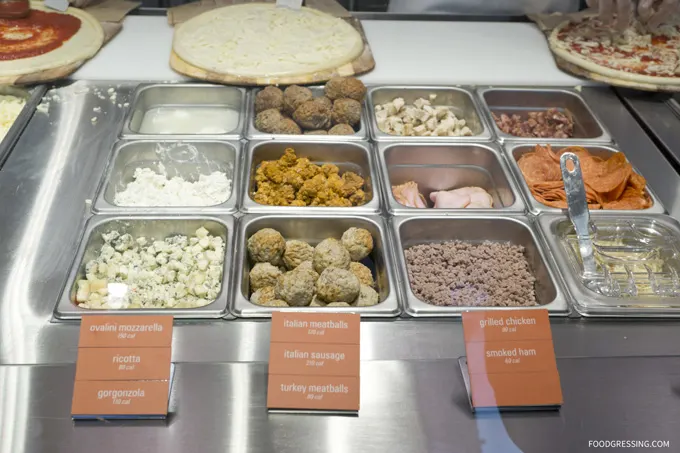 What We Tried
We went with two signature pizzas: the Meat Eater and the White Top. The crusts of the pizzas were thin and wonderfully chewy and crispy. The Meat Eater consisted of pepperoni, crumbled meatballs, red onion, mozzarella, and red sauce. There was meat in every bite with meatballs being tender and pepperoni being crispy.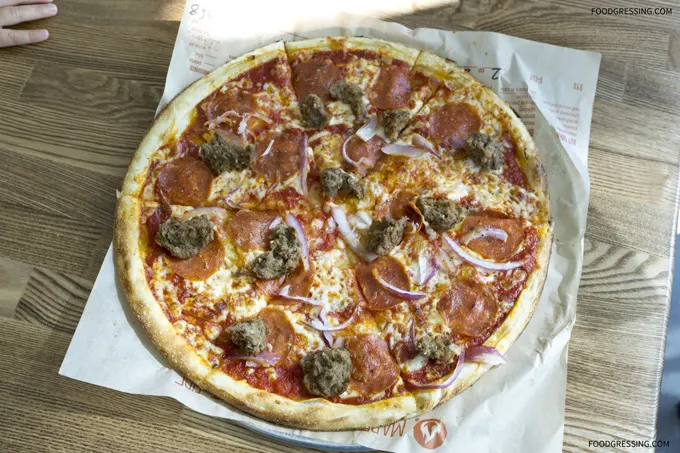 The White Top had cream sauce with mozzarella, applewood bacon, chopped garlic, oregano, and arugula. The arugula gave it a fun texture and the pizza had an overall nice smokey flavour from the applewood bacon and garlic.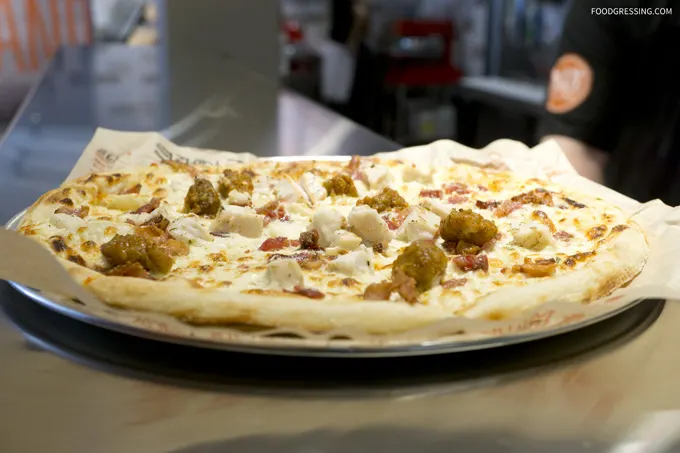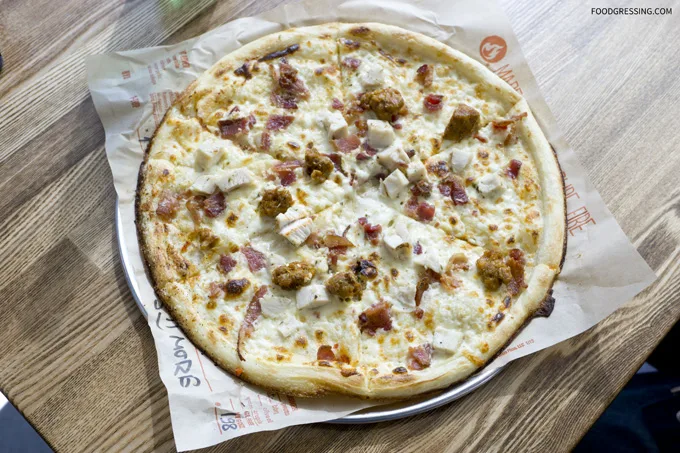 To finish off our pizza feast, we had a s'more pie which had chocolate and marshmallow sandwiched between two McVitie's biscuits. The chocolate and marshmallow appeared to be premelted, but they give you the option of heating it more. I got them to heat it up for me but it was just warm. Perhaps it could have been a bit warmer to ensure the center was nicely gooey. In general, I thought the s'more pie was good but nothing to write home about.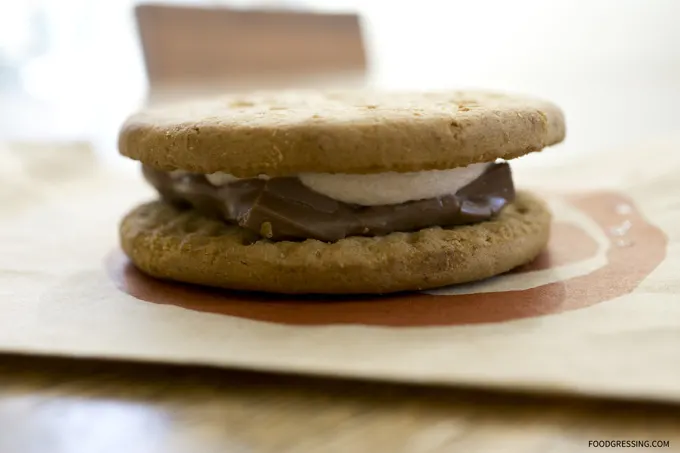 Overall Impression of Blaze Pizza
The Meat eater and White Top pizzas had great flavour with crispy and chewy thin crusts. The s'more pie for dessert was good but didn't stand out. I consider the pizzas to be great value for $10.45 given the quality and size. I wouldn't mind getting pizza from them in the future if I ever come across one of their US locations. Rating: 3.5/5
Website: www.blazepizza.com
Social Media: Instagram, Facebook, Twitter