Disclaimer: I was invited to SPAGHeTEI for a complimentary meal. All opinions are my own.
The West End is abundant with ramen restaurants, but one Japanese restaurant serves up a different and delicious style of noodles. SPAGHeTEI offers authentic Japanese-style spaghetti with Japanese flavours like miso and soy sauce. Last week, I was invited to SPAGHeTEI to try out some of their dishes and learn more about their story.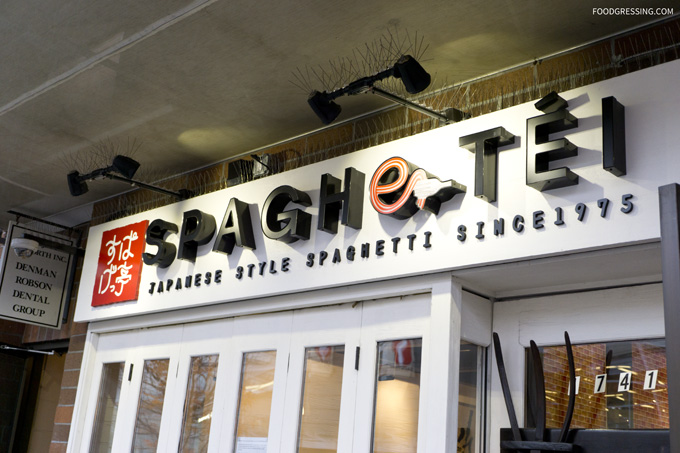 Since 1975
SPAGHeTEI on Robson has been serving Vancouverites for over two years and is SPAGHeTEI's second restaurant. The original SPAGHeTEI is still operating in Aomori, Japan and has been serving up Japanese-style spaghetti since 1975.
The interior of the SPAGHeTEI has lovely wooden finishes with Japanese caligraphy on the wall. There is a mix of dining tables and leather banquette seating.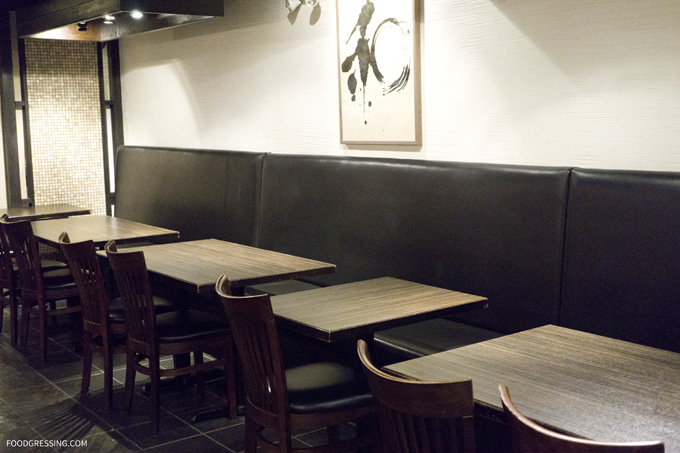 SPAGHeTEI Menu
SPAGHeTEI's tantalizing menu includes 12 signature spaghetti dishes including clam, egg and shrimp, and chicken peperoncino to name a few. For side orders, they have stir fried scallop with garlic butter and pork chili oil bread. Dessert options include crème brûlée and powder snow milk syrup. SPAGHeTEI also offers a wide range of wines for a perfect pairing to your pasta dish.
There is a weekday happy hour special from 11:30 am to 2:30pm where their popular dishes are only $9.80 plus additional discounts on drinks and desserts. This makes them an affordable lunch option in Downtown Vancouver. One thing to note is that they are closed on Tuesdays.
What I Tried
To start off, I tried the vibrantly colored green garlic bread which is complimentary with the meal. The French bread was nicely toasted, sweet, crispy and had just the right amount of garlic flavour. The lovely green colour certainly made me do a double-take and was due to the garlic pesto, spinach and parsley.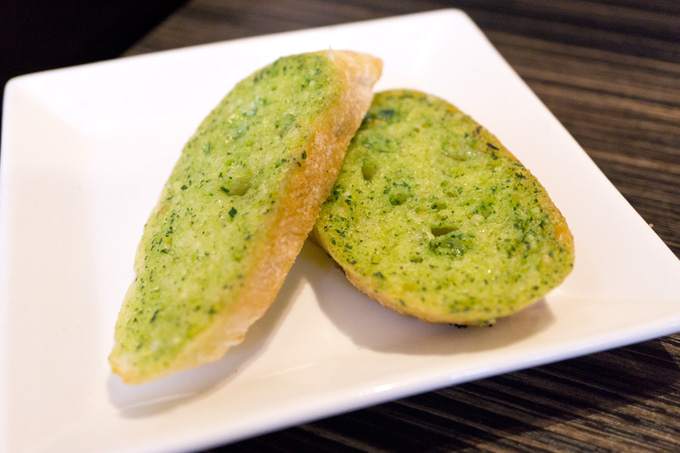 The next item was a side order of meat sauce bread. The sauce was in hot chili oil and wonderfully flavourful. It had the right amount of spice to tickle the taste buds and went well on French bread.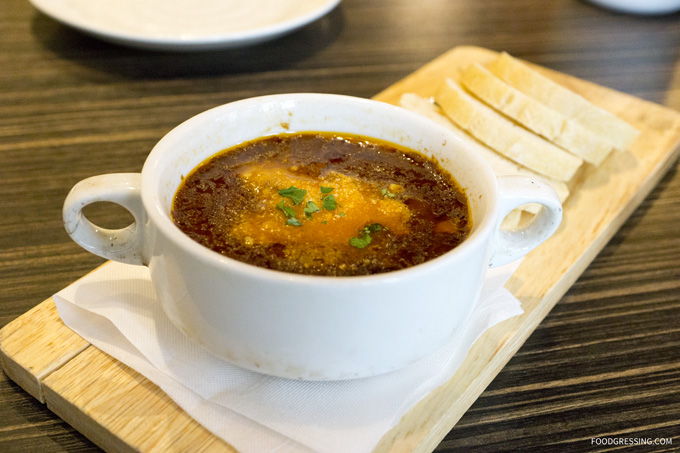 At SPAGHeTEI, you do not eat the pasta with chopsticks but rather a fork and spoon. So, be prepared to twirl your noodles in your spoon. I exercised my twirl-in-spoon skills on two of SPAGHeTEI's signature dishes: Barayaki and Mentaiko. The Barayaki consists of pan fried beef and onions with Barayaki Sauce. The pasta was al dente while the beef were in nice thin slices and fried perfectly. The Barayaki sauce is similar to Teriyaki sauce and gave the dish the right amount of sweetness. The flavour is original to Aomori, Japan where SPAGHeTEI comes from.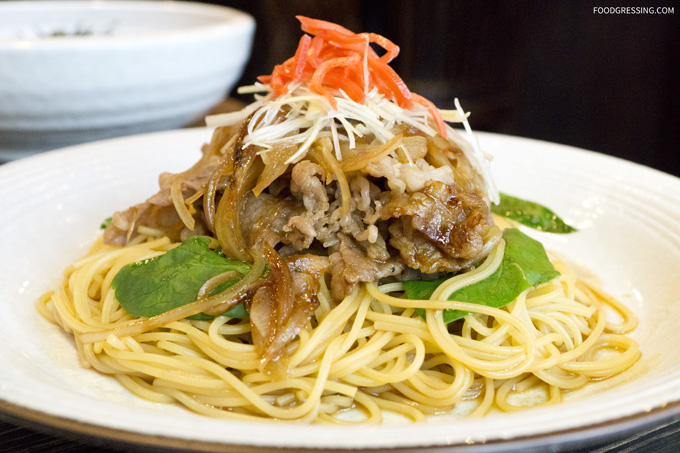 Mentaiko came with mentaiko (marinated roe of pollock and cod), shrimp and mushrooms topped with dried seaweed. The mentaiko gave the dish a fun "pop" of texture with a spicy and salty taste. The size of the shrimp was decent as well. The Mentaiko was an overall lighter, more savoury dish compared to the Barayaki.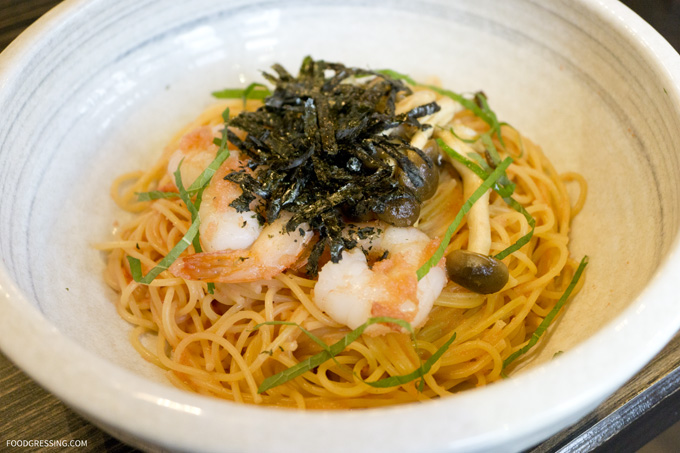 To finish off the delicious pasta meal, I had the matcha powder snow. Refreshing and sweet, it is a mix of matcha powder with shaved ice made from frozen milk.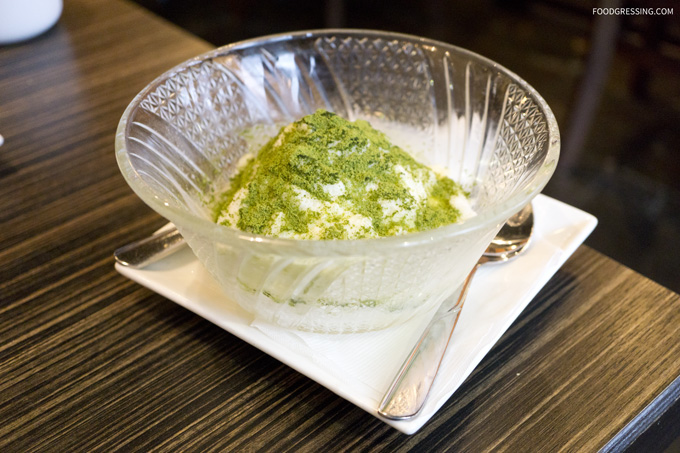 Coupon for Foodgressing Readers
As Foodgressing readers, you can get 10% off any spaghetti during dinner in November. Just bookmark my blog post and present this coupon on your smartphone to redeem the offer. Be sure to share this deal with friends and co-workers to take advantage of the deal.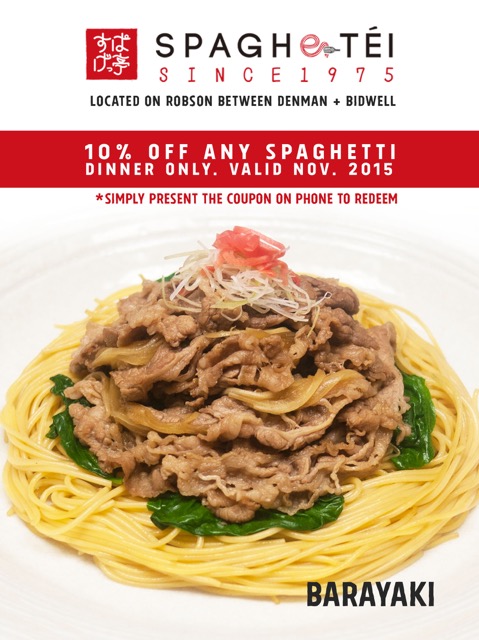 Overall Impression of SPAGHeTEI

My dining experience at SPAGHeTEI was very enjoyable and I was impressed with the different layers of flavour from the Japanese-inspired pasta dishes. The happy hour pricing of $9.80 for their popular dishes makes it very affordable. The dishes have decent portions for an individual but if you have a group it would be fun to share several pasta dishes. I loved the Barayaki – a definite must-have at SPAGHeTEI! Rating: 4.5/5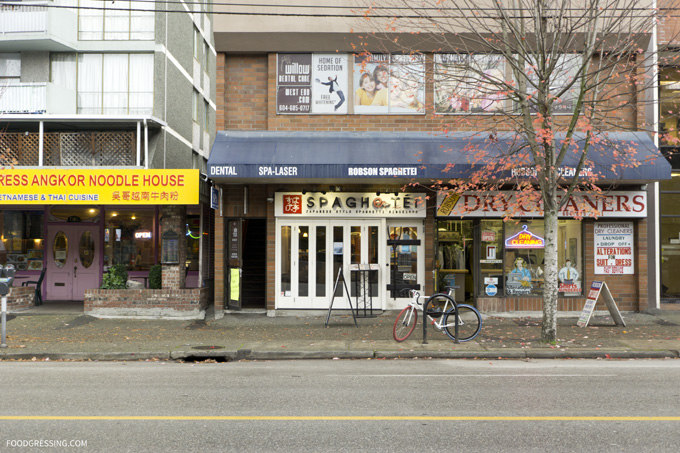 Website: www.spaghetei.com
Social Media: Facebook, Twitter