Newly opened in Burnaby near Metrotown is Big Way Hot Pot 大味·锅物料理.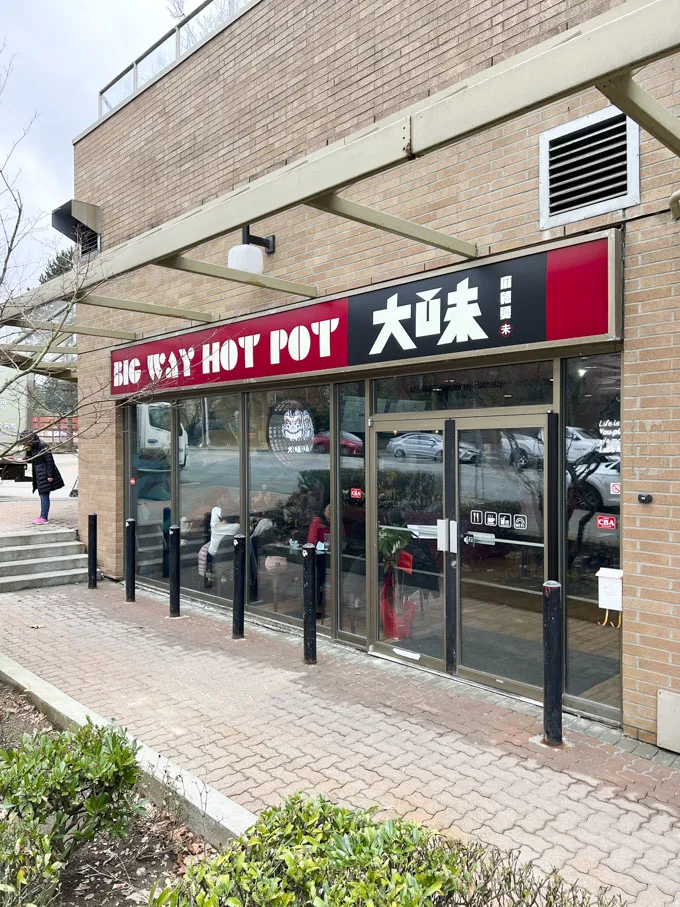 Located at 7-4300 Kingsway, Big Way Hot Pot offers a fast, casual, and individual hot pot experience where you can select from around 100 items presented in display cases.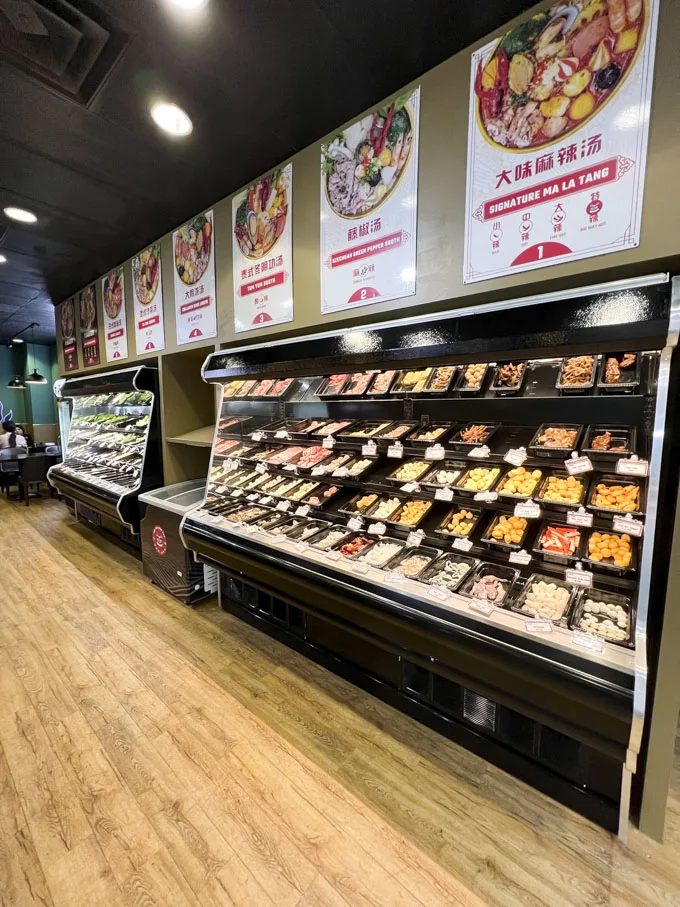 Note: This post is not sponsored.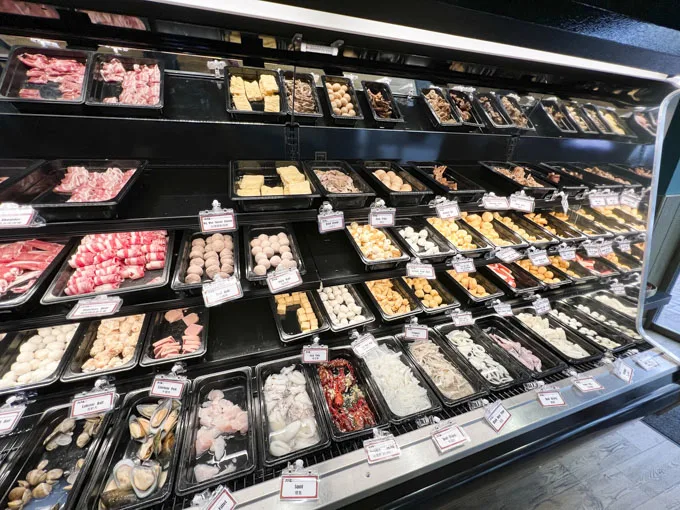 How to Order at Big Way Hot Pot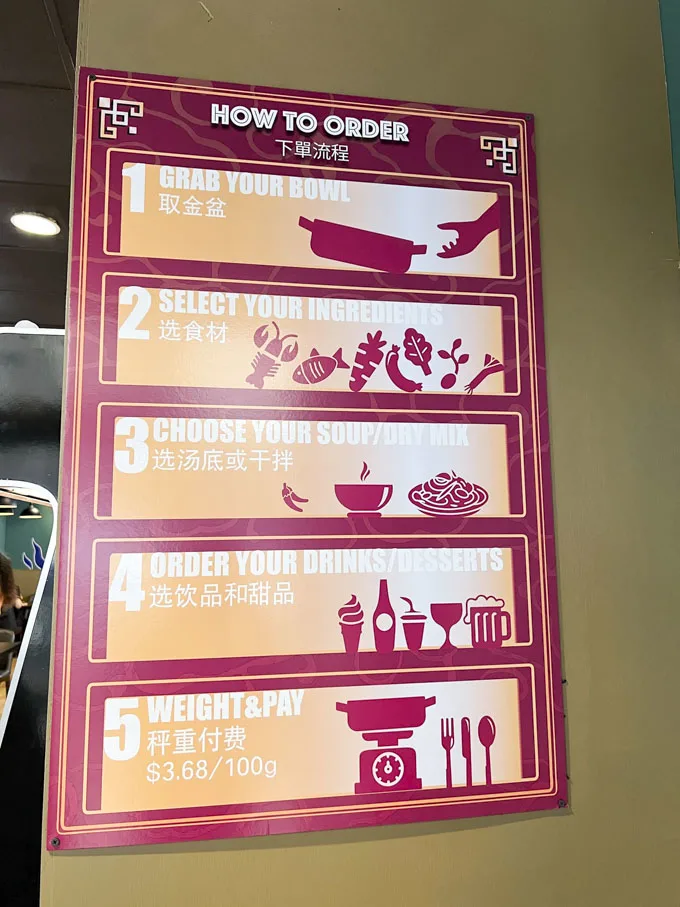 How it works is that you pick up a bowl and tong; select ingredients to go into your hot pot; choose your soup base; and order additional drinks/desserts.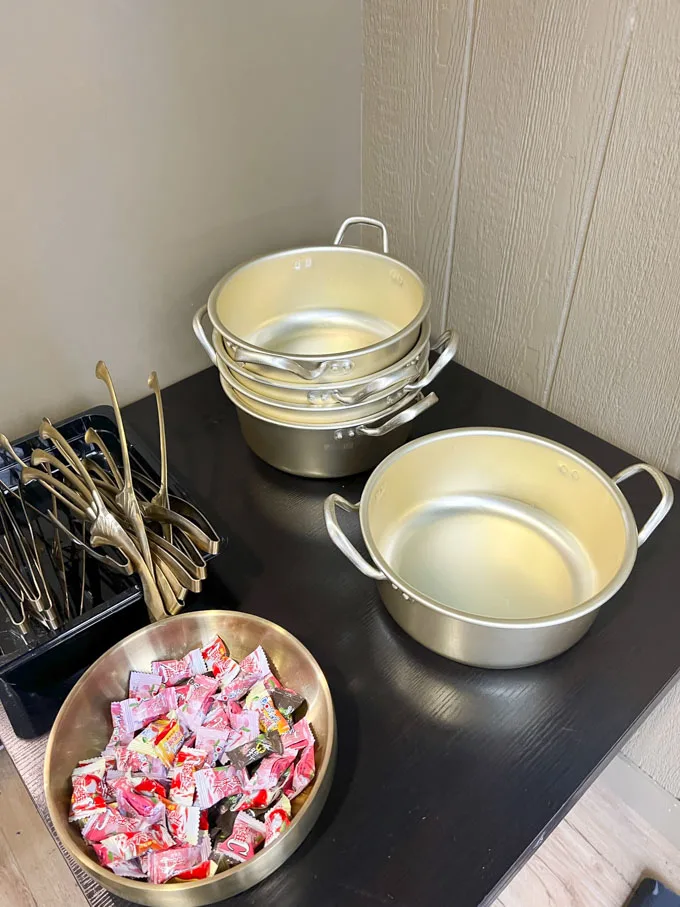 You bring your pre-cooked hot bowl to the counter where it is weighed and taken away to be cooked in the broth of your choice. The price is by weight and is at $3.68/100g.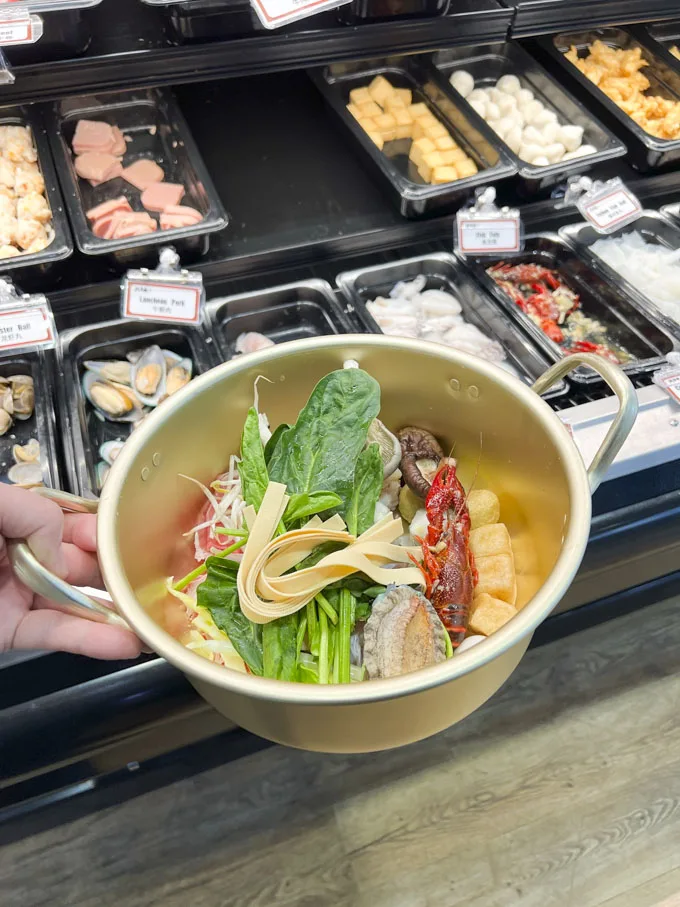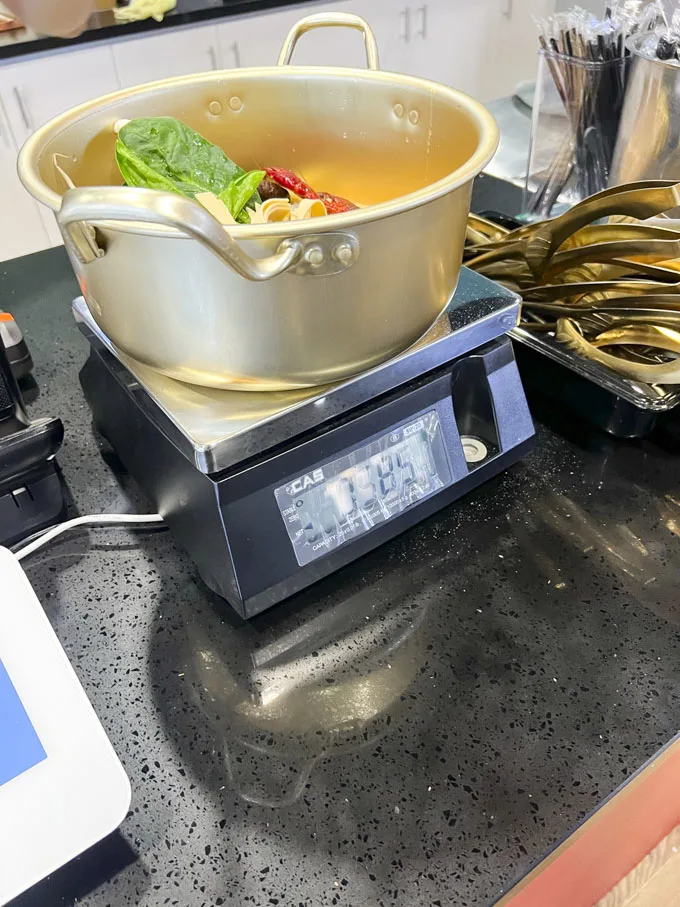 Ingredient Options
The soup base options, which are freshly made daily and MSG-free, include:
Signature Ma La Tang 原味麻辣烫
Szechuan Green Pepper Broth 藤椒汤底
Tom Yum Broth 冬阴功汤
Collage Bone Broth 大骨浓汤
BBQ Sauce Broth 沙茶汤底
Tomato Broth 冬阴功汤
Peanut Sauce Dry Mix 麻酱拌
Ma La Dry Mix 麻辣拌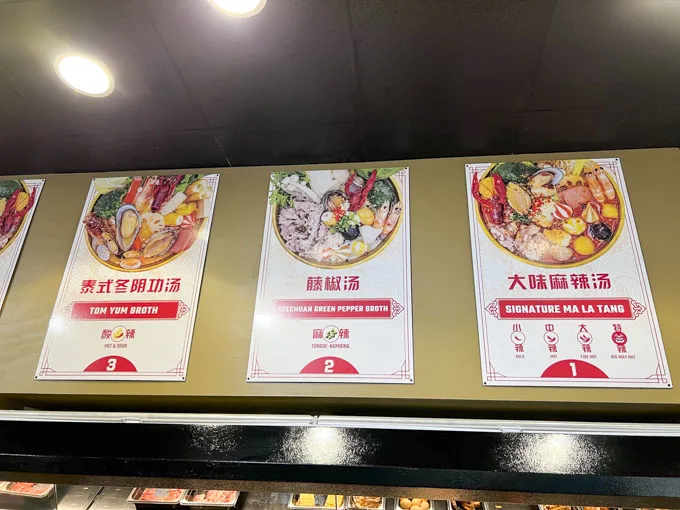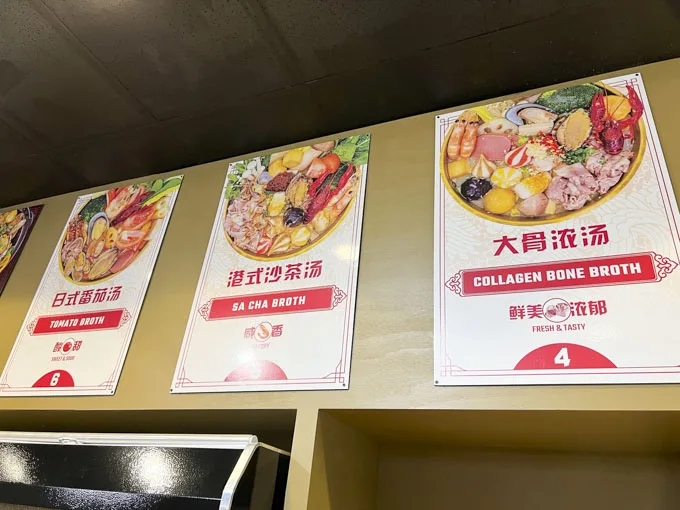 They have around 100 items to choose from for your hot pot which changes depends on seasonality and availability:
Seafood, proteins, vegetables at Big Way Hot Pot
Certain items like crayfish and abalone are priced by piece.
Big Way Special Chicken 秘制鸡肉
Lamb 羊肉卷
Boneless Beef 肥牛卷
Pork Shoulder 猪肉卷
Luncheon Pork 午餐肉
Beef Tripes 牛百叶
Beef Artery 黄喉
Black Beef Tripe 毛肚
Frog Leg 田鸡腿
Crab 螃蟹
Shrimp 白虾
Cuttlefish 墨鱼卷
Mussels 青口
Clam 花蛤
Basa Fish Fillet 巴沙鱼片
Big Way Special Fish Fillet 秘制鱼片
Squid 鱿鱼
Abalone with Shell 带壳鲍鱼
Crayfish 小龙虾
Lobster Ball 龙虾丸
Fuzhou Fish Ball 福州鱼丸
Imitation Crab Stick 蟹肉棒
Cuttlefish Ball 墨鱼丸
Beef Ball 牛肉丸
Pork Ball 猪肉丸
Chicken Ball 鸡肉丸
White Fish Ball 白鱼丸
Tempura 甜不辣
Grilled Fish Roll 竹轮
Quail Egg 鹌鹑蛋
Fried Quail Egg 虎皮鹌鹑蛋
Fish Tofu 鱼豆腐
Urchin Flavor Fish Ball 海胆仙桃
Bean Curd 腐竹
Fresh Tofu Skin 鲜豆皮
Frozen Tofu 冻豆腐
Chinese Doughnut 油条
Braised Tofu 香干
Konjac Knot 魔芋结
Cabbage 白菜
Spinach 菠菜
Cilantro 香菜
A Choy 油麦菜
Lettuce 生菜
Crown Daisy 茼蒿
Baby Bok Choy 小青菜
Seaweed Knot 海带结
Enoki Mushroom 金针菇
Shiitake Mushroom 香菇
Oyster Mushroom 平菇
Seafood Mushroom 海鲜菇
Cauliflower 花菜
Sweet Corn 甜玉米
Baby Corn 小玉米
Wood Ear Fungus 黑木耳
Potato Slice 土豆片
Lotus Root Skin 莲藕
Stem Lettuce 莴笋
Winter Melon 冬瓜
Chinese Yam山药
Taro 芋头
Bamboo Shoot 笋尖
Bean Sprouts 豆芽
Chicken Feet 鸡脚
Pork Intestine 大肠
Pork Tripe 猪肚
Pork Feet 猪脚
Pork Ears 猪耳
Braised Egg 卤蛋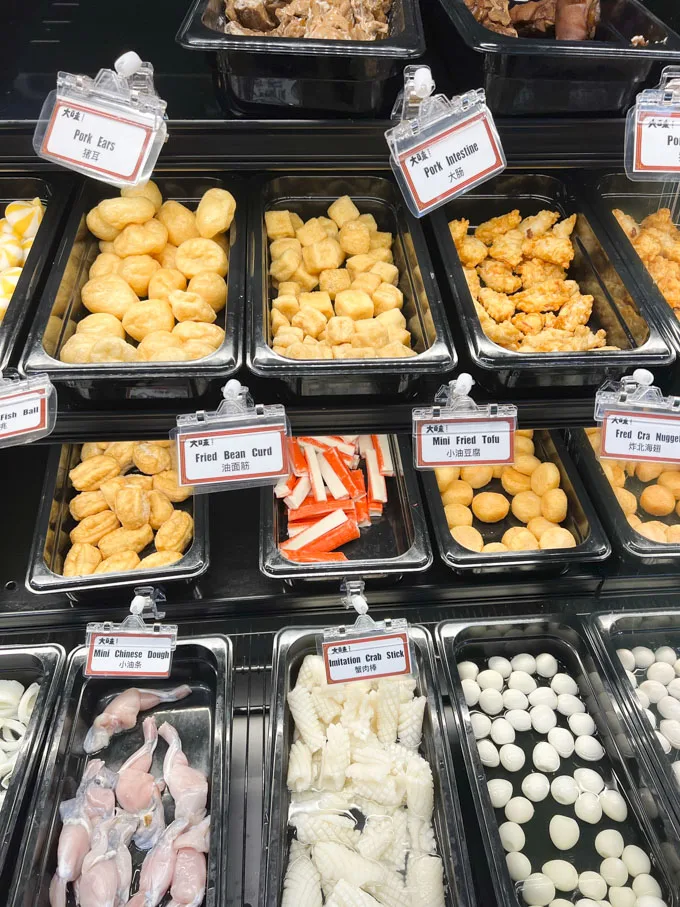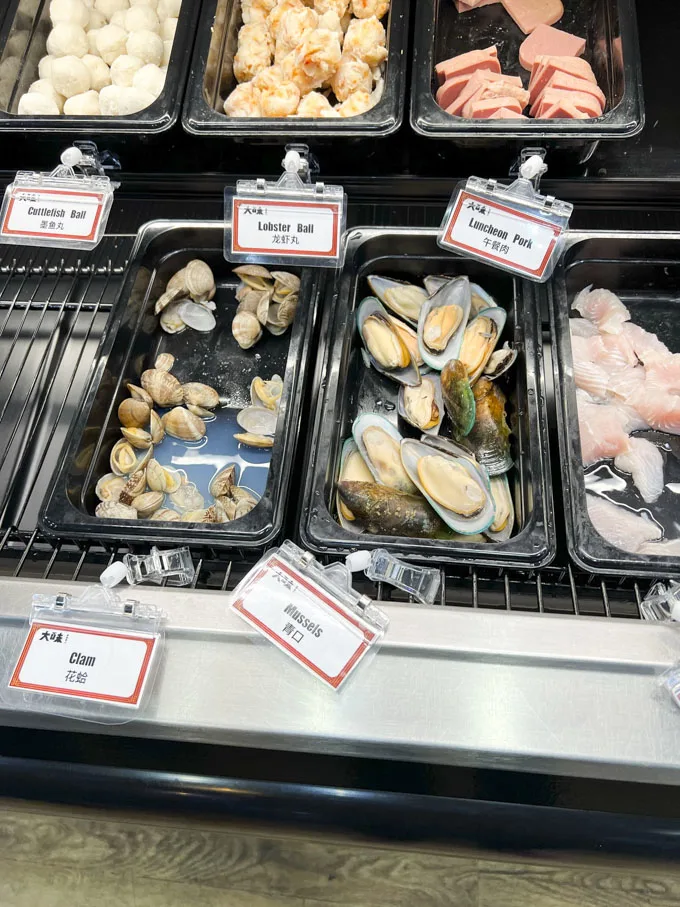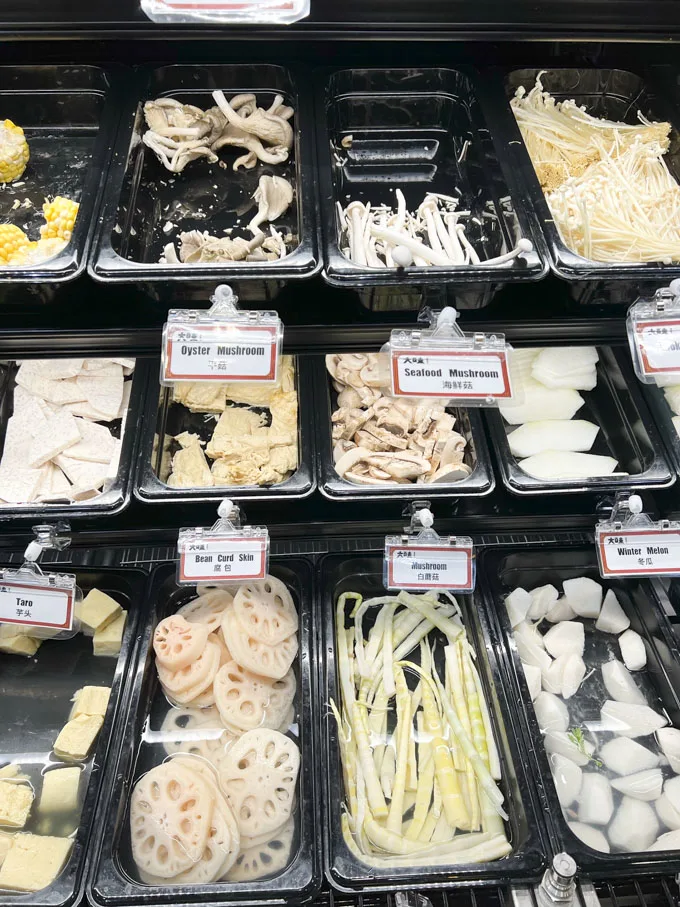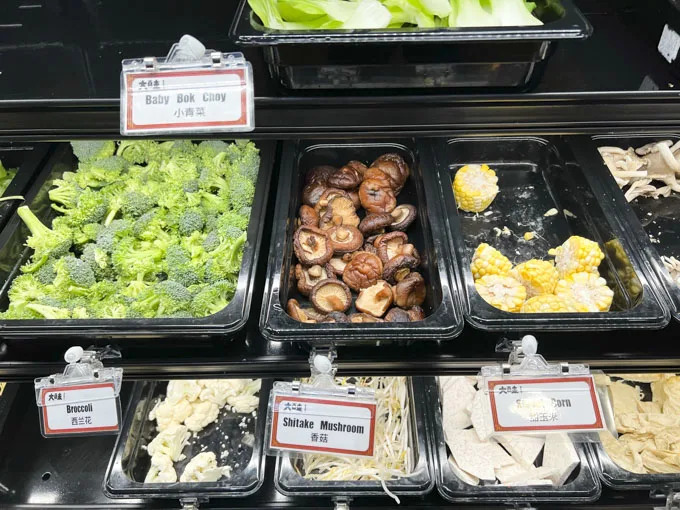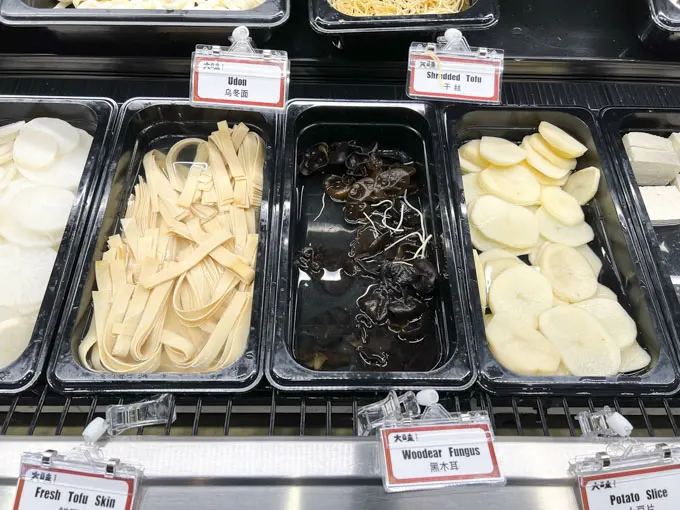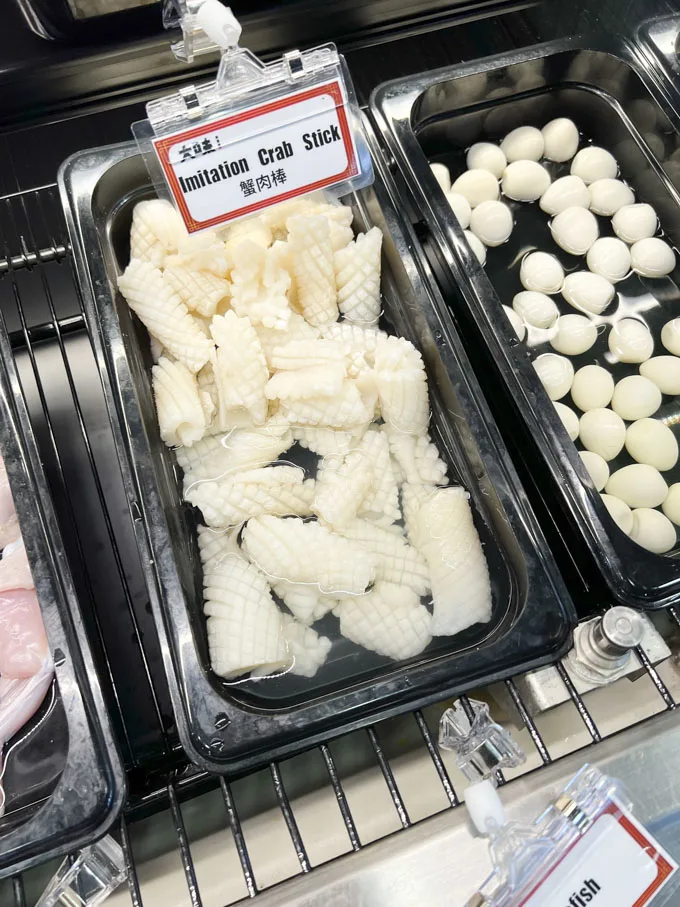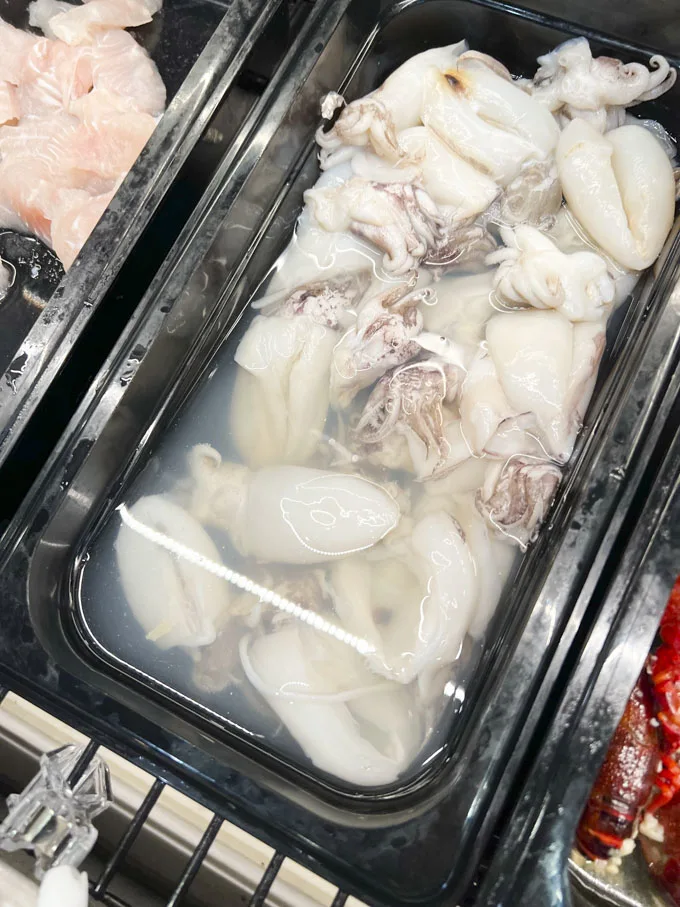 Rice and Noodles
Crystal Noodles 水晶粉条
Mung Bean Noodle 宽粉
Vermicelli 龙口粉丝
Instant Noodle 方便面
Hand Crafted Noodle 手擀面
Udon 乌冬面
Knife Cut Noodle 刀削面
Rice 米饭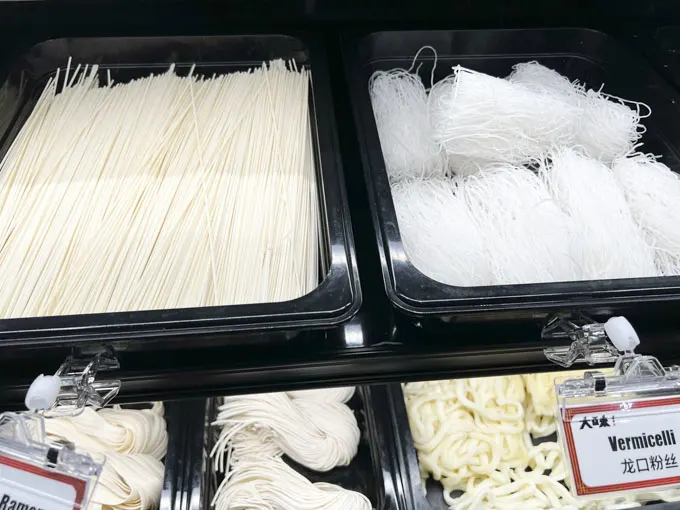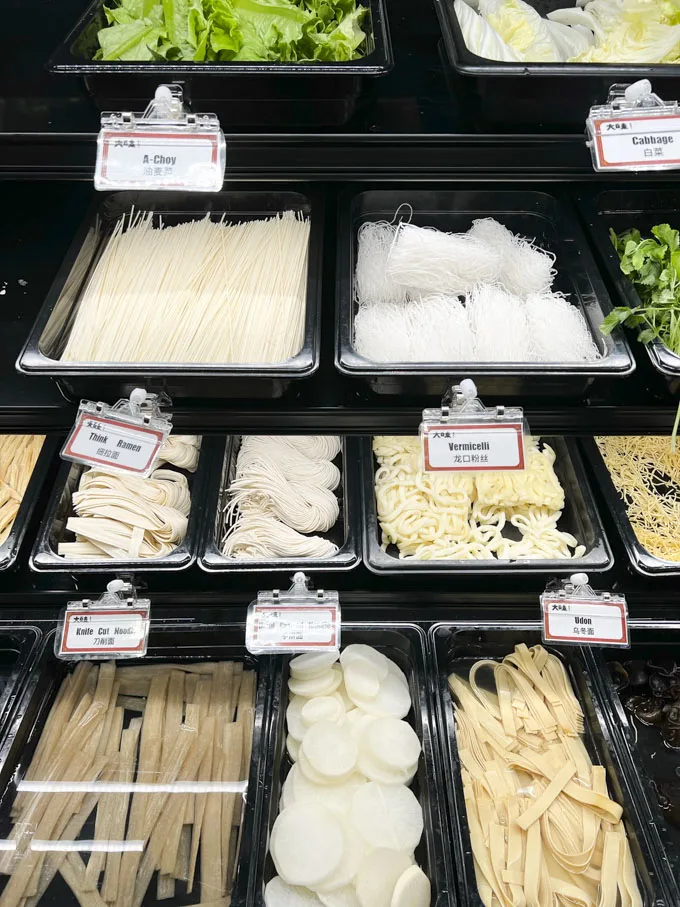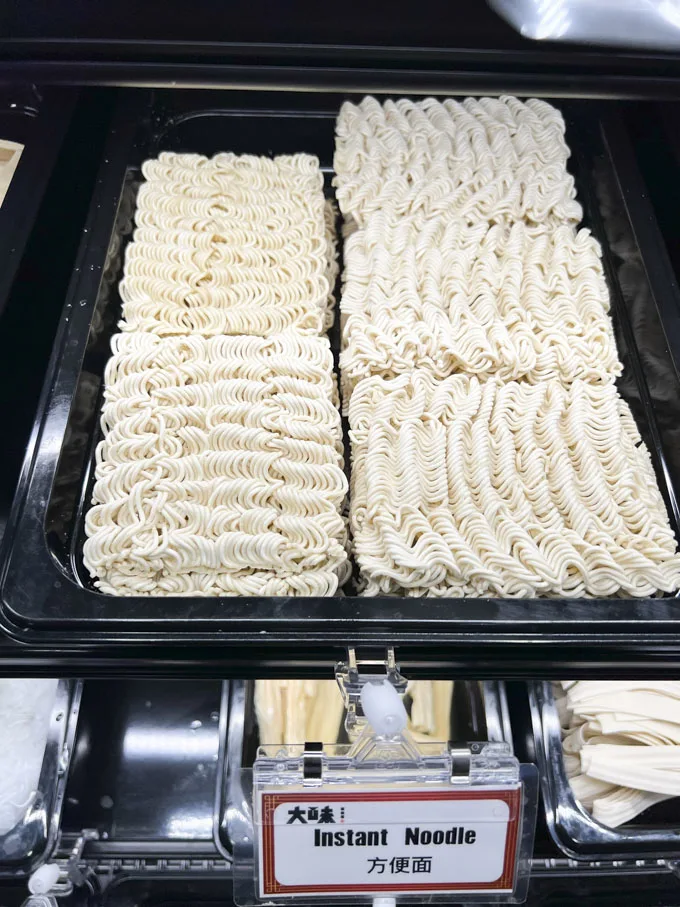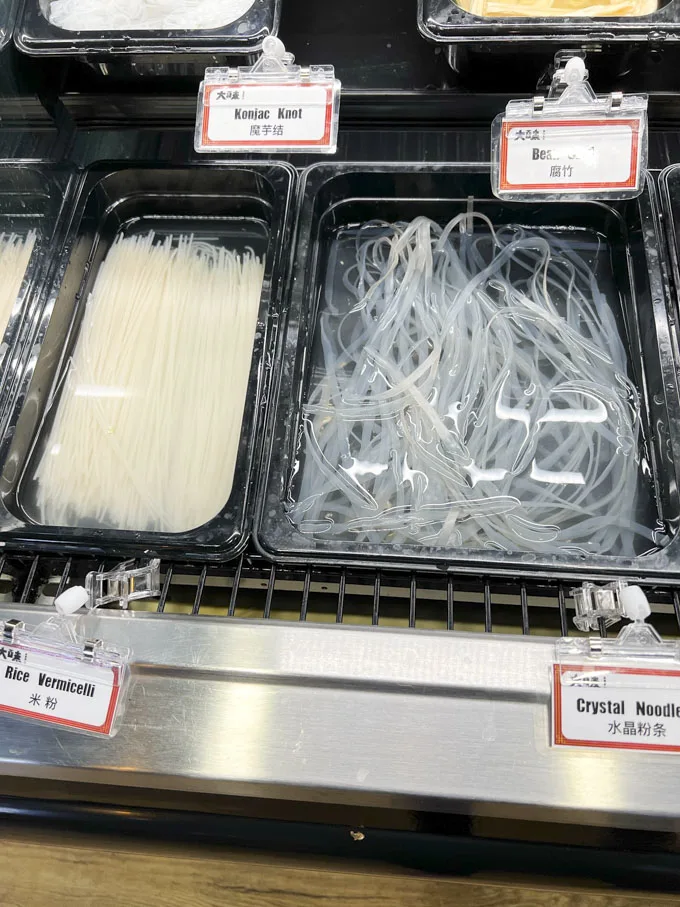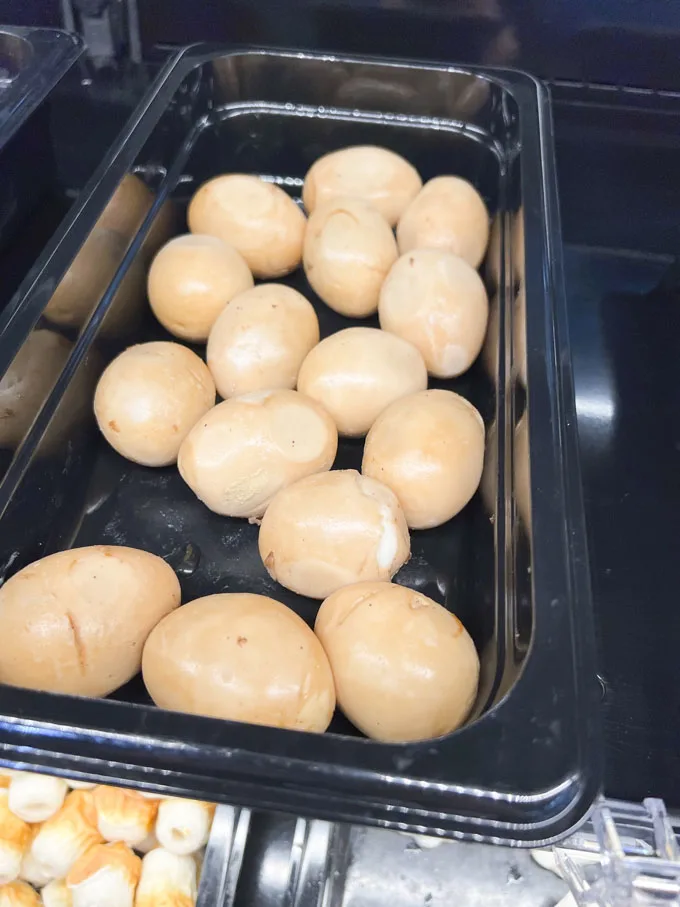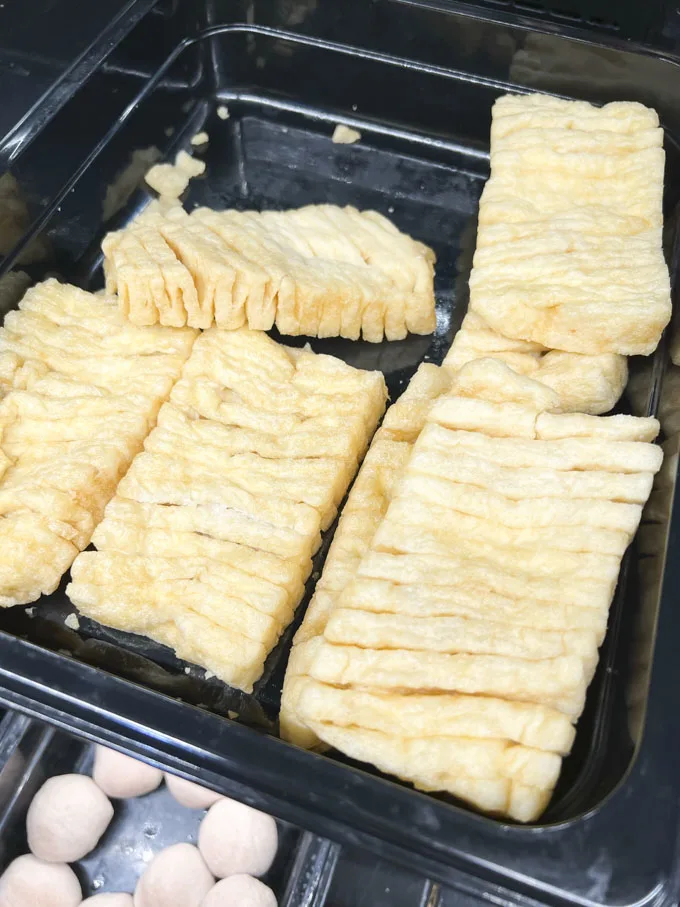 Sauce Bar
They also have a sauce bar with options like Peanut Sauce; Chili Sauce, BBQ Sauce; Garlic Paste and toppings like green onion, cilantro and sesame.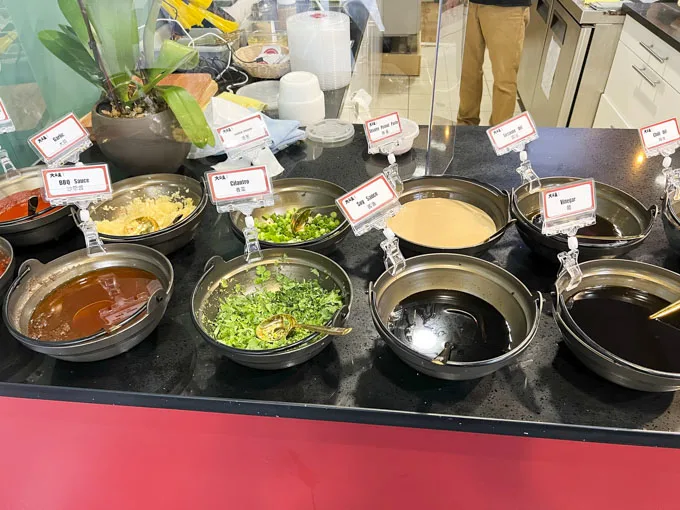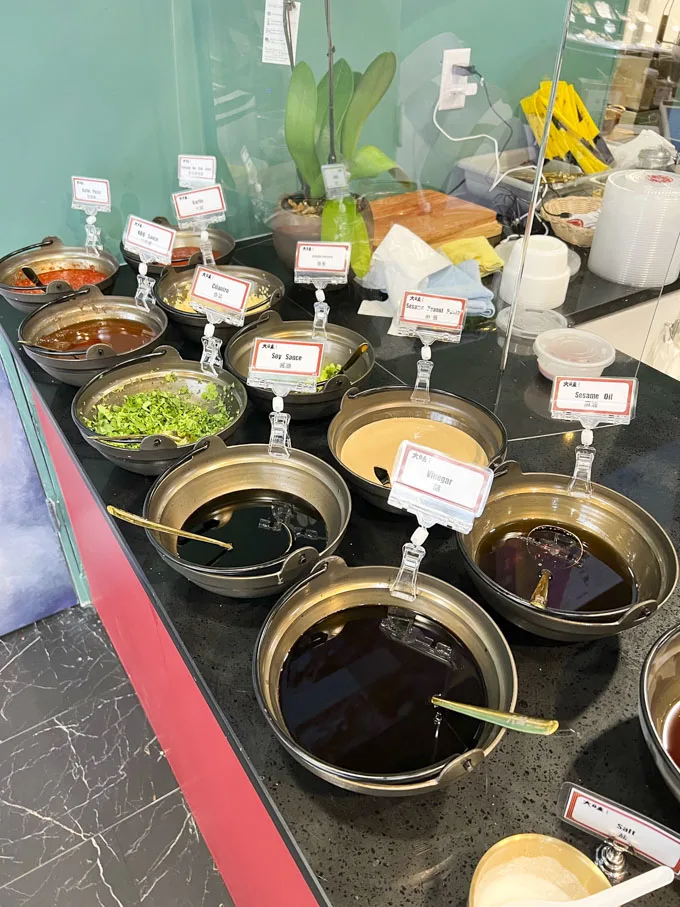 Drinks
In terms of drinks, they offer sparkling teas, milk tea, canned drinks and most notably, boozy bubble teas if you wish because they have a liquor license.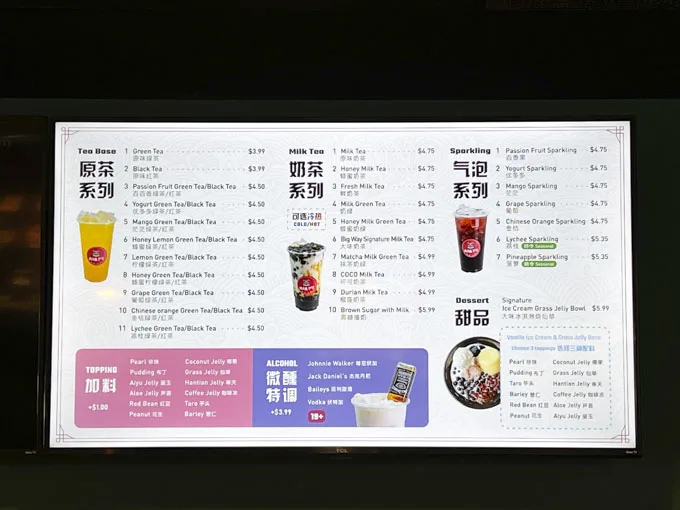 You can add alcohol to your drink choice including Johnnie Walker; Jack Daniels; Baileys or Vodka.
Current Promotion
They currently have a soft opening promotion of free milk tea and free ice cream for dine-in.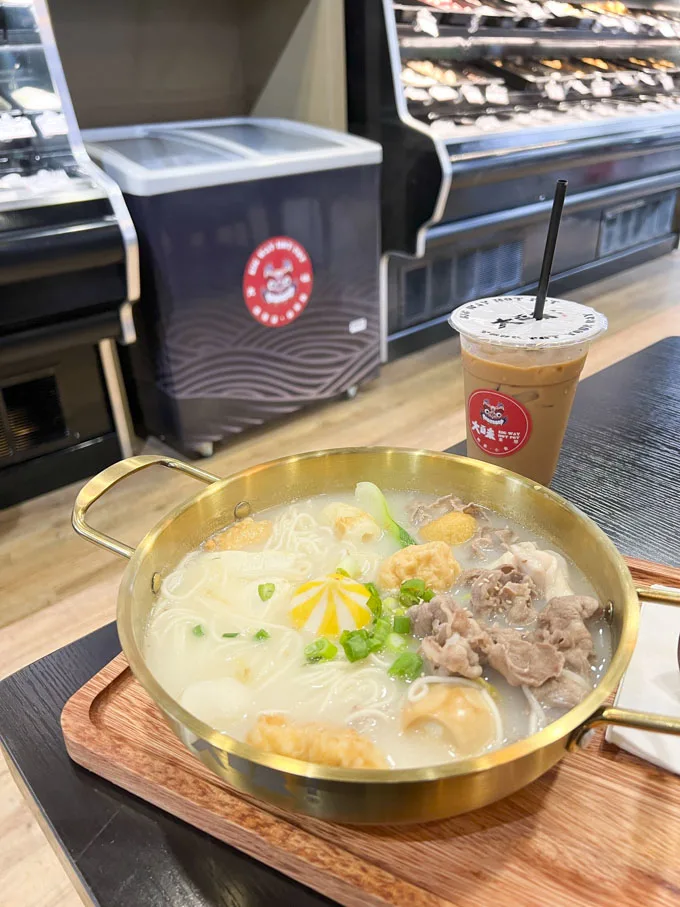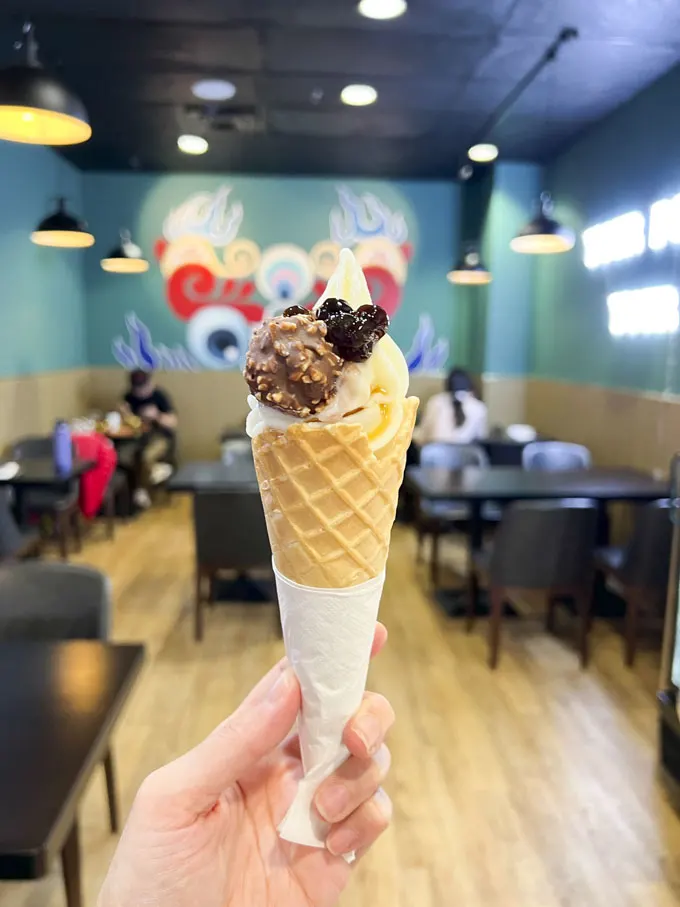 My Thoughts on Big Way Hot Pot
I really enjoyed Big Way Hot Pot concept which the staff tells me is quite popular in Melbourne (which is where the owners previously lived and operated a similar restaurant).
We were greeted at the door upon arrival and shown how to collect the hot pot ingredients into these sturdy, stylish gold coloured metal bowls.
I liked the variety of the ingredients presented and they seemed to be restocked quite regularly.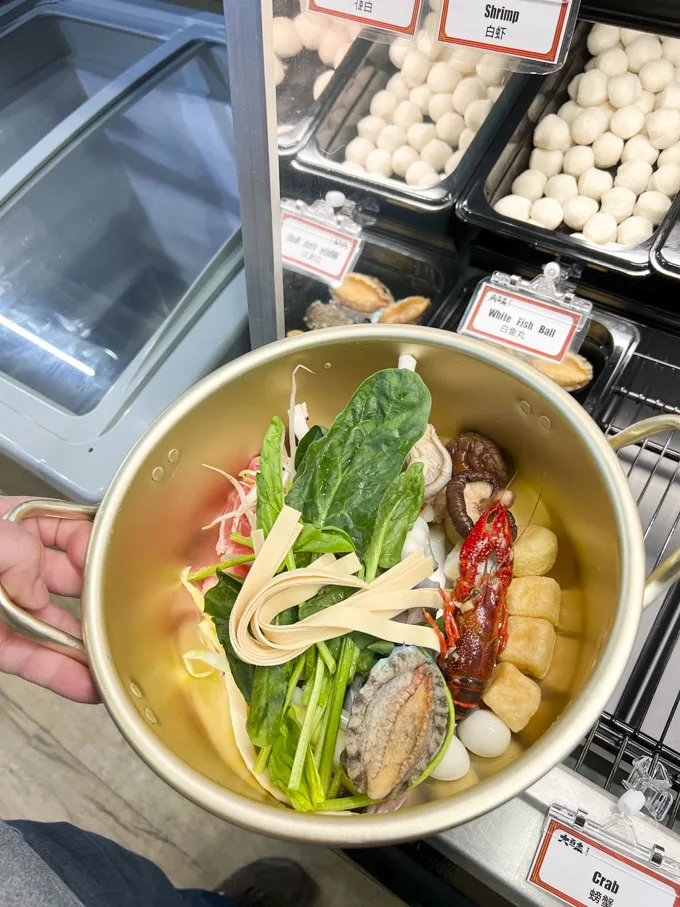 Some of the more unique options were Urchin Flavor Fish Ball; Lobster Ball; Tempura; Grilled Fish Roll; Frog Legs and more.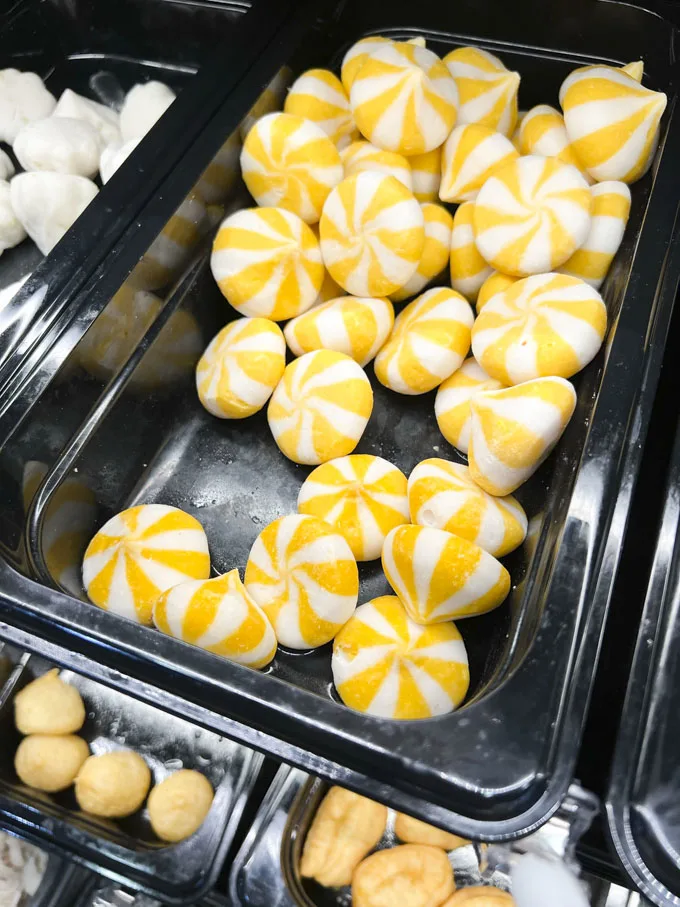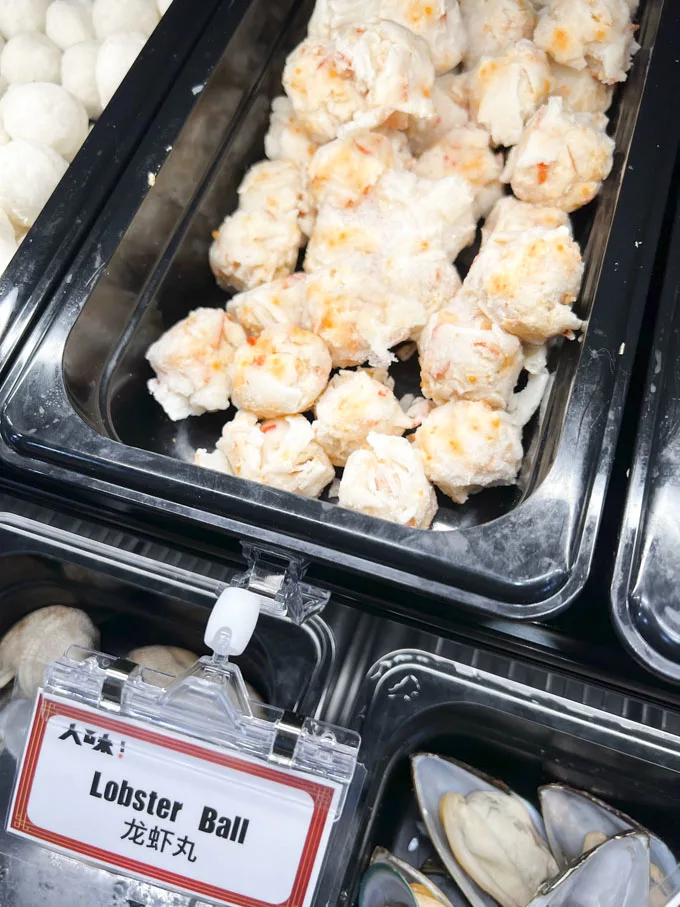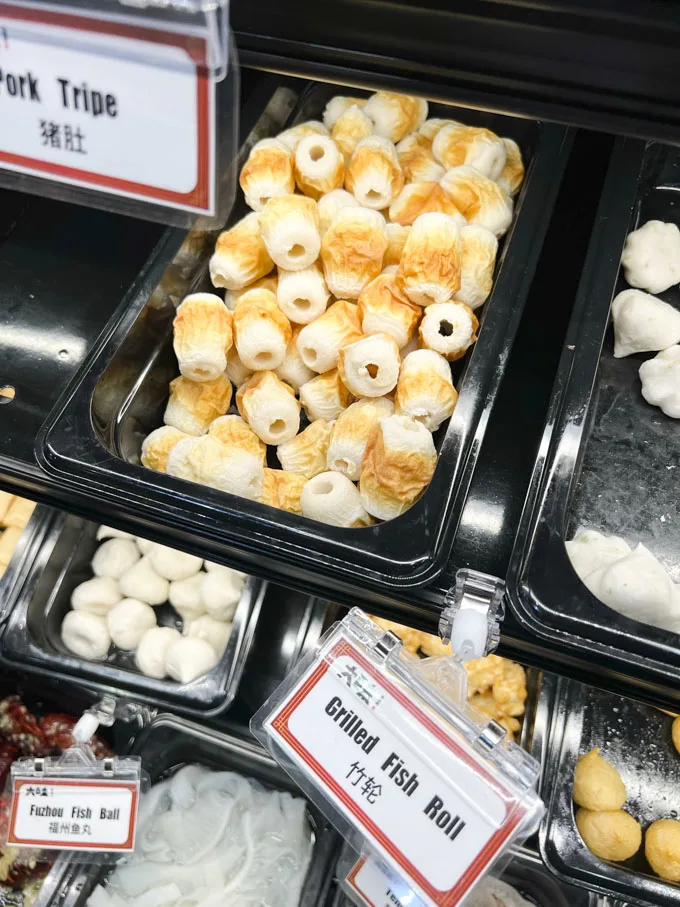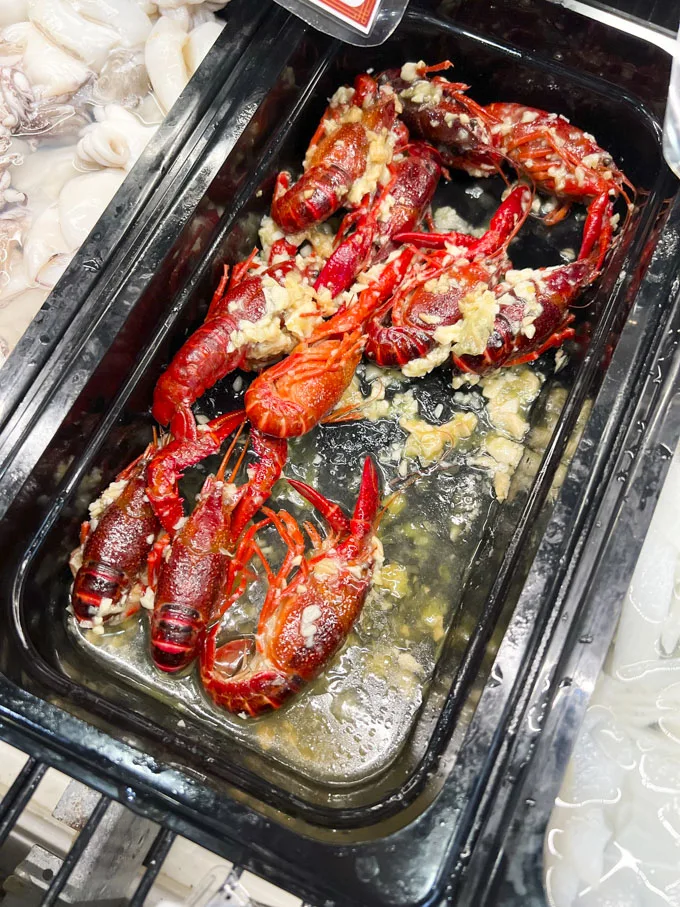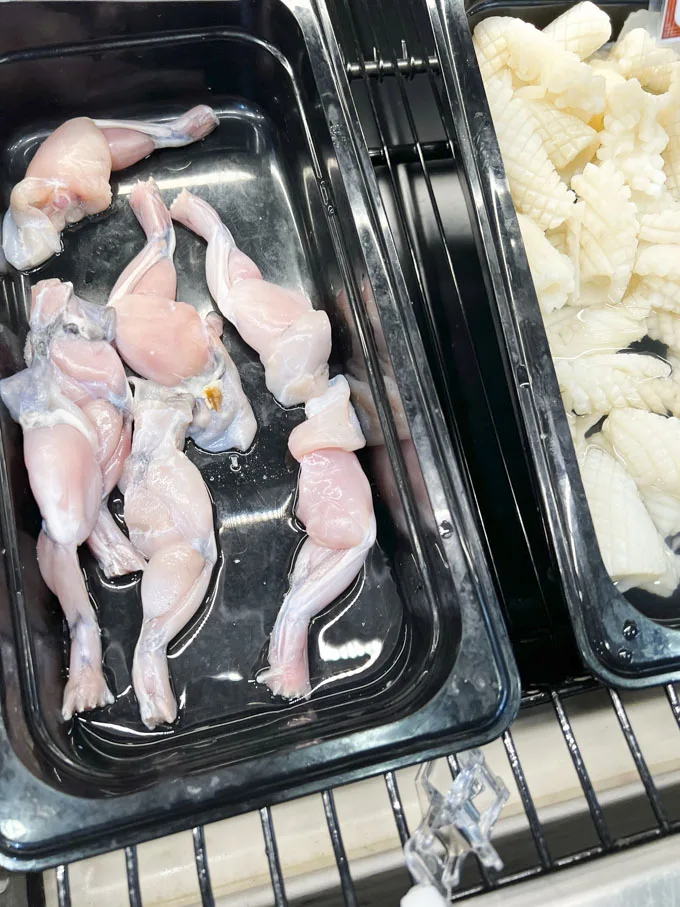 The ingredient display and dining space seemed very clean and organized.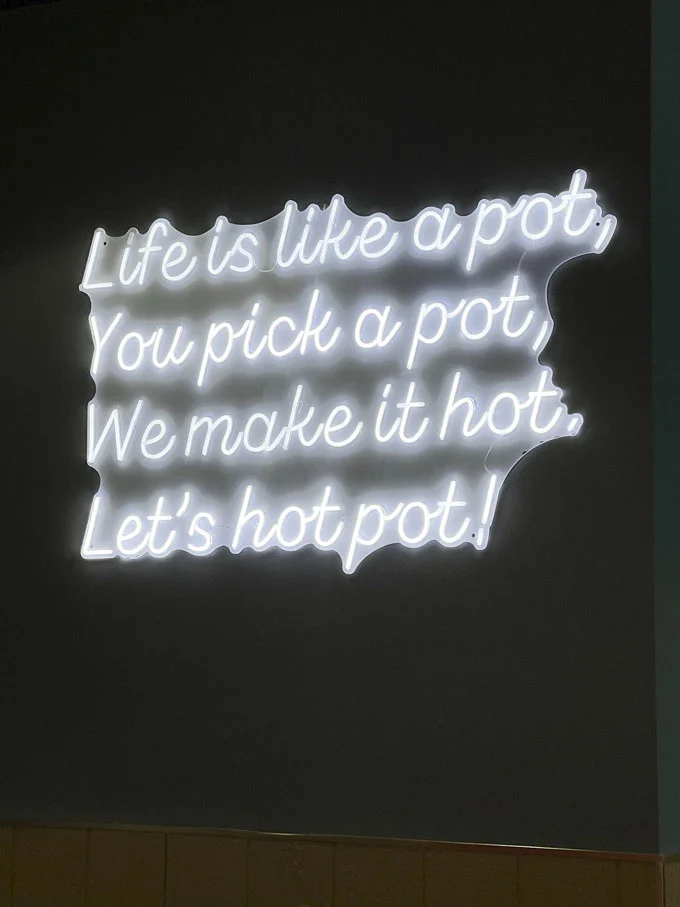 Our bowls were around $20 – $30 and we felt pretty satisfied. For one of the bowls, we had the pricier items like abalone and crayfish.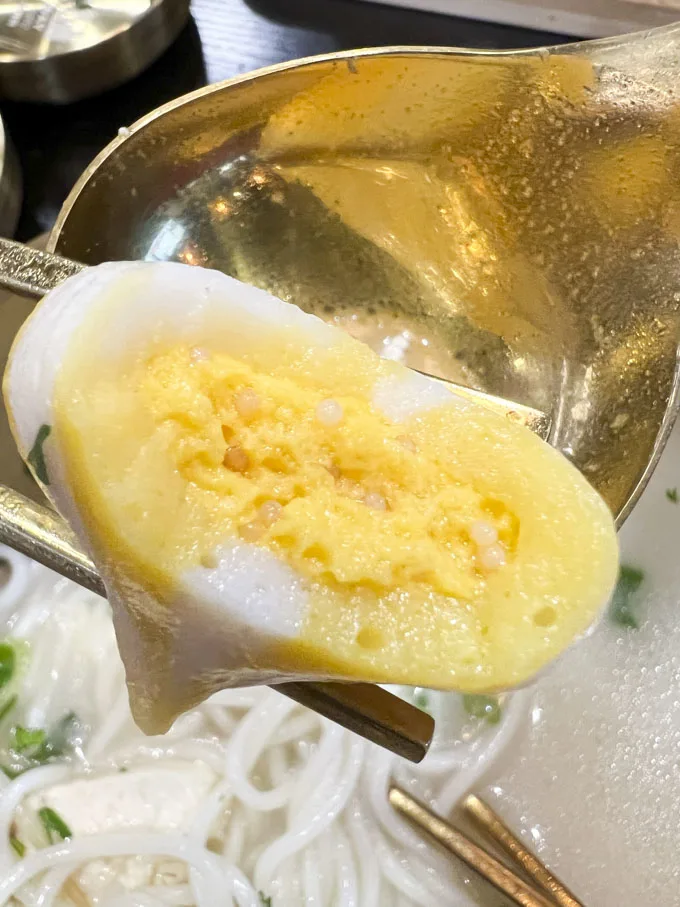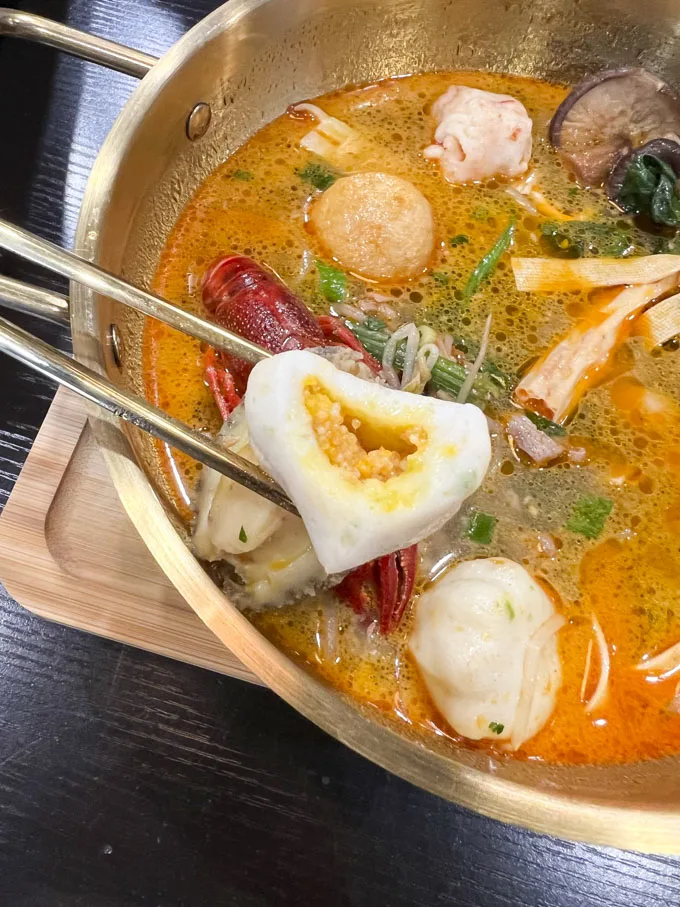 Overall, I think the concept will do well in the Metro Vancouver market and would appeal to those looking for a mid-level pricing, fast casual dining experience.
This would include those who want a quick personalized hot pot, but don't want the full-on lengthy sit-down experience of choosing the ingredients on a checklist; waiting for the raw ingredients to be prepared for you; cooking the items yourself; and so forth.
With their set-up, you can have a communal hot pot (perhaps between 2 people) or just have your own.
The owners tell me that they will be expanding soon to other parts of Metro Vancouver.
Overall, a great dining experience at Big Way Hot Pot. I recommend giving them a try.