If you love ramen, gourmet ice cream and bubble tea, there's a place in Richmond where you can enjoy all of these at the same time. Asaka Ramen and TMix Bubble Tea and Dessert Bar are co-located at 2780 No. 3 Road, just about a 5 minute walk from the River Rock Casino.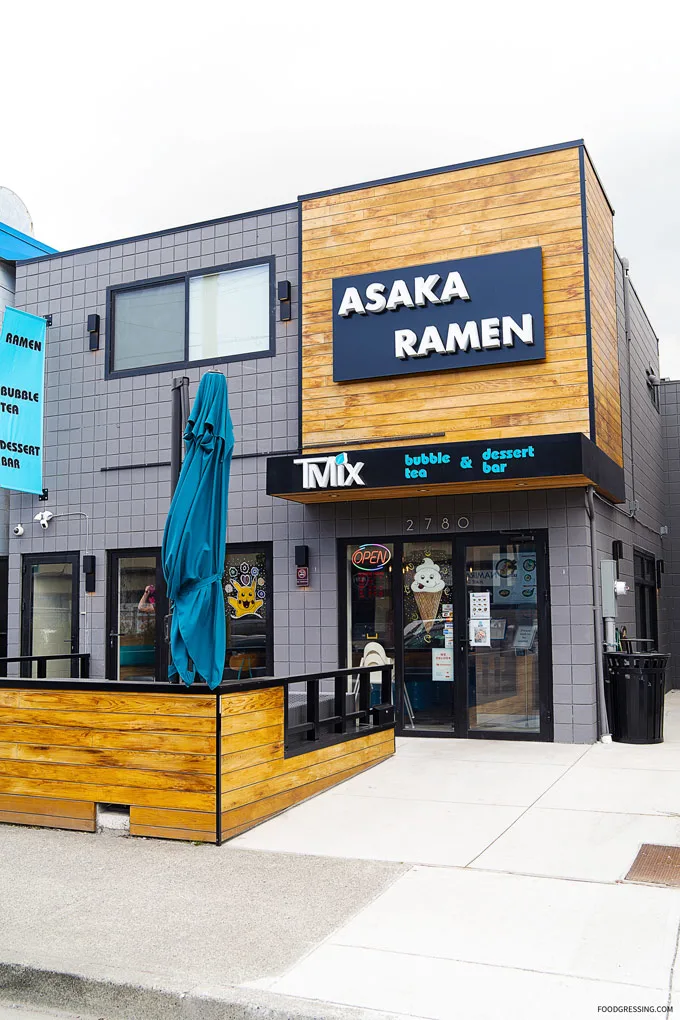 The joint venture between Asaka Ramen and TMix opened up last summer by Kathy Tung. However, you might have been familiar with TMix before as the dessert spot formerly had a few standalone locations in Metro Vancouver. Kathy had mentioned to me that she had decided to close TMix locations and focus her efforts on one restaurant only.
I was recently invited for a media tasting. Here's a look at my experience.
---
Modern Interior
Asaka Ramen/TMix boasts a contemporary, clean and inviting interior with a mix of cozy banquettes and dining tables.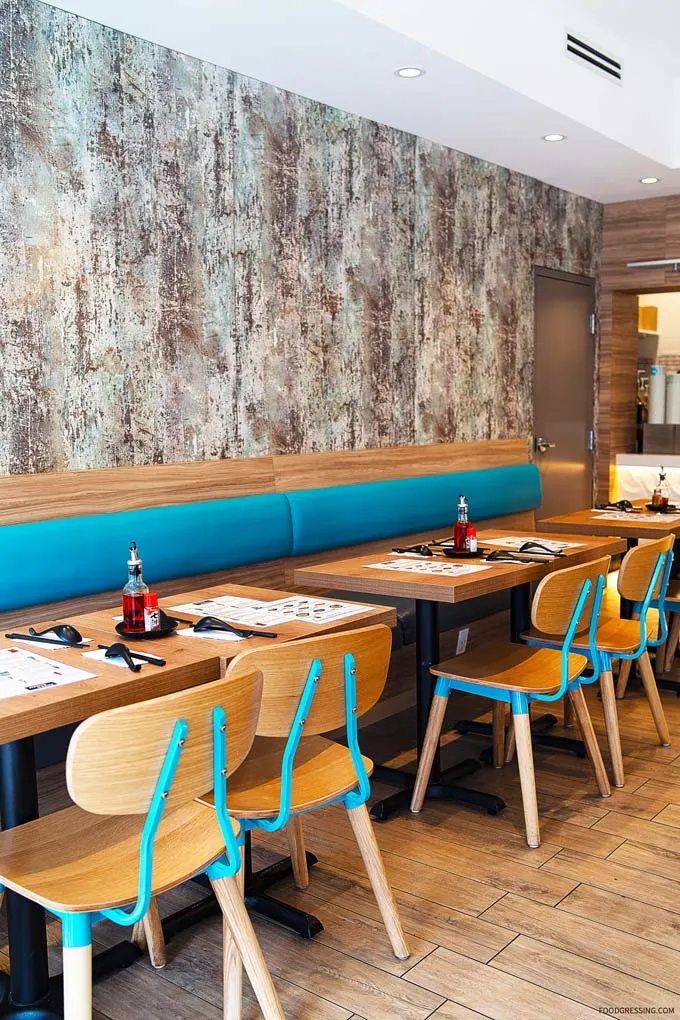 The restaurant also has a cozy outdoor patio which make it the ideal place to enjoy a cold drink or dessert on a warm day.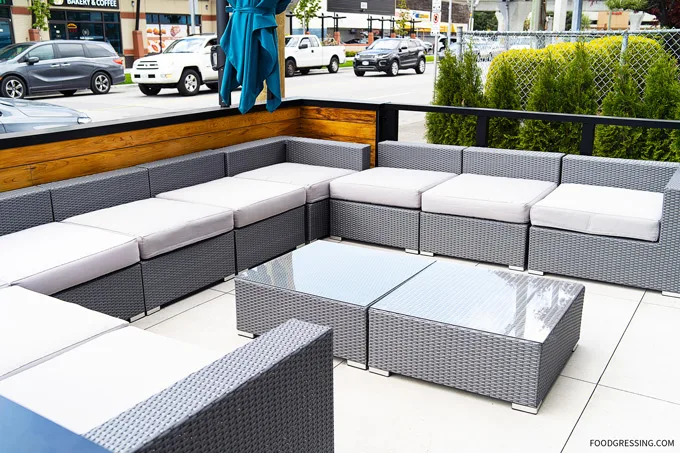 ---
Asaka Ramen/TMix Menu
Asaka Ramen's offers 6 types of ramen ($13 – $15) (Shio, Shoyu, Miso, Roasted Black Garlic Tonkotsu, Vegetarian and Spicy Black Sesame Dan Dan). They use pork-based broth for their non-vegatarian ramens. Add-ons include chashu, corn, spinach, bamboo shoots, green onion, dried seaweed, crispy fried onions, spicy sauce and so forth.
Also on the menu are rice bowls ($11) including chicken curry don, pork chashu don, and oyakodon. For side dishes, they have chicken karaage, pork gyoza, takoyaki, agedashi tofu and so forth. Small sides are $5.30 while large are $7.50.
Diners can enjoy special valued combos where you can add a side dish ($3.30 – $5.30), select drinks ($3.30), bubble waffle ($3.30), ice cream ($2.30), or donut ($1.90) to your ramen or rice bowl. There is currently a great deal where you can enjoy 4-courses for $20.80 (see photo below).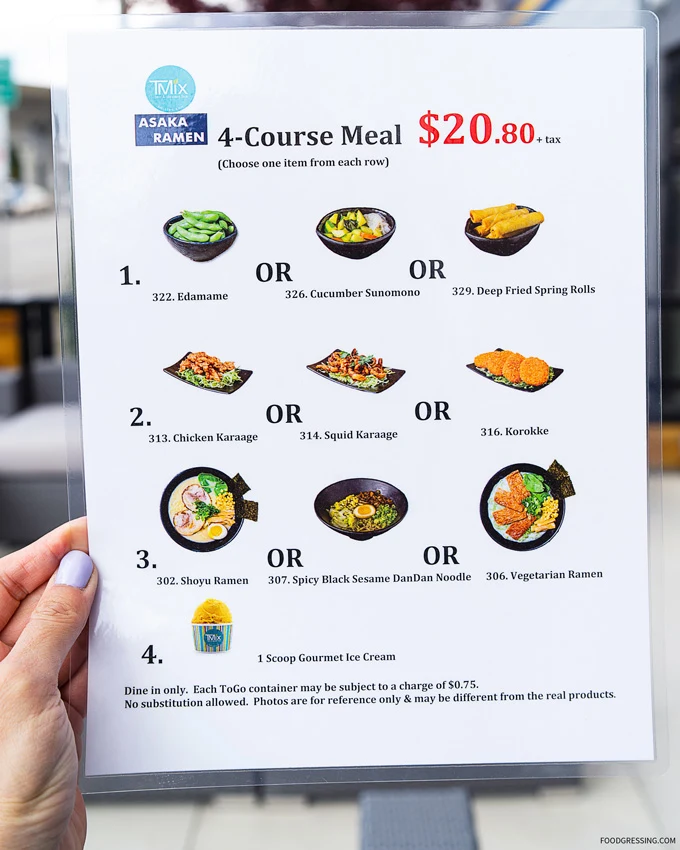 On the TMIX menu, you'll find Milk Teas, Black or Green Teas, Soda or Fruit Slush, Gourmet Frappes, Lattes and other Dessert Drinks ($6 – $7). TMix also offer basic bubble waffles ($5 – $6) and bubble waffle sundaes ($10.50 – $12.50). There is also a gourmet ice cream bar (1 scoop for $3.50 or 2 scoops for $5.80) and mochi donuts available ($2.80 each or 6 for $14).
The full menu can be found online.
---
What I Tried
During my media tasting, I tried the following:
4-Course Combo deal

Agedashi Tofu
Chicken Karaage
Shoyu Ramen
1 Scoop Gourmet Ice Cream (Strawberry)

Edamame
Vegetarian Ramen
Ultimate Mango Frappe
Romantic Sunset drink
Mochi Donuts: Rose Tea, White Chocolate Lavender, Chocolate, Matcha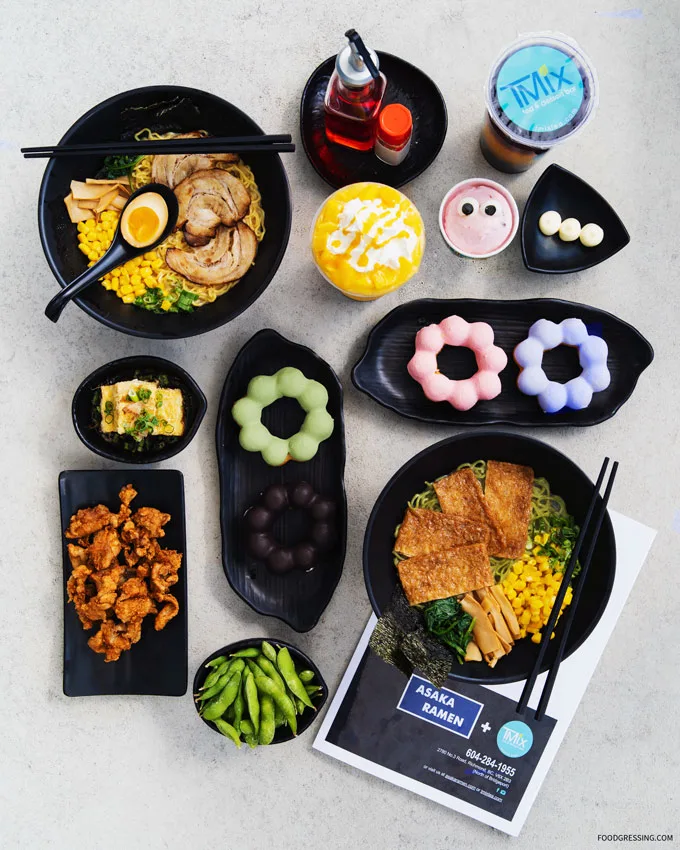 The agedashi tofu was delicious with a slightly crispy exterior and pillowy, hot inside.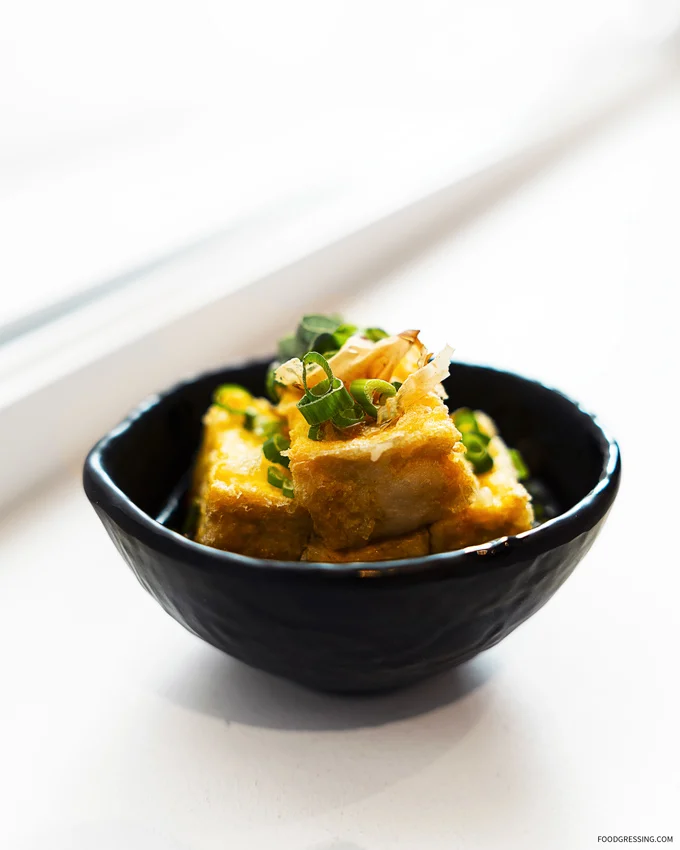 The chicken karaage was juicy and nicely crispy on the outside.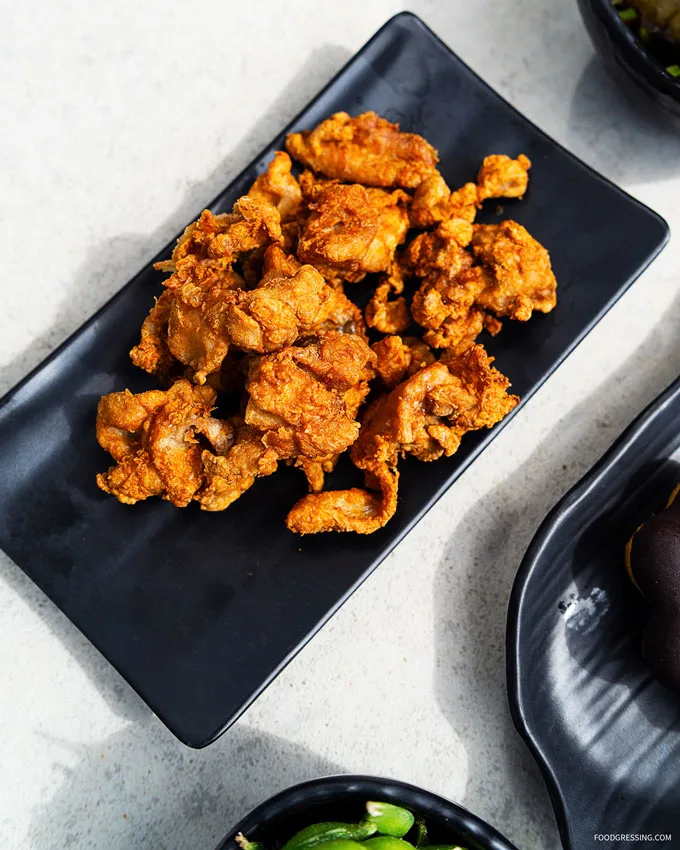 The Shoyu Ramen had a tasty pork-based broth, al dente noodles and tender chashu.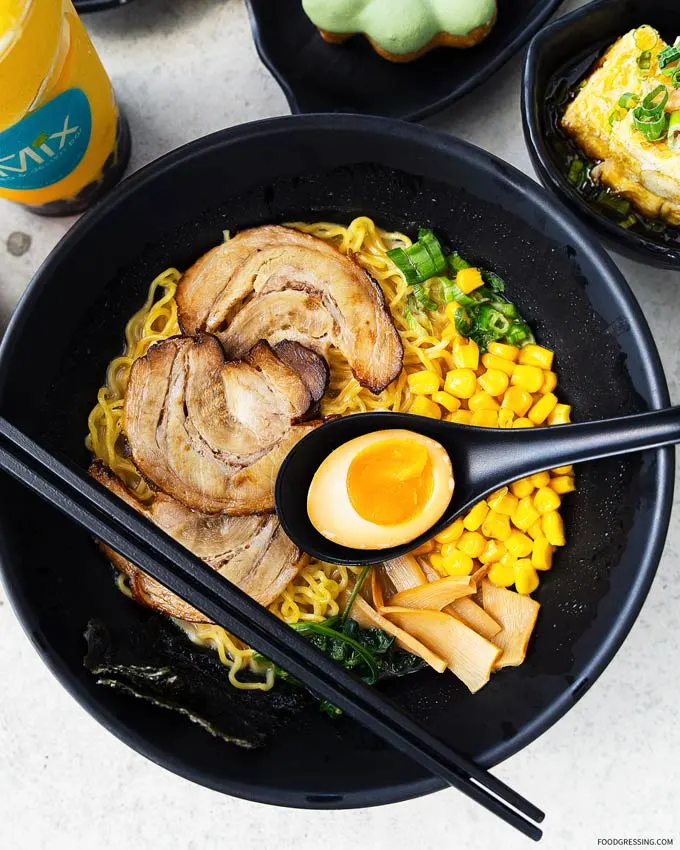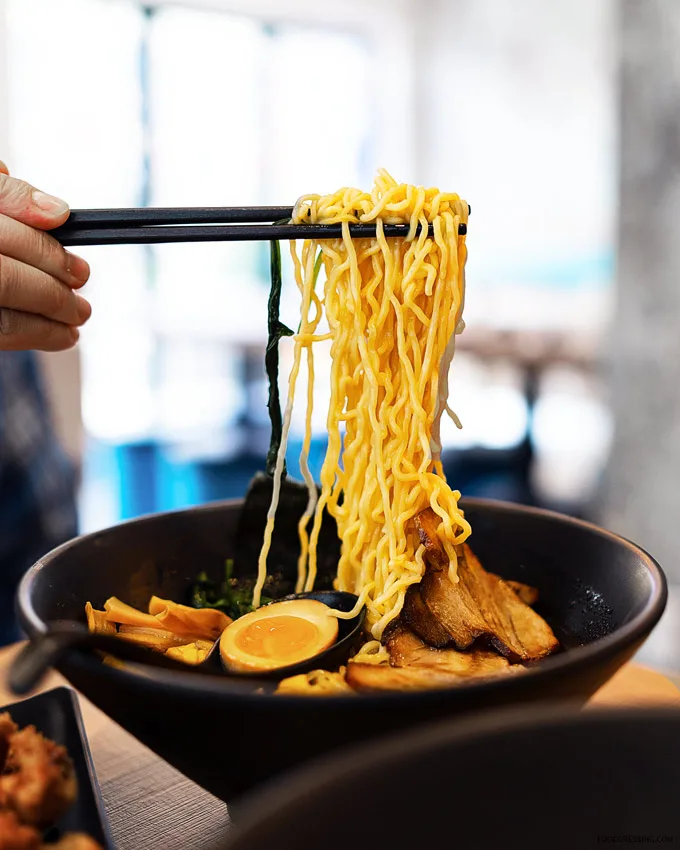 I love my chashu ramen but with the trend towards more plant-based eating vegetarian ramens are catching my eye. I decided to try the Asaka's Vegetarian Ramen made with spinach noodles (first time having that!), sweet soya inari tofu, corn, bamboo shoots, spinach, green onions, dried seaweed in a creamy vegetarian broth. The spinach noodles definitely had a taste of spinach and had a natural green color.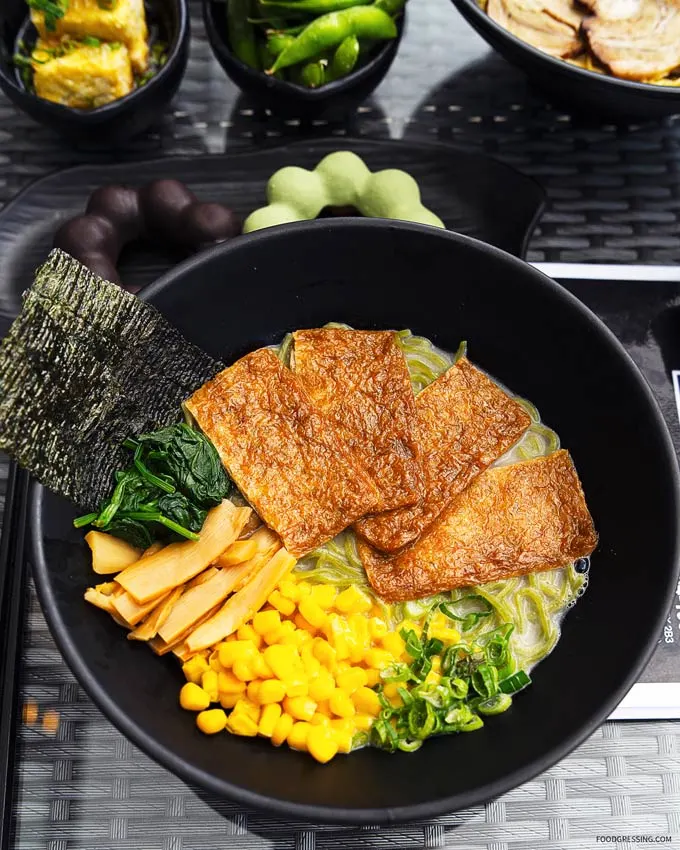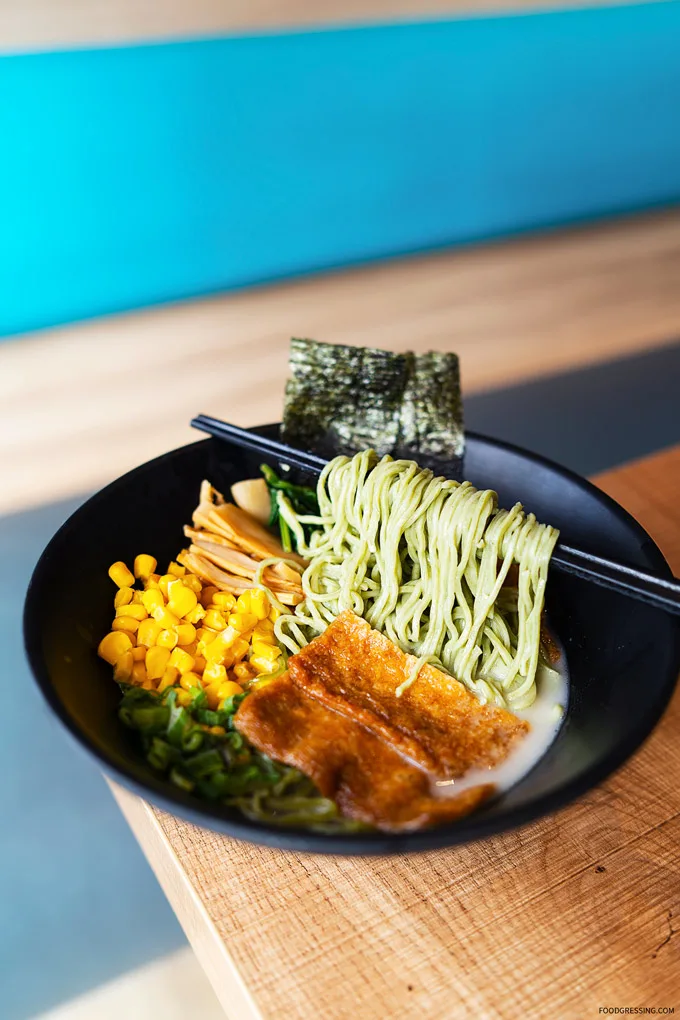 For drinks, we enjoyed two of their most popular drinks, the Mango Frappe and Romantic Sunset (featuring iced butterflypea flower and passionfruit green tea).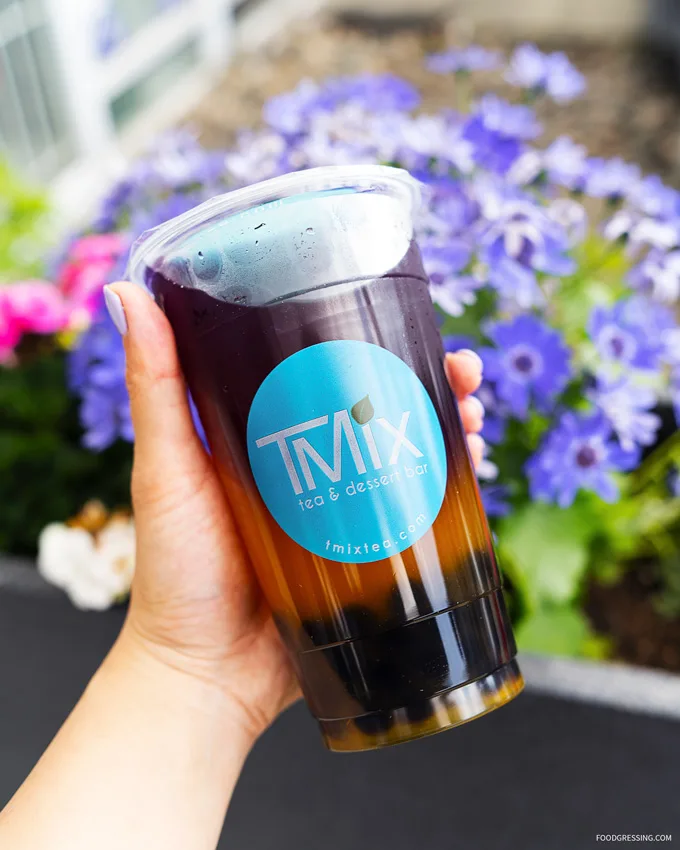 Last but not the least were their Mochi Donuts, which has taken local social media by storm. These donuts, which are a hybrid of Western donuts and Japanese mochi, are handmade by the owner everyday and are available while supplies last. One batch is available around noon and the other in the early evening around 5 pm.
The donuts are made with sweet glutinous rice and are fried like Western-style donuts. The result is a crispy exterior but chewy inside. The mochi donuts are coated in different flavour icing; the ones I had were Rose Tea, White Chocolate Lavender, Chocolate, and Matcha.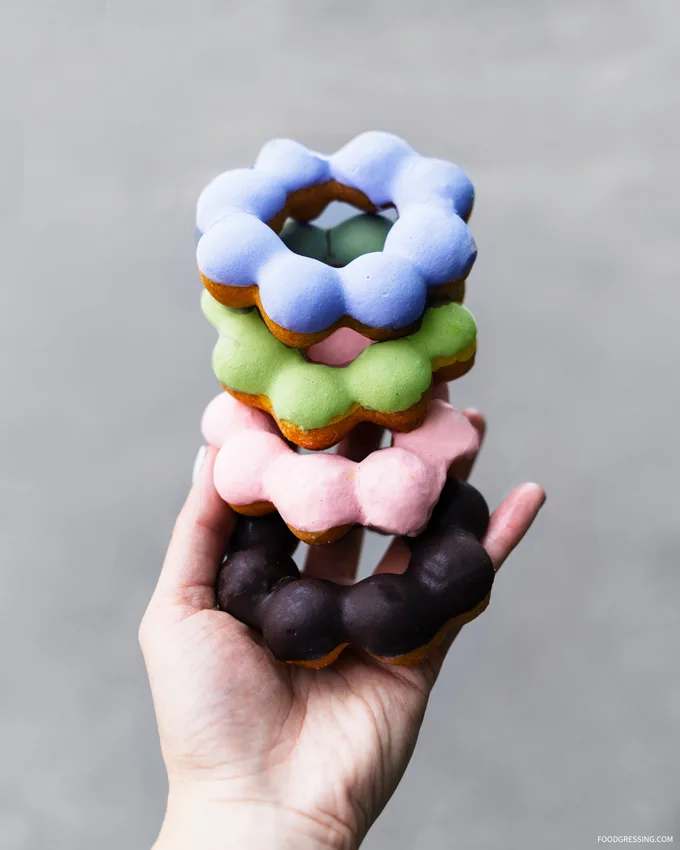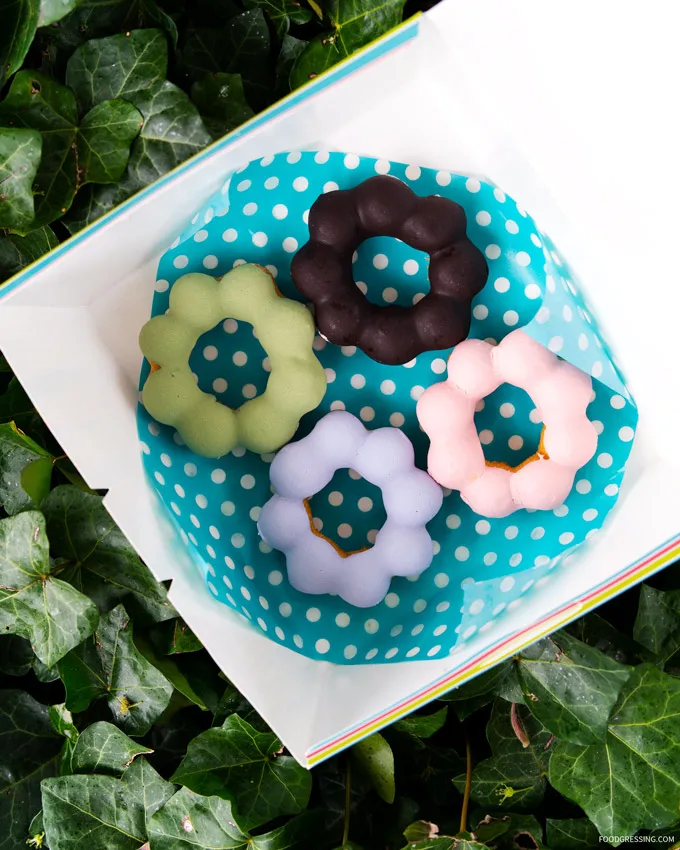 Overall Impression
Asaka Ramen/TMix presents as a unique eatery where you can enjoy a hearty bowl of ramen and followup with a gourmet desserts. With the extensive menu, I'd be interested in revisiting in the future to try different combinations.
---
Asaka Ramen and TMix Bubble Tea & Dessert Bar
2780 No 3 Rd, Richmond, BC
www.asakaramen.com/