During our wine tasting day trip to Napa via Grayline (see recap here), we had some leisure time in the charming town of Yountville.  David, his friend William, and I went for a casual brunch at Thomas Keller's Ad Hoc Restaurant.  While Thomas Keller has three restaurants in Yountville, Ad Hoc is the most casual (though not Michelin starred) and serves American, family-style comfort food.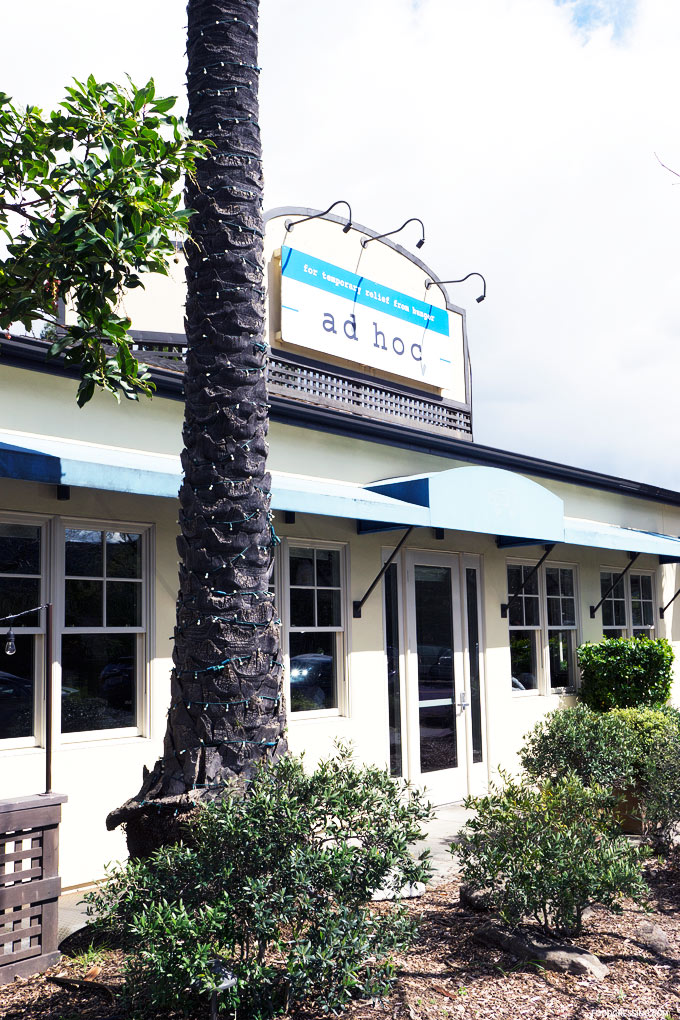 Note:  None of the food in this review were complimentary.  Opinions are my own.
David had recommended the place as he already owned Thomas Kellar's cookbook (circa 2009) entitled "Ad Hoc at Home: Family-Style Recipes."  It was sort of full circle to finally be able to experience the restaurant in person.  Walking into the restaurant, I immediately spotted the cookbook in one of the corners.  For anyone who is interested, it is available on Amazon (disclosure: affiliate link – here.)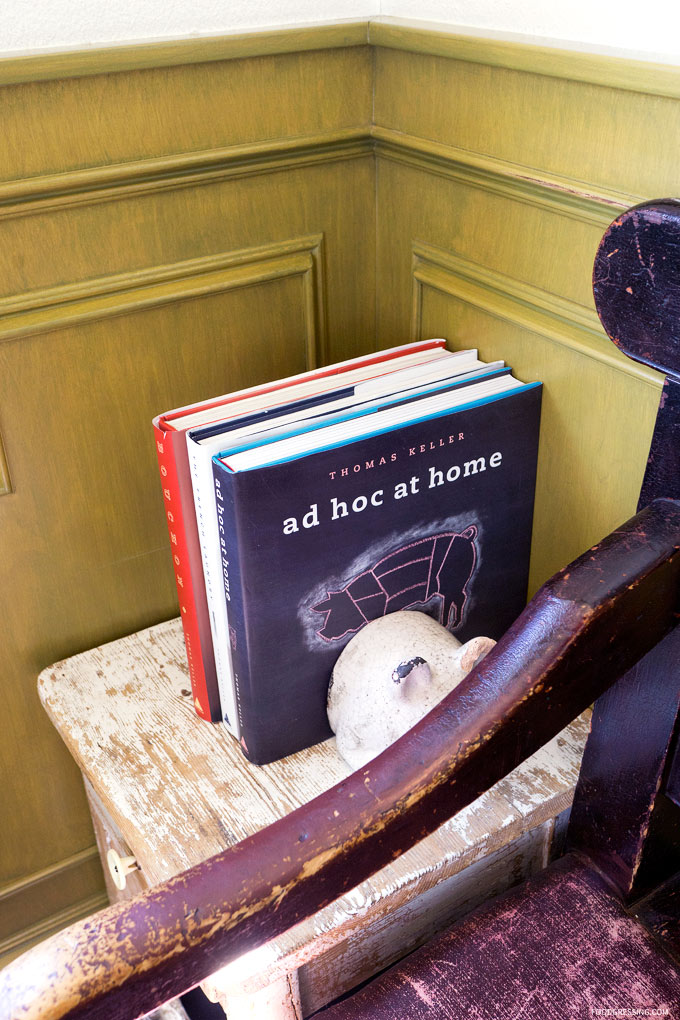 Temporary Cafe
Thomas Keller opened Ad Hoc in 2006 and it was initially meant to be "ad hoc" – that is, a temporary cafe while he prepared his new restaurant for the space.  At that time, they were only serving a nightly single four-course prix-fixe dinner.  Due to the success of the concept with locals and tourists, Ad Hoc became a permanent establishment serving family-style, casual American comfort food as a set menu.  Dinner is four-course while brunch is three.  They are best known for their fried chicken, pot roast and barbeques.  The restaurant is open for dinner five nights a week as well as Sunday brunch.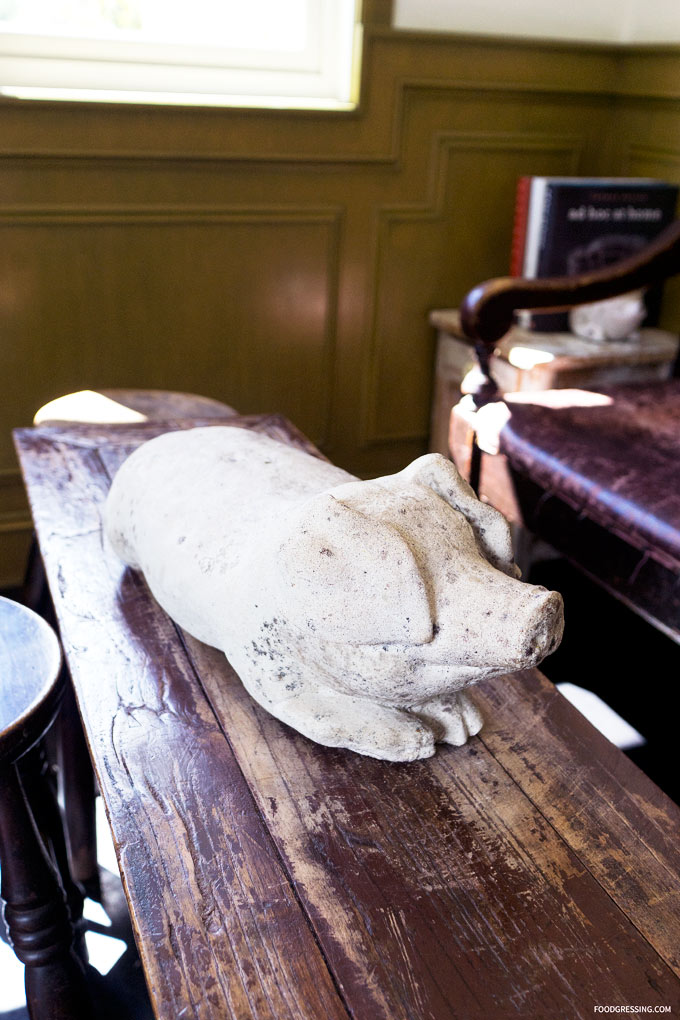 Casual & Relaxing
Coming in for Sunday brunch, I noticed the relaxed and casual atmosphere at Ad Hoc.  The interior is minimal but bright and inviting.  I enjoyed the large, bright windows overlooking Washington Street.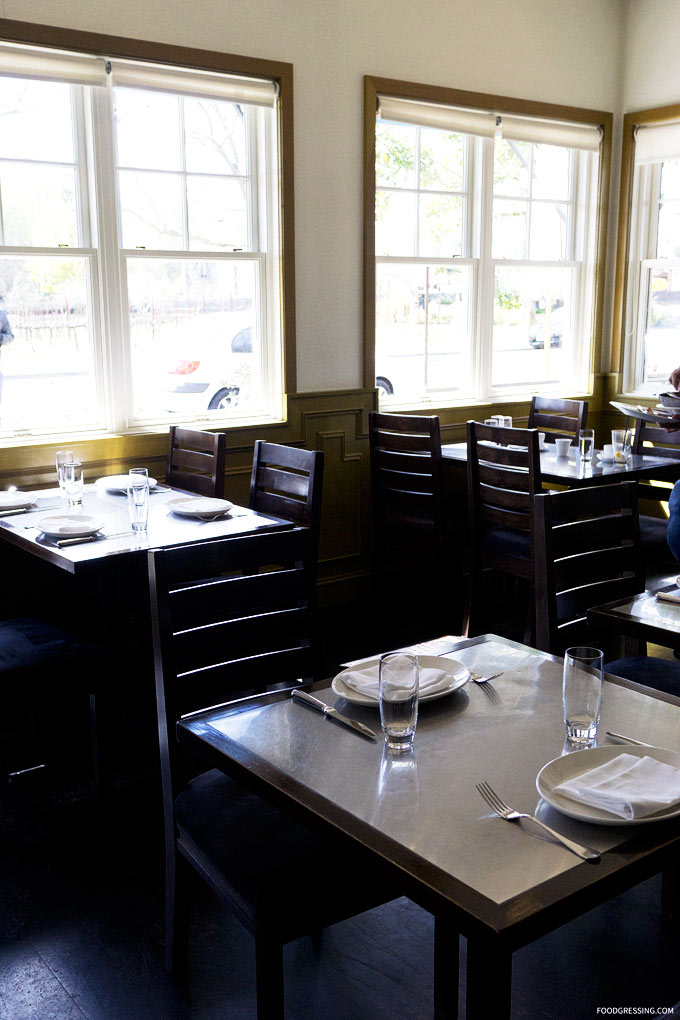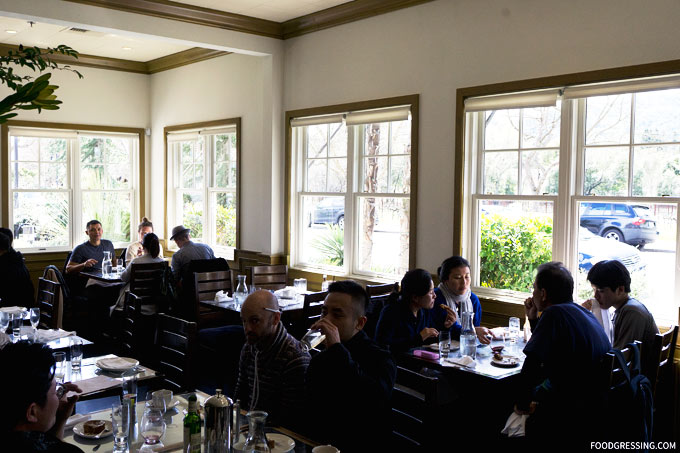 We opted to sit outside on the patio where heated lamps are available.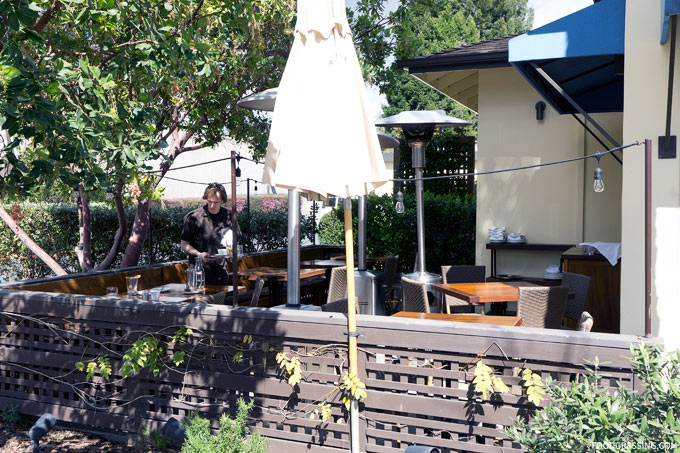 Ad Hoc Fried Chicken Schedule
Ad Hoc is famous for their buttermilk chicken and they serve it every other Monday night, and every other Sunday brunch. The Sundays where they don't serve the fried chicken, they will serve it the Monday the day after, and vice versa.  I didn't do my research ahead of time and didn't realize that the buttermilk chicken is not a regular item until we were at the restaurant.  You should also check the menu on the Ad Hoc website where they post the daily menu at 9 am.
A good alternative is to order the chicken via takeout.  It's available Thursday – Saturday 11:00 a.m. – 2:00 p.m as family, serving boxed lunches to-go.  For $17.50, guests have a choice of either the buttermilk fried chicken or barbeque pork ribs or pulled pork sandwich, each accompanied by two house-made sides.
What We Tried
Our $35 prix-fixe Sunday brunch featured three courses.  As we were already in wine country and doing wine tasting, I liked how they didn't push the wine menu.  The feature drinks on the menu were an ad hoc Bloody Mary or Chandon Mimosa ($14).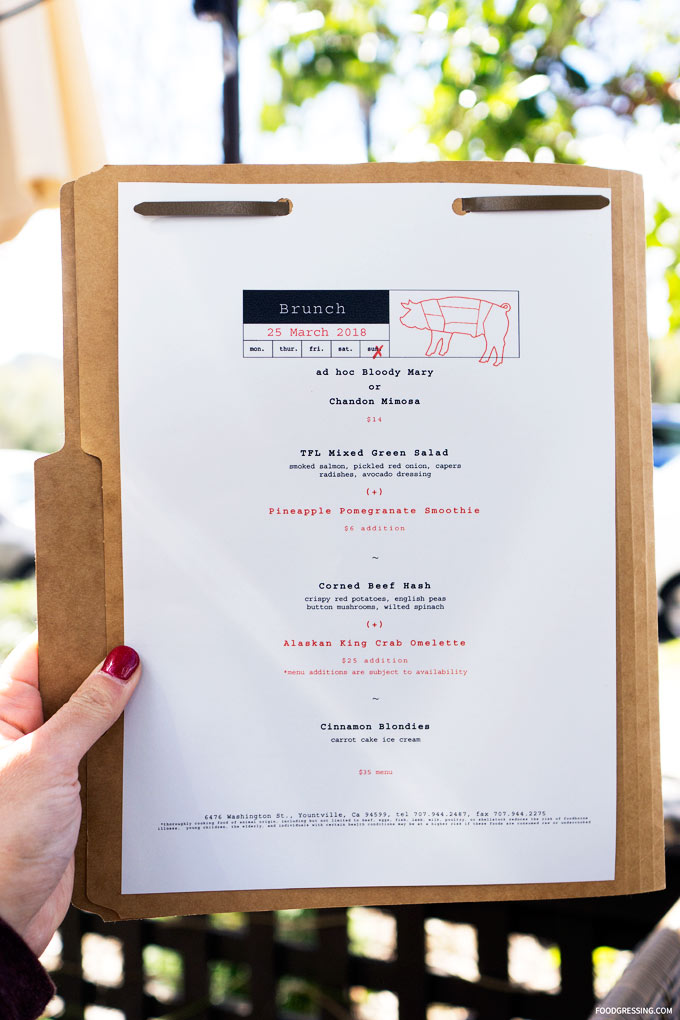 First course: TFL Mixed Green Salad
The first course was a mixed green salad with greens from The French Laundry garden.  It was an ultra-refreshing salad loaded with flavours featuring smoked salmon, pickled red onion, capers, radishes and a wonderfully creamy avocado dressing.  While we didn't make it The French Laundry restaurant on this trip, I'm excited to have tried some of the ingredients grown in their garden.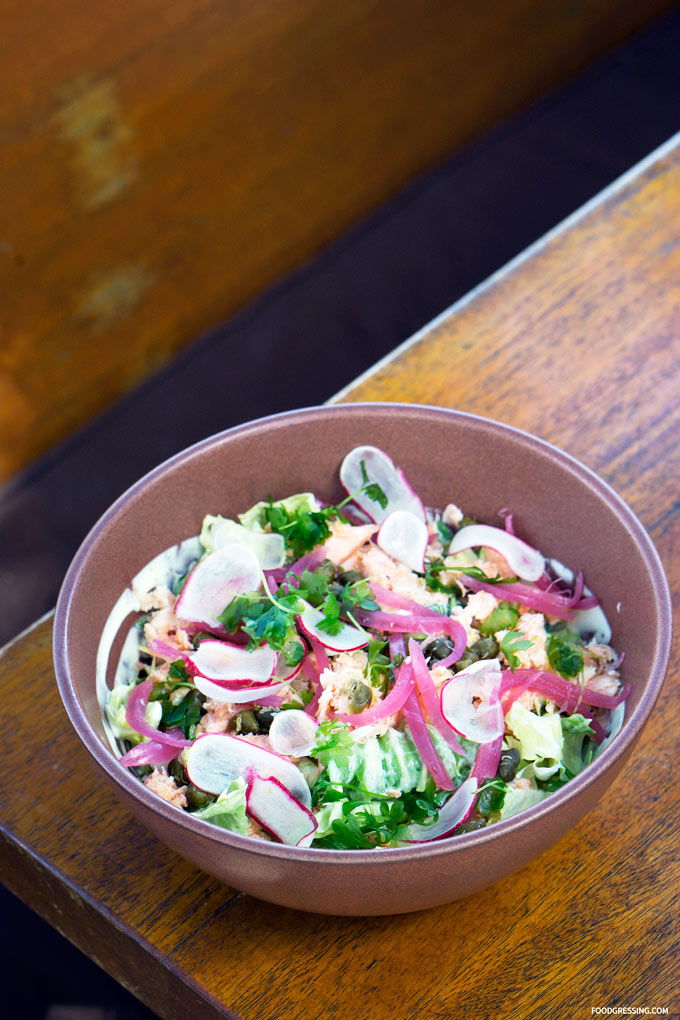 Second Course: Corned Beef Hash
Served in a stainless steel platter was the Corned Beef Hash with crispy red potatoes, English peas, button mushrooms and wilted spinach.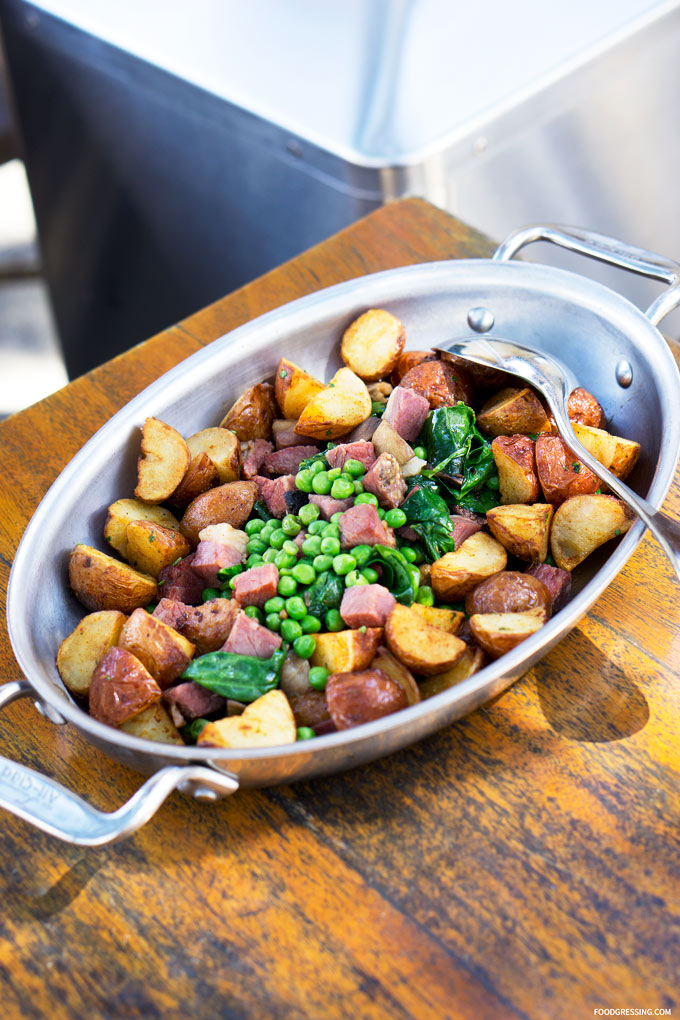 The corned beef hash was truly fantastic – tender, flavourful and a bit briny.  Here's a close-up shot of a piece.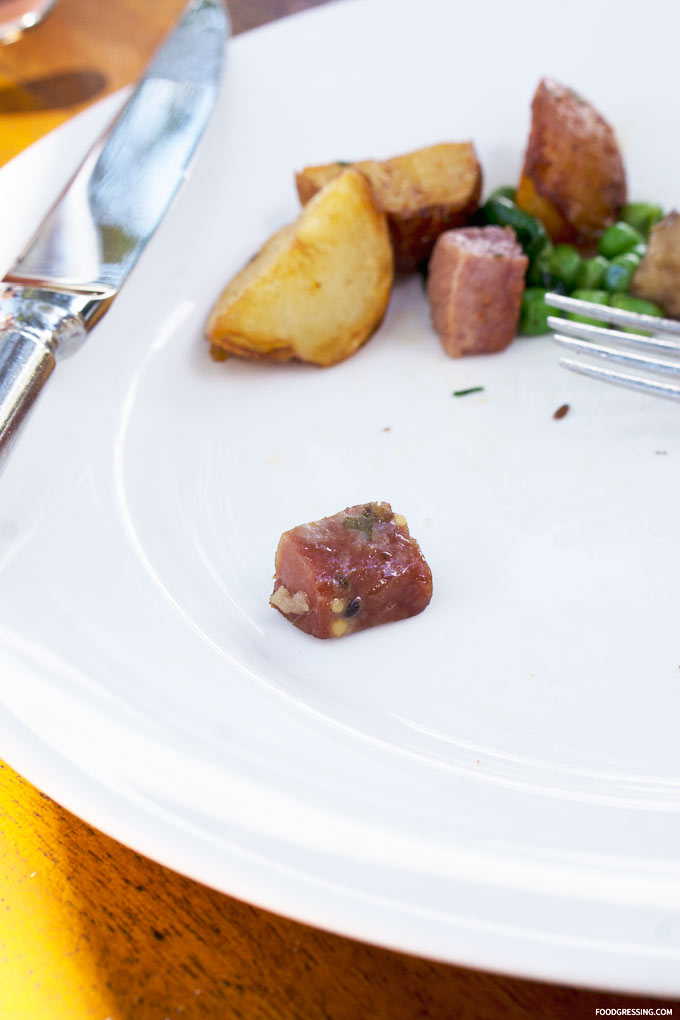 I did notice the large proportion of potatoes given; this made sense as this was American comfort fare.  The English peas were especially good being very fresh and juicy.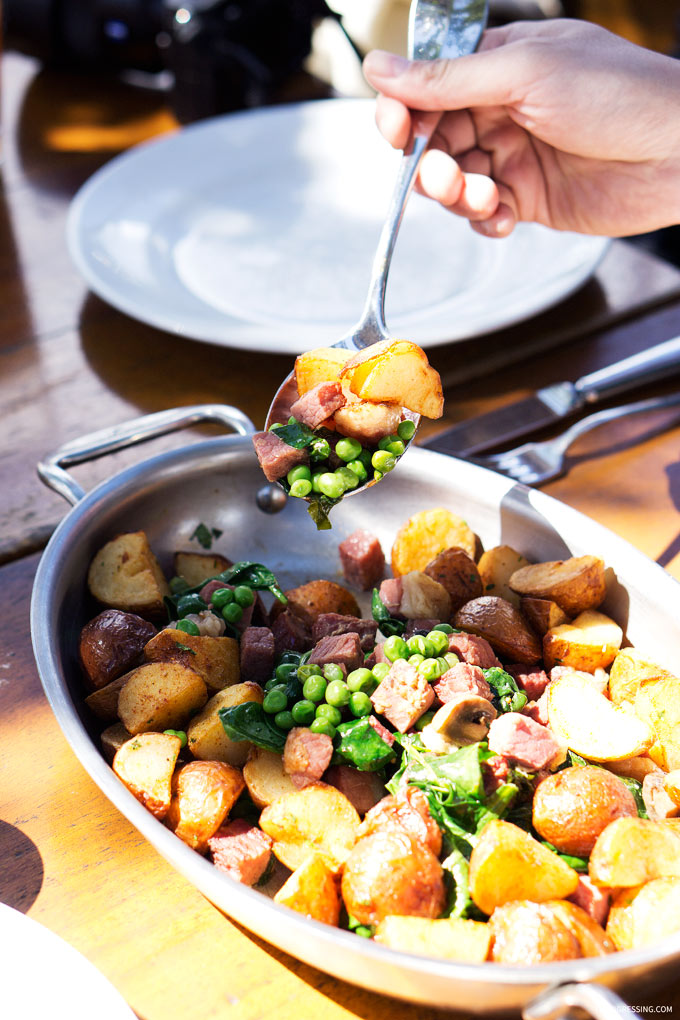 Final Course: Cinnamon Blondie
For dessert, we had a cinnamon blondie topped with carrot cake ice cream.  I found the blondie a bit harder than I would like.  It was an okay dessert but the two previous courses appealed to me more.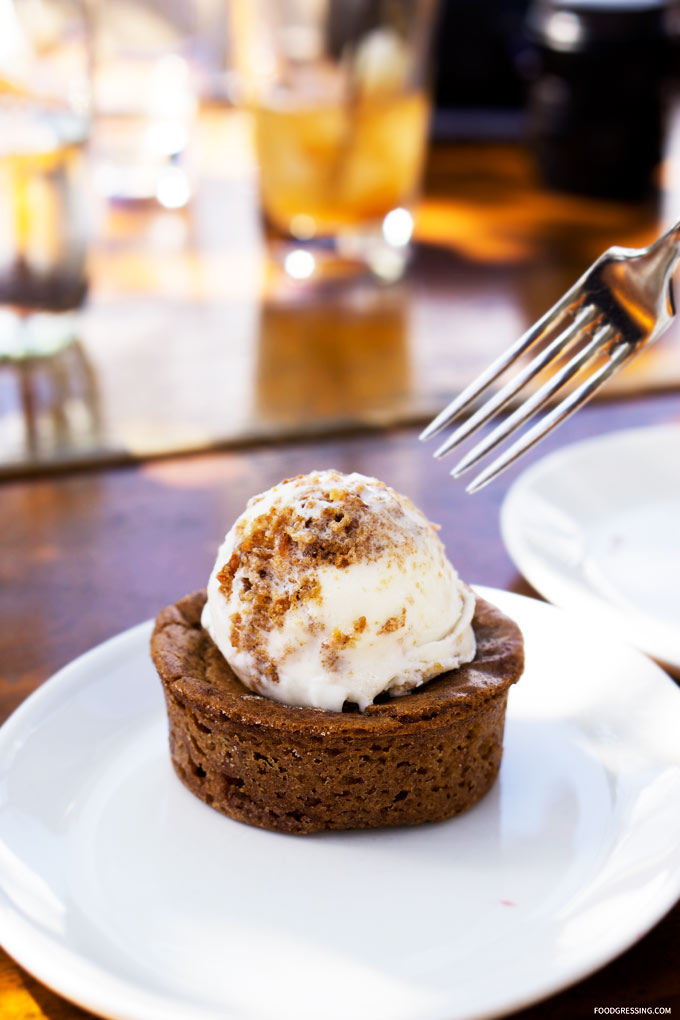 Service
I thought service was pretty attentive considering we were sitting outdoors on the patio.  As mentioned above, I was disappointed that the buttermilk fried chicken wasn't available so our server did mention that he could try to get us a seat at their sister restaurant, Bouchon.  I think this must happen often that customers come in from fried chicken and there is none.
The only issue I had was that he didn't know how to process my credit card correctly.  He said it was declined after he swiped it to which I was incredulous as I had spent even more money the previous night at Saison.  I asked him to insert the card with the pin to which the card worked.  I was rather annoyed nevertheless.
Overall Impression of Ad Hoc Restaurant
I thought that the three course-brunch at Ad Hoc nicely showcased a very simple, casual yet delicious American-style fare.   I personally don't have a strong desire to revisit as I would like to try Thomas Keller's other restaurants in Yountville first.  The dessert wasn't really my favourite but I really enjoyed the salad and corned beef hash.  Rating: 3.5/5
Ad Hoc Restaurant
Address: 6476 Washington St, Yountville, CA
Website: ‎/www.thomaskeller.com/adhoc