Do you believe in chocolate for breakfast? If you do, you'll be happy to know that Canada's largest dairy cooperative has just what you need to make a delicious, chocolatey yet nutritious breakfast.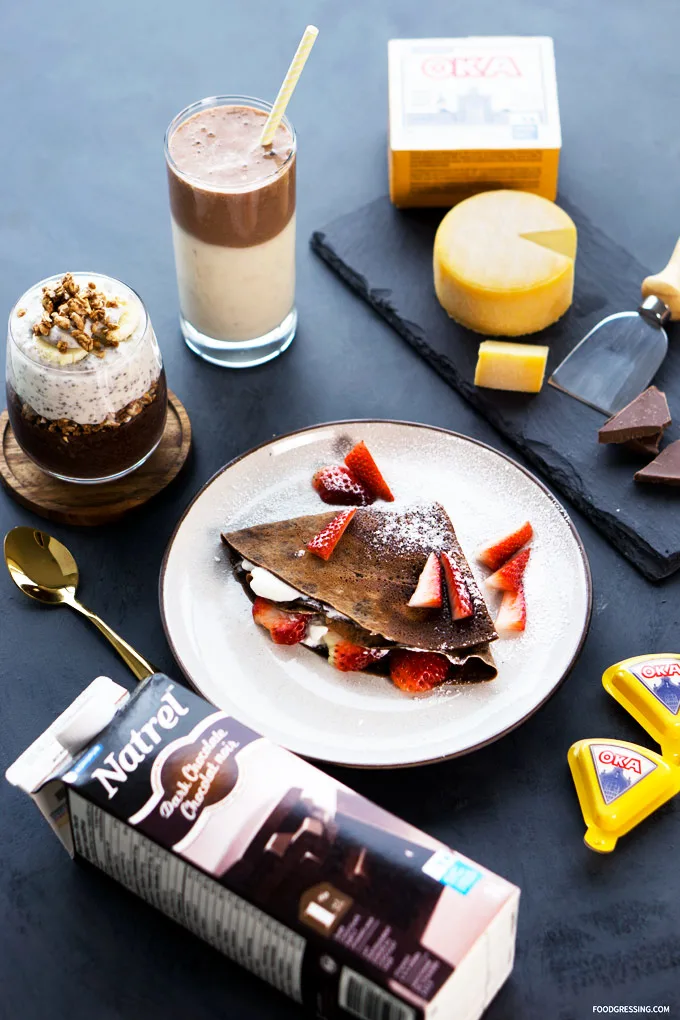 Disclosure: This is a sponsored post in collaboration with Agropur.
Some of my favourite chocolate for breakfast items can be made with Canadian dairy products by Agropur with their brands like Natrel, iögo and OKA. These include dark chocolate crêpes with brandy cream, a deluxe banana-chocolate chia pudding parfait, a chocolate-banana smoothie and an OKA cheese and chocolate pairing. Recipes and ideas can be found later in this post.
Supporting Canadian Economy
Agropur has been in the business of putting milk into the products you place on your family's table like yogurt, cheese, butter and cream since 1938. Did you know that when you purchase an Agropur product, you are supporting the Canadian economy? Here are a few fun facts: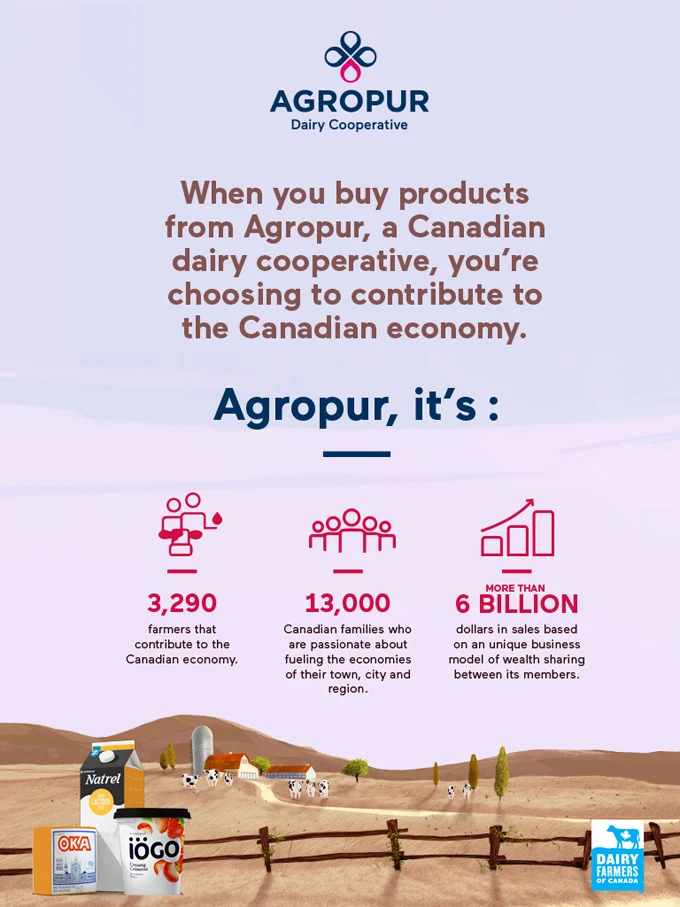 Supporting Canadian dairy farmers
Agropur takes pride in their principal product, milk, thanks to the hard work of Canadian dairy farmers. It is 100% Canadian, contains no antibiotics, or growth hormones.
Redistributing to producers
As the largest dairy cooperative in Canada, millions of dollars in dividends are distributed to its members who are also pillars of their community. With every purchase of an Agropur product, you're choosing to support 13,000 Canadian families who are passionate about fuelling the economies of their town, city and region.
Contributing to the Canadian economy
Agropur has generated more than six billion dollars in sales and is a key driver in the Canadian economy. When you buy an Agropur product, you're helping to contribute to the economic growth of our country.
Dark Chocolate Crêpes with Brandy Cream
Crepes are one of my favourite breakfast items; they're simple to make and delicious. But to take the crepes to the next level, I love adding chocolate and Natrel has a selection of flavoured chocolate milk products to help me add some chocolatey goodness to these crepes. For this recipe, I used the Natrel Dark Chocolate Milk which is made with fresh 1% milk and real dark chocolate, giving these breakfast crepes a rich and slightly bitter taste.
Did you know that Natrel also produces a range of lactose-free dairy products? For the crepes, I used the Natrel Lactose Free 35% Whipping Cream. For the full recipe, visit here.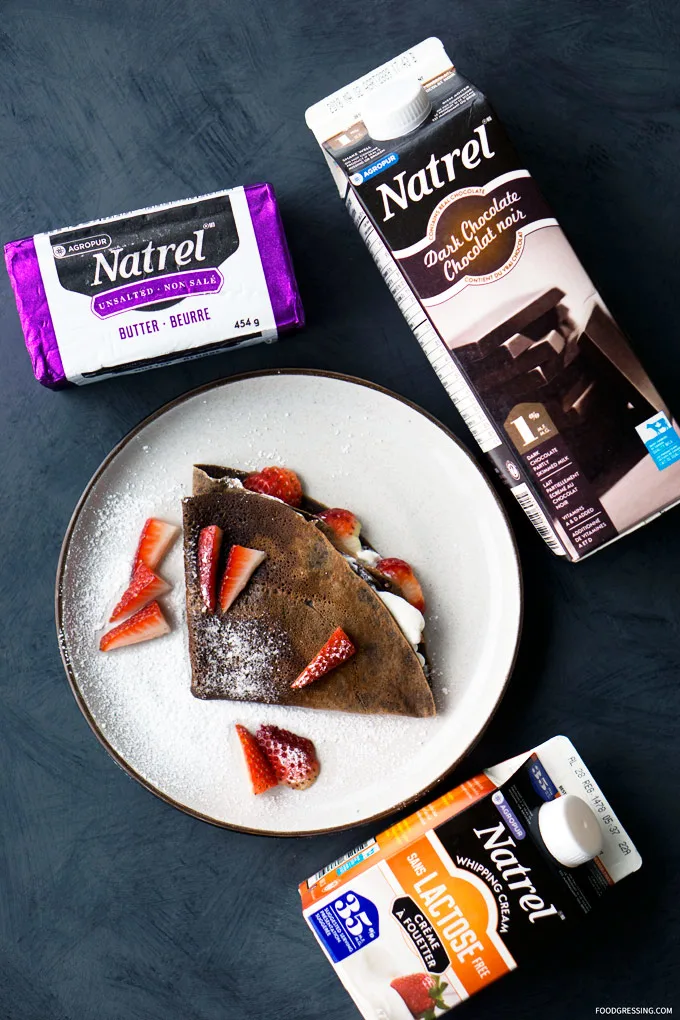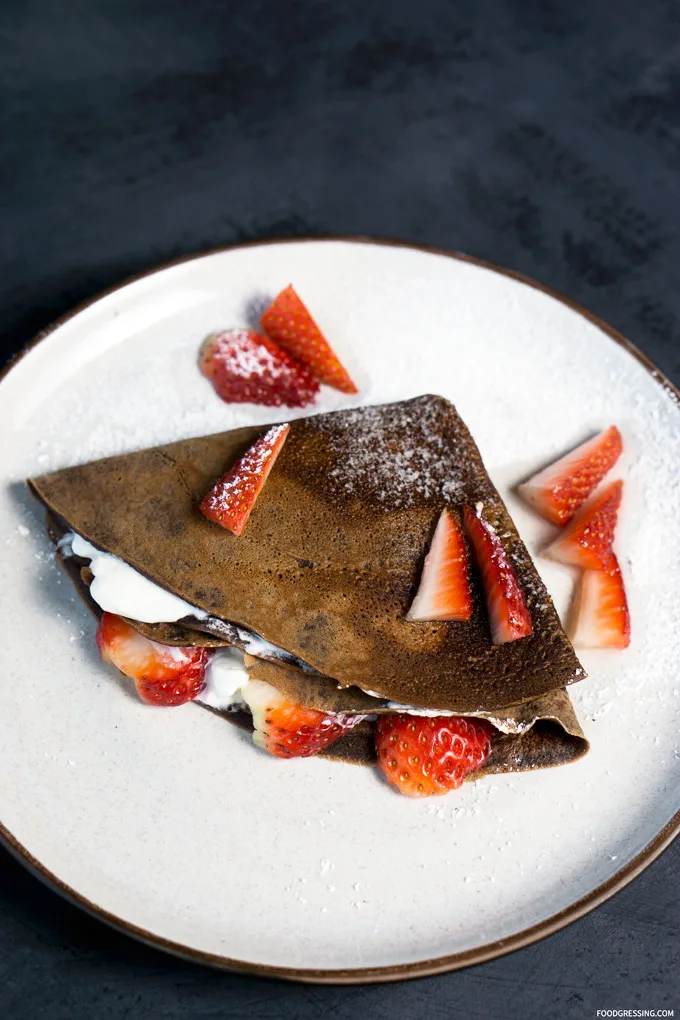 Deluxe banana-chocolate chia pudding parfait
If I'm wanting more of a super-food breakfast to jumpstart my day, I would make a chia pudding parfait. Chia seeds are nutrient-dense but choosing the right type of yogurt for the pudding can also give you a nutritious boost.
iögo has many yogurt varieties that can be incorporated into a parfait, but I went with one of their healthiest options: the Probio Immuni-T Vanilla. The Probio Immuni-T yogurts have one billion probiotics per 100 g contributing to a healthy digestive tract flora and is fortified in vitamin A to support the normal function of the immune system.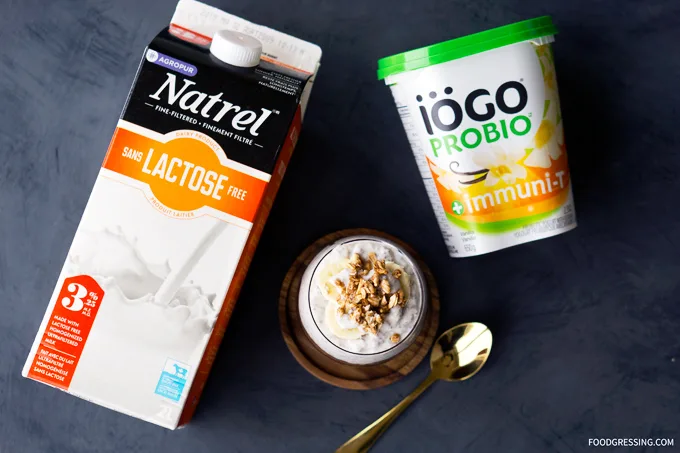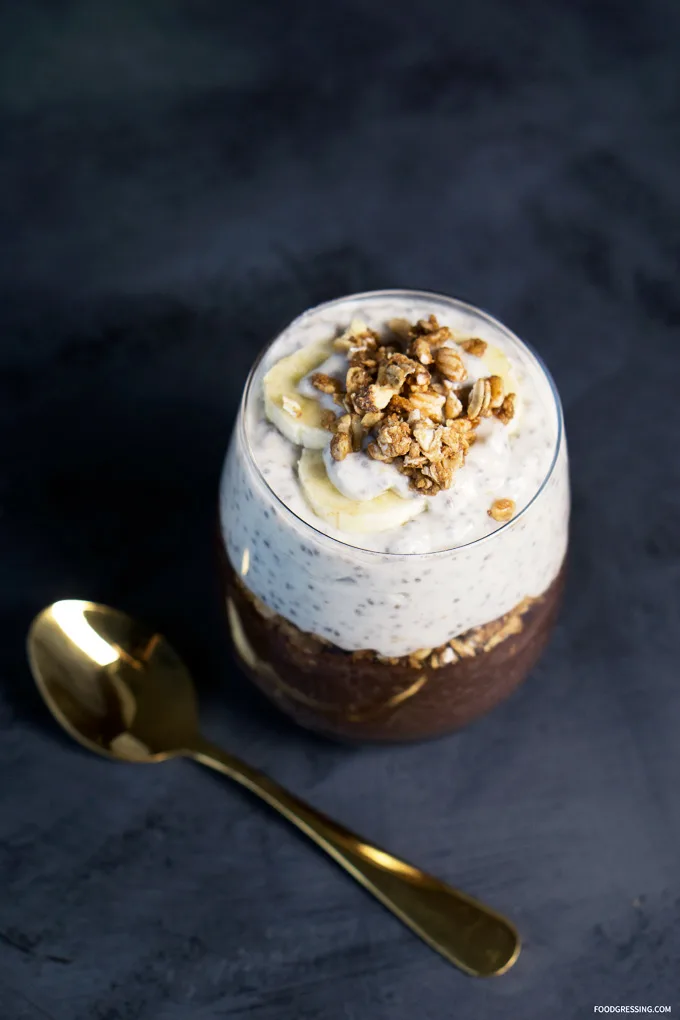 Banana Chocolate Smoothie
In a busy weekday rush, I sometimes like the idea of drinking my breakfast. That's where a smoothie comes in and banana chocolate is a classic combination. For a really "smooth" smoothie, I recommend the Creamy line from iögo. The Creamy yogurt comes in a unique format – a resealable pouch – that can be easily poured. No artificial colours, flavours or preservative; gluten-free and made with vitamin D fortified milk.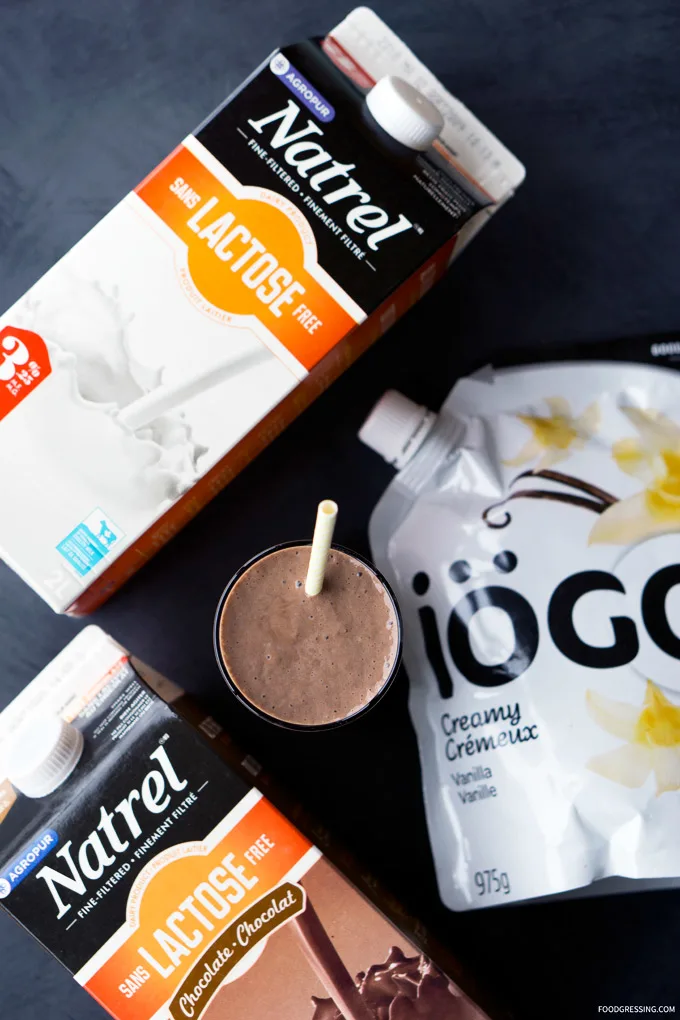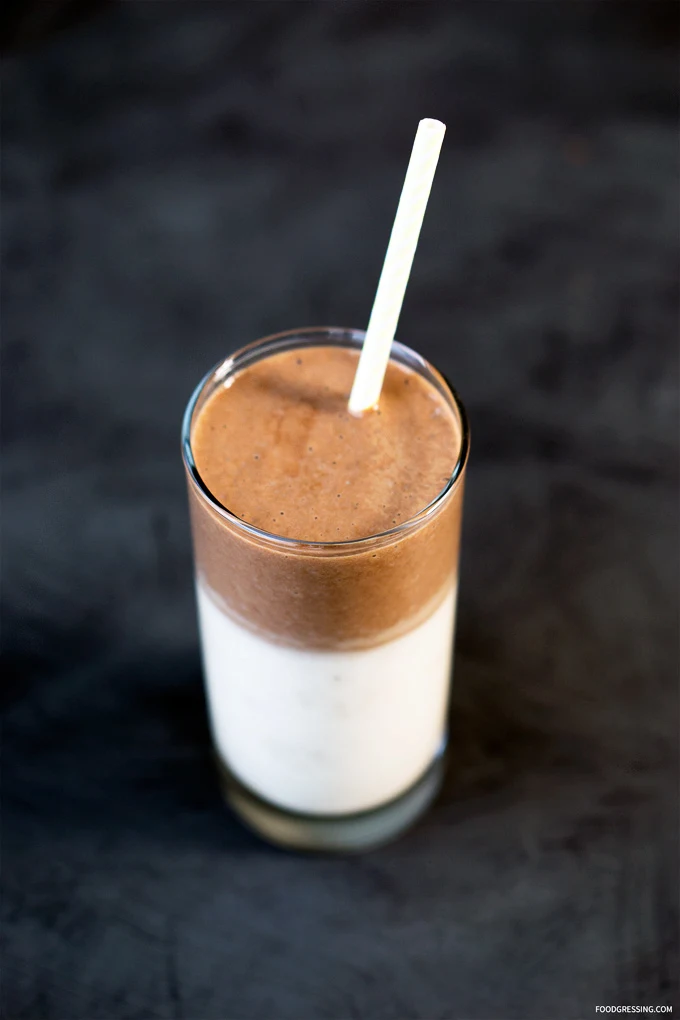 OKA Cheese
When cheese and chocolate come together, you get an unexpected and delicious pairing. OKA has a unique buttery flavour and a subtle aroma that goes well with chocolate. I enjoy OKA as a snack (and chocolate pairing); it also comes in individual portions which is a great for to-go.
OKA has been made for 125 years in the Quebec village of Oka, from a secret recipe handed down by the Trappist monks of the Oka Abbey. Today, Agropur still produces OKA cheese in accordance with the original recipe.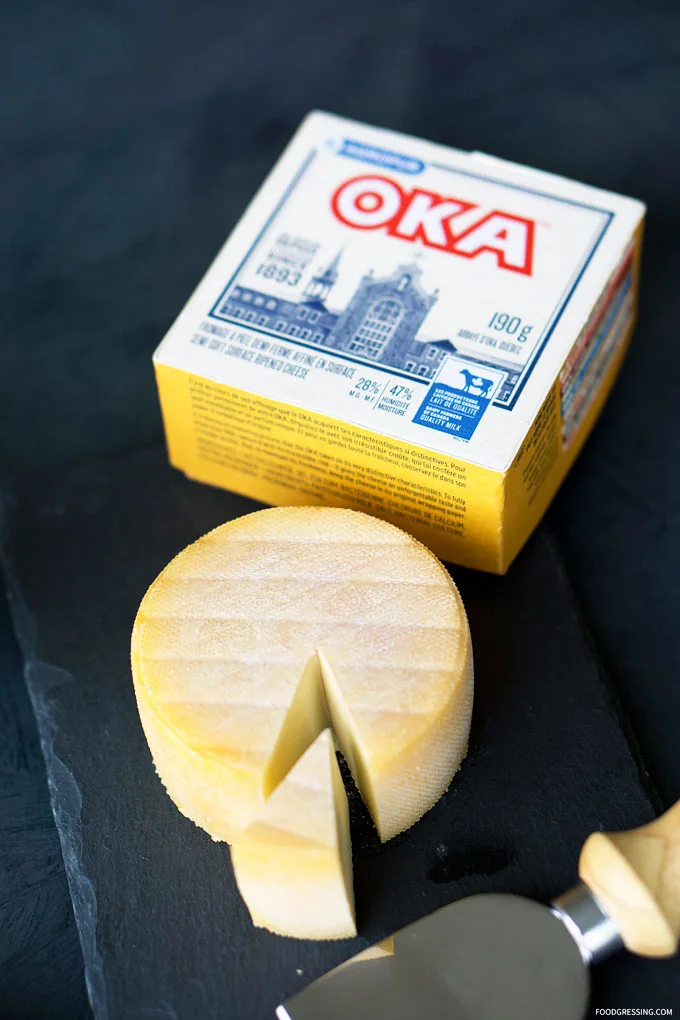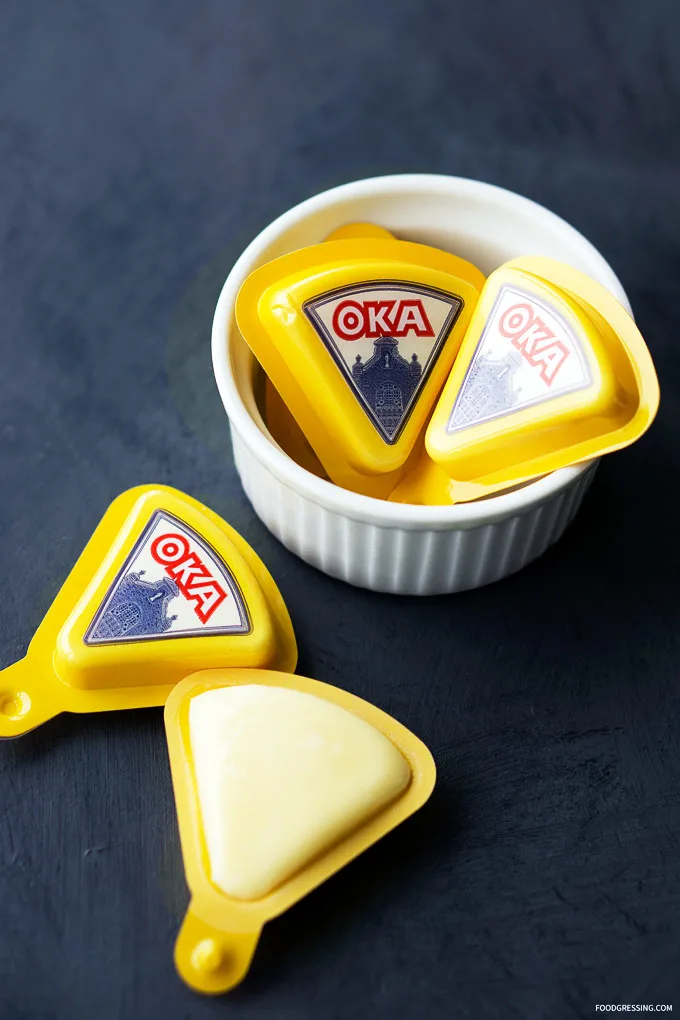 Do you have any more ideas on chocolate for breakfast? Let me know in the comments below!
To find out more about Agropur and their brands, visit www.agropurpride.com/pride/