Disclaimer: I was invited for a complimentary meal at Zeitoon Restaurant. All opinions are my own.
Persian eatery Zeitoon has food so authentic that it has been described as good as grandmother's cooking back home. Zeitoon's menu of traditional Persian fare includes hommus and yogurt dips to start, homemade stews and soups, kabob entrees with basmati rice and saffron and decadent Persian sweets to finish off. I was invited to Zeitoon Restaurant for an authentic Persian dining experience where I tried several dishes at their Downtown Vancouver location (the other is in North Vancouver).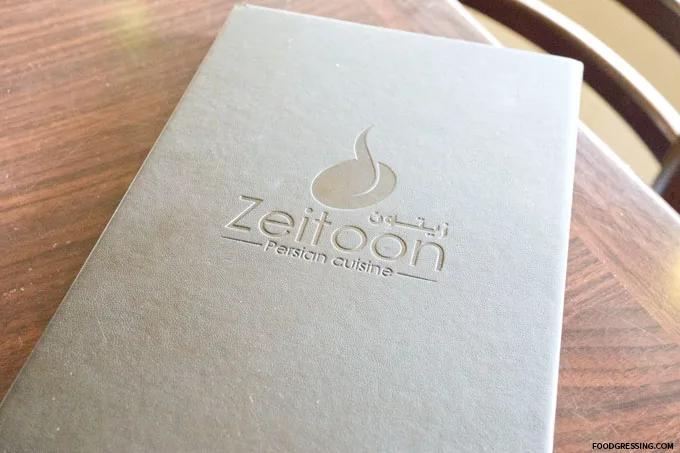 Starters
To start, I was presented with several popular Persian appetizers to try along with traditional sangak sesame bread and pita bread. First was the kashk bademjan, a blend of mashed deep fried eggplant, kashk (whey), caramelized onions, garlic and mint. Eggplant is one of my favourite vegetables and this dip was downright delicious. It had a slightly sour taste and was wonderfully creamy.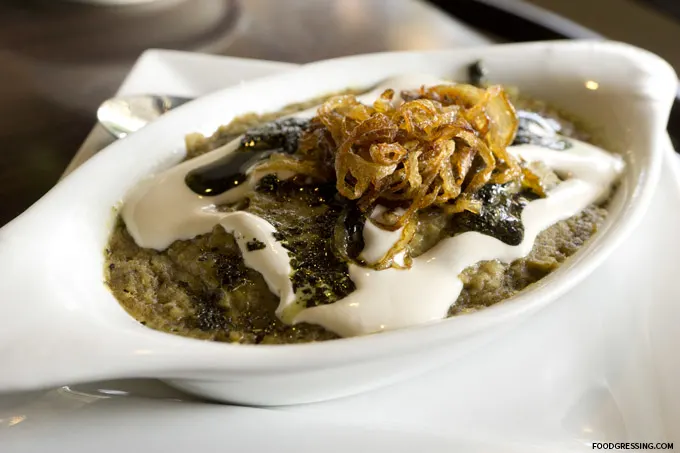 I also tried two other yogurt dips: garlic shallot (mast moosir) and the cucumber and mint (mast kihar). The latter was more light and refreshing, but both went well with the bread. After trying both types of bread, I would go for the traditional sangak sesame bread rather than the pita. It is thin and light and has a fun texture from the sesame seeds.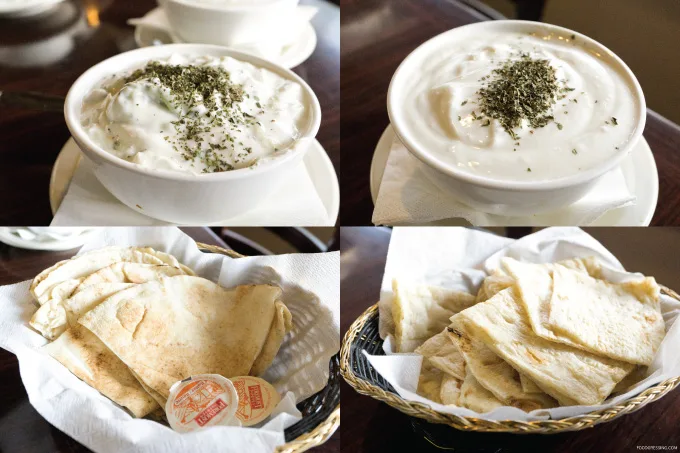 The zeitoon parvardeh was another beloved Persian appetizer that I had. It had a very strong flavour and was made of marinated olives, walnuts, and herbs.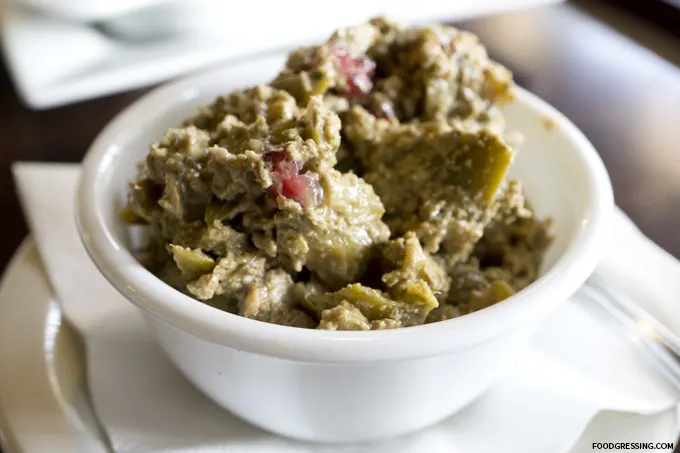 The shirazi salad was colorful, juicy and bursting with lemon flavour. It had diced cucumbers, tomatoes, onions, fresh parsley, and lemon dressing.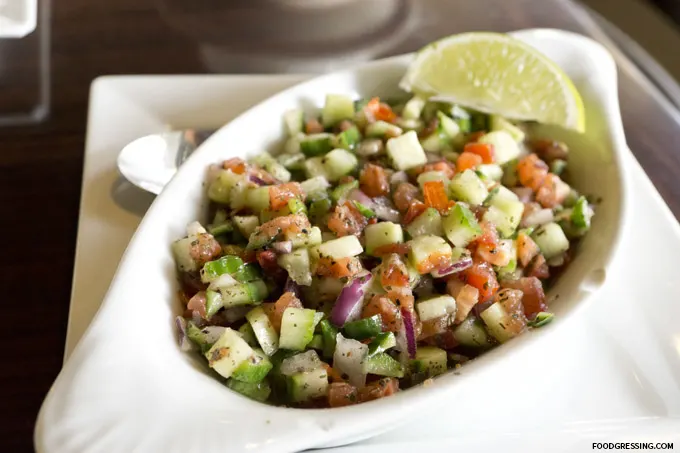 The doogh, which is a traditional yogurt and mint drink, had the most unexpected taste. It had a creamy texture but the overall taste was very sour and tough on my foreign palate. I believe that is the authentic taste for doogh, but one that is to be acquired.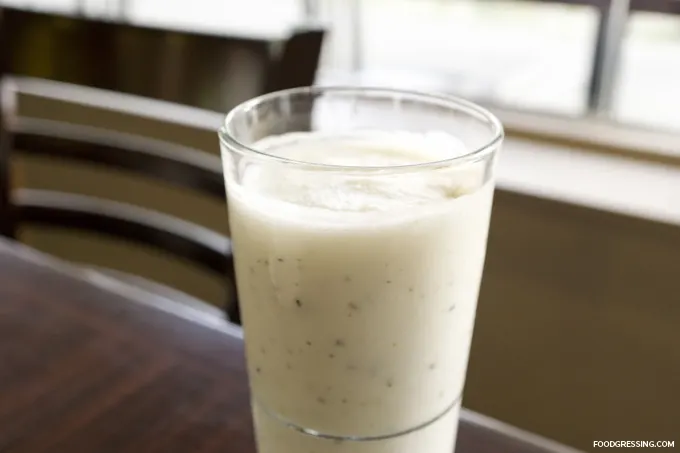 Kabob Entrees
For my main, I had the shishlik rack of lamb and one skewer of the koobideh ground beef served with basmati rice topped with saffron and a grilled tomato. The lamb chops were a bit tough though well-seasoned with a smoky and earthy flavour. The koobideh ground beef was absolutely delicious. It was tender and deliciously seasoned and had a charbroiled flavour.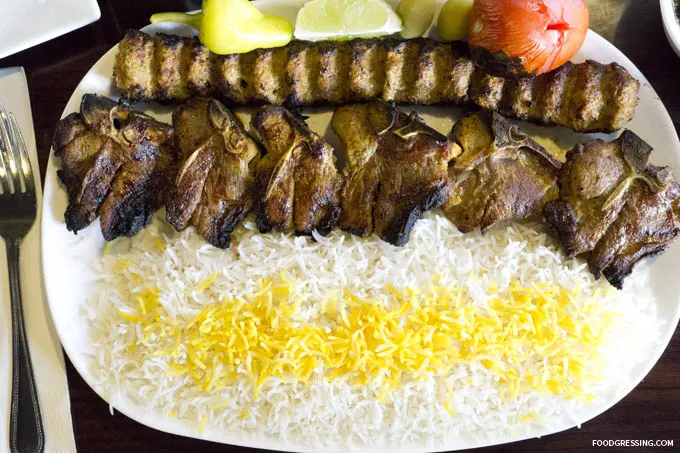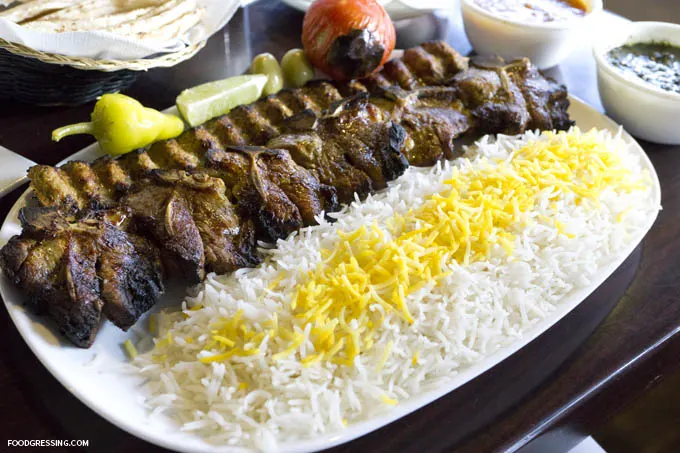 I also sampled two of Zeitoon's stews. The ghormeh sabzi stew consisted of beef chunks, sauteed vegetables, dried limes and red kidney beans.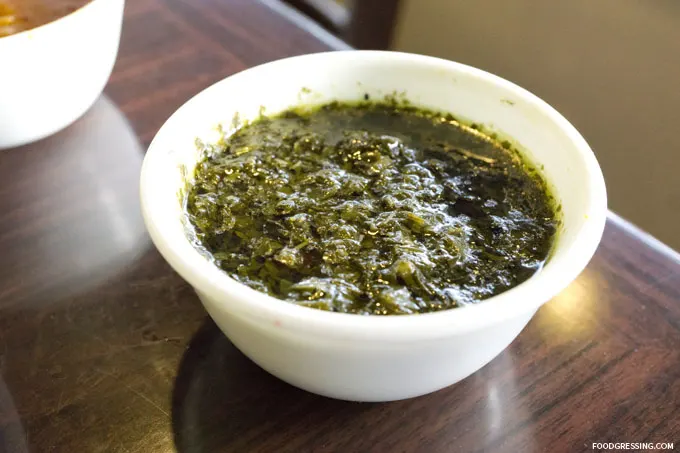 The gheimeh stew had beef chunks, split peas and traditional tomato sauce. Both were deliciously savoury and loaded with lots of herbal flavour.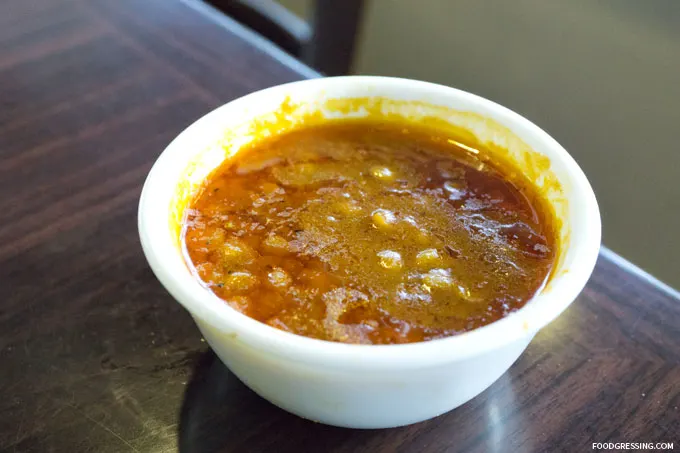 Decadent Dessert
To finish off, I was treated to the baklava, a multi-layered phyllo pastry filled with nuts and honey. The baklava went well with a hot cup of Persian Tea. I would recommend this dessert combination which offered a wonderful sweet contrast to the flavours from the other dishes.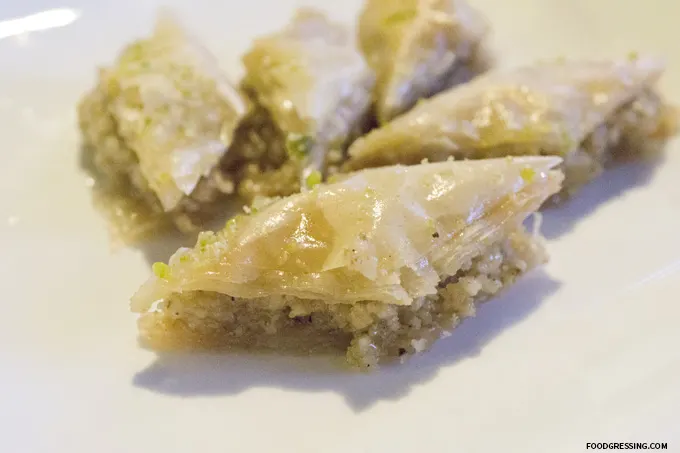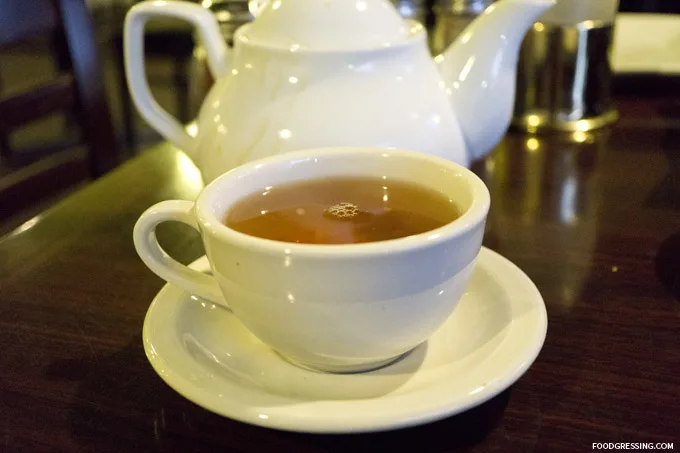 Overall Impression

Zeitoon offers a variety of dishes for an authentic Persian dining experience. The highlights of my meal and dishes that I would recommend include the kashk bademjan, traditional sangak sesame bread, shishlik rack of lamb, koobideh ground beef and baklava paired with Persian tea. The portions andquality of the food were good for the price. I noticed that Zeitoon is also very *popular* with take-out, which means you can also enjoy these Persian eats on-the-go. The restaurant is very busy with dine-in customers and take-out from what I can tell, so service can be limited. Rating: 4/5
Website: www.zeitoonrestaurant.ca