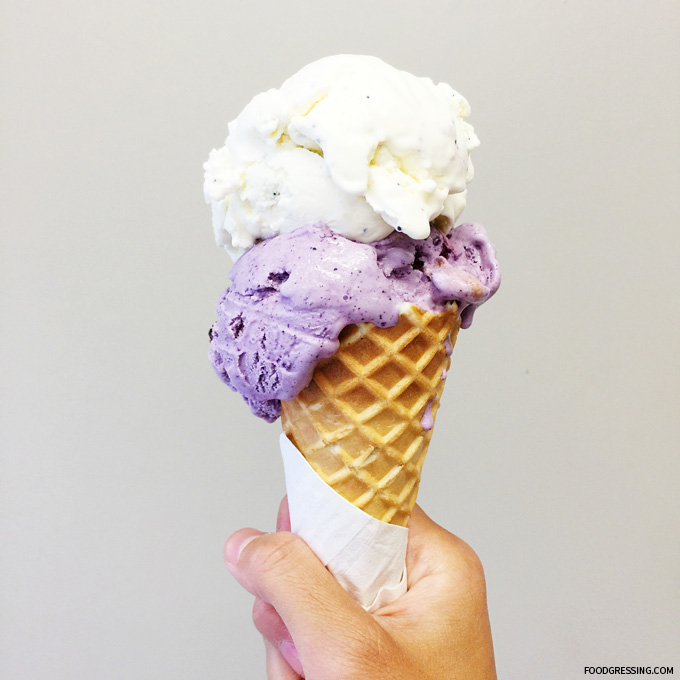 There is no stopping to Vancouver's soft-serve craze.  Rooster's Ice Cream Bar opened its doors just over a month ago in East Vancouver.  Founded by three friends who shared a love for ice cream, Rooster's features homemade ice cream using fresh local ingredients and crafted in a small batch, artisan process.  I heard about this new ice cream parlour and their colourful soft-serves through Vancity Buzz.  A few days ago, I ventured to Rooster's Ice Cream with my husband and son to beat the heat on a warm summer evening.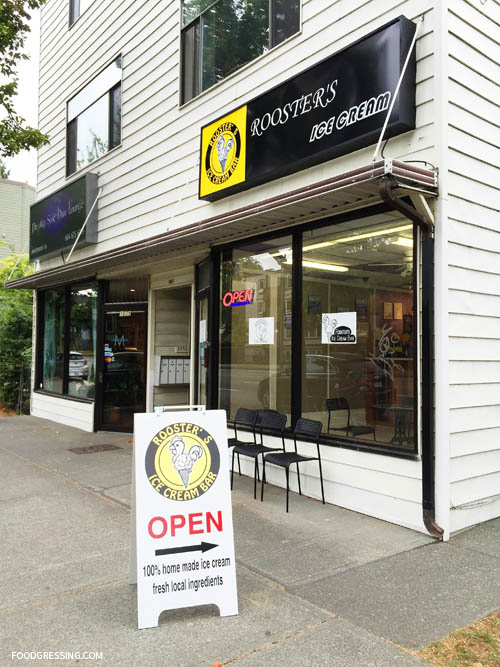 Rooster's Ice Cream Menu
Rooster's makes ice cream right inside their shop with tempting flavours like So-good Caramel & Sea Salt, Rockstar Whisky & Hazelnut, Prince's London Fog, Lime & Organic Lavender and Blueberry & Balsamic.  They also offer a few vegan flavours including Coconut Fudge and Lime Vodka, Raspberry & Avocado.

The soft-serves come in a cup or cone and are available in a single scoop ($5), double scoop ($6) or kid's cone ($3.25).  They even have chocolate or strawberry sundaes for $6.  Rooster's currently has a promotional offer of $1 off a single scoop.  They currently do not have any toppings available.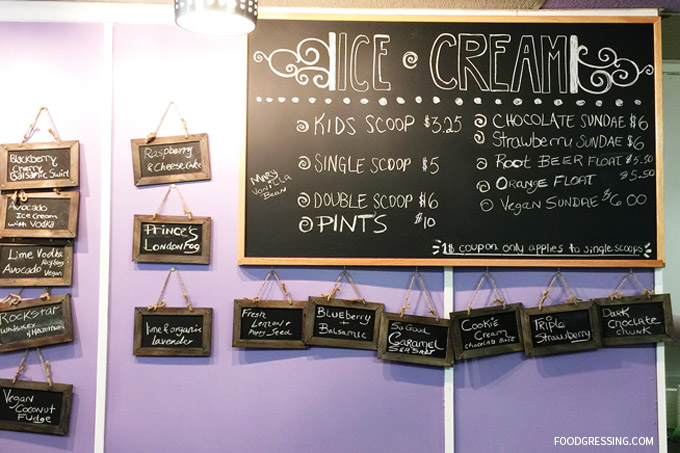 What We Tried

The staff at Rooster's were very friendly and not shy about getting us to sample the flavours.  We sampled five different soft-serves:  Blueberry & Balsamic, Blackberry, Cherry & Balsamic Swirl, Triple Strawberry, Fresh Lemon & Poppy Seed, and Lime Vodka, Raspberry and Avocado (vegan).  I found the texture of their soft-serve to be a bit on the harder side.
We settled on a double scoop of Blueberry & Balsamic and Fresh Lemon & Poppy Seed in a cone.  The Blueberry & Balsamic flavour was my favourite:  it was a nice fusion between sweetness of the blueberries and the acidity of balsamic vinegar.  The Fresh Lemon & Poppy Seed soft serve had a wonderful lemon flavour while the poppy seeds added a fun texture.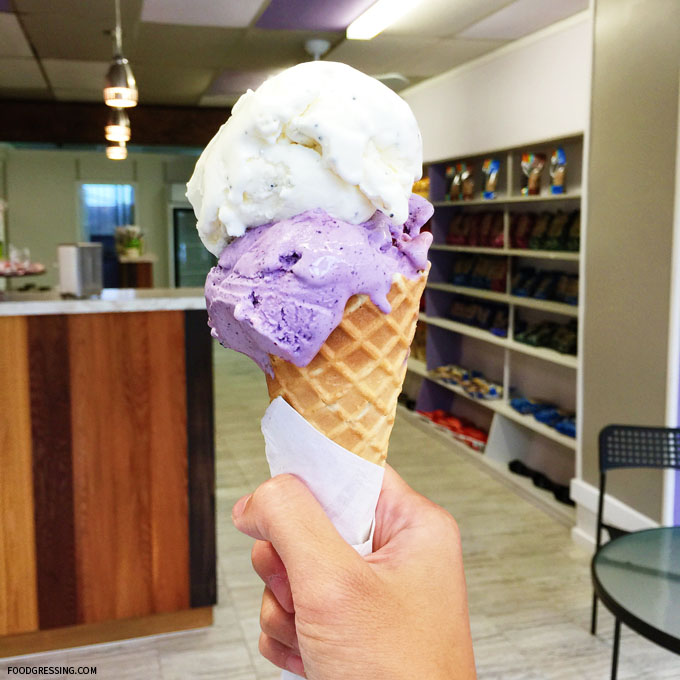 We also had a single scoop of Blackberry, Cherry & Balsamic Swirl.  It was dreamy.  I loved how the balsamic vinegar brought out the fruity flavours.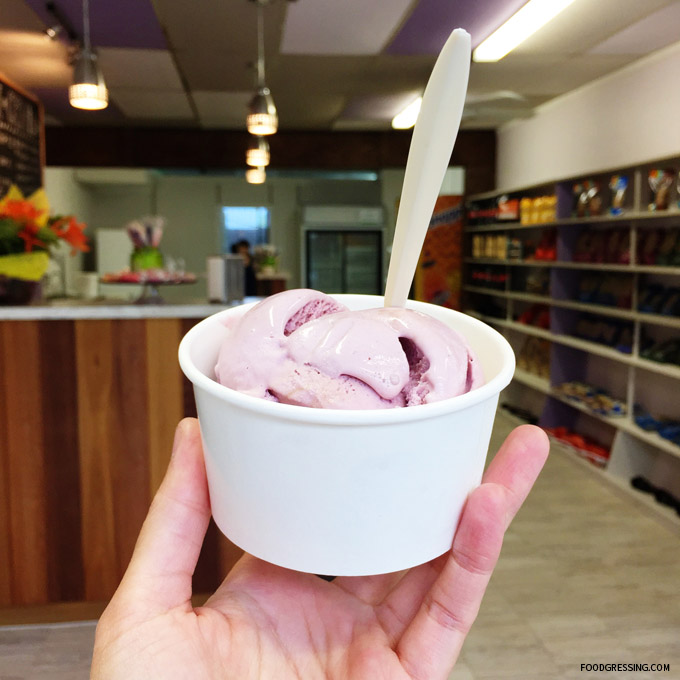 Soft-Serve with a Side of Snacks
Rooster's is located at 1039 East Broadway, just half a block from Vancouver Community College.  Their interior is quite bare with just a few simple dining tables and chairs.  One interesting thing is that they also sell some random snacks like Kind bars and Kettle chips.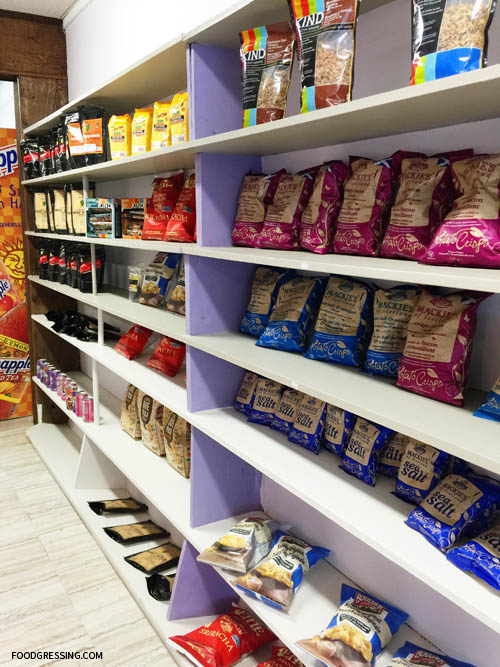 Overall Impression

My favourites from Rooster's Ice Cream Bar were the Blueberry & Balsamic and Blackberry, Cherry & Balsamic Swirl.  In terms of texture, Rooster's soft-serve is not as creamy as other places that I tried but still good.  The staff seemed humble and friendly and were eager to provide us with samples.  The shop's interior is simplistic so I got the impression that their focus was on delivering quality soft-serve.  Rating: 3.5/5
Address: 1039 East Broadway, Vancouver, BC
Website: www.roostersicecreambar.com
Facebook: www.facebook.com/roosterseastvan
Twitter: www.twitter.com/roosterseastvan

Instagram: www.instagram.com/roosterseastvan/