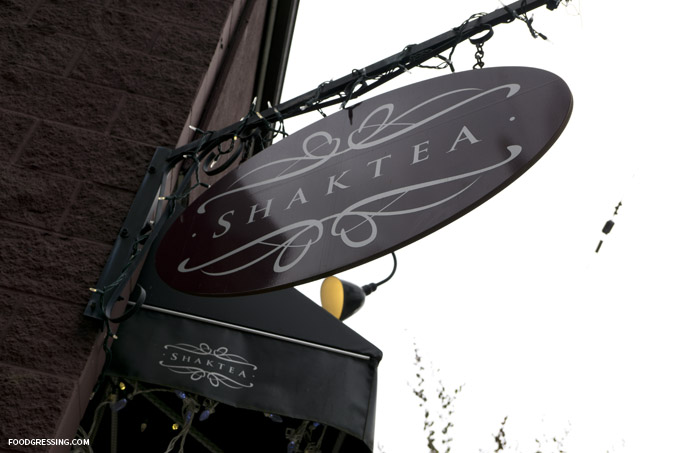 Afternoon tea is one of my all-time favourite foodie activities.  What could be better than enjoying delicious treats and a cup tea with good company?  When I saw the Social Shopper deal for afternoon tea at Shaktea, I immediately jumped on it.  The deal was $20 for an afternoon tea experience valued at $34 regularly.  Shaktea is located at 3702 Main Street in the Riley Park and Little Mountain area.  I set out for an afternoon tea experience at Shaktea with my husband on a late Friday afternoon.
Making Reservations
When I phoned Shaktea to make the afternoon tea reservation, I got their voicemail that mentioned sending in an e-mail to make the reservation.  Within the same day, one staff member called me on the phone to complete the reservation.  I appreciated how fast the response was and the staff member seemed friendly over the phone.
Shaktea Afternoon Tea Experience
When we walked into at Shaktea, I immediately sensed their laid-back and comfortable vibe.  We were greeted promptly and were allowed to sit anywhere we wanted.  It seemed like the kind of place where you could just spend an afternoon catching up a friend or getting lost in a book.
The tea menu had a good selection of green, rooibos, black, white, oolong and herbal varieties.  We were not offered any tea samples to smell which was a bit disappointing.  I chose the cream Earl Grey tea while my husband had a matcha latte (additional $0.50).  I thought it was cute that the teapot came with a knitted cozy.  The matcha latte was also served in a traditional matcha bowl.  You were allowed one tea pot refill.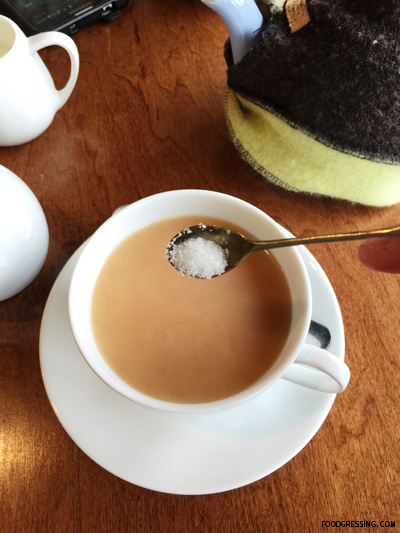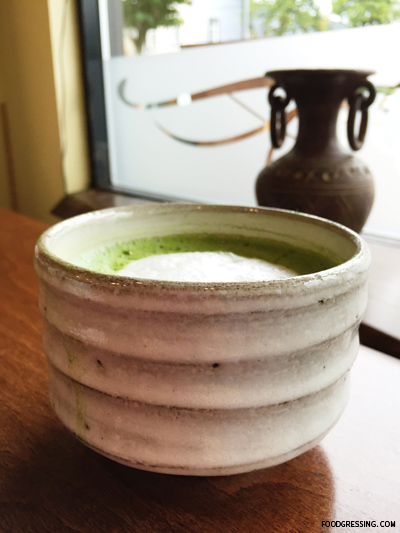 Our afternoon tea sets came in two separate three-tier stands.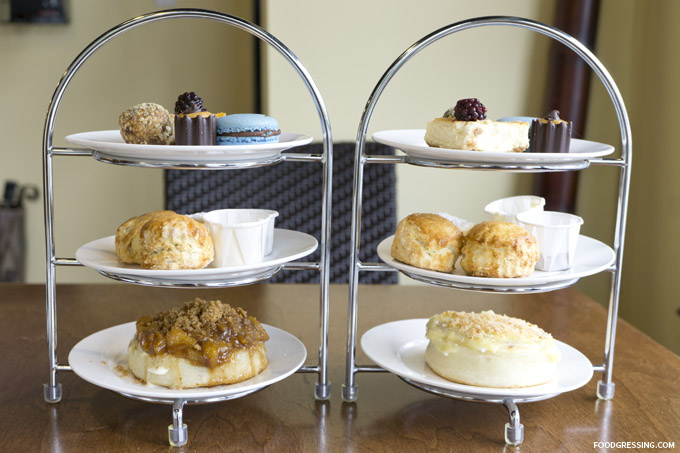 The top tier had a raspberry cheesecake bite, an Earl Grey macaron, a chocolate peanut butter cup, and a matcha date ball.  They were all good, but my I enjoyed the matcha date ball which had nice mix of matcha and nutty flavour.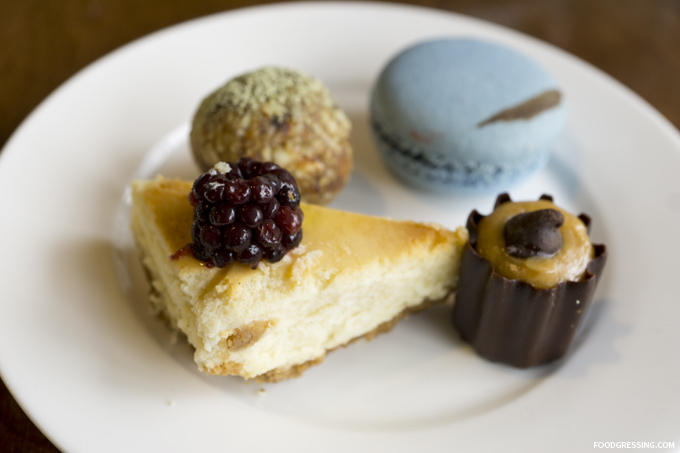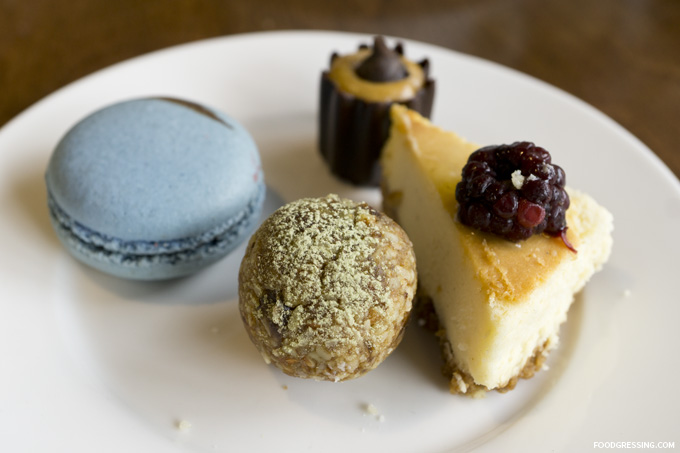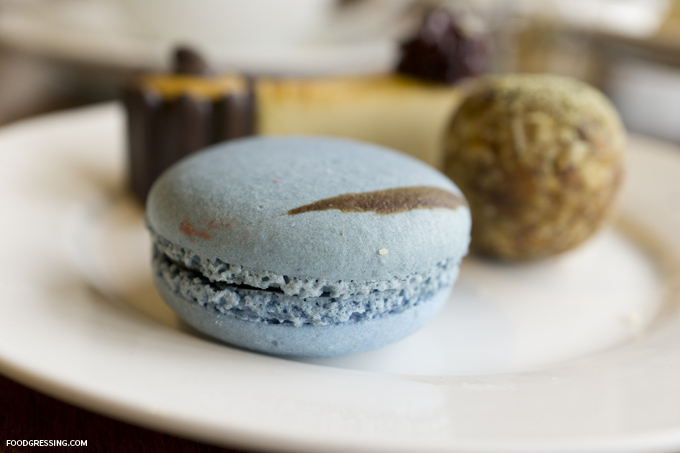 The middle tier had a lemon square and two house-made scones with Devonshire cream and jam.  The cream and jam were in little sample cups which were not very good in terms of presentation.  The scones were nicely crunchy on the outside and soft on the inside.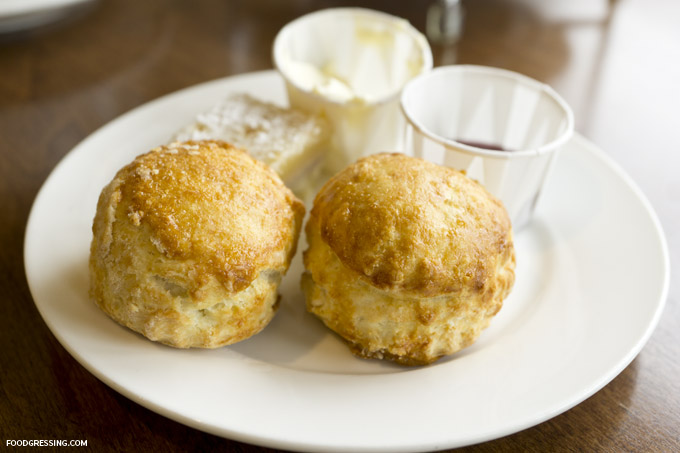 The bottom tier had one house-made crumpet of our choosing.  My husband had the Johnny Peach which is made of peach compote, devonshire cream and ginger snap crumble.  The crumpet was spongy and moist and the compote had the right amount of sweetness.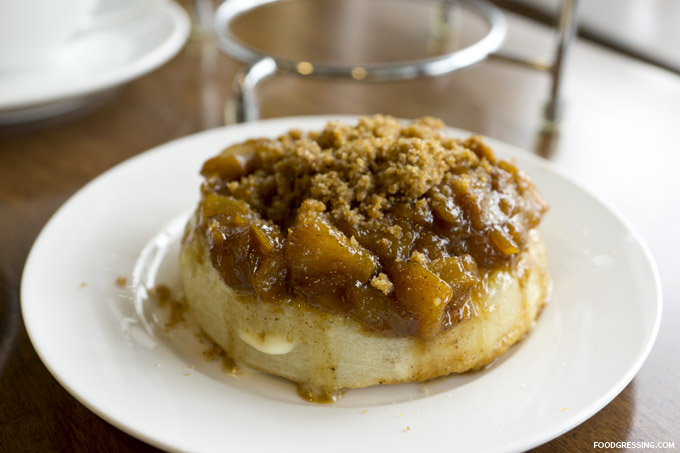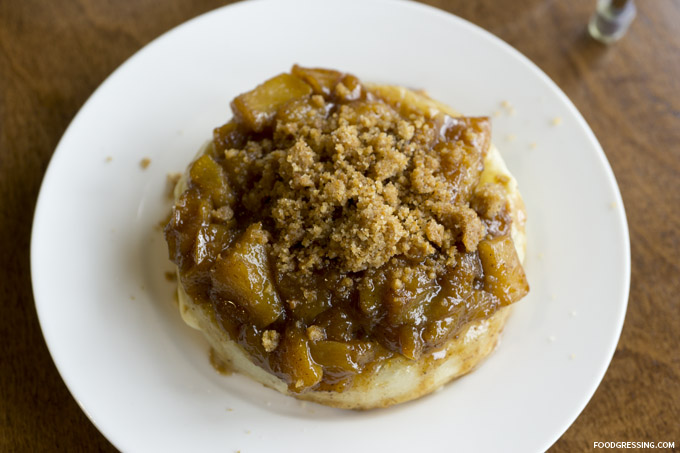 The Lemony Snicket crumpet had great lemon flavour.  It is made of lemon curd, agave cheese blend and shredded coconut.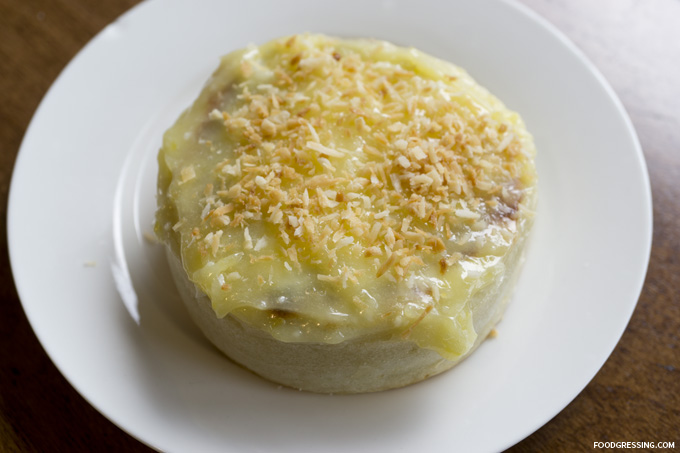 Overall Impression
I enjoyed Shaktea's laid-back and comfortable vibe.  The afternoon tea set was good, but nothing much to rave about.  I thought it was neat that they used teapot cozies and traditional matcha bowls for matcha lattes.  At $17 per person for afternoon tea, what Shaktea offers seems fair. Rating: 3.5/5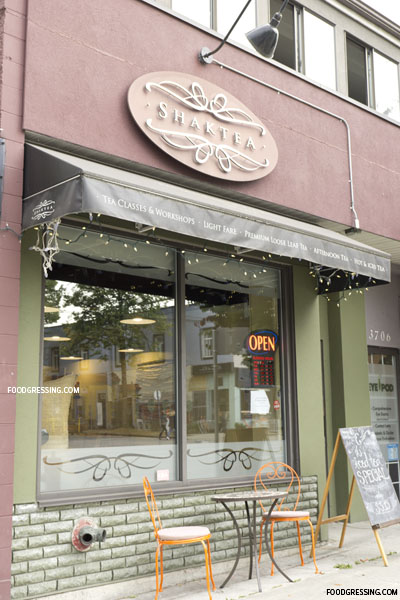 Address: 3702 Main St. Vancouver, BC
Facebook: www.facebook.com/Shaktea
Website: www.shaktea.ca/
Twitter: www.twitter.com/shaktea