Afternoon tea is definitely one of my favourite foodie activities.   It's a fun way to celebrate a special occasion, hang out with a group of girlfriends, or to spend time with your grandma.  A few months ago, my friend was moving away from Vancouver so we decided to have a going-away afternoon tea.  On my wishlists of afternoon tea places to try in Vancouver was  La Petite Cuillère in Mount Pleasant.  The girls seemed to be curious about La Petite Cuillère too so we decided to give them a try.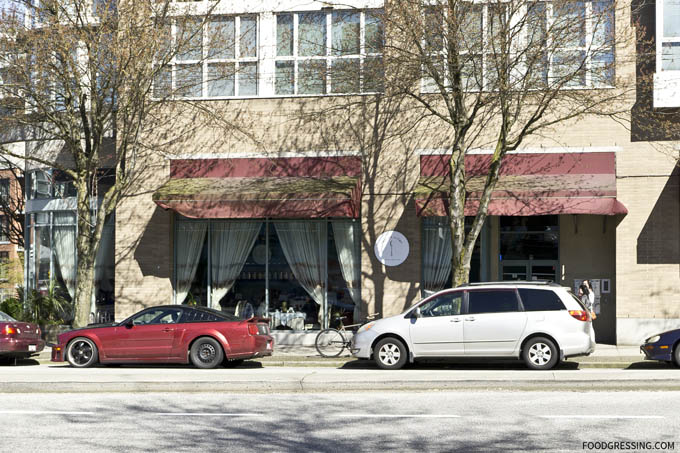 Cozy & Cute Decor
When I first stepped into La Petite Cuillère, I was immediately in awe of the whimsical, Victorian-inspired decor.  Cute little tea cups sets, vintage decorations and potted plants were everywhere.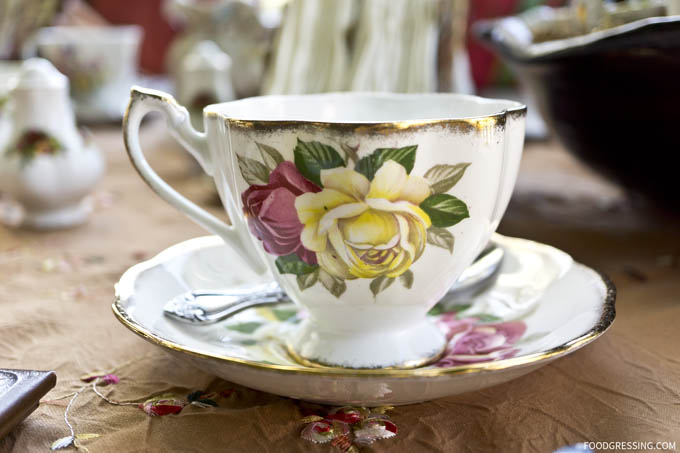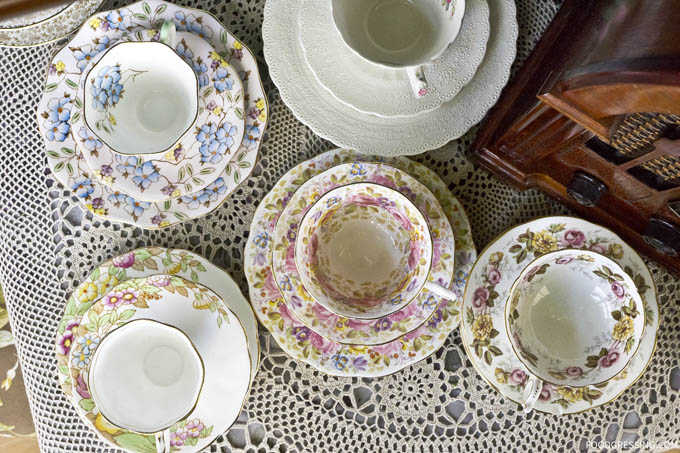 I very much enjoyed the atmosphere which was was relaxed, unpretentious and felt very cozy and inviting.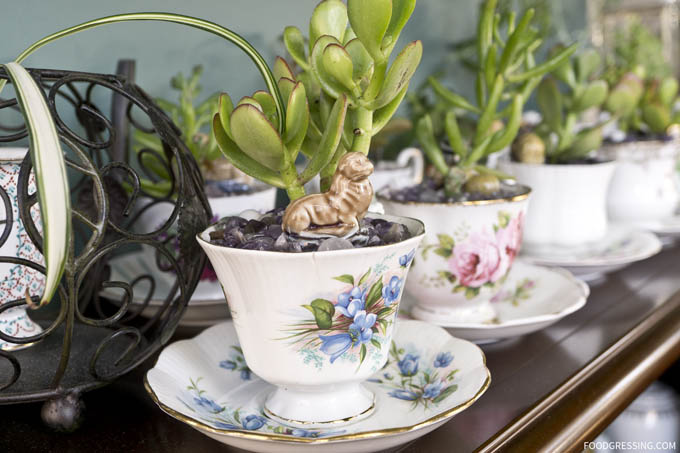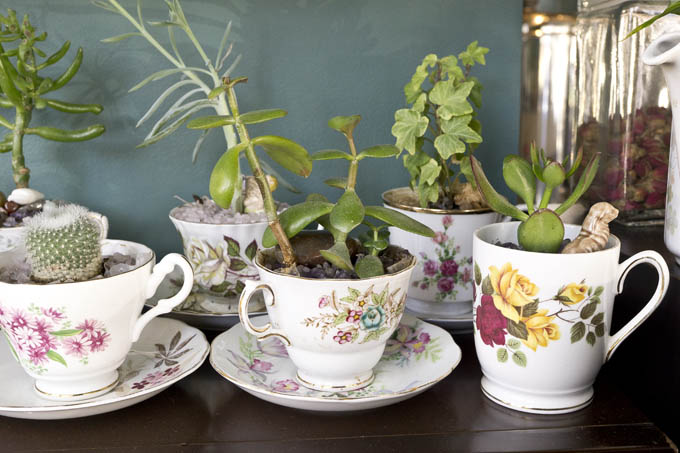 This table setting looked perfect for afternoon tea.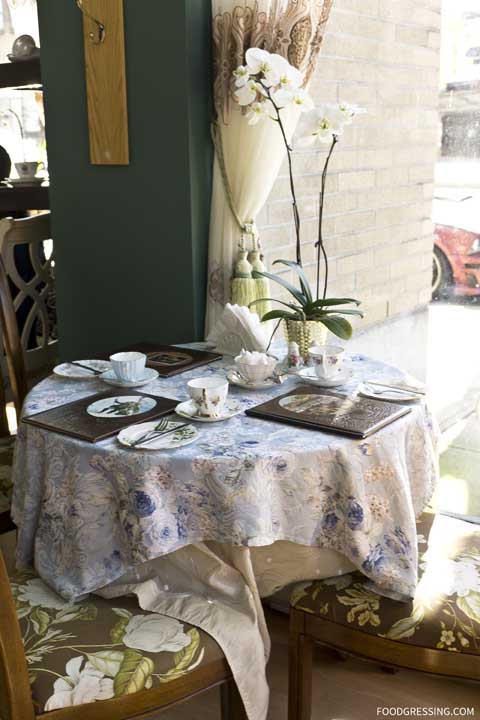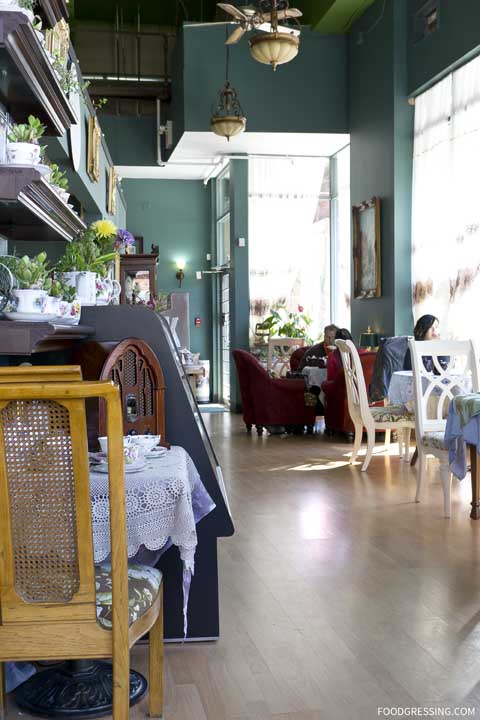 Afternoon Tea Set Choices
A few nice things I found with La Petite Cuillère was that not only did they have a few afternoon tea options but that they were affordable too.  I've had afternoon tea at various Fairmont Hotel restaurants before and the experiences have been excellent though obviously at a higher cost.  Because of the price, they are reserved for more for special occasions.  However, at La Petite Cuillère, the full afternoon tea service is priced reasonably at $25 per set plus $1.25 for the tea.  For a more modest experience, there is the "La Petite Cuillère Tea" and the "High Tea" afternoon tea menus priced at $14 and $15.50 plus the cost of the tea, respectively.  These options simply have fewer items than the full afternoon tea service.  And if an afternoon tea menu doesn't tickle your fancy, La Petite Cuillère also has a "Le petit fromage Tea" – a cheese and tea set priced at $13.75 plus the cost of tea.
What We Tried
To start, we had individual teapots which were presented in a cute teapot cozy.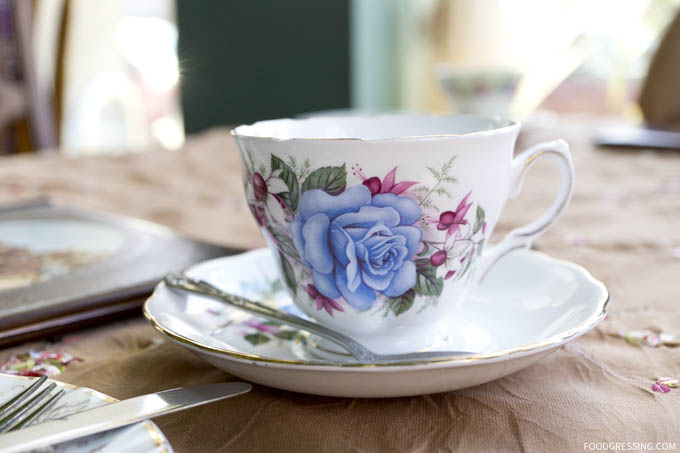 Two of us, who were more health-conscious, decided to forgo sweets and get the cheese and tea set.  I was surprised as to why they would go for essentially cheese and crackers at an afternoon tea place, but I respected their decision.  And when they received the platter, they got just that: a few cheese selections, crackers and complimentaries including almonds, strawberries and cranberries.   My two friends seemed to be disappointed from their poor choice and they end up sampling a few items from my full afternoon tea set.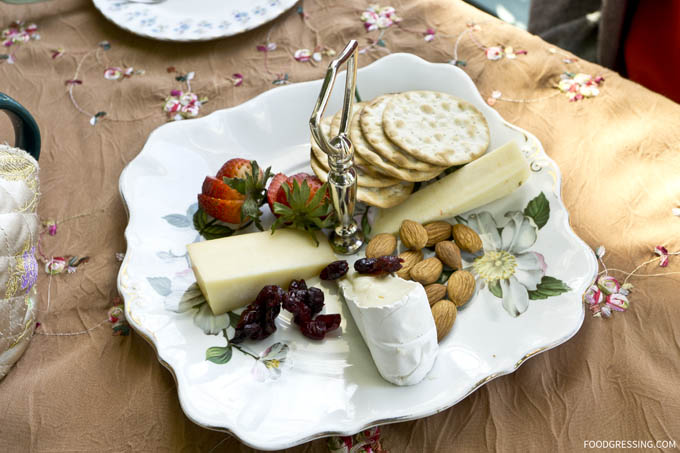 My afternoon tea set came with the following:
Top tier: chocolate lavender cake, cheesecake with strawberry topping, macaron (unknown flavour)
Middle tier: shortbread cookie, scones, banana bread
Bottom tier: croissant sandwich, tuna salad mini tart, and cheese & cucumber crostini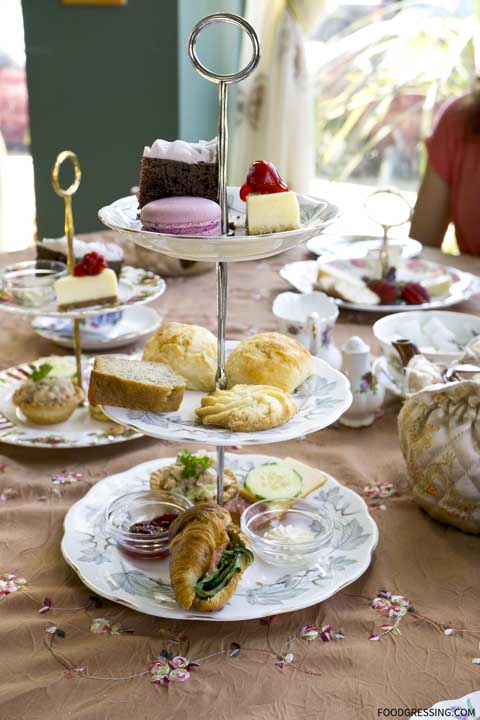 The chocolate lavender cake slice was a particular standout for me because it had a more unique flavour combination.  It was also very moist in texture and the lavender flavour really complimented the chocolate.  Although I don't remember the macaron flavour, the texture was on point: meringue-like texture with an eggshell-like outer crust.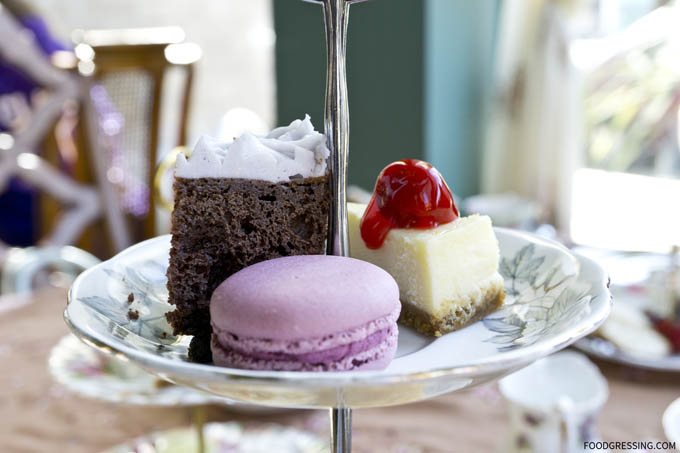 The cheesecake was very smooth and creamy.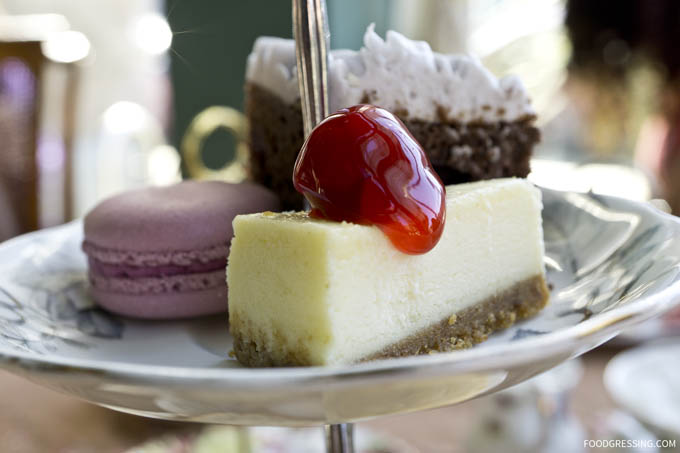 On to the second tier, I thought that the banana bread and shortbread cookie were a bit too pedestrian for an afternoon tea set.  The scones were good but not great; the texture was buttery and flaky.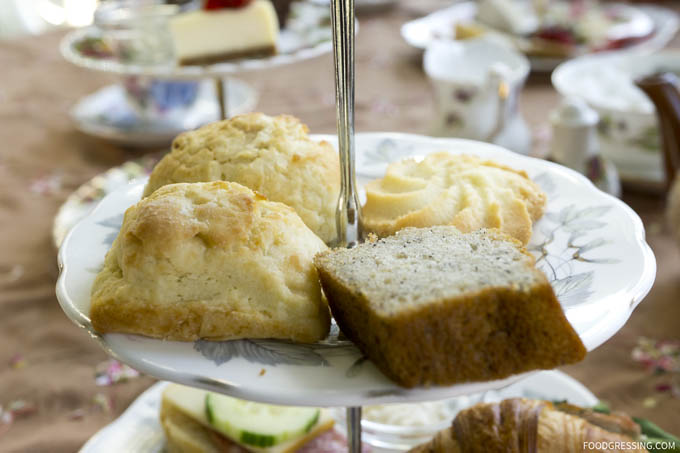 Last is the bottom tier which had the savoury items.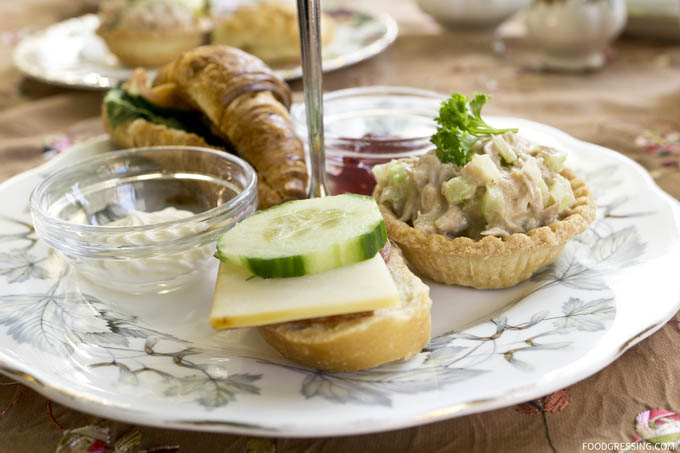 The tuna salad tart was the most memorable; I simply enjoyed the flavour of the salad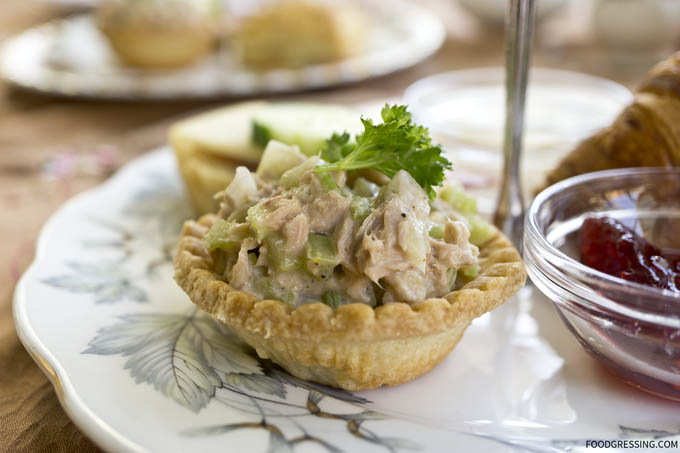 The croissant sandwich and croistini were good though not particularly memorable.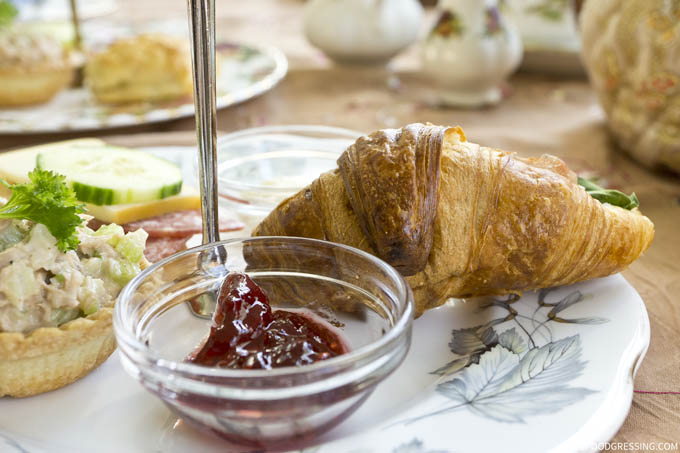 Our other friend went with the "High Tea" which had shared the same items as my tea set minus a few ones.
Overall Impression of La Petite Cuillère
All in all, I thought that the afternoon tea experience at La Petite Cuillère was pretty good given the price.  Most of the items seemed pretty average but they tasted good just not all that memorable.  However, I quite enjoyed the cute decor and inviting environment.  I'd be interested in revisited La Petite Cuillère in the future and would recommend them for more budget-friendly afternoon tea.  Rating: 4/5