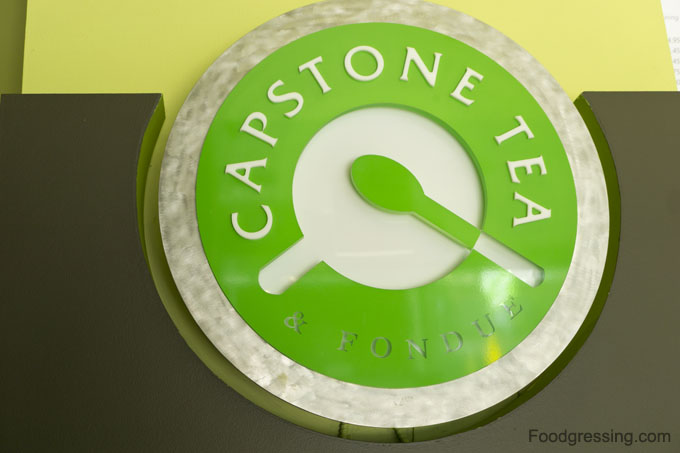 I regularly see Capstone Tea & Fondue offering afternoon tea and fondue deals on Groupon and Social Shopper.  Afternoon tea is one of my favourite foodie activities, so I decided to try their afternoon tea set at their Robson location.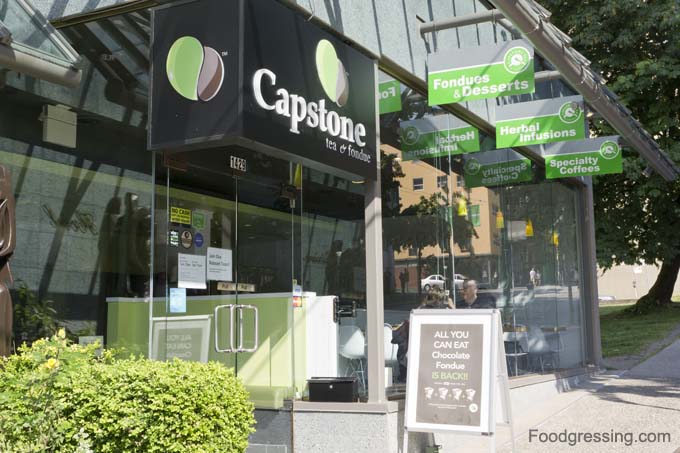 Making Reservations
Capstone Tea & Fondue makes it easy for people to make the reservation online.  You just have to select the site where you purchased and the number of people in your party.  Possible dates and times show up for you to select.  Below is a screenshot of their website (as of June 10, 2015).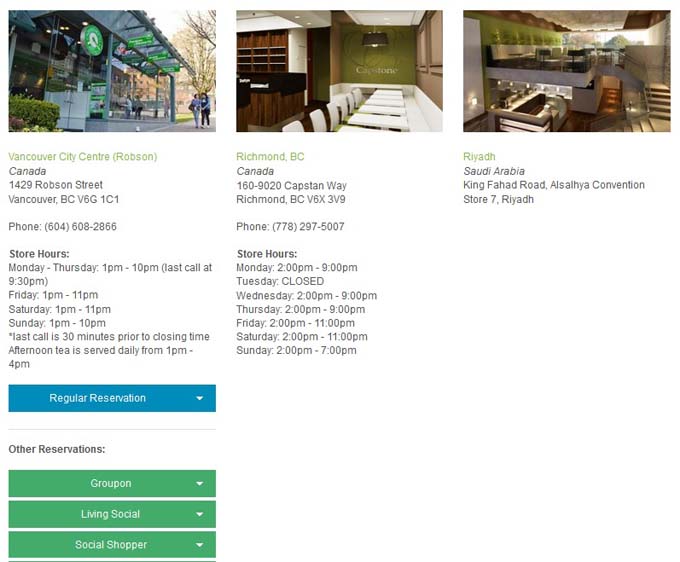 Modern Space
The interior of Capstone Tea & Fondue is modern, clean and bright.  They have a mix of tables and booths which are friendly for groups who want to enjoy afternoon tea or fondue together.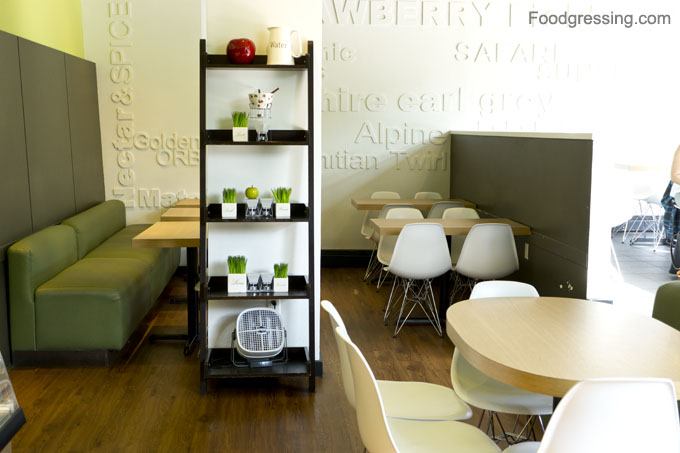 Capstone Tea Selection
A house blend tea of your choice is included in the afternoon tea set.  This includes black, green, oolong and rooibos, served hot or cold.  I selected an oolong iced tea which came in quite a large mug. while my friend had a hot black tea.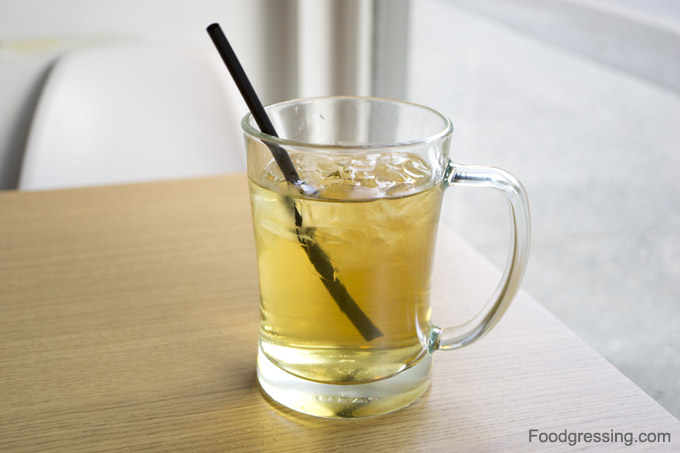 Sweet, Savouries, and Scones
The afternoon tea set came in four plates which differs from serving in three-tiered stand.  There were a mix of sweet, savouries, and scones, which at first sight looked scrumptious!  The size of the items were not too small either.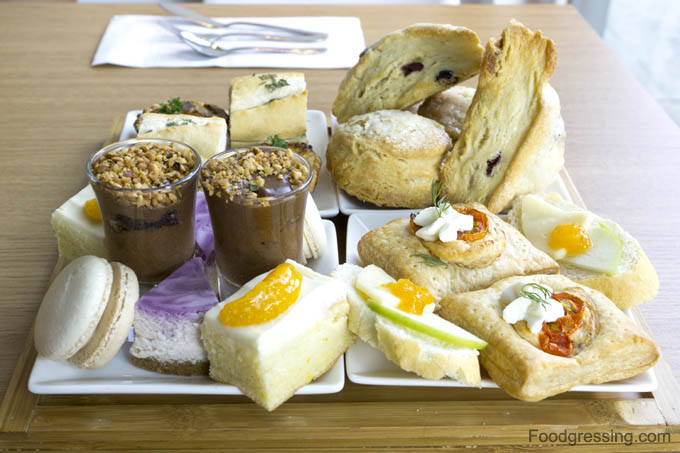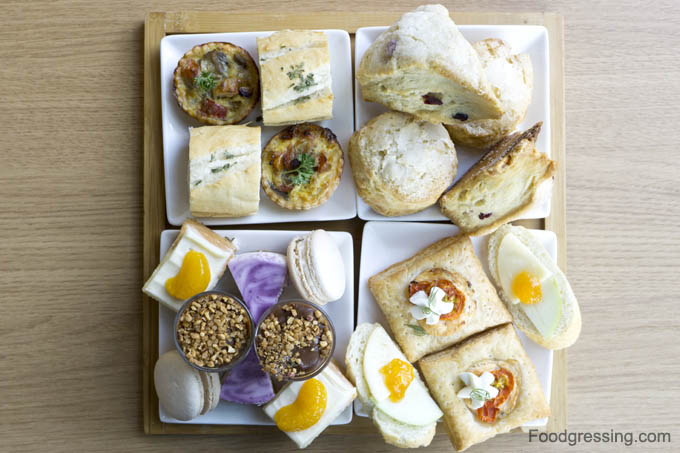 Sweets
For sweets, there were popcorn macarons, mandarin orange cake, blueberry cheesecake and chocolate hazlenut pudding.  The cakes were moist and not overly sweet.  The macaron had a lovely buttercream flavour.  The chocolate hazlenut pudding was definitely too sweet for me and I did not finish it.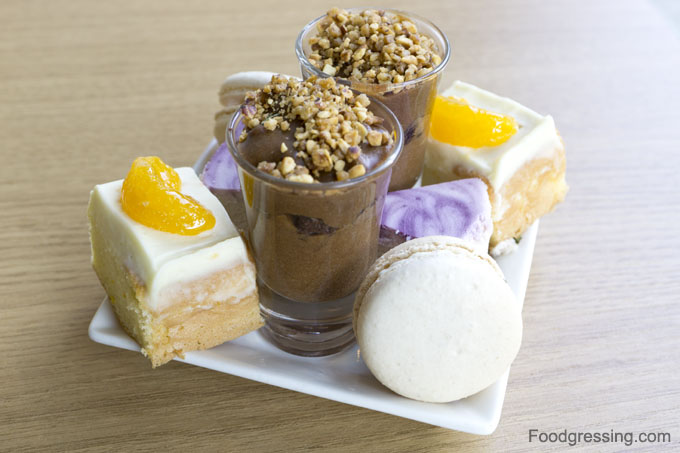 Savouries
Savoury items included sundried tomato cream cheese pastries, apple, cheese and jam on bread, roasted pepper sandwiches and eggplant quiches.
The sundried tomato creem cheese pastry was warm and had a lovely flaky texture.  The eggplant quiche had a nice dense texture.  The apple, cheese, jam on bread and roasted pepper sandwich were quite tasty but not too memorable.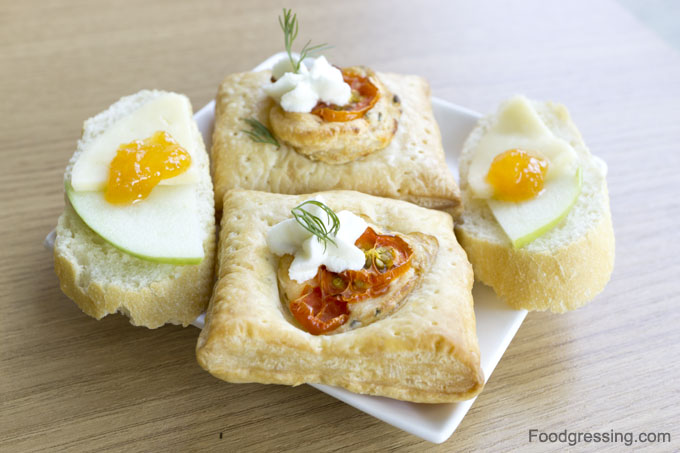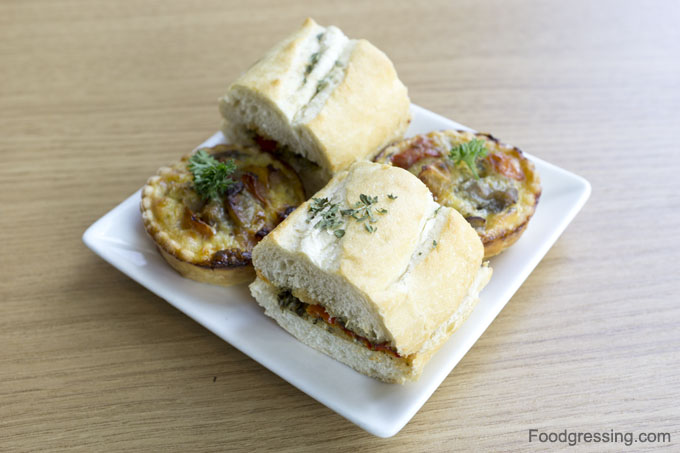 Scones
The house-made traditional and cranberry scones were the highlights of the afternoon set.  Glazed on the outside, they were also light, airy and crumbly.  These scones were absolutely delicious!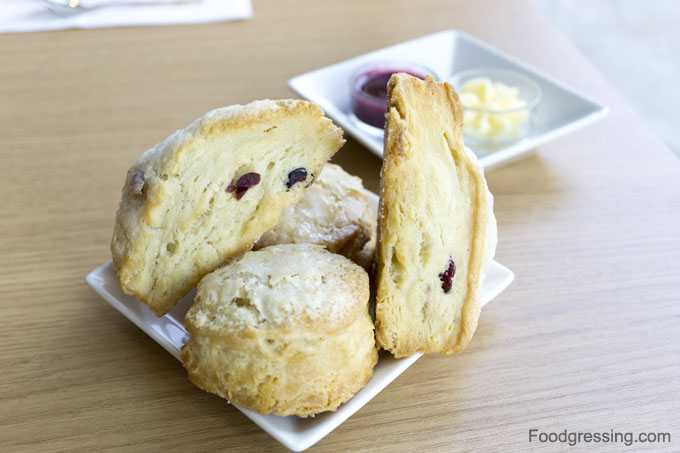 Social Shopper Video
Here is a Social Shopper video of Capstone Tea & Fondue I found to give you an idea of the afternoon tea and fondue experience.
Overall Impression
I enjoyed the afternoon tea dining experience in terms of the quality of the food in a modern atmosphere.  However, at the regular price of $27.95 per person, I find it to be a bit expensive for what you receive.  I do think that the pricing is probably fair for being in the Downtown Vancouver area.  At the moment, the Groupon still exists which I think is a nice deal.
For more information on other afternoon tea places in Vancouver, see my post here.
Website: www.capstonetea.com/