In today's Flashback Friday post, I'd like to share one of the most unique and delicious afternoon experiences I have had in Vancouver.  Back in 2012, I had my first raw high tea experience Indigo Cafe's former location at 2589 West 16th Avenue in Kitsilano.  I had purchased a 2-for-1 deal for a raw high tea at that time.  Furthermore,  I wasn't familiar with raw and vegan food at so it was a great way to try raw cuisine by trying different items.
Raw High Tea Menu
Indigo cafe's raw high tea menu included savoury items featuring kale chips, raw pizza, coconut cheese with crackers, collard roll enchilada, and stuffed mushroom.  On the sweets side, there were the mini chocolate ganache, mini berries cheese cake, coconut cream pie, pineapple candy spears dipped in chocolate, chocolate hearts, lemon-goji truffles, berry romanoff with coconut yogurt and raw sprouted granola.  The high tea items were presented in a three-tier stand and I loved the vibrant colours of the items.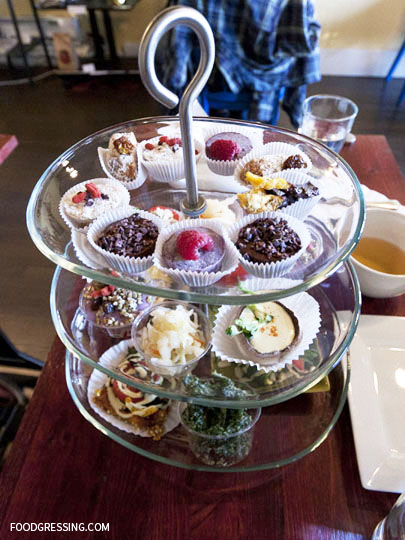 Vegan-licious!
The kale chips were absolutely scrumptious and made me fall in love with cashew cheese.  They tasted zesty from the lemon juice.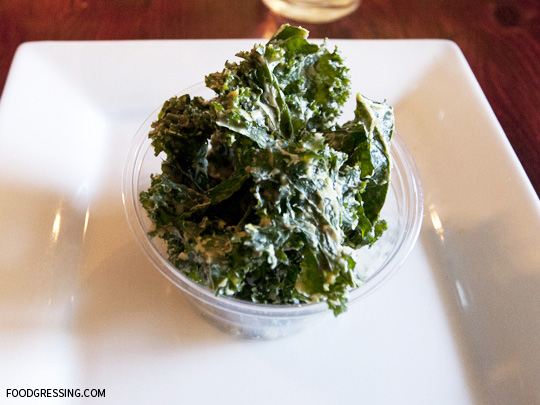 The collard roll up had enoki mushrooms and sprouts, collard greens avocado, corn, and red onion which made it a very tasty roll.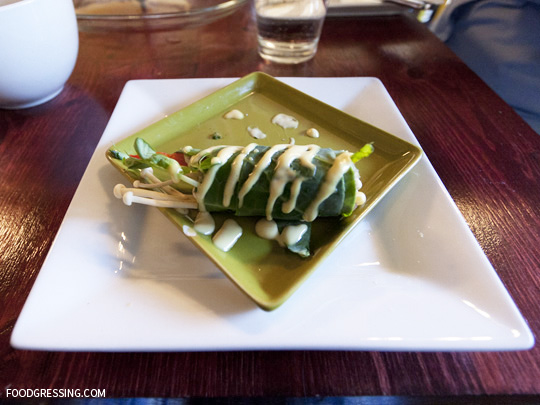 The raw pizza was wonderfully flavourful.  The base was very crunchy due to it primarily being made with raw organic sprouted buckwheat and flaxseeds.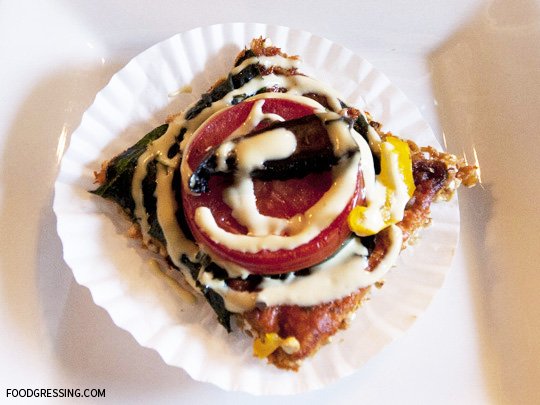 The sweets, oh my!  They were all very good.  The coconut flavour was dominant in the sweets which was good for me as a coconut fan.  Indigo Cafe uses sweeteners such as dates that are low on the glycemic index which makes their treats diabetic-friendly.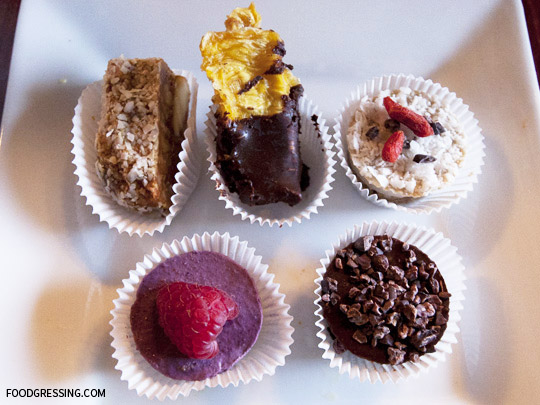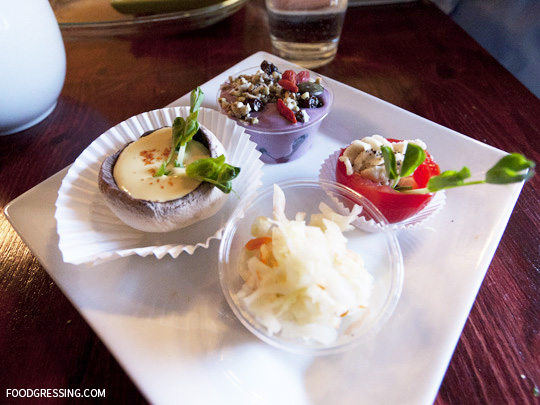 Indigo Cafe now has two locations in Vancouver: one inside the Green's Organic Market and the other in Downtown Vancouver.  I have looked at the menu and it looks like the items offered are more or less the same.  They also still offer the raw vegan high tea at $27 per person.
Overall Impression of Indigo Cafe's Raw High Tea
I would definitely recommend giving Indigo Cafe's organic, vegan, and gluten free high tea a try.  Lots of delicious sweet and savoury items which makes you realize that raw foods are quite delicious!  Rating: 4.5/5
For a list of places to have afternoon tea in Vancouver, see this post.
Website: www.indigofood.org