Whistler, BC, is something of a jewel in the Canadian winter crown.  Attracting snow-worshippers from around the world each year, the long winter season runs from late November until early May.  While any time of year in Whistler is magical, there's something extra special about Christmas in the mountains.  Here's our guide to enjoying the holidays in Whistler.
Learn to axe throw like a lumberjack
Forget the board games this Christmas and have a good old fashioned axe throwing contest instead – just like the lumberjacks of old!  Whistler's Forged Axe Throwing is one of the leading indoor activities in town and they have all you need to get started with timber sports, even if you've never picked up an axe in your life.  Throwing axes at a solid target, the goal is to sink a bullseye in a similar way to that of a darts league.  Axe throwing is a great activity for groups and is sure to fire up everyone's competitive streak.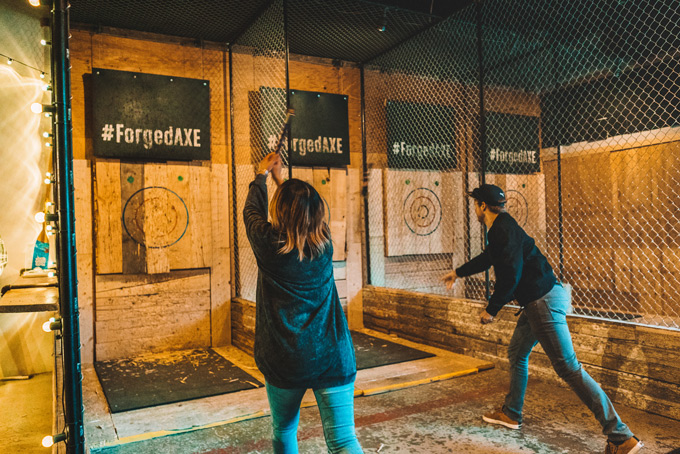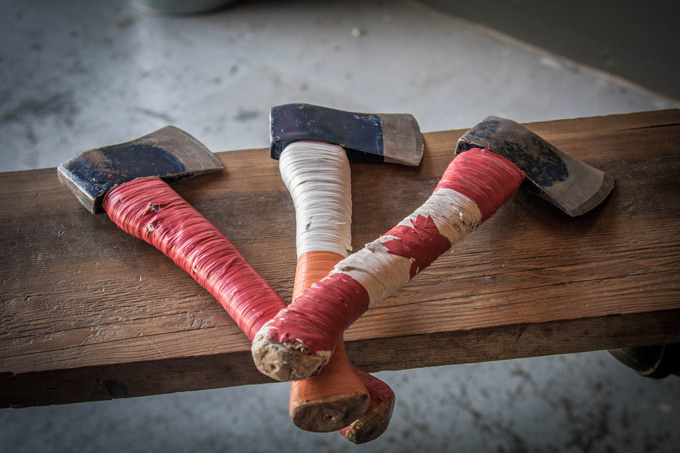 Eat steak in a log cabin
What better way to arrive for dinner at a cozy log cabin than by snowmobile?  Another brand new experience this winter, you'll explore the Callaghan backcountry with Canadian Wilderness Adventures before arriving at a log cabin on Sproatt Mountain where Angus beef sirloin will be served with garlic mashed potatoes, seasonal vegetables, and an indulgent dessert.
Enjoy fine dining in an ice cave
The Blue Room is the ultimate addition to the Whistler dining scene this winter; the result of an exciting collaboration between Four Seasons Resort and Residences Whistler and Head-Line Mountain Holidays.  After a scenic helicopter ride, guests will enjoy a guided tour of the natural ice sculptures, before sitting down to a five-course menu in the ice cave, swilled down with Krug champagne.  Think caviar served on snow and delicious oysters sourced locally from Vancouver Island.
Ride the new gondola
The opening day of the winter season (Nov 22nd, 2018) will not only see the first day of skiing and snowboarding, but also the unveiling of the much-anticipated 10-passenger Blackcomb Gondola.  The new gondola will keep guests warm and dry as it ascends from the base of Blackcomb Mountain to the top of the mountain adjacent to Rendezvous Lodge and the existing PEAK 2 PEAK Gondola.  Together – the new Blackcomb Gondola, PEAK 2 PEAK Gondola and Whistler Village Gondola – form the first three-gondola connection in the world.  Take a ride on it this Christmas!
Watch the Fire & Ice Show
Every Sunday night, the best skiers and riders in Whistler put on a spectacular Fire & Ice Show, jumping and flipping through blazing rings of fire accompanied by fire spinners, a DJ and fireworks.  Wrap up warm and prepare for an electrifying evening of entertainment!
Ice skate at Olympic Plaza
It wouldn't be Christmas without ice skating, so head to Olympic Plaza and get your skates on.  The outdoor rink is safe and family-friendly, and you'll be able to experience the holiday atmosphere as you glide across the ice. Once the skates are off, grab a hot chocolate to warm up.
Dress like Santa on the slopes
What better way to bring Christmas to the slopes than with the traditional Dress Like Santa Day?!  Taking place on December 16th, the first 100 people to arrive at the Garibaldi Lift Company dressed in full Santa or Mrs. Claus attire will enjoy a free lift ticket too.  Upload starts at 8.00am.
See the Christmas lights
Wrap up warm and take a walk through this Canadian winter wonderland, lit up with some 280,000 to 350,000 light bulbs! The 5,000 strings of lights are put up by the Resort Municipality of Whistler (RMOW) festive lighting program, but you'll also see a variety of decorations and lights installed by the local hotels and businesses.
Welcome 2019 in style
New Year's Eve in Whistler is special for many reasons.  While you can party the night away at the many bars and pubs, the strolls and plazas cater for families in a big way.  New Year's Eve consists of over six hours of fun including entertainment, music, crafts, games, and a Fire & Ice Show.  Be sure to hit the ski hill early on New Year's Day too to enjoy the freshest powder before the crowds surface from their sleepy post-party haze!
Sing carols at the 35th annual Christmas Eve Service (Dec 24th)
The 35th annual Christmas Eve Carol Service will take place at the Westin Resort & Spa, hosted by the Whistler Children's Chorus and Whistler Singers.  Comprising a selection of traditional carols, choral music and readings by community members, the service is sure to get you in the mood for the big day ahead. Entry is by donation.
Other Christmas/New Year Events:
Dec 11th – Orphan's Christmas Party
The Whistler Public Library Orphan's Christmas Party returns for 2018 and is perfect for those spending their first Christmas away from home.  Mix and mingle as you compete in a gingerbread house decorating contest, dance to Christmas tunes and enjoy a special screening of a festive classic.  Registration is required for the contest starting at 6pm, or alternatively just turn up for the start of the film at 7 pm.
Mondays & Wednesdays Dec 17th-March 27th – Family Apres
Head to Whistler Olympic Plaza each Monday and Wednesday between December and March to enjoy Family Apres; free kid-friendly activities and entertainment put on by the Resort Municipality of Whistler and the Province of BC.  It's family fun, the Canadian way.
Dec 22nd – Jan 6th – Whistler Holiday Experience
The Whistler Holiday Experience is the perfect way for the kids to let off some steam while parents sip a hot cocoa or coffee.  Kids can choose from a number of indoor and outdoor activities including a mini putt course, bouncy castles, crafts and video games – all free of charge during the holiday break (excluding December 25th and 31st).  The experience takes place between 3-6pm at the Whistler Olympic Plaza.