When my family and I visited Seattle last month, I researched for new, hot restaurants in Seattle. Reviewing Seattle Eater's Best New Restaurants List, I came across Wanderfish Poke which they recommended. Poke-focused eateries are currently all the craze in Vancouver and I thought it would be interesting to see how poke fared in Seattle. What drew me to visit Wanderfish Poke in particular was the fact that they use locally and sustainably-sourced seafood. I'm a fan of sustainable food, protecting the oceans and support the Ocean Wise program here in Vancouver. While we have many poke eateries in Vancouver, there is just one that is Ocean Wise: Poke Guy in Gastown. So with the appeal of sustainable ingredients, I decided to visit Wanderfish Poke on our trip.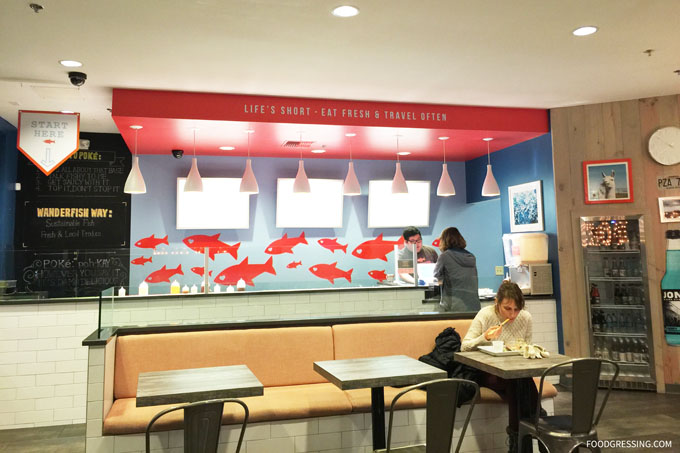 Wanderfish Way
Located in Capitol Hill, Wanderfish has a charming, cute, nautical-inspired yet still modern interior. Above the poke bar, there is a line that reads, "Life's Short – Eat Fresh & Travel Often." That resonated with me at the time as we were traveling and coming to Wanderfish Poke to "eat fresh." This was a good sign (in different meanings). There was a mix of dining tables for 2 – 4 people and a high top counter near the back under some industrial lights.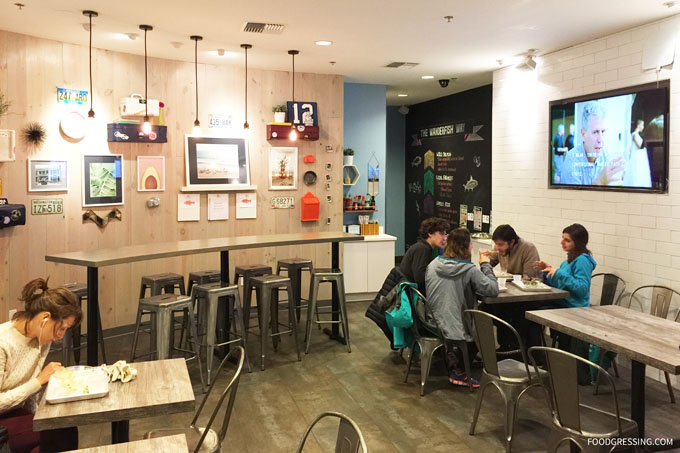 Wanderfish Poke Menu
Wanderfish Poke delivers a fast-casual yet farm-to-table approach; they're about sustainable fish, a chef-driven menu, and locally-sourced produce. On their menu are build-your-own bowl options as well as Chef creations. Bowls range between $9 – $13. Their menu is available online. Their salmon is wild and not farmed and their sauce is made in-house from scratch. The bases they offered seemed "healthier" than your typical sushi rice: bamboo rice, brown rice, kelp noodle & seaweed, kale mix, and lettuce. For protein, they offer sustainable ahi tuna, wild sockeye salmon, albacore, bay scallops and tofu. Wanderfish also has some good options for spicy food lovers like habanero, jalapeno chips, chili thread and spicy aioli.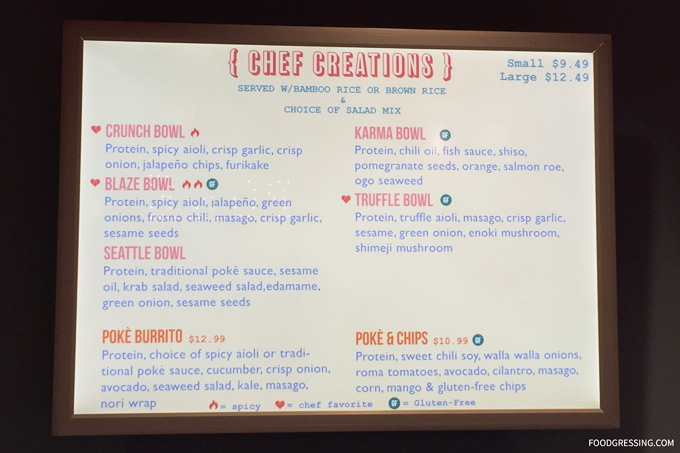 Chef and co-owner Jason Velasquez was there on the evening of my visit.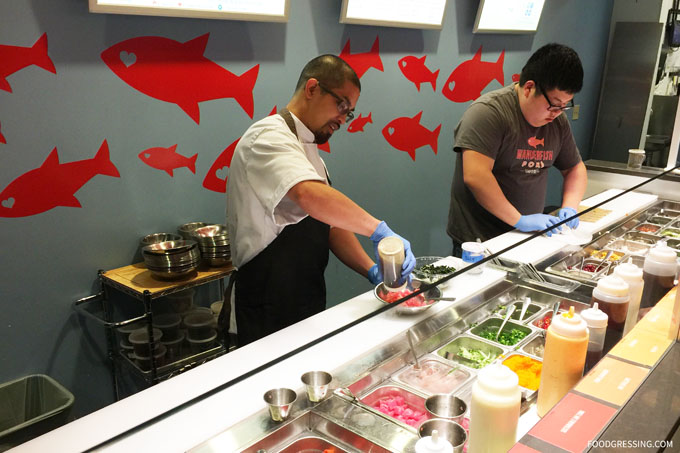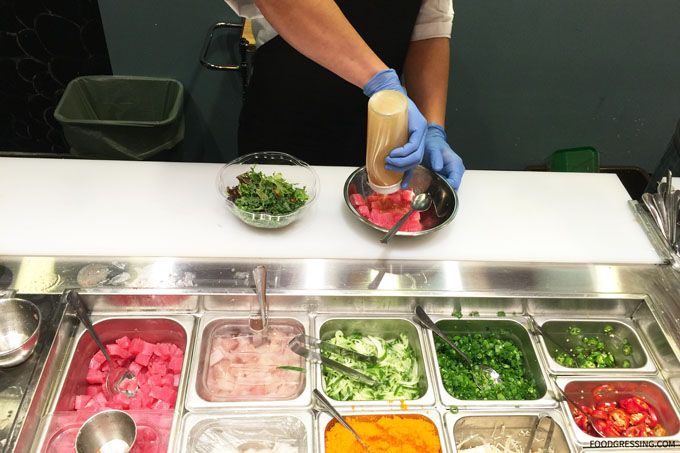 What We Tried
We went with two large poke bowls ($12.49): the Poke & Chips and Truffle Bowl. The Poke & Chips seemed like a unique concept; I've never tried chips with poke. Wanderfish's version had sweet chili soy, walla walla onions, tomatoes, avocado, cilantro, corn, masago, and gluten-free chips. I went with ahi tuna for the protein. And the verdict: it was absolutely delicious. A light, refreshing bowl where everything just tasted so good together. The chips were very grainy and crunchy gave the bowl a fun textural contrast compared to the usual rice.
I enjoyed scooping up the poke and toppings onto the chip. Who knew that poke and gluten-free tortilla chips would go so well together. Bravo.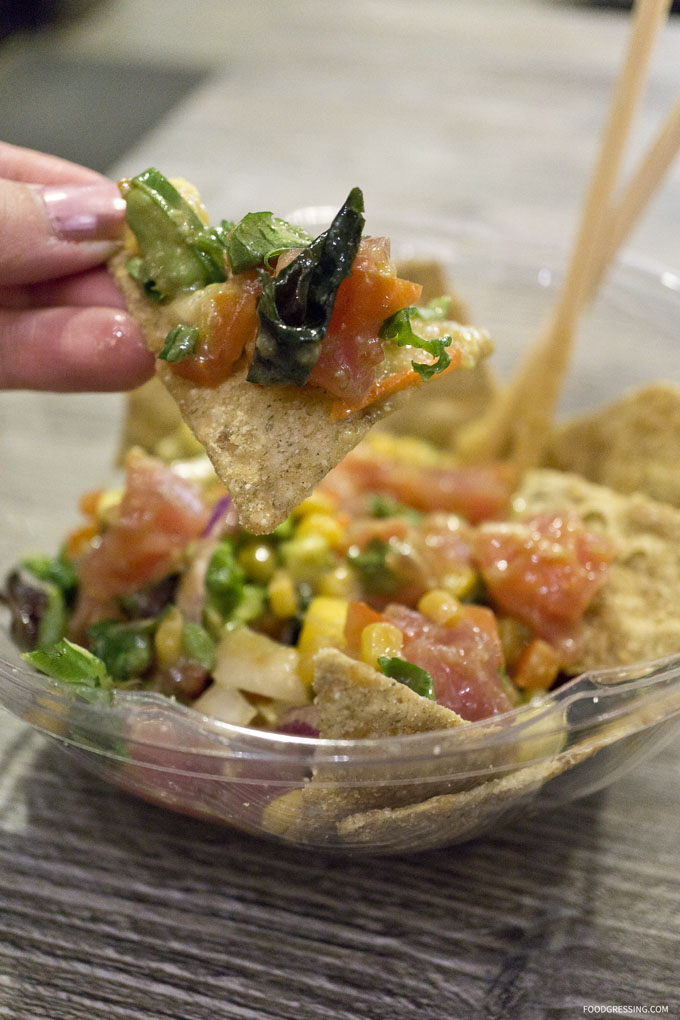 The other bowl we had was the Truffle Bowl which was quite different from the Poke & Chips. I went with kelp noodle for the base, albacore for the protein and the rest were truffle aioli, dill, masago, crisp garlic, green onion, enoki mushroom, and shimeji mushroom. It was tasty but on the heavier, creamier side from the truffle aioli. We couldn't quite finish all of it in one sitting. I think getting a small bowl would be good for this one.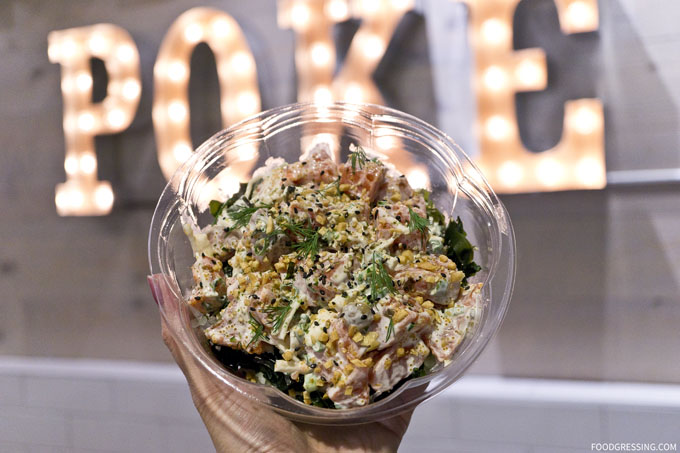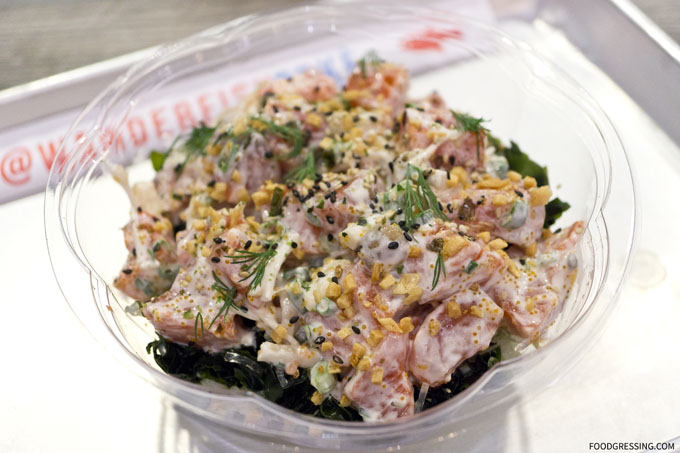 Overall Impression
I was impressed with Wanderfish's commitment to showcasing what the Pacific Northwest has to offer in terms of sustainable, fresh fish and local produce. Those Poke & Chips are worth the drive (across the border) and I'd be back for it on my next trip to Seattle. Rating: 4/5
Website: www.wanderfishpoke.com