This past week, I attended a tea tasting at TMix Tea and Dessert Bar with noted food bloggers Maggi (vieamaggi.com) and Diana (foodology.ca).  After the event, we decided to get some real food.  And since it was rainy that evening, cheap, comforting Asian food was just what we needed.  Pulling up our Zomato app, we found nearby Pho Xe Lua 24 with a decent 3.6/5 rating.  We headed on down to this cash-only restaurant which was just about a block down from TMix.
Small & Simple
Pho Xe Lua 24 is a small restaurant with just a few dining tables.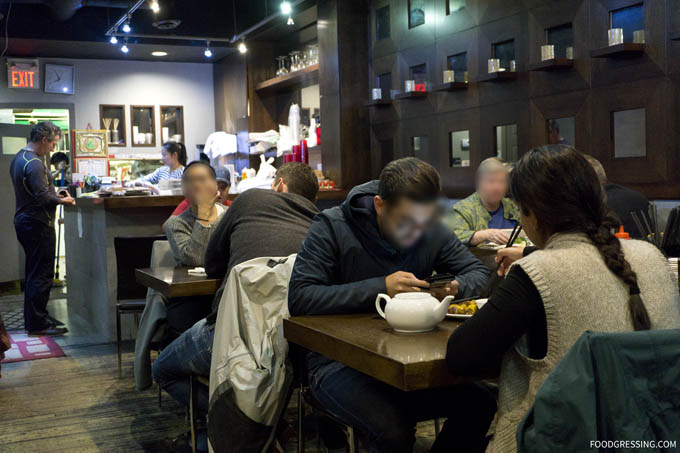 I did find our table to be a bit sticky.  It didn't seem surprising to me for this kind of place.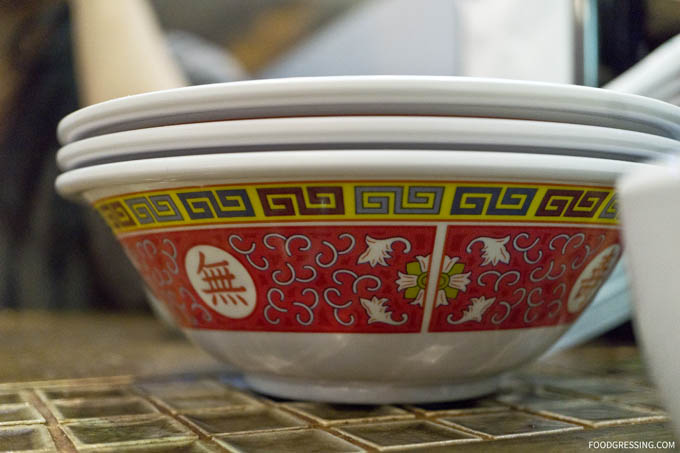 What We Tried
I didn't see anywhere noted that their food is MSG free.  We ordered the following for dinner:
B – Shrimp salad rolls x 2 ($6.50)
J – Deep-fried butter chicken wings ($8.00)
1 – Extra-large house special noodle soup ($10.75)
38 – Lemongrass chicken with vermicelli ($10.50)
The shrimp salad rolls were a light, refreshing start to the meal.  When I bit into the roll, it had a very nice crunch to it.  The rice paper wrapper held the salad nicely together.  Dipped in their peanut sauce, these salad rolls were delicious.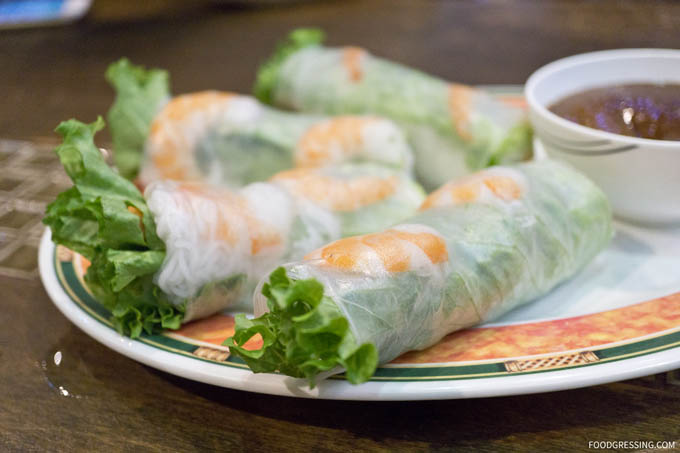 Our next appetizer, deep-fried butter chicken wings, didn't disappoint either.  They were piping hot, crispy on the outside, not overly greasy and the meat fell off the bone nicely.  The plum sauce added a tangy, spicy and sweet flavour to the wings but it wasn't necessary; the wings were tasty on their own.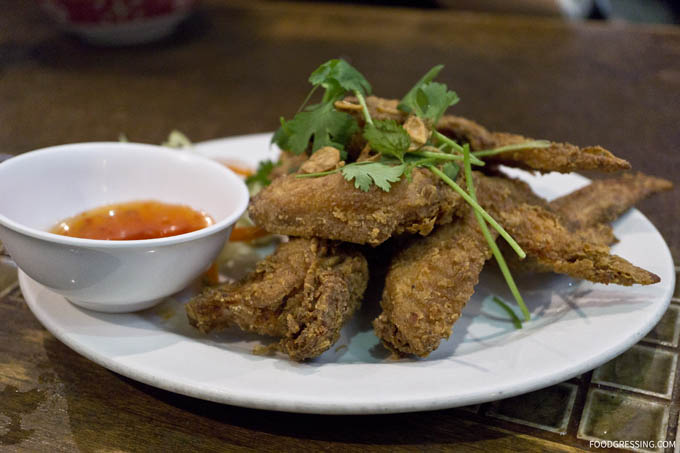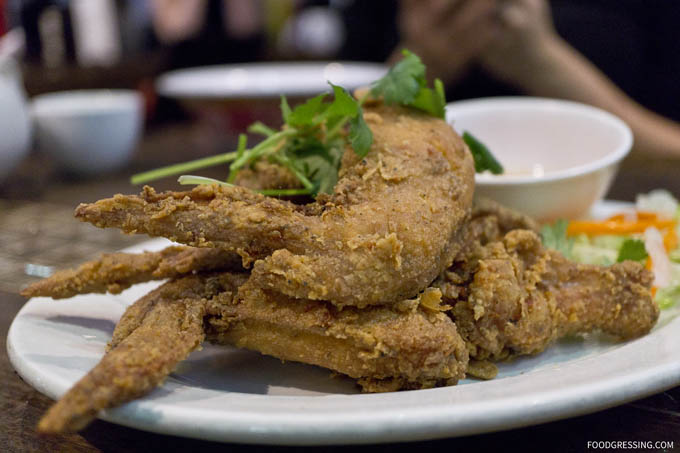 At Pho Xe Lua 24, the phở comes in small ($8.75), large ($9.75) and extra large ($10.75).  The three of us shared the extra large House Special with rice noodles.  The bowl arrived at our table steaming hot.  The meat to noodle ratio was very reasonable and the broth was light and flavourful.  Meat was tender and thinly sliced while the noodles were slightly chewy.  Pho-bulous, my friends, pho-bulous.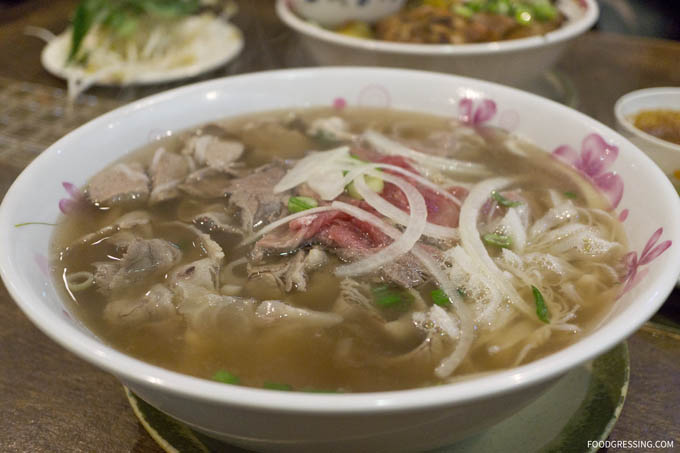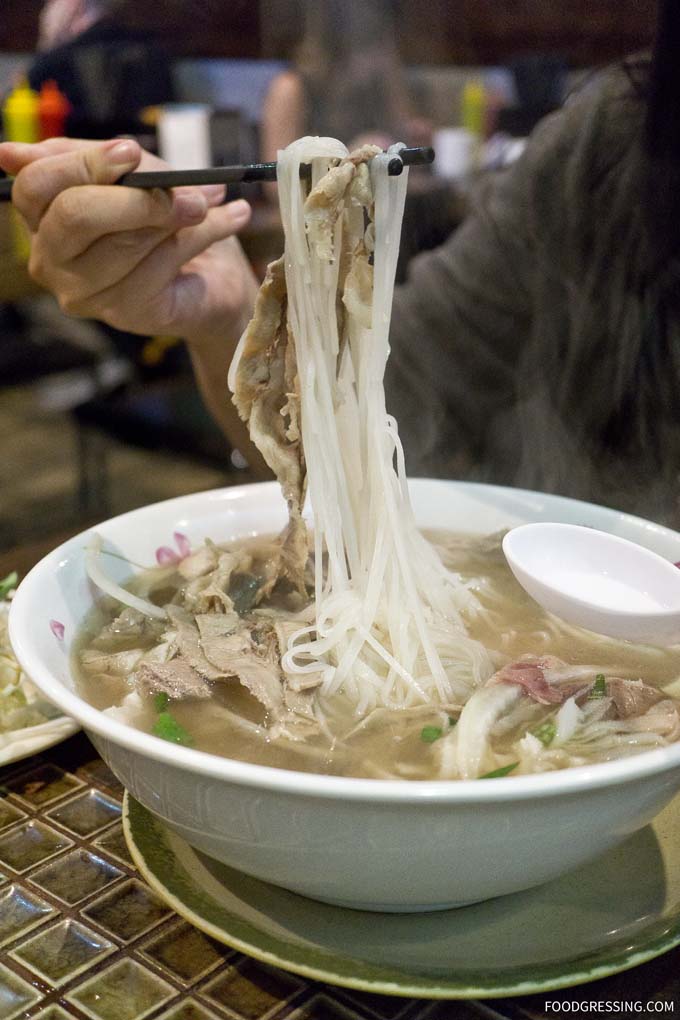 The lemongrass chicken with spring roll and vermicelli was decently sized for $10.50.  Flavour-wise, it wasn't bad at all.  The chicken was tasty and the spring roll had a gentle spicy kick.  I liked how they didn't give you "standard" spring roll.  Really good portions of chicken too.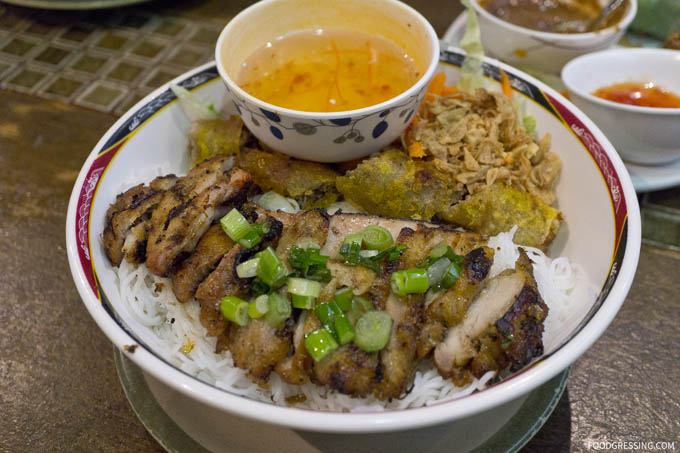 Overall Impression of Pho Xe Lua 24
I thought that our dining experience at Pho Xe Lua 24 was quite reasonable.  Large portions, good flavour and excellent value – our meal for 3 came out to be $40 including tax and tip.  Doesn't seem to be MSG-free, but enjoyable overall and I would recommend them.  Rating: 4/5