This past weekend, I enjoyed a girl's night out at Cinara, a modern European bistro with a focus on Italian-inspired cuisine. Cinara (pronounced with a "ch") means "artichoke" in latin. The restaurant is chef-owned and operated by husband and wife duo Chefs Lucais Syme and Gillian Book. Syme has worked at some of the top restaurants in the city (Cioppino's and Blue Water Cafe) and was previously a partner at La Quercia and founder of La Pentola.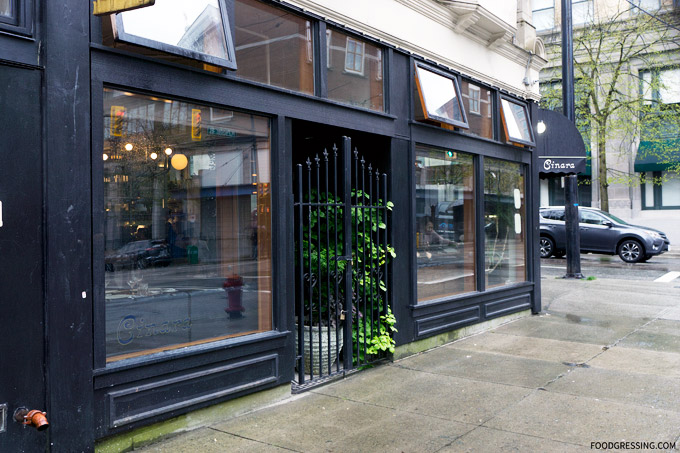 Top Restaurant in Canada
The restaurant has received many awards and accolades including named one of Canada's top 100 restaurants (rank #67) and one of the best Italian restaurants in Vancouver (rank #3) by Vancouver Magazine. Here's a look at my experience there.
Note: None of the food or drinks in this post were complimentary. This review is done anonymously.
Victorian Hotel
Cinara is located in the corner unit at Homer and West Pender in one of the oldest buildings in the city — the 117-year-old Victorian Hotel. Coming in on a Friday night, the restaurant was busy but fortunately, we had made reservations weeks ago for our party of 4. The atmosphere is very warm and inviting with exposed brick walls and warm wood tones. There are a few tables set up for 2s and small groups. Bar seating is available and apparently that is where some of Vancouver's top chefs and restaurateurs like to eat on their days off.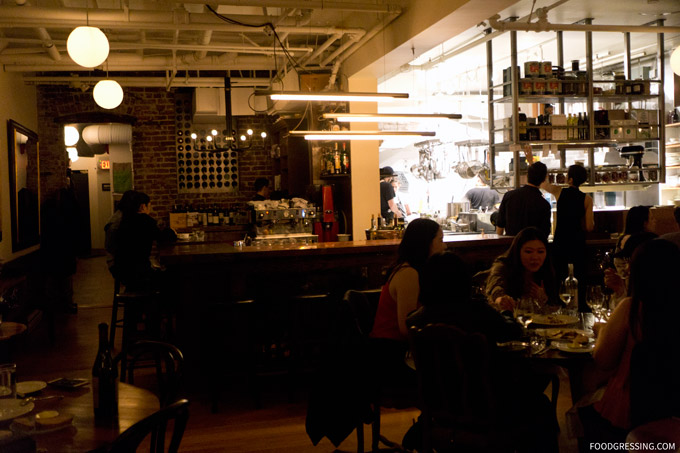 Cinara Menu
The menu at Cinara changes daily and you can check the latest menu on their website before you go in. Cinara's menu is short and is divided into Starters ($5 to 22), Pasta ($24 to $25), Main ($28 to $31). The dessert menu features a few simple desserts ($9) and a cheese plate ($16).
What We Tried
For drinks, our party had a mix of wine, cocktails and beer.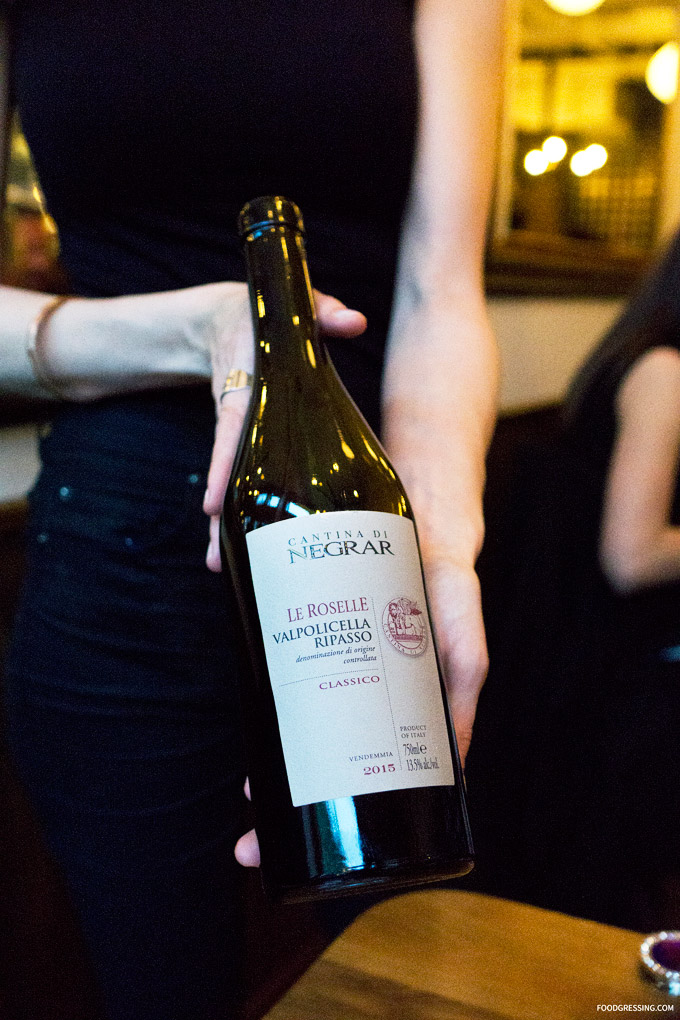 White Anchovy Toast, Sweet Pickles, Maitre D'Hotel Butter
I must admit that I'm not much of an anchovy-anything sort of person. However, our friend who had been to Cinara before said that the White Anchovy Toast ($6 per piece) is a must. And I must say that the toast was really good! It tasted mostly of sweet pickles rather than fishiness or saltiness. I particularly liked their house-made sourdough bread which had a very crispy crust and was light and fluffy on the inside.

Tagliatelle, Bolognese
My friend is a teacher and she was keen on ordering the Tagliatelle with Bolognese ($24) sauce as it is a Mealshare item. It was such a delicious pasta with perfectly al dente pasta paired with a meaty, creamy, delicate and aromatic bolognese sauce.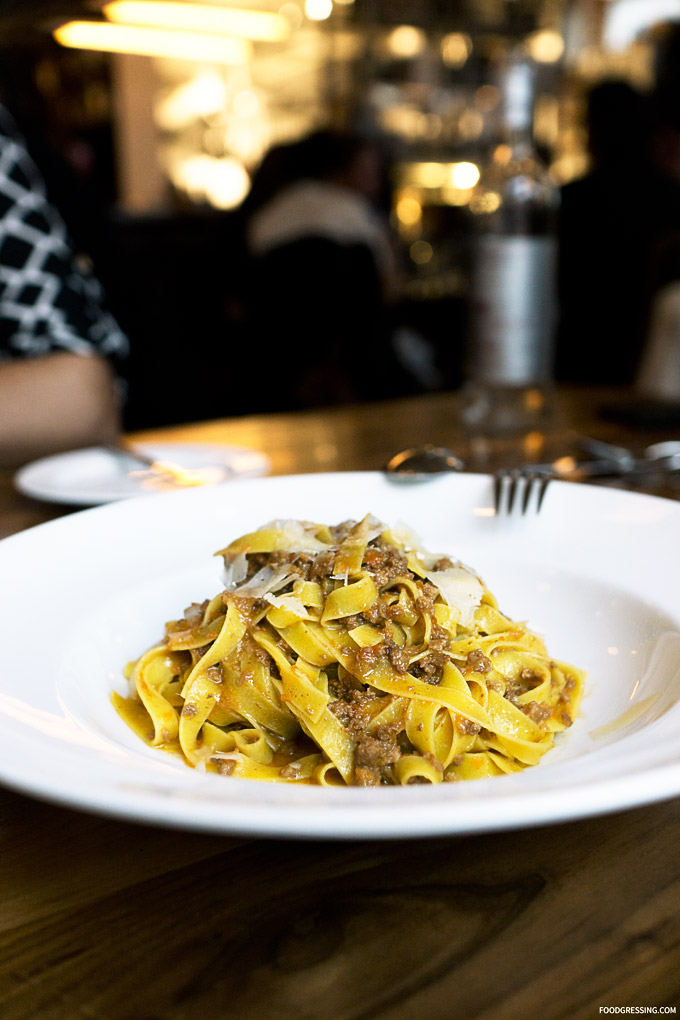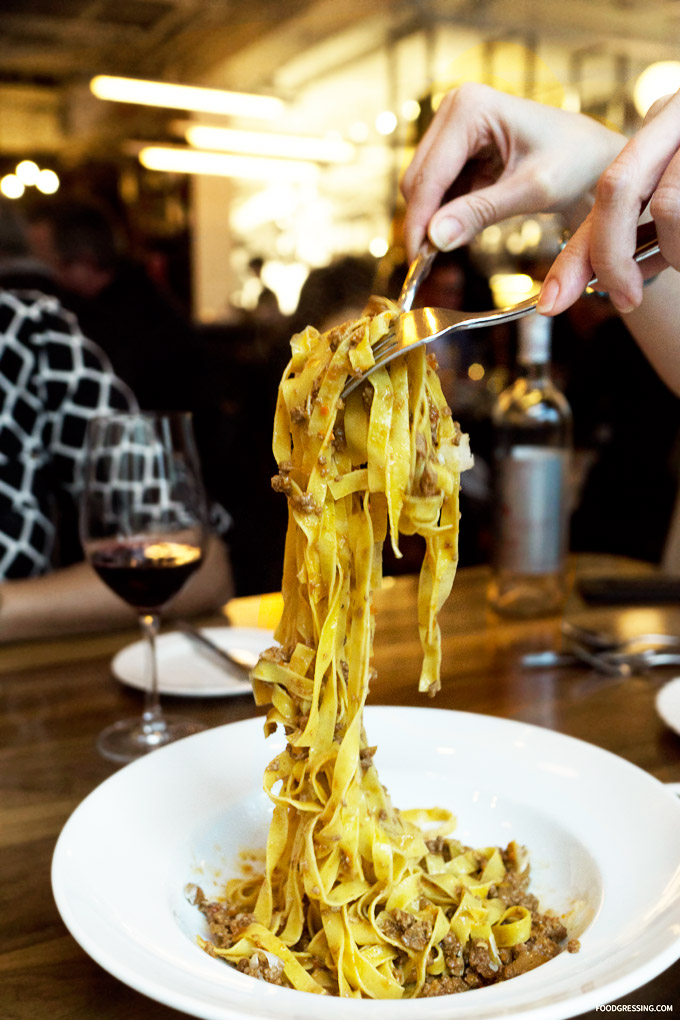 Halibut, Bread Dumpling, Pea Tip, Prodo
My entree was the baked halibut with house-made sourdough bread dumplings ($30). The dish overall had a nice, clean taste. The housemade sourdough bread dumplings were rather interesting; they had a nice flavour as they were cooked with herbs and spices. I enjoyed their soft, springy texture. The broth was also very good; I found myself drinking it up till the end.
Fraser Valley Duck Breast, Savoy Cabbage, Green Apricot Jus
Two of the ladies in the group had the duck as the entree ($28).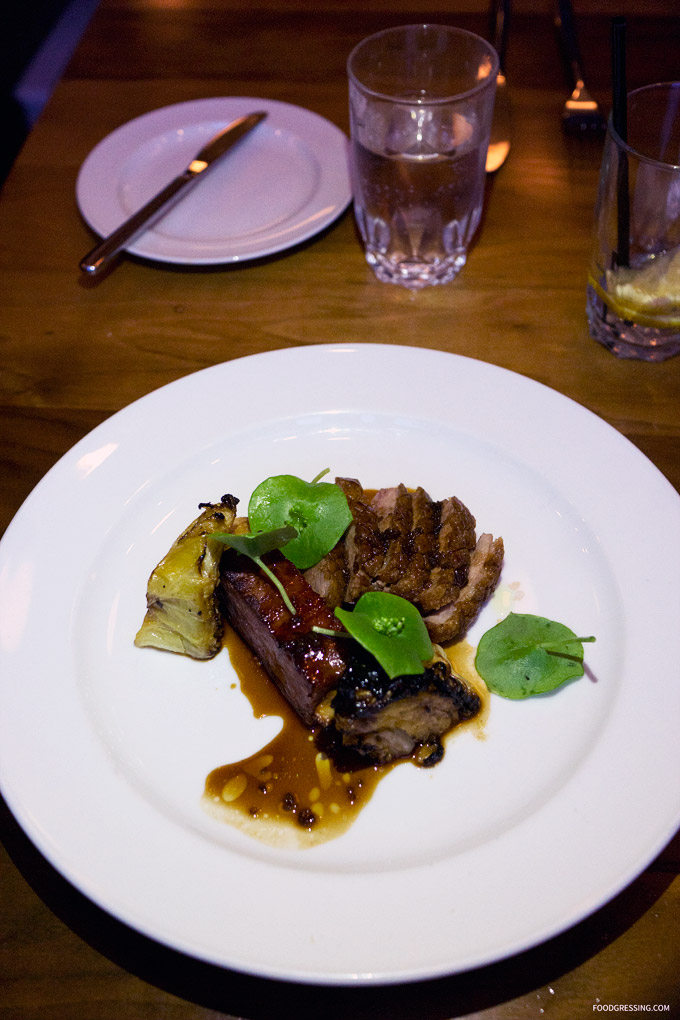 Rice Pudding, Black Walnut, Caramelized Cocoa
The dessert menu consists of three options (aside from the cheese plate) and we ordered one of each. The simplest one I found was the rice pudding ($9) which was nicely rich and creamy. I loved how I could feel the individual grains of tender rice. The black walnuts added some nutty flavours and crunchy texture.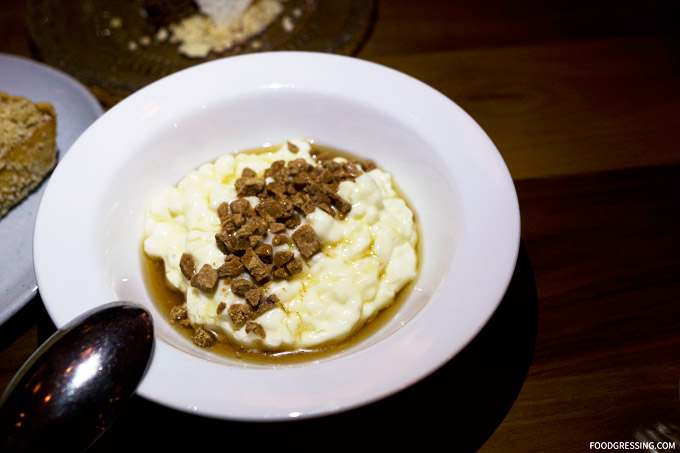 70% Chocolate, Olive Oil, Amaretti
Chocolate lovers would enjoy the chocolate mousse ($9) made with 70% chocolate. I tasted the cocoa as well as some saltiness with it. A creative part of the dessert was the use of dehydrated milk foam which added some nice textural contrast.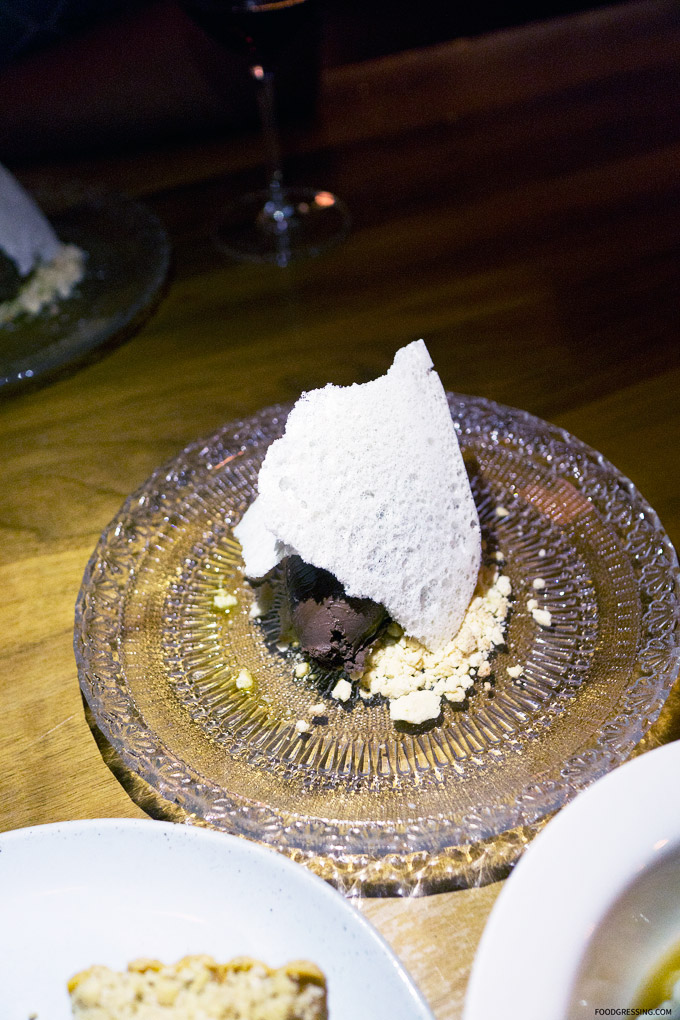 Salted Caramel Tart, Pine Nut, Apple
For a more substantial dessert, I think the tart would be a good option. It was tasty but not quite like salted caramel; it was more on the caramel side.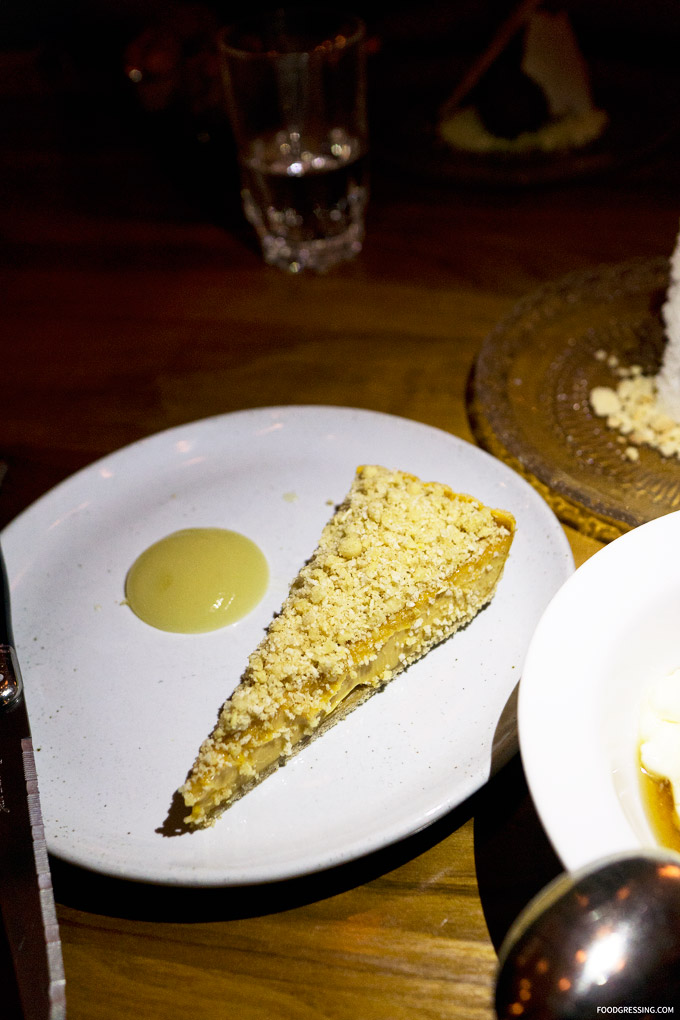 Service
I must say that our server was very good. She was very friendly, warm and kept our water glasses topped up throughout the evening. What surprised me was that she wasn't the least bit pushy. The four of us stayed at the restaurant for 3 hours and she didn't bring us the bill until we really seemed done. It was nice that we could just relax, enjoy good conversation and not be signalled to pay and leave.
Overall Impression of Cinara
I really enjoyed the clean flavours and execution of all the dishes at Cinara. I was particularly impressed with the warm, inviting environment. Cinara is a place that I would recommend to my food blogger friends like Kristina (Drunkennoms.com) and David (Pickydiners.com) who love a good, elevated Italian restaurant. Rating: 4.5/5
Cinara
Address: 350 W Pender St, Vancouver, BC
Website: ‎cinara.ca