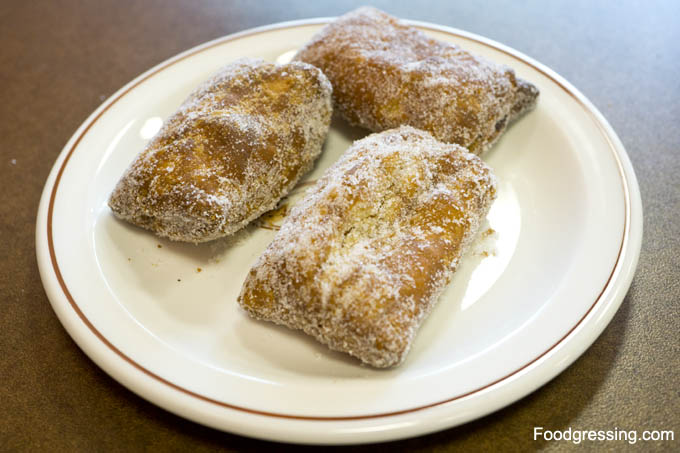 Tim Hortons rolled out Nutella baked goods last month at their Canadian locations.  The coffee chain introduced the chocolate hazelnut donut filled with Nutella and the pastry pocket filled with Nutella and is offering Nutella as a spread option for bagels.  These new menu items are only here for a limited time until June 9 in Canada.
I was curious about these new Tim Hortons Nutella offerings and decided to conduct my own taste test over a few visits at my nearby location on Davie and Howe in Vancouver.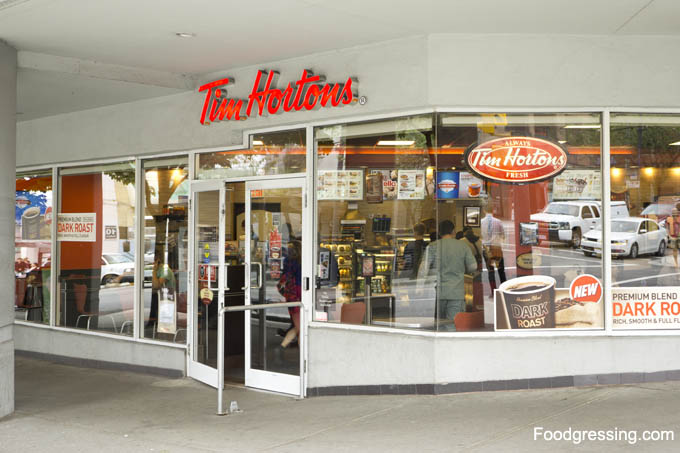 Tim Hortons Nutella Goods Taste Test
The first Nutella item I tried was the chocolate hazelnut donut filled with Nutella.  The donut had a layer of chocolate with hazelnut sprinkled on top and a dollop of Nutella in the middle of.  I really enjoyed the softness and chewiness of the donut along with the crunchy texture from the hazlenuts.  I also enjoyed the presentation of the donut which was pretty cute.  The cost for one of these donuts was around $1.50.  My overall reaction was two thumbs up!
On a different day, I tried the pastry pockets filled with Nutella.  I was disappointed for a few reasons.  First, I was expecting Nutella to be bursting into my mouth once I bit into the pastry pocket, but that did not happen.  The amount of Nutella filling was meager.  The pastry pocket was flaky but I did not enjoy the amount of sugar coated on the outside.  The sugar coating made it feel too much like a cheap dessert.  The cost for three pastry pockets was $2.99 (or about $1 each).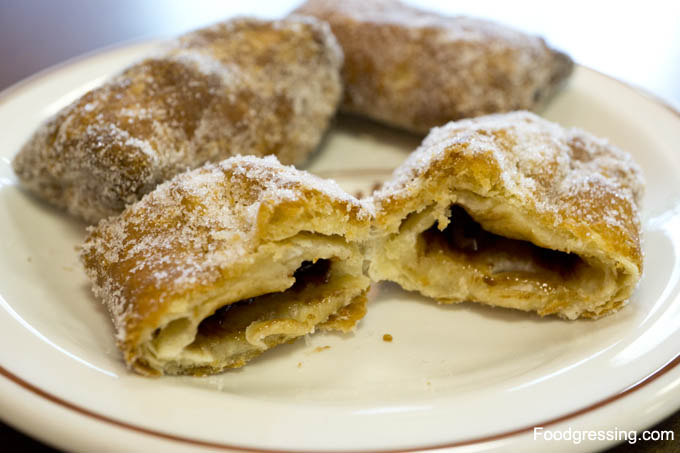 On my last visit, I ordered a 12 grain bagel with a Nutella spread.  I was asked how many passes of Nutella I wanted to which I responded one.  The cost of one layer was $0.90.  I watched the Tim Hortons staff person open up a single-serve Nutella package and spread it on the bagel.  I thought that they would just use the traditional jar of Nutella, but they did not.  It seems very non-environmentally friendly to use single-serve packages when Nutella does come in a jar.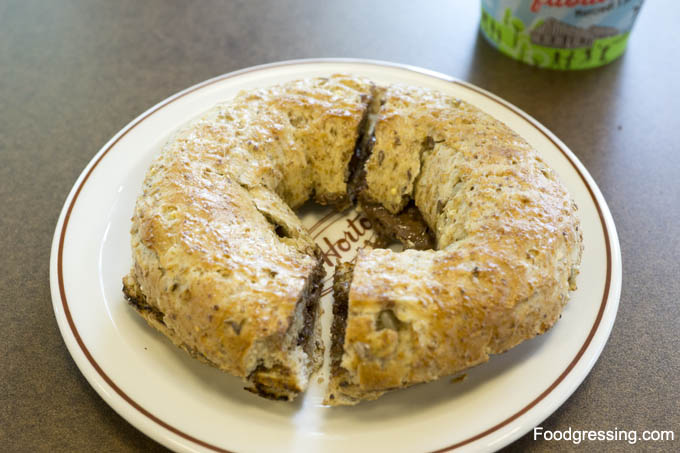 Enjoy in Moderation
The delicious hazelnut spread that is Nutella is undoubtedly a wonderful indulgence.  But did you know that one tablespoon of Nutella contains approximately one tablespoon of sugar?  Best to enjoy it in moderation methinks.
Overall Impression
Out of the three Tim Hortons Nutella menu options, I only enjoyed the chocolate hazelnut donut filled with Nutella.  The pastry pocked had too much sugar, and I was not impressed with the use of single-serve Nutella packages for the spread on the bagel.
For more information, see Tim Hortons' official website: http://www.timhortons.com/ca/en/promos/nutella.php