Join, Earn and Enjoy!
I heard on social media that Second Cup launched a new free loyalty rewards program and mobile app.  The Second Cup rewards app allows customers to earn 10 points for every dollar spent.  Rewards start at 500 points for a drink and 1000 points for a bag of beans.  The app also supports mobile payments.  Customers can top up their card ahead of time and so that they only need to scan the barcode on the app when making a purchase.  The app will also have special surprises like a free drink on the membership anniversary date and other personalized offers.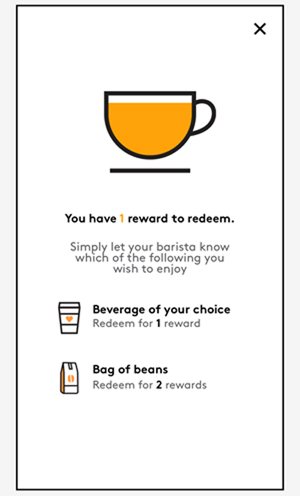 Devices Available
The app is available on Iphone and Android, as well as Apple Watch.  Second Cup is apparently one of the first Canadian companies to debut an app for the Apple Watch.  Customers who do not want to use the app can obtain a physical card from a Second Cup location.  The app is set to compete against Starbuck's mobile app, which has been highly successful in being adopted by customers.
Café Locator
When I signed up for the Second Cup Rewards app, I received a welcome offer for a free beverage (Sadly, I learned that this offer expired May 20 is no longer available to new sign ups.  Sorry, folks).  It had been a long time since I had been to any Second Cup, so I had no clue where the nearest one would be.  Fortunately, the app has a Café Locator. which showed me where the closest Second Cup was.  It was at the Bentall Centre, which is the shopping area between and below the Bentall Towers.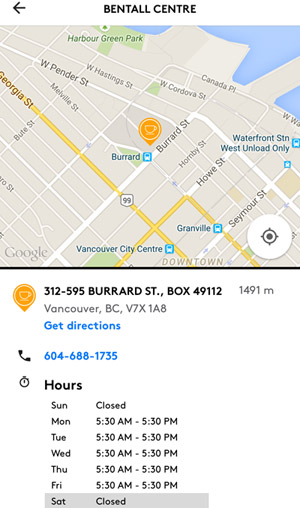 My Afternoon Snack
It was a warm day and I was in the mood for a cold blended beverage and an afternoon snack.  The staff person at the counter was friendly and had no issues in processing the order with the app.  She suggested the Chai Tea Frappé which I then ordered.  I also bought a blueberry coffee cake.

The Chai Frappé was very refreshing and had a nice chai flavour.  It offers a more simple taste compared to Starbucks frappuccino flavours.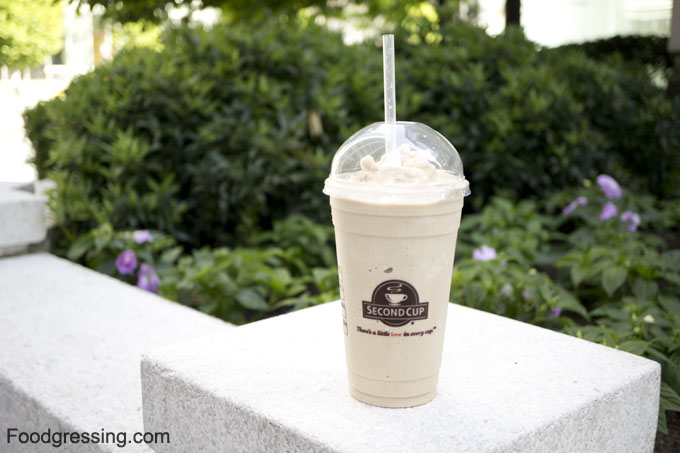 The blueberry coffee cake was surprisingly good and very moist.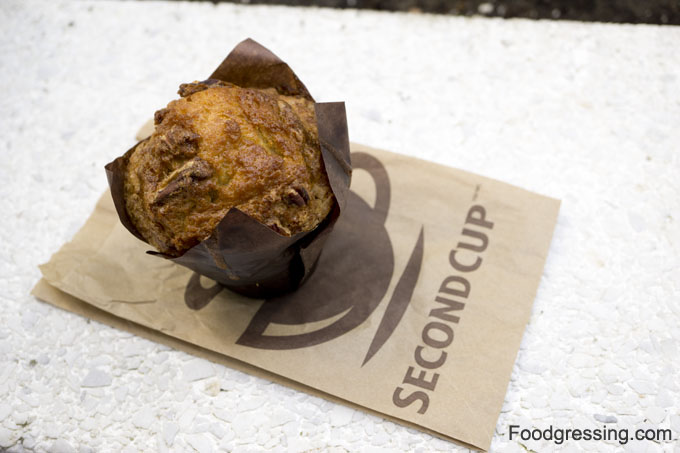 How much more before a reward?
The app also has a fun feature which shows you how far you are from a reward.  A drop of liquid gets filled when you earn points.  Once it is full, you will get a notification for a reward.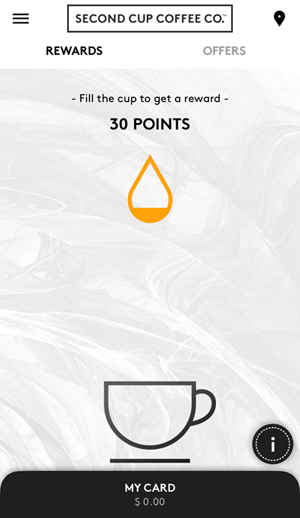 The overall experience was interesting for me as I tried out the new Second Cup Rewards app and had from food and a drink from Second Cup, which I had not done in a very long time.  I found the app to be user-friendly and there were no issues in scanning the barcode and earning points.
Second Cup has a promotional video on their new app:
For more information, check out www.secondcup.com/rewards