Tim Hortons has just launched a new innovation: Tim Hortons Cold Brew. Available in two flavours: Original and Vanilla Creme.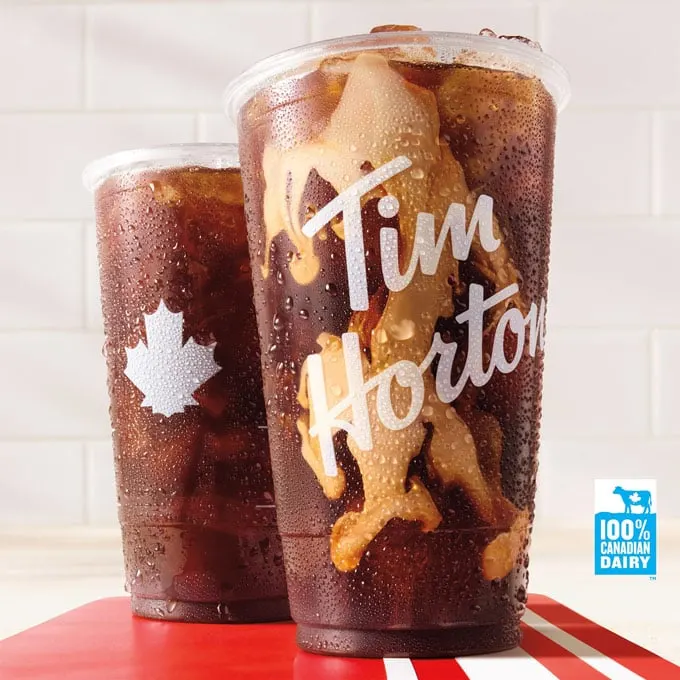 Unlike Tim Hortons Iced Coffee – which is their original hot coffee blend poured over ice – Cold Brew is made using an innovative cold water steeping process resulting in a smoother taste profile that is less acidic than Iced Coffee.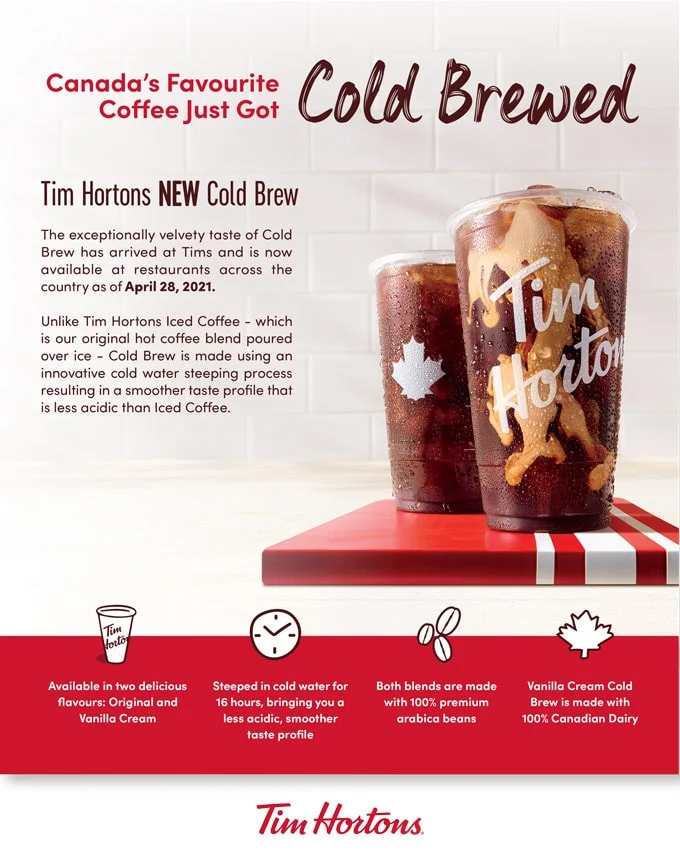 Ingredients
Made with 100 per cent ethically sourced premium Arabica beans.
How it's made
Cold Brew is slowly cold steeped for 16 hours to enhance the flavour and produce a bold and delightful coffee experience.
Tim Hortons Cold Brew Flavour
The new Cold Brew has an extremely smooth and rich taste.
You can also order a Vanilla Cream Cold Brew, made with 100 per cent Canadian dairy, which has a sweet and creamy flavour.
Customization
You can can customize your Cold Brew order and even order a Double-Double Cold Brew.
The customization options include:
Sweeteners: Cane Sugar Syrup (No, Less, Regular, Extra)
Flavour Shots: Chocolate, Caramel, Vanilla (0 – 3)
Toppings: Whipped (0 – 1)
Espresso Shots (0 – 3)
Availability
Cold Brew is now available on the Tim Hortons Canada menu at participating restaurants and special flavours will be introduced seasonally in the coming months.
Price
A Cold Brew is priced as follows: Small ($2.49), Medium ($2.69), Large ($3.19).
A Vanilla Cold Brew is priced as follows: Small ($2.79), Medium ($2.99), Large ($3.49).
Use Tim Rewards Points
You can redeem a Cold Brew for 140 Tims Rewards points.
YOU MIGHT ALSO LIKE:
Top Tim Hortons Donuts and Coffee List Canada: Price, Calories