Thanksgiving is a wonderful time to eat, drink and be thankful. Looking for ways to celebrate Thanksgiving in New Orleans 2021? This post covers Thanksgiving dinner in New Orleans, restaurants open for Thanksgiving in New Orleans as well as turkey to go and takeout options.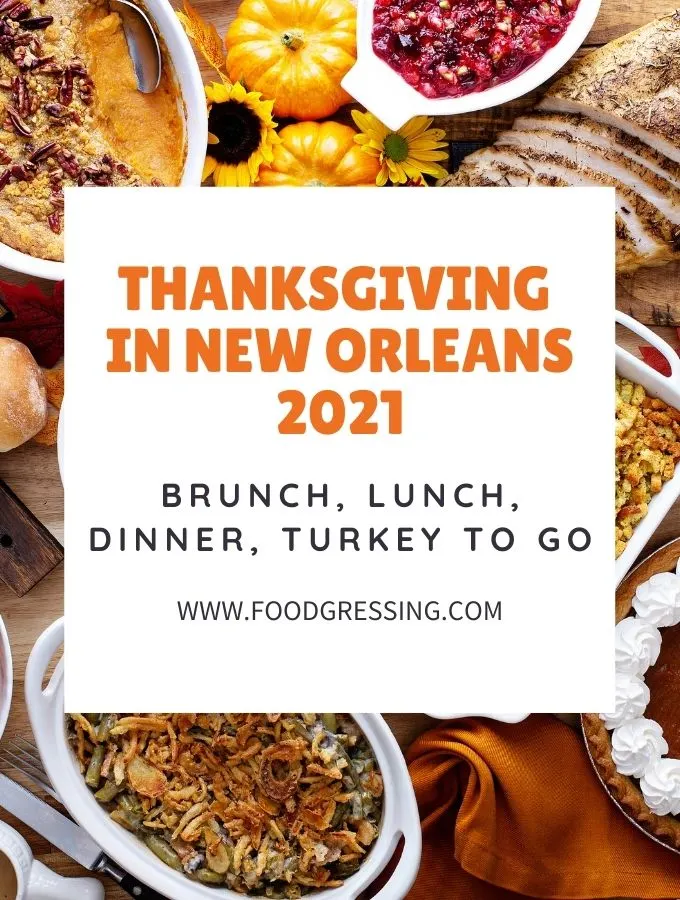 Thanksgiving in America this year is Thursday, November 25, 2021.
This list is updated as information becomes available. Please reach out to me foodgressing@gmail.com or @foodgressing on social media for any suggestions.
This list is not exhaustive. If your favorite restaurant is not on the list, contact them to see what they are offering.
Thanksgiving in New Orleans 2021
Ralph's on the Park
Ralph's on the Park is offering a 3 Course Thanksgiving Menu for $65. $21 for Kids 12 and under.
Menu includes Turkey & Andouille Gumbo, Marinated Crab Salad, Slow Cooked Turkey, Speckled Trout Amandine, Veal & Crabmeat, Filet Mignon, Seared Duck Breast, and seasonal desserts.
Reservations available for November 25 from 11 am – 5 pm.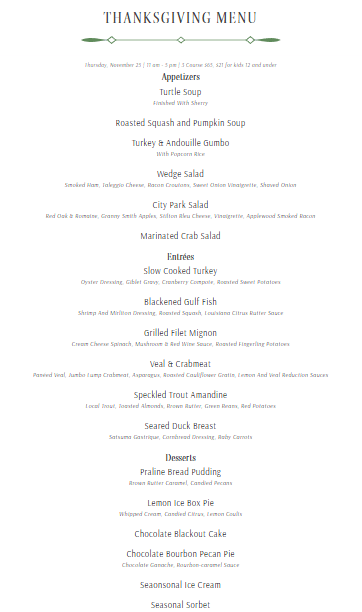 Red Fish Grill
Red Fish Grill is offering a Thanksgiving Buffet featuring Seafood Gumbo, Butternut Squash & Lobster Bisque, Boiled Shrimp, Fresh Shucked Oysters, LA BLue Crab Ravigote, Prime Rib, Roasted Turkey, BBQ Shrimp & Grits, and more.
SoBou
SoBou is offering a Thanksgiving Day Meal, featuring traditional favorites with their signature Louisiana inspired twists.
3-Course for $65 per person and we highly recommend adding our Sommelier inspired Wine Pairing for an additional $30. Ala Carte options available.
The Country Club
The Country Club is offering Thanksgiving day dine-in OR place your order for a special holiday dinner package to go (reheating instructions provided).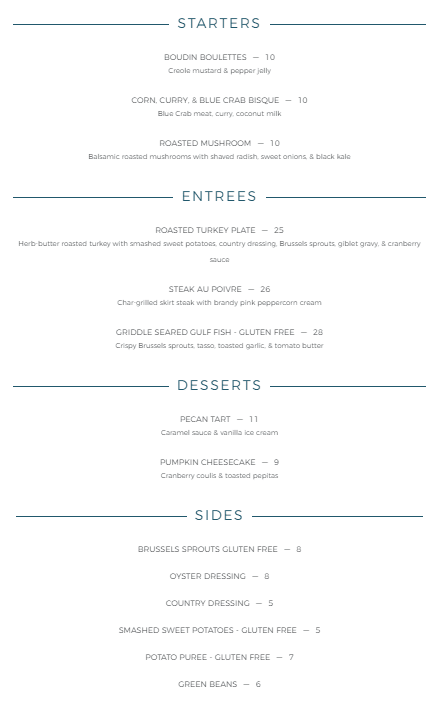 Orders for pick-up must be received by Thursday, November 18th, and picked up on Wednesday, Nov. 24th.
Thanksgiving To Go for 4 People ($100), 8 people ($200), 12 people ($300) includes Turkey, Gravy, Country Dressing, Mashed OR Sweet Potatoes, Brussels Sprouts OR Green Beans, Cranberry Sauce, Dinner Rolls and Pumpkin Cheesecake.
Thanksgiving Meal Delivery Online Services
CookUnity
CookUnity, the very first direct Chef-to-Consumer meal subscription platform, is serving up Thanksgiving dishes by culinary icon Marc Forgione to celebrate the holiday.
The special menu includes both classic and creative seasonal plates including Slow Roasted Turkey with Cornbread Apple Stuffing & Sage Gravy, Truffle Mashed Potatoes, Pumpkin Shells, Garlicky Green Beans, and Maple Whipped Sweet Potatoes and Cranberry Relish.
Every CookUnity dish is handcrafted using the freshest ingredients and each chef's expert techniques.
The Thanksgiving menu is available for delivery the week of Thanksgiving on a first come first served basis.
Meals start at $10.49/meal (certain specials may have an additional cost) and can be shipped right to your door. CookUnity currently services the Northeast, as far west as Illinois and south to Georgia, as well as the state of California and major markets within Nevada, Texas, and Louisiana.
Omaha Steaks
You can build your own, ready to cook Thanksgiving dinner with Omaha Steaks. They ship nationwide or you can pickup at location closest to you.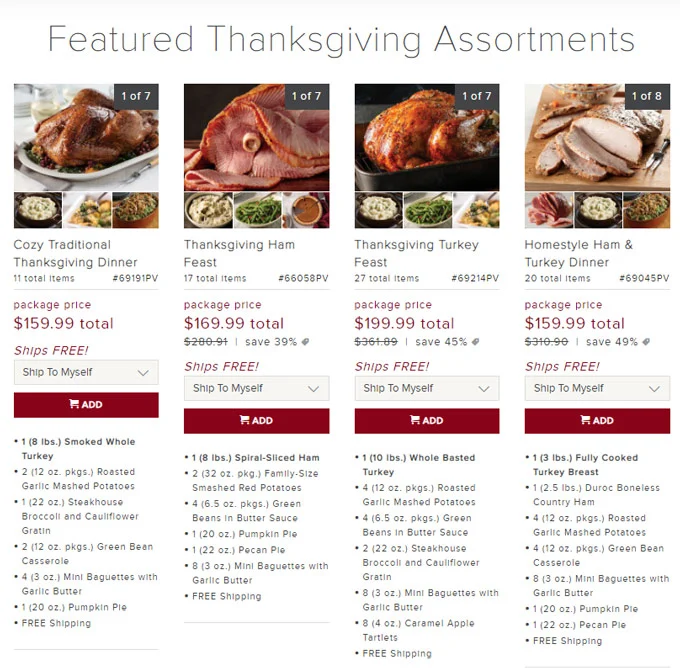 Ready to Cook Thanksgiving for 4 ($129); for 6 ($149.99 – $179.99) or for 8 ($199.99).
Thanksgiving Mains include Whole Basted Turkey; Spiral Sliced Ham; Boneless Heart of Prime Rib Roast; Pecanwood Smoked Flank Ham; Fully Cooked Breast.
Some sides and sweets that they offer are family-sized smashed red potatoes; green bean casserole; family-sized whipped sweet potatoes; brussels sprouts with bacon & shallots; pumpkin pie; pecan pie; caramel apple tartlets and more.
Williams Sonoma
Williams Sonoma has a number of Thanksgiving items that can be delivered to you including:
Fresh Free-Range Turkeys
Pre-Roasted Turkeys
Smoked Turkeys
Stuffed Turkeys
Assorted Brie Appetizers
Prepared Turkey Gravy
Mushroom and Herb Stuffing
Potato Gratin with Thyme and Fontina Cheese
Sweet Yam Casserole
Brussels Sprouts with Bacon
Cranberry Chutney
Southern Baked Pumpkie Pie
Some items like the turkeys are shipped overnight from the supplier and is not eligible for rush shipping. For Thanksgiving Delivery, order by November 20, 2020, 11:59pm PT, for delivery on November 25.
Harry & David
Harry & David has a Thanksgiving Turkey Feast ($229) which can be shipped to you:
The menu incluldes:
Ready-to-heat oven-roasted turkey (10 lb)
Apple sausage stuffing (1 lb 14 oz)
Creamy Brussels sprouts with bacon (1 lb 12 oz)
Brown sugar sweet potatoes (1 lb 15 oz)
Pumpkin Cheesecake [New York-style pumpkin layered cheesecake], 2 lb
Classic turkey gravy (13.5 oz)
Spiced cranberry chutney (1 lb)
Net Weight: 19 lb 6 oz
The turkey is fully cooked and brined, creating a light pink color similar to smoked meats. Arrives frozen and will need to thaw two to three days before reheating and serving.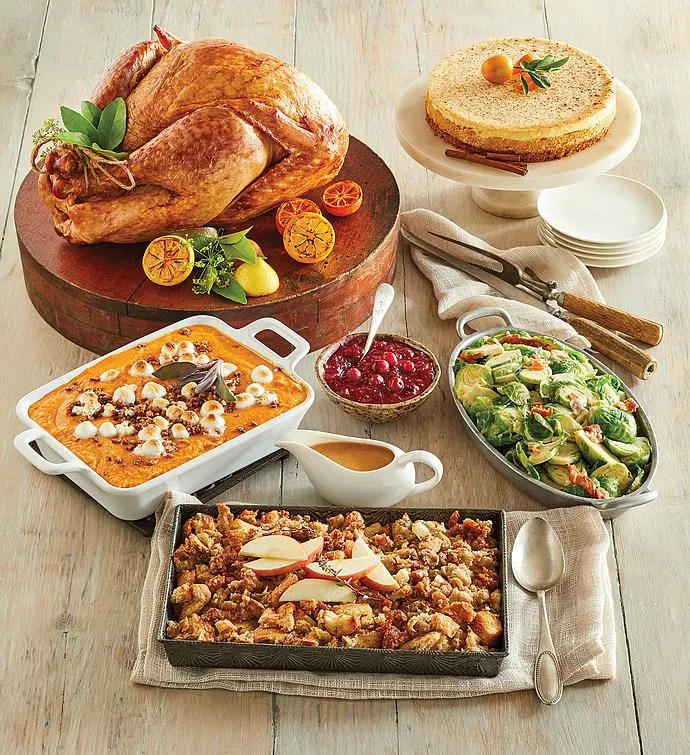 Harry & David also has many other items for your Thanksgiving meal including:
Spiral-Sliced Ham
Brown Sugar Sweet Potatoes
Gourmet Ham Dinner
Parmesan Creamed Spinach
Deep-Dish Pumpkin Pie
Zucchini and Corn Casserole and much more!
Hello Fresh
HelloFresh, the world's leading meal kit company, is bringing back its annual Thanksgiving Feast specialty box which features all of the ingredients and step-by-step directions to cook two chef-curated entrée options – Traditional Turkey or Beef Tenderloin – plus an assortment of sides, a decadent dessert, and an optional appetizer starting at $16.99 per serving.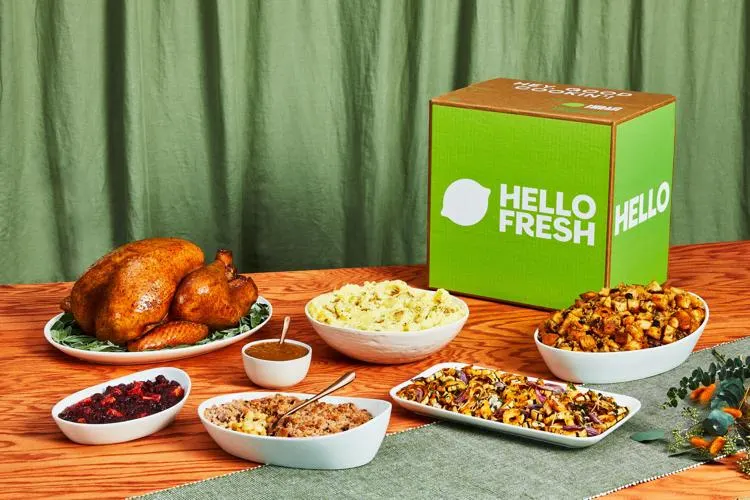 Traditional Turkey ($169.89 + $8.99 shipping): Serves 8-10 and features Roast Turkey with a Garlic-Herb Butter Rub and Classic Gravy. Sides include Creamy Mashed Potatoes with Garlic and Sour Cream, Ciabatta Stuffing with Chicken Sausage and Cranberries, Classic Gravy with Fresh Herbs, Roasted Delicata and Shallot with Walnuts, and Cranberry Sauce with Orange and Cinnamon. Dessert is an Apple Ginger Crisp with Cinnamon Pecan Crumble.
Beef Tenderloin ($134.95 + $8.99 shipping): Serves 4-6 and features a Peppercorn-Crusted Beef Tenderloin with Sherry Thyme Jus. Sides include Creamy Mashed Potatoes with Garlic and Sour Cream, Ciabatta Stuffing with Chicken Sausage and Cranberries, Beef Gravy, and Roasted Delicata and Shallot with Walnuts. Dessert is an Apple Ginger Crisp with Cinnamon Pecan Crumble.
The Thanksgiving Feast is available for preorder now through November 18 or while supplies last, with delivery beginning on November 16.
Blue Apron
Meal-kit delivery service Blue Apron is offering a Full Thanksgiving Dinner Menu that serves 6-8 and is available for delivery the weeks of 11/8, 11/15, or 11/22. Order by 11/17 and schedule your delivery for 11/22 or 11/23.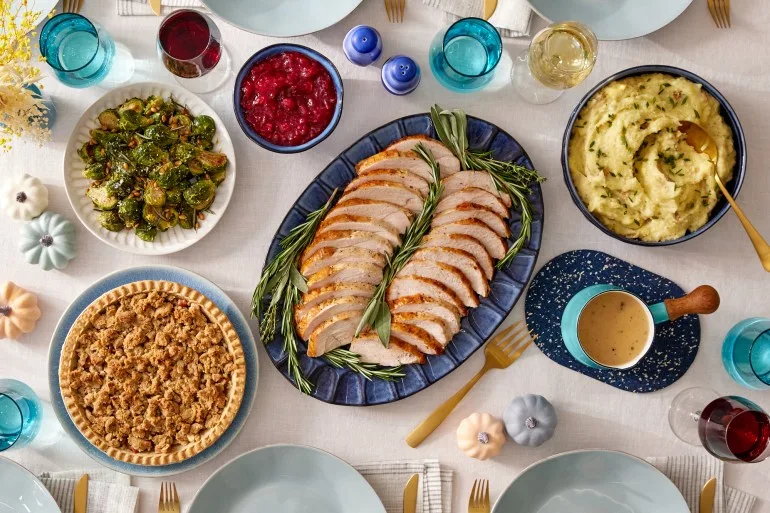 The kit includes:
Savory Butter Roasted Turkey Breast
Roasted Brussels Sprouts, Fried Rosemary & Pumpkin Seeds
Apple Crumb Pie with Warming Spices & Almonds
Garlic & Herb Gravy
Brown Butter Mashed Potatoes with Romano & Chives
Fresh Cranberry Sauce with Ginger & Spicy Maple Syrup
They also have a Vegetarian Thanksgiving Menu including:
Butternut Squash & Spinach Risotto with Fried Sage & Walnuts
Four Cheese & Truffle Honey Flatbread with Mushrooms & Kale
DIY Thanksgiving in New Orleans 2021 Meal Ideas
Holiday entertaining tips
Here are some tips on holiday entertaining including charcuterie board tips, how to cook the perfect turkey like a Chef, and virtual holiday party ideas.
Thanksgiving food list
Here is a Thanksgiving Food List to help you prepare or get inspired for your Thanksgiving celebration. You'll find ideas for Mains, Stuffing, Vegetables, Salads, Desserts and more.
Thanksgiving Quotes
Check out these Thanksgiving quotes and messages to demonstrate your gratitude for your loved ones this holiday season.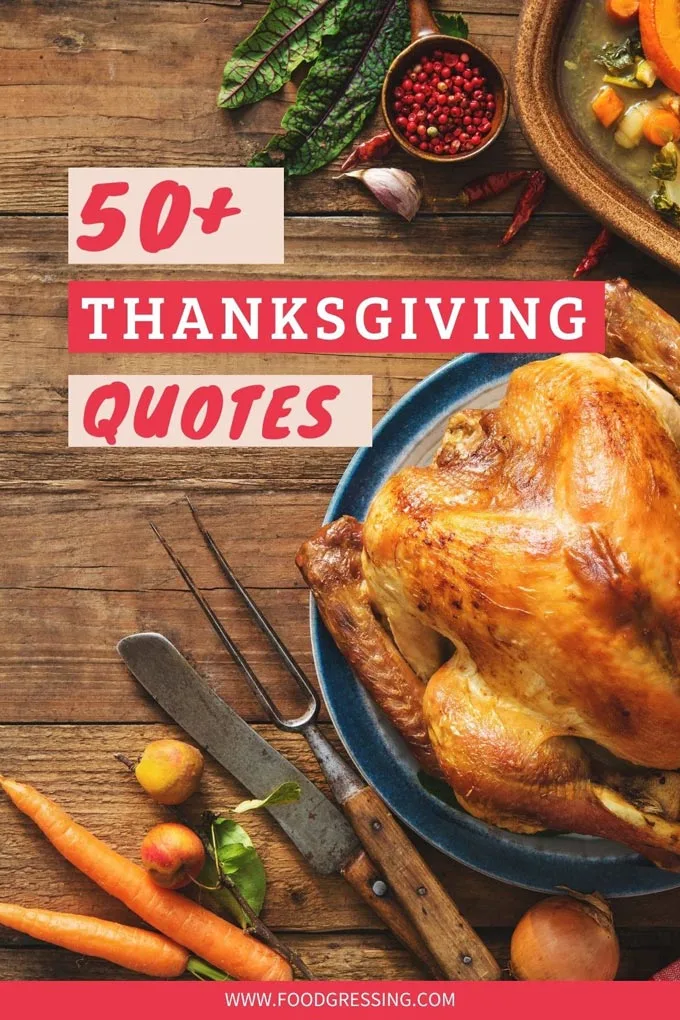 Captions about Family
Looking for captions about family for your social media post? Check out my post on 105+ creative and original captions for family pictures.