Thanksgiving is a wonderful time to eat, drink and be thankful. Looking for ways to celebrate Thanksgiving in NYC 2021? This post covers Thanksgiving dinner NYC 2021, restaurants open for Thanksgiving in NYC as well as turkey to go and takeout options.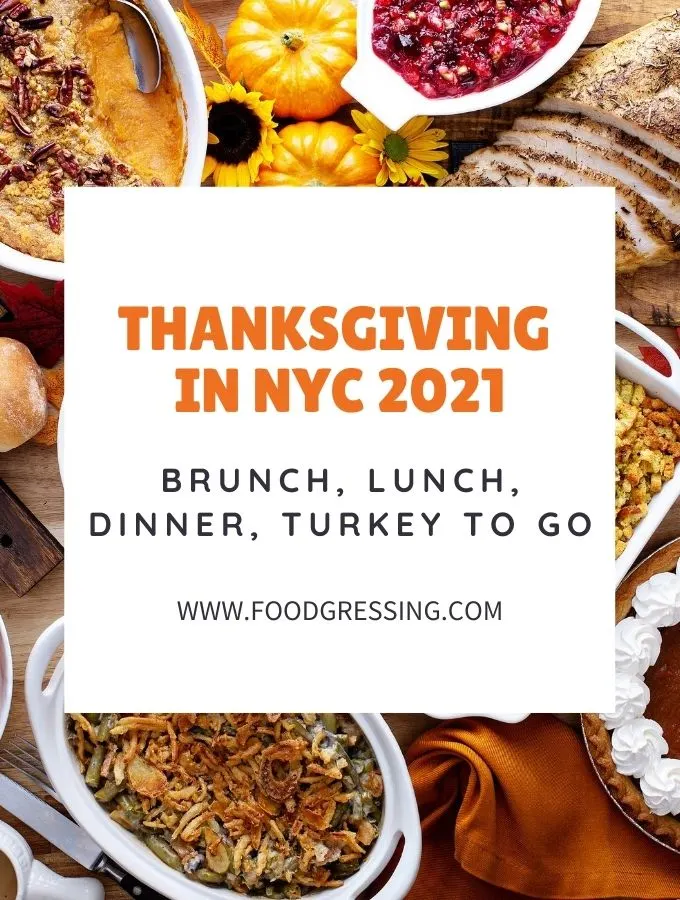 Thanksgiving in America this year is Thursday, November 25, 2021.
This list is updated as information becomes available. Please reach out to me foodgressing@gmail.com or @foodgressing on social media for any suggestions.
This list is not exhaustive. If your favorite restaurant is not on the list, contact them to see what they are offering.
Thanksgiving Dinner NYC 2021 + Specials
Bar Benno
Bar Benno is offering a Thanksgiving Dinner Plate ($32) which features roasted turkey with sage infused gravy, paired with traditional holiday stuffing made with house-made Pan De Campagna, Butternut, Koginut, & Red Kuri squash puree and Cranberry-orange compote.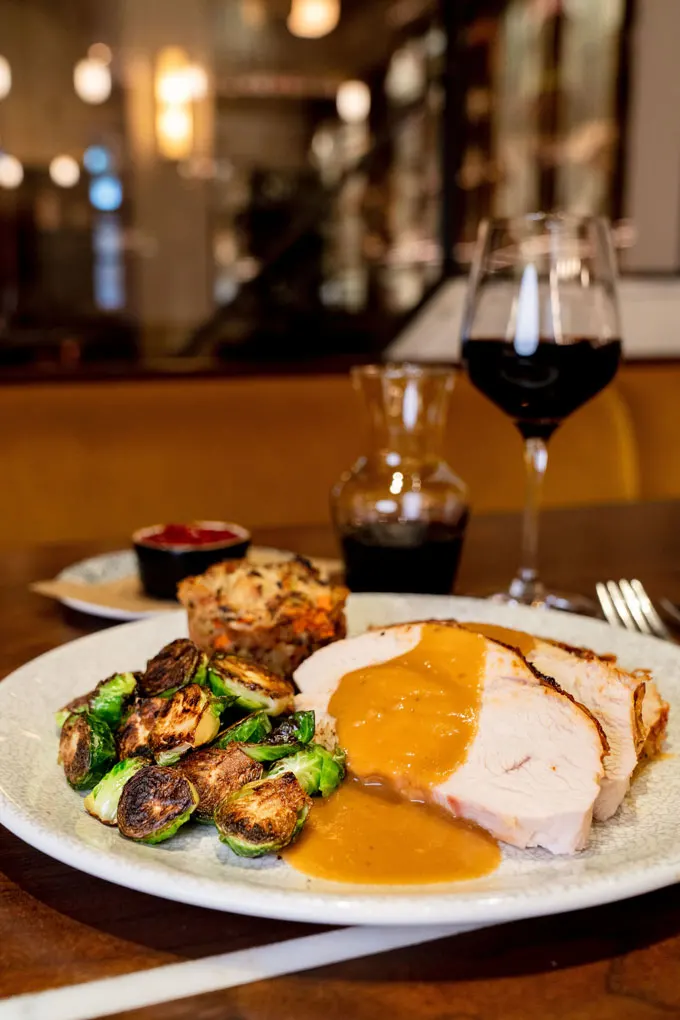 Brussels Sprouts with caramelized onion and roasted garlic are sourced locally from Union Square GreenMarket, Chef Benno's favorite place to pick up fresh produce.
They are also offering Classic Pies ($42) to go. Enjoy a classic Pumpkin Pie with mascarpone swirl, or a Pecan Pie made with Old Grandad Bourbon. Full pies are available at Leonelli Bakery for pre-order.
1 Hotel Central Park
1 Hotel Central Park has the following Thanksgiving offerings:
Thanksgiving Parade Brunch: Perfectly placed along the parade route, guests can watch the famous Macy's Thanksgiving Day Parade along our floor-to-ceiling windows at JAMS. November 25 from 7 am – 11 am.
Premium: $350pp / Select: $300pp / Bar: $200pp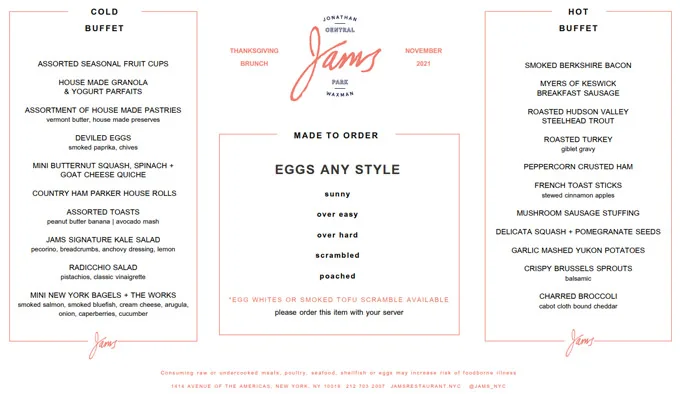 Post-Parade Brunch: $65 per adult / $35 per child. November 25 from 11 am – 2 pm. Menu same as above.
Thanksgiving Dinner: November 25 from $85 per adult / $40 per child. November 25 from 4 pm – 9 pm.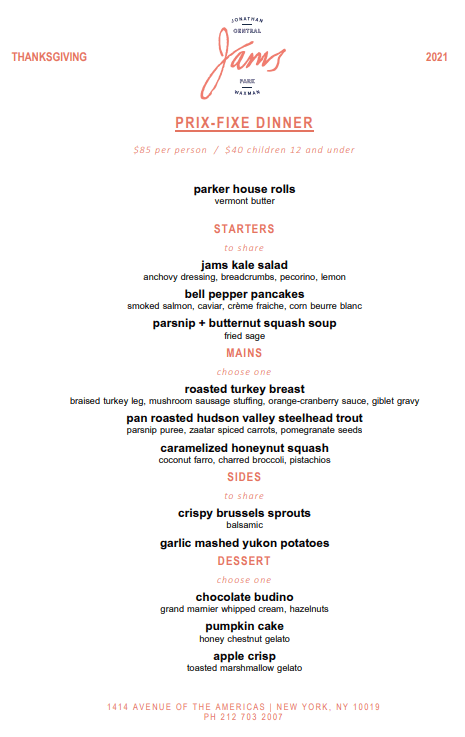 Thanksgiving in Bed: Whether your view of the parade is too good to leave your window nook or you're just too warm to get out of bed, they'll bring the Thanksgiving breakfast to you. Feeling Festive? Add a "Build your own mimosa" enhancement! $80 per basket.
Fig & Olive
Award-winning culinary director and partner at Fig & Olive, Alain Allegretti has crafted a Cote d'Azur inspired Thanksgiving feast including unique appetizer, entree and dessert options with a twist on everyone's favorite holiday classics.
The $85 per person three-course deal offers Thanksgiving classics like the Roasted Rainbow Carrots & Sweet Potato.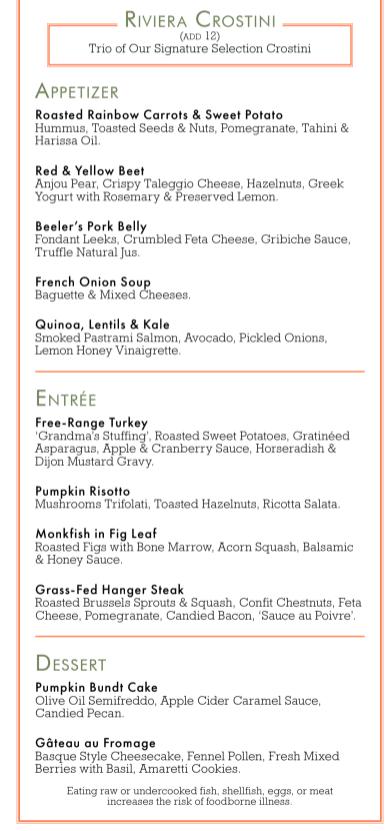 If you're not a fan of traditional sides, Fig & Olive also offers dishes that are true to the restaurant collective's Mediterranean heritage, like French Onion Soup or Beeler's Pork Belly.
Whether you're a Thanksgiving-food enthusiast or a dedicated Vegetarian, Fig & Olive's holiday menu has dishes inclusive to all.
Enjoy a Free-Range Turkey or Pumpkin Risotto without having to lift a finger in the kitchen.
Dessert delights include your choice of Pumpkin Bundt Cake or Gâteau au Fromage.
This one-of-a-kind menu is available exclusively on Thanksgiving Day from 12 pm – 8 pm.
Brick Lane Curry House
Brick Lane Curry House is offering a prix-fixe Thanksgiving menu at their New York and New Jersey locations.
The special menu features appetizers like Sweet Potato Chaat, Birayancini, and an assortment of Mini Pies. For entrees, a choice between Tandoori Roasted Chicken and Roasted Cauliflower is offered.
The Garam Masala Apple Pie is a must-have to complete this decadent dinner.
Reservations can be made online at bricklanecurry.com and it can be pre-ordered for pick-up.
Dagon
Be adventurous this Thanksgiving at Dagon – the lively Upper West Side Israeli locale by Chef Ari Bokovza is crafting a special prix fixe menu at $75 per person, pulling from menu favorites and new specialties just for the holiday.
Offering a selection of appetizers, entrees, and desserts to choose from, additional sides will also be available at $10 each.
A few dishes to highlight include Apple Fennel Soup with pomegranate molasses, yogurt, and chives, a seasonal take on their traditional dumplings Pumpkin Shishbarak featuring brown butter, warm yogurt, sage, and hazelnuts, Root Vegetable Fattoush with fresh herbs, sumac, buttermilk vinaigrette, and crispy pita, and the creme de la creme a Harissa BBQ Turkey decked out in potato sumac puree, with a challah and mushroom stuffing, and served with ginger, pomegranate cranberry sauce.
Available for dine-in, reservations for indoor and outdoor seating can be made on OpenTable or by phone at 212-873-2466.
1 Hotel Brooklyn Bridge
1 Hotel Brooklyn Bridge is offering a special four-course Thanksgiving menu for $95 per person. Enjoy Pumpkin Brioche, Honeynut Squash Soup; Chicories or Fluke Crudo; Foraged Mushroom Risotto, Cauliflower Tagine, Venison Shank, Turkey Feast; and a Fig Tart or Horchata Panna Cotta. Reservations available for November 25 from 12 pm – 9 pm.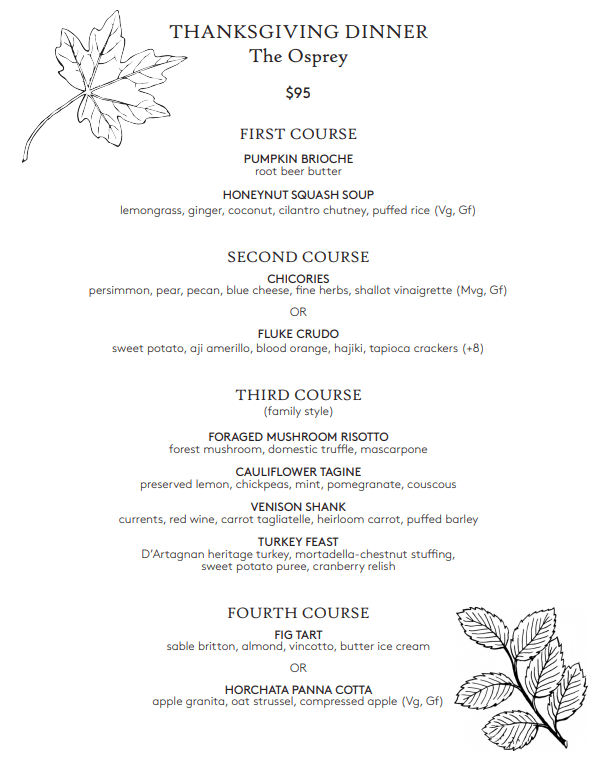 Charlie Palmer Steak NYC
Charlie Palmer Steak NYC is offering Thanksgiving to Go ($250, serves 4). Orders must be placed by Monday, November, 22. Pickup or delivery on Wednesday, November 24 from 12-8 pm.
Eleven Madison Park
Eleven Madison Park is offering a plant-based Thanksgiving feast featuring a four-course menu, served in their main dining room.
Reservations for November 25 from 11:30 am – 8:30 pm.
Aquavit
Aquavit is offering a Thanksgiving to-go package ($495, serves 4 people). Available for pickup on November 24 from 3:30 pm – 4:45 pm.
Fennel and Caraway Spiced Turkey Breast
Smoked Turkey Leg
Sweet Potato Puree
Truffle Mac n Cheese
Baby Kale and Apple Salad
Green Beans with Shallot Vinaigrette
Lingonberry Sauce
Rye Loaf and Butter
Pumpkin Sourdough Bread
Pecan Pie with Vanilla Custard
Dowling's at The Carlyle
Newly appointed Executive Chef Sylvain Delpique at Dowling's at The Carlyle has created a four-course prix fixe Thanksgiving menu priced at $250 per person.
Seatings from 12:00 p.m. to 9:00 p.m. on November 25.
Hortus NYC
Hortus NYC is offering a Thanksgiving Special Prix-Fixe for pick up and delivery on November 25 from 4 p.m. to 5 p.m. Priced at $75 per person + add-ons.
HORTUS Royal Platter Small: Chilled lobster tail, yellowfin tuna crudo, shrimp cocktail
Crispy Duck Taco (2 pcs): Sichuan cranberry sauce, lettuce, mango salsa
Choose two Appetizers from Add-ons
Surf and Turf: Filet mignon (10oz), truffle butter, grilled half lobster, lobsters mac and cheese, maitake mushroom
Chocolate Cheese Cake: Black sesame mascarpone cream
Reverence
Reverence is offering ChefsGiving Vol. 2- Turkeys Don't Fly? – a meal kit to feed 4 – 6 people.
Available for pickup on November 23 and 24 from 12 pm – 5 pm. Priced at $595.
Each Kit contains:
Bottle of Reverence Seasonal Vin de Maison
15-17 pound Heritage Black Walnut Brined Turkey Kit (SousVide- ready to finish roast)
Roasted Shallot Gravy
My Dad's Oyster Stuffing
Foraged Cranberry Lime Compote
just to mention a few dishes…. more info to come.
Includes Video Instructions and an chef hotline for assistance and mocking to enjoy the process.
Carmine's
Carmine's traditional Thanksgiving feast features an 18 lb. roast turkey with all the trimmings. Available for take-out, delivery, catering and dine-in. Feeds 6-8 and priced at $295. The menu includes:
One 18 lb. Roasted Turkey with Sausage & Sage Stuffing served with Homemade Cranberry Sauce
Brussels Sprouts with Caramelized Onions & Applewood Smoked Bacon
Sauteed String Beans with Julienned Red Peppers & Toasted Hazelnuts
Baby Carrots with Fresh Dill
Sweet Potatoes topped with Marshmallows & Maple Syrup
Mashed Potatoes with Giblet Gravy
Complete Your Holiday Feast with a Pie for an additional $24.99
Choose From: Apple or Pumpkin
(Choice of pie needs to be given at the time of the reserved order).
Virgil's BBQ
Virgil's BBQ traditional Thanksgiving feast features an 18 lb. smoked turkey with all the trimmings. Available for take-out, delivery, catering and dine-In. Feeds 6 – 8 people, $295. Individual, $42.95.
The menu includes:
One 18 lb. Smoked Turkey with Giblet Gravy
Mashed Potatoes
Cornbread, Sausage & Pecan Stuffing
Sweet Potatoes Topped with Marshmallows
Homemade Cranberry Sauce
Candied Brussels Sprouts with Pecans & Applewood Smoked Bacon
Creole Green Beans
Buttermilk Biscuits
Complete Your Holiday Feast with a Pie for an additional $24.99
Choose From: Apple or Pumpkin
(Choice of pie needs to be given at the time of the reserved order).
Lucciola
On Thanksgiving, guests can head to Upper West Side Italian eatery Lucciola for their three-course prix-fixe menu for $139 per person created by Chef Michele Casadei Massari.
The menu begins with an amuse-bouche of warm Pinsa with Parmigiano Reggiano, black kampot pepper, and white truffle paired with Ferrari Brut Champagne.
The feast continues with a choice of either Truffle Potato Gratin or Turkey Radicchio-Pear and Balsamic Salad as starters, and Stone Crab Tagliatelle, Gnocchi Parmigiano Reggiano with fresh burrata and white truffles or Wagyu Beef Stracotto Risotto as entrees. For dessert, guests can enjoy a slice of Pumpkin Pecan Pie with Pumpkin Gelato and Amaretto. Each course is paired with the finest Italian wines from Lucciola's prestigious list.
This special menu is available for dine-in only.
To reserve a table (indoors or outdoors) call 347-536-1335 or make a reservation via Resy.
Marathi
This new TriBeCa hotspot for Greek dining is serving an inspired Thanksgiving feast this year.
Chef Nicholas Poulmentis goes All- American in his multi-course menu which starts with Corn Bread, and a first-course choice of Crispy Brussels Sprouts Salad with Bacon and Citrus-Maple Vinaigrette, or Cast Iron Hasselback Potatoes with Parmesan Butter Sauce.
The main course is Roasted Turkey with Baked Sweet Potato, Gravy, Stuffing, and Cranberry Sauce or Sweet Aleppo spiced Berkshire Ham with Roasted Potato.
For dessert, a choice of traditional Apple Tart with Pumpkin Ice Cream, or Pumpkin Pie is offered.
The menu will be served from 2pm to 8pm and is prix-fixe at $55 per person.
Reservations can be made online at marathinyc.com, or by phone at 212-227-5100.
Marseille
Longstanding Hell's Kitchen favorite and French brasserie Marseille, now in its 20th year, is featuring a seasonally-driven menu for Thanksgiving Day.
Priced at $65 per person, Executive Chef Daniel Drexler is crafting a three-course prix-fixe menu with starters that feature the likes of French Onion Soup, Pumpkin Gnocchi, and Escargot, entrees such as All Natural Locally Farmed Turkey, Roast Rack of Lamb, and Honey Glazed Duck Breast, and a selection of classic desserts – all celebrating the restaurant's namesake roots as a North African port city, a cultural melting pot, and the French gateway to the world.
The menu can be found here.
Seatings are available from noon to 10pm, and reservations are currently open through OpenTable.
The Mary Lane
On Thanksgiving day, Chef Mike Price and Chef de Cuisine Andrew Sutin are offering their classic, seasonally-driven American fare as a three-course prix-fixe menu available from 2-9pm.
From the Autumn Salad to the Long Island Duck Confit Roulade as starters, to Roasted Holiday Turkey and the Sweet Potato & Maitake Mushroom Pavé for the second course, dish options are fresh and festive. Spiced Pumpkin Cheesecake and a Pear & Quince Crisp provide satisfying desserts.
A seasonal cocktail and glass pour special will also be offered.
Priced at $95 per person and $35 per child 12 years and under, there will be three seatings with a maximum possible group size of seven guests.
The menu is linked here and the reservation form can be found here.
Portale
Reflective of the chef's heritage, Portale in Chelsea will be offering a three-course prix-fixe menu at $115 per person featuring a selection of appetizers, entrees, and desserts with an Italian creative twist.
A few starters to highlight include Terrina with muscovy duck, foie gras, kumquat mostarda and Chef Portale's famed Crudo di Tonno, entrees like Mafaldine pasta with Maine lobster, Calabrian chili, lemon-basil butter, and Tacchino with roast turkey, duck confit, sour cherry stuffing, brussels sprouts, rainbow carrots, and the Bourbon Pecan Torta by Pastry Chef Kaity Mitchell to end the feast on a sweet and traditional note.
Available for dine-in for 1 PM to 8:45 PM, reservations can be made on the restaurant's website.
Socarrat Paella Bar
Guests looking to enjoy a Spanish-style Thanksgiving feast can head to any of Socarrat Paella Bar's locations.
For $68 per person, the special holiday meal begins with various family-style tapas to share such as Gambas al Ajillo and Pear & Squash salad.
For the main course, guests can enjoy a Thanksgiving Paella with confit turkey leg, roasted turkey breast, chorizo, butternut squash, piquillo peppers and mushroom sofrito.
The paella is served with side dishes like Crispy Brussels Sprouts, Cranberry Sauce, Roasted Sweet Potatoes with shaved almonds, Cranberry Bread Stuffing with chestnuts and sage, and more.
For dessert, guests can enjoy a decadent Pumpkin Cheesecake and Cinnamon Sugar Churros with Apple Caramel Sauce and Chocolate for the table.
Reservations can be made via OpenTable for Chelsea HERE, Nolita HERE, and Midtown HERE.
The special will be available for indoor and outdoor dining from 1pm to 9pm, and takeout.
Charlie Palmer Steak NYC
Charlie Palmer Steak NYC is offering Thanksgiving to Go ($250, serves 4 people). Orders must be placed by Monday, November, 22. All Pickups/ Deliveries on Wednesday, November 24 from 12-8 pm.
Scarpetta
Scarpetta is offering a Thanksgiving Meal Kit ($425, serves 4) available for pickup on November 23 12 pm – 3 pm or 24 9 am – 12 pm. The menu includes:
APPETIZERS
Rosemary Focaccia
Creamy Polenta with truffled mushroom
Beet Salad with shaved vegetables, castelrosso, beet vinaigrette, & pistachio
Chicory Salad with apple, cranberry, pecorino, & champagne vinaigrette
PASTA
Ricotta & Spinach Baked Manicotti with truffle fontina fonduta sauce
ENTREE
35 oz. Turkey Breast with gravy
SIDES
Brussels Sprouts with pancetta and salsa verde
Mashed Sweet Potatoes with mascarpone and pine nuts
Stuffing with celery root, parsnip, butternut squash, & sage
DESSERT
Homemade Apple Pie
LAVO Italian Restaurant
LAVO Italian Restaurant is offering Thanksgiving Dinner to Go ($190, serves 4) available for pickup or delivery:
Carved Herb Roasted Turkey
Chestnut Stuffing with Roasted Vegetables, Sausage, Pecans
Mashed Sweet Potatoes with Bourbon Maple Butter
Garlic Mashed Potatoes
Sautéed Green Beans
Country Gravy
Housemade Cranberry Sauce
Thanksgiving Meal Delivery Online Services
Omaha Steaks
You can build your own, ready to cook Thanksgiving dinner with Omaha Steaks. They ship nationwide or you can pickup at location closest to you.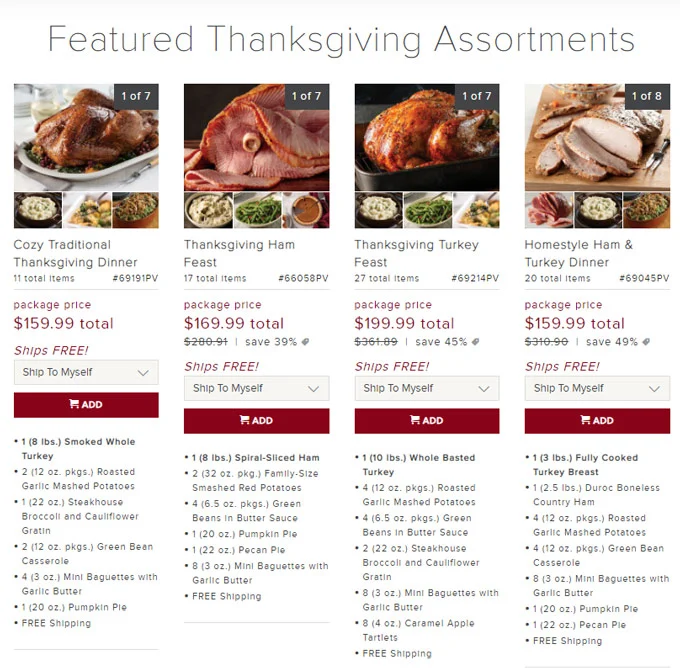 Ready to Cook Thanksgiving for 4 ($129); for 6 ($149.99 – $179.99) or for 8 ($199.99).
Thanksgiving Mains include Whole Basted Turkey; Spiral Sliced Ham; Boneless Heart of Prime Rib Roast; Pecanwood Smoked Flank Ham; Fully Cooked Breast.
Some sides and sweets that they offer are family-sized smashed red potatoes; green bean casserole; family-sized whipped sweet potatoes; brussels sprouts with bacon & shallots; pumpkin pie; pecan pie; caramel apple tartlets and more.
Williams Sonoma
Williams Sonoma has a number of Thanksgiving items that can be delivered to you including:
Fresh Free-Range Turkeys
Pre-Roasted Turkeys
Smoked Turkeys
Stuffed Turkeys
Assorted Brie Appetizers
Prepared Turkey Gravy
Mushroom and Herb Stuffing
Potato Gratin with Thyme and Fontina Cheese
Sweet Yam Casserole
Brussels Sprouts with Bacon
Cranberry Chutney
Southern Baked Pumpkie Pie
Some items like the turkeys are shipped overnight from the supplier and is not eligible for rush shipping. For Thanksgiving Delivery, order by November 20, 2020, 11:59pm PT, for delivery on November 25.
Harry & David
Harry & David has a Thanksgiving Turkey Feast ($229) which can be shipped to you:
The menu incluldes:
Ready-to-heat oven-roasted turkey (10 lb)
Apple sausage stuffing (1 lb 14 oz)
Creamy Brussels sprouts with bacon (1 lb 12 oz)
Brown sugar sweet potatoes (1 lb 15 oz)
Pumpkin Cheesecake [New York-style pumpkin layered cheesecake], 2 lb
Classic turkey gravy (13.5 oz)
Spiced cranberry chutney (1 lb)
Net Weight: 19 lb 6 oz
The turkey is fully cooked and brined, creating a light pink color similar to smoked meats. Arrives frozen and will need to thaw two to three days before reheating and serving.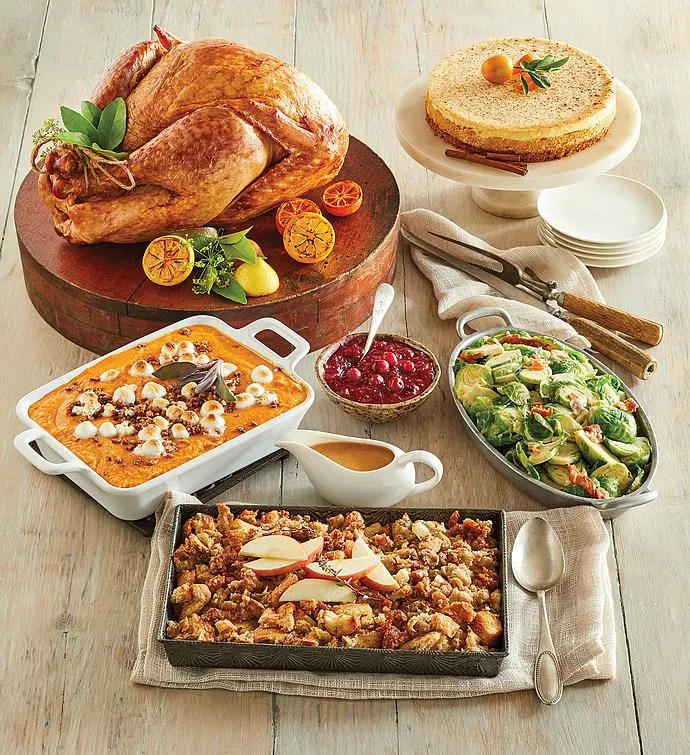 Harry & David also has many other items for your Thanksgiving meal including:
Spiral-Sliced Ham
Brown Sugar Sweet Potatoes
Gourmet Ham Dinner
Parmesan Creamed Spinach
Deep-Dish Pumpkin Pie
Zucchini and Corn Casserole and much more!
Hello Fresh
HelloFresh, the world's leading meal kit company, is bringing back its annual Thanksgiving Feast specialty box which features all of the ingredients and step-by-step directions to cook two chef-curated entrée options – Traditional Turkey or Beef Tenderloin – plus an assortment of sides, a decadent dessert, and an optional appetizer starting at $16.99 per serving.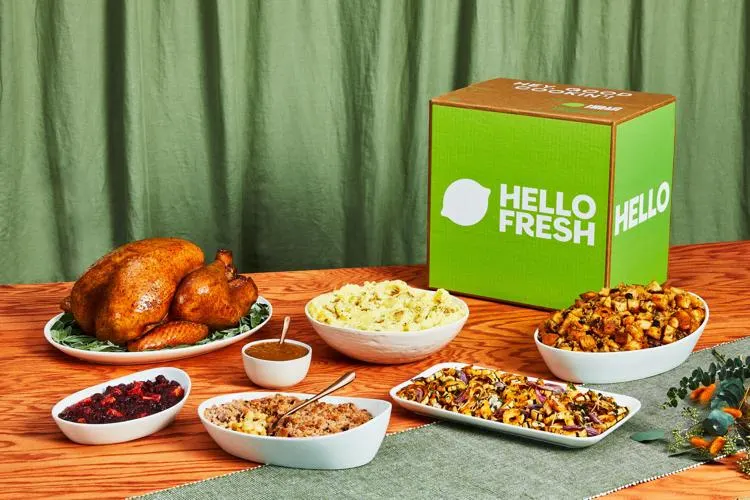 Traditional Turkey ($169.89 + $8.99 shipping): Serves 8-10 and features Roast Turkey with a Garlic-Herb Butter Rub and Classic Gravy. Sides include Creamy Mashed Potatoes with Garlic and Sour Cream, Ciabatta Stuffing with Chicken Sausage and Cranberries, Classic Gravy with Fresh Herbs, Roasted Delicata and Shallot with Walnuts, and Cranberry Sauce with Orange and Cinnamon. Dessert is an Apple Ginger Crisp with Cinnamon Pecan Crumble.
Beef Tenderloin ($134.95 + $8.99 shipping): Serves 4-6 and features a Peppercorn-Crusted Beef Tenderloin with Sherry Thyme Jus. Sides include Creamy Mashed Potatoes with Garlic and Sour Cream, Ciabatta Stuffing with Chicken Sausage and Cranberries, Beef Gravy, and Roasted Delicata and Shallot with Walnuts. Dessert is an Apple Ginger Crisp with Cinnamon Pecan Crumble.
The Thanksgiving Feast is available for preorder now through November 18 or while supplies last, with delivery beginning on November 16.
Blue Apron
Meal-kit delivery service Blue Apron is offering a Full Thanksgiving Dinner Menu that serves 6-8 and is available for delivery the weeks of 11/8, 11/15, or 11/22. Order by 11/17 and schedule your delivery for 11/22 or 11/23.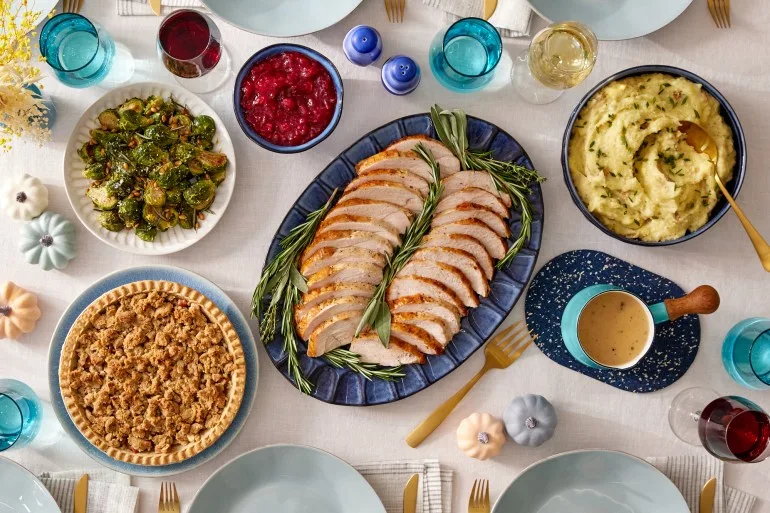 The kit includes:
Savory Butter Roasted Turkey Breast
Roasted Brussels Sprouts, Fried Rosemary & Pumpkin Seeds
Apple Crumb Pie with Warming Spices & Almonds
Garlic & Herb Gravy
Brown Butter Mashed Potatoes with Romano & Chives
Fresh Cranberry Sauce with Ginger & Spicy Maple Syrup
They also have a Vegetarian Thanksgiving Menu including:
Butternut Squash & Spinach Risotto with Fried Sage & Walnuts
Four Cheese & Truffle Honey Flatbread with Mushrooms & Kale
DIY Thanksgiving Dinner NYC 2021 Meal Ideas
Abigail's Kitchen
Abigail's Kitchen is offering a Thanksgiving primer class.
Held on Saturday, Nov 16 and Saturday, Nov 13, 2021 from 11 am – 4 pm. Priced at $175.
Whether you're hosting your first Thanksgiving or have simply been asked to bring a side dish, this class will teach you how to cook the bird, make stuffing and gravy, how to carve, several side vegetables and the all-important timing for a worry-free Turkey Day, taught by chef-owner Abigail Hitchcock, a direct descendant of the Mayflower Pilgrims.
They also have a pie class held on November 14 from 11 am – 2 pm. Priced at $150 per ticket.
Holiday entertaining tips
Here are some tips on holiday entertaining including charcuterie board tips, how to cook the perfect turkey like a Chef, and virtual holiday party ideas.
Thanksgiving food list
Here is a Thanksgiving Food List to help you prepare or get inspired for your Thanksgiving celebration. You'll find ideas for Mains, Stuffing, Vegetables, Salads, Desserts and more.
Thanksgiving Quotes
Check out these Thanksgiving quotes and messages to demonstrate your gratitude for your loved ones this holiday season.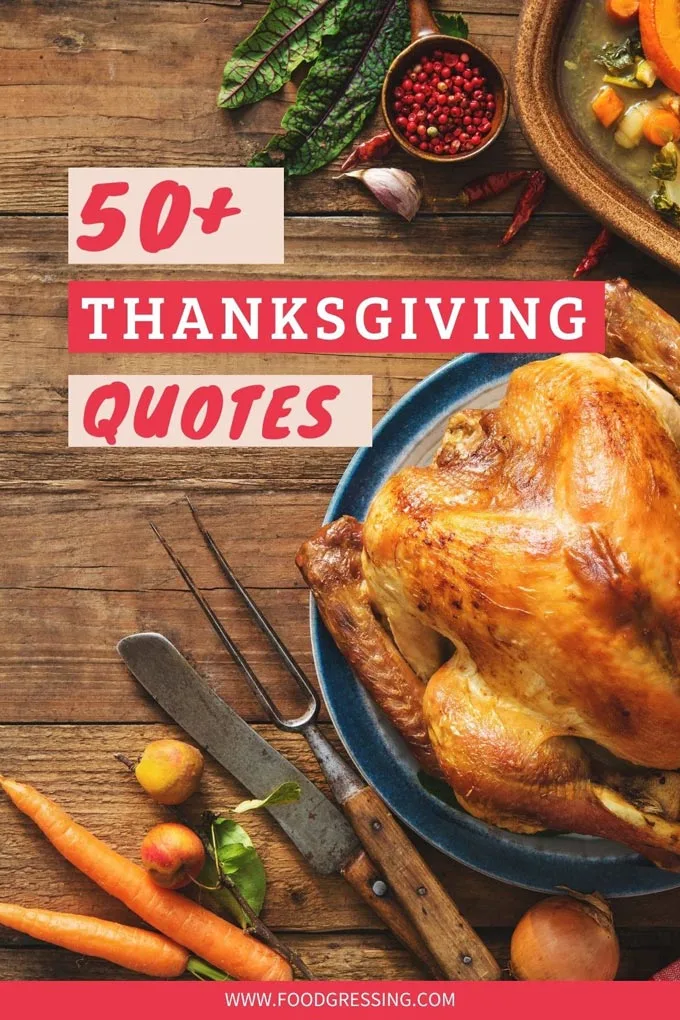 Captions about Family
Looking for captions about family for your social media post? Check out my post on 105+ creative and original captions for family pictures.