Thanksgiving is a wonderful time to eat, drink and be thankful. Looking for ways to celebrate Thanksgiving in Miami 2022? This post covers Thanksgiving dinner in Miami, restaurants open for Thanksgiving in Miami as well as turkey to go and takeout options.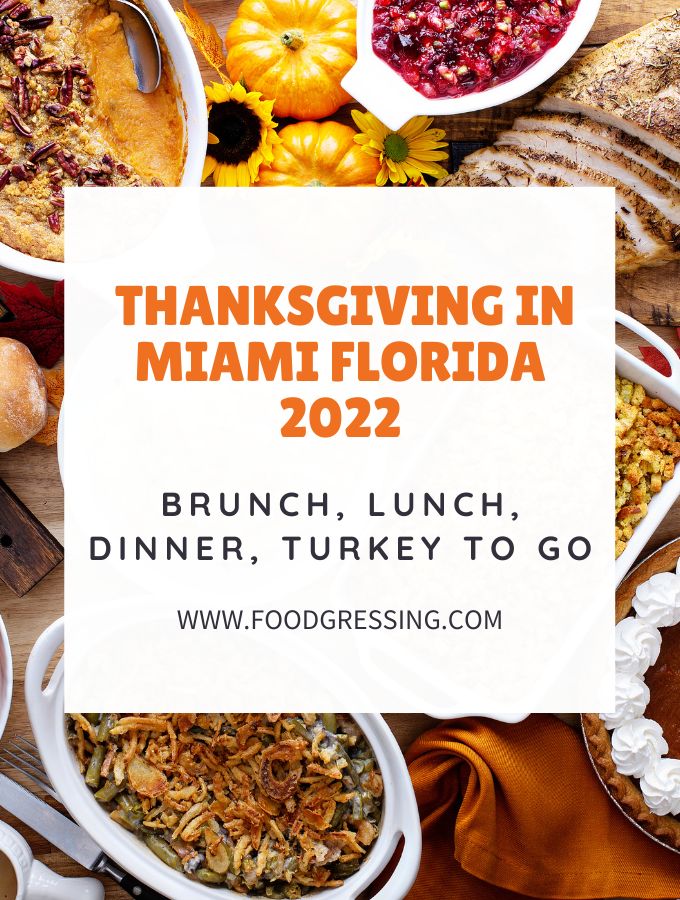 Thanksgiving in the US this year is Thursday, November 24.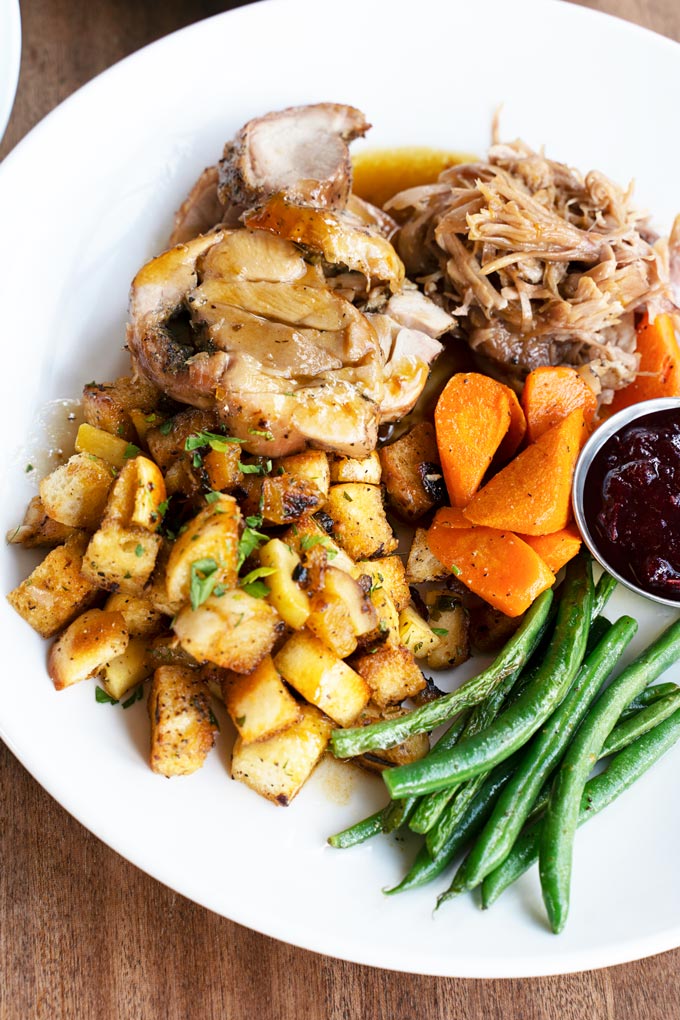 Please reach out to me [email protected] or @foodgressing on social media if you are a restaurant that wants to be featured. Provide all the details of your holiday offering in your message. For faster processing, please provide a ready to copy and paste excerpt in paragraph form in a similar format to the restaurants featured below.
This list is not exhaustive and is updated as information becomes available. I try to feature as much as I can but certainly this is not all that is out there. If your favorite restaurant is not on the list, contact them to see what they are offering.
Thanksgiving in Miami 2022
Truluck's
In addition to their regular menu of delicious seafood entrees, Truluck's will offer a traditional three-course Thanksgiving feast of turkey with everyone's favorite sides and a selection of desserts (menu attached). In addition, guests can enjoy two holiday specialty cocktails: the Holiday Nog ($15) and a Turkey Fashioned (their take on an Old Fashioned) made with Wild Turkey bourbon, spiced orange syrup, angostura, and orange bitters ($14.50). Reservations are recommended.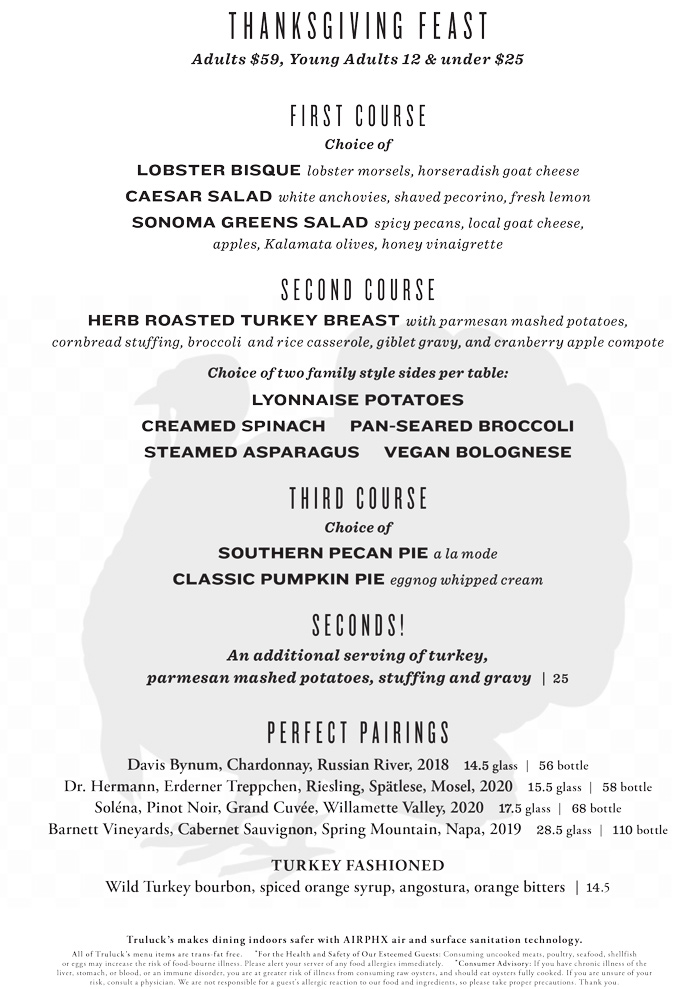 Amara at Paraiso
Amara at Paraiso is offering a Thanksgiving in Miami 2022 feast on November 24. Their a la carte menu will feature Thanksgiving specials such as creamy chestnut soup, butternut squash salad, and of course turkey. Parties of 9 to 12 are required to deposit $100 per person and $125 per person.
Bourbon Steak by Michael Mina Miami
Bourbon Steak by Michael Mina is offering a Thanksgiving in Miami 2022 Dinner on November 24. Priced at $170 per person.
Vida – Fontainebleau Miami Beach
Vida – Fontainebleau Miami Beach is offering a Thanksgiving buffet on November 24. Priced at $89 for adult and $45 per child plus tax and service charge.
Featuring a salad station, raw bar, a cheese and charcuterie station, a carving station, and signature sides. Beverages are sold on consumption.
Perry's Steakhouse & Grille – Coral Gables
Perry's Steakhouse & Grille – Coral Gables is offering a Thanksgiving Smoked Turkey Breast Meal on November 23 – 24. Priced at $49 per person (+tax & gratuity) and a to-go individual plate for $49 per person (+tax & handling fee).
Includes choice of Perry's Honey Crisp Apple Salad with Dried Cranberries, Walnuts and Maple Syrup Vinaigrette or Butternut Squash Soup, served with Pan Gravy, Mashed Potatoes, Green Bean Almondine, Sausage & Sage Dressing, Cranberry Relish and Homemade Bread. Add an individual serving of Pumpkin Cheesecake for $9. Available to-go or dine-in.
Icebox Cafe
Bring on the holiday spirit with boozy milkshakes, Thanksgiving meals to go or a holiday dining experience at Icebox Cafe in Miami Beach or Hallandale Beach.
They are offering a dine-in Thanksgiving prix-fixe priced at $55 per person.
They are also offering a Thankgiving package ($325) for 8-10 guests. Includes fresh roasted turkey 14-16 lbs.; choice of 2 side dishes; choice of stuffing; homemade gravy or bacon-rosemary vinaigrette; homemade cranberry sauce; one dozen biscuits or corn muffins; 9" apple pie and 9" pumpkin pie.
Contessa Miami
In the Design District, experience a luxurious Thanksgiving in Miami 2022 four-course Italian feast featuring Contessa's signature Meatballs Aldo, Ricotta Gnudi, Roasted Turkey, and plentiful accompaniments; a Porterhouse will be on offer as a supplement. For dessert, enjoy pumpkin ice cream and our take on a Boston Cream Pie.
$150 per per person. Reservations available for November 24 from 2 pm – 8:45 pm.
Meatballs Aldo & Squash Carpaccio, Chopped Salad
Ricotta Gnudi di Pecora with black truffles
Roasted Turkey with Sage Turkey Gravy, Turkey Stuffing
Cranberry Mostarda, Whipped Potatoes, Roasted Brussels Sprouts w/ Pancetta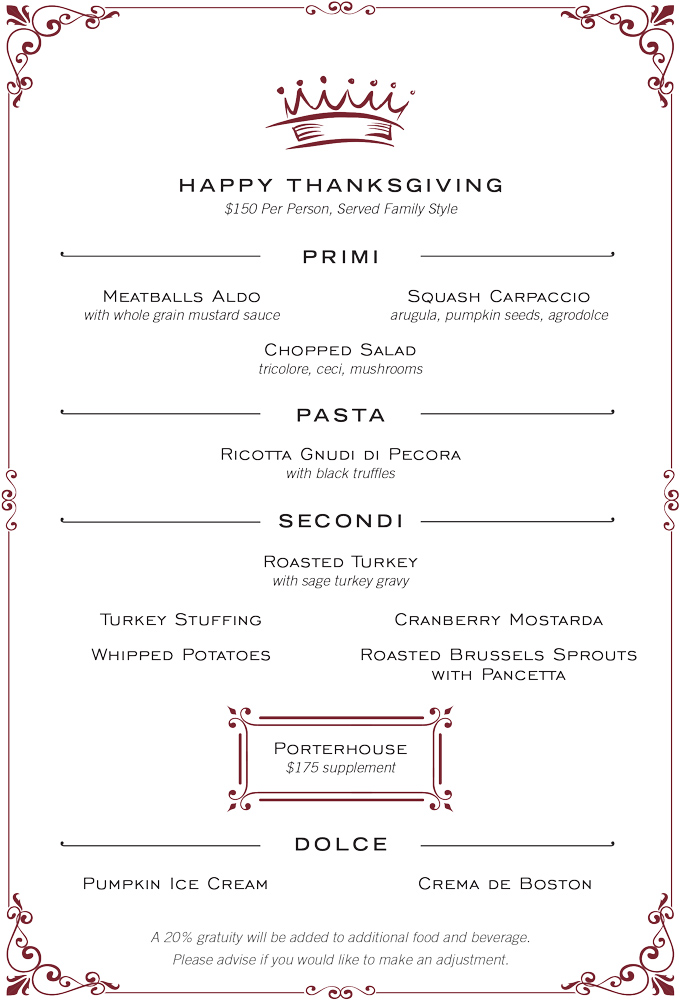 Stripsteak
Stripsteak is offering a Thanksgiving prix-fixe menu priced at $95 per person.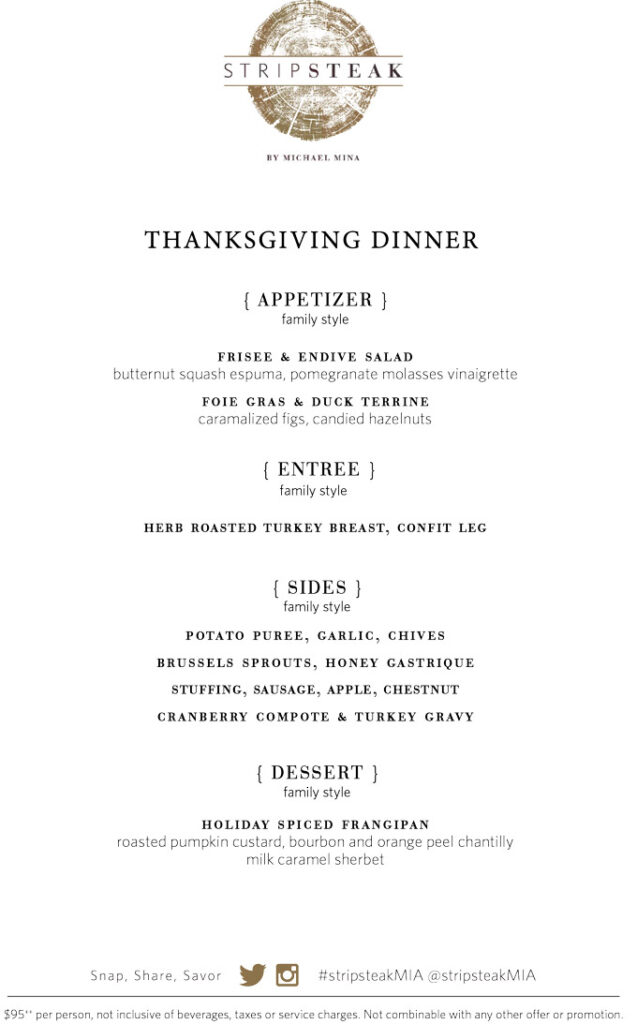 Dirty French Steakhouse
Dirty French Steakhouse is planning a decadent three-course menu that kicks off with classics like the Beef Carpaccio before it's time for The Dirty French Turkey Feast, which features Roasted Heritage Turkey and four exceptional sides. Add a World-Famous Prime Rib as a supplement, and finish the meal with Pecan Pie å la Mode and Crème Brûlée. Reservations available for November 24 from 2 pm – 9:30 pm. Priced at $150 per person.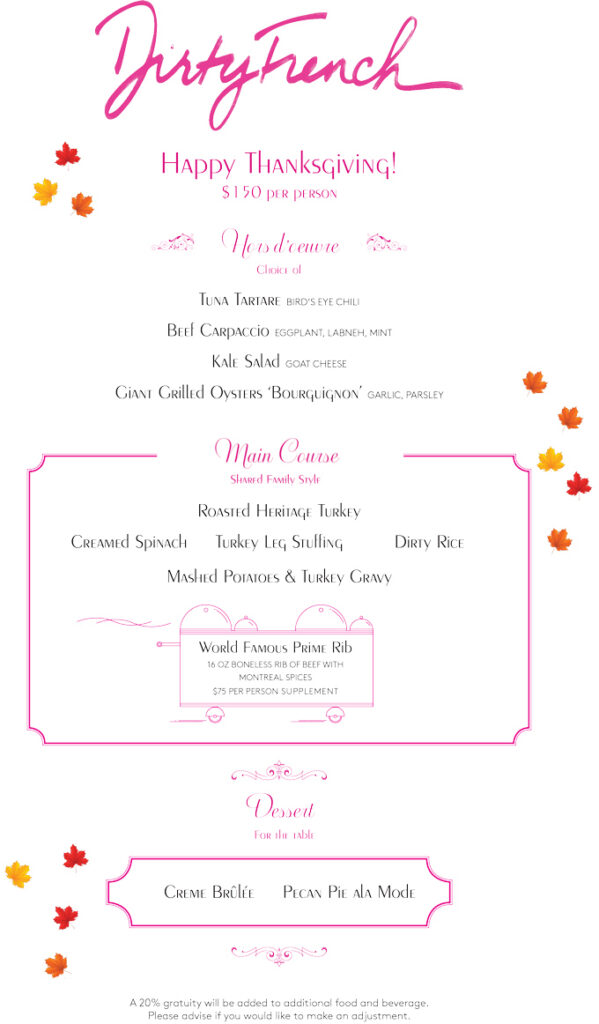 Carbone Miami
Carbone Miami is offering a luxurious four-course feast with options including Tuna Calabrese, Mario's Meatballs, Caesar Salad alla ZZ, and an extraordinary Glazed Turkey Breast. Finish the meal with Pecan Pie and Lemon Cheesecake. $225 per ticket. Reservations available for November 24 from 2:15 pm – 9:30 pm.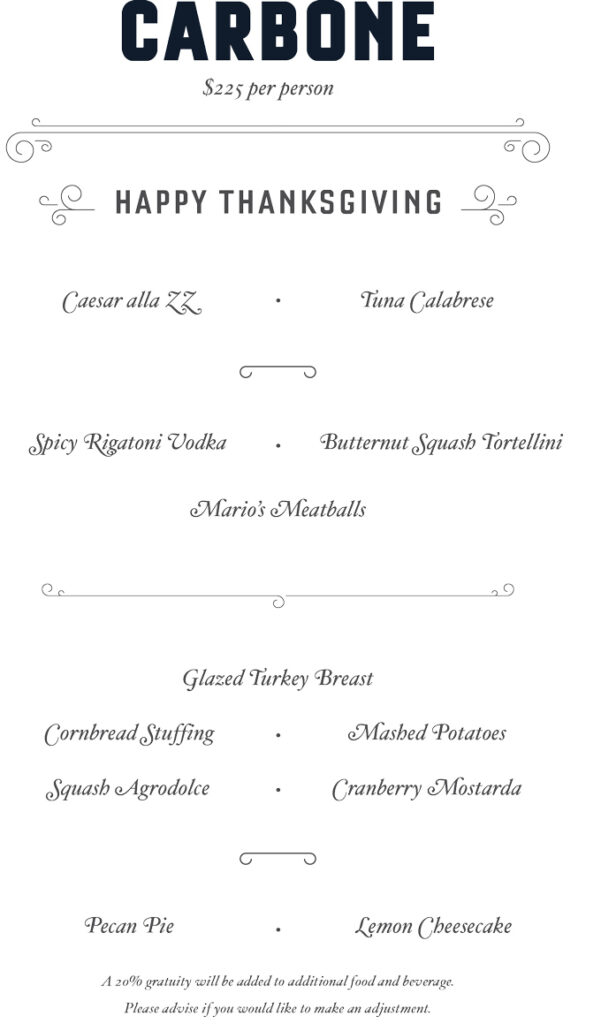 Hard Rock Cafe – Miami
Hard Rock Cafe – Miami is offering a Thanksgiving in Miami 2022 dinner on November 24.
Yardbird Miami
Yardbird Miami is offering Thanksgiving to-go available on November 23.
Featuring classics such as Herb Roasted Turkey, Mashed Potatoes, Sage & Celery Stuffing, Green Bean Casserole, Bourbon Brown Butter Glazed Yams, Fresh Cranberry Relish, Biscuits, and Giblet Gravy. Small $290, serves 2 -4 people. Large $550, serves 6 – 8 people.
An additional a la carte menu is also offered; Yardbird's Signature Fried Chicken for the family including 24 pieces of the world-famous 27-hour brined chicken, mac & cheese, and biscuits for all, and a whole Brown Butter Bourbon Pumpkin Pie for dessert.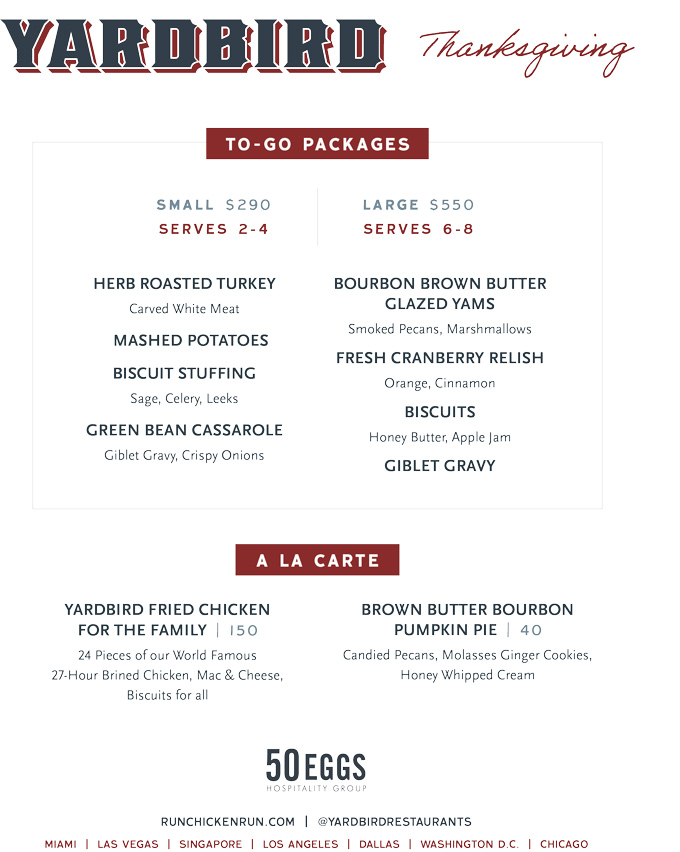 They are also offering a dine-in feature menu for Thanksgiving.

PUMO MIAMI
PUMO MIAMI is offering Thanksgiving in Miami 2022 to-go available for delivery on November 24 from 12 pm – 2 pm. Priced at $160 for half bird (feeds 4-5) and $300 for full bird (feeds 8-10).
Meal Includes:
Chestnut and Cherry stuffed Turkey legs
Brussels Sprouts with Bacon and Pomegranates
Olive Oil Whipped Potatoes
Corn Bread Sausage Stuffing
Classic Gravy
Cranberry Sauce
4 Rivers Smokehouse
Sit back and relax this Thanksgiving and let 4 Rivers Smokehouse (Coral Springs) do the cooking.
Indulge in a variety of proteins and sides for parties as large as 20.
Wow your family and friends with main course selections of Smoked Turkey, Boneless Ham, Signature Angus Brisket, Smoked Salmon or Prime Rib ranging from $69.99 – $199.
In addition to the main selections, fill your plate with the Fixins Package for $67.69, which includes a quart of Mashed Potatoes, Classic Gravy, Sweet Potato Casserole, Cornbread Stuffing (contains pork), Southern Green Beans (contains pork) and Cranberry Chutney (pint) or A la carte items starting at $10.79, which includes Mashed Potatoes, Classic Gravy, Cornbread Stuffing (contains pork), Southern Green Beans (contains pork), Collard Greens, Southern Coleslaw, Mac & Cheese, BBQ Baked Beans, Cranberry Chutney, Sweet Potato Casserole and Smokehouse Corn.
End your meal with a sweet treat from the 4R bakery for $29.99.
Choose from a Caramel Apple Pie, a Texas Bourbon Pecan Pie, or a Traditional Pumpkin Pie. Place your Thanksgiving order by Saturday, November 19th at 5 p.m. for pick up on Wednesday, November 23rd. To place your order call 844-474-8377 or visit https://www.4rsmokehouse.com/HOLIDAY/.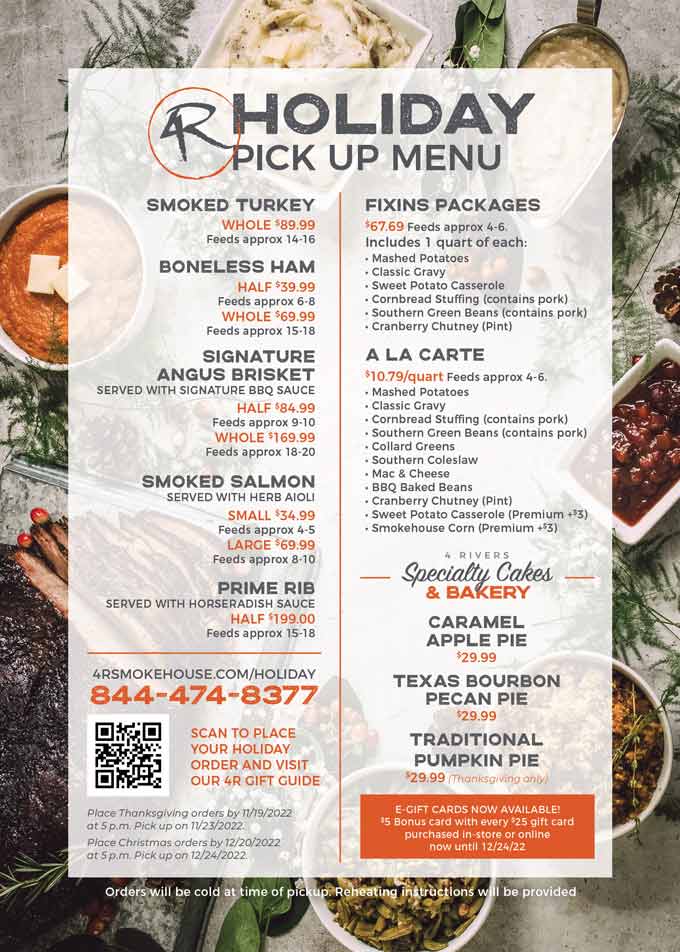 COTE Miami
Gather around the table with your loved ones this year at Michelin-starred COTE Miami. Guests can enjoy COTE's curated Thanksgiving Feast ($125 pp++) that provides a tour of COTE's finest plates featuring four selected cuts of COTE's most notable USDA Prime and American Wagyu Beef complemented by an array of fixings including pickled seasonal vegetables and salads; fresh Red Leaf Lettuce with Ssaam-jang; Turkey Mandoo; Savory Egg Soufflé; Japchae, Korean glass noodles with mountain vegetables; Galbi Jjim, braised short ribs; Kimchi Jiggae, a spicy and tart stew with kimchi, pork belly, and gochugaru; Sticky Rice Stuffing with Chinese sausage and shiitake mushrooms; followed by Soft Serve ice cream topped with soy sauce caramel for dessert.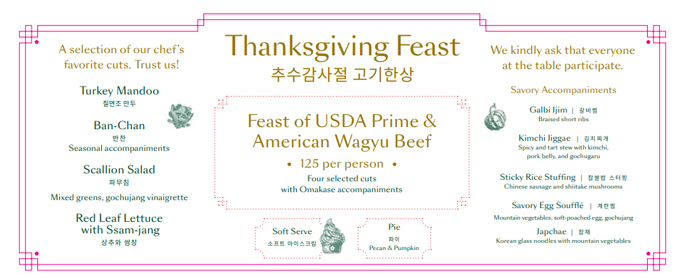 SUGARCANE raw bar grill
SUGARCANE raw bar grill is making Thanksgiving and Friendsgiving easy with two options for your holiday celebration. For those hosting a gathering, select the Everything but the Turkey package featuring Homemade Heat & Eat Sides – Brussels Sprouts, Mashed Potatoes, Cornbread Stuffing, Garlic-Roasted Green Beans, Marshmallow-Topped Sweet Potatoes, SUGARCANE Sweet Corn, Sauteed Broccoli Fries, Regular or Truffle Fries, Turkey Gravy.
Choose 3 for $28 (serves 2-3), Choose 5 for $46 (serves 4-5), or Choose 7 for $65 (serves 7-8) or add on individual sides for $10 each. Homemade whole pumpkin pecan cheesecake (serves 8-10) also available for $45 each. Pre-orders start Monday, November 7th and orders close on Sunday, November 20th.
If you're looking to dine out with close pals for Friendsgiving or Thanksgiving, join us on Wednesday, November 23 or Thursday, November 24 for our Thanksgiving feast menu with pumpkin bisque with pepitas and micro fine herbs ($10), endive salad with fuji apple, candied walnut, blue cheese, maple la posada vinaigrette ($14) and the feast with traditional brined turkey, cornbread stuffing, turkey gravy, mashed potatoes, garlic-roasted green beans, glazed sweet potatoes with toasted marshmallow ($28) and pumpkin pecan cheesecake with chantilly cream ($13).
Toast the holiday with our Turkey Gone Wild cocktail featuring wild turkey whiskey, campari, cardamom syrup, lemon juice, prosecco float ($16). We're also celebrating all weekend long with the gobbler, our Thanksgiving all-in-one sandwich complete with turkey salad, cornbread stuffing, cranberry sauce, turkey gravy ($15). All prices exclude tax and are subject to change.
Boston Market
Boston Market is offering a variety of Thanksgiving meal options from $11.99 per person, prices may vary by market, starting today at all restaurants nationwide. Guests will have a choice between the Hot & Ready-To-Serve meals, catering and a la carte offerings.
The Hot & Ready-To-Serve meals include everything needed to serve between six and 12 people and can be picked up at any Boston Market restaurant the week of Thanksgiving.
For those ready to feed a crowd, groups of 10 or more can cater a hot, buffet-style dinner or individually plated meals that can be delivered or picked up.
Thanksgiving day-of offerings include a Thanksgiving Day meal for $15.99, featuring a choice of roasted turkey breast or half rotisserie chicken with mashed potatoes and gravy, vegetable stuffing, a dinner roll and a slice of apple or pumpkin pie. Restaurant hours may vary by location.
Cracker Barrel
Cracker Barrel Old Country Store is offering Thanksgiving Heat n' Serve Meals and Homestyle Holiday Pies available in a variety of flavors.
Their Heat n' Serve options provide a complete homestyle Thanksgiving turkey meal for any size gathering, prepared in two hours or less. Starting at $14.99 per person, the Thanksgiving Heat n' Serve Feast serves 8-10 and includes a full meal bundle of protein, sides, bread and dessert.
For others, the Thanksgiving Heat n' Serve Family Dinner makes the perfect meal for gatherings of 4-6, including the same favorites of the Heat n' Serve Feast like oven-roasted turkey breast with turkey gravy, sweet potato casserole, cornbread dressing, cranberry relish, choice of side and sweet yeast rolls.
Available for pick up Nov. 19-26, while supplies last. Guests that pre-order now and schedule pick up on Nov. 21 or 22 receive a free Bonus Card.
Ruth's Chris Steakhouse
Ruth's Chris Steakhouse (availability & pricing may differ by location) is offering the following for Thanksgiving dine-in:
Choice of one starter: Caesar salad, steak house salad, or lobster bisque
Entree: Sliced Oven Roasted Turkey, Sausage & Herb Stuffing, Homemade Turkey Gravy and Cranberry Relish.
Choice of one side: garlic mashed potatoes, creamed spinach, sweet potato casserole or green beans with garlic
Dessert: pumpkin cheesecake & vanilla ice cream
They are also offering Thanksgiving to go. $175, serves 4. Available for pickup on November 23 from 12 pm – 4 pm.
The Capital Grille
At The Capital Grille, guests can enjoy a chef-prepared traditional Thanksgiving dinner with an upscale twist, including Slow-Roasted Turkey with Brioche Stuffing, French Green Beans with Marcona Almonds, Cranberry-Pear Chutney and Sam's Mashed Potatoes, with the option to add Pecan-Crusted Sweet Potatoes with Hot Honey and Pumpkin Cheesecake at an additional charge.
In addition, those looking to enjoy dinner at home may order a bundle of the restaurant's Thanksgiving sides.
To place a pre-order for pickup on November 23 or 24 or to make a reservation, visit here.
Seasons 52
Seasons 52 guests can enjoy a lighter take on Thanksgiving with a spread of freshly prepared classics using peak-season ingredients.
The menu includes Oven-Roasted Turkey, Cranberry Relish, Mashed Butternut Squash and a Pumpkin Pie Mini Indulgence dessert, among other sides.
New to the Thanksgiving menu is the Pumpkin Spice Margarita, available at an additional charge only for the month of November.
The Seasons 52 Thanksgiving Green Box dinner allows guests to celebrate at home with turkey, all the in-restaurant fixings, salad and six Pumpkin Pie Mini Indulgence desserts.
Additional sides and desserts are available online. Boxes serve four to six people and are available for pickup on November 23. Pre-orders and reservations can be made at here.
Eddie V's
Eddie V's is hosting a luxe Thanksgiving celebration with options such as hand-carved Slow-Roasted Turkey with gravy, Brioche Sage Stuffing, Cranberry Chutney, Roasted Butternut Squash, hand-whipped Mashed Potatoes and Pumpkin Pie Tartlet. Against a backdrop of live music, guests can toast to the holiday with Veuve Clicquot champagne by-the-glass as well as eye-catching signature cocktails, such as the Smoked Old Fashioned, torched tableside on a wooden plank, or the color-changing Hope Diamond.
Bahama Breeze
Bahama Breeze is offering guests a Caribbean escape this Thanksgiving – with an island-inspired twist to the classic turkey dinner at select locations.
The meal includes slow-cooked Jerk Turkey, Green Beans, Cornbread Stuffing, Cranberry-Pineapple Chutney and choice of classic Mashed Potatoes or Cinnamon Mashed Sweet Potatoes.
Guests who save room for dessert can also try the Pumpkin Praline Cheesecake.
This island dinner is available for dine-in or takeout, as a Family Bundle, on Thanksgiving day.
For guests who prefer a dinner of Caribbean-inspired favorites, the full menu will also be available.
Yard House
This Friendsgiving, "cheers" with a cold beer and adventurous menu against a backdrop of classic rock at Yard House. With over 100 craft and local beers on tap and menu options perfect for sharing—like the signature Poke Nachos, Jumbo Bavarian Pretzel and Onion Ring Tower—it will be an epic reunion.
Tanuki
In addition to their regular a la carte menu, Tanuki will feature a Thanksgiving special: Turkey Mazemen Ramen, with Stuffing Spring Rolls and Corn Bread Kasutera for $35.
The Fresh Market
Aside from one-stop shopping, The Fresh Market offers several fully prepared, heat-and-eat meals that are great options for those who want a gourmet feast for an incredible value, but don't want to spend a lot of time in the kitchen: Some options include:
Ultimate Holiday Meal – Serves 12-14. Includes: Fully Cooked Turkey (10-12 pounds), Boneless Sliced Ham (3.5 pounds), Yukon Gold Whipped Potatoes, Traditional Herb Stuffing, Homestyle Turkey Gravy, Roasted Butternut Squash with Pecans and Cranberries, Green Bean Medley, Cranberry Relish with Walnuts, and Soft Golden Dinner Rolls. $179.99 (less than $13 per person).
Traditional Holiday Meal – Serves 8-10. Includes: Cooked Turkey (10-12 pounds), Yukon Gold Whipped Potatoes, Traditional Herb Stuffing, Homestyle Turkey Gravy, Cranberry Relish with Walnuts, and Soft Golden Dinner Rolls. $99.99 (starting at $10 per person).
Prime Rib Meal (NEW this year!) – Serves 2 (Perfect for those having a small or non-traditional celebration). Includes: Fully Cooked Prime Rib (1 pound), Mascarpone Whipped Potatoes with Rosemary, Green Bean Medley, and The Fresh Market Horseradish Aioli. $49.99 ($25 per person).
The Honey Baked Company
The Honey Baked Ham Company has the following Thanksgiving offerings:
Honey Baked Ham® & Turkey Feast includes either an eight- or nine-pound Bone-In Half Ham with a Turkey Breast and four Heat & Serve Sides like Maple Sweet Potato Souffle, Double Cheddar Macaroni & Cheese, Green Bean Casserole or Tuscan Broccoli – sure to please all ages!
Turkey Dinner comes with a Turkey Breast and a choice of three Heat & Serve Sides.
Quarter Ham Meal has a Quarter Bone-In Ham and three Heat & Serve Sides.
Honey Baked™ Boneless Ham & Turkey Feast includes a Half Boneless Ham, Turkey Breast and four Heat & Serve Sides.
Desserts options include: Red Velvet Cake, Southern Pecan Pie and Triple Chocolate Cake.
All meal offerings above are available to purchase at your nearest HoneyBaked location or visit honeybaked.com to buy online and pick up in store.
Whole Foods
Whole Foods is offering holiday appetizers; holiday meals; a la carte entrees; holiday sides, soups & sauces; and more. They typically offer Classic Turkey Feasts; Surf and Turf Meals; Prime Rib Meals; Beef Wellington Meals; Braised Lamb Shank Meals; Atlantic Salmon en Croûte Meals; Vegan Meals and more. Check your local store for pricing and offerings.
Thanksgiving Meal Delivery Online Services
Omaha Steaks
You can build your own, ready to cook Thanksgiving dinner with Omaha Steaks. They ship nationwide or you can pickup at location closest to you. They offer Turkeys, Hams, & Roasts.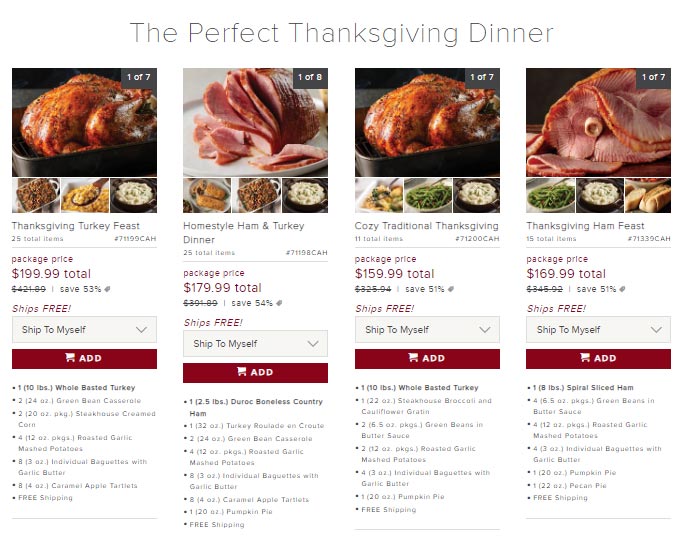 Some of the packages they offer include:
Custom Thanksgiving Feast for 4
Build Your Own Thanksgiving for 6
Build Your Own Thanksgiving for 8
Thanksgiving Turkey Feast
Homestyle Ham & Turkey Dinner
Cozy Traditional Thanksgiving
Thanksgiving Ham Feast
Whole Basted Turkey
Smoked Whole Turkey
Turkey Roulade
Spiral Sliced Ham
Williams Sonoma
Williams Sonoma has a number of Thanksgiving items including made-from-scratch sides or the whole feast that can be heated and served.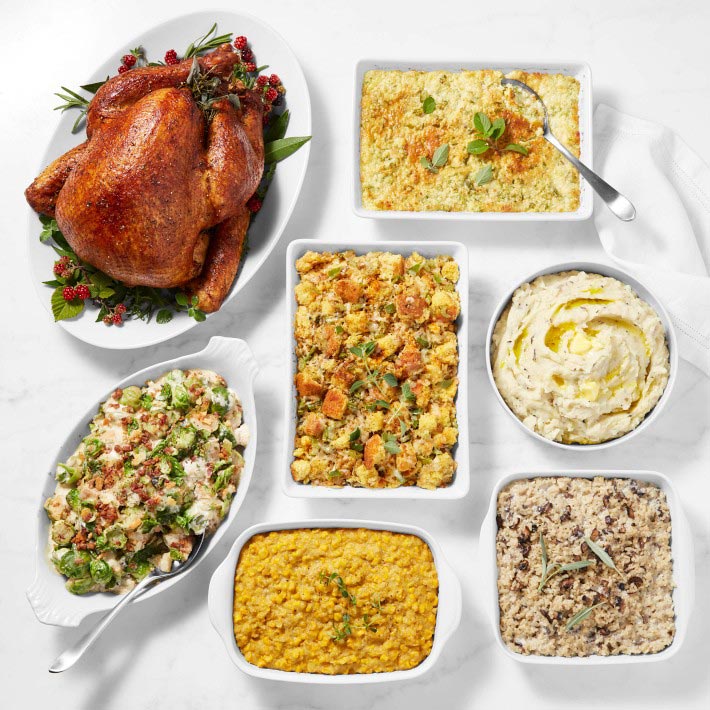 Their Deluxe Thanksgiving Dinner ($299.95) includes the following:
12-14 lb. Willie Bird Pre-Brined, Seasoned Whole Organic Turkey
Truffle Mashed Potatoes
Corn Pudding
Mushroom Risotto
Jalapeno Cheese-Bread Stuffing
Creamy Asparagus and Gruyere Custard
Brussels Sprouts Pancetta Gratin
Simply cook the turkey as usual then pop the side dishes in the oven for a straightforward route to a fabulous feast.
Harry & David
Harry & David has a Thanksgiving Turkey Feast ($249.99) which can be shipped to you: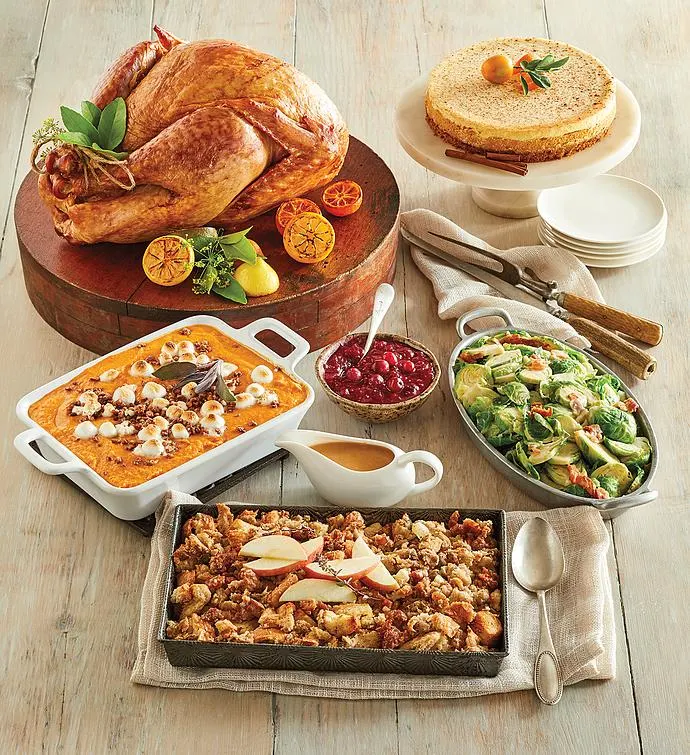 The menu includes:
Ready-to-heat oven-roasted turkey (10 lb)
Apple sausage stuffing (1 lb 14 oz)
Black Truffle and Almond Green Beans (1 lb)
Brown sugar sweet potatoes (1 lb 15 oz)
Pumpkin cheesecake [New York-style pumpkin layered cheesecake] (2 lb)
Classic turkey gravy (13.5 oz)
Spiced cranberry chutney (1 lb)
Home Chef
Home Chef, the leading meal solutions company with both a retail and online presence, is debuting a slew of holiday eats for home cooks looking to spend less time in the kitchen and more time making memories.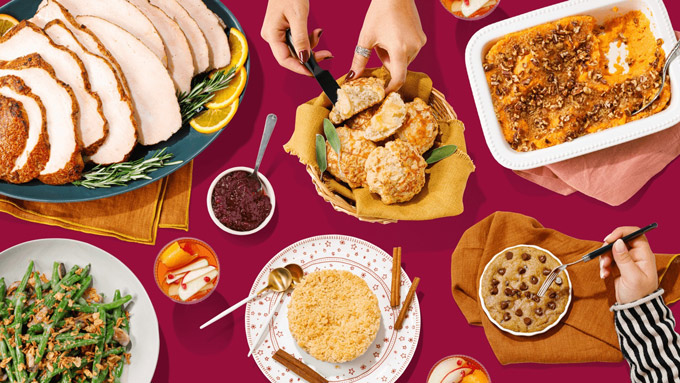 From Thanksgiving through the year's end, Home Chef serves up seasonal dishes everyone will enjoy in both meal kit and heat-and-eat formats – proving holiday eating can be tasty and easy.
During the week of Thanksgiving, order tasty fall recipes including:
Main Course: Turkey Breast Roast ($49.50, serves 6)
Sides ($15.98 each; serves 6): White Cheddar and Sage Biscuits, NEW Sweet Potato Casserole, NEW Grown Up Green Bean Casserole, Loaded Mashed Potatoes with Bacon, Cheddar, & Green Onion , and Brussel Sprouts with Caramelized Onion & Maple Glaze
Desserts (serving sizes vary): NEW Pumpkin Chocolate Chip Cookie Skillet ($7.98) and Apple Crisp Cake ($5.98)
Home Chef's Thanksgiving meal kits will be available to order online at homechef.com starting October 14, and orders must be placed by noon CT on November 18.
Beloved season's eatings from Home Chef are also available at Kroger Family stores nationwide to order ahead, pick up, heat and have on the table in no time.
Home Chef offers in-store holiday bundles that serve four to eight people – main courses, sides and desserts included.
These bountiful bundles make the menu for you, and they're easy on the wallet too, with options for a variety of gathering sizes and budgets.
The delectable dishes in stores* from Thanksgiving to holiday season's end include:
Main Courses: Home Chef Boneless Turkey, Home Chef Boneless Ham, Butterball Bone-In Turkey, Butterball Smoked Bone-In Turkey, Home Chef Bone-In Ham, and Prime Rib
Sides: Creamed Spinach & Cheese, Old Fashioned Bread Stuffing, Creamy Scalloped Potatoes, Broccoli Rice Casserole, Green Bean Casserole, Sweet Potato Souffle, Cornbread Dressing, Turkey Gravy, Mashed Potatoes, and King's Hawaiian Rolls
Desserts: Bread Pudding with Salted Caramel Sauce and Pumpkin Pie
Orders for in-store Heat and Eat Home Chef holiday dishes and bundles can be placed online here, over the phone, or in person at select Kroger Family stores across the country, starting with Thanksgiving orders on November 2.
Thanksgiving orders must be placed by November 22, and final holiday orders must be placed by December 22.
DIY Thanksgiving in Miami 2022 Meal Ideas
Mrs. Mandolin
Mrs. Mandolin, founded by the creative minds behind Mandolin Aegean Bistro, is a coastal lifestyle brand rooted in hospitality. Anastasia Koutsioukis, fondly known as Mrs. Mandolin and the interior designer behind their restaurants, has taken her eye for design and made the most refined homewares, fashion, art, and objects accessible to all. If you are hosting your loved ones this Thanksgiving, Mrs. Mandolin offers everything from tabletops, to glassware, table linens, serveware, Mediterranean-inspired pantry staples, home decor and much more, for the chicest of family dinner parties.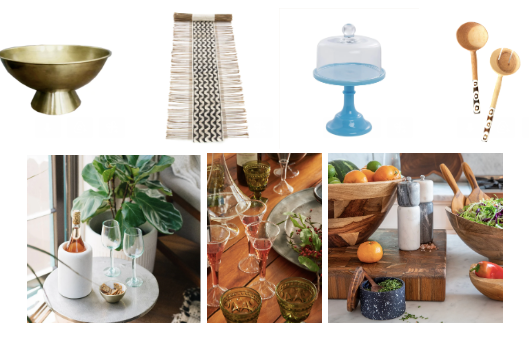 Holiday entertaining tips
Here are some tips on holiday entertaining including charcuterie board tips, how to cook the perfect turkey like a Chef, and virtual holiday party ideas.
Thanksgiving food list
Here is a Thanksgiving Food List to help you prepare or get inspired for your Thanksgiving celebration. You'll find ideas for Mains, Stuffing, Vegetables, Salads, Desserts and more.
Thanksgiving Quotes
Check out these Thanksgiving quotes and messages to demonstrate your gratitude for your loved ones this holiday season.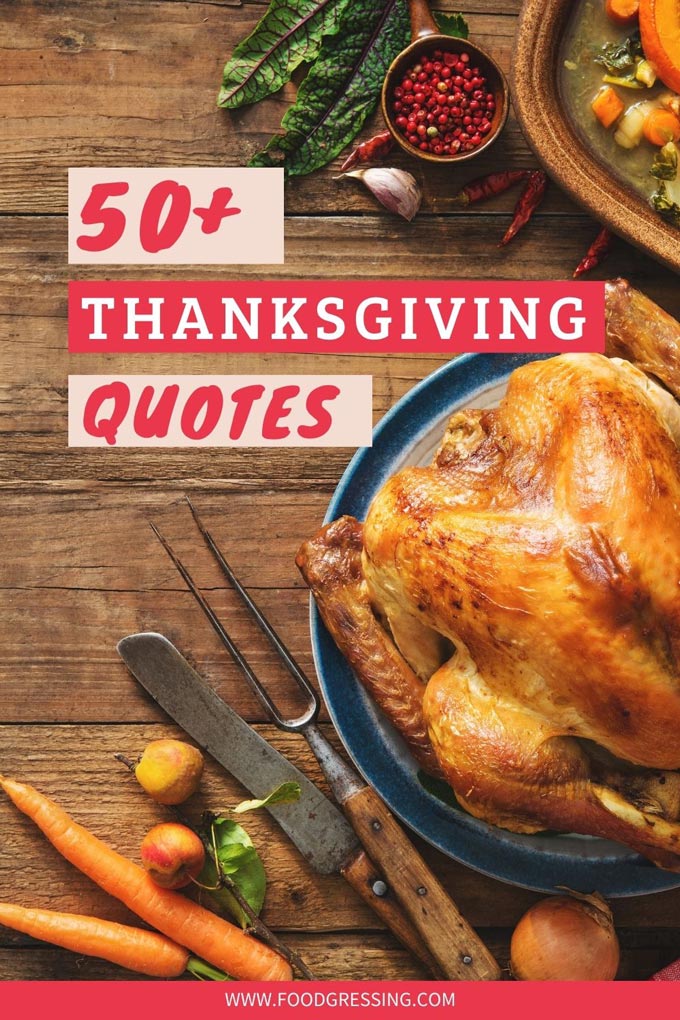 Captions about Family
Looking for captions about family for your social media post? Check out my post on 105+ creative and original captions for family pictures.