Disclosure:  The 'A' grade ribeye teppan in this review was complimentary.  Opinions are my own.
I first came to know Teppan Kitchen when I attended the Taste of Aberdeen media event a few months ago.  Located within the Aberdeen Food Court, Teppan Kitchen serves Japanese-style, sizzling-plate-teppanyaki meals – that is, food cooked on a hot iron griddle.  I thought the item we sampled during the media event was pretty good.  When I was at Aberdeen Centre recently, I decided to try another of their dishes to round out my review.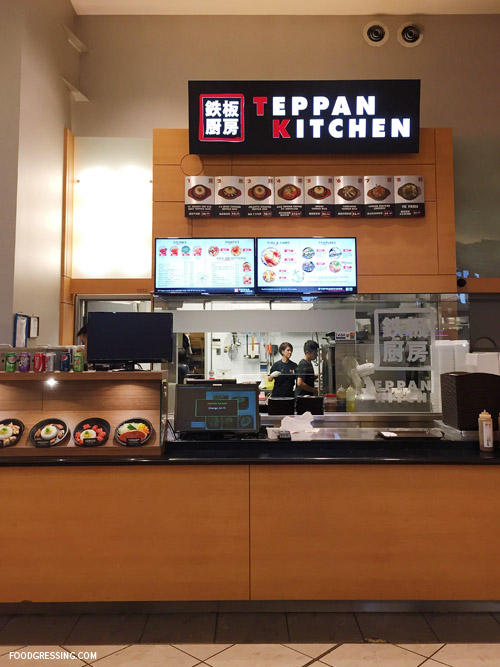 Teppan Kitchen Menu
Teppan meals range from $8 – $10 and come with miso soup.  Some choices available include A' Grade Rib Eye Beef Teppan Rice, 14 Spice Chicken Teppan Rice and Atlantic Salmon Teppan Rice.  There are plastic models of the signature dishes so you can see what the dishes look like.  There are even add-ons available like egg, cheese, fried onion and corn.  Aside from the Teppan meals, they have fish and chips, poutine and even wok fried udon with spicy chicken and sausage.  Their menu is available on their website.
What I Tried
The food on the griddle is partially uncooked when it arrives at your table.  You just need to stir in all the ingredients and wait for it to cook for a few minutes.
At the Taste of Aberdeen media event, I sampled the 'A' grade ribeye teppan with egg and corn.  A piece of paper surrounded the griddle to warn how hot it is.  The dish had a wonderful homey flavour and all the ingredients were immersed in sauce.   I did think, however, that there was a bit too much butter in the sauce.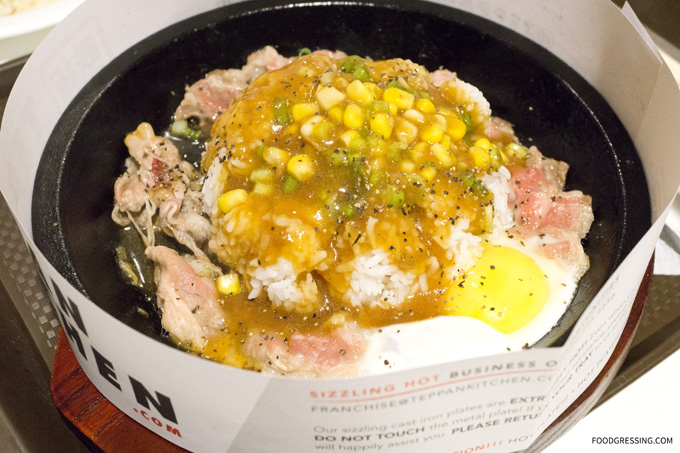 On my recent visit, I ordered their new feature item: roast tomato and beef tenderloin meat sauce on rice with egg ($9.75).  It was saucy and slightly sweet – definite comfort food, but a tad oily.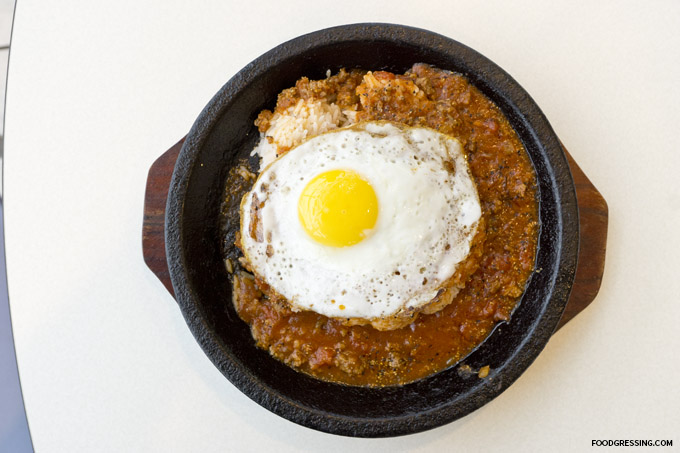 Overall Impression of Teppan Kitchen

Teppan Kitchen offers some reasonably priced and comforting sizzling-plate-teppanyaki meals.  Downsides are that the meals are oily and buttery.  Rating: 3.5/5
For more information on, visit Teppan Kitchen at their website and social media (Facebook, Twitter, Instagram)