Richest chocolates, flakiest pastries and melt-in-your-mouth desserts? Yes, please. This is why you need to head to West Vancouver's Dundarave village to visit Temper Chocolate & Pastry, a cafe/shop with all sorts of deliciousness. Behind all this is Chef/owner Steven Hodge, a Cordon bleu trained pastry chef, who had grown up in the same neighbourhood of his shop. I recently attended a media tasting at Temper Pastry to learn more about the story behind Temper and their delicious creations.
Disclosure: All food and drinks in this review were complimentary. Opinions are my own.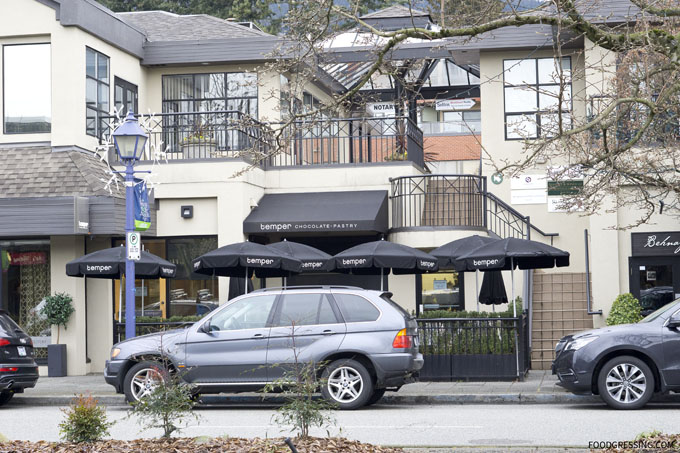 Chef Hodge gained international training starting following graduation from the esteemed cordon blue program at the California school of culinary arts with specialization in pastry and chocolate. He has worked in some of the world's most well-known restaurants including Gordon Ramsay's 3 Michelin star restaurant in London, Royal Hospital Road. In Vancouver, Chef Hodge spent four and half years working under the guidance of Thomas Haas. And in 2014, he opened his own shop, Temper Pastry, in the neighbourhood where he grew up.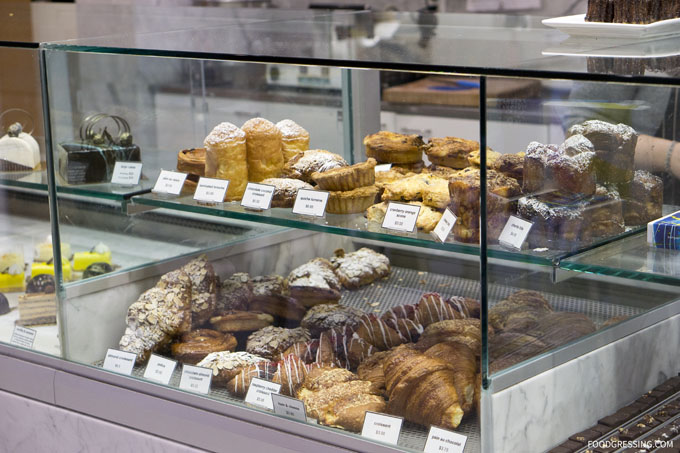 Modern Flair
You might notice that Temper Chocolate & Pastry has a bit of a more modern flair than other bakeries in town. Speaking with Imaan Saboune, PR representation for Temper Pastry, I had learned that their products take on a more "New-York style" – that is, with the use of vibrant colours and contemporary designs.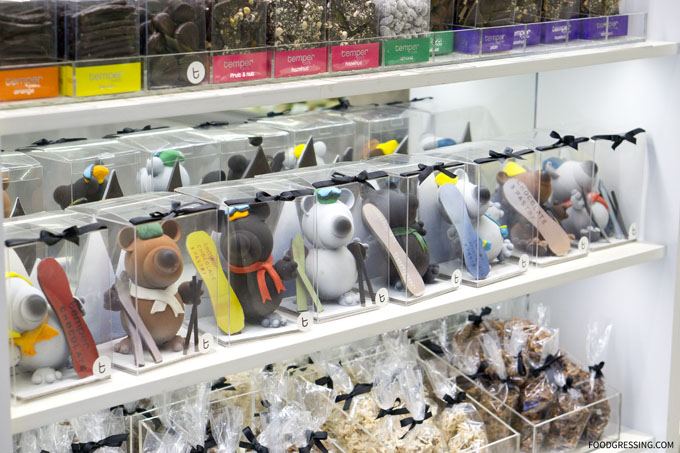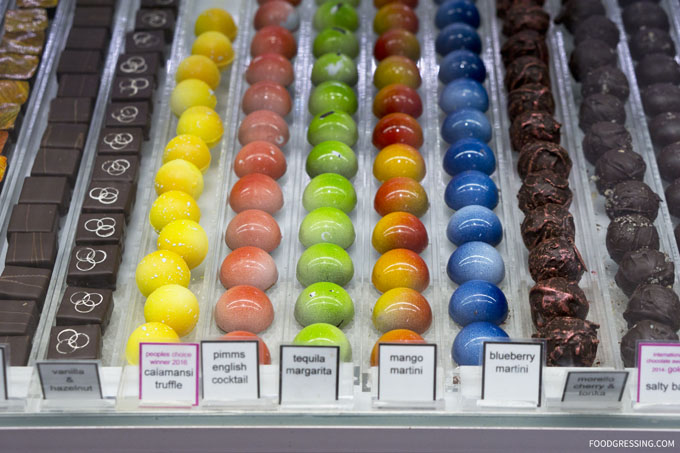 Aside from desserts and pastries, Temper is also a good lunch spot as they offer gourmet sandwiches and coffee by Stumptown.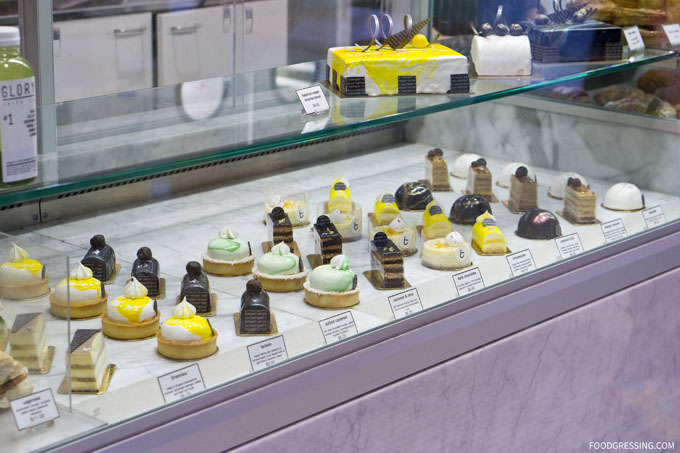 What We Tried
With me on the tasting was Diana (Foodology.ca). We tried the following:
Coconut Lime Tart ($6.25)
Dark Chocolate Ganache cake ($6.00)
Mango & Caramel ($6.25)
Cheesy Bite ($4.50)
Memoirs of A Geisha Hot Chocolate ($8)
Princess and the Frog ($8)
Check a video of us getting into the treats:
To start, we had the Coconut Lime Tart – a magnificent creation of light coconut mousse, lime curd, coconut dacquoise on an almond sable crust. The lime flavour was just perfectly balanced and I enjoyed the airy texture of the coconut dacquoise. The crust was crispy and cookie-like. Dee-licious.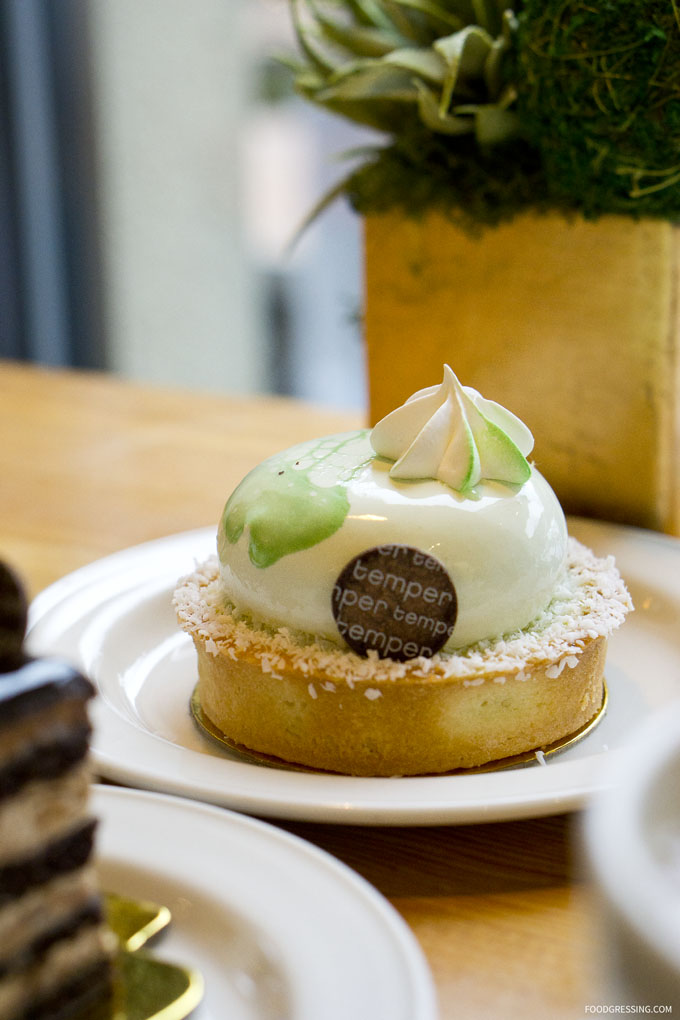 The Dark Chocolate Ganache Cake was a luscious, melt-in-your-mouth delight made with 70% chocolate ganache and buttercream. Moist, rich and utterly delicious!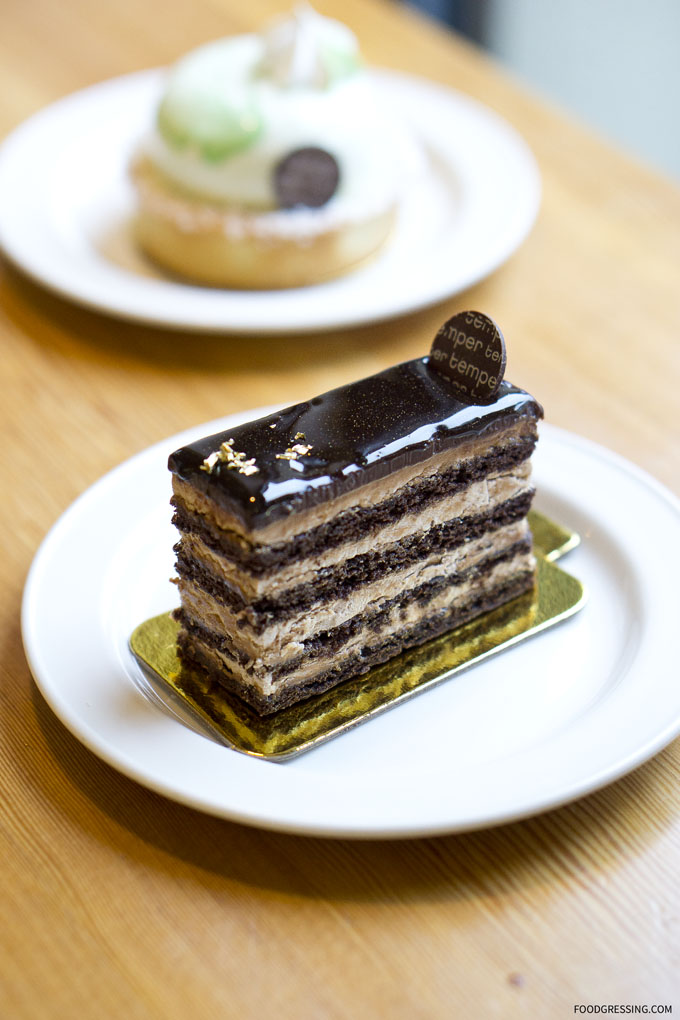 The Mango & Caramel had a stunning "intergalactic" appearance. The filling was fragrant with a sweet taste and pleasant tart tang.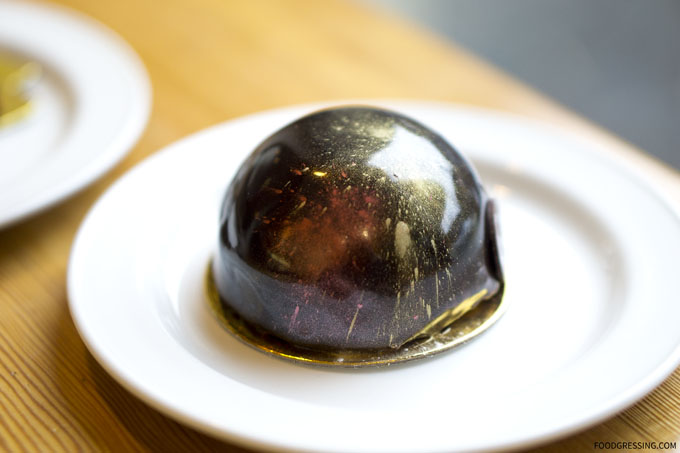 For a savoury item, we tried the "Cheesy Bite" which was oh-so-tasty. It was light, fluffy, buttery and had an addictive cheese flavour.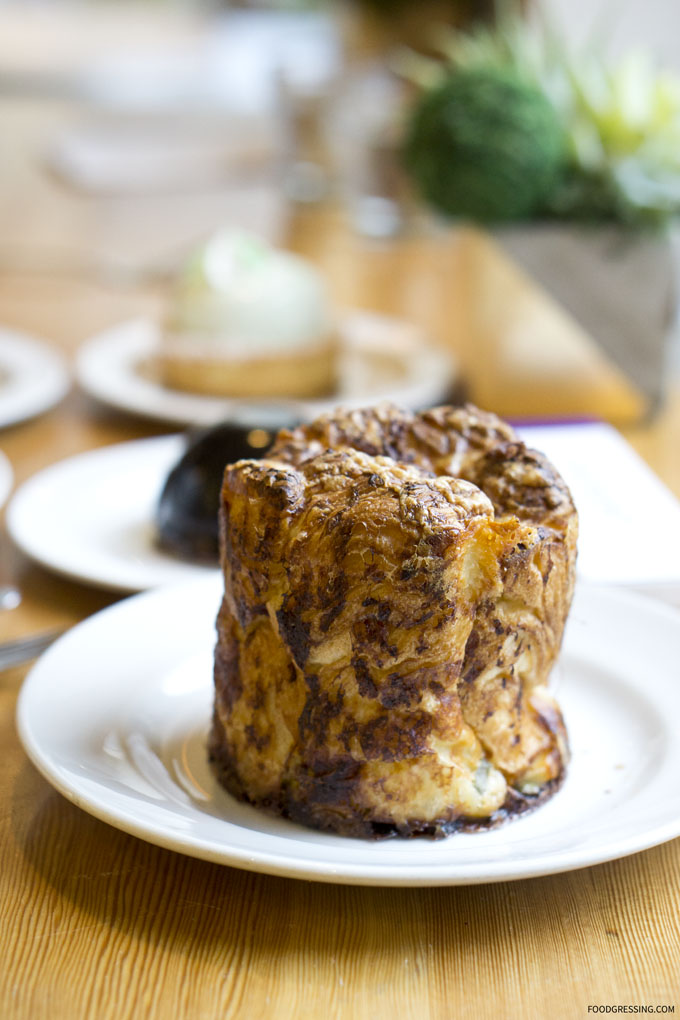 And seeing as how the Hot Chocolate Festival is now on, we also tried two of their participating hot chocolates.
The first was "Memoirs of Geisha" – a smooth, very drinkable white chocolate beverage blended with raspberry matcha. It came with a matcha shortbread cookie. We all know that Vancouver loves matcha and drink is bound to delight. That raspberry matcha blend is to-die-for. Absolutely delicious. Presentation-wise, it is a beautiful drink but the chocolate piece on top does melt very quickly! I would love to have this again.
The "Princess and The Frog" was a richer hot chocolate and made with Valrhona milk chocolate steamed with pistachio butter. The pistachio flavour was identifiable. We didn't know it at the time, but for the best photo op, it is best to put the macaron on top of the chocolate. It ends up resembling a lilypad!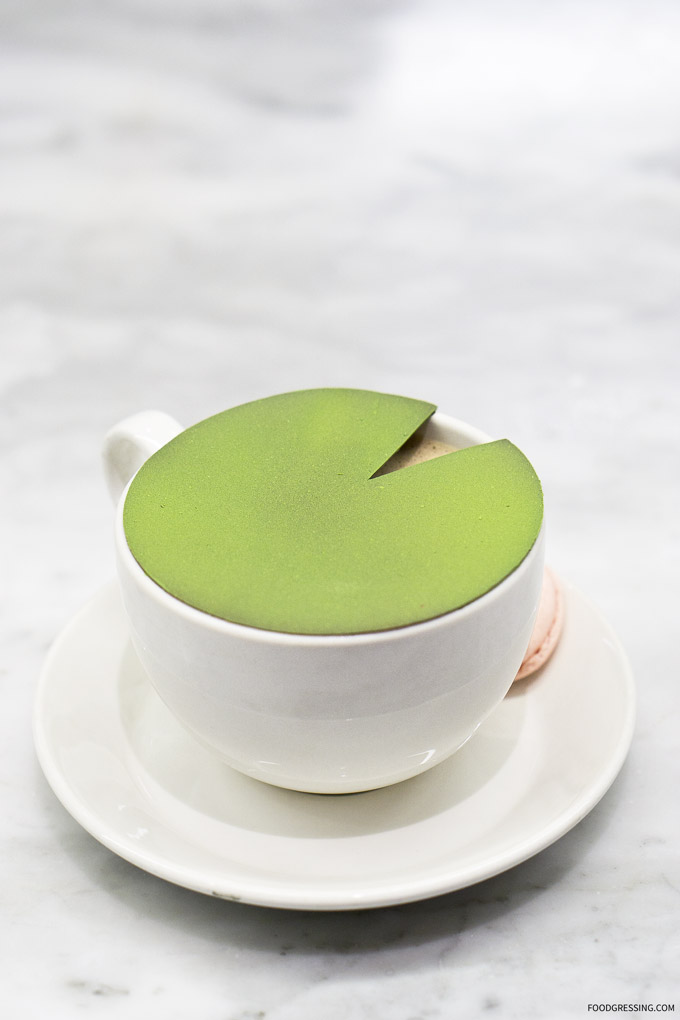 At the end, we also got a brief tour of the kitchen were all the magic happens!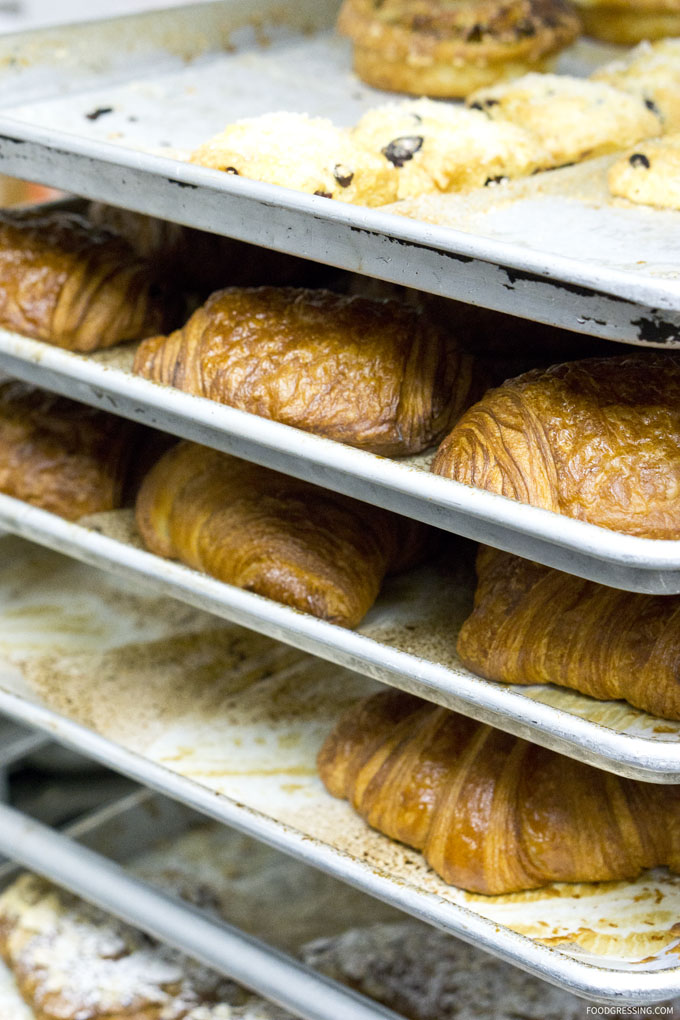 Overall Impression of Temper Chocolate & Pastry
Having tried many items from Temper on this tasting, I must say that I was impressed! My favourites were the Coconut Lime Tart, Dark Chocolate Ganache Cake, Cheesy Bite and Memoirs of Geisha. Rating: 5/5
Website: www.temperpastry.com