Hey everyone!  Hope you had an amazing Chinese New Year this weekend.  I wish you joy, happiness and lots of delicious eats this Year of the Rooster.
Chinese supermarkets have been stocked with a wide selection of Chinese New Year food products but one that caught my eye was the "Chinese New Year Cream Cheese Cake" at T&T Supermarket.  Each cake is $6.88 and comes in coconut, mango and durian flavours.  As a mango dessert lover, I decided to pick one up from T&T to see how it tasted.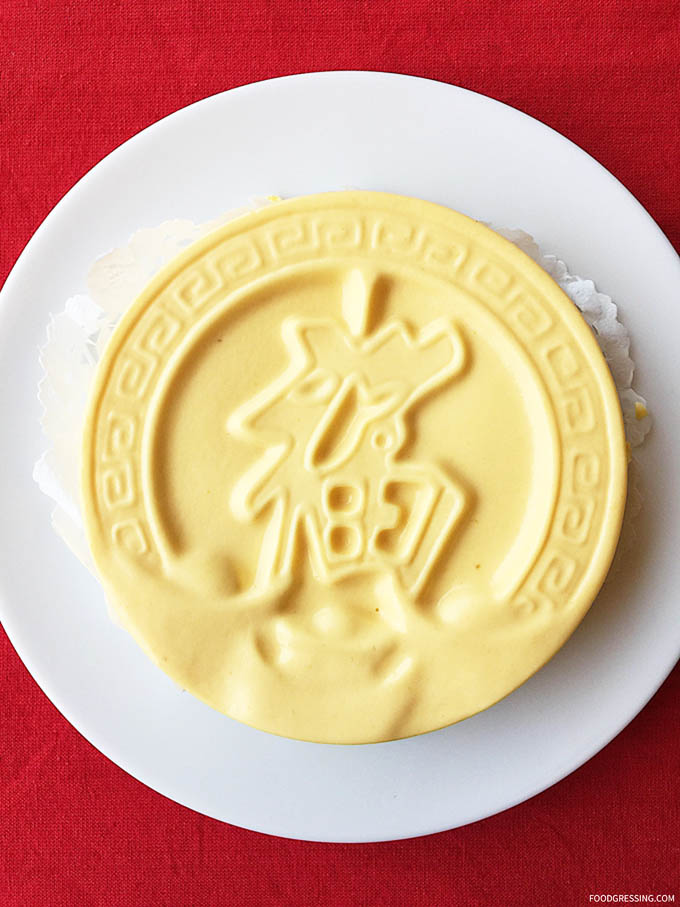 I really liked how festive the cake looked with the Chinese character "fu" meaning "fortune" or "good luck."  But when it came to taste, it was nothing like a "cake" and definitely not a "cheese cake."  There was no cheese taste to it and this cake certainly had a more gelatinous texture.  It was not as "bouncy" as the mango pudding served at dim sum.  The mango flavour was reasonable and it was just subtely sweet though not tart.  "Cheese cake" is definitely a misnomer.  If you watch my Instagram video below, you'll see how the cake looked like on the inside!
To my dismay, the box in which the "cake" came in didn't have the list of ingredients on the label.   The "pudding" tasted okay – I just wished it was named appropriately so that I knew what I was buying!