It wasn't until I ventured to the US recently that I realized "healthy" bubble milk tea was a possibility. I had become accustomed to the usual processed "stuff" that had gone into bubble tea drinks in Vancouver like milk powders. In the past, I had even heard of scandals in Asia related to "fake tapioca pearls" made from old tires and shoes. You get the point. So, when I visited Tea Bar in Portland recently, it was a breath of fresh air to see a place that is committed to high-quality bubble or as the Americans call it – boba – milk tea.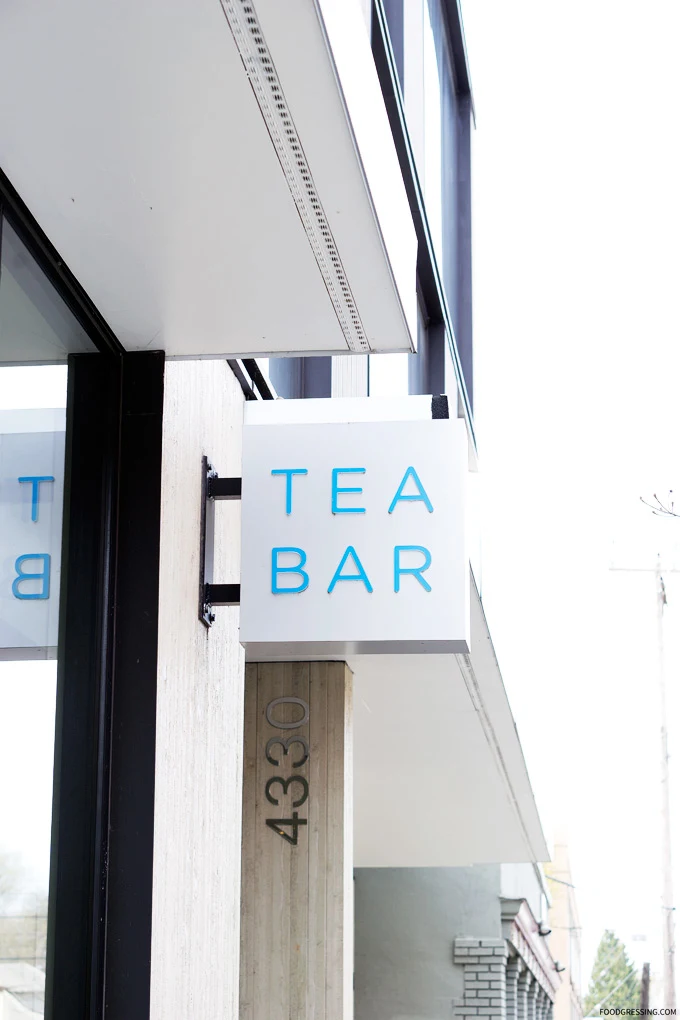 Note: My drink was not sponsored. This review is done anonymously.
Minimal, Clean Interior
Tea Bar is a successful, locally owned chain with three locations in Portland. I visited the SouthEast Division location this past March on my way back from a road trip to San Francisco.
The interior of Tea Bar had a clean, minimal aesthetic which looked just like the brand image that their very appealing Instagram account (@teabar) conveyed. It definitely had more of a hipster coffee shop vibe than your typical Asian bubble tea house.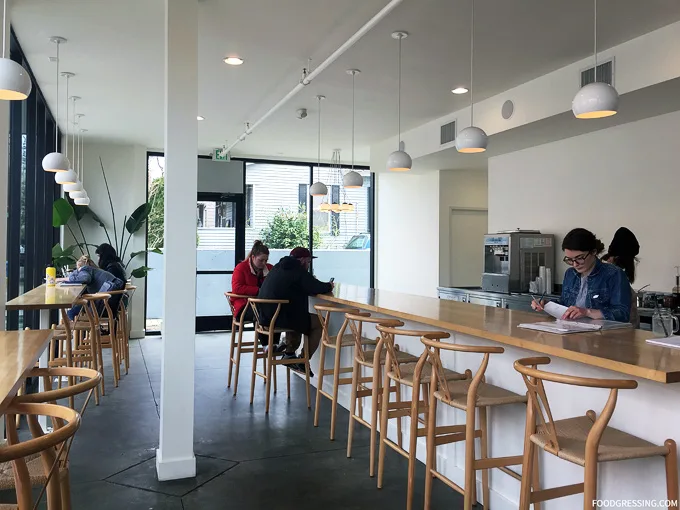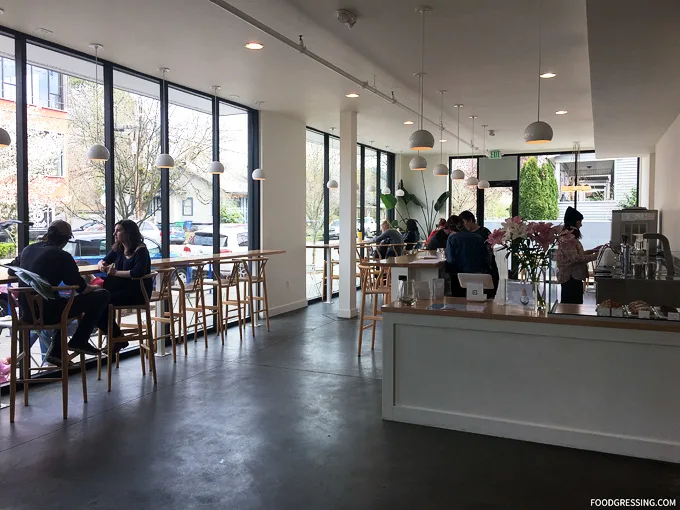 Tea Bar menu
Tea Bar's boba milk are slow-brewed over 24-hours using premium organic teas. They also use grade A tapioca pearls, hormone-free dairy, no processed powders and no artificial flavors! I honestly never knew tapioca pearls to have a "grade" but there is apparently such a thing.
Their menu is divided into basic milk teas (like lavender, jasmine, peppermint and more) to more speciality milk teas (like Golden Milk Latte, Egyptian Rose Matcha and more). Drink sizes are 12 or 16 oz and priced around $6. They use whole milk but offer alternative choices like coconut, almond and oat at an extra cost.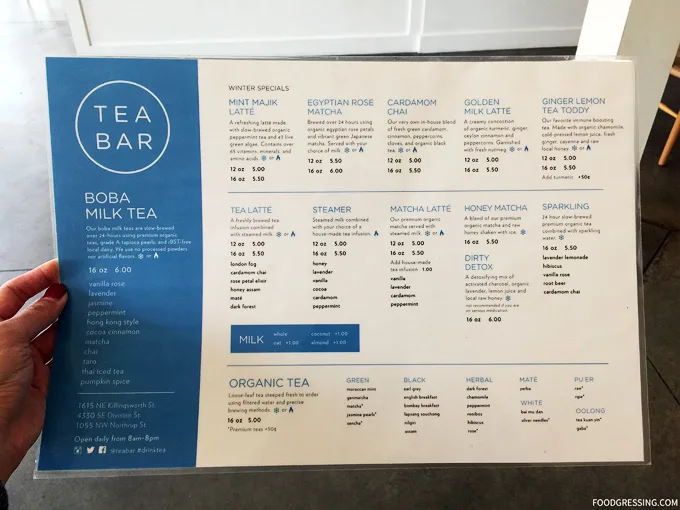 What I Tried
I ordered just one drink at Tea Bar and it is probably the most exotic yet healthiest boba milk tea I've ever had. It was the Mint Majik Latte made with slow-brewed organic peppermint tea and e3 live green algae. Apparently, it contains 65 vitamins, minerals and amino acids!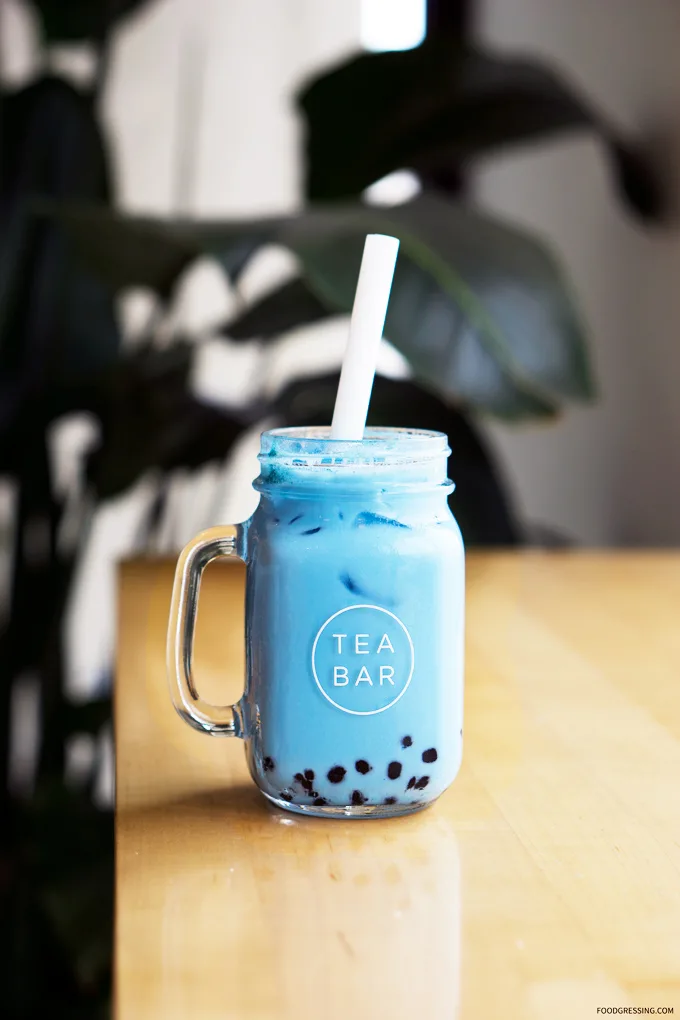 I ordered the 12 oz ($5.00) with tapioca pearls (extra cost). It was served in a mason jar. I loved the vibrant blue colour which was very Instagram-worthy. In terms of taste, I found it to have just a hint of peppermint but mostly of floral notes. Very refreshing and tasted pretty natural for what it is. I would have it again.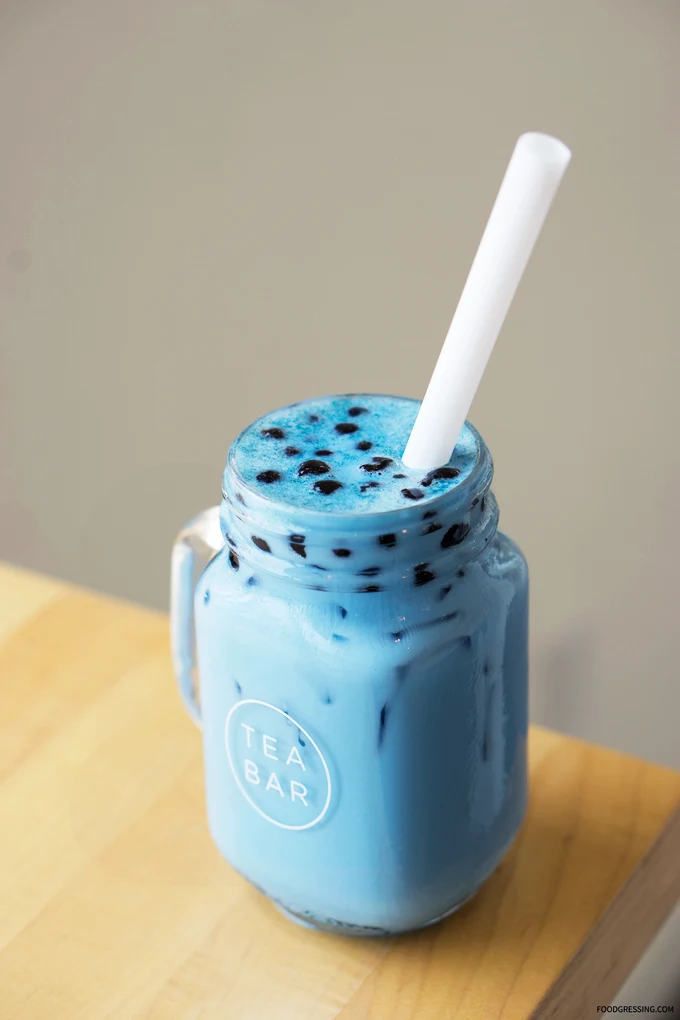 Overall Impression
I like what Tea Bar has to offer in terms of the quality of their ingredients and creative drinks on the menu. I'd definitely be interested in visiting one of their locations again in the future. For a more hipster boba milk tea experience, I would recommend Tea Bar. Rating: 4/5
Tea Bar
Address: 4330 SE Division St
Website: www.drinkteabar.com/